Untouchable Marquez reels in victory at 200th Grand Prix
Marc Marquez completed a perfect home weekend with a faultless 23-lap race where the World Championship leader delivered on his early weekend domination. Unfortunately teammate Jorge Lorenzo was left wanting more after a difficult race.
With a perfect start, Marc Marquez shot forward and immediately began to open an advantage of half a second after just a few corners, growing to a full second by the end of the first lap. Lapping on average half a second faster than the riders behind him for most of the race saw Marquez quickly build an insurmountable lead, 5.5 seconds clear by mid-race distance.
Viñales managed to gain a few tenths during the middle of the race, but Marquez quickly responded to stabilise the gap. Ultimately unchallenged, Marquez took his 78th career victory from 200 Grand Prix starts by 4.8 seconds in front of his adoring home fans. He now leaves Aragon with a clean 300 World Championship points, 98-points in front of second placed Andrea Dovizioso.
Like his teammate, Jorge Lorenzo charged off the line and soon found himself closing in on the top ten after just a few laps. Lorenzo's progress continued and he became entangled in a battle with LCR Honda's Takaaki Nakagami before unfortunately dropping outside of the points. A lack of rear grip after the first laps betrayed Lorenzo's pace and saw him unable to deliver on the potential he showed at the beginning of the weekend.
The weekend's results leave Honda 65 points clear of second placed Ducati in the Constructor Championship and as a result of Marquez's victory, the Repsol Honda Team move to within 24 points of the Ducati Team in the Team Championship.
Both riders and team now begin their preparations for the Thai GP on October 06. The Buriram race marks the start of the most intense part of the MotoGP season with four races in fives weeks and presents Marquez with his first chance to take the 2019 MotoGP World Championship.
Marc Marquez
1ST
"I was convinced about my strategy and what I had to do. I had a good feeling from when I left the box, so I knew I could push in the beginning and open a gap of four or five seconds and just keep it there, not pushing too much. I saw at one stage of the race that Viñales closed in a little, so I pushed a little more for two or three laps and I stabilised the advantage. It looked easy but it wasn't, we have been working hard all weekend to find the limit. It was amazing to win here in front of our home fans so I have to say thank you to them all!"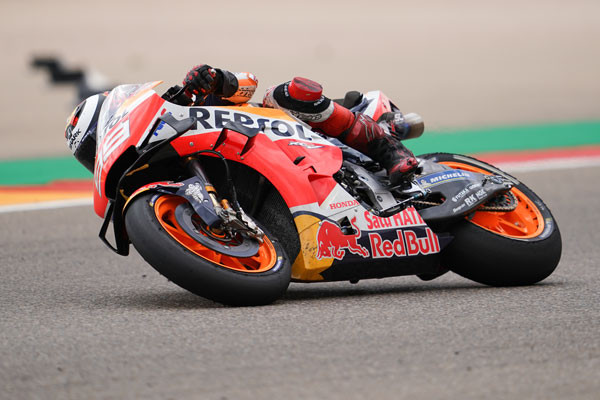 Jorge Lorenzo
20TH
"At the start of the race I was very hopeful of a good result as I made a very strong start and I was quite competitive in the opening laps. Unfortunately I felt a lot of drop on the rear tyre and I struggled for rear grip from early in the race. I tried to manage it by being as smooth as possible, but I dropped back little by little. It's a pity, I would have rather started the race poorly and finished strong. But still we can take positives as we have learned more about the setting and I was pleased with how some sessions went this weekend. Congratulations to Marc and the Repsol Honda Team for a great win."
More, from a press release issued by Monster Energy Yamaha:
MONSTER ENERGY YAMAHA'S ARAGON ASPIRATIONS RESULT IN FOURTH AND EIGHTH PLACE
Monster Energy Yamaha MotoGP's Maverick Viñales put up a brave fight in today's Gran Premio Michelin de Aragón but came just short in maintaining his bid for the podium, finishing the race in fourth place. Valentino Rossi struggled to maintain the 1'49s pace of the riders in front and ended in eighth place.
4th        MAVERICK VIÑALES +5.811 / 23 LAPS
8th        VALENTINO ROSSI +23.623 / 23 LAPS
Monster Energy Yamaha MotoGP's Maverick Viñales made the absolute most of his Yamaha's nimble character in the first three sectors of the MotorLand Aragón, but he couldn't keep late chasing rivals at bay, finishing the race just off the podium in fourth place. Valentino Rossi was unable to mix in with the competitors in front. He rode a lonely race, taking eighth place.
Viñales lost just one position, from third to fourth, as he turned into the first tight left corner. He was stalking fellow Yamaha rider Fabio Quartararo, knowing he could lap faster than him he was trying to figure out where to make his move. Once he did on lap 5, he was quick to put the pressure on Jack Miller next.
The local hero was pushing to the limit. With 16 laps to go he made a very brave move around the outside of Miller and then pulled away through Turn 10 and 11. Lying in second place with an over 4s gap to the front, Viñales mostly focused on maintaining the margin over the group of five riders behind him. Ultimately only Andrea Dovizioso and Miller were able to keep up. The number-12 rider did everything to fend off the chasing rivals but was unable to do so, finishing the race in fourth place 5.811s from first.
Rossi had a good start from sixth on the grid, maintaining his position, but was struggling to cut through the pack in the first few laps. He lost a place to both Dovizioso and Cal Crutchlow and was unable to stay in the 1'49s after lap 7 due to rear tyre degradation. It soon resulted in a lonely ride for the Doctor, with a 6s-gap to ninth and a growing gap to seventh.
Though the Italian didn't find a good rhythm in the latter stages of the race around the Aragon track, he put in a brave ride. Rossi maintained his eighth place as he brought his bike across the finish line. He took the chequered flag with a 23.623s gap to the front.
Today's fourth place sees Viñales stay fifth in the championship standings, one place ahead of Rossi, with ten points between them. Yamaha remains third in the constructor standings, and Monster Energy Yamaha MotoGP also stay in third place in the team classification.
Viñales and Rossi next travel to the Chang International Circuit for the PTT Thailand Grand Prix, held from October 4-6.
MASSIMO MEREGALLI
TEAM DIRECTOR
"It was an unexpectedly difficult race for us. Maverick and Vale suffered from rear tyre degradation. Valentino already at the beginning and Maverick later on, and in the latter's case it cost him a podium. Losing a place on the rostrum on the last lap is of course very disappointing. During the practice sessions we never faced these tyre-drop problems, because the time we had didn't allow us to do a long run. We don't know if the change was due to the rain that fell yesterday, but anyway it is what it is. It is difficult to accept these results, because we were strong in all the sessions, so finishing off the podium isn't in line with what we were expecting. Still, compared to last year, our performance over the weekend shows that we are consistently improving, but that said, we still have work to do."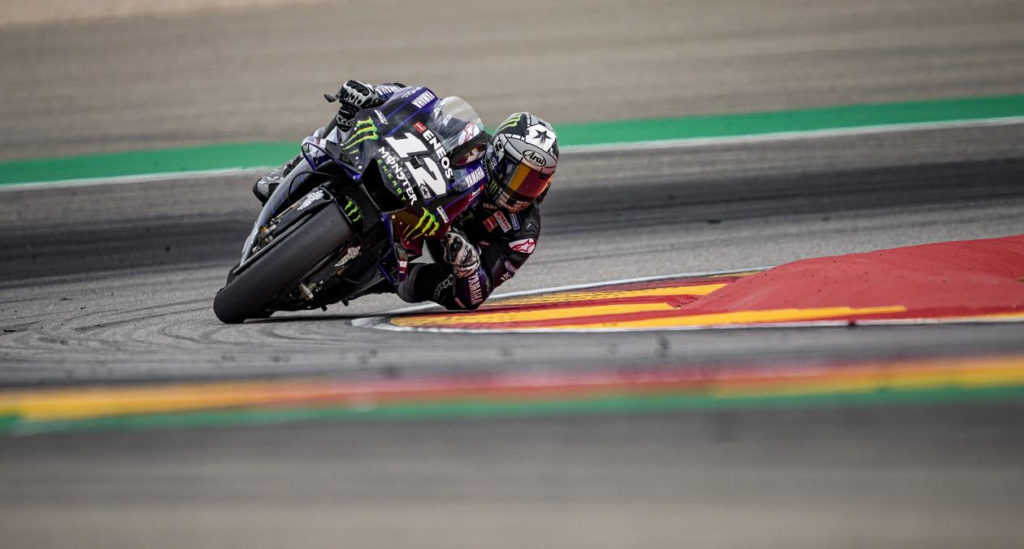 MAVERICK VIÑALES
"I knew second place was possible today, so I pushed and pushed and pushed, but finally, in the last two laps, the tyre was very much on the limit. I tried my best. I nearly crashed two or three times because of the rear and thought 'OK, today I have to be fourth, that's the maximum'. I'm actually happy that I was very strong in the middle of the race. At the end I didn't have enough grip on the tyres to keep going, but I'm once again the first Yamaha, which is important to us. I tried to close the door everywhere to Dovi, but in the end it was impossible, on the straight I stood no chance."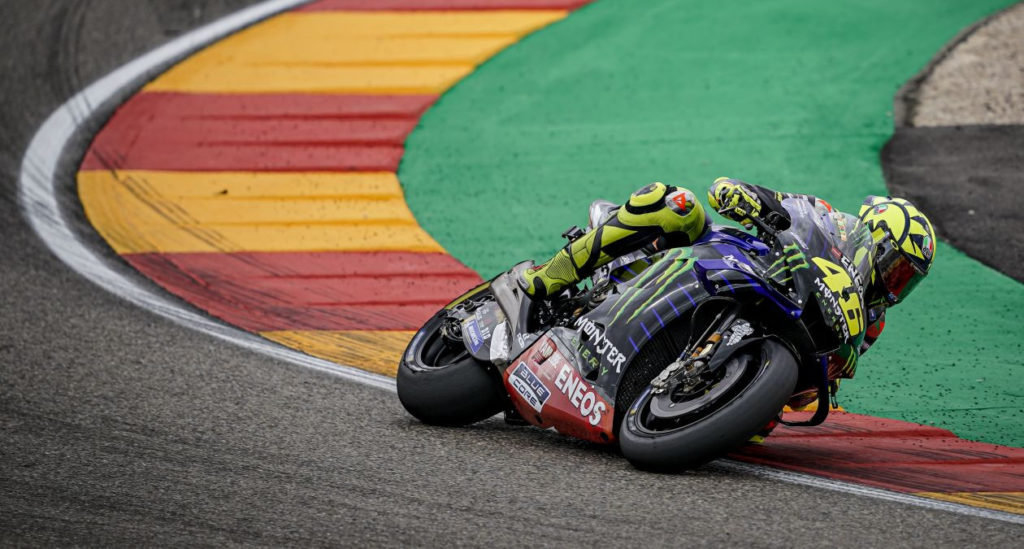 VALENTINO ROSSI
"I knew yesterday it would be difficult to fight for the podium because three or four guys were faster than me, but today was worse because after some laps I had to slow down. I didn't have grip and I had some kind of problem with the tyres, it happened a little like it did in Silverstone. To me, it's not a problem of the tyres, it's our problem. We always struggle with the grip on the rear, and because of this lack of grip we also damage the tyre more, so in the end it was a very difficult race. It looks like everybody on the hard rear tyre had some problems, also the other Yamahas, but more towards the end. I started having problems earlier on. But I don't know if we could have done better on the soft, because during the practice the soft wasn't very good for our bike."
More, from a press release issued by Ducati:
GP Michelin de Aragón: superb podium for Andrea Dovizioso, second ahead of the Ducati Pramac of Jack Miller. Danilo Petrucci finishes the race in twelfth place
Andrea Dovizioso scored a podium finish at the Gran Premio Michelin de Aragón after a spectacular comeback through the field, following a row 4 start, that helped him to catch, at the mid point of the race, Miller and Viñales who were fighting for second position. Andrea then passed the Pramac rider and set off after the Spaniard, whom he overtook on lap 21 to finish the race in a superb runner-up slot ahead of Miller.
It was a difficult race for Danilo Petrucci, who started from row 5. The rider from Umbria, who opted to fit a hard rear, moved up to ninth place on lap 8 but in the final stages he suffered a tyre drop and lost several positions, finishing the GP in twelfth.
In the Riders' standings Andrea Dovizioso remains in second place, 98 points behind leader Marquez, while Danilo Petrucci drops to fourth place, one point behind Rins.
Ducati remains in second place in the Constructors' classification and the Ducati Team first in the special Teams' ranking.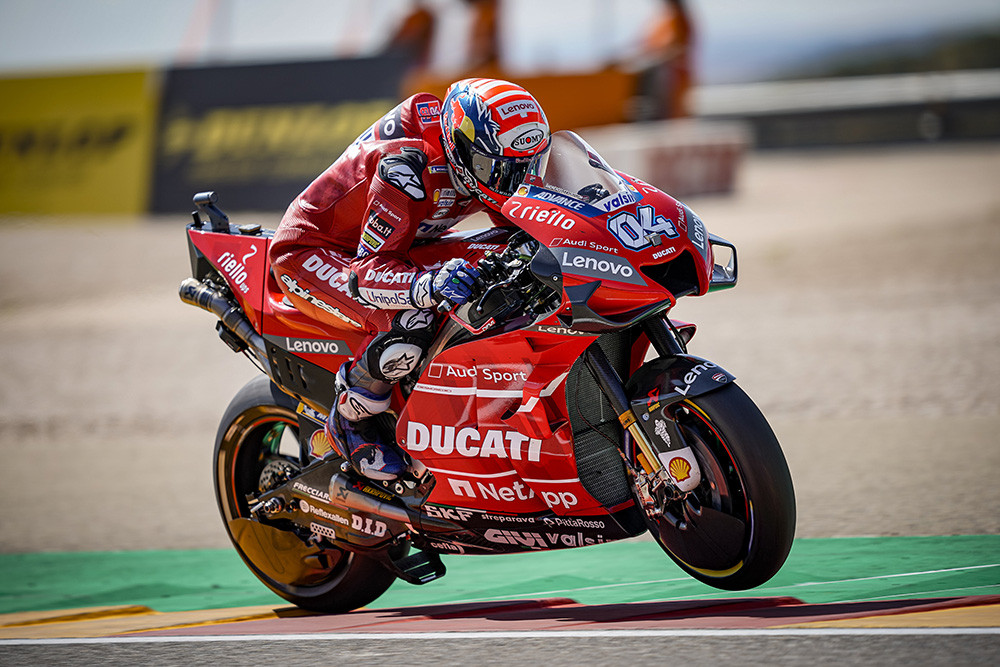 Andrea Dovizioso (#04 Ducati Team) – 2nd
"It was very important to get back onto the podium after the races at Silverstone and Misano, and so today I'm very happy, especially because of the way in which we were able to get this second place. I started tenth from the fourth row because of a mistake I made in qualifying yesterday, but I knew I had a good pace and on the grid we made the right choice of tyres, going for the soft rear. In the race I was constant right until the very end, I saved my tyres and managed to gain place after place until I could pass Jack and Maverick to finish the GP in second place".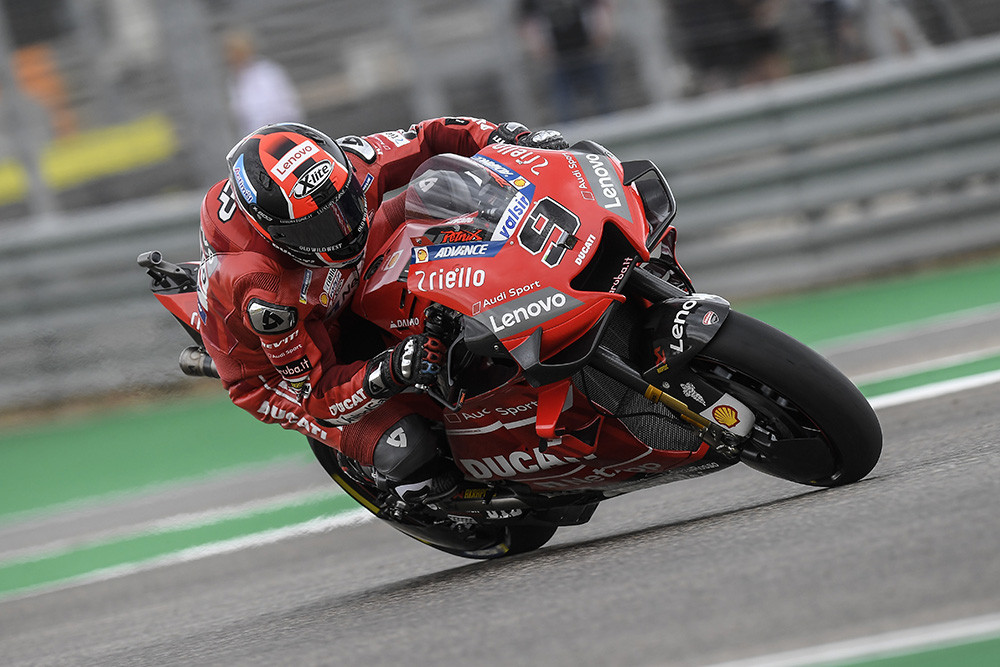 Danilo Petrucci (#9 Ducati Team) – 12th
"It was a very difficult race for me. I tried for a bit to fight in ninth place because I didn't have the pace of the frontrunners, but towards the end of the race I suffered a drop in the rear tyre and lost some places to finish twelfth. Probably the hard rear was not the best choice and I could do little else than limit the damage. Now we have a short break before leaving for Thailand and we will have to try and understand what is missing so we can get back to being as fast as we were in the first half of the season".
More, from a press release issued by Red Bull KTM:
13TH FOR OLIVEIRA AT ARAGON AS BINDER AND CANET CELEBRATE GRAND PRIX WINS
MotoGP 2019 Round 14 of 19, MotorLand Aragon (ESP) – RACE
Red Bull KTM Tech3's Miguel Oliveira took his Red Bull KTM RC16 to 13th place after 23 intense laps of a bright MotorLand Aragon today. Pol Espargaro sat out the fourteenth Grand Prix of 2019 with a left wrist injury that required surgery Sunday morning. KTM celebrated success at the Gran Premio Michelin de Aragon with Brad Binder victorious in Moto2 and Aron Canet winning in Moto3.
Red Bull KTM Tech3's Miguel Oliveira defied the discomfort of his weak right shoulder to battle on the fringes of the top ten of the Gran Premio Michelin de Aragon. The Portuguese set an impressive pace after starting from 16th place on the grid and was beaten by just two hundredths of a second in the chase for 12th position by Danilo Petrucci. His classification represented the eighth time the rookie has posted points in the premier class of the FIM World Championship.
Close to opening his account on a comeback to full-time MotoGP racing was Mika Kallio. The Red Bull KTM man circulated just behind Oliveira but felt the pace of his first Grand Prix event in over a year and crossed the finish line in 17th. Hafizh Syahrin was five-spots further back in 21st after running off the track.
Pol Espargaro will spend 24 hours in hospital after his operation to insert a titanium plate on the multi-fragment fracture of the left distal radius and an assessment of the recovery period two days later.
After back-to-back fixtures in Italy and Spain MotoGP now enters a phase of four events outside of Europe. There is a two-day test scheduled at MotorLand this week but then the PTT Thailand Grand Prix at the Chang International Circuit will host round fifteen in a fortnight.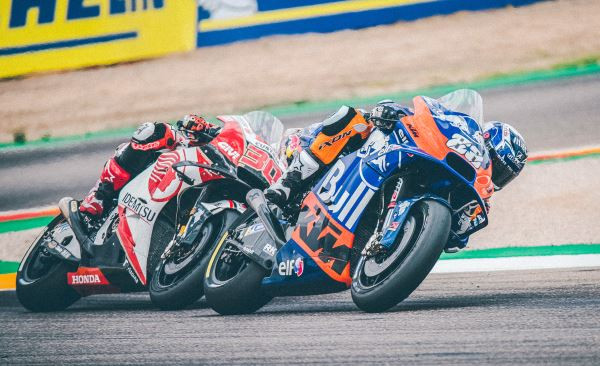 Miguel Oliveira: "It was a good race today. We had a decent fight with strong riders; which makes me happy. It was difficult to overtake, especially in the last laps, but I was there fighting. I thought we had the potential for a bit more today but at the same time it was nice to finish the race like this after not scoring the last two rounds. I feel much calmer and more relaxed to approach the upcoming challenges."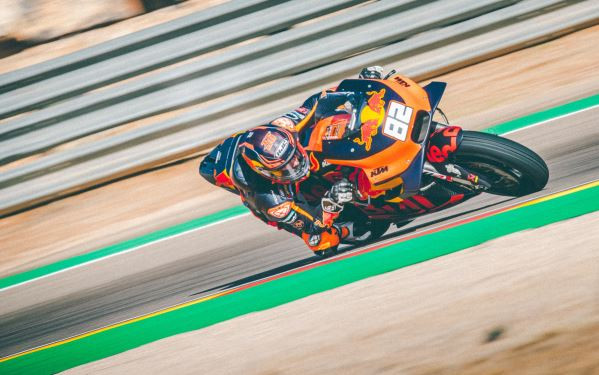 Mika Kallio: "My last MotoGP race was a long time ago so it was difficult to find the rhythm and get on the same level as the others. We needed the laps today and I think we did quite OK. Everything can always be better but for the first weekend it was alright and we made kept the mistakes to a minimum. The only disappointing thing was missing out of the points and I think maybe I made a mistake with the tyre choice. I was missing experience with how the soft or the hard would behave. We made good times in tricky conditions and I always like those and I had a good feeling with the bike. Who knows? Maybe we can have a race like that in the rest of the season. We'll set some target now for the rest of the weekends this year. We'll see how it goes in Thailand."
Hafizh Syahrin: "It was a hard race! In the beginning, there were many touches with other riders, going wide and it was difficult to come out of this without any harm. I tried to manage a good rhythm and aimed to try to catch Kallio but in the end in turn 12, I couldn't stop the bike, so I went onto the gravel and I just came back behind Lorenzo. It was very close but not enough. We have five races more, which is going to be long, but we try everything."
Mike Leitner, Red Bull KTM Team Manager: "The first race for Mika and until the second phase it was going pretty well as he could stay with the group near the top ten. Of course he is missing experience with the correct race tyre and strategy but we're happy with what he did. The rear tyre choice stopped him getting into the points. Miguel had a great race and a big fight with other riders and we're happy with that performance. We missed Pol and he was performing well this weekend up until the crash but he had successful surgery this morning and we wish him all the best. We have the test on Tuesday and Wednesday now and then we'll look to Thailand."
Moto2 & Moto3
In Moto2 – that took place after the MotoGP race due to a schedule change – Red Bull KTM Ajo's Brad Binder rode superbly to front the Grand Prix and escape for his second triumph of the season (and second consecutive year at Aragon). The South African is currently 5th in the championship. Teammate Jorge Martin took 9th place in what is still the Moto3 World Champion's first term in the intermediate category.
Brad Binder: "The strategy went out window after three laps when I saw small gap at the front so I did my absolute best every lap and tried to limit the mistakes. I knew the end of race would be hard and I was really struggling but I have to give huge thanks to the team for giving the equipment to last the distance and win here."
Two KTM's finished on the Moto3 podium with Aron Canet running free to his third victory of the season and seventh top three result to launch straight back into title contention. The Spaniard is just 2 points away from Lorenzo Dalla Porta at the peak of the standings. Dennis Foggia grabbed 3rd position for his second career visit to the podium. Red Bull MotoGP Rookies Cup Champion Carlos Tatay grabbed 12th on his Grand Prix debut.
Aron Canet: "It was a difficult race actually because my strategy was to push hard at beginning and find a strong rhythm but finally I could take the victory."
Next race: October 6th, Chang International Circuit, PTT Thailand Grand Prix (THA)
More, from a press release issued by LCR Honda Castrol:
CRUTCHLOW INTO THE TOP SIX IN ARAGON
Cal Crutchlow claimed a fine top-six finish at the Grand Prix of Aragon on Sunday to sign off in impressive style ahead of the flyaway races. The LCR Honda CASTROL rider was pleased with his performance after a difficult weekend at Misano last time out and is looking to take his momentum into the final rounds of the 2019 season.
Having gone second fastest in a damp warm up session, Crutchlow was always looking to be involved towards the front of the field in Sunday's race. Although the Briton could not get as close to the leaders as he wanted after some early difficulties, a late pass on Aprilia's Aleix Espargaro ensured he moved into the top six and got good reward for his weekend's work.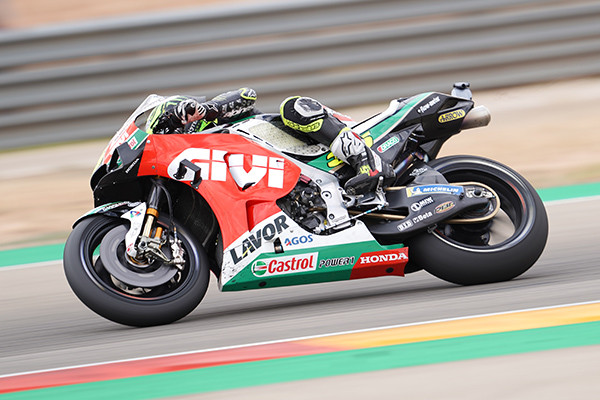 Cal Crutchlow – 6th
"I'm happy with that, I think today was a race we had to finish after last week's disaster, so to come here and get a good result in Aragon, we're happy with that. I just lost too much time, I got caught in some stupid battles on the first lap and then in the middle of the race I also ran off the track and lost another couple of seconds. I'm pleased with my pace overall, we didn't think the race was going to be as fast as that for a start and we also held our pace throughout the race pretty well. I was able to make some good passes and get a top-six here in Aragon."
More, from a press release issued by LCR Honda Idemitsu:
TOP-10 FINISH FOR TAKA IN ARAGON
Takaaki Nakagami battled hard to eventually claim a top-10 finish at the Grand Prix of Aragon on Sunday. Having qualified in place 14th on the grid, the LCR Honda IDEMITSU rider overcame a difficult start to fight his way through the field and secure a creditable result in the last European-based race until the final round of the season at Valencia.
Despite a strong showing in the morning's damp warm-up session, Taka lost ground at the start of the race as he made an error leaving the starting line. He lost further ground attempting to make an early pass on Danilo Petrucci, but then showed all of his fighting qualities to reel in the Ducati man and get to the front of the group fighting for tenth late on in the race.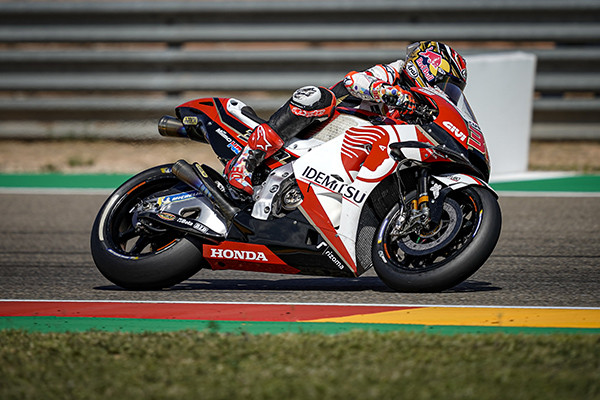 Takaaki Nakagami – 10th
"It was really tough from the beginning. First of all, I had a big mistake at the start, a big wheelie which I did not expect because our start practice had gone well all weekend. So that made things tough, then I tried to overtake (Danilo) Petrucci but I wasn't able to stop the bike and ended up going off the track, so I lost another two positions. I tried to come again and keep the pace until the end, but it was a long race because for many laps I was alone. In the end I was able to catch the top ten group, which was Petrucci (Andrea) Iannone and (Miguel) Oliveira, with about three or four laps to go. I did my best and in the end we got a top-10 which isn't bad, but the pace wasn't great so we still have room to improve the bike."
More, from a press release issued by PETRONAS Yamaha SRT:
Quartararo finishes fifth on up and down day for PETRONAS Yamaha SRT
Fabio Quartararo finishes in a solid fifth place at MotorLand Aragon but Franco Morbidelli taken out of the race
PETRONAS Yamaha Sepang Racing Team rider Fabio Quartararo has taken a strong top-five finish at the Gran Premio de Aragon, converting second on the grid into another impressive finish. Team-mate Franco Morbidelli had a less fortunate day at the MotorLand Aragon circuit, getting taken out of the race on the opening lap by another rider and failing to finish.
Quartararo made a strong start, running inside the battle for the podium in the early stages before settling into fifth place and holding onto the spot until the chequered flag. Happy with his result and with the hard work from the team all weekend, it means that he retains the lead in both the independent riders' championship and the rookie of the year contest.
Morbidelli's race ended before it started when contact from another rider only three-quarters of the way around the opening lap left him in the gravel. Crashing out at turn 12 and unable to convert his strong pace into a result at Aragon, he's keen to use it as a base to build from next time out in Thailand.
The 2019 MotoGP World Championship continues in two weeks' time at the Thai Grand Prix, with action getting underway at the Buriram International Circuit on Friday 4th October, ahead of race day on Sunday 6th October.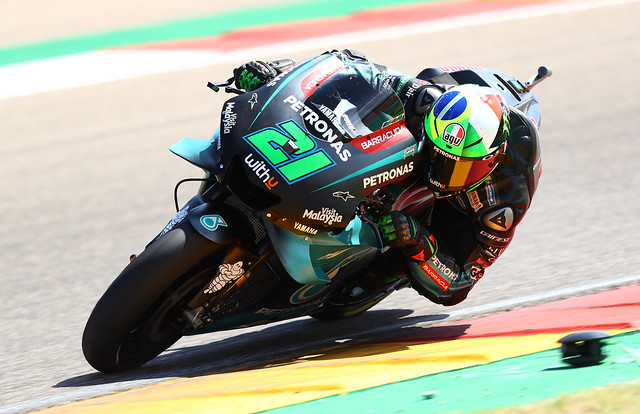 Franco Morbidelli
DNF
"We leave Europe for the overseas races with strong results behind us. In MotoGP, we're still the top independent team and rider, and the result for Fabio today was good in difficult conditions. It was very unfortunate for Franky on the first lap, but we're looking forward to getting going again. It was a great fight for John in Moto3, still finishing a very good fourth – and jumping to fourth in the championship – despite losing a knee slider. Ayumu had a good result too, even though we hoped for a little more. With five races to go, there's still lots of time for him to show his potential. In Moto2 as we were hoping to see Adam learning and progressing until he crashed and hurt himself. We leave Europe well-motivated and can't wait to get to Thailand, Japan, Australia and of course Malaysia."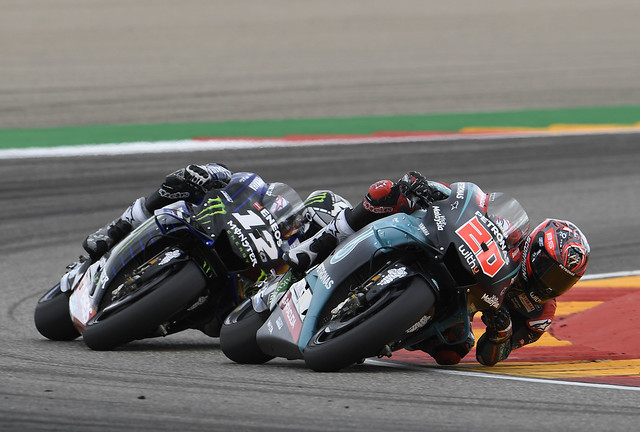 Fabio Quartararo
5th
"It was a day of mixed fortunes. Franky was really unlucky to be hit by Rins on the first lap. It's always a drama for a team when you prepare all weekend and then you're on the floor after half a lap, without any blame for our rider. But that's racing and luckily he's unharmed, which is very important for the coming races. Fabio had a stable race, without the result we dreamed for after yesterday's qualifying – but to finish a difficult race with low grip in fifth isn't something we can complain about, it's something to be proud of."
"Yesterday I showed really strong pace and I was hoping for a good race so it's very unfortunate what happened on the first lap. We improved the bike this morning and I knew that we could have a nice result, but in turn 12 I was hit by Rins and there was nothing else I could do. He came after the race and told me he was sorry for the mistake, and that he tried to stop but couldn't. The positive is that we were fast all weekend, so we'll aim to exploit our strengths when we go to Thailand."
"Overall we did a really good job at Aragon and I'm pleased with the result because the goal was to finish inside the top five. We were just missing a little bit of grip in the left corners, and we need to analyse the data and see what happened. Our pace was good at the end but just not quite good enough to stay with the guys in front; I gave my 100% to try but I couldn't manage it. We're fighting for the top independent rider with Jack [Miller] and it'll be good to carry that battle on through the overseas races. I'm looking forward to arriving in Thailand because it's a track that I like even though it's going to take hard work to be competitive there."
More, from a press release issued by Team Suzuki ECSTAR:
DAMAGE LIMITATION FOR TEAM SUZUKI ECSTAR IN ARAGON
Alex Rins: 9th (+ 27.998)
Joan Mir: 14th (+ 33.363)
Alex Rins recoups to 9th place and regains 3rd in standings.
Unfortunate clash for Joan Mir sees him fight back to 14th.
Difficult day for Team, now focusing on the fly-aways.
After a strong morning Warm-Up session for both Team SUZUKI ECSTAR's riders, the Team were feeling positive for the 14th race of the season at Motorland Aragon.
Lining up on the grid with the medium-hard tyre combination, the tension was running high for the whole field as clouds closed in and the threat of rain increased.
Joan Mir and Alex Rins launched off the line and were together in the first corners of the 23-lap race. Rins was then involved in an incident with Franco Morbidelli at Turn 12 which saw the Italian crash, and sent Rins into the gravel trap, rejoining in 19th place. Rins then began to recoup his lost positions and was in 12th when Race Direction decided to hand him a long lap penalty for his involvement in Morbidelli's crash.
The Spaniard promptly took the penalty loop and didn't lose any further positions thanks to the buffer he had built up. He then began a battle with four riders for 9th place and put in several passes but struggled to hold position, in part due to the damage sustained to the aero package on his GSX-RR on the first lap. Rins was determined to finish well and he fiercely held on to 9th place before the chequered flag, regaining 3rd place in the championship standings.
Mir had been enjoying a strong weekend at one of his favourite circuits, but he struggled to find a good feeling under braking, and this resulted in a tough first part of the race for him. He then settled into a strong pace but incurred some contact from other riders – also reporting damages to his GSX-RR. His struggles continued until the end of the race, where he finished in 14th place.
Ken Kawauchi – Technical Manager:
"It was a hard race for Suzuki today. Our pace wasn't bad this weekend, and both riders had good speed. But today both riders were involved with incidents, and we're sorry that Morbidelli went out of the race. It was not easy for Alex or Joan to continue after the clashes, they lost positions, but I want to thank them because they didn't give up and they scored points and got the best finishes they could in the circumstances."
Davide Brivio – Team Manager:
"We knew it would be a hard race from the beginning, but in the end it was even more difficult than we were expecting. Alex did a really good start and slotted into 8th early on, but then he made a mistake, and we're so sorry for Morbidelli and his team. Alex then took the long lap penalty because of the incident. It's a pity because I think he had the pace to fight nearer the front, but it didn't work out like that. On the plus side he regained 3rd in the championship, which is important. Joan was unlucky today after contact with another rider, but he also collected some points and did well to finish. We hope to recover in Thailand and have a better race for both riders."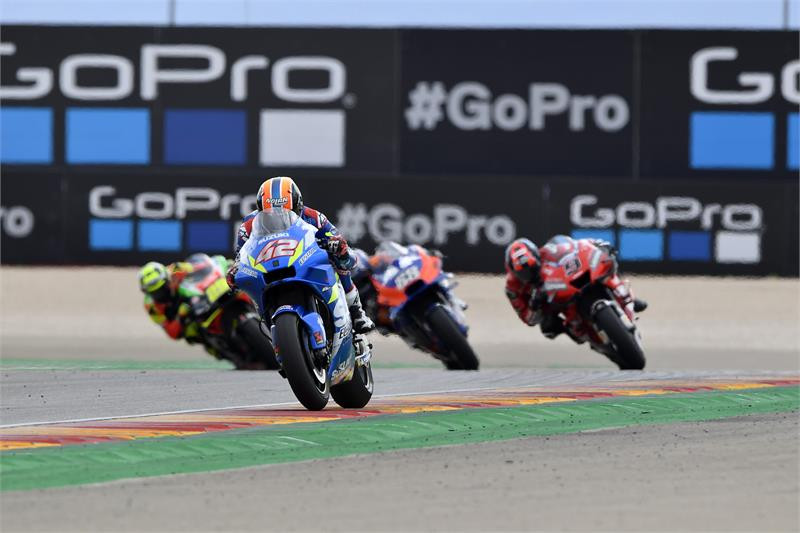 Alex Rins:
"First of all, I want to say sorry to Franky for what happened. I went to see him directly after the race to apologise. It was a difficult day, I had a long lap penalty, which I completely accept, but I then I had to try and fight back through the pack. Anyway, 9th position isn't too bad given everything that happened during the race. I need to try and improve my qualifying, let's see what happens in Thailand."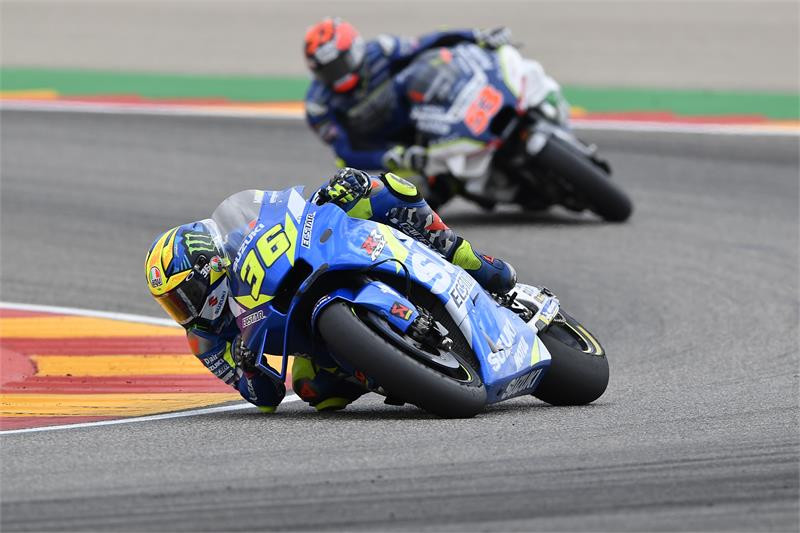 Joan Mir:
"The race didn't work out how I expected at all, and I'm really disappointed about it. On the first laps I went wide several times and I sustained some damage to my bike. I kept trying to recover positions throughout the race and although I took points, this wasn't the race that we were expecting, and it's not the result I hoped for. I'm really hoping that Thailand will be better for us, I want to finish well there."
More, from a press release issued by Michelin:
MICHELIN'S GRAND PRIX SEES A MARQUEZ MASTERCLASS
2019 14 GP Aragon 00530
Michelin's own Grand Prix at MotorLand Aragon witnessed a dominant weekend's performance by reigning MotoGP™ champion Marc Marquez (Repsol Honda Team) as he took the spoils during today's Gran Premio Michelin® de Aragon.
This weekend was the first European circuit to bear the French tyre company's name, as Michelin changed its race sponsorship to the Spanish venue following three seasons as title sponsor at Phillip Island in Australia and it proved a busy weekend for Michelin as changeable weather around the 5,077m layout meant the whole range of MICHELIN Power Slick and MICHELIN Power Rain tyres were tested at some point over the three-days.
Friday saw almost perfect weather for racing and fast times were produced as the riders worked on set-up in anticipation of today's race, but overnight rain changed plans and Saturday morning's Free Practice was wet, giving the riders the opportunity to assess the treaded rubber, should the same conditions arise for race day. The track dried in time for Qualifying and Marquez took pole position, with Fabio Quartararo (Petronas Yamaha SRT) in second and Maverick Viñales (Monster Energy Yamaha MotoGP) third. Sunday Morning's Warm-up again saw rain fall on the Spanish track and although it had dried in time for the race, it meant that the track was quite slippery and gave less grip to the riders than had been expected, meaning the MICHELIN Power Slick tyres had to work to the extremes to create as much adhesion as possible and give the racers the performance and confidence they demanded, as the surface temperature only reached 32°C, because of heavy cloud cover.
Marquez got the holeshot as the lights changed to signal the start of the 23-lap Gran Premio Michelin® de Aragon and pushed hard from the start to make the break, his intent was signalled as he set the fastest lap of the race on only the second circulation. He led for the whole duration and crossed the line almost five-seconds ahead of his nearest rival, a result which gave him his 78th victory from his 200th Grand Prix start and strengthened his lead at the top of the riders' championship. Following him home was Andrea Dovizioso (Ducati Team), despite stating from tenth on the grid, the Italian carved his way through the field with a battling display to take second, setting a new Best Maximum Speed record in the process as he clocked 346.1Km/h. Third went to Jack Miller (Pramac Racing), as his manoeuvre on the final lap saw him take the final podium place and the position of First Independent Rider. Viñales finished fourth, with Quartararo in fifth. Cal Crutchlow (LCR Honda) crossed the line in sixth, as Aleix Espargaro (Aprilia Racing Team Gresini) took the flag for seventh and his best result of the season so far. Eighth went to Valentino Rossi (Monster Energy Yamaha MotoGP), with Alex Rins (Team SUZUKI ECSTAR) ninth and Takaaki Nakagami (LCR Honda) rounding out the top-ten.
A crowd of 59,112 gathered trackside to witness live the Gran Premio Michelin® de Aragon, with many millions watching on TV and Internet around the globe. Following today's trio of races, the top-three in MotoGP, Moto2™ and Moto3™, plus the winning constructor in each category were presented with specially commissioned trophies. These 12 unique pieces were specifically 3D printed for this weekend's races and reflected the iconic MotorLand Aragon circuit and Michelin tyre patterns in their design. Presented during the three podium ceremonies at Aragon, these trophies were designed and 3D printed in titanium by AddUp (co-owned by Michelin) and Poly-Shape, leaders of the metal 3D printing industry.
Michelin now begins a four-race fly-away tour which will take in Thailand, Japan, Australia and Malaysia over five weekends, with the first of these scheduled for the Chang International Circuit at Buriram in Thailand on Sunday 6th October.
Marc Marquez – Repsol Honda Team:
"During the whole weekend we did a great job. We were so convinced about our strategy and about what we needed to be fast at this racetrack and I think we worked in a very good way. We chose the best option today as it was cloudier and this made it a difficult decision, but in the end we did a great job and chose the best tyre for the race distance. I am happy because it was possible to be fast with two options of rear tyres today and this gave the chance to all the riders to be in a good way. It was the Michelin Grand Prix and my 200th GP, so I was very happy to win today. I will now just keep going and keep enjoying and this will be my target for the rest of the season."
Piero Taramasso – Michelin Motorsport Two-Wheel Manager:
"We came to our Grand Prix in a determined manner to set some new records and make this very much our own race and after Friday it looked like that would be the case. We saw some fast times and the track looked like it was in good condition, but then the rain intervened. This took away any of the rubber that had been laid down and made grip a bit more of a premium, not quite as bad as Misano last week, but enough to have a bearing on lap-times. The rain did give us more data for how the tyres perform in the wet and due to this it meant we were able to test every specification of tyre this weekend, so from that point of view it was a positive event. Unfortunately it rained again on Sunday morning and it was cooler and overcast at the start of the race, although the track was completely dry, but this gave the riders a big dilemma as to which rubber to choose and because of this we only saw four options in the race, with most of them favouring the front medium slick and then a split between the soft and hard rear. This weekend has been a very mixed affair with the conditions, but the tyres performed well and gave the control and performance where it was needed. We now head to Thailand and one of the most demanding tracks of the year to start the fly-away tour. We're all looking forward to these races as it tests us and the tyres to the limit on four very different racetracks.
"I would like to thank all the management and staff from Michelin that came to support us here at Aragon this weekend. It was very pleasing to see so many of them here and to be able to show them around the MotoGP operation and how we work at the racetrack. I hope they had an informative time and enjoyed the show."
More, from a press release issued by Pramac Racing:
Gran Premio Michelin® de Aragon – RACE
#AragonGP RACE. What a PODIUM Jack! Fantastic race by the Australian who celebrates in Parc Ferme. Pecco finishes in P16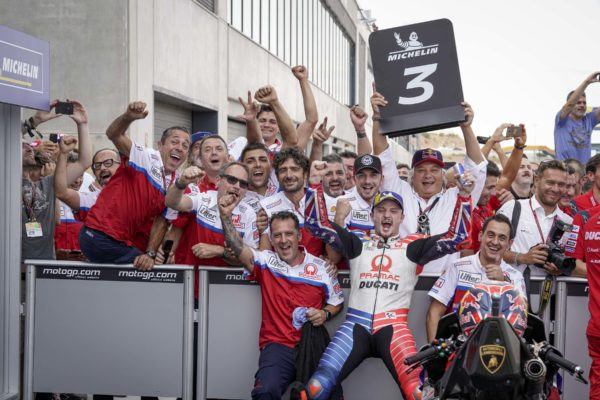 What a fabulous race. Jack Miller takes the third podium of the 2019 season, the most beautiful, conquered with pride, after fighting with Quartararo, Vinales and Dovizioso since the first laps. Jack got off to a great start and was for seven laps in second position before the attack of Vinales and Dovi. The Australian rider did not lose his concentration and remained with the group on the podium until the end. In the last lap Jack makes a masterpiece and overcomes Maverick for a podium finish celebrated by the whole team and that allows Jack to remain in the race for the title of independent rider, 6 points behind Quartararo. Pecco fights first with Lorenzo and Kallio, then from mid-race engages in a nice duel with Mir. The Italian rider closes in 16th position.
P16 – Pecco Bagnaia
It was an interesting race to collect data but not positive in terms of result. We continue to have big traction problems at the rear. We have to figure out how to solve this situation that is limiting us a lot, especially during the race.
P3 – Jack Miller
It was a great race. I tried to stay close to Marquez in the early laps, then I had fun fighting with Quartararo, Dovizioso and Vinales. This is an important result for the team and for Ducati and I thank them for the extraordinary work they've done not only this weekend but since the beginning of the season
More, from a press release issued by Aprilia:
OUTSTANDING TEAM EFFORT FOR THE APRILIAS AT ARAGÓN
ALEIX BATTLES WITH THE TOP TEN AND FINISHES SEVENTH FIVE SECONDS FROM THE PODIUM
ANDREA, SUFFERING WITH PAIN IN HIS SHOULDER, BATTLES AND FINISHES JUST OUTSIDE THE TOP TEN
At Aragón Aprilia takes the best result of the season, with Aleix Espargaró finishing seventh, but close to the leaders, and Andrea Iannone, still suffering with pain in his shoulder after the Misano accident, finishing eleventh.
After the good sessions yesterday that had placed him on the second row, Aleix started off strong, holding onto his position and fending off an attack by Rossi, staying close to the group of top riders battling for podium positions. The battle with Crutchlow for sixth continued all the way to the last lap when Aleix recovered ground, finishing in the Brit's slipstream but, more importantly, keeping the gap to five and a half seconds behind the second place finisher in a race where the winner – Marquez – was in a race by himself. This is a great result that placed Aleix among the protagonists in the Spanish race and it is an excellent way to head off for the overseas tour.
Throughout the race Andrea had to deal with pain in the left shoulder he injured in Misano. He gritted his teeth and, although having to dose out his strength, he remained consistently in the positions battling for the top ten. He missed it by less than half a second, but after a nice battle where he prevailed over Petrucci precisely on the final lap. The week-long break before flying out to Thailand will be essential for his full physical recovery.
Bradley Smith, in the race with the third RS-GP, finished nineteenth, completing the work he had planned with the Test Team.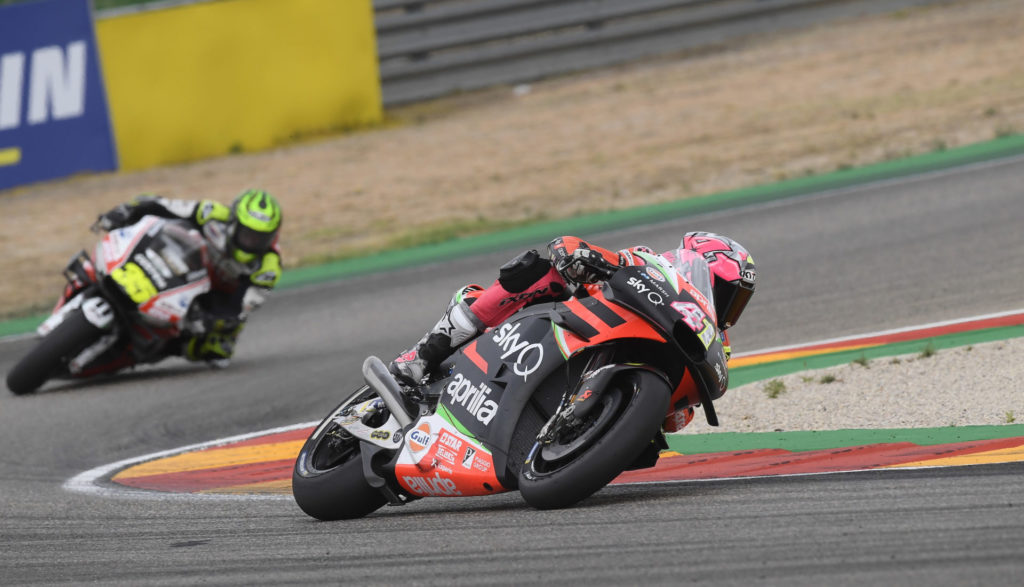 ALEIX ESPARGARO'
"Today's result was good. The team and I gave 100% and we deserve it. At the start, with the fuel tank full, I didn't have the best feeling with the front end, but things got better and better after a few laps. I had fun. Battling in the leading group is always nice, although the characteristics of the track undoubtedly helped us."
ANDREA IANNONE
"This weekend I had to grit my teeth and even in the race, the pain in my shoulder forced me to save my energy, especially when grip began to decrease. I am pleased with the team result, but we need to keep working hard, first and foremost, to reduce the gap in acceleration and top speed compared to Aleix. We can't let this race fool us. This is a track that suits the Aprilia well and we still have a long way to go."
BRADLEY SMITH
"It was a good day for Aprilia, the result of hard work by everyone. I am happy, first of all, about finishing the race, since in my last wild cards that had not been possible. We took a shot in the dark, starting with an entirely new setting. It was also a functional decision because of the tests we'll be doing here in a few days, during which we want to give Aleix and Andrea a little extra help for the rest of the season."