Fong Wins Again and Dumas Earns Twins Cup Championship For Team Hammer
Brea, CA — One day after securing the sixth AMA Pro/MotoAmerica National Championship of its illustrious history, Team Hammer added a seventh to its long list of accomplishments as Roadracing World Young Guns Suzuki's Alex Dumas put the finishing touches on his successful MotoAmerica Twins Cup title campaign in the final race of the 2019 season at Barber Motorsports Park.
Despite entering the day with an imposing points lead and having the option to cruise around for points, Dumas earned the title in impressive fashion. The talented Canadian teenager twice took the holeshot on his Team Hammer-tuned Suzuki SV650 in the once red-flagged and restarted race and promptly went wire-to-wire at the front despite battling a tight four-rider pack for the win.
Although he took the checkered flag first, Dumas was later assessed a one-second penalty for weaving during the final sprint to the stripe. That decision dropped him back from first to third in the final race results, which was still easily enough to earn him the 2019 class crown.
Even without being credited with Sunday's triumph, Dumas earned five victories on the year and finished on the podium in the final eight races of the 11-race championship.
Dumas said, "The beginning of the season didn't go how we planned and Team Hammer responded by just making my bike faster and faster all year. And now we have the #1 bike.
"I really want to thank team owners John and Chris Ulrich for this opportunity in the Twins Cup. I also want to give a huge shout out to the whole Team Hammer crew who worked so hard on the bike. I'm a little bummed to end up third today, but that was my mistake. I apologize for that.
"I'm extremely happy about this championship; it really means a lot to me. And I think we're going to come back even stronger in 2020."
After locking up his championship on Saturday, 2019 MotoAmerica Supersport champion Bobby Fong was free to push the limits and again demonstrate his pace on his M4 ECSTAR Suzuki in Sunday's finale.
That pace saw him leave the field in his wake as he lapped almost four tenths faster than his pole time. As a result, Fong broke free from the start and piled up a multi-second advantage in his favor. However, the Californian crashed avoiding a lapped rider with five laps remaining.
That late incident brought out a red flag and the race was ultimately called complete. The official results credited Fong with his final victory of the season. As a result, he ended his remarkable championship campaign with six wins and 14 podiums in a year in which he never took the checkered flag lower than second in any given race.
"I'm happy to get the win," said Fong. "I felt I was the fastest guy out there today. The pressure was off having locked up the championship on Saturday. I was able to race my own race and I felt good doing my own thing. I crashed when I missed my line getting through lapped traffic and it brought out the red flag. The rules are the rules and we got the win. Sometimes, these things go against you a little bit like they did for us at Daytona and VIR but they went our way today. I'm happy for our team and it is good to close out the year this way."
MotoAmerica rookie Sean Dylan Kelly officially ended up fourth in the race results despite celebrating on the podium. He also finished fourth in the 2019 MotoAmerica Supersport standings on the strength of two wins and seven podiums.
Kelly said, "We made a pretty big step compared to yesterday. We were struggling all weekend long and crashed in FP1, which didn't help. We've been working really hard.
"I want to thank my crew chief and the whole M4 ECSTAR Suzuki team for all that work and all their patience. They've been amazing this year. We picked up a number of podiums and met our goal with a couple of wins in the middle of the season.
"As a rider, we always expect more. But overall, this is my first season and the objective was to learn and I think we learned quite a lot. Every weekend was something new. We have some work to do over the winter, but I learned a lot this season and I'm super grateful for the opportunity.
"It was also great to have Bobby as a teammate. He was doing some incredible lap times out there. I was running almost a second faster than yesterday, and he was just going away from us at the front."
M4 ECSTAR Suzuki's Jake Lewis concluded the 2019 MotoAmerica Superbike campaign with a eighth-place result aboard his GSX-R1000 on Sunday. The Kentuckian closed out the season ranked seventh in the premier class with seven top-five results on the year.
Autovest Suzuki's Joseph Blasius also picked up a top ten for Team Hammer on Sunday with a ninth-place finish in the Twins Cup race. Blasius had surgery to repair a broken right wrist and a broken left metacarpal just three and a half weeks ago but closed out the season with an impressive ride that showed his toughness and dedication. He ended the season seventh in the Twins Cup standings with a podium and four top-fives.
About Team Hammer
The 2019 season marks Team Hammer's 39th consecutive year of operating as a professional road racing team. Racebikes built and fielded by Team Hammer have won 83 AMA Pro and MotoAmerica National races, have finished on AMA Pro and MotoAmerica National podiums 234 times and have won seven AMA Pro and MotoAmerica National Championships, as well as two FIM South American Championships. The team has also won 135 endurance races overall (including seven 24-hour races) and 13 Overall WERA National Endurance Championships with Suzuki motorcycles, and holds the U.S. record for mileage covered in a 24-hour race. The team also competed in the televised 1990s Formula USA National Championship, famously running "Methanol Monster" GSX-R1100 Superbikes fueled by methanol, and won four F-USA Championships.
More, from a press release issued by Yamaha:
Cameron Beaubier Crowned Champion at MotoAmerica Season Finale in Alabama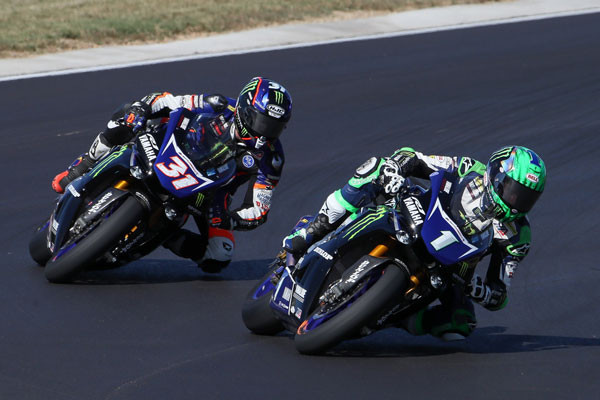 The Monster Energy Yamalube Yamaha Factory Racing Team scored the results needed for Cameron Beaubier to retain his number-one plate in a spectacular come-from-behind run for the MotoAmerica Superbike Championship. Beaubier and Garrett Gerloff capped off the season in dominant fashion finishing first and second, respectively, at Barber Motorsports Park on September 20-22.
Beaubier had a 16-point deficit going into the season finale. With the cards out of his hands, the reigning Superbike champ was all in for the wins. He also needed his teammate Gerloff to join him on the podium in second for that final push in his late-season charge to the title.
From the start, the Monster Energy Yamalube Yamaha Factory Racing duo showed speed, topping the timesheets, with Gerloff leading the way on Friday and Beaubier taking Superpole. In race one, the Californian got a great start from pole but was shuffled back to third. His younger teammate put his head down and built a healthy lead up front. On lap six, Beaubier made his move into second and set after the Texan. With five laps remaining, he was able to make the pass into the lead, and the factory bLU cRU riders set a hot pace to cross the line 1-2, over 18 seconds ahead of the competition.
With the championship still in sight, Beaubier lined up again in Sunday's race hoping for a repeat performance. That nearly went up in a puff of dirt going into the first corner as he was pushed wide into turn one. He recovered but was shuffled back to sixth. As champions do, he kept fighting while Gerloff was once again out front setting the pace. Beaubier was able to move his way through the pack fairly quickly and take the number two spot by lap five. He caught up to his teammate and moved into the lead four laps later. Once again, the pair set a fast pace and kept it on two wheels to get the job done, securing Beaubier's fourth MotoAmerica Superbike Championship and Yamaha's 10th AMA Superbike title. It also marked Beaubier's sixth win of the season and his 17th podium. The cherry on top for a successful weekend was an all-Yamaha YZF-R1 podium with Mathew Scholtz joining the factory riders on the podium.
It was a solid end to an impressive year for the sophomore Superbike rider. The Texan overcame challenges and really hit his stride in the second half of the season. After scoring his first career win in the premier class in race two at Laguna Seca, he backed it up with three more victories and earned a total of 15 podiums to end the year third in the standings.
Tom Halverson
Monster Energy Yamalube Yamaha Factory Racing Team Manager
"I am just so incredibly proud of our entire organization, our riders, crew, supporters and sponsors. This was a really special championship for us. We came in here having to get first and second in both races. Our guys pulled it off. It was just an unbelievable effort. We never gave up. Again, I'm just so proud of everybody. It's a really emotional victory. Congratulations to Cameron for his fourth Superbike Championship and to Garrett for ending the season on such a high note. Both guys rode so great. They are incredible teammates. Together they brought home this championship for us, so again congratulations to the whole organization."
Cameron Beaubier
Monster Energy Yamalube Yamaha Factory Racing
"I did everything I could to stay on the track there (in turn one). Herrin got in there hot and I was on the outside of him. I clipped the dirt a little bit, got shuffled way back and I was like, 'Are you kidding me?' I felt so good going into the race because of the pace Garrett and I had yesterday and it felt even better this morning in warmup, so it put me on the back foot right away. I just gave it everything I had to pass all those guys. They were so tough to pass. They've been ripping all year. I was so happy I was able to put a little gap on them. I just can't believe it.
"My teammate helped me out a little bit there at the end without fighting me too much. Hats off to him. He's been riding incredible. It's really tough but really rewarding having such a fast teammate like that. It feels so good to keep the number one on my bike for everyone that supports us and especially Yamaha. It really is a big family. I love all of those guys. This one's definitely for my crew chief, Rick Hobbs. He's been my crew chief ever since we started on the Superbike together. He's an amazing crew chief and an even better guy. This one's for him."
Garrett Gerloff
Monster Energy Yamalube Yamaha Factory Racing
"It was awesome. I started off slow. The tires were working great, but it just kind of took me a while to get comfortable on them. I've also been having a little bit of an issue with my brakes all weekend, just fading and stuff, so I was kind of fighting that. I'm super happy to be on the podium to finish the season off.
"I'm really happy that Yamaha was able to get the championship today. They've been like a family for me since I started road racing. They've always had me by their side, so I'm just super happy that they were able to get another championship this year. We had to fight for it. I was hoping a couple races ago that this could have been my championship. I was fighting for it, but I'm so happy for Yamaha, happy for the whole team. These guys work their butts off. Coming into this, we didn't know what was going to happen so to walk out, coming from so far back to getting the championship, it's awesome. Congrats to Cameron. Congrats to the whole team."
More, from a press release issued by Westby Racing:
Mathew Scholtz Bounces Back From Saturday Adversity To Finish On The Podium In Sunday's Superbike Race Two At Barber Motorsports Park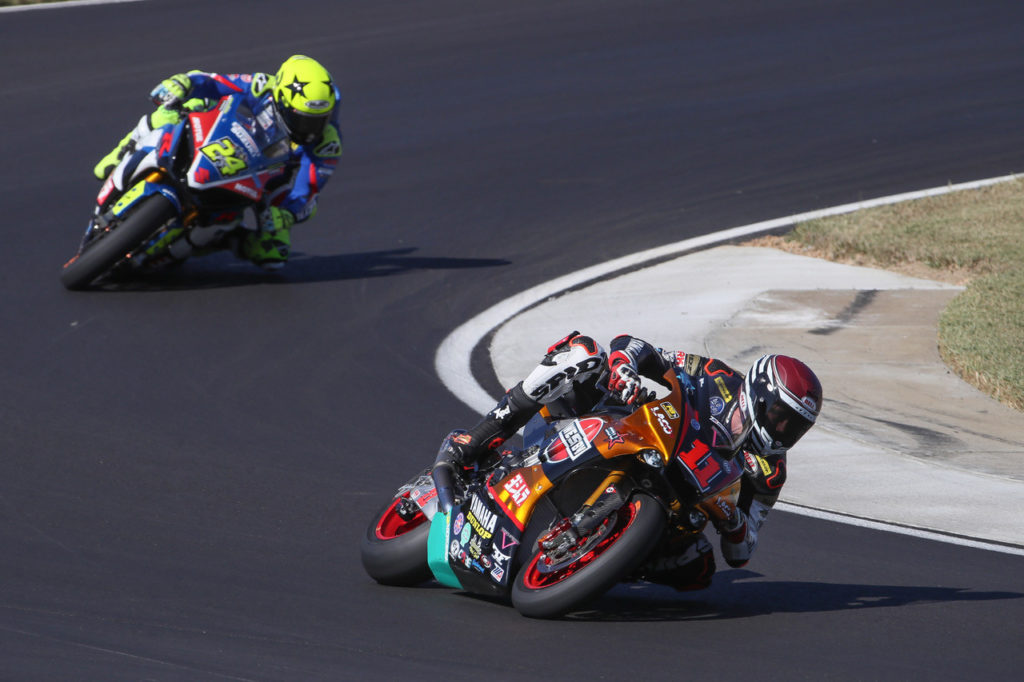 Birmingham, AL – September 23, 2019 – The 2019 MotoAmerica season concluded on Sunday at Barber Motorsports Park, and in the final Superbike race of the year, Mathew Scholtz piloted the #11 Westby Racing Yamaha YZF-R1 Superbike to a third-place result, which completed an all-Yamaha podium and brought his tally to 13 top-five finishes out of a total of 20 races this season.
For Mathew and the Westby Racing team, it was a triumphant return to form after a difficult Saturday. In the 15-minute Sunday morning warmup, Mathew was the fifth fastest Superbike rider, which gave the team a much-needed boost heading into the afternoon's Superbike race two.
Starting from the middle of the third row on the grid, Mathew got a good jump off the line and moved up to fifth on the first lap. He then got shuffled back to ninth, but he went to work and methodically made his way back up to fifth. After the halfway point of the 21-lap race, he moved up to fourth, and then, one lap later, into third, which he maintained all the way to the checkered flag.
"It was definitely good to finish up with a podium," Mathew said. "Spirits were really low yesterday. The boys were really pumped. I've had an up-and-down season. Started off, I wouldn't say terribly, but nowhere near where we thought. I feel like, the last couple of races, we've come on well. Just thank you to the Westby guys. They've been working hard. I'm just really happy to be back up here racing. We haven't signed a contract yet, but 2020 is basically down for us. Just happy to be back here. After last year, things went pretty well but just the normal checkbox on the Yamaha getting everything ready. The Yamaha factory guys stepped up the pace at every single track. They were in a class of their own the last couple races. So I feel like, today, if I maybe could have tagged on with them, I could have followed them, so that gives me huge confidence for next year that we can at least challenge for race wins occasionally. I think that's the goal for us. To everyone watching back home–my friends, family, my fiancée, everyone–it's been a dream come true racing here."
2019 MotoAmerica Superbike Final Standings
1. Cameron Beaubier – Yamaha – 367
2. Toni Elias – Suzuki – 362
3. Garrett Gerloff – Yamaha – 316
6. Mathew Scholtz – Yamaha – 204
For more updates about Westby Racing, including news, photos, and videos, visit https://www.WestbyRacing.com
Also, follow "Westby Racing" on your favorite social media sites.
More, from a press release issued by Suzuki Motor of America, Inc.:
Heartbreak for Yoshimura Suzuki as Championship Slips Away
A Difficult Weekend in Alabama Costs the Team its Title Hopes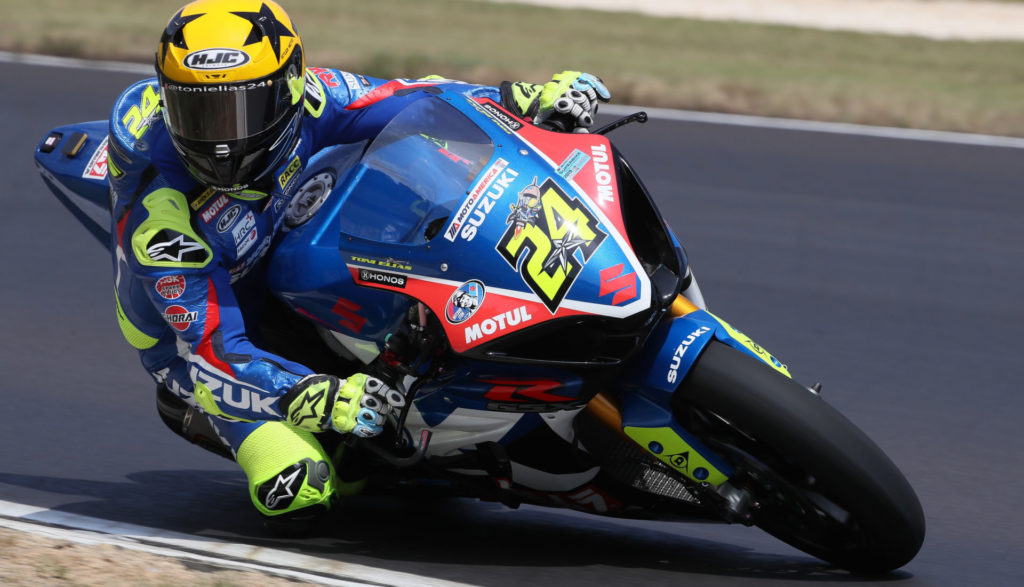 Brea, CA (September 23, 2019) — The 2019 MotoAmerica Superbike season finale will go down as one of supreme disappointment for Yoshimura Suzuki Factory Racing. Toni Elias, who led the standings nearly the entire season, and had a 16-point advantage coming into the event, suffered a challenging weekend, chasing bike setup all along the way. He managed a podium on Saturday with third, and a fourth-place finish in Sunday's race, but it wasn't enough. Elias ended the year second in the standings, losing the title chase by only five points.
In spite of ending the year with a stinging of a loss, Yoshimura Suzuki had a lot to be proud of in 2019. Elias can be proud of the fact that he scored a series-leading seven wins on the season. Teammate Josh Herrin pitched in with two additional wins, giving the team a total of nine wins this year.
Elias also etched his name in the record books this year, moving into a tie for fourth with Miguel Duhamel on the all-time MotoAmerica/AMA Superbike wins list with 32-career wins.
The Suzuki GSX-R1000 and its Superbike predecessors remain the all-time wins and championship leader in MotoAmerica/AMA Superbike Championship history.
Elias displayed his characteristic class even in defeat.
"First of all, I want to congratulate Cameron Beaubier and Yamaha," Elias said. "They did an amazing end of the season and they deserve this win. For me it is not nice – it's hard and sad. It will take some days to digest this loss and accept it. We tried hard. We did everything we could. The whole team gave 200 percent. We tried to find grip where there was no grip. I also want to say thank you to my teammate Josh Herrin. He tried to help and did a great job, but it was not enough.
"I'm very proud of my team, every single person. It's very difficult for them as well, but we must accept that we tried our best and be content with that fact."
Herrin did an outstanding job in Saturday's race supporting his teammate as they both battled hard for positions. The former AMA Superbike Champion reflected on the season finale.
"Yesterday was an easier race," Herrin explained of Saturday's race one. "We were able to get in a good position and control the race as much as possible. Today I chose a softer tire than everybody else and it chewed up and I wasn't able to stay with them. I did what I could to help the team in the championship and unfortunately it didn't go our way. Hopefully we get the opportunity to come back next year, now that we have data with me on the bike from all the tracks, I'm confident we could make a stronger showing."
Suzuki Motor of America's Vice President of Motorcycle/ATV Sales and Marketing, Kerry Graeber echoed the sentiments of both riders. "Obviously we're terribly disappointed to lose the championship, especially since it was within our grasp," commented Graeber. "That said we're very proud of our team and the incredibly rich history of the Yoshimura Suzuki partnership. Don Sakakura sets a standard of excellence that is reflected in every member of the team. I and Suzuki are honored to be partners with the Yoshimura organization and the record-setting level of success we have enjoyed together over the many years."
2019 marked the 41st season of the Suzuki and Yoshimura Superbike partnership. With the nine wins this season, Suzuki adds to its record in All-Time MotoAmerica/AMA Superbike wins reaching 212 victories since the series launched in 1976.
More, from a press release issued by Attack Performance/Estenson Racing Yamaha:
Tough End to the Weekend for Beach at Barber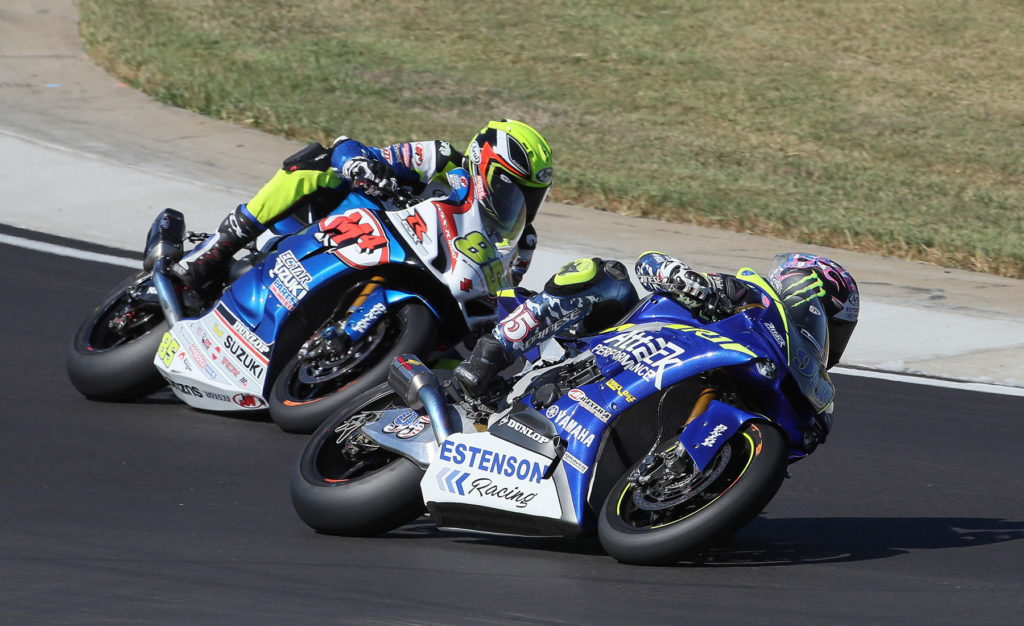 JD Beach's race two ended early with a crash in challenging conditions at Barber Motorsports Park, on Sunday, September 21. Although not the end to the year he was hoping for, the Attack Performance Estenson Racing rider finished his debut MotoAmerica Superbike season fourth in the standings.
Beach was looking to build on his top-five finish in race one. Unfortunately, in race two he was struggling to find grip in the hot, greasy conditions on the newly paved track in Leeds, Alabama. He improved from 10th to eighth on the start and was able to maintain that spot for most of the race until he lost the front in turn 16 before the halfway mark.
In spite of the error, Beach was able to finish the year fourth in points with four podiums and a win at VIRginia International Raceway. The dirt track/road racer now sets his sites on the American Flat Track season finale, this weekend, September 28, at the Meadowlands Mile.
JD Beach — MotoAmerica Superbike #95:
"Today was a rough day and not how I wanted to finish the year off on the Superbike. From the start of the race, I just didn't feel great. The grip for me wasn't the best and I was moving around a lot. I had a couple issues mid race and lost the lead group. Then in the last right hander, when the turn tightens up, I just got a tiny bit of too much front brake and lost the front. I'm not hurt or anything and I was able to push the bike back. I just feel bad for the team. The team has done an amazing job and it's been a lot of fun this year. Like I said, it wasn't how we wanted to finish the season but it's been a great year with a win and some podiums."