More, from a press release issued by PETRONAS Yamaha SRT:
Back-to-back MotoGP victories for Fabio Quartararo at Jerez
PETRONAS Yamaha SRT's Fabio Quartararo takes second consecutive MotoGP win, DNF heartbreak for Franco Morbidelli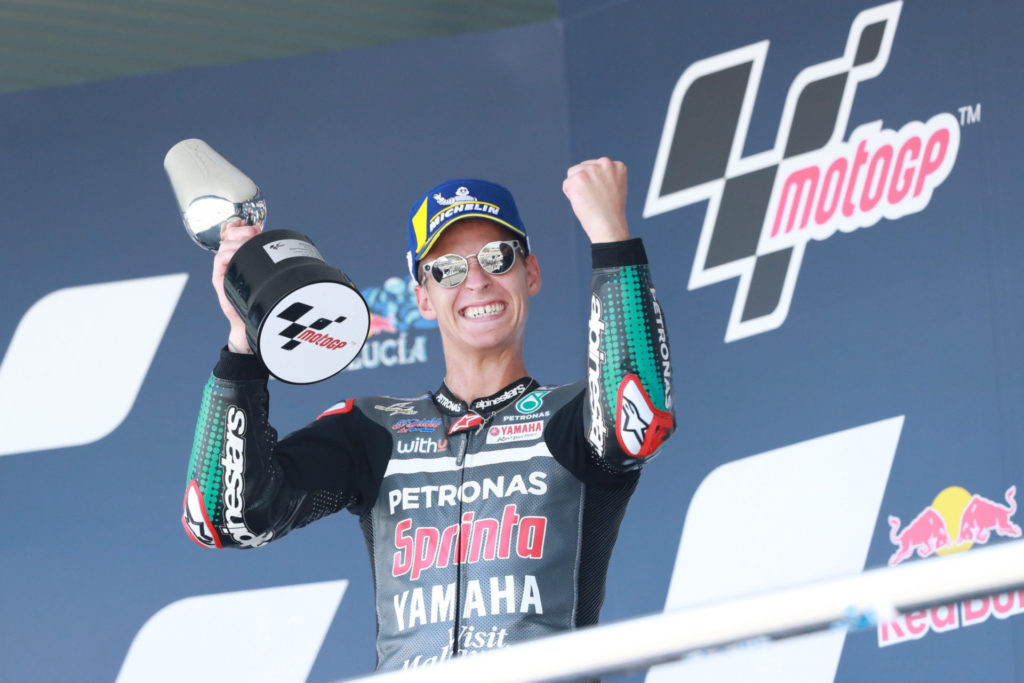 Fabio Quartararo didn't put a foot wrong in today's MotoGP race, leading from the lights to the flag and making it back-to-back victories in Jerez. Quartararo also extended his lead in the championship standings. Unfortunately, it was ultimately a race to forget for team-mate Morbidelli, who was forced to retire with mechanical problems after fighting in the podium positions.
Quartararo made the perfect getaway off the line and held the lead into the first corner. From then on the Frenchman made no mistakes and with every lap raced he continued to extend the gap to the rest of the field. While the race behind became one of attrition, Fabio saw none of it as he was in a race of his own out front. Despite slowing down to celebrate with his team on the final lap, Quartararo finished 4.495secs ahead of Maverick Viñales and Valentino Rossi, who helped to make it a Yamaha podium lockout – the first one since Phillip Island in 2014. This second win sees Fabio extend his lead in the MotoGP World Standings to ten points, and maintain PETRONAS Yamaha SRT's place at the top of the Team's Championship.
While there were celebrations for Fabio, it was heartbreak for team-mate Morbidelli. The #21 rider, who started his 21st MotoGP race as a PETRONAS Yamaha SRT rider today, was having a good race. The Italian soon made his way through the pack in the opening laps of the race, and was soon in contention for a podium place. Unfortunately with nine laps left to go, Franco's Yamaha YZR-M1 experienced technical issues and he was forced to retire from the race.
The next race for Fabio and Franco will be in just less than two weeks, when the MotoGP paddock moves to the Automotodrom Brno, in the Czech Republic, for their third race of the season (7-9 August).
Razlan Razali
Team Principal
Another great weekend for us. It was a great redemption for John McPhee who raced very smartly this weekend. Second is a good result for him and now he is in third position and only ten points behind the leader in the standings. I'm very happy for him. KIP improved and we expect him to do a lot better in subsequent races. We hope that he's learned from this weekend and will be able to do better in the Czech Republic.
We were very satisfied with Xavi's eighth position; it shows that he has what it takes. Apart from the problems with his bike, he's done very well today. Unfortunately for Jake he was pushing too hard this weekend, but I'm sure he will pick it up at the next race at Brno.
It was another fantastic win for Fabio in MotoGP! These back-to-back victories put him at the top of the championship standings. It's very unfortunate for Franky as I think it could have been a one-two for us today, but we need to see what the problem was. We feel so sorry for him because he was strong all weekend and deserved a good result. Even so, it was still an awesome weekend because of the back-to-back wins and leading the championship. Now we just have to try to do it all over again in Brno!
Fabio Quartararo
1st (41'22.666)
It was a tough race. To complete 25 laps in front in these temperatures made it the hardest race of my life! My hands and feet were so hot and there was just no air to cool you down. I felt really good on the bike though. Even though we are at the same circuit as last week, the conditions are different and we had to adapt so quickly to this. The first time I saw the gap to Valentino [Rossi] was 0.6secs, I thought that it was time to push. Then on one lap I looked back in Turn 6 and couldn't believe the advantage that I had pulled out. At this point I knew I had to keep calm and just finish the race. I'm so happy to have another victory, especially in a race as tough as this one. It was also amazing to be on the podium with Valentino because he has been my idol for so long. I just want to say a massive thanks to my team, Yamaha, partners, my family, my friends, my manager and all the fans for their support.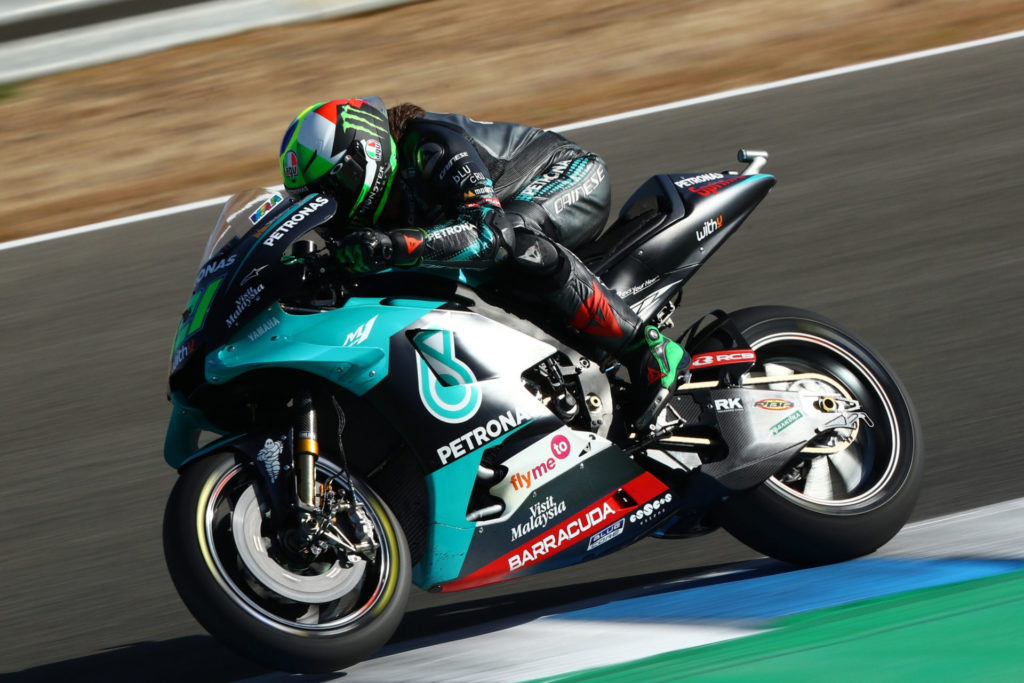 Franco Morbidelli
DNF (+9 laps)
I didn't have a great start and so I had to fight my way back through the pack, but I was able to do so quite comfortably. I was feeling great on the bike, the feeling was amazing and I thought it was a great opportunity to get an excellent result, maybe even the podium. We had a really good race pace. Then the mechanical failure happened and the bike stopped, but that's racing. It happens sometimes. We don't know what caused the problem, but the team and Yamaha engineers are looking into it. Now we take the positives from this weekend and the previous one, where we had consistent race pace, and focus our energies on Brno.
More, from a press release issued by Monster Energy Yamaha:
MONSTER ENERGY YAMAHA MOTOGP DELIVER DOUBLE PODIUM AT ANDALUCÍA GP
Jerez de la Frontera (Spain), 26th July 2020
GRAND PRIX OF ANDALUCIA
RACE
Today's Gran Premio de Andalucía was nothing short of an extreme endurance test for both bike and rider. Monster Energy Yamaha MotoGP's Maverick Viñales and Valentino Rossi showed their incredible level of physical and mental strength, taking second and third place respectively.
2nd MAVERICK VIÑALES +4.495 / 25 LAPS
3rd VALENTINO ROSSI +5.546 / 25 LAPS
The staggering heat at the Circuito de Jerez-Ángel Nieto (Spain) today proved to be the biggest challenge for Monster Energy Yamaha MotoGP's Maverick Viñales and Valentino Rossi. The pair powered through despite extremely high temperatures and secured second and third place respectively.
Viñales had a good start from second place and immediately put pressure on Fabio Quartararo in the lead. He was right on his tail and decided to launch his first attack in the final corner of the first lap, but he went wide and as a result crossed the start-finish line for the first time in third place.
The heat then took its toll on the Spaniard who started to struggle for breath. With 17 laps to go the rivals behind him were insisting on a fight for third place. The Factory Yamaha man held firm on their first try, but later he outbraked himself in Turn 6 and had to let Francesco Bagnaia through. Now in the busier part of the rider field, he dropped back to sixth, but he kept close knowing the race was far from over.
With track temperatures over 63℃ in certain places on the track, the number of NC scorers went up. The local hero found himself behind Rossi fighting for second place in the final five laps. He had been saving his tyres especially for this scenario and put them to good use, giving the fans a bit of extra entertainment before crossing the line in second place, 4.495s from first.
Rossi had a dream start from fourth on the grid, slotting into third place right behind his team-mate, making it an early Yamaha 1-2-3. He was right on the pace and picked up another place when Viñales went wide in Lorenzo's corner in the opening lap. The Italian was unable to stick with Quartararo, but he masterfully defended his second place from his stable mate.
With 13 laps to go the number-46 rider lost a place to Bagnaia, and he then came under pressure from Franco Morbidelli but refused to let go of his podium glory. The Doctor had not climbed the rostrum since the 2019 Americas Grand Prix, and he wasn't going to be stopped now.
The vastly experienced Yamaha man was on the limit for the entire 25 laps but careful never to go over it. He had regained second place on lap 20 when Bagnaia suffered a mechanical failure. The race finale was a battle with his team-mate for second place. Rossi defended his position for as long as he could and concluded his heroic ride in third place, 5.546s from the front. This third place is his 199th premier class Grand Prix podium.
Today's success of the Monster Energy Yamaha MotoGP Team earned Yamaha a 1-2-3 result (its first since the 2014 Australian GP: then with Rossi, Jorge Lorenzo, and Bradley Smith). It also contributed greatly to the 2020 championship standings. Viñales' second place keeps him second in the rankings, with 40 points in total, 10 points from first. Rossi recovered strongly, climbing up from P18 to P6, with 24 points between him and his team-mate. Yamaha remains first in the constructor standings, and Monster Energy Yamaha MotoGP jump up to second in the team classification.
MotoGP will be back in action in two weeks' time for the Monster Energy Grand Prix České Republiky, held at the Automotodrom Brno from August 7-9.
LIN JARVIS
MANAGING DIRECTOR, YMR & TEAM PRINCIPAL, MEYM
Obviously, I'm extremely happy to have this lockout podium with three Yamahas in the top 3 today, that's fantastic. It's great to see Valentino bounce back after a very difficult first weekend here in Jerez, and to come back this week and arrive on the podium is a really great achievement. Maverick, at the same time, gave a very solid performance. Two times in a row he came second, so 40 points for him in the first two weekends is a great result. Fabio won his first Grand Prix in the previous weekend and showed again today that he is on top form at the moment. Having three M1-riders finish on the podium is of course an exceptional result. We have a lot of work ahead of us to maintain our lead in the championship, but we're on the right path.
MASSIMO MEREGALLI
TEAM DIRECTOR
First of all, both our riders deserve a pat on the back and our full respect. Today's conditions were so tough, both on the riders and the bikes, and Maverick and Valentino really had to go all out, riding on the absolute limit of what's humanly possible. We are very happy to have both of them on the podium. It's especially nice because it's been a while since Valentino got to enjoy the view from the rostrum, and to do it in such a difficult race just underlines how he's still at the top of his game. I'm sure Maverick would have liked to fight for the win, but today that was just not in the cards for us. We have to congratulate Fabio on his win – it's a Yamaha 1-2-3 today! This is very encouraging for everyone who was involved in preparing for the 2020 season start. I think today's 1st, 2nd, and 3rd place was the best way for us to thank all the people involved in Yamaha's MotoGP project. We now have gained good momentum, and we hope to keep it going in Brno in two weeks' time.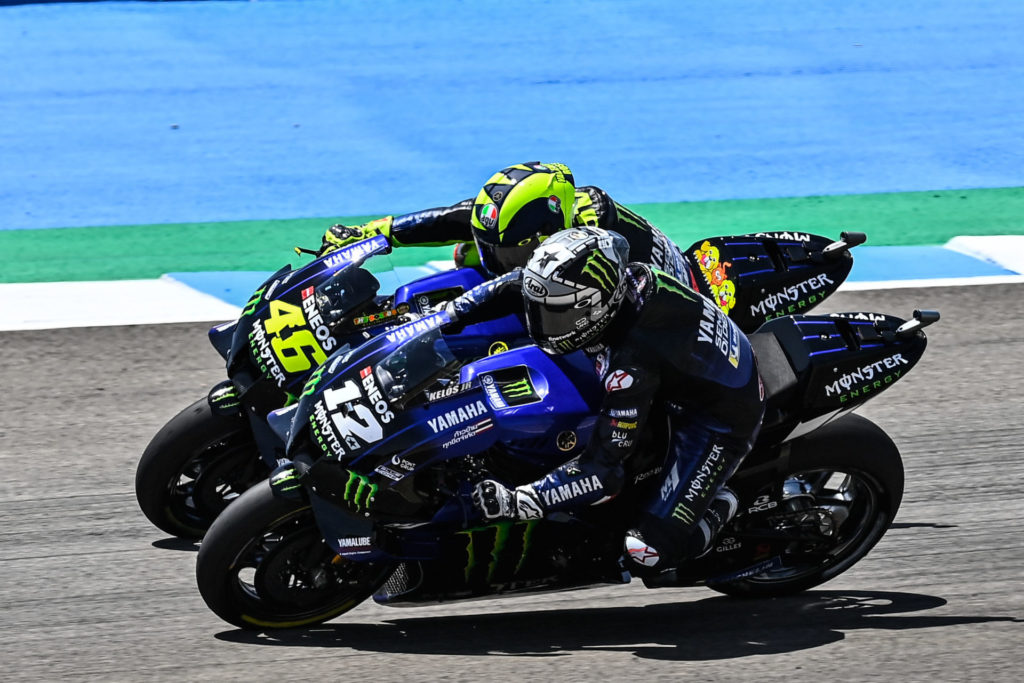 MAVERICK VIÑALES
Actually, in this race it was impossible to breathe. First of all, in the first lap I tried to overtake Fabio to get the clear track, because I felt very strong with the bike, but then I went wide and Fabio and Vale overtook me. Then I was stuck behind Vale, and I couldn't breathe most of the laps, I was destroyed. I don't know why, maybe because of the heat coming from the other bikes, but I couldn't do more. I was saving something for the last five laps, and I pushed at the end when I had a good rhythm again. I mean, today I lost it in the first lap, if not it would have been a much better race.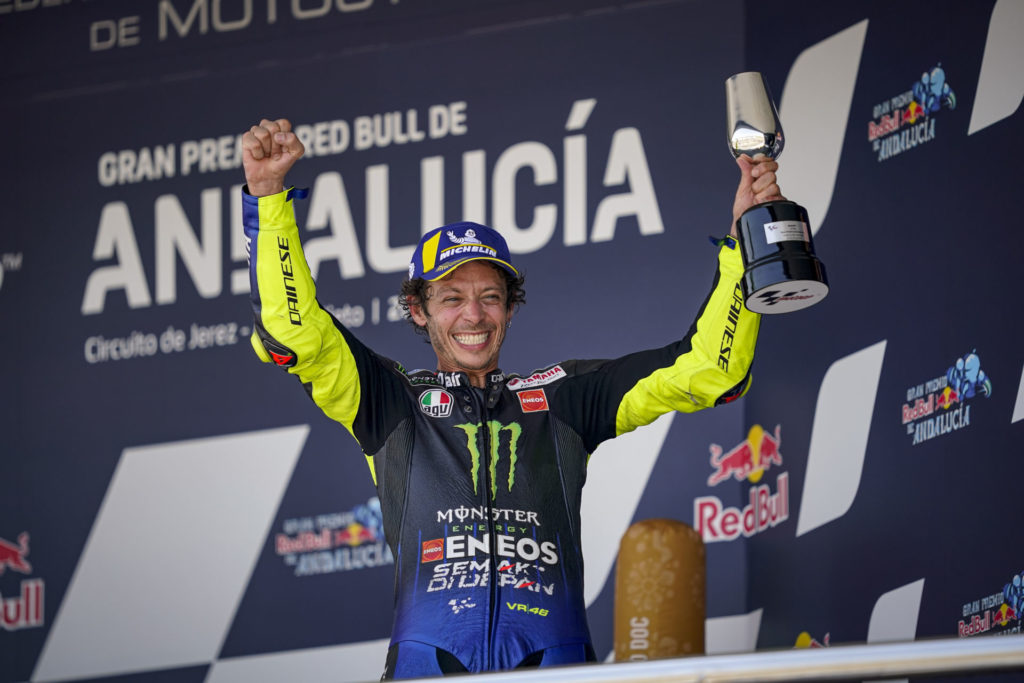 VALENTINO ROSSI
I'm very happy because it's been a long time since I was on the podium. We're coming back from a bad period with bad results. So this weekend we started working in another way. I'm very happy with the work David Muñoz did, and the rest of my team also did a good job. I was able to make a good lap at the start, and after that the race was so long. But I'm happy to be back on the podium. For me it's not quite like a victory, but it's similar.
More, from a press release issued by Team Suzuki ECSTAR:
EQUAL BEST FINISH FOR MIR, HEROIC RIDE FROM RINS
Joan Mir: 5th (+ 7.693)
Alex Rins: 10th (+ 27.091)
Team Suzuki Ecstar made the best of extremely tough race conditions with excellent results from both riders. Joan Mir rode a sensible and tactical race to equal his best Suzuki finish, while Alex Rins displayed steely determination and heroics as he took 10th place.
Track temperatures topped a whopping 63°c for the 25 lap race, making for a physically demanding GP and a high attrition rate.
Despite qualifying on the fourth row, Mir used his consistent race pace to seal a strong finish. Slotting into eighth off the start line, he kept the leaders in sight for the first half of the race and settled into a decent rhythm in the early 1'39s. On Lap 7, he began to close in on Nakagami in front of him. As the race went on, he maintained this good pace and gained positions as others fell by the wayside. When the end of the race was drawing near, Mir – who was in fifth place – decided to conserve his result instead of trying to chase fourth. This sensible decision paid off and he secured 11 points, equaling his best finish of fifth place in Phillip Island last year.
Rins came into the Andalucian Grand Prix on the back foot after the shoulder injury he suffered just eight days earlier. Qualifying 20th on the grid, the plan was simply to ride for as many points as possible. However, he made a brilliant start and quickly slotted into 16th place despite having to take evasive action for a crash in front of him. He remained focused and maintained a strong pace with the majority of his laps in the mid-1'39s.
The last seven laps of the race saw Rins really struggling with intense pain, but he pushed through and continued to pick up places as the attrition rate rose. He took an incredible 10th place and six points at the finish line.
Rins will head to Barcelona this Monday for medical checks to assess the current condition of his shoulder. Team Suzuki Ecstar will be back on track on August 7th for the Czech GP.
Ken Kawauchi – Technical Manager:
"Today I'm really happy. We couldn't show all our potential, but the riders did the best they could do for now. I want to say thank you to Alex, who fought today despite being in pain, it was great that he finished the race in 10th. Also thank you to Joan for a solid race and points. Next we'll go to Brno, where Alex will be physically much better. We'll try for the podium with both our riders. I'm looking forward to it."
Davide Brivio – Team Manager:
"I have to say thank you very much to Alex for the amazing effort he put in following the serious injury he got last weekend. Staying on the bike for 25 laps in this heat is very hard, and he really deserved the 10th place finish. We saw a lot of people crashing, and it was a very hard race for everyone. Joan took a good step forward; he got a strong start, stayed calm, and managed his race well. Today we scored points, which was very important. We look forward to the next race where we hope for better results."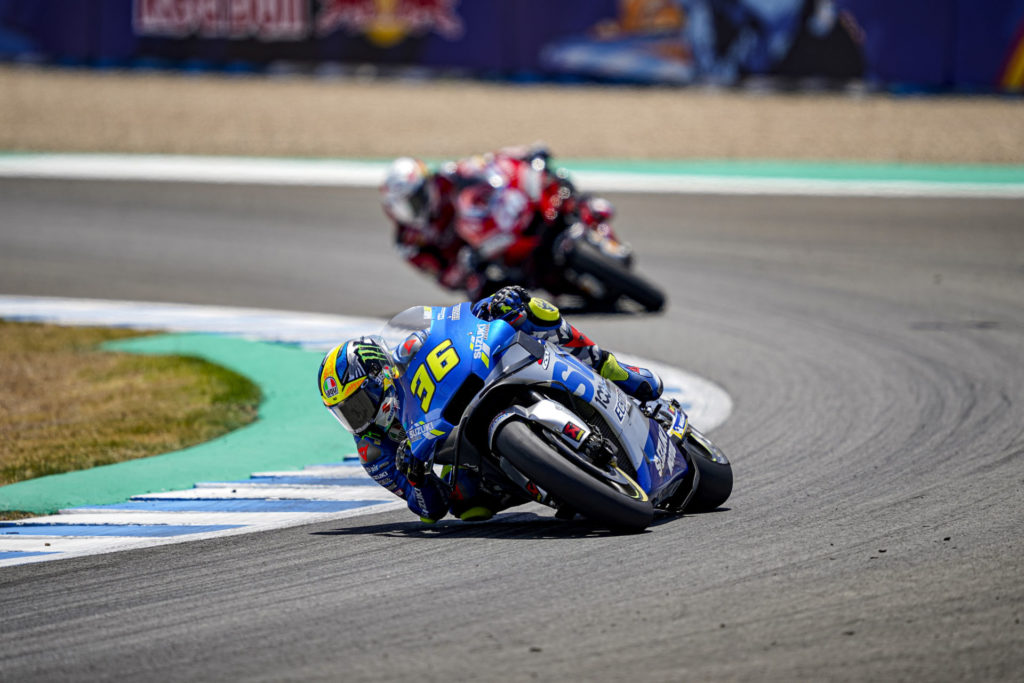 Joan Mir:
"I'm very happy with what I managed to do; the team deserved a good result. When I was on track I felt that today could've been 'podium day' because I wasn't far from it, and I saw a lot of other riders struggling or dropping out for various reasons. I think we did a really good race – and in the end I was only a little more than two seconds behind a podium place, so that's good news. It was tough today because we didn't have much information from last weekend to help us. But overall, I'm happy with my good and consistent pace."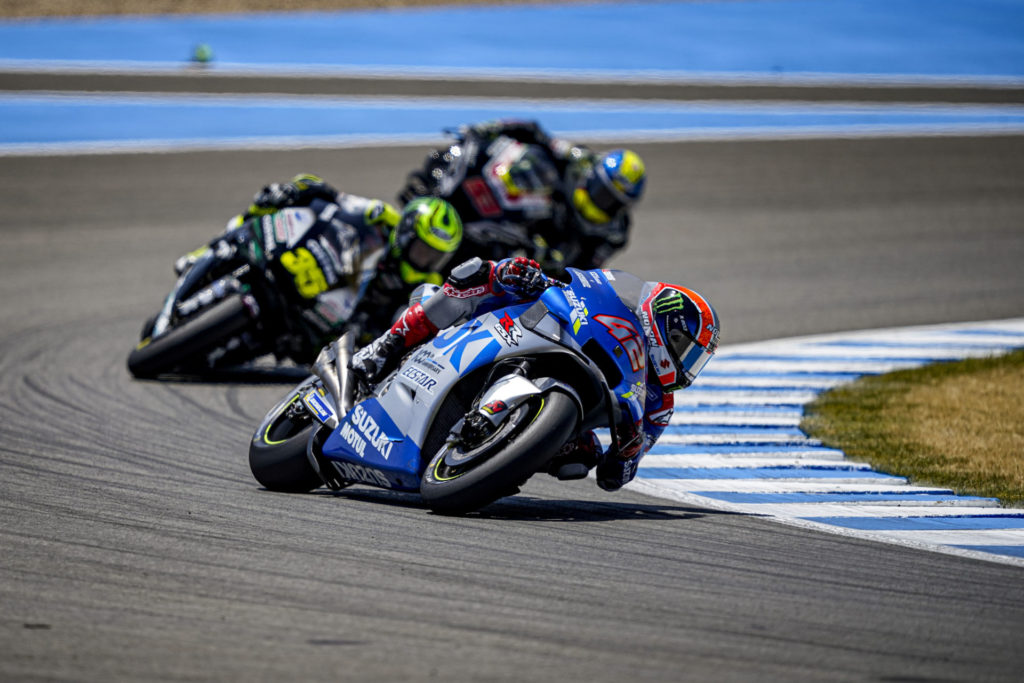 Alex Rins:
"The race was unbelievable; I was already suffering from the moment I joined the grid before the start. I got an incredible start but as the laps went on I started to feel more and more pain. With seven laps to go, it was really tough to continue; but after all the work that I've done since last weekend, as well as the doctors and my team, I just wanted to keep going. I never lost my faith and it allowed me to take this 10th place. I'll continue with my recovery and hope to be on much better form for Brno."
More, from a press release issued by Ducati:
Sixth place for Andrea Dovizioso at the Andalusia Grand Prix in Jerez. Unlucky race for Petrucci, forced to retire after a crash.
Andrea Dovizioso was sixth at the Andalusia Grand Prix, which took place at Jerez Circuit today. The Ducati Team rider, who started from fourteenth on the grid, was able to recover some positions immediately in the early stages of the race as he moved to ninth place already after just three laps.
With the high temperatures and the hot conditions, several riders were forced to retire in the GP. Still, the rider from Forlì was able to handle well the situation avoiding mistakes that could have compromised his race. Sixth just a few laps from the end, Andrea was able to retain the position until the finish line, scoring valuable points in terms of the championship.
It was an unfortunate race for his teammate Danilo Petrucci. The rider from Terni, who started from eleventh on the grid, slid out of the race with 14 laps to go, while he was in ninth position behind his teammate Dovizioso.
After the first two events of the 2020 MotoGP season, Dovizioso is third in the general standings, 24 points behind the leader, while Petrucci is fourteenth. In the manufacturers' classification, Ducati is in second place, and the Ducati Team is third in the teams' standings.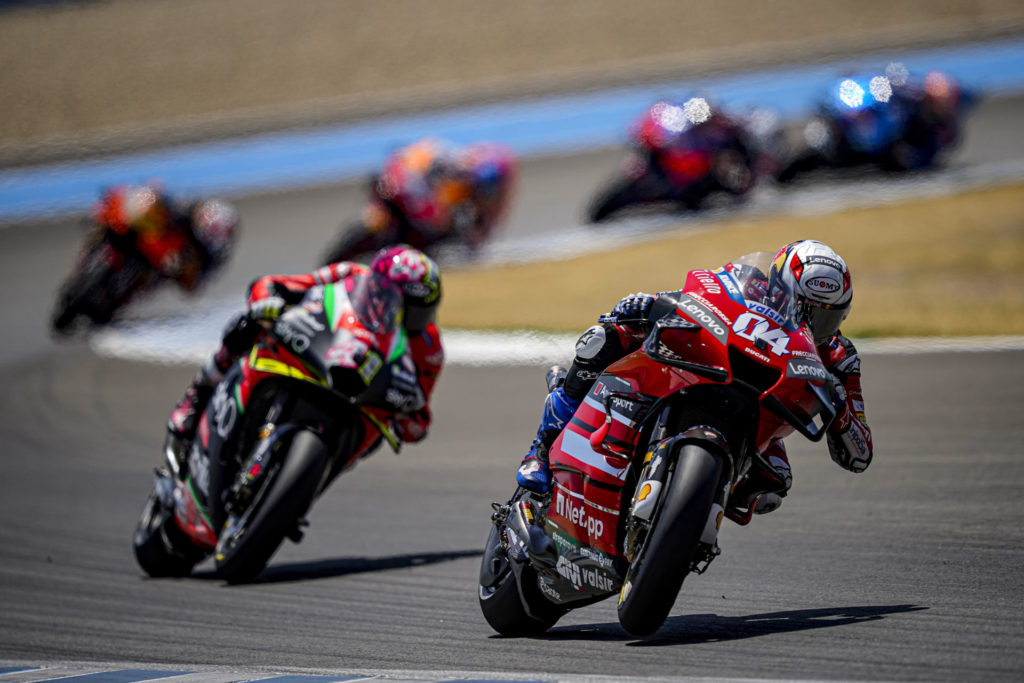 Andrea Dovizioso (#04 Ducati Team) – 6th
"It's been a tough two weeks for us here in Jerez, but the good thing is that they have allowed us to gather useful information that we can analyze for the future. This morning we managed to find a good rhythm in the warm-up, but the conditions this afternoon were different. Also, in the race, I had a problem that I'd never had before during the weekend: in the middle of the corner, as soon as I let go of the brakes, I couldn't feel the front, and it was like that from the first laps of the race. That's why I couldn't force too much, and I preferred to stay in the position I was without taking any risks. Surely if I had started closer to the front, I could have done better. Now we will have to be good at interpreting all the inputs received in these two weeks to prepare well for the race weekend in Brno".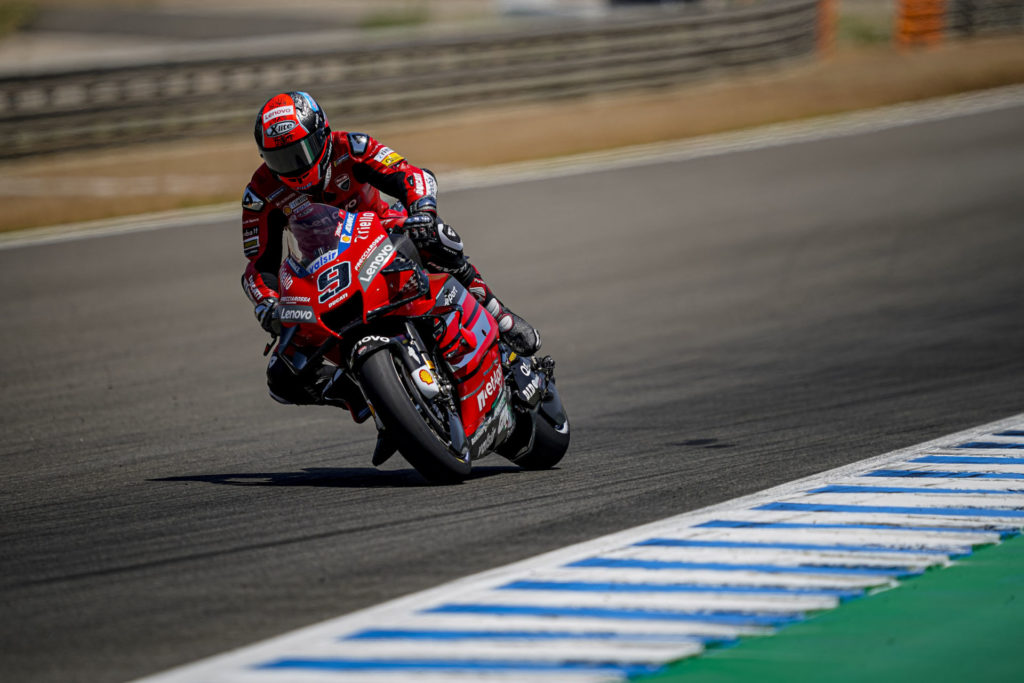 Danilo Petrucci (#9 Ducati Team) – DNF
"I am sorry about how the race went today because we could have got a good result. I did not expect the crash also because I don't think I was doing a risky manoeuvre: probably the tyres were already worn out, and I dared too much. I was chasing Dovizioso when I suddenly slid out at turn two. Now my goal is to get back fighting for the top positions, and I hope to be able to do so already in the next race, on a race track a little more favourable to the characteristics of our Ducati".
The Ducati Team will be back on track in two weeks, from 7th to 9th August 2020 for the Czech Grand Prix, which will be held at Autodrom Brno.
More, from a press release issued by Red Bull KTM:
7TH POSITION FOR ESPARGARO AT DRAMATIC SECOND JEREZ MOTOGP™ GRAND PRIX
MotoGP 2020 – Round 02, Circuito de Jerez–Angel Nieto (ANDALUCÍA)
Pol Espargaro scored 7th position at the second round of 2020 MotoGP at the steaming Circuito de Jerez – Angel Nieto. The Spaniard endured one of the hottest races on record with temperatures almost hitting 40 degrees and the asphalt registering 59 on the thermometer. Only 13 riders arrived at the checkered flag. Espargaro is now up to 5th in the FIM World Championship standings.
A dedicated weekend of work, speed and optimistic race pace helped the Red Bull KTM rider in another hot and difficult 25-laps of MotoGP competition in Spain. Three of the four RC16s on the grid set-off from the first three rows, headed by Red Bull KTM Tech3s Miguel Oliveira in 5th place.
With track temperatures pushing both tire and energy preservation at the fore, it was Espargaro who managed to weather the conditions that delivered a high level of attrition in the MotoGP field. The Spaniard settled into a steady ride at mid-race distance to post his second top-seven result at the Jerez circuit with the KTM RC16.
Brad Binder, who had rocked the MotoGP establishment by setting the 3rd fastest time during Free Practice in just his second Grand Prix and went directly through to Q2 on Sunday unfortunately clipped Oliveira's rear wheel on the first corner. The impact sent the Portuguese out of the race and Binder had to again recover from last position, setting lap-times equal to the leaders for the second Sunday in a row on his way back to 12th. The South African's Grand Prix ended on lap 13 with a highside fall at Turn 13. The same corner also caught out Red Bull KTM Tech3's Iker Lecuona on lap six.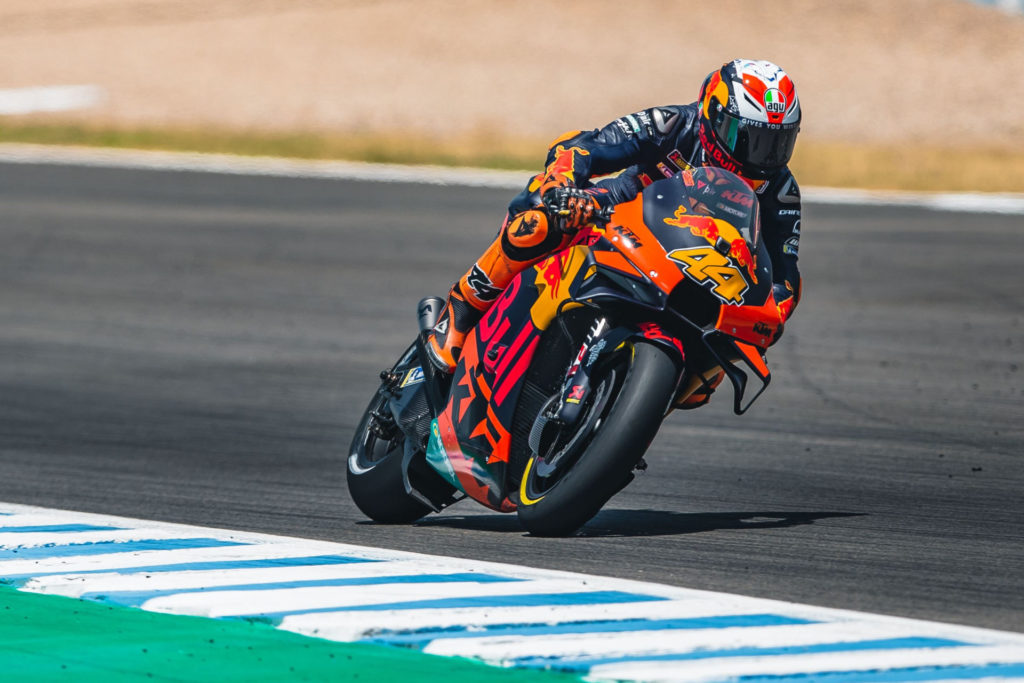 Pol Espargaro: "A lot of things happened! It was not like last week's race. I almost crashed at the beginning when I touched [Danilo] Petrucci's rear wheel and I lost some positions. I had to fight to recover the ground and pushed a lot but then I was really suffering in the heat. Last week was not too bad but today I almost couldn't continue. The bike is performing very well and normally Jerez is one of the toughest circuits for us. We've seen other manufacturers struggling but the team did great and we've been able to show some of the improvements that everybody in the factory has been working towards in the winter. For sure we were expecting a bit more today, but we've been gaining points and we're equal fourth in the championship."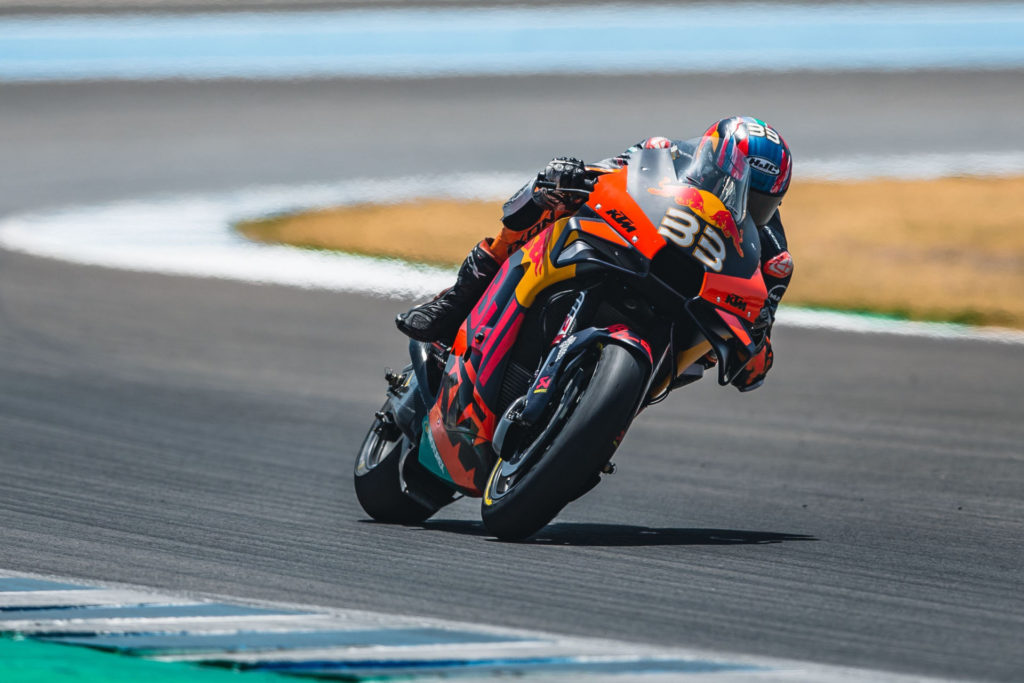 Brad Binder: "Today definitely did not go to plan and the worst thing was that I destroyed the race for Miguel. He'd had a great weekend up until then and I'm sure he would have had a strong race. Really sorry about that. I had a good start and I didn't see Danilo on the inside and when I picked up it was already too late: I couldn't avoid Miguel. When I saw the crash I was really worried so I'm glad he's OK. After that my race was already difficult. I tried my best to track my way through the field. I kept working and pushing and coming into the last corner I tucked the front and I tried to pick it up but it gripped and highsided. Luckily I'm OK and we'll try again next time."
Miguel Oliveira: "I was just an unlucky guy in this position but there was really nothing I could do to avoid the crash. It was the first corner, everyone wants to gain positions, so it's normal that sometimes we misjudge braking points and we are too optimistic. We have more races this year so it's not the end of the world. We'll take the positives from this weekend and we continue on to the next one."
Iker Lecuona: "Last week, I was fighting with the temperatures. In the race today, I don't know why, but the bike felt a bit different than before. I was fighting a lot with Alex Marquez. I made a mistake and tried to push again but finally I lost the front. I'm very sorry for my team. I know that they are pushing very hard all the time. We will try to improve in Brno."
Mike Leitner, Red Bull KTM Race Manager: "The weekend in general was very positive and we were very optimistic for the race but this is how the sport is sometimes. It was sad to see Miguel and Brad out of the running on the first corner but we have seen many problems at this turn over the years. Brad pushed and showed great speed again until he went a bit too hard into the last corner. We're happy the riders are all fit and can go to Brno without any problems. Pol is up to 5th in the championship now and we saw that many bikes had serious problems in the conditions but we were able to finish. We'll take this 7th position as a positive and we worked hard for it. We'll go to Brno hoping for another good week."
Moto2 & Moto3
SKY Racing Team VR46's Celestino Vietti took his KTM RC4 to 3rd position on the Moto3 podium. The Italian headed brandmate and CIP Green Power rider Darryn Binder in 4th as Red Bull KTM Ajo's Raul Fernandez finished in 6th place. Winner of the Moto3 GPs in Qatar and Jerez the previous weekend, Solunion Aspar Team's Albert Arenas, crashed out in the final phase of the race. The Spaniard still fronts the championship.
Red Bull KTM Ajo's Jorge Martin made the top six in a tough Moto2 race. Championship leader and teammate Tetsuta Nagashima took a tumble in practice and set off from a qualification slot of 15th. The Japanese managed 11th at the checkered flag.
MotoGP disembarks from Spain after almost two weeks of work at Jerez. The series heads to Brno for the Monster Energy Grand Prix Ceske republiky on August 9th.
More, from a press release issued by Repsol Honda:
Charging Alex Marquez makes up 13 places for first MotoGP top ten
Roasting conditions in Jerez made for a grueling Gran Premio Red Bull de Andalucía, but Alex Marquez took it in his stride on the way to eighth place as the sun beat down.
A strange Sunday in Jerez saw Alex Marquez line up as the lone representative of the Repsol Honda Team, team-mate Marc Marquez withdrawing from the weekend as he continues to recover from surgery on his broken humerus. Temperatures continued to steadily rise over the course of the day, the track reaching a brutal 63°C during the course of the 25-lap Andalucia GP.
Having shown promising pace in Free Practice 4, Alex Marquez shot off the line and stayed clear of trouble in the opening corners to avoid the melee around him. Learning from his debut in the premier class the week before, the Moto2 World Champion was aggressive in the opening laps and gained seven positions on the first lap alone. Fending off the attacks of fellow rookie Iker Lecuona, Alex soon settled into what would be a consistent, but lonely, race.
His impressive performance was rewarded not only with top rookie honours, but also his first visit to the top ten in the premier class as Alex crossed the line in eighth place. Combined with his 12th place finish from the first race, Alex increases his lead in the Rookie of the Year standings to nine points.
Takaaki Nakagami's best MotoGP weekend to date continued as his pace from practice carried into Sunday's race. Fourth place in the race is the LCR Honda rider's best result in the premier class, the Japanese rider narrowly missing out on the podium battle in the closing laps. Cal Crutchlow also produced a spirited ride to 13th after breaking his left scaphoid last weekend.
The Repsol Honda Team will now enjoy a well-earned week away from the circuit as they prepare for the Czech GP on August 07 – 09 where World Champion Marc Marquez is aiming to return to the track once again.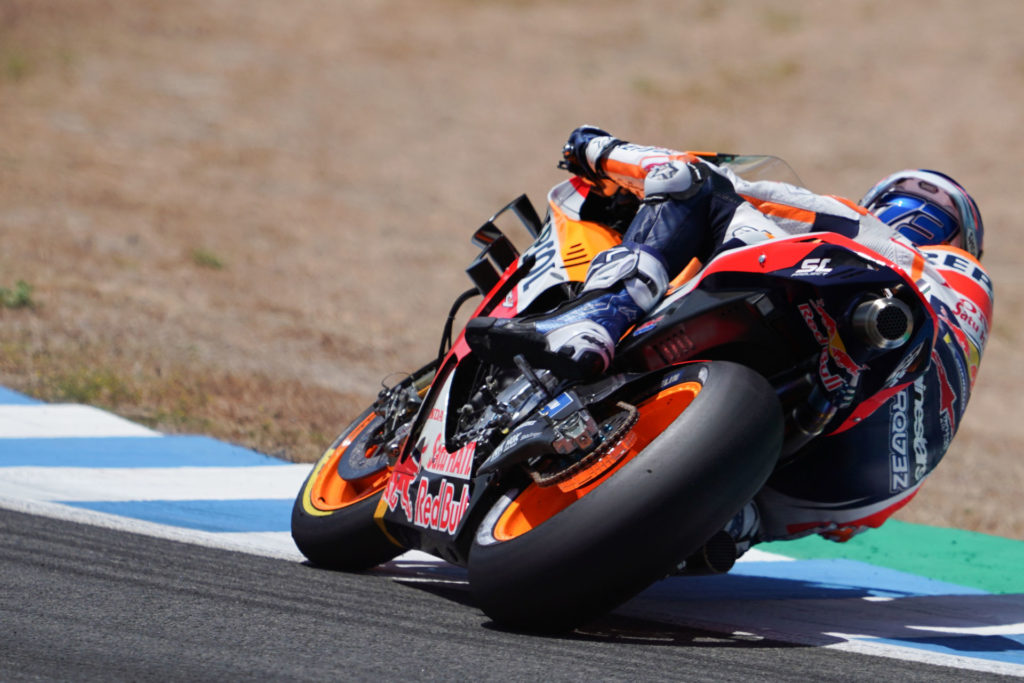 Alex Marquez
8TH  TOP ROOKIE
"Second race in MotoGP and well, I'm quite happy! We clearly made a decent step compared to last weekend and this was our main target. Two races in a row at the same track gives us a good opportunity to try things and make a step and we took advantage of that. Our race was nine seconds faster than last weekend, which is already a good improvement given the conditions today. We've made a good step and have a good base as well. Now it's time to head to Brno, one of my favourite tracks and I'm looking to make another step with three races in a row. It has been a good start, but there's more to come!"
More, from a press release issued by Red Bull KTM Tech3:
Misfortune strikes for Red Bull KTM Tech3 in Andalusian GP
After having secured his best ever starting position in the MotoGP World Championship on Sunday with a fantastic performance, Red Bull KTM Tech3's Miguel Oliveira was set to launch off the Gran Premio Red Bull de Andalucía from the second row of the grid. In doing so, he got caught in traffic, early on when the red lights went off, which lead to an unlucky incident in the first corner. The Portuguese star didn't have any chance to avoid a crash and had to bury his hopes for another great result on the first lap.
Coming from P17 on the grid, Iker Lecuona had a decent start to make up two positions in the course of the first lap. In the following laps, the Spaniard was fighting hard in a rookie duel with Alex Marquez, managed to pass him on the fifth lap of his third MotoGP race, but then unfortunately lost the front in the final corner and had to retire. Fortunately, both, Oliveira and Lecuona came away unscathed and will be ready to strike back in less than a fortnight for the third round of the 2020 season in Brno, Czech Republic.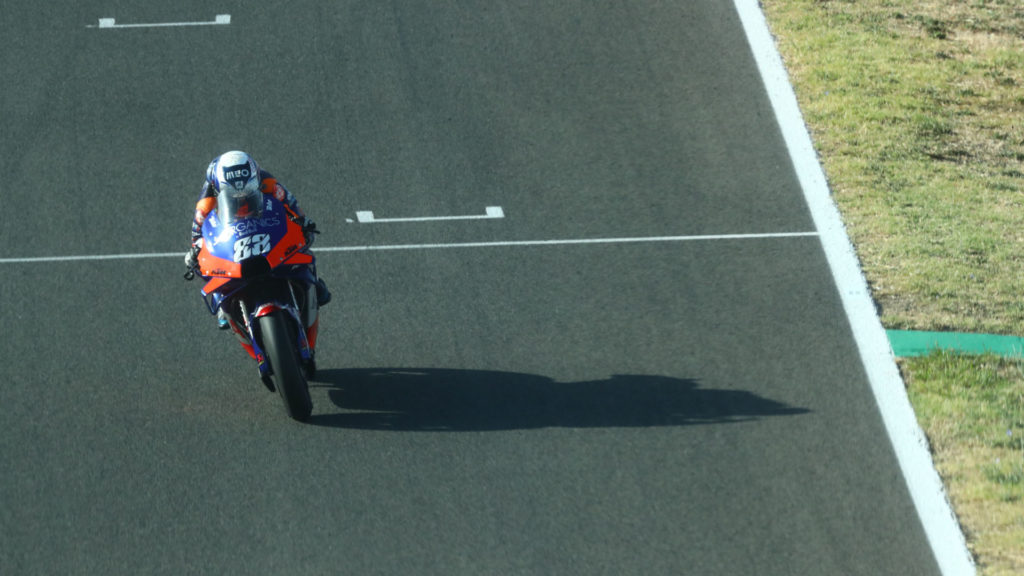 Miguel Oliveira
Position: DNF
Championship: 13th
Points: 8
"It was a disappointing end of this weekend for sure. After seeing the race, I could have been easily in the top 5 or even on the podium, I would risk to say, so it's just disappointing not even having been able to start the race with the incident in the first corner. I was just an unlucky guy in this position, but there was really nothing I could do to avoid the crash. It was the first corner, everyone wants to gain positions, so it's normal that sometimes we misjudge braking points and we are too optimistic. But we have more races this year, it's not the end of the world. We take the positives from this weekend and we continue on to the next one."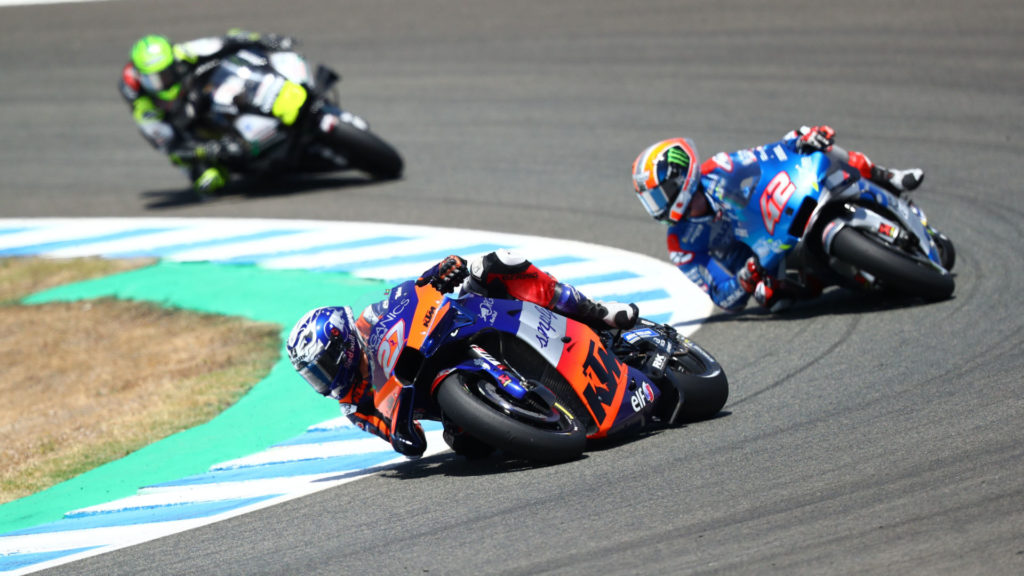 Iker Lecuona
Position: DNF
Championship: –
Points: –
"I just need to say sorry to the team! This start of the season hasn't been easy for us so far. Last week, I was fighting with the temperatures. In the race today, I don't know why, but the bike felt a bit different than before. I was fighting a lot with Alex Marquez. We passed each other two or three times on the same lap. Finally, my lap time was better, so I tried to catch up with the guys in front of me. I did one mistake and tried to push again, but finally I lost the front. I saved two or three crashes on each lap, so it was truly difficult. I still want to repeat, that I'm very sorry for my team. I know, that they are pushing very hard all the time. We will try to improve in Brno."
Hervé Poncharal
Team Manager
"The second weekend in Jerez was clearly not a weekend for us. After the disappointment of MotoE and the Moto3 we were really hoping that the MotoGP class would give us what I believe "we deserve" after such a strong weekend working hard and got our best ever Qualifying with Miguel. The start was good, but unfortunately Brad Binder, who was pushed wide by another rider took us out. We always say you can never win in the first corner, but you can lose everything in the first corner and this is what happened. It's a big shame, because all of us we were working very well, the four KTM riders – Factory Team and Tech3 – worked together. We pushed for the KTM company to show how great the progress is, we've made and today was a great day to show that KTM is now a potential podium finisher. When I see the pace, I really believe that we could have been very close to a podium, a top 5 was a high possibility. But with "if" you do a lot of things. Fact is, Miguel was taken out after less than 10 seconds and there was nothing he could do. I'm very disappointed, for Miguel, who did an excellent job, for his crew, who did an excellent job, too and for KTM, who is working incredibly well and I'm more than eager to show the progress we are making. Today we couldn't show it, we did it yesterday, but not today. On our second rider, right now, I don't have any words, because we've been crashing on Friday, we've been crashing on Saturday. I had a conversation with Iker last night, that I believe was quite clear and he crashed again after a few laps. On the grid, we told him 'Take it easy, stay calm and try to see the flag.' He's a rookie, he's got to learn and you don't learn by crashing and not finishing the race. I'm very disappointed for his side, as well. Anyway, this is zero points for the team in the MotoGP World Championship. It was a great weekend in performance for KTM, but no results. We know this is part of racing, but we just hope the future will be a bit easier. Sometimes we just need a bit of better fortune."
More, from a press release issued by Aprilia Gresini Racing:
CRASH FOR ALEIX WHILST BATTLING FOR A TOP-10 POSITION
ANOTHER SOLID RACE IN THE POINTS FOR BRADLEY
The race had started on the right foot for Aleix Espargaró in Jerez de la Frontera, quick off the grid and able to make up five positions during the first lap. Once he was in the battle for the top 10, the Spanish rider began to settle into his pace until an unfortunate crash on the ninth lap kept him from finishing this double round with a smile.
Bradley Smith, on the other hand, had to deal with all the confusion on the first turn, involved with contact that was no fault of his own which forced him to slow down. Back in the mix, Bradley rode a judicious race and, thanks in part to a few DNFs, finished twelfth when the chequered flag came out. It's a result that earns 4 championship points for the new Aprilia RS-GP.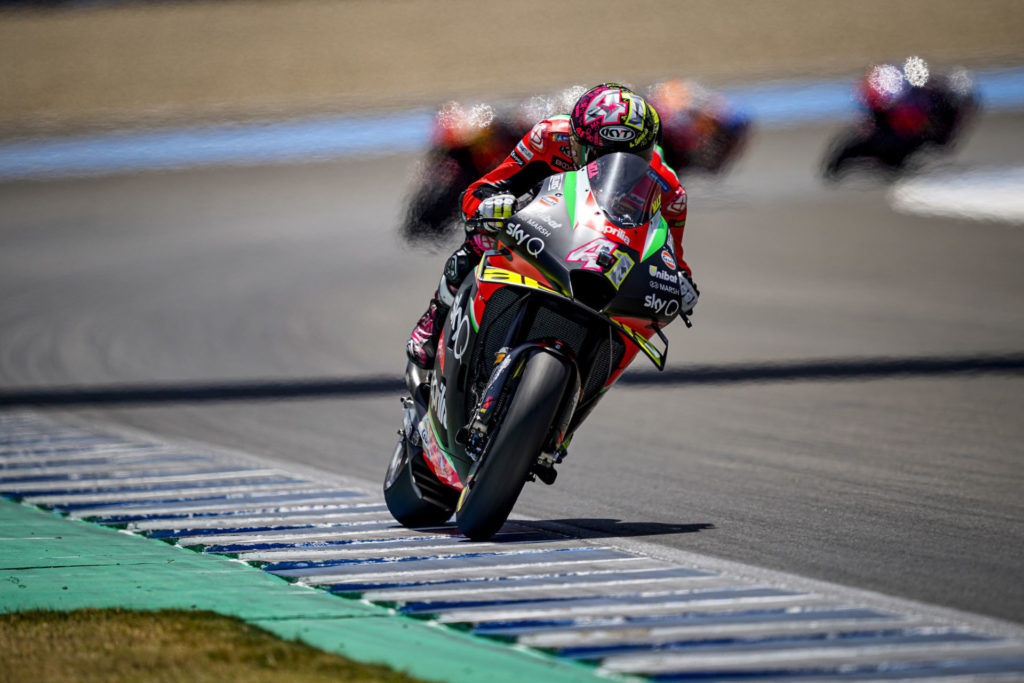 ALEIX ESPARGARO'
"There isn't much to say. I'm disappointed and sorry for the team who, after many hours of hard work, did not have the satisfaction of finishing the race. I had a good start, but in order to maintain the pace with my rivals, apparently I need to take more risks and ride very close to the limit, especially in mid-turn to help acceleration. I know that starting the season with two DNFs isn't the greatest, but I always go into the races giving 100% to take Aprilia to a position to battle with the best."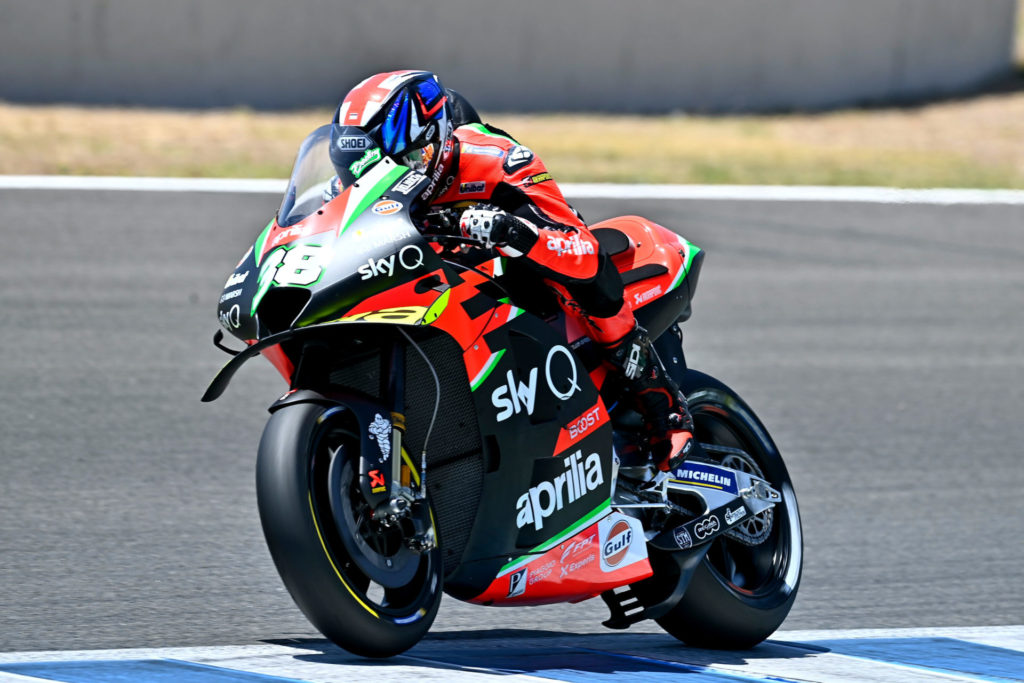 BRADLEY SMITH
"In this second race, we made some progress, especially in managing to contain the gap with the rider ahead of me. Unfortunately, I lost a lot of time on the first corner, having to slow down a lot to avoid the fallen riders. I made the smartest choice, without taking pointless risks. It was a pity because I would have liked staying in the group. One of the positive aspects is certainly the fact that we were able to finish both races without any serious problems and I know that the guys already have some solutions ready to solve some of the issues that came out during these two weekends."
More, from a press release issued by Avintia Racing:
IMPORTANT POINTS FOR THE HUBLOT REALE AVINTIA IN THE ANDALUCIA GRAND PRIX
The Hublot Reale Avintia Racing Team finished the Gran Premio de Andalucía with a good result from Johann Zarco and Tito Rabat after crossing the line in 9th and 11th position respectively.
The French rider, who set the 15th fastest time of the session during qualifying, completed a great performance with a great comeback that allowed him to score seven important points. From the start, Zarco showed a good pace that allowed him to ride close to the 'top-10' throughout the race and finally managed to reach ninth position.
For his part, Tito Rabat crossed the line with just five seconds left in the top ten. The Barcelona-born rider, who made a great start, lost positions after making a mistake on the sixth corner of the track during the first lap. Despite this, Rabat managed to recover positions, moving up to 11th position, which helped him to add five more points to his tally.
The Hublot Reale Avintia Racing Team will take on the next round of the season at the Automotodrom on August 7, 8 and 9.
JOHANN ZARCO – P9
"A 9th position is always a good result to take. Compare last week, I got an improvements and still the race has been anyway difficult. I had a good feeling at the beginning, but few tenths was missing during three or four laps, defining the possibility to go on a low 39 or a high 38. This has been even a better race, I have to manage some mistakes that I did during the race that sometimes make you crash. I have finished on a nine position, the results are coming and giving all time the best is the only way to understand the things. It has been firsts two week pretty good, now we are going to Czech Republic, I hope that I will take all this information and doing it even better in Brno. I think the Ducati will have some more advantages on a bigger track so I look forward to see our lever on Czech Republic."
TITO RABAT – P11
"Today we have done a good start, I went well until turn 6, where I went outside because I did not brake and I had more riders ahead. As for race pace, well, but with respect our teammate we are missing two tenth per lap, which I have to find. Today was a physically important test, which we finished well. Now the important thing is to rest and think about the next race in Brno"
More, from a press release issued by LCR Honda Castrol:
BRAVE CRUTCHLOW CLAIMS POINTS FINISH IN JEREZ
26 July 2020 | Andalusian GP Race
Cal Crutchlow produced a heroic effort to finish in the points at the Andalusian Grand Prix on Sunday. After undergoing wrist surgery on Tuesday, the LCR Honda CASTROL rider defied intense pain to complete all 25 laps at the Jerez Circuit and claim 13th position in hot and challenging conditions in southern Spain.
Having fractured his left wrist exactly one week ago, the Briton had already worked wonders to qualify for Sunday's race and started from 13th on the grid. After losing places early on, Crutchlow battled hard to stay in the race but headed into the pits late on with concerns over his ability to finish. However, with a points position within his grasp, he opted to head back out to take the chequered flag and complete a brave weekend's work.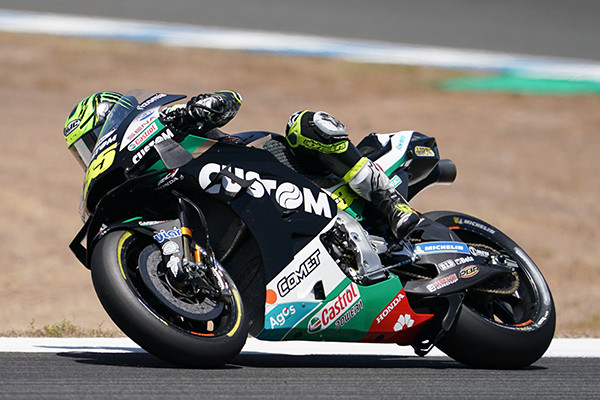 Cal Crutchlow – 13th
"Today obviously was a very tough day, but we managed to complete the race with a little pit-stop in the middle! Once I started the race I got caught up in the first corner and lost some positions with the crash of another couple of riders, but I did my best. Unfortunately, my right arm was taking the brunt of the force from my left wrist injury and I was struggling to hold on to the bike and it became dangerous, so I decided to pull into the pit as I thought I was out of the point-scoring positions, because due to the pain it was difficult to see the pit board. But then when I came in, they said I was in the point-scoring positions as many people had pulled out, so I went back out and finished the race in 13th and made sure I wasn't close to any other riders and just got some points. It was a difficult race, but one we're glad to finish and get out of here and go to Brno."
More, from a press release issued by LCR Honda Idemitsu:
TAKA CLAIMS CAREER-BEST RESULT AT JEREZ
26 July 2020 | Andalusian GP Race
Takaaki Nakagami posted his best-ever result in the MotoGP class as he claimed fourth position in the Andalusian Grand Prix on Sunday. Following his top-10 at the same venue last weekend, the LCR Honda IDEMITSU rider backed up his impressive form over the past couple of days with a superb ride in today's race in Jerez and only narrowly missed out on a first podium finish in the premier category.
The Japanese star had served notice of his potential at the Jerez Circuit this week by going fastest in both FP2 and FP4. Starting from eighth on the grid, Taka was always battling towards the front of the field and, after Pecco Bagnaia's late retirement, was chasing down Valentino Rossi for the final podium place on the last few laps. In the end he had to settle for fourth but finished as the top Honda rider and is now full of confidence ahead of the next round in Czech Republic.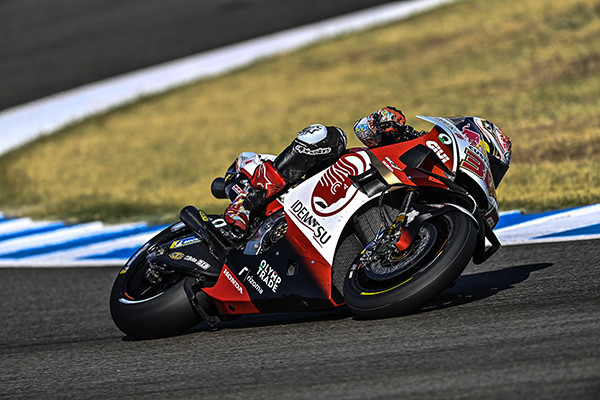 Takaaki Nakagami – 4th
"We were so close to the podium, I think to Valentino (Rossi) and the podium it was just five tenths, but I'm still pretty happy. For all 25 laps of the race I gave my full potential, the bike felt really good and for all the race we were fighting close to the podium. It was difficult and I really struggled to find grip, but it was the same for everyone. The team did a really great job all weekend and the bike improved a lot from last weekend. I hope we can keep going in this direction, we have a few days to rest and then we go on to Brno and hopefully we can get a podium as soon as possible."
More, from a press release issued by Michelin:
MICHELIN PERFORMS IN THE EXTREMES AS QUARTARARO MAKES IT TWO-IN-A-ROW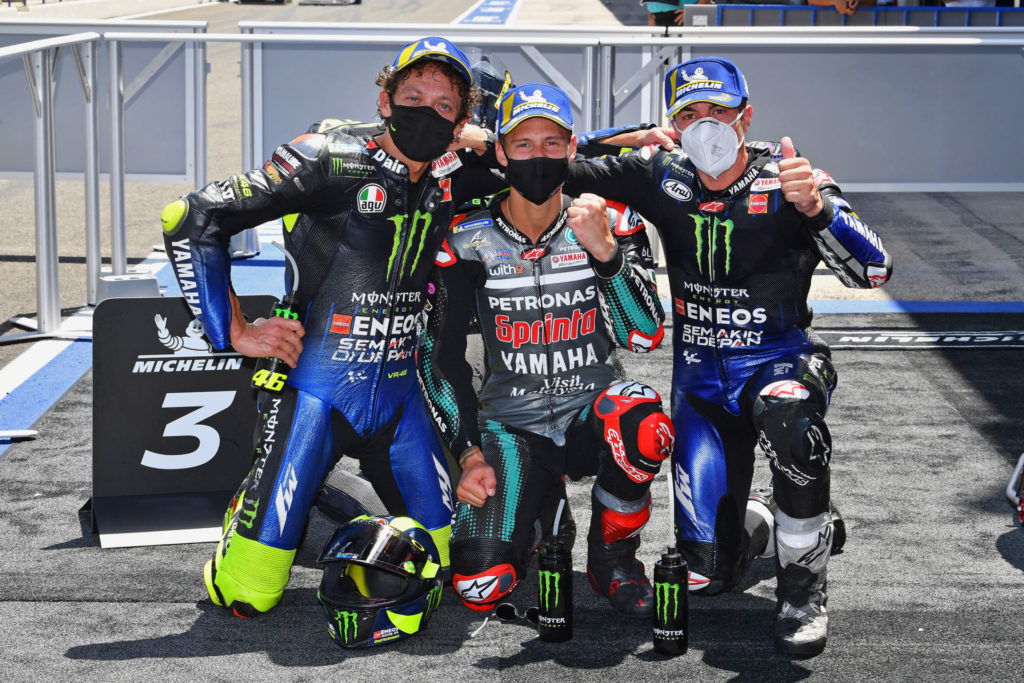 Michelin and the MotoGP™ field were subjected to extreme conditions this weekend at Jerez in Spain with Fabio Quartararo (Petronas Yamaha SRT) taking back-to-back wins as he rode to victory in the intense temperatures at the Gran Premio Red Bull de Andalucía.
Michelin saw it tyres pushed to the absolute limits at Jerez this weekend as the heat from the Spanish sun regularly pushed the asphalt up into the high 50°C. With heat as high as this, grip from the track is always an issue, but the MICHELIN Power Slick tyres handled that task superbly, leading to a quicker race than last week, with Quartararo recording a faster race-lap time than the previous Sunday as well. The Michelin slicks performed excellent all weekend and another all-time lap-record was set in yesterday's cooler Free Practice 3 – with the temperatures at 33°C – as Maverick Viñales (Monster Energy Yamaha MotoGP) set a time of 1'36.584, surpassing Quartararo's record from last weekend.
With so much data from racing here last week the tyre choice was almost identical to that in the Spanish Grand Prix. This time all the riders selected the hard slick front and paired it with the soft rear, with just Alex Rins (Team SUZUKI ECSTAR) choosing to go with a soft front and rear configuration. Starting from pole, Quartararo was quick off the line and led the pack into the first corner, holding that position for the first circulation. The young Frenchman then used the grip and performance from his soft rear tyre and the braking stability from the hard front, to put together two fast laps – including the fastest of the race on lap-three – to gap himself from the field. He increased his lead as the 25-lap race progressed and crossed the line to take his second victory in as many weekends, his triumph also secured the position of First Independent Rider and strengthened his place at the top of the overall standings.
Today's race was held in brilliant sunshine with just a slight breeze, as air temperatures reached 36°C and the track hit 59°C, making this the highest on-ground temperature that Michelin has faced since its comeback to MotoGP in 2016. Due to the protocols surrounding Grand Prix racing there was no crowd at the Circuito de Jerez – Angel Nieto to witness the race, but it was shown live around the world for millions of fans to enjoy and they were not disappointed with what they saw. The battle for the podium places was an exciting affair with a number of riders vying for those positions. Eventually Viñales came home in second, with Valentino Rossi (Monster Energy Yamaha MotoGP) taking third to make it a full Yamaha podium. Takaaki Nakagami (LCR Honda) took fourth place, with Joan Mir (Team SUZUKI ECSTAR) fifth. Andrea Dovizioso (Ducati Team) came home in sixth place, followed by Pol Espargaro (Red Bull KTM Factory Racing) and Alex Marquez (Repsol Honda Team) in seventh and eighth respectively. Ninth over the line was Johann Zarco (Hublot Reale Avintia Racing), with Rins in tenth. Reigning World Champion Marc Marquez (Repsol Honda Team) didn't take part in the race, he fractured his humerus during last Sunday's race and after intensive surgery he tried to participate in this weekend's proceedings, but was forced to withdraw on Saturday.
Michelin and the MotoGP field will now pack-up and make the journey to Brno in Czechia for the next race in this condensed season, which will be held on Sunday 9th August, and leads the way as the first of the triple header for all involved, with a trip to Spielberg where the Austrian circuit will stage two back-to-back races.
Michelin sees its MotoE tyres perform well in extreme conditions
Jerez also witnessed the second round of the FIM Enel MotoE™ World Cup as the field took to the track on their electric Energica Ego Corsa motorcycles and again put the new MICHELIN Slick MotoE tyres through their paces over the six-lap race.
Dominique Aegerter (Dynavolt Intact GP), took E-pole on Saturday and got a good start to lead into the first corner. The battle at the front produced an fascinating first lap, as the lead changed hands several times, before Alejandro Medina (Openbank Aspar Team) led the field over the line on the first circulation. The latest generation of Michelin MotoE tyres benefit from new compounds for the front and rear and a new rear construction, and were pushed to the limits as the riders jostled for positions, with many overtaking manoeuvres taking place, demonstrating the grip from the MICHELIN Slick MotoE tyres, which this season feature biomaterials and regenerated materials in them, making the rubber an ideal complement for sustainable racing. As the race progressed Eric Granado (Avintia Esponsorama Racing) set the fastest lap  and a new circuit record of 1'47.584 as he chased down the leader Aegerter. Unfortunately, Granado was hit by another rider causing him to crash and leaving Aegerter clear at the front to claim his first MotoE victory. The battle for the remaining podium positions went right down to the final-lap, before Jordi Torres (Pons Racing 40) and Mattia Casadei (Ongetta SIC58 Squadracorse) finished second and third, respectively.
The performance of the Michelin MotoE tyres were certainly put to extremes this weekend as the searing heat on Saturday afternoon saw the track hit 60°C, with today's race recording an asphalt temperature of 36°C, but whatever the conditions the tyres gave the riders the grip, control, stopping power and performance they needed. The next rounds of the FIM Enel Moto World Cup will be at Misano in Italy, when three races will be held over the two weekends that the MotoGP championship travels to the track in September.
Fabio Quartararo – Petronas Yamaha SRT:
"Its again an amazing feeling to be back on the top. It was a really tough race because the conditions were much more difficult than last week. We had better performance from the tyres from the beginning, with a bit of drop from mid-race, but I managed them really well and they felt good, especially the front. On the straights braking was really powerful and it gave lots of support. I really want to continue in this way and want to say thanks to my team and everyone that believes in me, and also to Michelin for good tyres."
Dominique Aegerter – Dynavolt Intact GP:
"I am happy with the MotoE tyres because they are very grippy. We don't have that much track-time, and we work very hard to find the best grip, to find the solutions for these bikes, but the tyre works well. When it gets very hot you always want more grip, but we did not have a problem. The tyre looks nice and we will see how it works at a different racetrack like Misano. I want to say thank-you to Michelin for all its support."
Piero Taramasso – Michelin Motorsport Two-Wheel Manager:
"This has been an extremely exhausting weekend with the high temperatures, it has been on average five or six degrees higher than last weekend and this has of course made a difference to the track and that also alters the performance of our tyres. As temperatures rise, grip from the track decreases, but the compounds we chose ahead of these two weekends were able to perform at the highest standard and give the riders what they needed. We were again delighted to get the outright lap-record and for the race to be quicker than last week, obviously with this being a new event, it's the first Andalucía Grand Prix, we set new records for everything, but there was also the chance to compare directly with last week's race at the same circuit and we also recorded a faster race lap. These are all good indicators of the grip and performance of the new rear construction slick tyre and shows that even in the toughest of conditions we have tyres that work and give the riders confidence.
"MotoE was another good race and we had a new winner, so congratulations to Dominique Aegerter on his first MotoE victory. The tyres had to work extremely hard this weekend as well. We saw 60°C on-track for the E-pole, but the riders had the grip they needed and set some fast times. The use of the new bio-materials has created a different type of tyre, but the performance is better than it was last year, so all the riders are feeling the benefits of the sustainable tyres that we are now supplying them."
More, from a press release issued by Pramac Racing:
Andalucia GP – Unlucky sunday for Pramac Racing, Pecco Bagnaia had to stop for a technical problem when he was second. Jack crashed on lap 10 after an amazing start.
Pecco Bagnaia had to stop for a technical problem when he was second. Jack crashed on lap 10 after an amazing start. Pecco started from the front row, he engaged a duel with Jack and then he started to ride very fast. The Italian rider was fast enough to overtake first Vinales and then Rossi. Unfortunately a technical issue forced him to retire 5 laps from the end with almost 3 seconds lead from the third. Miller started in P7 and he was already in 4th position during the first lap fighting for the podium. A crash didn't let him finish the race.
Pecco Bagnaia
I can't complain after a weekend like this. We worked really well, we were fast and really competitive. Unfortunately a technical problem didn't allow us to finish the race but we will arrive to Brno more stronger than ever.
Jack Miller
I had problems overtaking the Yamaha, I tried to overtake Vinales when it wasn't so fast and when I finally did, I had to push hard and unfortunately, I lost grip and I crashed. I can't complain, I made a mistake, but we will come back to Brno stronger.