More, from a press release issued by Dorna:
Morbidelli strikes back to lead Zarco and Binder on Day 1 in Barcelona
On form on Friday, both the Italian and Zarco bounce back from crashes to head the field – as Binder leaps up the timesheets to complete the top three
Friday, 25 September 2020
Franco Morbidelli (Petronas Yamaha SRT) was struggling with illness the week after his incredible maiden MotoGP™ win in the San Marino GP, but now he's back – and back on top. The Italian shot to P1 in the afternoon on Friday to rule the roost, a tenth ahead of Johann Zarco (Esponsorama Racing), with rookie Brad Binder (Red Bull KTM Factory Racing) searing up to third by the end of the day's action.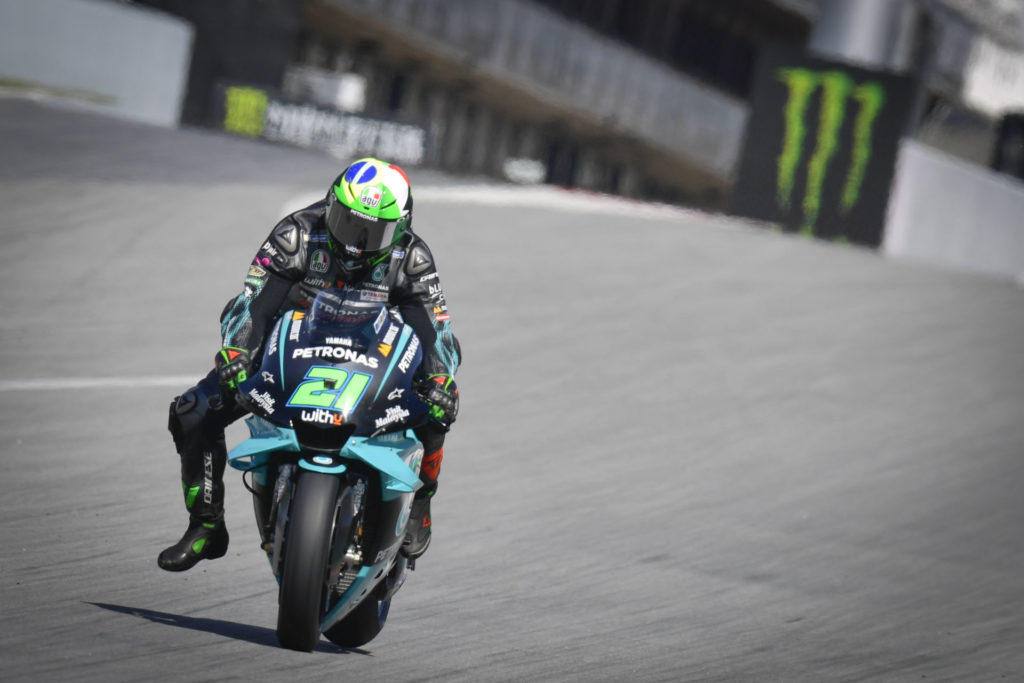 FP1
The morning, however, belonged to Fabio Quartararo (Petronas Yamaha SRT) as the Frenchman went faster and faster to end the session over four tenths clear of nearest rival Andrea Dovizioso (Ducati Team). Dovizioso, in turn, was a couple of tenths clear of Joan Mir (Team Suzuki Ecstar) down in third, and the two spent a while together on track, whether by accident or design.
It was an uncharacteristic start to the event for Mir just before that, however, as the Spaniard crashed at Turn 5 unhurt, although upon getting back on the Mayorcan went quicker.
Fourth place went the way of Maverick Viñales (Monster Energy Yamaha MotoGP) as last week's winner was just 0.045 off Mir, that making the top four in the title fight also the top four in FP1. Aleix Espargaro (Aprilia Racing Team Gresini) was less than a tenth off Viñales, in an impressive fifth.
Morbidelli, Alex Rins (Team Suzuki Ecstar), Valentino Rossi (Monster Energy Yamaha MotoGP), Cal Crutchlow (LCR Honda Castrol) and Miguel Oliveira (Red Bull KTM Tech 3) completed the top ten, Crutchlow impressing on his return from injury.
As well as Mir's crash, there was a tumble for Iker Lecuona (Red Bull KTM Tech 3) at Turn 2, rider also ok.
FP2
In the much windier afternoon, Morbidelli made sure Petronas Yamaha SRT were top in both sessions of the day. Morbidelli, Binder and Rins all rose into the top four to slot in behind FP1 pacesetter Quartararo initially, with Viñales and Rossi also improving their times. After the first few bouts, Dovizioso, Quartararo, Mir and Aleix Espargaro were the only riders inside the top 10 who hadn't gone faster in the first 15 minutes of FP2.
Morbidelli was then down at Turn 10 – unhurt – with 24 minutes to go. Before that, Zarco also crashed at Turn 5 – rider ok – and Repsol Honda Team's Stefan Bradl also went down, the latter at Turn 2. Lecuona later suffered a second crash of the day. Wind or grip? The session was certainly a tougher one in terms of tumbles.
Heading into the final 10 minutes of FP2, there were 12 riders within a second and with automatic entry to Q2 already on everyone's minds, that meant one thing – cue the time attacks!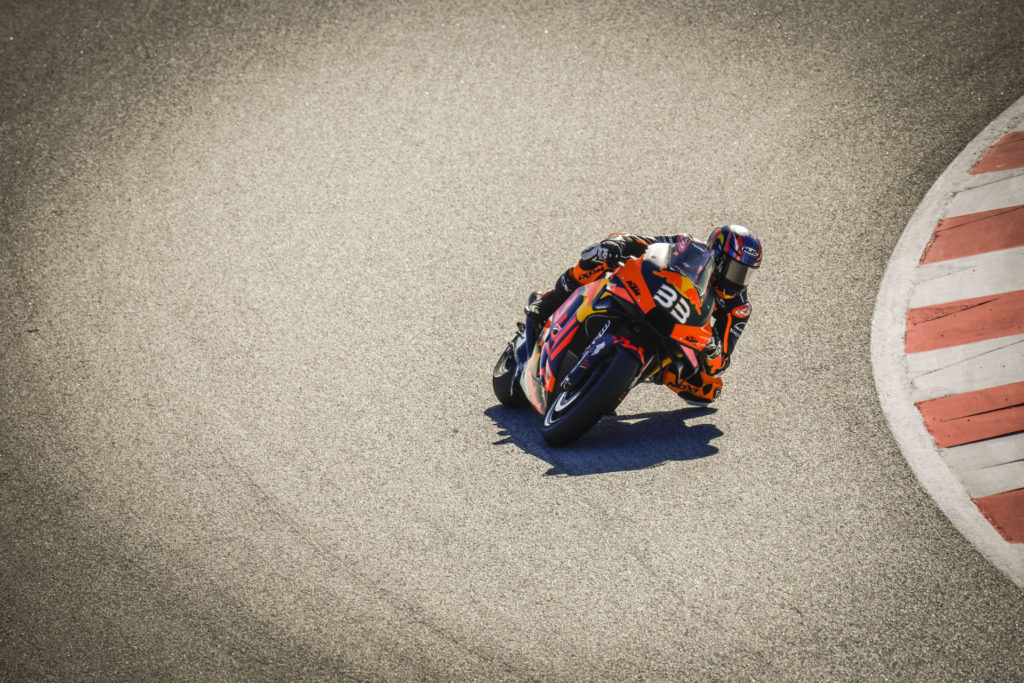 The first benchmark came from Binder as he leapt up from outside the top 20 in FP1 to lead the way, four tenths clear. Morbidelli and Zarco were on a charge but lost those laps after Yellow Flags for Lecuona's crash, but next time around the duo became the first and only riders into the 1:39s, demoting Binder to third overall. Viñales also struck late to slot into fourth, ahead of Takaaki Nakagami (LCR Honda Idemitsu). Every rider bar three improved their time in the afternoon by the time the flag came out: Dovizioso, teammate Danilo Petrucci and Quartararo were the outliers.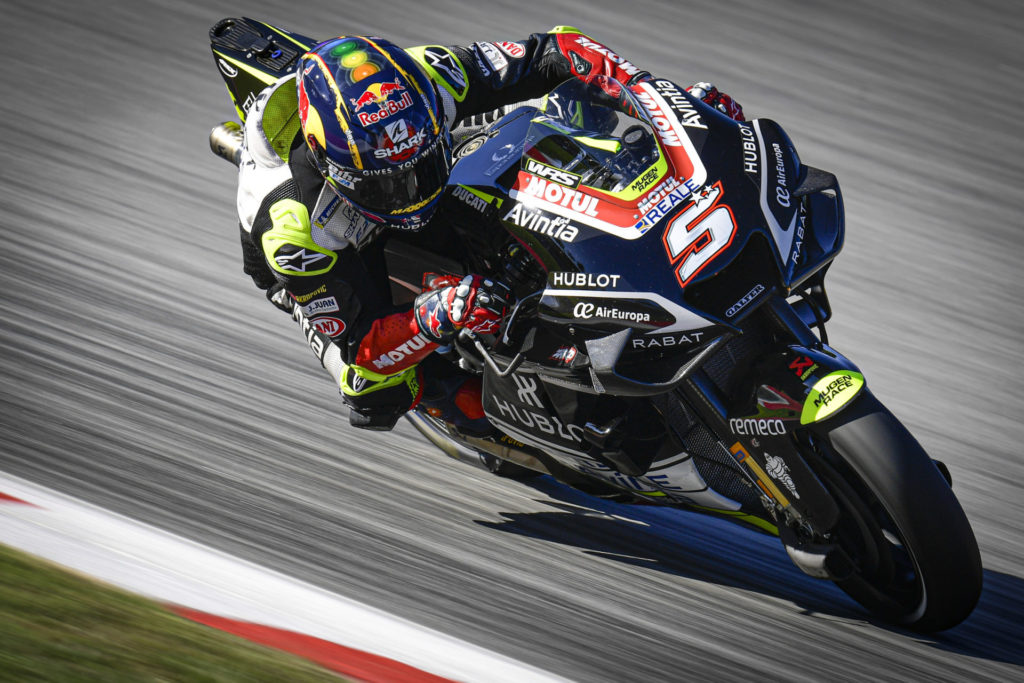 Overall then, it's the FP2 fastest five of Morbidelli, Zarco, Binder, Viñales and Nakagami who are also fastest overall, with Quartararo's FP1 time slotting him into sixth on the combined timesheets. That shuffles Mir down to P7 overall, ahead of Pol Espargaro, Alex Marquez and Rossi. The latter duo are the most successful on the grid at the track across all classes, with three and five wins, respectively.
Next up is another group who all improved, but remain outside the top ten: Rins is 11th and the first man looking to move forward in FP3, ahead of Jack Miller (Pramac Racing), Crutchlow and Aleix Espargaro.
Dovizioso, who didn't go faster in the afternoon, ended the day in P15 overall. For him more than many, FP3 is a chance to shoot back towards the top and it starts at 9:55 (GMT +2). Will he make it through? Find out then, and tune in for qualifying from 14:10 as the grid for the Gran Premi Monster Energy de Catalunya gets decided.
MotoGP™: the five fastest on Friday
1 Franco Morbidelli* – Petronas Yamaha SRT – Yamaha – 1:39.789
2 Johann Zarco* – Esponsorama Racing – Ducati – +0.109
3 Brad Binder – Red Bull KTM Factory Racing – KTM – +0.219
4 Maverick Viñales – Monster Energy Yamaha MotoGP – Yamaha – +0.419
5 Takaaki Nakagami* – LCR Honda Idemitsu – Honda – +0.623
*Independent Team rider
Lowes leads from Marini on Day 1
The Brit edges ahead of the Championship leader, with Schrötter completing the fastest trio on Friday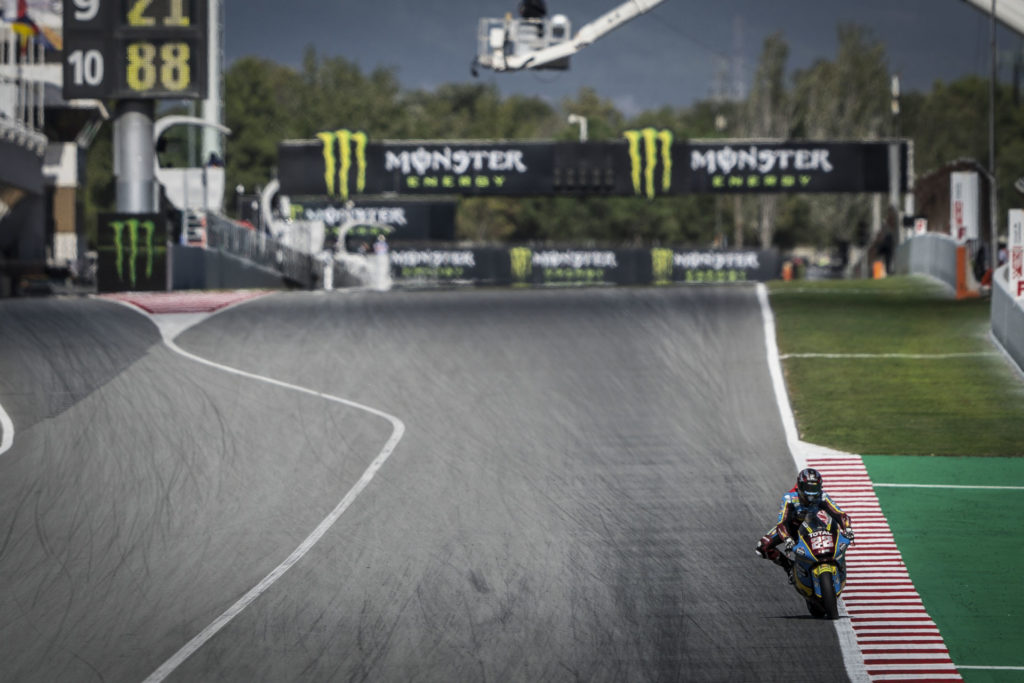 Sam Lowes (EG 0,0 Marc VDS) was back on top on Friday at the Gran Premi Monster Energy de Catalunya, the Brit ahead of closest challenger Luca Marini (Sky Racing Team VR46) by two tenths by the end of play. Completing the top three was Marcel Schrötter (Liqui Moly Intact GP) as the German once again showed some solid speed, fastest in the afternoon.
FP1
Lowes kicked off the weekend fastest with a 1:44.122 to lead Championship leader Marini  from the off, the two split by exactly two tenths in FP1. Tetsuta Nagashima (Red Bull KTM Ajo) took third as he found some solid form, but the Japanese rider was over half a second off Lowes' lap. Speed Up machinery made a resurgence in fourth and fifth, meanwhile, with impressive rookie Aron Canet (Inde Aspar Team Moto2) getting the better of Fabio Di Giannantonio (HDR Heidrun Speed Up) as the two completed the top five.
The top 14 were within a second in FP1 and with Lowes half a second faster than Nagashima, that meant it was just half a second covering P3 to P14!
There were three crashes but two crashers in the session, with Andi Izdihar (Idemitsu Honda Team Asia) taking a tumble at Turn 10, before Simone Corsi (MV Agusta Forward Racing) followed suit not long after. Corsi also later crashed at Turn 5, rider ok.
FP2
The afternoon saw Schrötter take to the top, with the German 0.066 ahead of Di Giannantonio in the session. Home hero Xavi Vierge (Petronas Sprinta Racing) slotted into third, ahead of Marco Bezzecchi (Sky Racing Team VR46) and second in the Championship, Enea Bastianini (Italtrans Racing Team), as the latter made a leap up the timesheets in the session at least, from P13 in FP1.
Jake Dixon (Petronas Sprinta Racing) crashed at Turn 2, before Remy Gardner (ONEXOX TKKR SAG Team) did the same shortly after, riders ok. Gardner has been given a six-place grid penalty for the incident after crashing whilst not respecting a Yellow Flag.
Overall then, it's Lowes and Marini who lead the way thanks to their fastest times in FP1, ahead of Schrötter by virtue of his fastest lap in the afternoon. Di Giannantonio was consistently quick in both sessions but his FP2 best puts him in fourth, with Nagashima completing the fastest five on Friday by virtue of his FP1 lap.
Rookie Canet ends the day in sixth ahead of Marco Bezzecchi, both also courtesy of their FP1 laps, ahead of Xavi Vierge in eighth.
Next up was the returning Jorge Martin (Red Bull KTM Ajo) as the Spaniard's FP1 best put him P7 in that session and P9 overall, a solid day's work as he gets back on track after missing two races.
Augusto Fernandez (EG 0,0 Marc VDS) completed the top ten on Day 1, but by an infinitesimal 0.002 – with Bo Bendsneyder (NTS RW Racing GP) missing out by the equally tiny margin of 0.005!
That leaves Bastianini down in P12 overall – one better than FP1 – and the 'Beast' will be one of many looking for more on Saturday morning as he attempts to hunt down Marini's five-point title lead. Find out how FP3 shuffles the entrants to Q2 at 10:55 (GMT +2), before qualifying for Moto2™ begins at 15:10.
Moto2™: the five fastest on Friday
1 Sam Lowes – EG 0,0 Marc VDS – Kalex – 1:44.122
2 Luca Marini – Sky Racing Team VR46 – Kalex +0.200
3 Marcel Schrötter – Liqui Moly Intact GP – Kalex – +0.409
4 Fabio Di Giannantonio – HDR Heidrun Speed Up – Speed Up – +0.475
5 Tetsuta Nagashima – Red Bull KTM Ajo – Kalex – +0.508
Fernandez on formidable Friday form
The Red Bull KTM Ajo rider ends the day with a little breathing space once again, ahead of Masia and Fenati
Raul Fernandez (Red Bull KTM Ajo) is making something of a habit of going fastest on Friday, and the Gran Premi Monster Energy de Catalunya was no different as the Spaniard ended the day with a fairly comfortable margin ahead of compatriot Jaume Masia (Leopard Racing). Last week's winner, Romano Fenati (Sterilgarda Max Racing Team), completed the top three on the combined timesheets.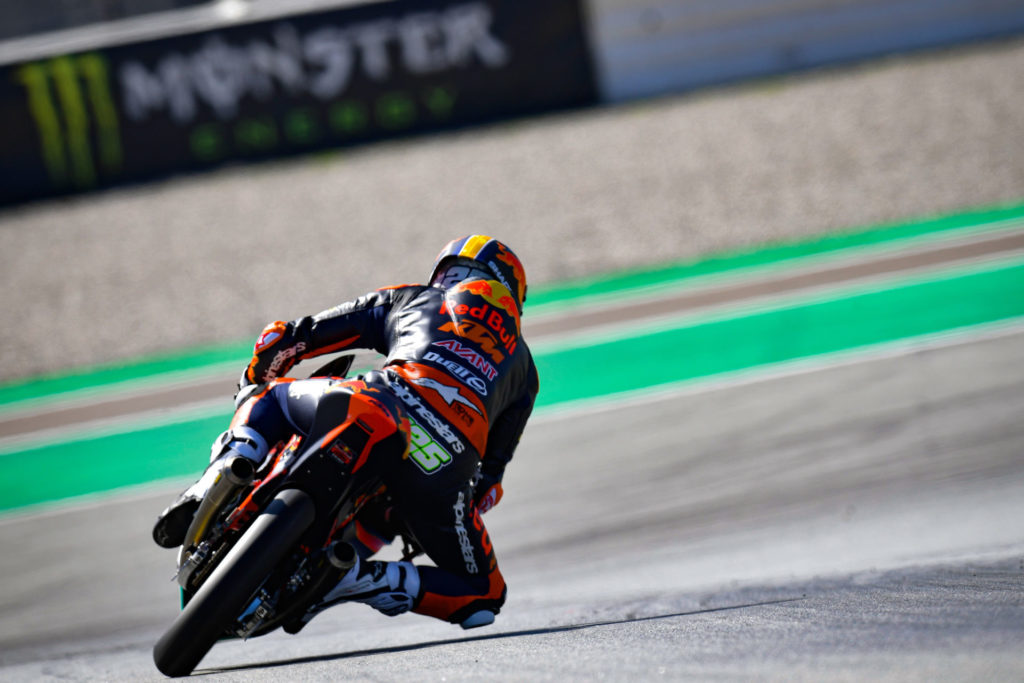 FP1
FP1 saw a familiar name at the top once again: Fernandez. The Spaniard made it three FP1s in a row at the top, and was the only man to dip beneath the 1:49 barrier as he pulled four tenths clear with a late 1:48.853. Husqvarna history maker Fenati was the man in second in the session, ahead of his compatriot Tony Arbolino (Rivacold Snipers Team) a further tenth back in third.
Masia ended FP1 0.575 seconds adrift in fourth, but he had some close company courtesy of Petronas Sprinta Racing's John McPhee. Championship leader Albert Arenas (Gaviota Aspar Team Moto3) was next up in sixth, with his closest rival as it stands, Ai Ogura (Honda Team Asia), down in an uncharacteristic P25.
There were no crashes in the session.
FP2
In the afternoon, the wind was higher to complicate life for the lightweight class, and early on Fernandez stole a few more headlines but this time with a spectacular save. Ultimately it was Masia who came out on top in FP2 though, 0.284 ahead of Darryn Binder (CIP – Green Power). Carlos Tatay (Reale Avintia Moto3) was the only other man within half a second of the top after he put in an impressive session, with the three men at the top of the Championship all a little further back: McPhee took P10, Ogura P13 and Arenas P14. For Ogura, however, that was a move forward after his P25 in FP1.
The main headlines from FP2, however, were the crashes. First to go down was Celestino Vietti (Sky Racing Team VR46) as he tumbled at Turn 3, before McPhee went down at Turn 10. Gabriel Rodrigo (Kömmerling Gresini Moto3) and Stefano Nepa (Gaviota Aspar Team Moto3) were then both caught out at Turn 1 a few minutes apart, before another crash at Turn 10, this time for Arbolino. He headed to the Medical Centre but was given the all-clear. Masia then crashed at Turn 7, before Davide Pizzoli (BOE Skull Rider Facile Energy) was the final crasher of the session, at Turn 10.
Ryusei Yamanaka (Estrella Galicia 0,0) avoided a crash with a miracle save, adding to Fernandez' earlier efforts in the sweepstakes for biggest spectacle of the day.
After a day of two halves in Barcelona then, it's Fernandez' FP1 time that puts him on top once again, ahead of Masia's FP2 fastest by 0.281. Fenati and Arbolino's best times put them into P3 and P4 overall, respectively, with Darryn Binder ending Friday in fifth thanks to his quickest lap in the afternoon.
Despite his crash, McPhee is the fastest of the Championship-leading trio in P6, but Arenas is less than a tenth off. Both set their quickest efforts in the morning. Niccolo Antonelli (SIC58 Squadra Corse) had a good first day as he slots into eighth, 0.029 off Arenas, with Tatay just another 0.033 off Antonelli, in ninth. Kaito Toba (Red Bull KTM Ajo) completed the top ten.
Ogura ultimately ended the day down in P23, and he'll be one of the first pushing to improve in FP3 as the fight to head through to Q2 really gets down to business. Tune in for that at 9:00 (GMT +2), before Moto3™ qualifying starts from 12:35.
Moto3™: the five fastest on Friday
1 Raul Fernandez – Red Bull KTM Ajo – KTM 1:48.853
2 Jaume Masia – Leopard Racing – Honda +0.281
3 Romano Fenati – Sterilgarda Max Racing Team – Husqvarna +0.390
4 Tony Arbolino – Rivacold Snipers Team – Honda +0.409
5 Darryn Binder – CIP – Green Power – KTM +0.565
More, from a press release issued by Aprilia Gresini Racing:
RIDERS STRUGGLE WITH TRACTION IN BARCELONA: ALEIX AND BRADLEY TRYING TO FIND GRIP
The biggest concern for the riders on the first day of practice in Barcelona was, from the start, the difficulty finding the right level of traction. It is a particularly demanding situation in preparing for the race, where the bike/tyres package setup must provide the most consistent performance possible.
In any case, the Aprilia riders managed to improve their pace significantly between the two sessions, with Aleix less than three tenths of a second from the top 10, despite being unable to do a true flying lap. Bradley shaved more than half a second off his time between FP1 and FP2, focusing on pace, as the two long runs he did during the afternoon session demonstrate.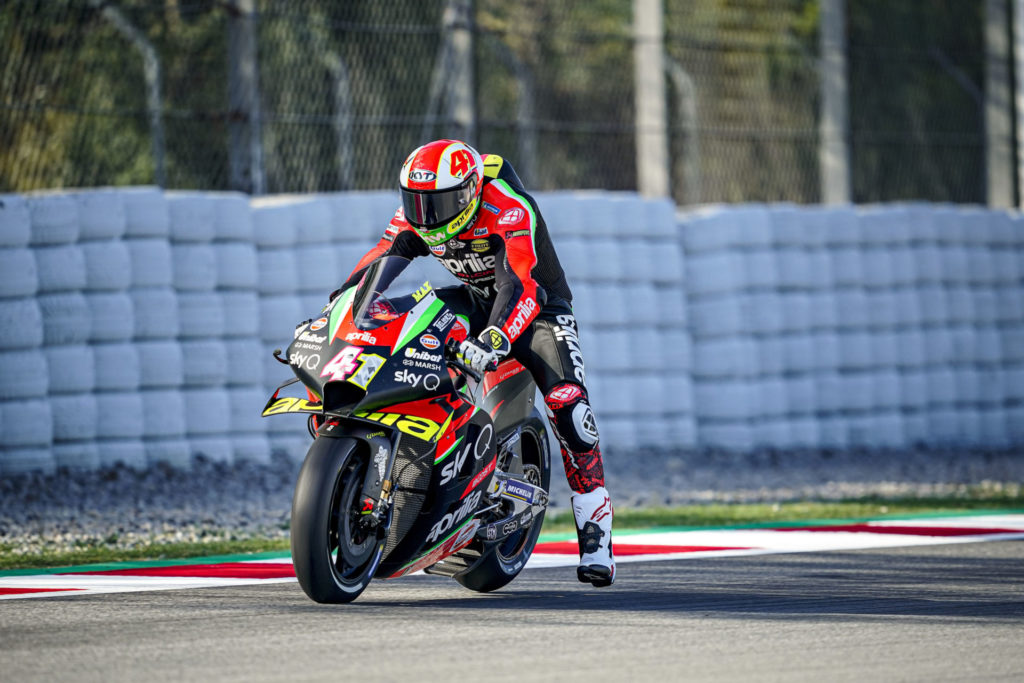 ALEIX ESPARGARO'
"A difficult day, but I felt good. I like this layout and I had fun riding today. The grip is extremely low, especially if we compare it to Misano. Because of this, I did not take too many risks, as it would have been incredibly easy to make a mistake. Unfortunately, I do not have good sensations with the medium tyre but, because of tyre allocation, I was only able to use the soft in the last 10 minutes of FP2. I felt much better with that one, but I was unable to do a good lap, partly because of a yellow flag. Tomorrow morning I'll try again to qualify for Q2."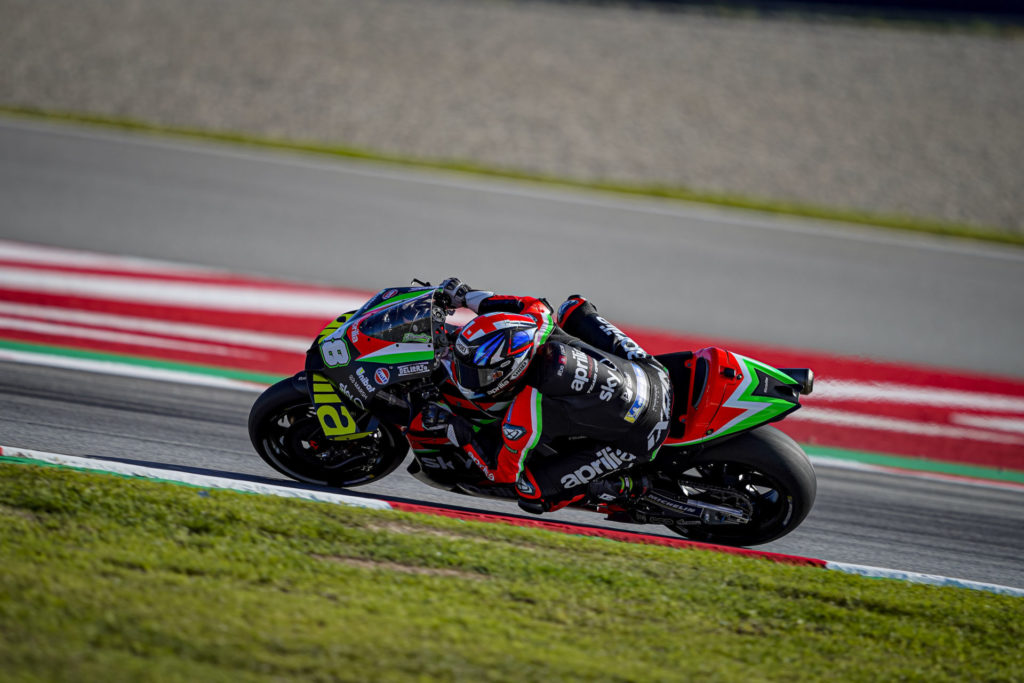 BRADLEY SMITH
"I think it was a demanding day for everyone, especially in terms of rear grip. It seems rather difficult to get the tyre up to temp here, partly because it is a bit cooler than the usual situation here. It will take a few laps to find the right feeling and I'm curious to see what happens tomorrow since I don't think it will be possible to aim for a flying lap in FP3 and qualifying, but to increase pace gradually instead. Historically, we stress the tyre less with the RS-GP and this is a disadvantage for us at the moment. We need to analyse the data and try to make improvements where that is concerned.
More, from a press release issued by Repsol Honda:
Alex Marquez continues top-ten pace in Barcelona
A strong afternoon in Barcelona has Alex Marquez in a provisional Q2 spot as Stefan Bradl returns to the track.
After making solid improvements during the Misano Test, the Repsol Honda Team were eager to get back on track in Barcelona to confirm their findings at another track.
It was straight back to work for Alex Marquez, the MotoGP rookie spending Free Practice 1 learning the Circuit de Barcelona-Catalunya on the Repsol Honda Team RC213V. A modest start to the day saw Alex 20th in FP1 but within half a second of the top ten. A 1'40.478 in Free Practice 2 was one and a half seconds faster than Alex's best time from FP1 and rocketed the rookie up into the top ten. Eighth in FP2 and ninth overall, the Moto2 World Champion holds a provisional spot in Q2 ahead of Free Practice 3 on Saturday morning. The result marks Alex's best start to a premier class weekend to date.
Stefan Bradl was back on form after a week's rest, his right arm no longer causing him any serious issues aboard the Repsol Honda RC213V. The German, riding in Barcelona during a race weekend for the first time since 2016, ended the first session of the day within half a second of the top ten. Bradl was unharmed after a small crash at Turn 2 during Free Practice 2, ending the session in 1'41.260, some seven tenths from Alex.
Both Repsol Honda Team riders will return to the Montmelo circuit at 09:55 Local Time on Saturday, Alex Marquez determined to keep hold of his Q2 position.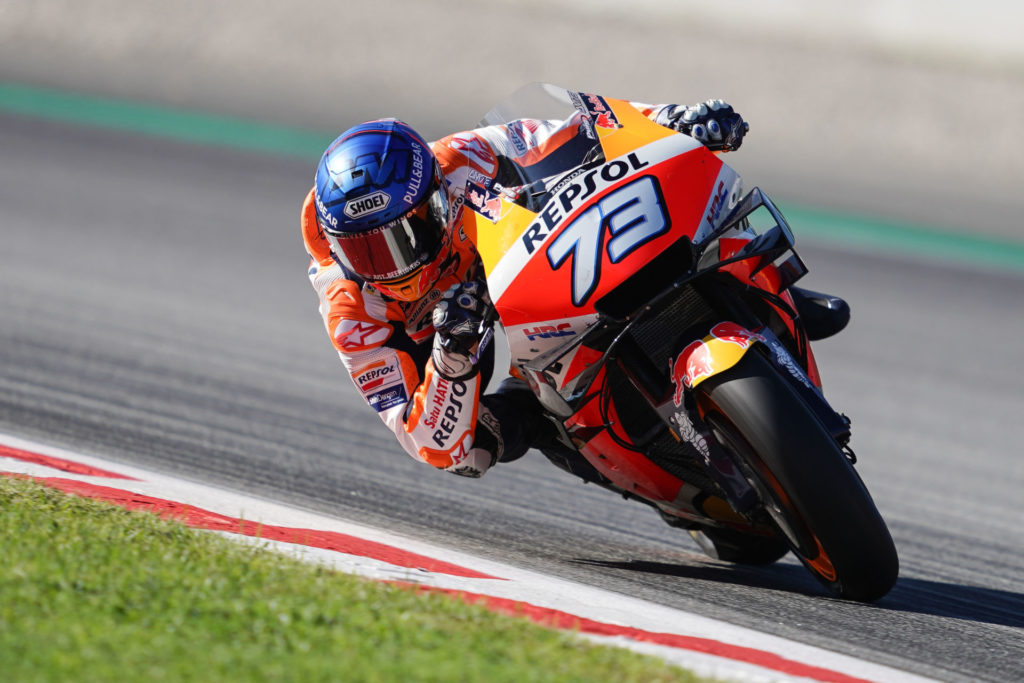 Alex Marquez
9TH  1'40.478
"It was not a bad day for us, it is really positive to be ninth. Maybe not every rider was pushing to their maximum today, but it's a positive sign. I am feeling good on the bike, even if we are suffering a bit with rear grip – I think all riders are finding the rear grip tough. It's a lovely track but there's no grip and we have to try and manage it, hopefully with more riding it improves. I am happy with how this first day has gone, I am using everything we have been learning in the previous races and the test and we are making progress."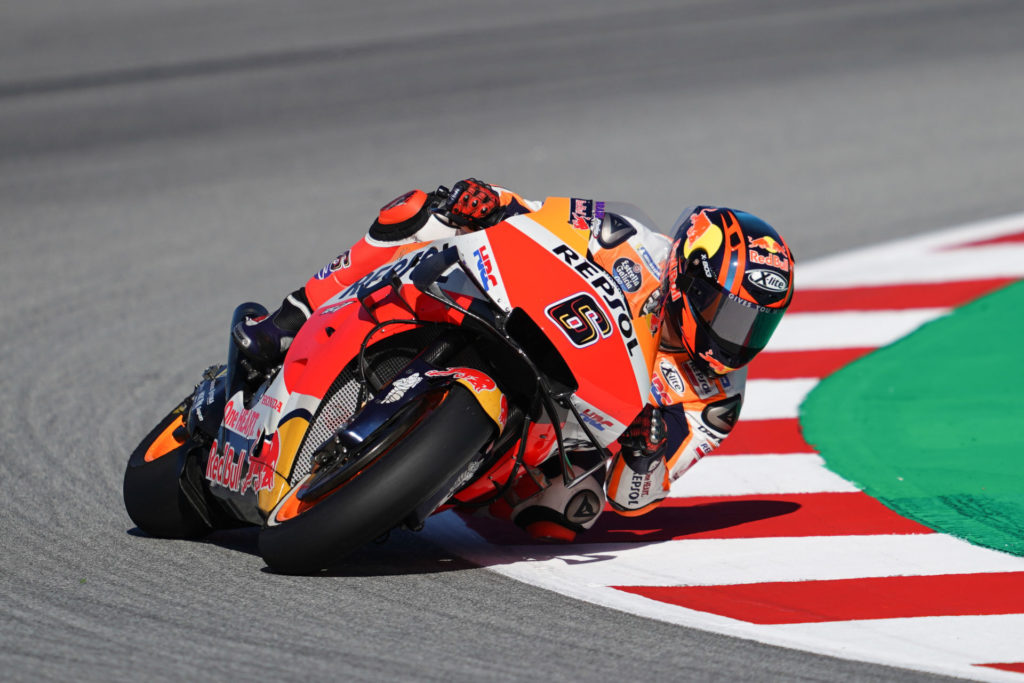 Stefan Bradl
19TH  1'41.260
"My arm is fine, this morning I felt much better than last week and I didn't have any problems with it. This morning we started well, I am happy with the general setup of the bike and it seems like Honda has made a step since Misano. I think we have a good base for the rest of the weekend. The crash we had today was a little strange, I am perfectly okay, but it upset our plans for FP2 a little bit and I couldn't do a proper time attack after. Otherwise, we are in quite a good way."
More, from a press release issued by Team Suzuki ECSTAR:
TEAM SUZUKI ECSTAR COOL AND CALM IN CATALUNYA ON DAY ONE
Combined practice times:
Joan Mir: 7th – 1'40.441 (+ 0.652)
Alex Rins: 11th – 1'40.538 (+ 0.749)
The Circuit of Barcelona-Catalunya welcomes the MotoGP paddock for the third in a triple-header of races. Team Suzuki Ecstar's riders enter the weekend feeling confident at their home track and ready to do battle.
Joan Mir comes to the track in Montmelo fresh from two great podiums in Misano and he was quick to get up to pace during FP1 despite a crash at Turn 5. Unhurt and swiftly back on track he placed himself in second place shortly before the end of the session, showing great consistency on lap times, and closed FP1 in third with a 1'41.060. In the afternoon's FP2 he spent a long time on used tyres, completing a long run to try and gauge the feel. When he switched to a time-attack he was able to place second once again with a 1'40.441 before dropping to sixth at the flag. He completes Day 1 in 7th overall.
Alex Rins is keen to put last week's troubles behind him at his home GP, and he made moves into the top spots as soon as FP1 began. His best time in the morning was a 1'41.316 and he finished seventh after spending the vast majority of the session sitting in the Top 5. This is something he was able to repeat in FP2 and he set a 1'40.538 to go fifth with three minutes left in the session. But a drop to 10th before the flag came out meant he finished just outside the Top 10 in 11th on combined.
Davide Brivio – Team Manager:
"It's been a positive day, we worked to find the best set-up in these tricky conditions, as it's windier and colder than last week. Considering it's just Day 1 we feel strong because both riders have good pace and good rhythm. Joan is in the Top 10 on combined for tomorrow and Alex only just missed out by a tiny amount. Tomorrow we'll put everything together and try to put ourselves in strong contention for qualifying."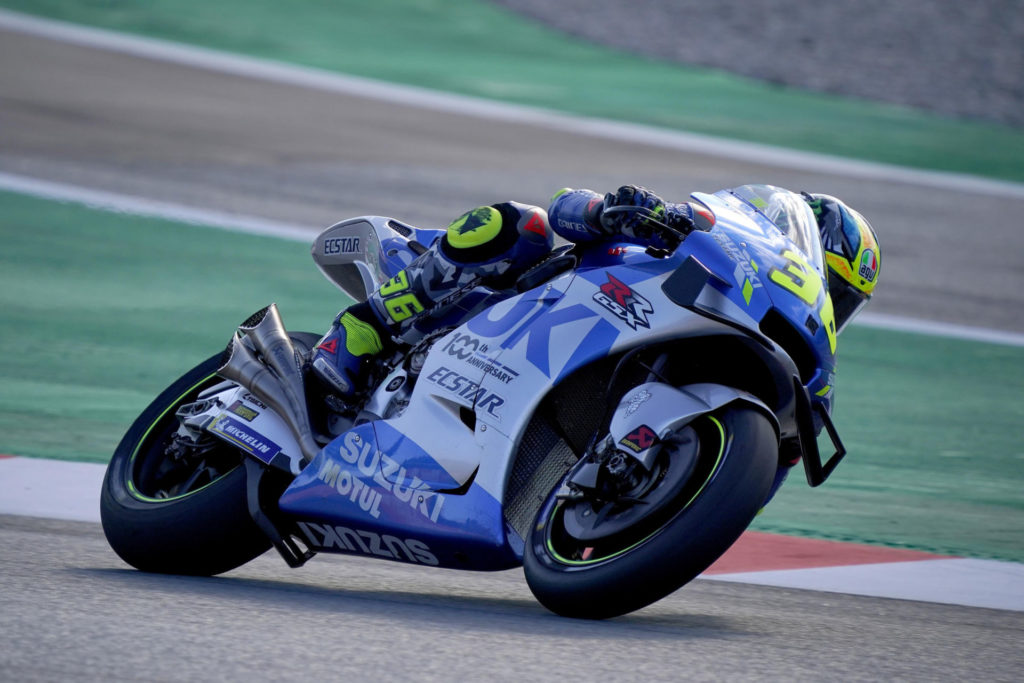 Joan Mir:
"Today has been a bit tough for everyone because the track is slippery and it's really difficult to find the best tyre option, it's also quite windy. This first day hasn't really shown who's on the pace and who's not. I worked a lot with a used medium rear tyre which gave me some info for the race. I didn't really try to set fast laps today, but my lap times weren't bad anyway. Qualifying will be interesting tomorrow."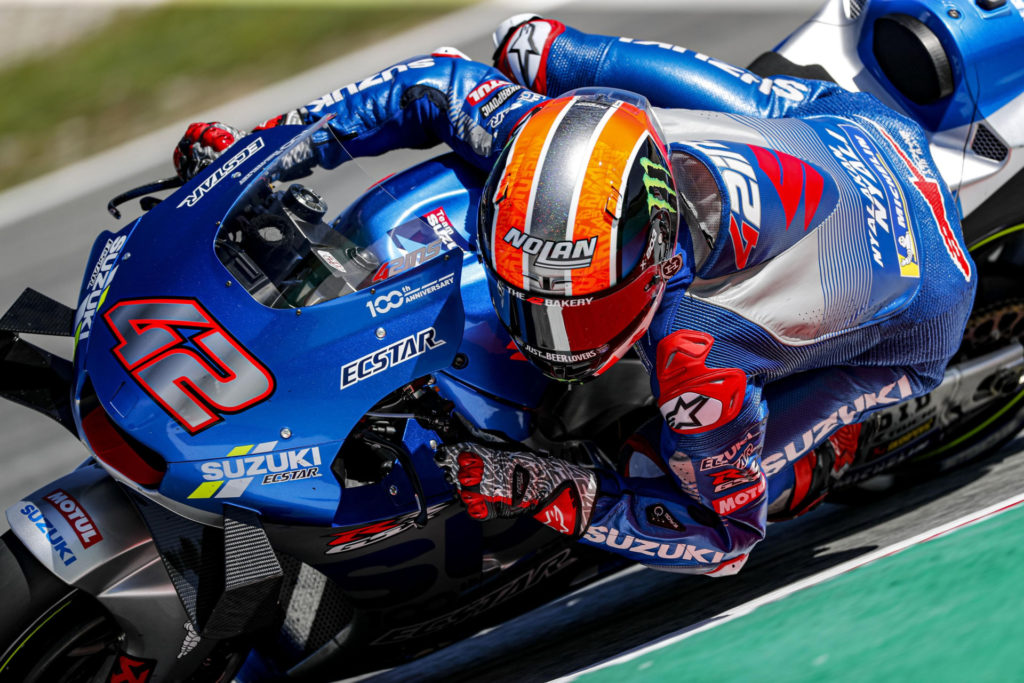 Alex Rins:
"Today I got back the good feeling that I didn't have in Misano. This morning I suffered a bit with the low grip on the track, but in the afternoon I started to really enjoy riding here and I managed a lot of consistent lap times. My aim is to take another step forward tomorrow in terms of one lap pace and then I'll be hoping to qualify well."
More, from a press release issued by PETRONAS Yamaha SRT:
Morbidelli best of the bunch in Barcelona
Franco Morbidelli ends Catalan GP opening day on top, Fabio Quartararo sixth
It was a display of strength from PETRONAS Yamaha Sepang Racing Team in the opening day of the Gran Premi de Catalunya, with Franco Morbidelli posting the fastest lap of the day around the Barcelona circuit in FP2 and Fabio Quartararo topping the morning session. The Frenchman ended the day sixth fastest.
Morbidelli had a strong morning practice session, staying within the top places until the final laps. At the end of the 45 minutes, the Italian was sixth with a fastest time of 1min 41.219secs. Franco was the man to beat in FP2, despite a Turn 10 crash, staying at the top of the timesheets for the majority of the session. His last lap of 1min 39.789secs proved to be unbeatable and gave him the top spot in the combined times.
Team-mate Quartararo opened the day in the best way, holding the top spot for the majority of the FP1 session and setting his fastest lap, 1min 40.431secs, on his final lap – 0.430secs faster than the closest rival. Fabio was looking strong in the afternoon session as well, but an unfortunate issue with the brakes prevented him from heading out to set his final flying lap. His best time of 1min 40.860secs placed him 14th in the session and sixth overall.
Free Practice 3 for the PETRONAS Yamaha SRT pair will begin at 9.55am local time (3.55pm MYT) tomorrow, with qualifying due to start at 2.10pm local time (8.10pm MYT).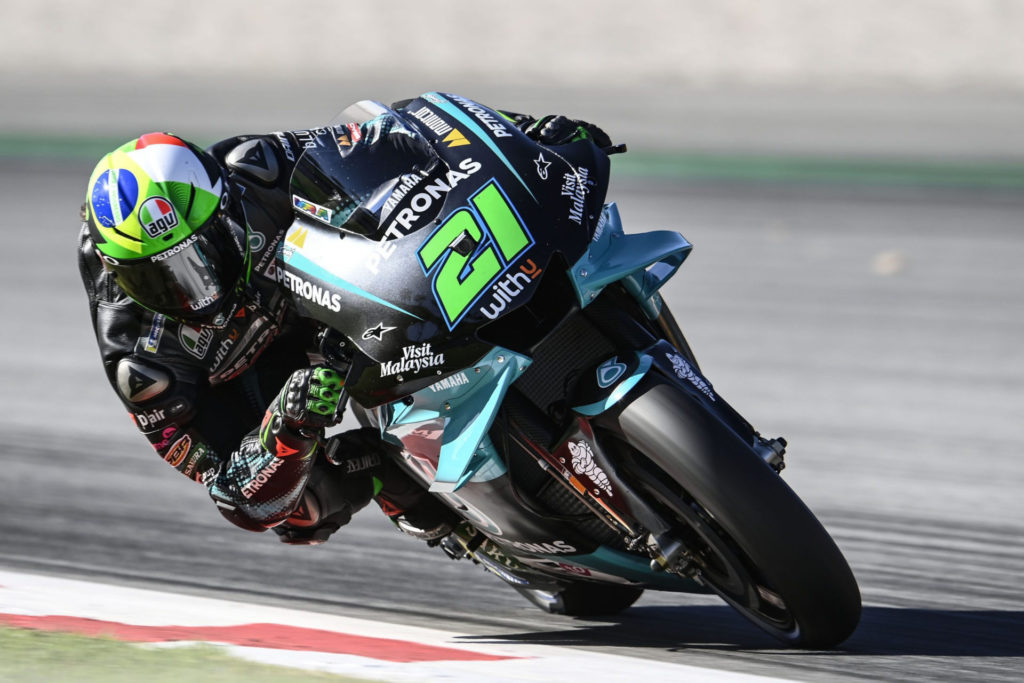 Franco Morbidelli
1st (1'39.789)
I felt immediately very good with the bike today and I was able to be quite fast this morning. I think we did the right modifications this afternoon to improve the pace and I was able to be fast. I'm happy with today. I went in too hot to Turn 10 with cold tyres on my first flying lap, it was too early to push that hard and I ended up on the ground. I wanted to get the bike back to the pitbox to keep working with the used tyres, but unfortunately I was not able to. I changed my focus to the flying lap with soft tyres and was able to put in a quick lap. It was a really positive Friday for us. This weekend will be interesting because the conditions could play a big part, there is a lot of wind and the grip level of the track is slightly strange. We need to see how it develops over the weekend and try to make a strategy, but at the moment it is really difficult to predict.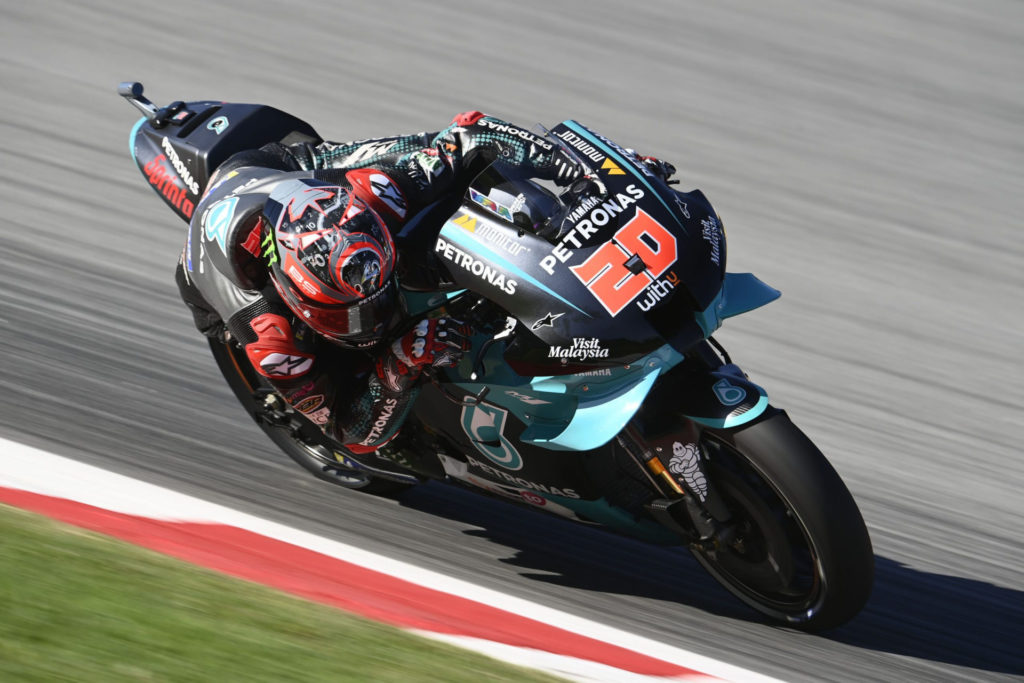 Fabio Quartararo
6th (1'40.431)
I was not feeling well yesterday and, although I am better today, I am still not at 100%. However, the feeling on the bike was great, this morning we managed to make quite a good lap time. The track condition was a bit strange, but we finished in a good position. This afternoon we continued with the used tyre, did a lot of laps and the feeling was great. I was surprised that we could make the quick laps we did on these tyres. Unfortunately when I went to do the time attack, I had a problem with the brakes and so couldn't put the lap together. We still have FP3 tomorrow to really push and see our true potential. I'm feeling good on the bike and let's see tomorrow if we can improve something for the race.
More, from a press release issued by LCR Honda Castrol:
CRUTCHLOW COMPETITIVE ON HIS RETURN IN CATALUNYA
25 September 2020 | Catalan GP Practice
Cal Crutchlow produced an impressive return to competitive action as free practice for the Catalunya Grand Prix got underway in Barcelona on Friday. The LCR Honda CASTROL rider missed the recent double-header in Misano with an ongoing arm injury, but looked sharp back out on the track as he narrowly missed out on a spot in the top 10 combined times at Montmelo.
Crutchlow's affected right arm was put through its paces as strong winds made controlling the premier class bikes much more difficult at the Circuit de Cataluna. But the Briton remained competitive throughout and, after going ninth fastest in FP1, ended in 12th position after FP2, just two tenths behind Alex Rins in tenth.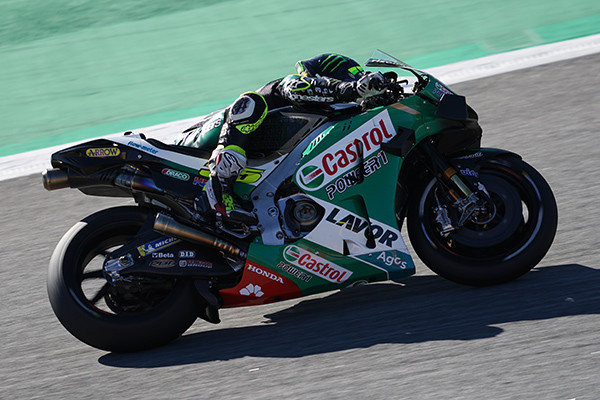 Cal Crutchlow – 13th
(1'40.754)
"It was positive to be back out on the track today with the LCR Honda team. We worked in a good way, I tried the setting we had for the race here last year when I was really competitive in the middle and the end of the race. But today that didn't work with the 2020 Honda and we have to go back to the drawing board a little bit to improve my feeling with the bike. We had some instability with the bike, but a lot of this was due to the wind today as it was really, really high. But we worked in a good way and it was nice to be back in the garage with the boys. I felt like I was competitive, I wasn't fast enough, but I was competitive. I still have some pain with my arm, the ankle felt ok, but my tendon in the arm is causing me some bother and the arm is very swollen again, so we'll have to do the best treatment we can so we can ride well tomorrow."
More, from a press release issued by Monster Energy Yamaha:
MONSTER ENERGY YAMAHA MOTOGP GET A FEEL FOR GRIP LEVELS ON CATALAN GP FRIDAY
Montmeló (Spain), 25th September 2020
GRAND PRIX OF CATALUNYA
FREE PRACTICE
Monster Energy Yamaha MotoGP's Maverick Viñales and Valentino Rossi resumed work in the afternoon session at the Circuit de Barcelona-Catalunya under difficult riding conditions due to a stiff breeze at the track. They finished the Friday holding 4th and 10th position respectively in the combined free practice timesheets.
4th MAVERICK VIÑALES 1'40.208 (FP2) / 22 + 20 LAPS
10th VALENTINO ROSSI 1'40.502 (FP2) / 20 + 21 LAPS
The Monster Energy Yamaha MotoGP Team continued their search for the optimal race configuration with the wind picking up at the Circuit de Barcelona-Catalunya this afternoon. Maverick Viñales and Valentino Rossi made further amendments to their YZR-M1s' settings in FP2, ahead of Sunday's Gran Premi Monster Energy de Catalunya, and ended the Friday in 4th and 10th place respectively in the combined timesheets.
Viñales continued to fine-tune his bike's set-up in the afternoon, spending 40 minutes on getting it in perfect shape for Sunday's race. In the final five minutes of the session, he returned to the box for some fresh tyres to book himself a provisional place in Q2. Clocking a 1'40.208s on lap 20/20, he secured fourth in the FP2 and combined FP rankings, with a 0.419s margin to first.
Rossi also had a busy afternoon schedule getting his bike to adjust to the lower grip levels of the Barcelona circuit. Once he was satisfied with his feeling out on track, he put in an early mini time attack, setting a 1'40.575s that initially put him in second place, just 0.002s from first. As the pace heated up, The Doctor gave it another go and produced a 1'40.502s on lap 19/21 for ninth place, 0.713s from the top. However, as one rider had set a faster morning time, the Italian is tenth in the combined free practice results.
MASSIMO MEREGALLI
TEAM DIRECTOR
Today's sessions went more or less as we expected. We knew that the asphalt here is very different from that at Misano, so we are working on adapting the bikes accordingly. Besides the lack of grip on track, also the windy conditions are a challenge here this weekend, but overall our bikes are working well. Maverick and Valentino were quite comfortable today, and we have established a solid basis to build on. There are various points where we think we can shave off some extra time. Starting from the front will be crucial for Sunday, so we'll work hard to make another step for tomorrow's FP3 with the goal to have both riders in Q2 and hopefully on the first two rows of the grid. So far, we have tried the medium-spec tyres. Tomorrow we'll also try the soft compound to determine the best front and rear option for the race.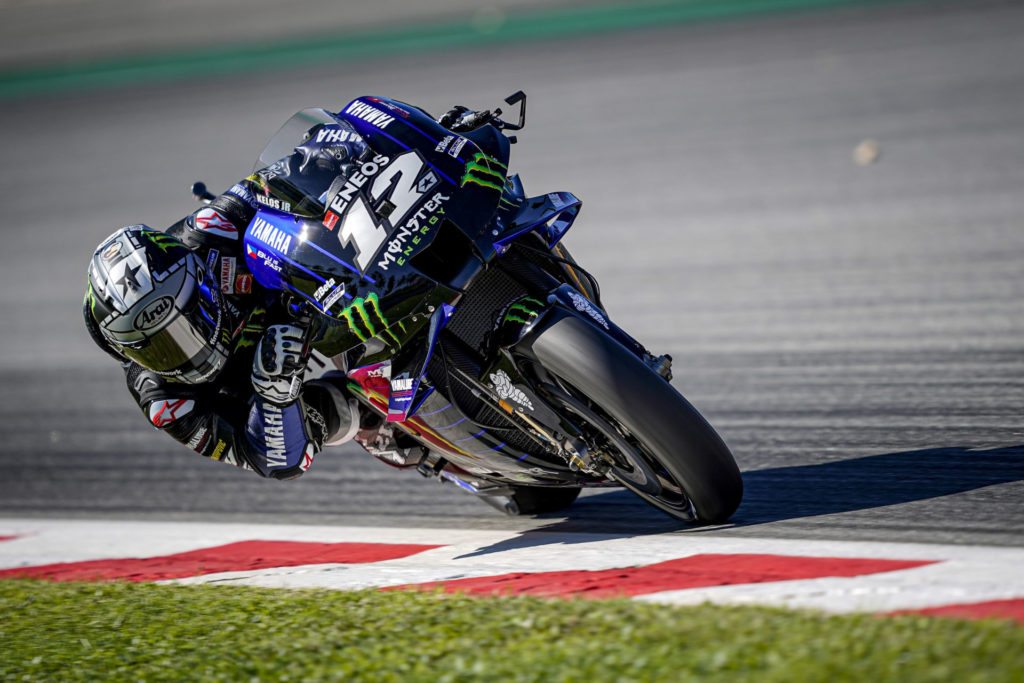 MAVERICK VIÑALES
I'm very happy with last week's victory, it gives us some extra confidence, and now we're in Montmeló, which is a track that I love and where I can ride very fast. The first day has been good. In the morning I felt fast straight away, but in the afternoon the conditions were more difficult because of the wind, but I think we rode well. Our lap times were quite good, and the most important thing is that the feeling is there. I was feeling comfortable on the bike. Honestly, I didn't do a very good hot lap, because I was on the medium front and I didn't want to take the risk to push, but I'm quite happy. We are trying to improve and understand the bike. We just try to remain calm and go with the flow in the corners. Tomorrow we will focus on the soft-soft tyre combination to see if it works for us over the race distance. We'll also try to make another step, especially concerning the race set-up, but I feel strong. If I can push for the pole position, I will, but our main objective is to be on the front row, and then we'll see where we stand.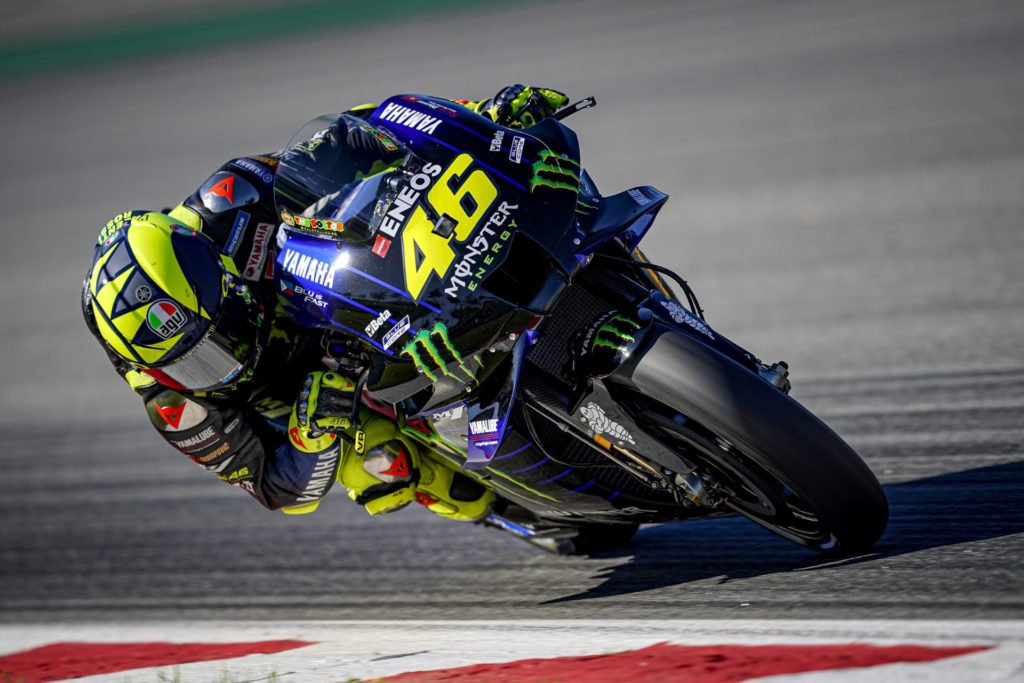 VALENTINO ROSSI
The conditions are difficult, because the grip level is very low. So, you have to ride the bike in a different way compared to Misano and manage the sliding and spinning rear as much as possible – which is difficult. But, apart from that, I don't feel so bad. Today was positive because my pace is quite good, I feel good with the bike. It works well, and I feel comfortable. For sure, we will have to work a lot, because everybody will improve for tomorrow, but the first day wasn't so bad. I'm in P10, but I think my potential is higher. The windy conditions were difficult this afternoon, especially on the front straight, because when you exit from the last corner you don't have any protection from the wind. The straight is also very fast, and at the end of it the wind is quite inconsistent and it moves the bike a lot. That's quite scary. But it looks like it will be less windy tomorrow, so I think FP3 will be very crucial, as always, for staying in the top 10. I think everybody will be pushing at the maximum. After that I will try to do a good qualifying and try to start from the first two rows. Right now it's still open between the soft and the medium tyres, especially on the rear. We need to make some more laps before we make a decision. Usually at this track the grip level improves on the second day, so we will see tomorrow.
More, from a press release issued by Ducati:
Catalunya GP at Montmeló: Andrea Dovizioso ends the first two free practice sessions in 15th position. Danilo Petrucci closes in 22nd place
The strong wind and the lack of grip affected the first day of free practices of the Catalunya Grand Prix, which is held this weekend at the Montmeló Circuit, in Spain.
After having finished FP1 with the second-fastest time in 1:40.861, Andrea Dovizioso returned to the track this afternoon aiming to understand the bike behaviour with used tyres ahead of Sunday's race. Therefore, the rider from Forlì couldn't improve his morning performance ending the day in 15th place and intending to access directly in Q2 by trying his time attack in FP3 tomorrow morning.
Danilo Petrucci will also take to the track tomorrow with the same target, after having finished two challenging sessions today with the 22nd time overall in 1:42.059. As he struggled with today's weather conditions, the rider from Umbria managed to find towards the end of the day more positive feedback on his bike, which make him confident ahead of tomorrow's qualifying.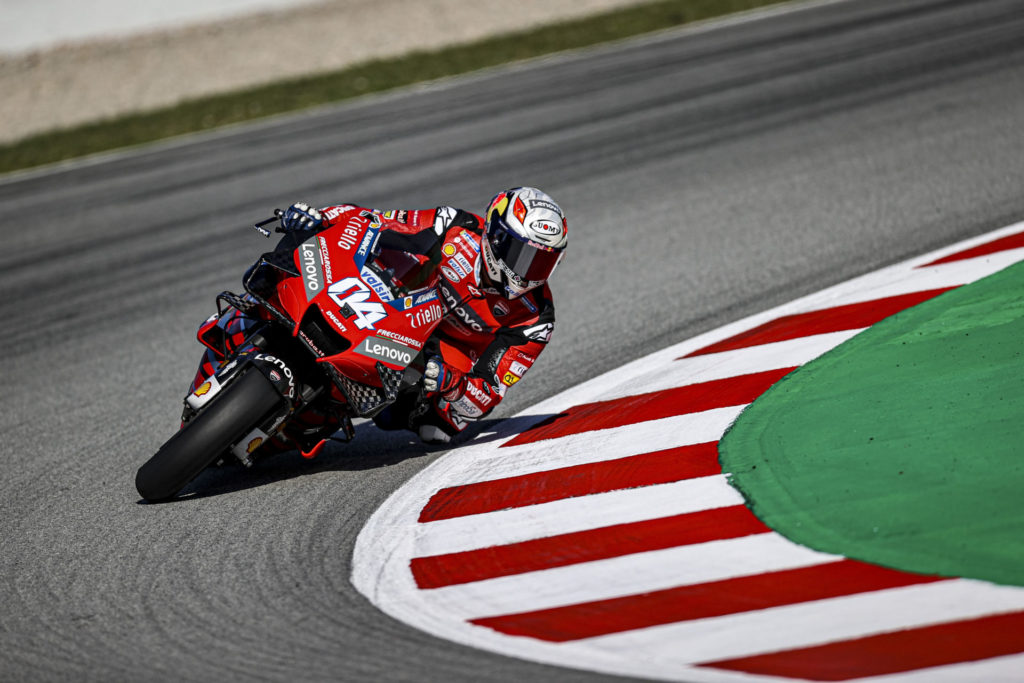 Andrea Dovizioso (#04 Ducati Team) – 1:40.861 (15th)
"As expected, there is much less grip on this track than Misano, and for this reason, in this morning's session, we first had to adapt to these new conditions. Compared to the rest of the riders on track, today we worked very differently and therefore we cannot make a real comparison to understand our potential. Unfortunately, with today's strong wind we have not been able to get any univocal feedback from the tests we made, so we hope tomorrow to find different conditions, which will allow us to confirm the work done. The goal will be to be able to finish FP3 in the top ten tomorrow morning".
Danilo Petrucci (#9 Ducati Team) – 1:42.059 (22nd)
"It was a rather difficult day, conditioned mainly by the strong wind, which prevented us from immediately understanding which direction to take on this track. After the first session, we made choices that were not correct, and that's why we had to take a step back. Fortunately, we were able to find the right way towards the end of the day and understand what we need. Of course, today we did not try a time attack, but after this afternoon, I am confident that I can improve tomorrow".
The Ducati Team riders will be back on track tomorrow starting at 9:55 AM local time (GMT +2.00) for FP3 while qualifying for the Catalunya GP will be held beginning from 2:10 PM, after FP4.
More, from a press release issued by LCR Honda Idemitsu:
TAKA FIFTH FASTEST AFTER OPENING DAY IN BARCELONA
25 September 2020 | Catalan GP Practice
LCR Honda IDEMITSU rider Takaaki Nakagami put himself in a good position after the first day of free practice for the Catalunya Grand Prix. On a day when high winds made life difficult for the MotoGP class at Montmelo, the LCR Honda IDEMITSU rider finished in fifth place on the combined times sheets and well placed ahead of Saturday's qualifying sessions.
The Japanese star took some time to settle in the testing conditions and had to settle for 11th the morning's FP1 outing. Although the winds were similarly gusty in the afternoon, Nakagami was able to find an impressive lap time late on in FP2 – improving his time from FP1 by over a second – and will now be confident of progressing to Q2 tomorrow.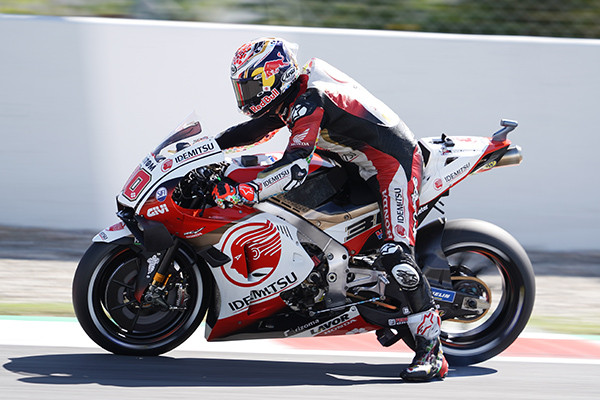 Takaaki Nakagami – 5th
(1'40.412 )
"Today was a bit of a strange day. The track condition was not the best and, normally, from FP1 to FP2 you can feel there is more rubber on the track and more grip. But today I didn't feel any improvement on the track because it was so windy, this afternoon was maybe worse than this morning, and conditions were so difficult. I really struggled to keep hold of the bike. At the end of FP2 we put a new soft rear tyre on and were able to improve the lap time and finish P5 overall, so we're into the top 10 and this is a good start for us. But we definitely need to improve for the race distance, because with the medium compound we are not strong enough. So we'll work hard to prepare a good bike for tomorrow."
More, from a press release issued by Pramac Racing:
Catalan GP – First day of practice was compromised by strong wind and lack of grip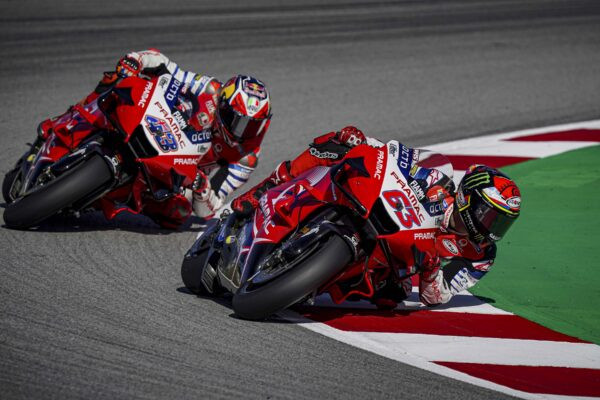 First day at De Barcelona- Catalunya, Today the Pramac Racing Team's riders Jack Miller and Pecco Bagnaia have concluded respectively as 12th and 20th in the combine practice. The Team worked a lot to tried different set up configurations on both bikes, but Pecco and Jack had troubles in both sessions due to the lack of grip and the strong wind. The combination of these two factors did not allow them to make the most out of this first day on track. Jack got better in the FP2 scoring his best time of 1'40.626 in the last round and improving by 2 seconds compared to the previous session. He concluded in P11. It was a tough day for Pecco, struggling because the track is lacking in grip. The Italian rider concluded the FP2 in P20 with the time of 1:41.447, he improved by almost 6 tenth of a second his time compared to the first session.
Pecco Bagnaia
It was a tough day, I did not have a good feeling as I did not have grip and the wind was very strong, especially in some areas of the track. From the data we have analyzed it was found that I could not warm up the tires despite the changes that we have applied. There should be more grip tomorrow as the weather should improve and I am sure it will be better.
Jack Miller
Unfortunately a combination of things weren't helpful, I did not have grip and the wind was very strong. Also, I struggled a lot with the front wheel because of the wind. Let's hope it will be better tomorrow as the weather forecast should improve.
More, from a press release issued by Avintia Esponsorama Racing:
GREAT START OF THE ESPONSORAMA RACING AT THE CATALAN GRAND PRIX
The Esponsorama Racing completed a very satisfactory Friday at the Catalan Grand Prix, getting a second place thanks to Johann Zarco.
In the morning session, Tito Rabat completed a total of 18 laps, setting a time of 1.42.992, in a session where the Catalan suffered an inconsequential exit from the track at turn 14. On the other hand, Johann Zarco finished twelfth with a time of 1.41.625 within a tenth of the top10.
In the second free practice session, Rabat managed to improve his best time by more than a second compared to that of FP1. In turn, Zarco lowered his morning time by almost two seconds, thus ending the day in second place by stopping the clock at 1.39.898. The Frenchman suffered a fall at the beginning of the session that did not cause him any serious problem.
Tomorrow from 9:55 am, the third and fourth free practice sessions and the qualifying sessions of the Catalan Grand Prix will take place where Esponsorama Racing will fight to get the best possible grid position.
JOHANN ZARCO – P2 
"It has been a good day today in a track that I like a lot. In the morning with a new tire it was not easy to set a good time.  The afternoon training was weird, I had a small crash possibly caused by the low temperature on the left side of the tire.  Despite this I managed to go fast, at the end of the session on soft tires I managed to go fast and finish the day in second position."
TITO RABAT – P21
"It has been a difficult day, things have not turned out as we expected but we are still looking on the positive side.  We have tried things and for tomorrow we have everything much clearer.  I hope to continue taking steps forward as before during this weekend. "