More, from a press release issued by Dorna:
Morbidelli takes magnificent maiden pole ahead of Quartararo and Rossi
The Italian is the only man in the 1:38s, with Quartararo second and Rossi ready for his 350th premier class start from a first front row of the year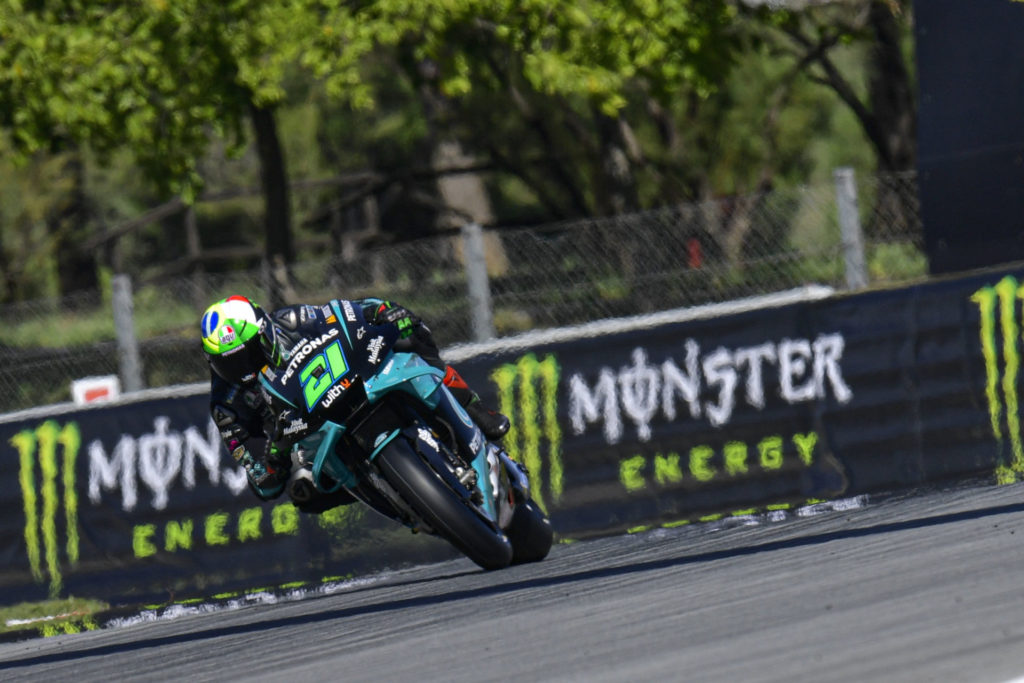 Saturday, 26 September 2020
Franco Morbidelli (Petronas Yamaha SRT) can add a maiden pole position to his tally in 2020 as the Italian proved the only man able to dip into the 1:38s in qualifying at the Gran Premi Monster Energy de Catalunya, only a tenth shy of the lap record. He was two tenths clear of teammate Fabio Quartararo, who starts second, with Valentino Rossi (Monster Energy Yamaha MotoGP) taking third as the number 46 gets a front row start for his 350th premier class race. Championship leader Andrea Dovizioso (Ducati Team), meanwhile, starts P17…
In Q1 Dovizioso was one of the main names fighting to make it through, but all did not go to plan for the Italian. Ultimately it was Jack Miller (Pramac Racing) who was quickest, with Takaaki Nakagami (LCR Honda Idemitsu) snatching second right at the end in some late heartbreak for Alex Rins (Team Suzuki Ecstar). Rins now lines up in P13, and Dovizioso down in P17.
It was a Yamaha stranglehold at the beginning of Q2 as Morbidelli set the first banker, with Rossi then taking over at the top before his teammate Maverick Viñales hit back. Quartararo, meanwhile, ran wide as he got his YZR-M1 all sorts of crossed up at the tricky Turn 10 – just as his teammate Morbidelli slammed in the fastest lap of the weekend to go provisional pole again with a 1:39.110.
Miguel Oliveira (Red Bull KTM Tech3) then also got it wrong at Turn 10 but unlike Quartararo, Oliveira was down – thankfully unhurt. Next to get the hammer down were two Ducatis – Miller and Johann Zarco (Esponsorama Racing), and Miller only had one set of fresh soft tyres available after coming through Q1. The Aussie made it count though, slotting into second just 0.115 off Morbidelli.
As the final runs dawned, Quartararo then found himself rumbling out of pitlane with five minutes to go having not set a lap time after his earlier Turn 10 moment. The Frenchman and last year's poleman was P12, but that was soon going to change as four Yamahas lit up the timing screens. Halfway around the lap, Quartararo was 0.132 under Morbidelli's time, although the number 21 was going even quicker. Over the line though it was Quartararo who improved this time around to a 1:39.008, with Morbidelli unable to – and nor did Viñales. Rossi, however, did, with the 'Doctor' leaping up from P7 to P3 to make it a provisional Yamaha front row lockout.
On the next lap, Morbidelli was flying yet again. The San Marino GP winner was 0.082 under Quartararo's time at Sector 3, but could he hold it through Sector 4? He could. Ultimately, Morbidelli did more than hold his advantage and the final sector was a stunner as he shot to the top, over two tenths clear. Quartararo went in search of a final lap charge but it didn't materialise for the MotoGP™ sophomore, and no one had an answer for Morbidelli.
That makes it a first premier class pole position for the recent first time winner, with Quartararo set to launch from P2 and ahead of all his closest challengers in the overall standings. Rossi makes it a Yamaha 1-2-3 for the second time in three races and takes his first front row of the season… as well as sounding pretty confident for Sunday.
Miller did an impressive job to qualify P4 as the leading Ducati rider, beating Viñales by just over a tenth as the number 12 lost out on making it another Yamaha 1-2-3-4. To the right of Viñales is Zarco, his final lap moving him up to just 0.007 slower than Viñales' effort to give the Frenchman his best grid slot since his Czech GP pole.
Pol Espargaro (Red Bull KTM Factory Racing) spearheads Row 3 ahead of Joan Mir (Team Suzuki Ecstar), with both riders also looking like strong contenders in the race – and Mir having already taken a podium from P11 on the grid last weekend. Ducati Team's Danilo Petrucci joins the Spaniards on the third row for his second consecutive P9 start.
Rookie and Brno winner Brad Binder (Red Bull KTM Factory Racing) completes the top 10, ahead of Nakagami and Oliveira after the earlier crash for the Portuguese rider.
Will the Championship standings change significantly in 24 hours' time? Dovizioso leads by one point as it stands and he's down in 17th, so it seems like Sunday is a prime opportunity for Quartararo, Viñales and Mir to strike back. The Catalan GP promises to be another phenomenal MotoGP™ race, and a pivotal one at that.
Tune in and don't forget, the premier class get underway an hour later than normal this weekend, so it's 15:00 local time (GMT+2) on Sunday!
MotoGP™ front row 
1 Franco Morbidelli* – Petronas Yamaha SRT – Yamaha – 1:38.798
2 Fabio Quartararo* – Petronas Yamaha SRT – Yamaha – +0.210
3 Valentino Rossi – Monster Energy Yamaha MotoGP – Yamaha – +0.331
*Independent Team riders
Franco Morbidelli: "To beat Fabio in a hot lap is always great because it means you're very, very fast! He's very good in races but especially on one lap. Today I was feeling great with the bike and I was wanting to make a really good laptime, finally I was able to make that impressive laptime. I'm really happy, I have to say thanks to the team. We worked well in FP4 too, so tomorrow we'll try to make a good race as well."
Marini goes back-to-back with pole in Barcelona
The Championship leader starts from the front, with closest rival Bastianini tenth on the grid as Navarro and Lowes complete the front row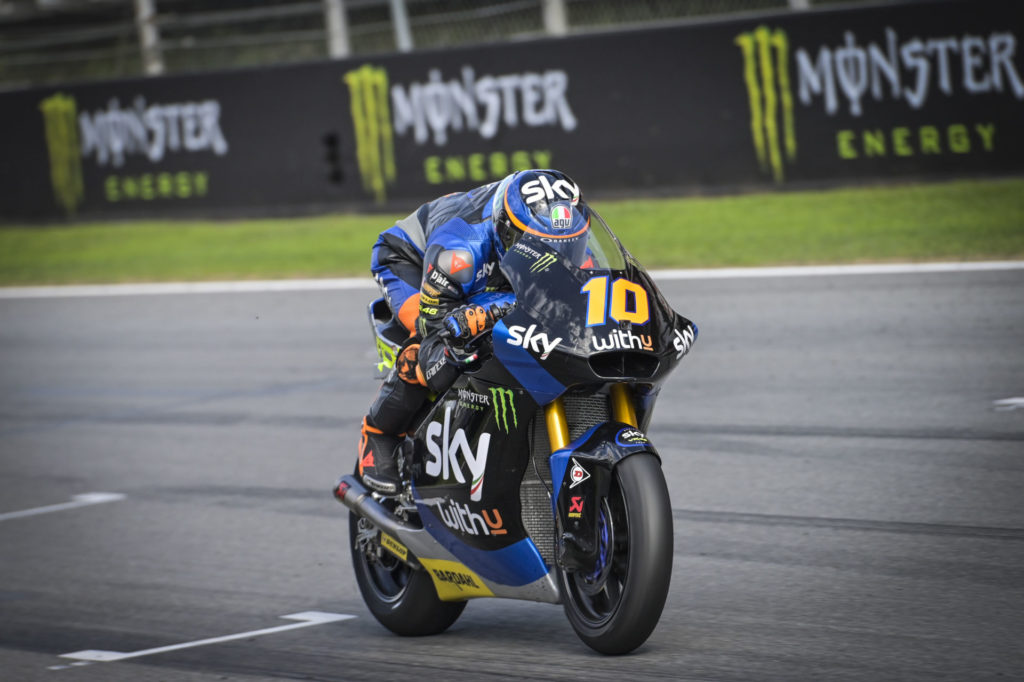 Another week, another lap record! Luca Marini (Sky Racing Team VR46) has done it again in the Gran Premi Monster Energy de Catalunya, putting in a 1:43.355 to set pole position and a new lap record at the track. He's joined on the front row by Q1 graduate Jorge Navarro (HDR Heidrun Speed Up) and podium finisher last time out Sam Lowes (EG 0,0 Marc VDS). Enea Bastianini (Italtrans Racing Team), who's only five points off Marini in the standings, starts down in tenth.
In Q1, it was Joe Roberts (Tennor American Racing) who went top, followed by Jake Dixon (Petronas Sprinta Racing), Navarro and Nicolo Bulega (Federal Oil Gresini Moto2) as they headed through – leaving one surprise in their wake in the form of Aron Canet (Inde Aspar Team Moto2), who missed out and starts P19 after also crashing on Saturday morning, rider ok.
Marini was quickest from the get go in Q2, with teammate Marco Bezzecchi going second in the early stages before Xavi Vierge (Petronas Sprinta Racing) and Lowes leapfrogged him to sit as Marini's closest challengers. That soon changed, however, as Marini went quicker again and Bezzecchi following suit to take back second. Q1 graduate Dixon then moved up into third as Marini went even quicker, setting the fastest ever Moto2™ lap around the Circuit de Barcelona-Catalunya. His 1:43.355 moved him well clear of the competition, and as it turned out it would secure him pole.
Dixon was then setting red sectors and the British rider pipped Bezzecchi to P2, but the Brit was still 0.349 off Marini's time. Another Q1 graduate in the form of Navarro then shot up into provisional second, cutting the gap to Marini down to a tenth and a half. Navarro's teammate Fabio Di Giannantonio (HDR Heidrun Speed Up) and Lowes then interchanged P3 lap times to push Dixon down to P5, with Di Giannantonio forced to settle for P4.
That was pretty much that at the top. Marini was untouchable, with Navaaro in second and Lowes taking third from 'Diggia', leaving Dixon down in fifth. The Brit nevertheless claims his best-ever Moto2™ qualifying result for the second weekend in a row  though – going one better than Misano. Bezzecchi will start on the second row alongside 'Diggia' and Dixon, the Italian forced to settle for sixth.
Joe Roberts spearheads Row 3 in P7 after coming through Q1, taking his first Saturday top 10 since his Czech GP pole position. After finishing second in FP3, rookie Marcos Ramirez makes it two Tennor American Racing machines on the third row as he took his best qualifying of 2020 to sit in P8. Xavi Vierge completes the third row.
Remy Gardner (Onexox TKKR SAG Team) completed the top 10 in Q2, but after crashing under yellow flags on Friday, the Australian faces a six-place grid penalty. What does that mean? It means Bastianini will move up a position into the top 10 on the grid – and every little helps for the Italian who faces a tough task to mix it with Marini on Sunday afternoon.
The stage is set for another Moto2™ classic, but don't forget races on Sunday are taking place an hour later than normal. The Moto2™ riders will do battle in Barcelona at 13:20 local time (GMT+2).
Moto2™ front row
1 Luca Marini – Sky Racing Team VR46 – Kalex 1:43.355
2 Jorge Navarro – HDR Heidrun Speed Up – Speed Up +0.181
3 Sam Lowes – EG 0,0 Marc VDS – Kalex +0.282
Luca Marini: "I felt very good from the beginning of the weekend, it wasn't easy and I didn't expect it because it's a very different situation to Misano, but the bike is still working well. So I don't have so much rear grip but for everyone it's the same so that's great. I tried to manage the rear in practice because I want to understand how it will be in the race. In the quali I focused on being precise, and with a good lap and all sectors together. I think I did my job, and I'm very happy to start from pole because it will be important tomorrow, but I think Speed Up and Sam are strong here so it won't be an easy race, but for today I'm happy and for the work I've done with my crew."
Ahead of the pack: Arbolino takes pole by a stunning six tenths
The Italian bounced back from a huge highside on Friday to set a new lap record, with Fernandez and Rodrigo completing the front row… on identical laptimes!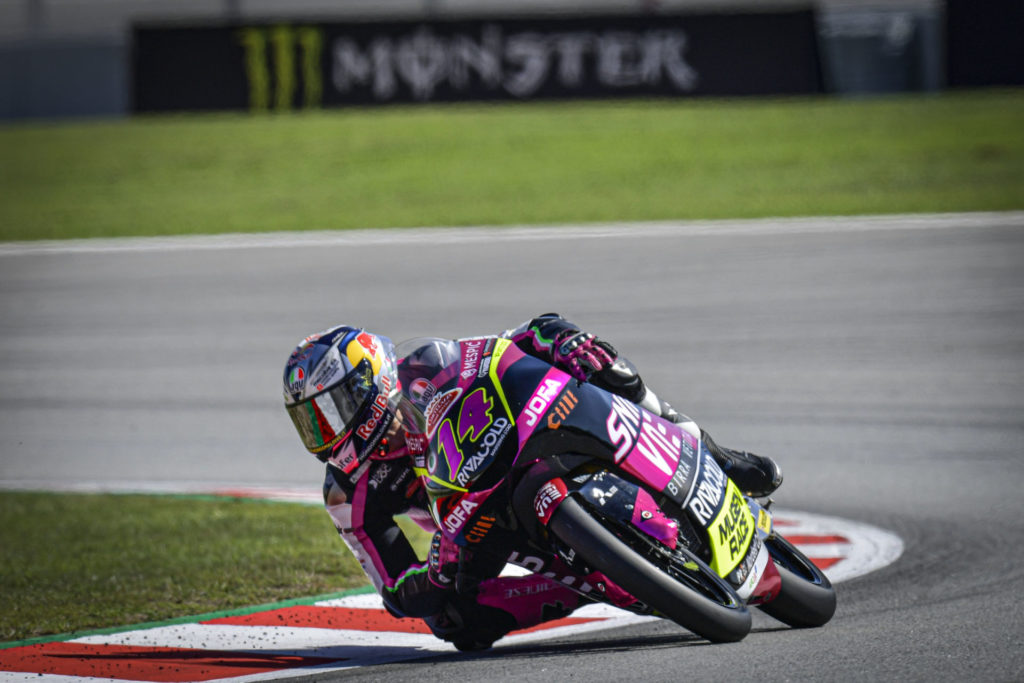 Tony Arbolino (Rivacold Snipers Team) has taken his first pole position of 2020 at the Gran Premi Monster Energy de Catalunya, the Italian slamming in a new lap record 1:47.762 to pull an incredible sixth tenths clear of Raul Fernandez (Red Bull KTM Ajo) and Gabriel Rodrigo (Kömmerling Gresini Moto3). And it's the exact same 0.618 gap to both, with Fernandez and Rodrigo setting identical laps but the former's second fastest effort ensuring he starts second.
In Q1 there was already plenty to talk about as Ai Ogura (Honda Team Asia) stole the headlines for all the wrong reasons. Incredibly, Championship leader Albert Arenas (Gaviota Aspar Team Moto3), closest challenger Ogura and third overall John McPhee (Petronas Sprinta Racing) all found themselves in the session, and it was mission accomplished for Arenas and McPhee as they moved through behind Niccolo Antonelli (SIC58 Squadra Corse) and Q1's fastest man Alonso Lopez (Sterilgarda Max Racing Team). But Ogura? The Japanese rider suffered his worst qualifying of the season by a whopping nine places, so he'll be facing a serious mountain on Sunday from P24 on the grid.
Once Q2 was underway, Fernandez set the first benchmark of the session with a 1:48.611 to lead Darryn Binder (CIP – Green Power) and Kaito Toba (Red Bull KTM Ajo) in the early stages, but Arenas was next on the attack and into provisional P2 on his first flying lap. Arbolino then went top by just 0.045, moving the goalposts ahead of a frantic final couple of laps for the field.
On his second run, Fernandez reclaimed provisional pole by 0.186, but the standings were soon to get a shake up. Seven riders were lighting up the timing screens as the 18-rider field chased pole, but the fastest of them all was Arbolino. Over three tenths under Fernandez' lap time halfway around the lap, the Italian was nearly four tenths under by the third split. Making no mistakes through the final sector and keeping it together across the line, Arbolino's time was astonishing. Pole secured, lap record obliterated and over six tenths clear.
There was last minute drama for Fernandez too as the Spaniard tumbled out at the final corner, but rider ok and ready to line up second. Rodrigo takes the outside of the front row after setting his best time late on, and although it's identical to Fernandez' best, the Argentine's second fastest time was slower so he takes P3.
Arenas will be stoked to be heading Row 2 in fourth, the highest-placed of the current title-challenging trio. Jaume Masia (Leopard Racing) played the risky strategy of not setting a lap time until the final minute, but it paid off as the Spaniard claimed P5 in Q2. Niccolo Antonelli (SIC58 Squadra Corse) completes the second row in sixth, the Italian 0.8 shy of Arbolino's pace but only just over two tenths away from P2.
Filip Salač (Rivacold Snipers Team) spearheads the third row in seventh as the Czech rider took his best Saturday afternoon result of the season, joined by Toba and Binder on Row 3. The Japanese rider improved on his final flying lap to get the better of the South African, who was unable to beat his second lap set early on.
Sergio Garcia (Estrella Galicia 0,0) rounds out the top 10 in Moto3™ Q2, joined on Row 4 by Andrea Migno (Sky Racing Team VR46) and McPhee. That's now three races in a row that McPhee has failed to qualify inside the top 10, although he did still win one of them… and Sunday is very much another day.
The Moto3™ title fight looks set to take another twist on Sunday afternoon in Barcelona. It will no doubt be a thrilling watch as the lightweight class prepare for battle once more in 2020 – so tune in but at the later time of 12:00 local time (GMT+2)!
Moto3™ front row
1 Tony Arbolino – Rivacold Snipers Team – Honda 1:47.762
2 Raul Fernandez – Red Bull KTM Ajo – KTM – +0.618
3 Gabriel Rodrigo – Kömmerling Gresini Moto3 – Honda +0.618
Tony Arbolino: "It was an incredible lap, I think from the first run I saw I was first and went in the box and saw the data. It wasn't a perfect lap, I said 'ok, we can do better' but I didn't expect to do that lap. We put the bike the same as last year and we're faster in QP and a bit more difficult in the race, but it was an incredible lap with 0.6 to second and we did an incredible job. We didn't stop working every day so I think we deserve it! But tomorrow we need to get a lot of points because we're not so close to first in the Championship so we have a lot of work to do tomorrow!"