More, from a press release issued by Dorna:
Miller puts in a thriller to top Day 1 at MotorLand
The Ducati rider leads the way ahead of Aleix Espargaro, with Crutchlow slamming in a stunner to take third
Friday, 10 September 2021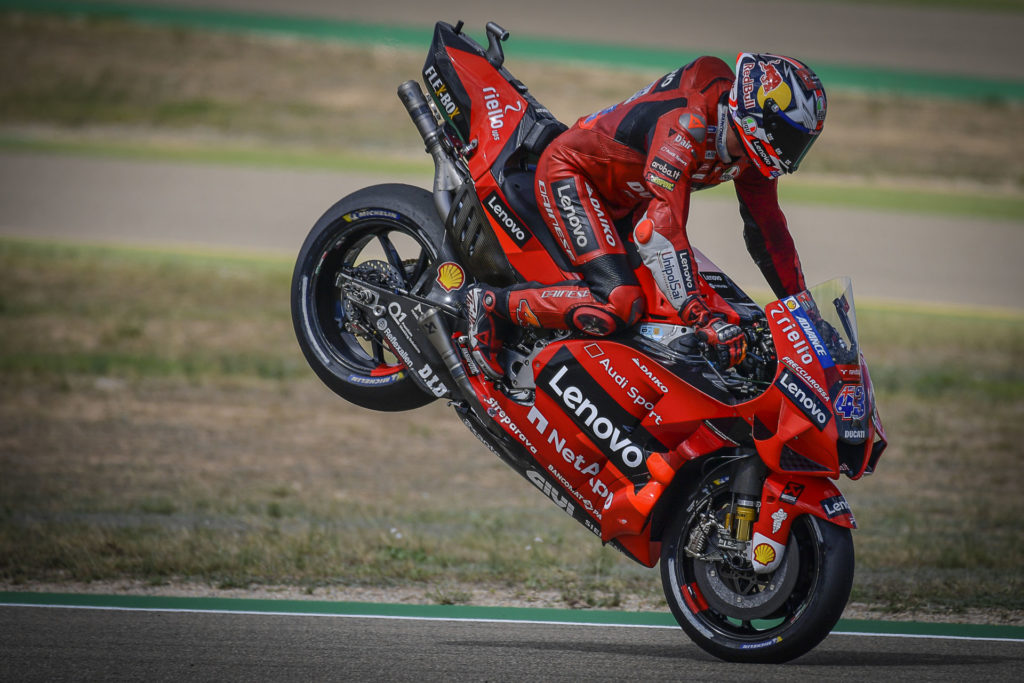 Jack Miller (Ducati Lenovo Team) topped Day 1 at the Gran Premio TISSOT de Aragon, the Ducati rider putting in a late lunge as the final few minutes decided the combined timesheets. He enjoys nearly three tenths of breathing space at the top by the end of play, with Aleix Espargaro (Aprilia Racing Team Gresini) next up at a venue he and his machine have enjoyed some good success at – carrying that momentum from Silverstone. Third went the way of Cal Crutchlow (Monster Energy Yamaha MotoGP) as the Brit pulled a seriously fast one to complete the top three on Day 1, and the number 35 was top Yamaha to boot. The top 17 were covered by nine tenths on Friday, and from second to 21st it's just a single second.
FP1
Marc Marquez (Repsol Honda Team) started the day with a statement. The eight-time World Champion laid down a 1:48.048, putting him a whopping 0.971 clear of reigning Champion Joan Mir (Team Suzuki Ecstar). However, Mir did get within almost half a second on his final flying lap before that was cancelled, so the Suzuki rider seemed to have a little more in the locker initially…
Over a second off the number 93, Francesco Bagnaia (Ducati Lenovo Team) was a consistent presence near the top as he ended the session in third, with Alex Marquez (LCR Honda Castrol) taking fourth with a late move up the timesheets to within 0.013 of the Italian. Thick and fast thereafter came Miller, Aleix Espargaro, Johann Zarco (Pramac Racing), Championship leader Fabio Quartararo (Monster Energy Yamaha MotoGP) and Takaaki Nakagami (LCR Honda Idemitsu), with gaps ranging from 0.008 between the latter two and up to a maximum of 0.079 between Zarco and Quartararo. Close? Very. Pol Espargaro (Repsol Honda Team) completed the top ten, 0.130 off Nakagami.
On Maverick Viñales (Aprilia Racing Team Gresini) watch, the Spaniard did 21 laps and got down to a 1:50.187 in his first official session with the Noale factory – about a second off Bagnaia in third.
Iker Lecuona (Tech 3 KTM Factory Racing) crashed early in the session, rider ok, before Valentino Rossi (Petronas Yamaha SRT) took a tumble in the latter stages at Turn 5, rider also ok.
FP2
Fortunes changed as Marc Marquez grabbed more headlines but this time for a crash, with number 93 sliding out from behind Alex Marquez. Rider ok but frustrated, and he didn't improve so ended up in P20 on the FP2 timesheets… just ahead of Joan Mir in a real reversal of FP1 for the two.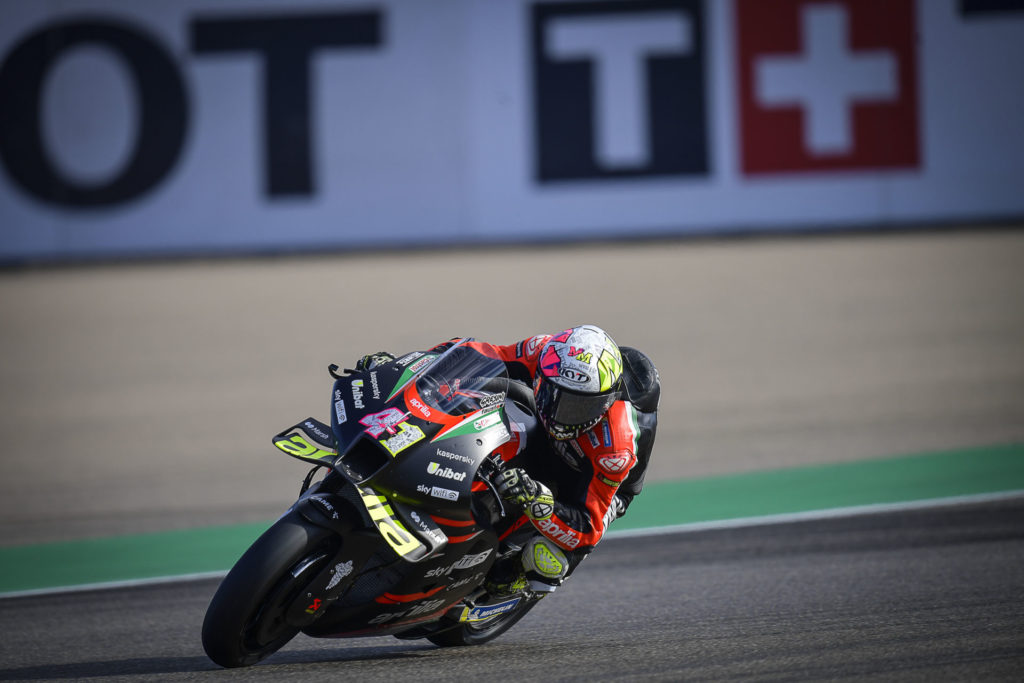 That was despite the number 93 still leading the combined times with five minutes to go too, but a final flurry of activity in the afternoon saw everything change. Aleix Espargaro and Lecuona charged, then Miller set down his serious marker to beat Marc Marquez' FP1 best by a margin. Aleix Espargaro did that next, before Crutchlow put in a stunner to slot into second.
Quartararo pipped the FP1 marker next, with Bagnaia – who also crashed earlier in the session – then pipping the Frenchman too and slotting into fourth. Next came Jorge Martin (Pramac Racing), before his teammate Johann Zarco was the final mover and shaker. Almost literally, as the Frenchman leapt up more than ten places despite a serious front end moment on his final lap.
Combined timesheets
After the mad dash to the top, the combined timesheets saw everyone improve in the afternoon minus Marc Marquez. So Miller reigns with 0.273 in hand over Aleix Espargaro, with Crutchlow ending the day just 0.011 further back as top Yamaha, seriously impressing as his stand-in duty continues.
Zarco takes fourth ahead of Martin and Bagnaia – that's four Ducatis in the top six as they show early promise of having moved forward a lot since our last visit to Aragon – and the margins remain tiny. Quartararo is P7, 0.002 off Bagnaia.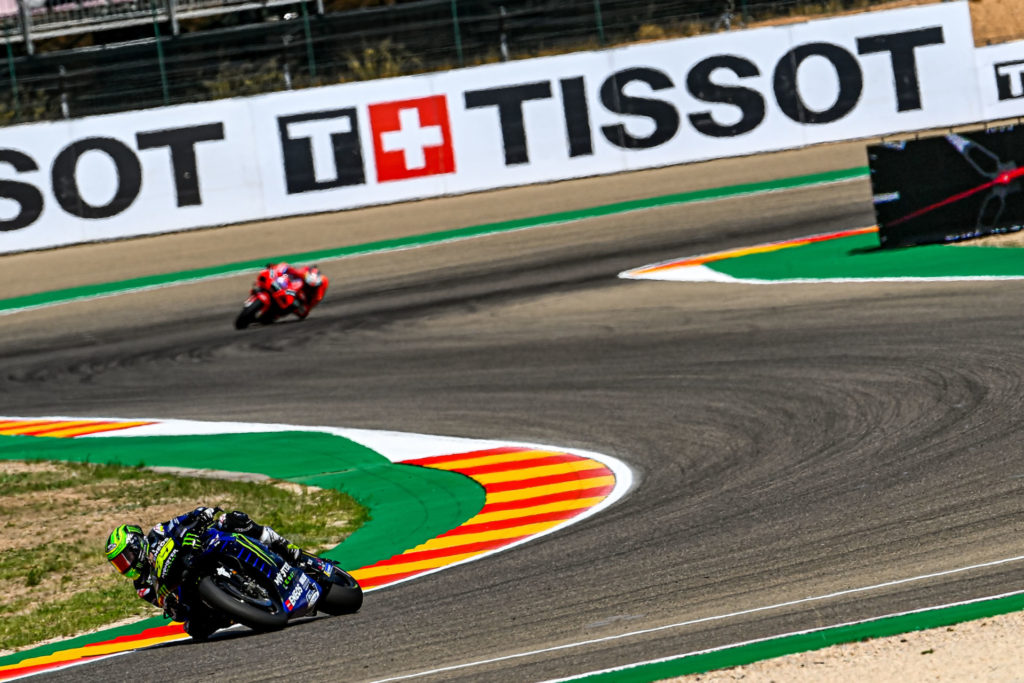 Eighth is where Marc Marquez' FP1 chart-toppper fits in, 0.014 slower than El Diablo's best from the afternoon, with Nakagami in ninth and Enea Bastianini (Avintia Esponsorama) completing an impressive day in tenth overall – and therefore the last rider currently on to take a place in Q2.
That leaves Pol Espargaro out as it stands, down in P11, with last year's Aragon winner Alex Rins (Team Suzuki Ecstar) in P12. The comes Brad Binder (Red Bull KTM Factory Racing), with a new chassis for the Austrian factory to explore too.
Mir ends the day in P21, Rossi in P19 and Viñales splits the two, although on a slightly different mission to those around him. The number 12 ended the day 1.142 off Miller after his first two official sessions with Aprilia.
That's a wrap on Friday, with plenty to talk about and surely even more to come on Saturday. The final push in FP3 gears us up for qualifying, which starts from 14:10 (GMT +2)… so make sure to tune in!
MotoGP™ Friday top five:
1 Jack Miller – Ducati Lenovo Team – Ducati – 1:47.613
2 Aleix Espargaro* – Aprilia Racing Team Gresini – Aprilia – +0.273
3 Cal Crutchlow – Monster Energy Yamaha MotoGP – Yamaha – +0.284
4 Johann Zarco* – Pramac Racing – Ducati – +0.375
5 Jorge Martin* – Pramac Racing – Ducati – +0.410
*Independent Team rider
Gardner denies Augusto Fernandez by just 0.007
It's tight at the top on Friday, with thousandths deciding the honours at MotorLand and only a tenth covering the top four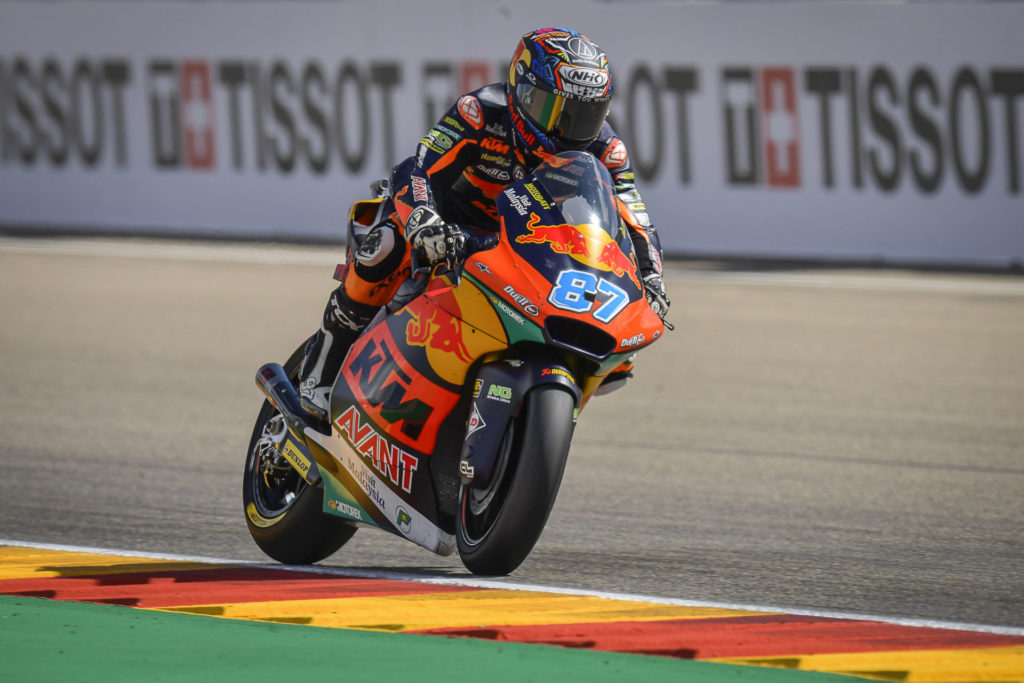 Moto2™ Championship leader Remy Gardner (Red Bull KTM Ajo) ends Day 1 at the Gran Premio TISSOT de Aragon as the fastest man in the intermediate class, but the Spaniard had some seriously close company as Augusto Fernandez (Elf Marc VDS Racing Team) got within just 0.007. Completing the top three it was rookie sensation Raul Fernandez (Red Bull KTM Ajo) despite recent surgery for a small metacarpal fracture, but he had even closer company as Fabio Di Giannantonio (Federal Oil Gresini Moto2) was just 0.003 in further arrears in fourth.
FP1
Elf Marc VDS Racing's Sam Lowes and Augusto Fernandez held a 1-2 until late on, when Jorge Navarro (+Ego Speed Up) backed up his Silverstone podium with more speed to pull out an impressive 0.473 on Lowes and go fastest. Marco Bezzecchi (Sky Racing Team VR46) then split the Brit and Augusto Fernandez to take over in third on his last lap, with Championship leader Gardner completing the top five but 0.888 off the top in the morning.
Only 0.004 off him, Di Giannantonio took sixth, with Raul Fernandez – after his cycling crash in training and subsequent surgery on his hand – slotting into seventh.
In eighth, 2021 Moto2™ European Champion Fermin Aldeguer (+Ego Speed Up) kept impressing, 0.098 off the number 25 ahead of him. Hector Garzo (Flexbox HP 40) and Albert Arenas (Kipin Energy Aspar Team) completed the top ten.
Aron Canet (Kipin Energy Aspar Team) was the only crasher, going down at Turn 12 and rider ok.
FP2
Lowes was the first rider to venture into the 1:52s in FP2 as he and Bezzecchi improved early doors, remaining the top two until the clocked ticked down towards 10 minutes to go. Augusto Fernandez and Gardner exchanged first, before Di Giannantonio then climbed to P3 as riders started to find some decent pace in the latter stages of FP2.
Raul Fernandez was able to take over in third in the closing stages to sit less than a tenth away from second place Augusto Fernandez. That meant Diggia dropped to P4 by the end of the session, a good day for the Italian nonetheless, as Lowes completed the top five.
Navarro crashed at Turn 14, rider ok but not improving on his FP1 best, before Celestino Vietti (Sky Racing Team VR46) tumbled at Turn 7.
John McPhee, making his Moto2™ debut with Petronas Sprinta Racing, also crashed but was able to continue. He ended the day on a 1:55.274.
Combined timesheets
Gardner, Augusto Fernandez, Raul Fernandez, 'Diggia' and Lowes are the top five overall, all from FP2, with reigning Moto3™ World Champion Albert Arenas in sixth, enjoying his first visit to MotorLand on a Moto2™ machine. He was just 0.003 ahead of seventh place Bezzecchi. Nicolo Bulega (Federal Oil Gresini Moto2) takes P8, also from FP2, with Navarro ninth overall by the end of play and by virtue of his FP1 best.
Aldeguer rounded out the top 10 as his form continued impressing, finding even more speed in the afternoon, with Marcos Ramirez (American Racing), Canet, Garzo and Marcel Schrötter (Liqui Moly Intact GP) currently the final riders set to move straight to Q2. Will that change in FP3?
We'll find out on Saturday morning, before qualifying decides the grid from 14:10 (GMT +2).
Moto2™ Friday top five:
1 Remy Gardner – Red Bull KTM Ajo – Kalex – 1:52.743
2 Augusto Fernandez – Elf Marc VDS Racing Team – Kalex – +0.007
3 Raul Fernandez – Red Bull KTM Ajo – Kalex – +0.102
4 Fabio Di Giannantonio – Federal Oil Gresini Moto2 – Kalex – +0.105
5 Sam Lowes – Elf Marc VDS Racing Team – Kalex – +0.228
Öncü pips Guevara to top Day 1 at Aragon
The number 53 deposes the rookie by just half a tenth, with Binder and Garcia completing a top four covered by just 0.081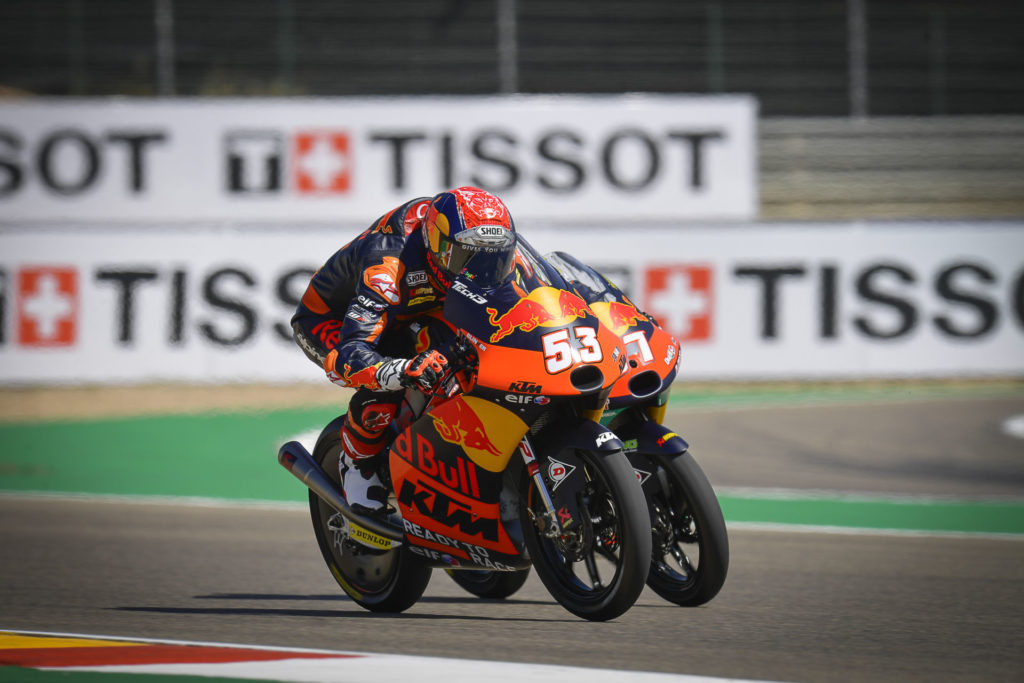 Deniz Öncü (Red Bull KTM Tech3) struck late on Day 1 at the Gran Premio TISSOT de Aragon to take over on top, the Turk's advantage just half a tenth after a close first day on the Moto3™ timesheets. Rookie Izan Guevara's (Gaviota GASGAS Aspar Team) incredible form at MotorLand continued in second, this time in the Grand Prix paddock, with Darryn Binder (Petronas Sprinta Racing) completing a top three split by just 0.076. Even more incredibly, the top 21 are all covered by just 0.999 after Day 1 at MotorLand.
FP1
Gabriel Rodrigo (Indonesian Racing Gresini Moto3) started the day fastest. The final few minutes saw Filip Salač (CarXpert PrüstelGP) take over on top, the Czech rider then beaten by Niccolo Antonelli (Avintia VR46 Academy) before he hit back again, but Rodrigo nabbed the final say. Still, the top three remained covered by a tenth.
After a trickier weekend than normal at Silverstone, World Championship leader Pedro Acosta (Red Bull KTM Ajo) finished P4 ahead of Andrea Migno (Rivacold Snipers Team), who's on a mission to bounce back as well, but in his case from a technical problem. The Italian was three tenths away from the top spot.
There was one incident as Petronas Sprinta Racing debutant Syarifuddin Azman crashed unhurt in the early stages of FP1, the Malaysian tangling – literally – with the rear of Adrian Fernandez' Sterilgarda Max Racing Team machine and the Husqvarna pulling the Honda into the run off, no harm done for either rider.
FP2
In the afternoon, Öncü left it late but struck to take over on top, heading an even closer top three and top five than FP1. The Turk's 1:58.929 saw him end the day fastest by 0.045, with Guevara in second as the rider deposed.
Darryn Binder (Petronas Sprinta Racing), who spent some time in a trio on track with Dennis Foggia (Leopard Racing) and Romano Fenati (Sterilgarda Max Racing Team) earlier in FP2, was third within 0.076 as he leapt up late on, with second in the Championship, Sergio Garcia (Gaviota GASGAS Aspar Team), fourth and still within 0.081 of the top as another late mover. Last year's master of MotorLand, Jaume Masia (Red Bull KTM Ajo), completed the top five, 0.104 off Öncü as he made key gains on the final push too.
A huge group headed out in the final few minutes, minus the likes of Fenati, who pushed on alone. With riding slowly and disturbing other riders on the racing line having been a key concern for the FIM MotoGP™ Stewards Panel in recent Moto3™ seasons, the big group was put under the microscope but they were judged to have paid good attention to where others were on track, making sure to not impede those already on fast laps.
There were no crashes in the afternoon for Moto3™.
Combined Timesheets
Öncü heads the table after Day 1, the Turk's lap one of five in FP2 that beat Rodrigo's FP1 best, backing up his progress at the venue. Guevara is therefore second on the combined times and his record at MotorLand is pretty special: in the European Talent Cup on his way to the crown he did the double in 2019, and then in 2020 as a rookie in the FIM Moto3™ Junior World Championship – and the eventual Champion – he won all three races at MotorLand. Which would be impressive enough, except he also did it from P22 on the grid… three times in a row.
Binder, who missed out on the Aragon GP win last season by less than a tenth, completes the top three. Then come Garcia, 0.005 further back, and Masia, 2020's double winner. Sixth is then Rodrigo thanks to his FP1 quickest, with another gaggle of afternoon improvers behind him, of which Salač, Antonelli and Fenati are the first. Lorenzo Fellon (SIC58 Squadra Corse) completes the top ten after a good showing from the rookie Frenchman on Friday.
The same goes for Adrian Fernandez as he takes P11, pipping Foggia and last year's near-winner in the Teruel GP, Ayumu Sasaki (Red Bull KTM Tech3). Championship leader Pedro Acosta is currently the last rider set to move through to Q2, and by just 0.004, and from his FP1 best.
FP3 gives the grid another chance to push forward for a place in Q2, before qualifying then begins from 12:35 (GMT +2) to set the grid for the Gran Premio TISSOT de Aragon. Don't miss it!
Moto3™ Friday top five:
1 Deniz Öncü – Red Bull KTM Tech3 – KTM – 1:58.929
2 Izan Guevara – Gaviota GASGAS Aspar Team – GASGAS – +0.045
3 Darryn Binder – Petronas Sprinta Racing – Honda – +0.076
4 Sergio Garcia – Gaviota GASGAS Aspar Team – GASGAS – +0.081
5 Jaume Masia – Red Bull KTM Ajo – KTM – +0.104