More, from a press release issued by Dorna:
Miller heads Ducati armada in Doha
The Australian bounced back in style to top the timesheets on Friday, ahead of teammate Bagnaia and top Independent Team rider Zarco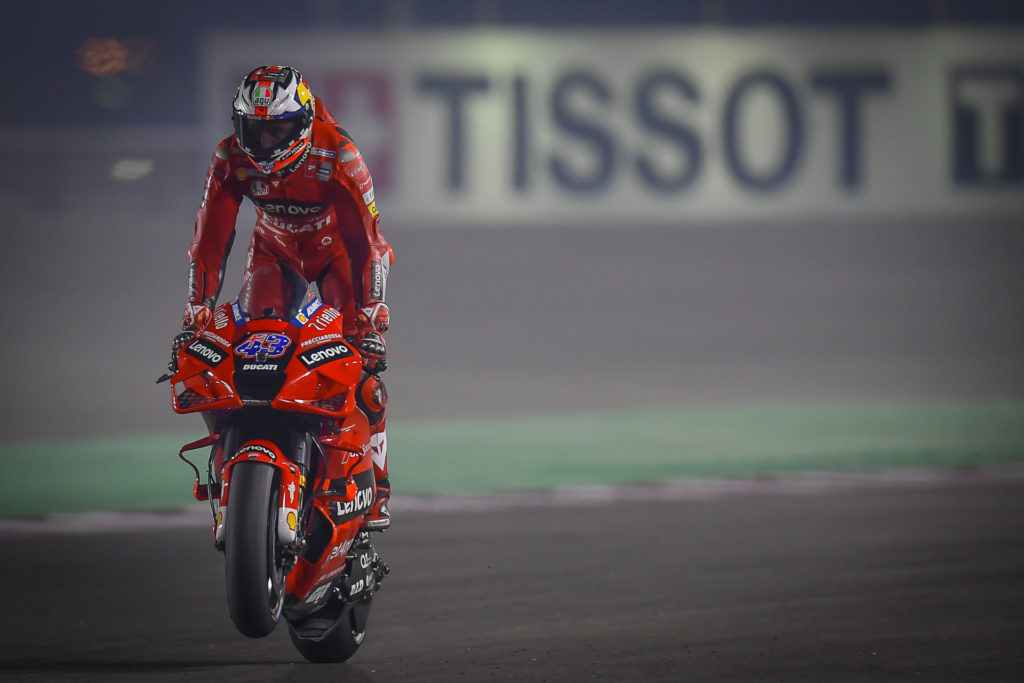 Friday, 02 April 2021
Day 1 of the TISSOT Grand Prix of Doha saw one marque very much lay down a marker, with four Ducatis ending the day in the top five. The fastest was Jack Miller (Ducati Lenovo Team) as the Australian bounced back from a more difficult first race of the season to top the timesheets, putting in a 1:53.145 to pull three tenths ahead of teammate Francesco Bagnaia in second. Third went to Qatar GP podium finisher Johann Zarco (Pramac Racing), with the Frenchman less than a tenth further back and top Independent Team rider. His rookie teammate Jorge Martin impressed in fifth to make it that four out of five for Ducati, with only Fabio Quartararo (Monster Energy Yamaha MotoGP) able to spoil the Borgo Panigale party as he took fourth.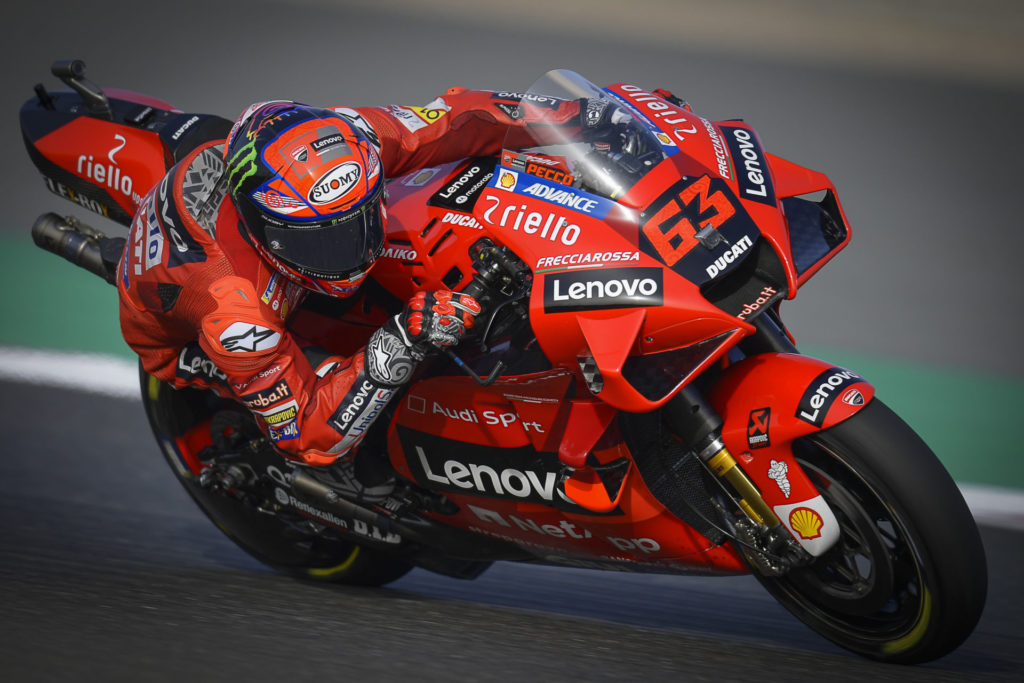 With conditions likely to make improvements difficult in the afternoon heat of FP3, gaining automatic entry to Q2 was the name of the game and that led to a classic last dash shootout at the end of FP2. First though, there was setup work to be done and after a couple of faster efforts from Bagnaia and Martin, most settled into working for the race. With just under 20 minutes to go, however, Takaaki Nakagami (LCR Honda Idemitsu) shot first as the Japanese rider started making moves on brand-new rubber, taking over in P2 and less than a tenth away from Bagnaia.
Martin, not looking like a rookie at all on the GP21, then moved back into P3 with 15 minutes to go and it was game on for time attacks. The Spanish rookie then put in another impressive lap and improved his time to go P1, but the Pramac rider's time at the summit lasted about five seconds as Alex Rins (Team Suzuki Ecstar) then landed the first 1:53 of the day and we strapped in for a barnstorming final 13 or so minutes of action on Friday evening.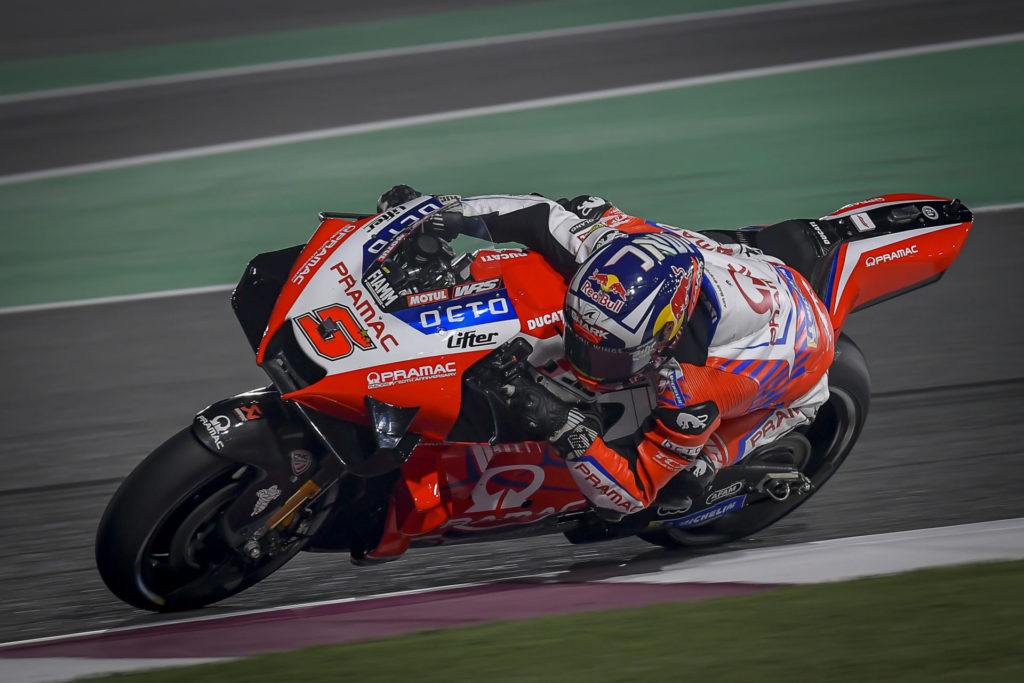 Quartararo soon demoted Rins to P2 before Aleix Espargaro (Aprilia Racing Team Gresini) moved the goalposts, a 1:53.646 putting the RS-GP rider nearly three tenths clear of the pack. Despite two mechanical issues in FP1, Franco Morbidelli (Petronas Yamaha SRT) next slotted himself into P2 before Miller, who was on a quick lap, stole the spotlight. Not for all the right reasons though, as the Australian was up with red sectors before having a huge moment out of Turn 14 that rattled him out the seat. He stayed on but headed into pitlane, down in P19 with only five minutes to go.
The turnaround was quick, however, and once back out Miller was firing on all cylinders. Half way around his flying lap, the number 43 was four tenths up and looking to lay down a serious benchmark, with the advantage only getting bigger in the latter half of the lap as Miller put himself 0.501s clear with a minute to go, luckily just avoiding the yellow flags waved for a Nakagami crash at Turn 7.
The final flying laps then saw plenty of movement, but none of it would be in front of Miller. Bagnaia, Zarco and Martin propelled themselves into the top five as the two Qatar podium finishers also avoided the yellow flags, this time for an Alex Marquez (LCR Honda Castrol) crash at the final corner. Further back on the road there was bad news for World Champion Joan Mir (Team Suzuki Ecstar) and nine-time World Champion Valentino Rossi (Petronas Yamaha SRT) too, with both needing to find time to break into the top 10… and both failing to find enough.
At the end of the shuffle then, it's advantage Ducati with Miller, Bagnaia and Zarco at the top, with Jorge Martin hanging on to an impressive fifth. Quartararo slips into P4 as top Yamaha, with FP1 pacesetter Aleix Espargaro taking sixth despite not heading out for a final time attack, that first flier enough.
Morbidelli enjoyed a better evening to end up P7, and there were no issues for the Italian in FP2 as he got in some smoother sailing. Just 0.014 behind the Petronas Yamaha SRT rider is Rins, with the top eight covered by half a second.
World Championship leader Maverick Viñales (Monster Energy Yamaha MotoGP) only just squeezed into the top 10 in P9 with a late effort, with Marc Marquez's replacement – and Honda test rider – Stefan Bradl (Repsol Honda Team) doing another fine job in P10 to break some hearts, not least those of Mir and Rossi. The reigning World Champion is P13, and Rossi exactly a tenth behind him in P14 as Miguel Oliveira (Red Bull KTM Factory Racing) and Danilo Petrucci (Tech3 KTM Factory Racing) slotted into 11th and 12th respectively.
With Saturday afternoon conditions likely to make a laptime harder to find, the likes of Mir and Rossi face a challenging Day 2 in Doha. Will they be heading through to Q1? Tune into MotoGP™ FP3 at 15:15 local time (GMT+3) to see if anyone is able to find improvements, before the fight for pole position gets underway at 20:00 local time.
More, from a press release issued by SKY Racing Team VR46:
SECOND WEEKEND IN LOSAIL FOR LUCA MARINI
After the first free practices, the rider of the Sky VR46 Avintia is in 20th place in the combined standings.
Doha (Qatar), April 2nd 2021 – Second GP of the 2021 season at the start for Luca Marini and the Ducati of the Sky VR46 Avintia in Losail where the Doha GP will take place on Sunday.
After a good approach in the FP1 (1'55.454), in the second session of the day Luca has finished with a best lap time of 1'54.680 which means the 20th place in the provisional standings.
Luca Marini: 
A positive Friday despite the position. At the time of the time attack I tried to follow someone, but we waited a lot and I lost some time. I tried then a lap but the tires were still a bit cold and I did not push at 100%. However, I am happy with the work done because the changes we have tried on the bike have been positive, we have made a slight step forward and tomorrow we still have something we can do on the setup to be able to perform better in qualifying.
Ruben Xaus:
Today was a complicated day: we are improving day by day, last weekend we did some good things but today we have realised how high is the level in this category. Many riders have managed to improve their lap times and make an important step forward compared to us. We need to stay focused on our potential: we are out of the Q2, but we will try to get as close as possible to the Top15 for the qualifying.
More, from a press release issued by LCR Honda Castrol:
ÁLEX MÁRQUEZ CONFIDENT OF IMPROVEMENT AFTER DAY ONE OF DOHA GP
Álex Márquez continued his adaptation to Honda machinery on an eventful opening day of the Grand Prix of Doha. Five days after the 2021 season curtain-raiser at the same circuit, the LCR Honda CASTROL rider and the rest of the MotoGP class headed back out on to the Losail International Circuit to start free practice for round two of the World Championship.
The Spaniard was 13th fastest in the afternoon session, but knew that FP2 under floodlights would again determine automatic entry into Q2. Although he showed encouraging one-lap pace, Márquez slid out on his final flying lap and will now have to battle his way through Q2 if he is to secure a position on the front four rows of the grid for Sunday's race.
Alex Marquez – 16th
(1'54.148 )
"Today I was not able to be in Q2, in the top 10. When I was on a better lap, I made a mistake in the last corner when I was pressing, but I think we made a step forward in that area and every day we are more competitive over one lap and we're also getting better every day. So, I'm happy for that, but sorry for the team that we're not in Q2. I think we've got a good chance of making Q2 tomorrow and doing well in Q1, so we'll work hard from the beginning and I'll do my best to be in Q2. Also, FP4 will be really important to make our race pace and that's where we'll see who the top riders are and where we are."
More, from a press release issued by Monster Energy Yamaha:
MONSTER ENERGY YAMAHA MOTOGP START DOHA GP WEEKEND INSIDE TOP 10
Losail (Qatar), 2nd April 2021
GRAND PRIX OF DOHA
FREE PRACTICE
Monster Energy Yamaha MotoGP's Fabio Quartararo and Maverick Viñales are clearly driven at the start of a scorching hot Grand Prix of Doha weekend. The duo diligently worked on their YZR-M1s' set-ups as they prepared for Sunday's race. They completed the Friday in fourth and ninth place respectively in the combined FP session rankings.
Monnster Energy Yamaha MotoGP's Fabio Quartararo and Maverick Viñales were keen to continue work on their race set-up for the Losail International Circuit today, adapting it to the hotter weather conditions. The teammates used the available track time to the fullest and finished in fourth and ninth place respectively in the combined free practice results.
Quartararo was eager to get back on the bike in the sunny FP1 session and soon featured inside the top 3. He then moved on to serious business, working on improving rear tyre live. He stayed focused on this goal throughout the 45-minute session. He set a 1'55.303s, that put him seventh in the timesheets, 0.524s from first.
The Frenchman followed the same strategy in FP2. He used most of the session to get the work done on his bike's set-up. With 13 minutes to go he was ready to put in his hot laps. He briefly moved up to provisional first place, but when the night-time session came to a close, the times dropped. The number-20 rider wrapped up the evening in fourth position with a best time of 1'53.583s, 0.438s from first in the FP2 and combined session timesheets.
Viñales continued the good momentum from last weekend in FP1. He worked on tweaking his bike's race set-up and gradually booked progress throughout the session. Feeling good aboard his YZR-M1 and showing a solid pace, even on tyres that weren't the most favourable, he finished in third place with a 1'54.864s lap, 0.085s from first.
Similar to last week, it's expected that on Saturday afternoon the weather conditions with higher temperatures and strong winds will make it difficult to improve, making the FP2 session crucial. The Spaniard knew he had to put his head down to make sure he remained inside the top 10. He soon took third in the rankings and showed a solid rhythm, but the majority of the rider field put in mini time attacks towards the end. Viñales responded by setting a 1'53.872s, putting him in ninth place in the FP2 and combined session results, 0.727s off the fastest time.
MASSIMO MEREGALLI
TEAM DIRECTOR
Today we planned on starting where we left off on Sunday. We worked on a couple of areas where we saw we could improve. But the very hot conditions made it difficult to make any evaluations, as the race will take part in the cooler night temperatures. We used FP2, like we did last week, to do a time attack and make sure we are in the top 10. FP2 has been one of the most difficult sessions we've had since arriving in Qatar. Suddenly we suffered from chatter and a lack of rear grip, probably due to this evening's conditions, but Fabio and Maverick did a good job handling the situation. We still have some tweaking to do to get them completely comfortable during FP3. Then in FP4 we will do a race simulation again before going all out in qualifying.
FABIO QUARTARARO
It was tough, and unfortunately I had no feeling today. I did my fastest lap being on the limit everywhere, I was not feeling great. I will try to improve the feeling a little bit tomorrow, because the conditions changed. We had issues with chatter and grip today. We hope for better conditions tomorrow. Qualifying is just a matter of putting everything you have into one lap, braking as late as possible. For qualifying I am not so worried, and for the race I will do many more laps with the soft-soft tyre combination. I can't wait for tomorrow.
MAVERICK VIÑALES
The time attack didn't go as we expected. We can be much faster. But anyway, the rhythm was there, I was feeling pretty good with the medium tyre, even if it wasn't the best tyre for us here. After we changed to qualifying mode, the feeling changed and we will look into it. But I'm quite calm, I know we can do well. On the bike I felt amazing in FP1 and also for most of FP2. We can do something really good for tomorrow. The most important point is to have the opportunity to be at the front, battling for the race.
More, from a press release issued by Aprilia Gresini Racing:
ALEIX CONFIRMS HIS SPEED IN QATAR AND GOES STRAIGHT THROUGH TO THE SECOND QUALIFYING SESSION
Aleix and the new Aprilia RS-GP confirm their speed in Qatar the first day of practice on the second weekend. Leading the pack in the highly competitive FP1, a sign of outstanding performance even on hot asphalt, the duo earned direct access to Q2, just like last Friday. A good start that will let the team focus on race strategy tomorrow.
Lorenzo Savadori is also showing encouraging signs of growth, still far from a perfect feeling, but making progress. The Italian's goal is to recover the time lost in testing during these first two weekends, putting in miles and experimenting with the settings.
ALEIX ESPARGARO'
"A good day. The track was rather different today than we were used to. With higher humidity, I felt the bike slide significantly for the first time. In any case, I felt good in both sessions. Even if FP1 is not particularly useful here, I was pleasantly surprised at the RS-GP's performance with the heat. In FP2, after doing a good enough time to go straight through to Q2, I decided to save the tyre for tomorrow. There will be a lot of work to do in terms of race strategy. Last weekend we had extremely high tyre wear, so we'll need to try and improve."
LORENZO SAVADORI
"We definitely saw an improvement today. We have still not achieved our goal in terms of gap but, working on the setup and on my confidence, we are beginning to grow. This is not an easy track. Let's just say that the start of my first world championship could have gone better, but we are working non-stop to keep progressing."
More, from a press release issued by Repsol Honda:
Bradl blazes into the top ten
A late charge saw Stefan Bradl secure a provisional Q2 spot on the opening day of the Doha GP, Pol Espargaro looking for more on Saturday with the Repsol Honda Team after a tough first day back.
It was another warm  start in Qatar as the sun raged throughout the morning and early afternoon, the ambient temperature an oppressive 37°C with the track reaching 47°C during Free Practice 1. Fortunately, temperatures would drop for the crucial Free Practice 2 session, with Free Practice 3 set to be held in similarly hot conditions on Saturday morning, the second practice of the day looks set to decide Q1 and Q2 participants.
Friday at the Losail International Circuit got off to a steady start for Pol Espargaro as he began his second Grand Prix with the Repsol Honda Team. Ending FP1 in 12th provided Espargaro and his side of the garage with a solid base to build from. Free Practice 2 was a hectic affair as anticipated, riders immediately pushing for a quick lap to earn a place in Q2. As always, the times were incredibly close with less than half a second splitting the top five. Espargaro's 1'54.205 saw him miss the top ten by less than three tenths. Disappointed, Espargaro is determined got fight back and deliver fully on his potential.
Stefan Bradl powered through the hot morning conditions to secure a spot in the top ten during FP1. 0.6s faster than FP1 last week, Bradl and the Repsol Honda Team continued to improve his feeling on the RC213V with more bike time. Finding seventh tenths of a second over FP2 last week, Bradl blazed a path into the top ten with a lap late in the second session. The German's 1'53.914 saw him edge out the likes of Oliveira and Mir to seal the final place in the top ten. Should Bradl maintain this top-ten position, Bradl will enter Q2 directly for the first time since Portimao in 2020.
Riders will be back on track for Free Practice 3 on Saturday, April 03 – a final chance to enter the combined top ten should conditions cooperate. Qualifying will then start later in the day at 20:00 Local Time as the MotoGP field battles for grid position.
Pol Espargaro
17TH  1'54.205
"Today was not a good day. With a bike that is new to me it is proving hard to adapt to the differences in tyres for the time attack we have to do, this is what I am struggling with. When you make mistakes in a fast lap, this is what happens. I made a lot of mistakes on what should have been my fastest lap so now we face this reality. With the times so close, there is no room for error. I just need more time running in a time attack mode to understand what areas I can take the most profit from, it will come. But we will keep pushing and working, we have another chance in Q1 to move into the top two and advance."
Stefan Bradl
10TH  1'53.914
"Last week on Friday we were unlucky, this week our luck has turned around a bit. The lap times were super close and we have been able to get a spot in the top ten which looks to be key for Q2. Anyway, we have made some changes to the bike and they have all worked well so this is encouraging. Compared to last week we are stronger but we still have to be strong tomorrow during Qualifying so we can start in a better position. This remains our target but for today we can be pleased with what we have done."
More, from a press release issued by LCR Honda Idemitsu:
TAKA UPBEAT DESPITE UNFORTUNATE END TO FP2 IN DOHA
Takaaki Nakagami will have to battle his way through Q2 in Saturday's qualifying after the opening day at the Grand Prix of Doha. The LCR Honda IDEMITSU rider demonstrated the pace to secure a position within the top 10, but crashed in the closing stages of FP2 to finish down in 15th position on the timesheets.
With the times from this evening's FP2 session again almost certain to decide Q2 qualification, Taka will now hope to repeat his Q1-winning performance from last weekend. The Japanese star was 10th fastest in FP1 and then saw a superb flying lap in FP2 ruled out for track limits before he slid out at turn seven when trying to repeat the feat.
Takaaki Nakagami – 15th
(1'54.127)
"In FP2 we knew it was a really important session for us, so I pushed and I tried to find the limit and bring my best performance at the end of the session, but I had a crash at turn seven. I'm ok, tomorrow I'll do my best as I'm outside the top 10. Before the crash, I had a really strong pace and was doing good lap times, so that's a good sign. We may be outside the top 10 today, but we have good potential, so we'll keep pushing and hopefully get a great result in qualifying."
More, from a press release issued by Team Suzuki ECSTAR:
TIGHT TIMES ON FRIDAY SET THE TONE FOR DOHA WEEKEND
For the second week in a row, Team Suzuki Ecstar took to the Qatari track on Friday for the first practice sessions of the Doha GP.
The FP1 session was similar to that of last week, with the riders getting to grips with the sandy and hot track ahead of an important evening FP2 session. Both Alex Rins and Joan Mir made decent progress and put in some strong laps, closing the session in second and eighth respectively.
With sundown and FP2 came added pressure as it seems highly likely that lap times will not improve in tomorrow's FP3. This meant that the riders needed to secure a place in the Top 10 for provisional passage to Saturday's Q2. This proved a tough task as the times became extremely tight; the top 17 riders were covered by just 1 second throughout the session.
Rins was able to find good feeling with his soft-soft tyre combination, and he quickly moved up the rankings into third place with just a few minutes to go, although he slipped to eighth in the final moments. Mir was pushing to come up the order and get into the crucial Top 10, but as the clock ticked down he went in for a fresh set of tyres but ran out of time to get them up to best temperature. He closed FP2 in 13th place – although just a 10th-of-a-second from the Top 10 and +0.867 from the top.
Ken Kawauchi – Technical Manager:
"After the race last weekend we already had our base settings, so in FP1 we just fine-tuned the bikes. Then we turned our focus to FP2 where our target was to set quick lap times and get into the Top 10. Alex managed to do this, but unfortunately Joan missed out by just one tenth of a second. We'll work tonight and see how we can improve ahead of tomorrow."
Alex Rins:
"I'm feeling quite good, and I'm happy to be provisionally in Q2. Everyone was so close on times and the track conditions were tricky – it wasn't very grippy. Anyway, I was able to do some fast laps and I'm pleased about that. My pace, even on used tyres, was good and I'm feeling confident for tomorrow. I think the pace will be even higher, and everyone will be very competitive. We're working hard to have another strong weekend and I hope to enjoy a good qualifying tomorrow."
Joan Mir:
"My feeling is pretty good, but I'm disappointed that we missed out on direct passage to Q2. We lost some time in the first run of the session and then we made some adjustments to the settings, but when it was time to get out for the time attack I could only do one good attempt, which prevented me from getting the tyres and brakes to the optimal temperature: That would have made that tenth of a second difference that kept me out of the Top 10. I feel that my pace can be better because there's margin to improve, but it will be very hard to come through from Q1 if I have to. Of course I'll give my best to try and get the best grid position possible."
More, from a press release issued by Ducati Lenovo Team:
Miller and Bagnaia ends first and second respectively Day 1 of free practices of the Doha GP in Qatar
The Ducati Lenovo Team returned to action at the Losail International Circuit in Qatar today for the Doha GP, the second Grand Prix of the 2021 MotoGP season. After completing just a few laps during this afternoon's first session due to the scorching temperature on the track, Jack Miller and Francesco Bagnaia headed into FP2 this evening, determined to gain direct access into Q2 tomorrow.
In the final minutes of the second session, Miller set the fastest time of the day in 1:53.145. Immediately behind him, his teammate Francesco Bagnaia closed in second place at just 313 thousandths, followed by the Desmosedici GP of the Pramac Racing Team rider Johann Zarco to complete an all-Ducati trio. In total, there are four red machines from Borgo Panigale in the top five positions of Friday's combined standings, as Jorge Martín (Pramac Racing Team) was fifth, just 448 thousandths off Miller's pace.
Jack Miller (#43 Ducati Lenovo Team) – 1:53.145 (1st)
"I'm delighted with the feeling I've had with the bike this evening. In my first "time attack" attempt, I was really pushing hard, and I had a little bit of a moment!. Luckily I managed not to crash, and I went back quickly on track and set a good lap time that I am really content with. I think we still have room for improving tomorrow evening, and as always, I will give my best in qualifying".
Francesco Bagnaia (#63 Ducati Lenovo Team) – 1:53.458 (2nd)
"I'm pleased with the work we have done today. Compared to last week, we preferred to use time in FP2 to do some tests with the soft tyres focusing mainly on our race pace. We made only one "time attack". The feedback was positive, and tomorrow we will continue to work on this direction. I'm convinced that we can get another good result in qualifying and arrive well prepared for Sunday's race".
The Ducati Lenovo Team riders will be back on track tomorrow at 15:15 local time (CEST +1.00) for the third free practice session before qualifying from 20:00 at the end of FP4.
More, from a press release issued by PETRONAS Yamaha SRT:
Eventful start to DohaGP for PETRONAS Yamaha Sepang Racing Team
Franco Morbidelli and Valentino Rossi start second event at Losail seventh and 14th respectively
The opening day of the Grand Prix of Doha proved to be a challenging one for PETRONAS Yamaha Sepang Racing Team's Franco Morbidelli, who posted the seventh fastest time of the Free Practice sessions at Losail. Meanwhile, team-mate Valentino Rossi ended the day 14th.
Morbidelli experienced an eventful FP1 session, with his runs hampered by technical issues. Despite this the Italian still managed to top the times for a period and ended the session fifth with a 1min 55.125secs lap time. Franco was the first rider to take to the Losail track for FP2, immediately posting the third fastest time. With riders separated by only the finest of margins, Morbidelli's 1min 53.699secs lap placed him seventh in the session and in the overall standings.
Team-mate Rossi had a steadier start to the Grand Prix of Doha, posting times within the top-ten for the opening half of FP1. At the end of the 45 minutes, his best time of 1min 55.925secs placed him 17th. The Italian's first runs in the second session of the day saw him briefly hold station inside the top-five. Unfortunately his final lap of FP2 – 1min 42.112secs – saw him round out the opening day in 14th, just 0.240secs shy of being within the top-ten.
Morbidelli and Rossi will take to the track tomorrow for FP3 at 3.15pm local time (8.15pm MYT), before the MotoGP qualifying sessions get underway at 8pm local time (1am MYT).
Franco Morbidelli
7th (1'53.699)
It was an interesting start to the day. I had the same problem on both of my bikes in FP1, which wasn't a big issue luckily. We did decide to change one engine as a precaution for the night, but none of the engines have been withdrawn and we will keep using it; we have solved the issue. I had a good feeling in FP2; it felt more balanced between day and night, which was positive. There are still things to improve and the feeling is not perfect, especially in the night, but we are on the right path. We have changed a lot of things on the bike today, to improve upon what we had in the race last Sunday, and it felt a lot better. I feel like we're in the game and that we can now work to increase the potential even more.
Valentino Rossi
14th (1'54.112)
Last week was better because I was faster, especially in FP2 when I was able to stay in P9 with a better lap time. Today I suffered a lot with the rear grip and, in the longer run at the beginning of the session, I felt a lot slower. We have improved the life of the tyre a little bit and this is very important for us. I improved the time attack in the final minutes and I feel like I rode quite well, but it was not enough for the top-ten. Tomorrow we need to try to improve the rear grip, but in FP3 it will be very difficult to improve the lap times so we need to concentrate on the pace and try to stay within the top-two in Q1. We will see what happens.
More, from a press release issued by Pramac Racing:
Doha FP – Outstanding performance today, Johann P3 and Jorge P5 after the FP2
Johann Zarco and Jorge Martín did an amazing job today, finishing respectively in third and fifth position, gaining virtual access to Q2. Johann Zarco sets his best time in the last lap of FP2 the time of 1'53.537 gives him a third position and this will be crucial considering the weather conditions expected for tomorrow during the FP3. Fourth at the end of FP1, Jorge Martín shined in FP2 closing the day in fifth position with a time of 1:53.593 set on the seventeenth lap.

Jorge Martín
I'm so happy, I didn't expect to finish in p5 today, but I had a good feeling. We are continuing to make progress, day after day we are getting better and better. My goal is to fight for the top ten.
Johann Zarco
The crash in FP1 made me a bit nervous because as soon as I tried to push I crashed and it shouldn't have happened. But in FP2 I was more focused and I was able to set a good time, it was important to be in the first positions after the FP2 because tomorrow during FP3 it will be difficult to improve the time.