Defending MotoGP World Champion Marc Marquez crashed during the race July 19 at the Jerez Circuit and suffered a broken right humerus, the bone running between the shoulder and elbow joints.
Marquez had surgery Tuesday, July 21 to set and stabilize the fractured bone with a titanium plate.
While racers have been known to break bones, specifically clavicles (a.k.a. collarbones), have them plated together in surgery, and come back to racing quickly, not many cases come to mind in which a racer has returned quickly after fracturing a major bone, like a humerus or a femur.
Initially, it looked like Marquez would be out of action for at least a few weeks, missing several races in the pandemic-condensed 2020 MotoGP World Championship and greatly diminishing his chances of retaining his title.
Today, however, there is a report on the Spanish website www.elperiodico.com stating Marquez did 40 push-ups before leaving the hospital Wednesday and that the Spaniard may try to ride in just a few days at Jerez II in hopes of salvaging his Championship hopes.
Is it even possible to ride a MotoGP racebike with a freshly plated right humerus? And even if it's possible, is it advisable?
For answers, Roadracingworld.com reached out to Southern California-based orthopedic surgeon Dr. Thomas Bryan. In addition to working on motorcycle road racing Champions ranging from Mat Mladin to Cameron Beaubier over the past 20 years, Dr. Bryan is also a motorcycle track day rider and road racing enthusiast who has first-hand knowledge of the physical demands of the sport.
It's important to note that Dr. Bryan has not examined Marquez or seen any of his x-rays, so his opinions are based on his considerable experience with orthopedic injuries and professional athletes.
"It's possible," said Bryan. "We plate broken clavicles [collarbones] and they ride right away. That's pretty standard stuff.
"Is it possible? Yeah, it's possible to do it. You still have to have the strength to control the bike, obviously. And if you crash there is a danger to doing additional damage. I would recommend against it, but that doesn't mean Marquez won't do it.
"It should be hard for him to control the bike, but we've seen him at [lean] angles where it seems physically impossible for him to not crash. How does he not crash?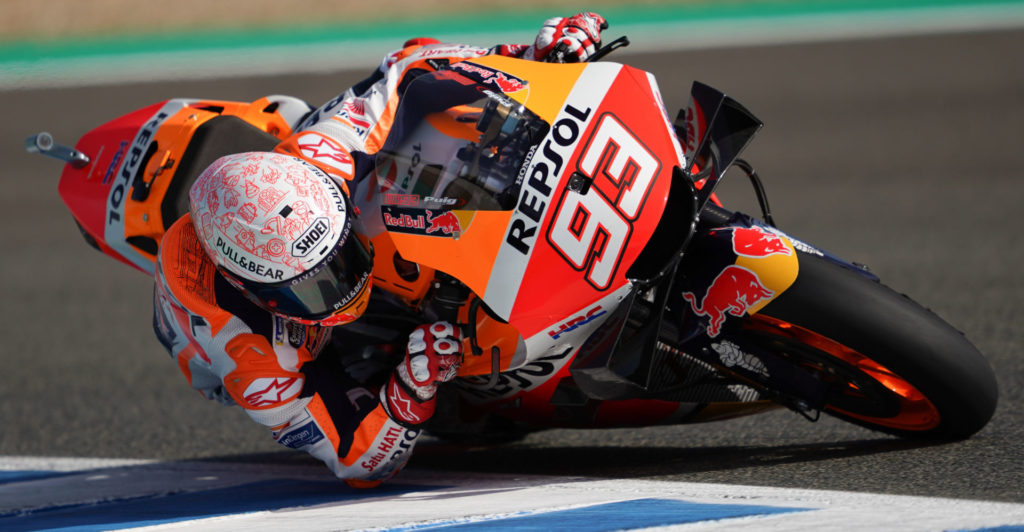 "The danger is if he crashes again and he breaks the plate or he shakes the plate loose, but that danger exists for probably six weeks. That doesn't go away in a week. So, the strength factor is the first thing, and then there's the danger of rebreaking it before it heals.
"The problem with the humerus is if you do bust the plate or the screws holding it in come loose you could stretch or tear that radial nerve that wraps right around the back of the humerus and you could have a permanent nerve injury or a vascular injury, etc. etc."
But Marquez is an elite athlete in top physical condition, and that's a big part of what makes his quick return something to even consider.
"Riders like Marc are already at the top of the top with how their neuro-muscular system works, right?" said Dr. Bryan. "Then their physical training on top of that. And they're a group that typically makes it through injury, because you don't make it all the way from mini bikes to MotoGP if you're the guy who gets injured every time he crashes."
If Marquez intends to ride at Jerez II he will likely have to pass a test to prove to MotoGP's medical officials that he is fit prior to going on track, but the fact that MotoGP is racing at the same circuit two weeks in a row does play into Marquez's favor. He obviously had already established a workable set-up for his Repsol Honda last weekend, so he could skip riding on Friday and wait until Saturday to participate in Free Practice Three if he chooses.
Of course, this is all speculation until Marquez announces his intentions or shows up in his leathers this coming weekend at Jerez!