More, from a press release issued by Dorna:
Bastianini breaks Le Mans lap record on Friday
Beast mode engaged! The Italian tops Day 1 ahead of Aleix Espargaro and Rins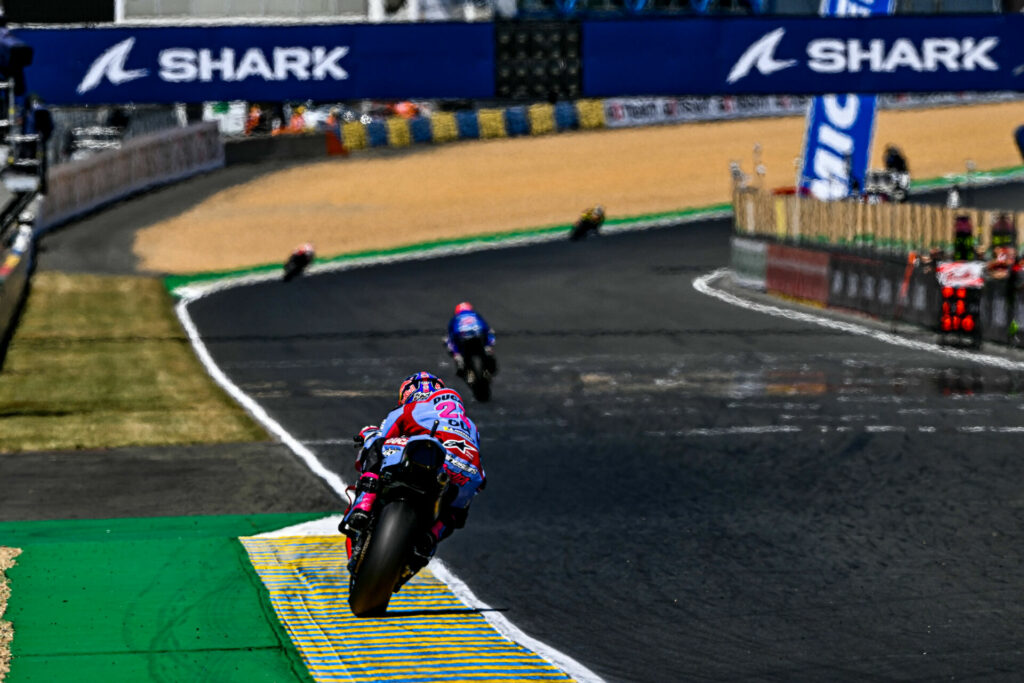 Friday, 13 May 2022
Enea Bastianini (Gresini Racing MotoGP™) was back in Beast mode at the SHARK Grand Prix de France, fastest on Friday and with a new lap record of a 1'31.148 despite a subsequent crash. The Gresini rider heads the timesheets into Saturday by two tenths ahead of Aleix Espargaro (Aprilia Racing), who's keeping that constant presence in the top echelons rolling. Alex Rins (Team Suzuki Ecstar) completed the top three, less than a tenth off the Aprilia ahead.
FP1
Repsol Honda Team's Pol Espargaro put in a 1:31.771 to end the first session of the weekend on top, the Spaniard with 0.109s to spare over compatriot Rins. Jerez winner Francesco Bagnaia (Ducati Lenovo Team) completed the top three ahead of reigning World Champion, home hero and Spanish GP sparring partner Fabio Quartararo (Monster Energy Yamaha MotoGP™), with Aleix Espargaro rounding out the front five.
2020 World Champion Joan Mir made sure it was both GSX-RRs in the top six at the start of the weekend, with Maverick Viñales (Aprilia Racing), Johann Zarco (Pramac Racing) and Luca Marini (Mooney VR46 Racing Team) rounding out the top 10.
It was a drama-free session for the top ten, but less so for KTM. Brad Binder (Red Bull KTM Factory Racing) crashed at Turn 3, rider ok, and teammate Miguel Oliveira went down twice, at Turns 6 and 10. The Portuguese rider headed to the Medical Centre for an X-Ray on his hand and was given the all-clear. Tech3 KTM Factory Racing's Raul Fernandez also fell at Turn 10, rider ok.
Bastianini also crashed, at Garage Vert, and Franco Morbidelli (Monster Energy Yamaha MotoGP™) went down at Turn 11.
On the flip side, Marc Marquez (Repsol Honda Team) didn't crash but did put in a memorable save as he picked up his RC213V on the kerb at Turn 8.
FP2
Bagnaia had been fastest for much of the 45-minute session before Aleix Espargaro took over, but Bastianini then clocked a 1:31.523. However, the Italian had the lap chalked off after a shortcut at Chemin aux Boeufs, but he regrouped with a 1:31.148s just before the chequered flag, aka a new lap record.
No sooner had he reset Johann Zarco's All Time Lap Record, which dates back to 2018, did the Italian have a spill when he lost the front at the Turn 3/Turn 4 chicane. Rider ok though, and top of the timesheets.
Aleix Espargaro also improved his laptime but remained second in the session, and overall, having notched up a 1:31.350. Rins had been second-quickest in FP1 and proved that was no fluke with third in FP2, too.
Zarco grabbed some headlines too as he almost crashed at Turn 2 but pressed on through the gravel trap and rejoined, but despite that the Frenchman moved up to fourth overall. He ended the day as second Ducati, just pipping Bagnaia.
Mir crashed in the session, rider ok, and Jack Miller (Ducati Lenovo Team) suffered a spill and a run off, rider also ok.
Provisional Q2 places
Behind Bastianini, Aleix Espargaro, Rins, Zarco and Bagnaia, it's reigning Champion Quartararo who slots into sixth. KTM's Brad Binder is seventh ahead of Mir, with Pol Espargaro in the combined top 10 by virtue of his FP1 benchmark. Jorge Martin (Pramac Racing) was ninth in FP2 and 10th overall.
With work to do in FP3 is therefore Miller, who sits 11th on combined times, and Marc Marquez down in P15. Can they hit back in FP3 and move through? That starts at 9:55 (GMT +2), before qualifying from 14:10!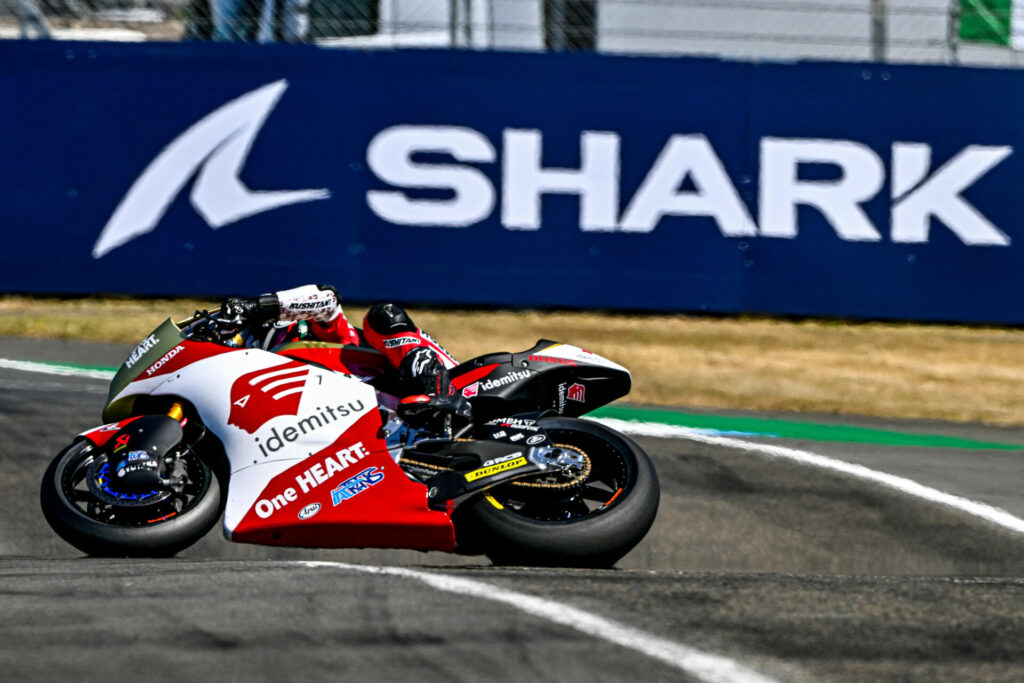 Chantra breaks lap record for Friday honours at Le Mans
The Thai rider is quickest out the blocks in France, ahead of the Red Bull KTM Ajo duo
Somkiat Chantra (Idemitsu Honda Team Asia) topped Day 1 at the SHARK Grand Prix de France, the Thai rider breaking the lap record early doors. He heads into Saturday fastest ahead of Pedro Acosta (Red Bull KTM Ajo), but it's close at the top with the two split by just 0.058. Acosta's teammate Augusto Fernandez is third overall, and did almost put in the fastest lap of the day before yellow flags saw the lap cancelled.
FP1
Chantra was on lap-record pace in FP1, but the headlines were somewhat stolen by two riders who finished further down the timesheets. An incident between World Championship leader Celestino Vietti (Mooney VR46 Racing Team) and fellow title contender Aron Canet (Flexbox HP 40) saw the two come together. Vietti tried to go down the inside of Canet as they rounded the Garage Vert double right-hander (Turn 8), where they made side-to-side contact which put both on the floor. Riders ok, however, and after investigation the Stewards also decided no further action.
They were not the only late crashers either, with Jorge Navarro (Flexbox HP40), Jake Dixon (Inde GASGAS Aspar Team), and Marcel Schrötter (Liqui Moly Intact GP) all having single-rider spills.
Back at the top though, Chantra went underneath Francesco Bagnaia's four-year-old All Time Lap Record for the Moto2™ class with his 1:36.108 on his penultimate lap. That effort put him 0.155 clear of Fernandez, with Stefano Manzi taking an impressive third as he continues as injury replacement for Keminth Kubo at the Yamaha VR46 Master Camp Team.
Vietti was sixth, Jerez winner Ai Ogura (Idemitsu Honda Team Asia) 12th, Tony Arbolino (Elf Marc VDS Racing Team) 16th on a 1:37.158, and Canet 22nd.
FP2
With around five minutes to go in the second session of the day, it looked like Fernandez had taken over on top with a 1:36.030, but the Spaniard had gone through a yellow flag triggered by a crash for Marcel Schrötter (Liqui Moly Intact GP). So the lap was cancelled, and Thailand stayed top overall.
Top in the session, however, went to rookie Acosta, with Fernandez third fastest in FP2 on a 1:36.394, down on his best from FP1. Chantra was second fastest in the afternoon.
Provisional Q2 places
Chantra heads the timesheets from Acosta, with Fernandez third but his FP1 lap his quickest. Sam Lowes (Elf Marc VDS Racing Team) is fourth, ahead of Arbolino and Schrötter. Manzi, Dixon and Ogura are next up, with Albert Arenas (Inde GASGAS Aspar Team) completing the top ten.
Vietti was P11 by the end of play, ahead of another good performance from Barry Baltus (RW Racing GP) in 12th.
Alonso Lopez (MB Conveyors Speed Up) had a very impressive Friday as he makes his full-time Moto2™ World Championship debut. He was 13th despite a crash, and just pipped Canet as the Pons rider takes 14th; the last currently on to move through…
Tune in at 10:55 (GMT +2) for FP3 to decide the final Q2 entrants, before qualifying from 15:10.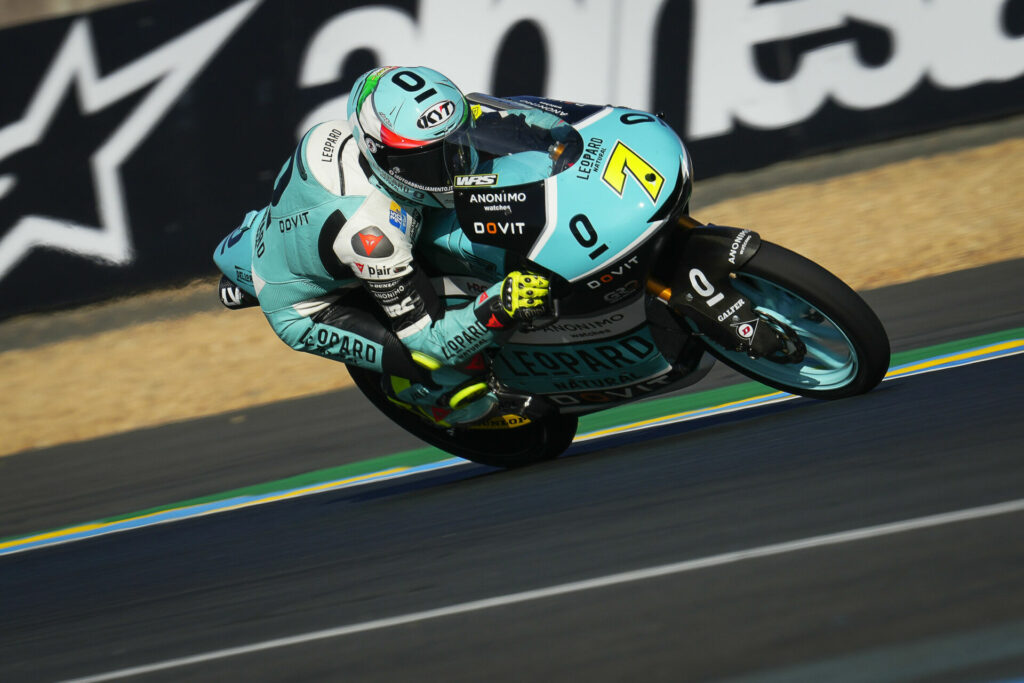 Foggia takes 0.428s advantage into Saturday in France
The Championship challenger bounces back, with points leader Garcia just inside the top 14
Leopard Racing's Dennis Foggia ruled Friday at the SHARK Grand Prix de France in Le Mans, the Italian recording the three fastest laps of FP2 for an impressive 1:41.680 as his best effrot. That leaves him 0.428s clear of title rival and Jerez winner Izan Guevara (Gaviota GASGAS Aspar Team), with Leopard's Tatsuki Suzuki in P3.
Championship leader Sergio Garcia (Gaviota GASGAS Aspar Team), meanwhile, finds himself down in P15 and he'll be looking for a place in Q2 on Saturday.
FP1
Leopard set out their stall early, with Foggia leading a one-two atop the timesheets thanks to a 1:42.184. An impressive run gave the Italian 0.277s to spare over teammate Suzuki, with Andrea Migno (Rivacold Snipers Team) completing a top three Honda lockout.
The sun was shining as the lightweight class completed their first laps of the weekend, making for pleasant conditions. Guevara was fourth, with Ryusei Yamanaka (MT Helmets – MSI) taking P5 ahead of Jaume Masia (Red Bull KTM Ajo).
John McPhee (Sterilgarda Husqvarna Max) made his return from injury in P14 in FP1, just behind the impressive Jose Antonio Rueda (Rivacold Snipers Team), who is making his second World Championship appearance in place of the injured Alberto Surra.
Kaito Toba (CIP Green Power) crashed at Turn 8, rider ok.
FP2
Only a select few improved their morning times early doors, and Carlos Tatay was one of those as the CFMoto Racing PrüstelGP rider put in an early lap to go top for the session and second overall.
Foggia's position on top of the combined standings began to come under threat as the grid came out for their final runs with less than 10 minutes to go, with red sectors popping up all across the timing screens. But Italian hit back with three fastest laps to consolidate his position, ending the day fastest ahead of Guevara and Suzuki.
Former Rookies Champion Tatay's strategy paid off, as he sits comfortably fourth, with Masia moving up to fifth overall.
Championship leader Garcia crashed and wasn't the only faller either, with Diogo Moreira (MT Helmets – MSI) also going down early, as did Deniz Öncü (Red Bull KTM Tech3) at Turn 8. All riders ok. Gerard Riu (Rivacold Snipers Team) was taken to the medical centre after a simultaneous but separate crash with Taiyo Furusato (Honda Team Asia), but Riu has since been declared fit. Lorenzo Fellon suffered a Turn 4 highside, while his SIC58 Squadra Corse teammate Riccardo Rossi also crashed when coming out of the Dunlop chicane. Ryusei Yamanaka was the other faller in FP2.
Provisional Q2 places
Behind Foggia, Guevara, Suzuki, Tatay and Masia comes Migno in sixth thanks to his FP1 time, with Elia Bartolini (QJMOTOR Avintia Racing Team) in P7. Yamanaka is next up from his morning laptime, with Rossi and Ayumu Sasaki (Sterilgarda Husqvarna Max) in the top 10.
Rookie Daniel Holgado (Red Bull KTM Ajo) was P11 from his FP1 best, ahead of Öncü, Moreira and Xavier Artigas (CFMoto Racing PrüstelGP). That leaves points leader Garcia looking for more on Saturday morning, so tune in for FP3 from 9:00 (GMT +2), before qualifying from 12:35!
More, from a press release issued by Tech3 KTM Factory Racing:
Tech3 KTM Factory Racing Kicks Off French Party in Le Mans
A special weekend started today for the Tech3 KTM Factory Racing at the SHARK Grand Prix de France, the home leg of the MotoGP calendar. Surprisingly sunny and dry, the famous Bugatti Circuit was also welcoming back fans at full capacity for the first time since 2019, and the French crowd, known for its enthusiasm, did not disappoint and came in number for the first day which was combining Free Practices 1 and 2.
Australian Remy Gardner was back with his team after two intense weeks in Portimao and Jerez and jumped on his KTM RC16 at 9:55 local time (GMT+2). His FP1 was split into three runs. The first one was quickly interrupted by a technical issue which forced him to change bikes, but he was then able to focus on getting his first few laps in France on a MotoGP engine. He reached his best time of the morning towards the end of the session, in 1'33.302. The track conditions got hotter in the afternoon, which means that most of the MotoGP class was able to improve their times, including Remy with an improvement of 0.565 seconds in the first laps of the second session. The number 87 finishes the day in P22 and will continue to push tomorrow when the action resumes at 9:55 local time.
Raul Fernandez was finally declared fit to race this weekend after following an intensive recovery week on his right hand, injured in Portimao. He started the day with new tyres, soft at the front and medium at the rear, and managed to get his best lap time within his first run, in 1'34.151. The Spaniard had a small crash in the middle of the session, without any major consequence, and was able to continue the session. He was twenty-third at the end of the morning. During FP2, Raul was also able to make small improvements and was able to go a bit faster, as he reached a best lap time of 1'33.557 in the end of the session with a new set of tyres. He finishes the day in P23.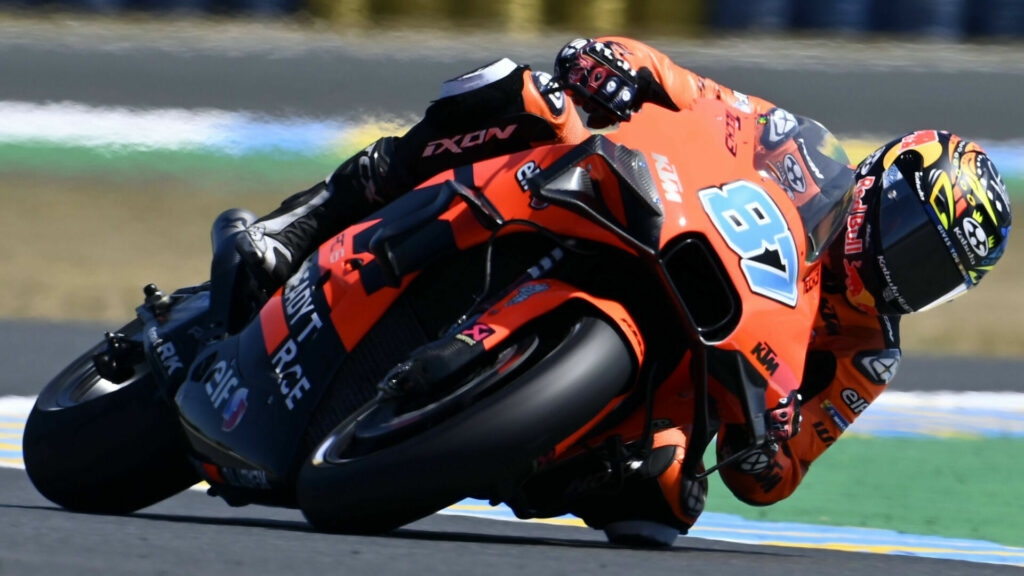 Remy Gardner
Position: 22nd
Time: 1'32.737
Laps: 36
"Tough day for most of the KTM bikes today, except Brad Binder maybe. We are trying to work really hard as a team to find which points we can improve so that we can be more comfortable on the bike and go faster. We will keep pushing as always tomorrow. Thank you to everyone."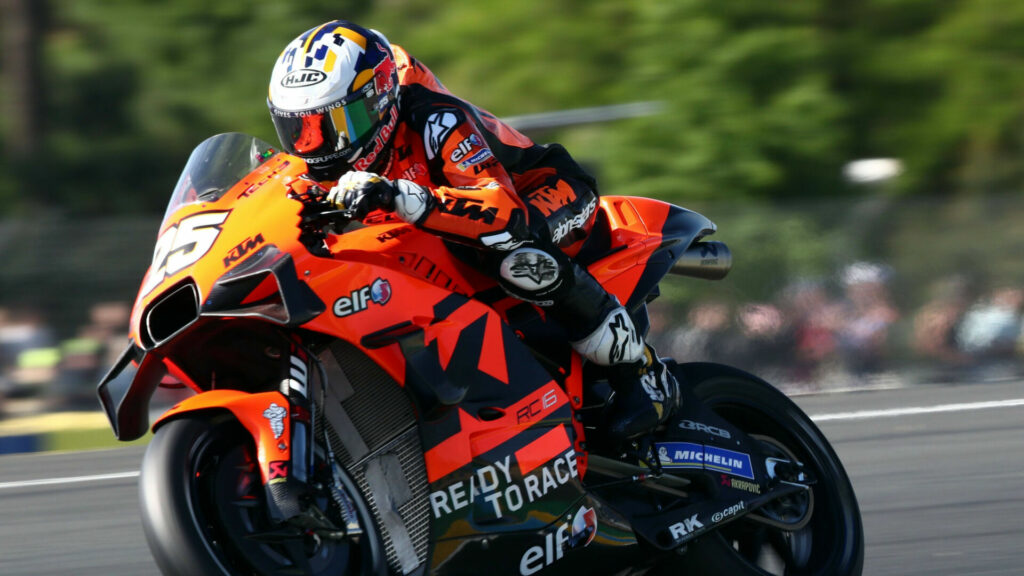 Raul Fernandez
Position: 23rd
Time: 1'33.557
Laps: 34
"I had a difficult day, especially at the start as I still felt some pain with my right hand. The MotoGP bike is heavy and powerful, so I need to do more laps to encounter the feelings again as I have not ridden it since my crash in Portimao. Then in the morning, I lost a bit of confidence with my crash which was stupid. We will continue to work all together with my team, find some solutions to feel better on the bike, and go faster. Let's see what we can do tomorrow."
More, from a press release issued by WithU Yamaha RNF MotoGP Team:
Mixed Friday in France for WithU Yamaha RNF MotoGP Team
Andrea Dovizioso and Darryn Binder opened the French Grand Prix with some steps forward.
The sun was upon the world-famous Bugatti Circuit for day one of proceedings at round seven of the 2022 MotoGP World Championship today. Yet, it was a rather tricky Friday for the WithU Yamaha RNF MotoGP Team duo of Andrea Dovizioso and Darryn Binder, who concluded the first two Free Practices in P20 and P24, respectively.
While Dovizioso started out well this morning and was losing just less than one second to the top, he managed to lower his lap time in FP2, but not quite enough to eventually miss out on the top 10 by 0.624 seconds. The Italian still went 0.200 seconds faster in the afternoon and now aims to find some solutions to improve his feeling tomorrow in Free Practice three.
On the other side of the WithU Yamaha RNF MotoGP Team garage, MotoGP rookie Binder once again had to start from scratch this weekend. The South African did well to go more than one second quicker from FP1 to FP2, but unfortunately had an off in turn seven towards the end of the second session, which prevented him from stepping forward any further.
For Free Practice three tomorrow at 09.55 local time both, Dovizioso and Binder aims to get closer to the top before they start their race preparations in FP4 at 13:30 local time and go into the Qualifying from 14:10 local time.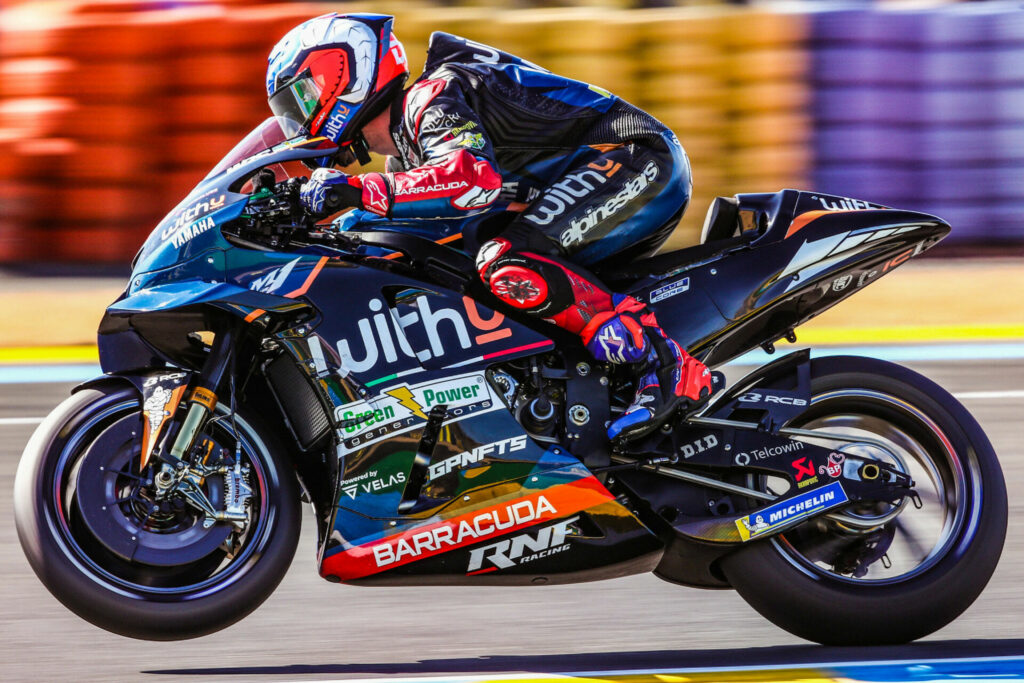 ANDREA DOVIZIOSO
"Unfortunately, I couldn't do the fast lap with the soft tyre in the afternoon, because there have been a lot of yellow flags and on the last lap, I did a mistake. I could do better, for sure. I'm still happy to feel the soft with more potential, because I was struggling a bit too much with the medium rear. For tomorrow, everybody will be focused more on the soft rear and this might be the race tyre as well. But let's see. With the medium, I'm pretty good, but I don't feel that confident on maximum angle, so I expected a bit more. Tomorrow everybody will use a different tyre anyway, so we have to wait and see what we can do."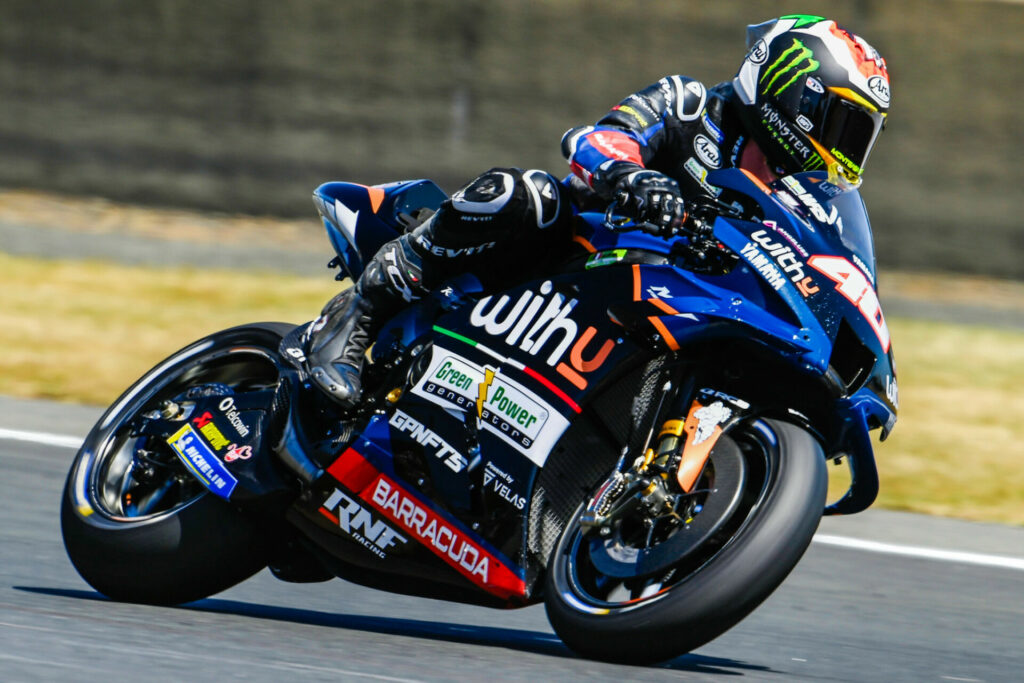 DARRYN BINDER
"We got treated with really nice weather today, which was a great thing for Le Mans. I started off this morning in FP1 just trying to learn my way around the circuit with the MotoGP bike. Unfortunately, during FP2 in the middle run I had a crash in turn seven. Luckily I managed to get out at the end and continued and finished the practice. But I feel like I wasn't able to make the step forward that I'd like to have done, so I got a little bit of work to do for tomorrow. Overall, I'm enjoying riding the M1 here and I'm really looking forward to tomorrow."
More, from a press release issued by Mooney VR46 Racing Team:
MARINI AND BEZZECCHI IN THE SLIPSTREAM OF THE TOP10 AT THE FRENCH GP
The Mooney VR46 Racing Team duo is close to the riders fighting for the direct access into the Q2
Le Mans (France), May 13th 2022 – Luca Marini and Marco Bezzecchi close the Day1 at the French GP on the historic Le Mans circuit, today characterised by sunny weather and good temperatures, respectively in the slip stream of the Top10, in P14 and P18 in the combined standings.
Tenth in the FP1 (1: 32.128) and satisfied with the progress made on the Ducati Desmosedici GP at the last testing session in Jerez de la Frontera, despite a crash in the final minutes of the FP2, Luca is only two tenths from the direct access into the Q2 (tomorrow at 02.35 in CET).
Not far from the top guys also Marco, 15th in the FP1 (1: 32.674), and in the gravel in the last run of the afternoon with new tires. With a best lap time of 1: 32.314 he is ready to make a step forward for Saturday's qualifying at the Bugatti circuit.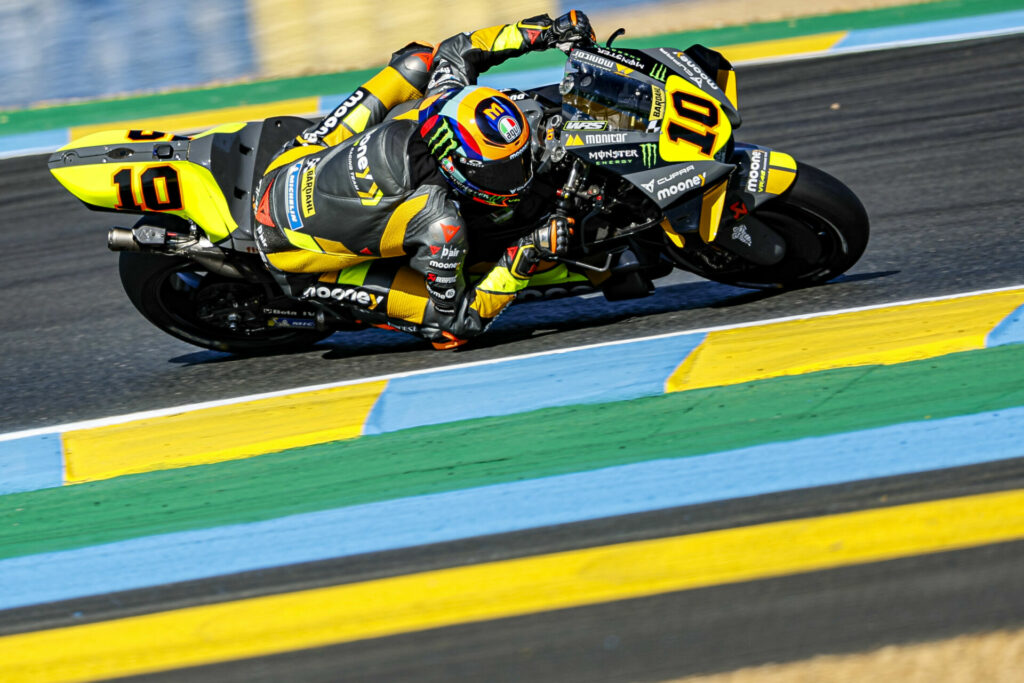 Luca Marini #10
A day good on one hand and less on the other one. I immediately had a great feeling in the FP1 and I managed to be fast, while in the FP2 the grip was very strange. I have struggled and, compared to the others who have improved in the first run of the afternoon, I was unable to make a step forward. Let's analyse the data and understand what's going on. A shame then the crash in the final minutes, in my last time attack: I saw the yellow flag and I slowed down, but not enough to face the turn 3. We will start tomorrow morning from the positive things of today.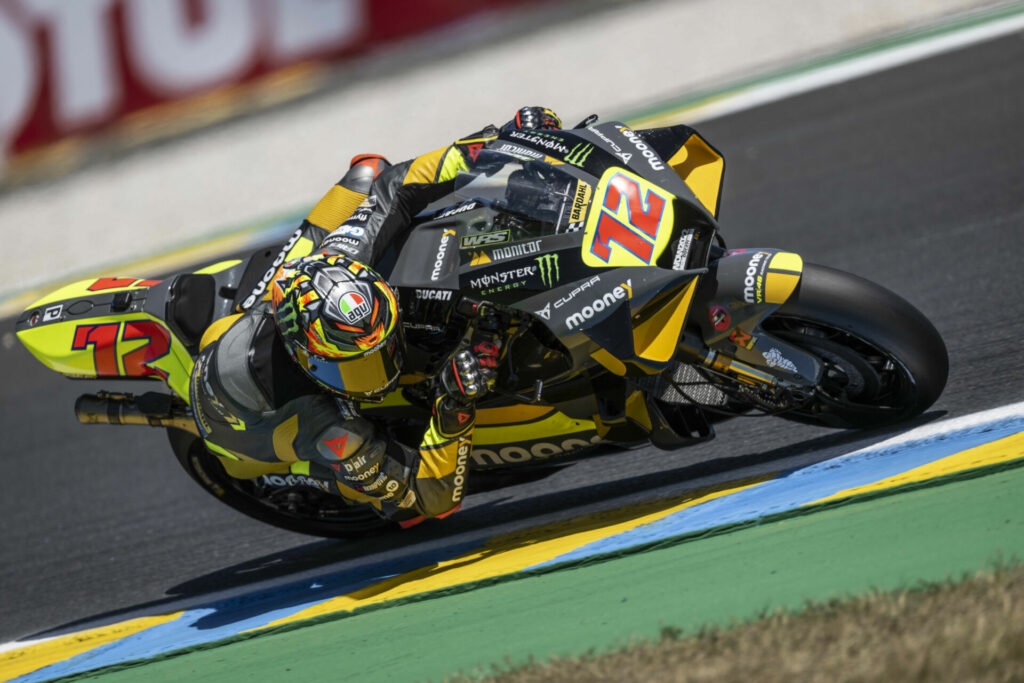 Marco Bezzecchi #72
In FP1 we managed to get off to a pretty good start and, to be honest, I have struggled more in the FP2 despite I was able to improve my lap time. The asphalt conditions this afternoon were particular tricky and I also crashed in the final minutes. It wasn't easy to warm up the front tire well and I found myself on the ground. Overall, I am satisfied with what we did in braking and we will continue to work for a step forward for qualifying.
Pablo Nieto
Team Manager
Overall a good first day: a pity for the two crashes at the end of the session, when we had the new tires on for the time attack, but we can be satisfied with what we did and the feedback on the work done during the last testing session. We will try to continue in this direction for tomorrow's QP, we can stay in the slipstream of the group.
More, from a press release issued by Gresini Racing: 
LAP RECORD FOR BASTIANINI AT LE MANS
#FrenchGP free practice. The start to the third European event of the season has been an excellent one with Enea Bastianini the fastest rider in today's combined Free Practice time. IT was far from an easy Friday for the rider #23, who crashed twice (once per session), but was still able to put together the quickest-ever lap for a MotoGP bike at the Bugatti circuit.
The Italian star was indeed able to find a positive feeling with his Ducati machine, as especially in the first sector he proved to be extremely competitive. His 1'31.148secs lap-time was two and three tenths of a second faster than the ones set by Quartararo and Rins, respectively.
It was a good opening day for Fabio Di Giannantonio as well: the series rookie started with the base set-up found with the team during the Jerez test – and built on it. His 1'32.275secs tresulted in a provisional 15thplace.
1st – ENEA BASTIANINI #23 (1'31.148s)
"Too bad for the two crashes, especially the second one. I would have loved to finish the day a few seconds earlier. It's been a very positive day nonetheless: we were very quick and comfortable in T1 from the get-go and it's honestly the area where we have to work the least on. Things have changed compared to yesterday, where maybe we did not fully understand what happened… It happens sometimes. We are quick again and we have the right feeling."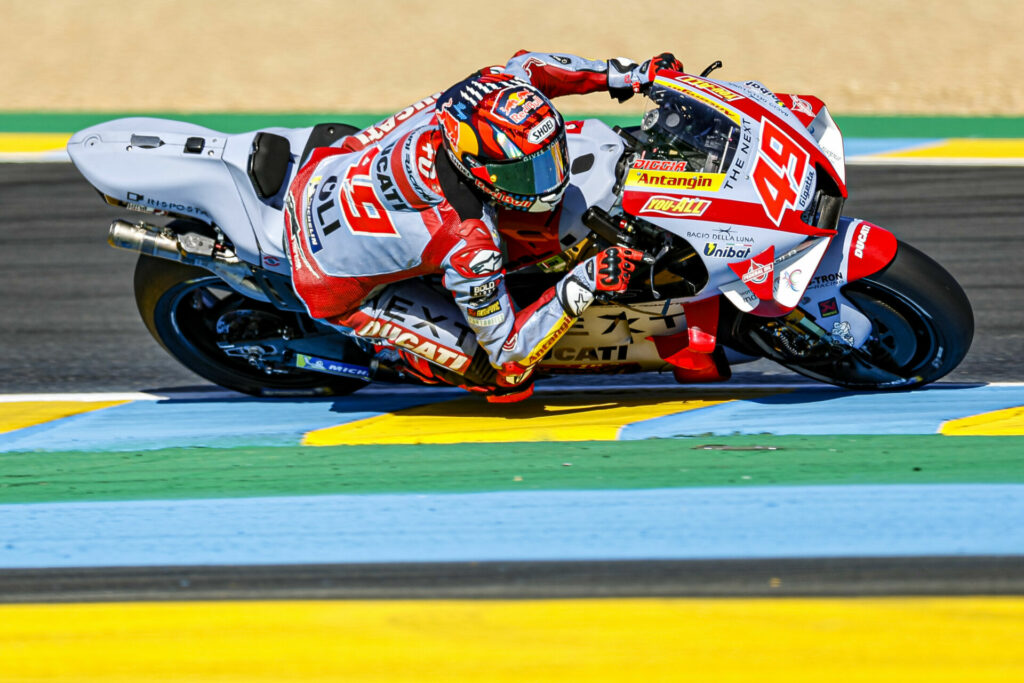 15th – FABIO DI GIANNANTONIO #49 (1'32.275s)
"This is maybe the first real positive day of the year. We surely made an important step forward feeling-wise on the bike and I was kind of expecting it after the test we had in Jerez. We're starting to break hard, and we only need to find a bit more grip: there's plenty on the track, to be honest, but we still have a bit too much spin and it'll be important to fix this issue also with regards to qualifying."
More, from a press release issued by Repsol Honda:
Espargaro shows speed immediately in Le Mans
A provisional spot in the top ten for fast-starting Pol Espargaro as Marc Marquez flexes his elbow with two impressive saves but both riders are working for more tomorrow.
Fans had already begun to fill the camp sites of the Le Mans circuit from Thursday and they continued to flow through the gates as Friday practice began. Blessed with sunshine and good weather, the opening day in France proved to be a productive one for the Repsol Honda Team.
Leading the way in Free Practice 1, Pol Espargaro proved his love for the 4.2-kilometre-long circuit is far from over. His 1'31.771 in FP1 put him a tenth clear of second placed Alex Rins and would be good enough to maintain his position in the combined top ten throughout the day. Getting to within three tenths of his reference time in the afternoon, Espargaro was hampered by a number of yellow flags as he pushed to improve during the second session. There is still time to find and Espargaro knows he will need to put together the perfect lap on Saturday to be in contention for one of the top six positions on the grid in order to fight in Sunday's race.
Marc Marquez had a case of déjà vu during Free Practice 1 as the Repsol Honda Team rider expertly picked up his Honda RC213V over the kerbs at Garage Vert, echoing his heroics from practice during the 2019 French GP. This was followed up by another save on his famous elbow towards the end of Free Practice 2 as Marquez's feeling since returning from injury continues to improve. A best time of 1'32.153 had the #93 a second behind Bastianini, the young Italian topping Friday's time sheet, and 0.4s back from his fellow Repsol Honda Team rider. Marquez is aware there is still work to do before he can set a target for Sunday.
Both Repsol Honda Team riders will be looking to make improvements tomorrow as they hunt the final crucial tenths of a second.
Pol Espargaro
1'31.771  NINTH
"This morning went very well and then in the afternoon I tried to improve my lap time but there were a lot of yellow flags which stopped some of our laps and then on our best lap I made a mistake. At the end I feel good on the bike and it's not a bad day, but we need to perform tomorrow to end up with a good Qualifying spot. You need to start in the front two rows of the grid to perform for Sunday. We have the pace, but we need to put it together when it matters tomorrow."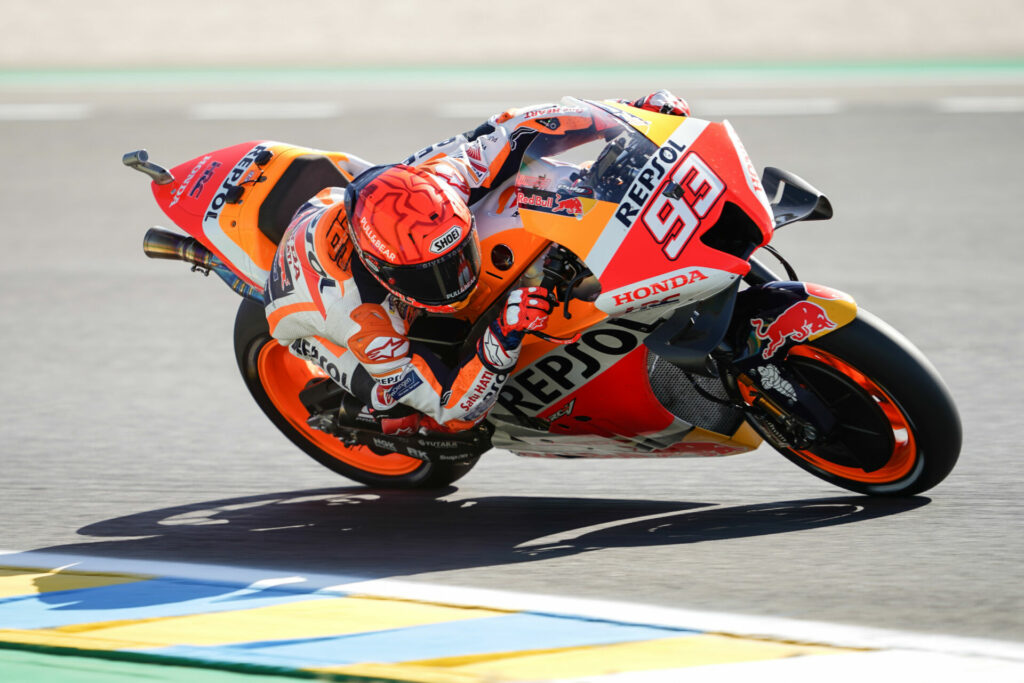 Marc Marquez
1'32.153  15TH
"FP2 was a real save and FP1 was more luck honestly! In FP1 I was on the kerb and I lost the front, so I tried to push with my right knee on the floor and the bike stood up when we came back to asphalt. But I am struggling a bit to understand how to be fast here. I need to turn the bike quicker and that's where we are. We need to improve tomorrow, the target for FP3 is to get into the top ten for Q2. We will see what tomorrow bring, we already have some ideas to try."
More, from a press release issued by Team Suzuki ECSTAR:
SUZUKI RIDERS SOLIDLY IN TOP 10 ON OPENING DAY IN LE MANS
 
Alex Rins: 3rd – 1'31.445 (+ 0.297)
Joan Mir: 8th – 1'31.666 (+ 0.518)
The French GP got off to a strong start for Team Suzuki Ecstar's riders, Alex Rins and Joan Mir, as the pair placed themselves firmly within the Top 10 and displayed consistently quick pace.
Right from the beginning of FP1 Rins shot up the time sheets, initially taking third before briefly topping the session. Mir was quick to follow and he hovered in the Top 5 throughout the morning. They finished FP1 in second and sixth respectively.
Both sessions on Friday were fairly crash-strewn despite Le Mans Bugatti Circuit offering up hot and sunny conditions. Mir was one of the victims, with a fast off at Turn 7 in FP2. Luckily, he escaped without serious injury and was able to return to the track on his second bike just 14 minutes after the crash. Rins used part of FP2 to try a long run with used tyres. The GSX-RR mounted riders both took impressive chunks out of their previous best times, and they complete Friday with Rins third and Mir eighth on combined.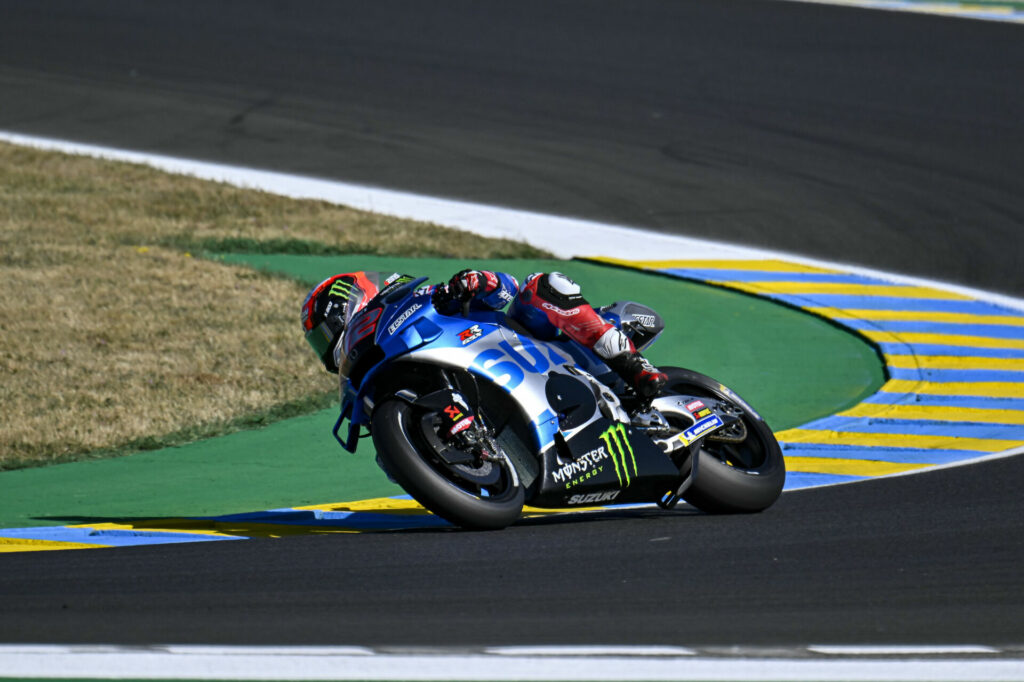 Alex Rins:
"Overall it's been a good day, with both FP1 and FP2 going well. I feel quite competitive so far, although I would like to improve the feeling with the rear because I began to suffer a lack of grip in FP2. I'm focused on the job at hand, and I feel comfortable riding around Le Mans, the bike works well here especially on the quick changes of direction and the fast corners. I want to get directly into Q2 tomorrow, the times are tight but we'll try for sure."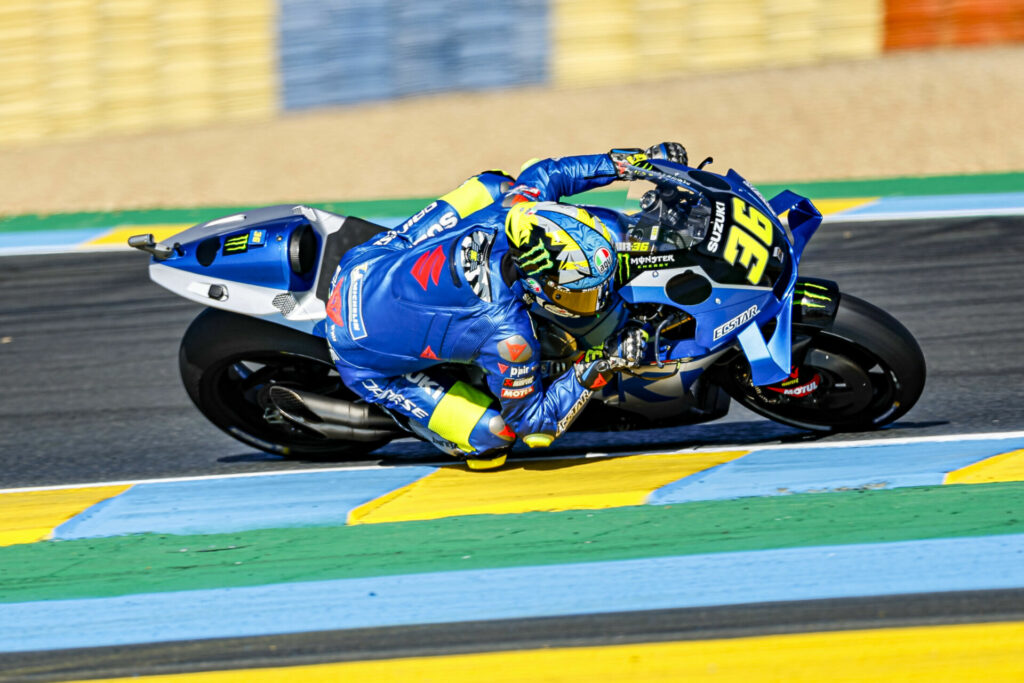 Joan Mir:
"It feels good to get back out there on the bike and concentrate on riding, and I felt strong in FP1. I had a high speed crash in FP2, which then had a bit of an impact on my performance for the rest of the day. I'm not injured, which is good, but I expect that I won't have the best night's sleep and I'll be sore tomorrow. But anyway, I'm fairly competitive for the opening day and the team and I know what we have to do to continue in a good way. There were a lot of crashes and yellow flags today, which can make you lose laps, so we have to keep that in mind tomorrow."
Livio Suppo – Team Manager:
"It's been a very good day – the only downside was Joan's crash, but luckily he's OK and that's always the most important thing. Both riders have shown that they can be fast here, and they had good pace from FP1 onwards. They continued to improve their lap times throughout the day, so we feel that it's been a good start to the race weekend."
More, from a press release issued by Monster Energy Yamaha:
MONSTER ENERGY YAMAHA MOTOGP FOCUS ON RACE SET-UP ON FRENCH GP FRIDAY
Le Mans (France), 13th May 2022
GRAND PRIX OF FRANCE
FREE PRACTICE
Monster Energy Yamaha MotoGP's Fabio Quartararo and Franco Morbidelli were pushing hard already on the first day of the Grand Prix de France. The pair secured 6th and 12th place respectively in the combined free practice results.
6th FABIO QUARTARARO 1'31.640 / 23 + 21 LAPS
12th FRANCO MORBIDELLI 1'32.025 / 21 + 19 LAPS
Monster Energy Yamaha MotoGP's Fabio Quartararo and Franco Morbidelli started their Grand Prix de France campaigns at the Le Mans Bugatti Grand Prix race circuit today. The teammates used all the available track time of FP1 and FP2 to try their YZR-M1s' dry set-up options ahead of what is predicted to be a changeable weekend. They ended in 6th and 12th place respectively in the combined results.
Quartararo had an extra spring in his step this morning at the start of his home GP. For most of the sunny but somewhat chilly morning session he was featuring inside the top 5 whilst working on his bike's race set-up. He set a 1'31.912s on lap 20/23 to finish FP1 in fourth place, 0.141s from the front.
The home hero was also in his element in FP2 and worked on fine-tuning his work from the morning. The usual mini time attack started with eight minutes left on the clock. He hit a lot of traffic during his final run, but remained firmly positioned inside the top 10. His best time of 1'31.640s, set on lap 6/21, put him in sixth place in the FP2 and the combined timesheets, 0.492s from the top.
Morbidelli didn't have the start to the French GP he had hoped for. A crash in Turn 11 midway through FP1 lost him some track time. However, thankfully the Italian was quickly back on his feet and headed back to the garage. He improved his time to a 1'32.937s on lap 20/21, which put him in 20th place, 1.166s from first.
Morbido wanted to optimise his chances for a place in Q2 in the afternoon and made a big step. The number-21 rider spent most of the FP2 session tweaking his bike's settings in order to challenge for a top-10 position in the final five minutes of the session. A late crash in Turn 10 meant he wasn't able finish his last hot lap. He was again uninjured and ended FP2 in 11th place with a 1'32.025s, set on lap 19/19. The time earned him 12th position in the combined free practice rankings, 0.877s from P1.
MASSIMO MEREGALLI
TEAM DIRECTOR
This first day has been quite busy in a multitude of ways. The team put in hard work in the garage and also on track there was a lot of yellow flags and traffic, especially during the time attack. Having said that, it was a positive day for Fabio. He couldn't get in a hot lap due to the circumstances, but his race pace is great. Franky unfortunately had two crashes today, but he was okay. Focusing on the positives, we can see that he is building up his confidence. We still have a lot of work to do for tomorrow, on the bikes but also on the tyres, to understand which one will work best. So far, we're half way through our tyre work.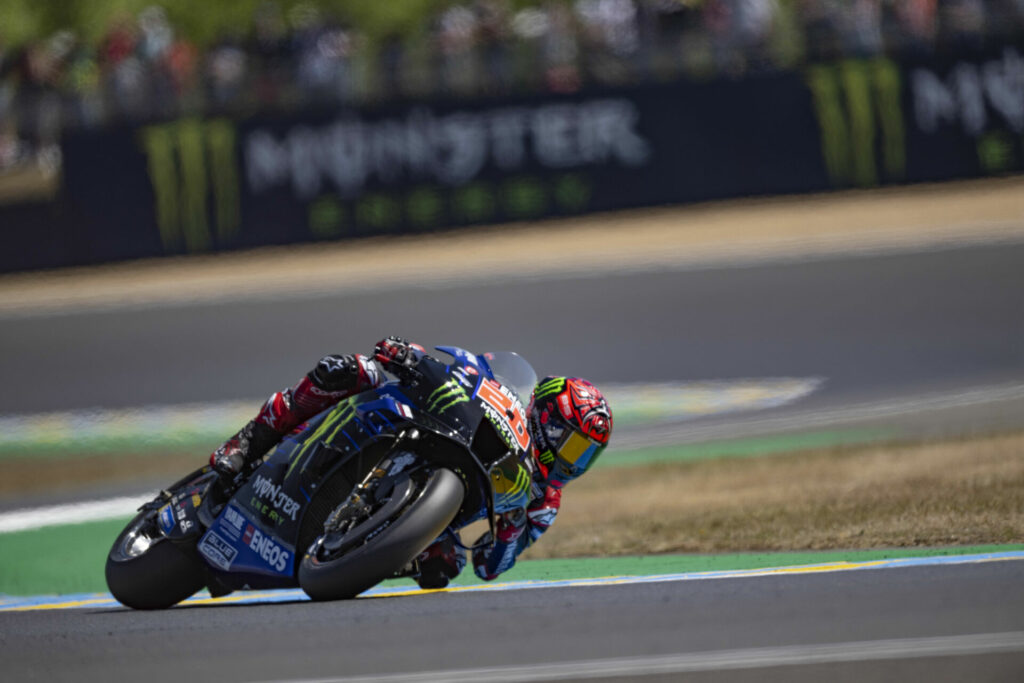 FABIO QUARTARARO
It was a good day because the pace was really good in both FP1 and FP2. We have good potential with the medium and the soft. I found quite a lot of traffic on track today, even during the time attack. I think I'm not the only one. I couldn't improve, but I feel like it was good for collecting some data for tomorrow. At the moment it's not clear yet who can be at the top, because everyone is so tight together here in Le Mans. It's going to be really interesting. I feel like we are going to have a really good weekend. It felt great riding in front of so many French fans. I feel happy, and they are enjoying themselves. This is the most important.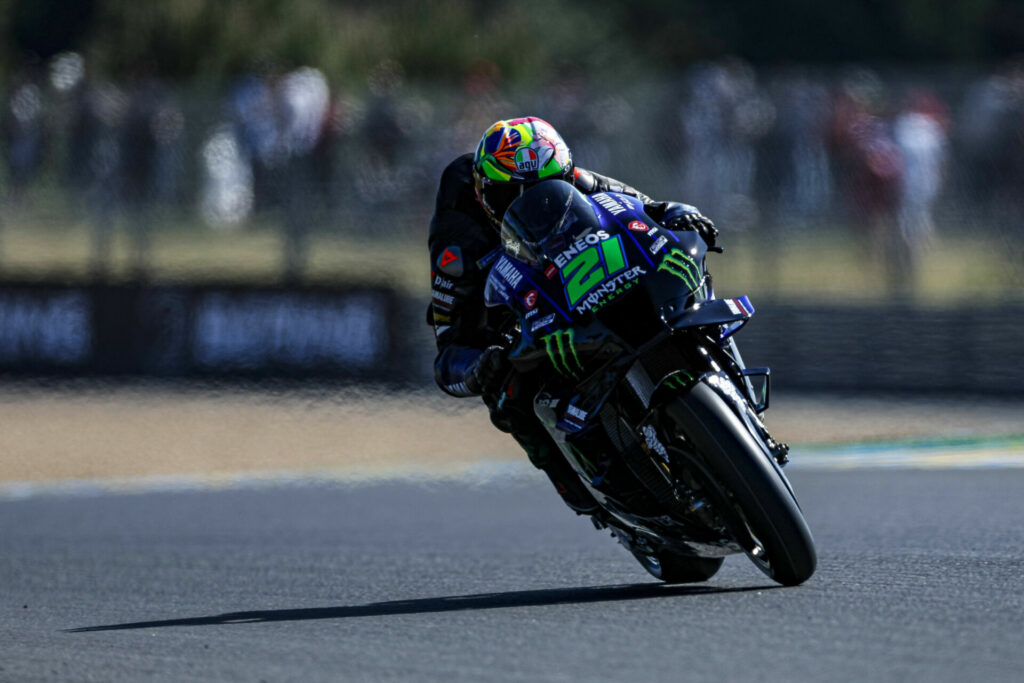 FRANCO MORBIDELLI
The conditions were a bit peculiar. There were a lot of crashes today. But speaking about myself, we've also today been working to improve my feeling. Actually, towards the end of the day we found a decent feeling so I could make a decent lap time and get closer to the best Yamaha, which is Fabio. So, good things today. We will try to step it up even more tomorrow. I'm feeling pretty confident.
More, from a press release issued by Idemitsu LCR Honda:
TOUGH TAKA SHOWS ENCOURAGING SPEED ON DAY ONE OF FRENCH GP
Takaaki Nakagami rode through the pain barrier to put in a solid performance on the opening day of free practice for the French Grand Prix. The LCR Honda IDEMITSU rider was initially unsure he would compete due to his ongoing knee injury, but showed encouraging pace once he took to the track at Le Mans to finish in 16th position overall.
Still feeling pain in his left knee following his testing fall at Jerez, the Japanese star was passed fit to compete in FP1 and impressed in dry conditions as he finished the session in 11th spot – less than four tenths off the leader's pace. He was unable to make the laps or progress he wanted in FP2, but remains optimistic about his chances tomorrow.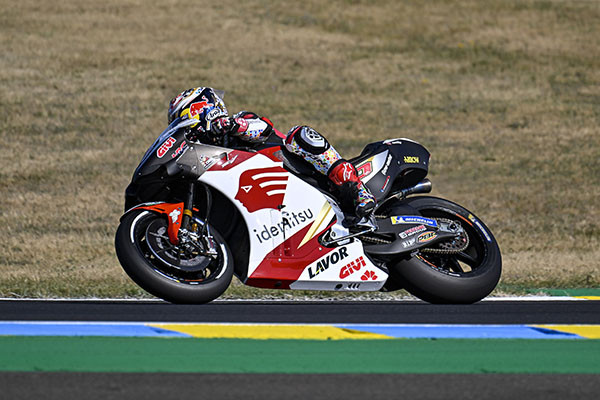 Takaaki Nakagami – 16th
(1'32.165)
"It was a solid first day for us because before the first session I didn't expect that I could ride the bike, so I was quite happy with the result. And then this afternoon in FP2 we had some issues so we couldn't do as many laps as we wanted. But overall, I'm happy because I'm able to ride the bike to a good level and let's see what we can do in tomorrow morning's FP3 session. We'll try to improve the feeling of the bike and I'll have to continue to manage the condition of my knee."
More, from a press release issued by Castrol LCR Honda:
ÁLEX MÁQUEZ AIMING FOR IMPROVEMENT AT LE MANS
Álex Márquez will look to make a step forward when MotoGP action resumes tomorrow after ending the opening day of free practice for the French GP in 19th position. Despite some encouraging signs, the LCR Honda CASTROL rider was unable to put together the lap time he wanted on Friday as round seven of the 2022 World Championship got underway at Le Mans.
Back at a circuit where he finished as runner-up in the premier class in 2020, the Spaniard felt comfortable throughout most of the day, but could not unlock the full potential of his RC213V. Having finished 19th in FP1, a fall then interrupted his momentum in FP2 meaning he had to settle for 18th spot and will now look to push on in Saturday's qualifying.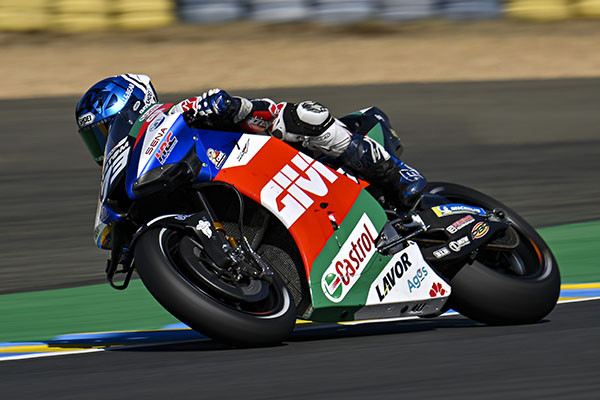 Álex Márquez – 19th
(1'32.505)
"First day here in France and we started ok with a good feeling in the morning, but I made a few mistakes and we weren't able to put one lap together. In the afternoon, we started with good rhythm and were trying to be solid and trying some small things. All the time (we were getting) better and better, it was just when we put on the new tyre I made a mistake on turn seven and had a crash. At that point, with the soft tyre, I wasn't able to improve more, but the feeling is quite good and I just need to improve in various times. Tomorrow it will be important to focus on the riding style to improve my riding lines and make less mistakes."
More, from a press release issued by Aprilia:
ALEIX ESPARGARÓ IS FAST ONCE AGAIN IN LE MANS AND FINISHES THE FIRST DAY OF PRACTICE IN SECOND PLACE
MAVERICK VIÑALES IS CONSISTENTLY AMONG THE LEADERS BUT NOT QUITE IN THE PROVISIONAL TOP TEN AT THE END OF THE SECOND SESSION
Aleix Espargaró is once again among the season protagonists and on the French Le Mans track, traditionally not very friendly to the RS-GP, he finished the day with an outstanding second place that also confirms the solid progress of the Aprilia MotoGP project. Concrete and confident, Aleix was in the top spots from the first session, which he finished in fifth place before doing a brilliant flying lap at the end of FP2. His time of 1'31.350 provisionally puts him straight through to Q2, depending on what happens in tomorrow's sessions.
Maverick Maverick missed the top ten after being with the leaders in the morning session, eighth when the chequered flag came out, and consistently staying in the top spots of the standings. He finished twelfth just 137 thousandths from tenth place and a provisional spot in Q2, since he didn't take advantage of the last run to try and improve his time. If the weather permits, always an unpredictable factor in Northeast France, he'll have FP3 on Saturday morning to make up positions.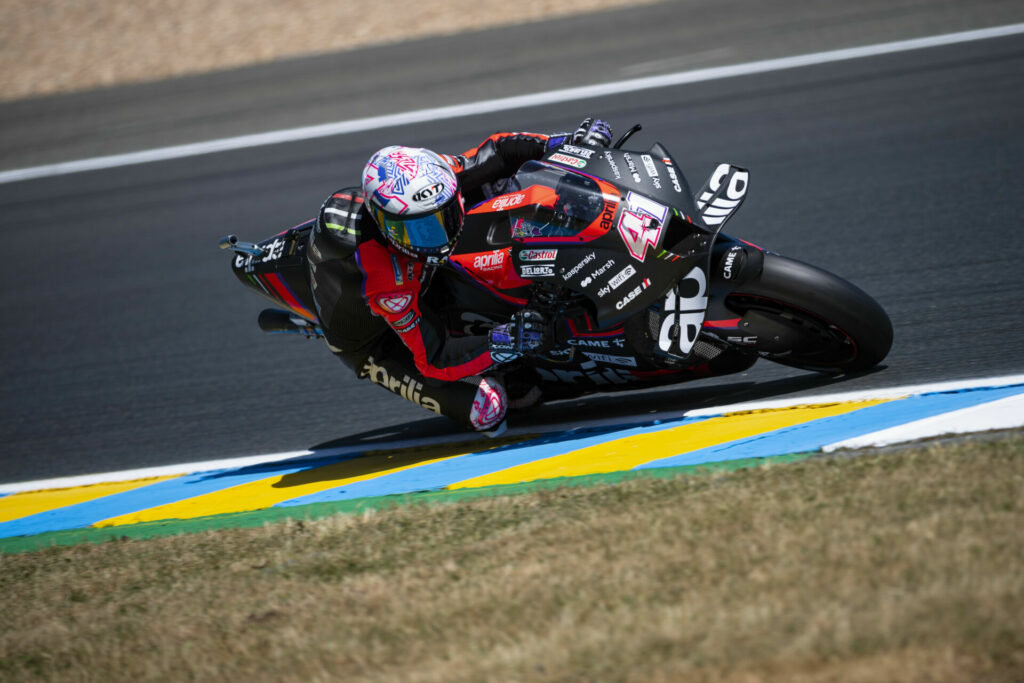 ALEIX ESPARGARÓ
"First of all, I have to say that riding here in Le Mans with this perfect weather and the grandstands full of fans is fantastic. I'm pleased with the day today. I knew I had a much-improved Aprilia but this is historically not a friendly track for me. But things went well and in the time attack on the soft tyre the feeling was maybe even better than in Jerez".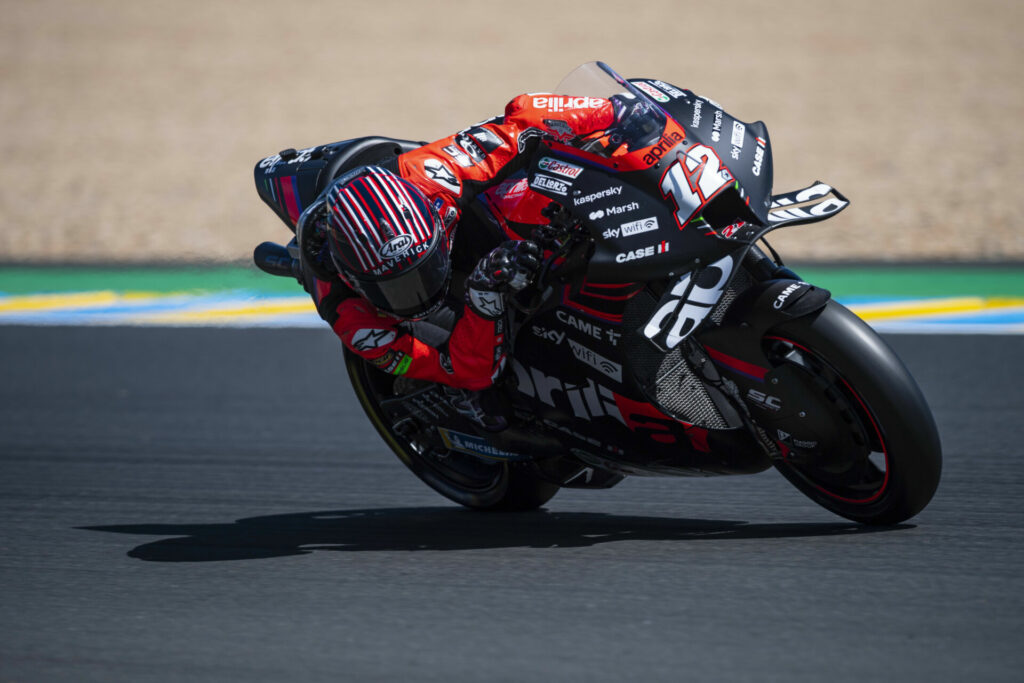 MAVERICK VIÑALES
"Today I managed to be fast straight away, but when I tried to take the next step, I couldn't find the right confidence to push. We're working on that and it's important because if we can find the benefits in the time attack on the soft tyre, our pace will also benefit. It will be important tomorrow to do well in FP3 to go through and compete with the top ten. I'll have to stay focused and give it my all."
More, from a press release issued by Ducati Corse:
Bagnaia ends Friday's free practice of the French GP with the fifth-fastest time overall. Eleventh Miller
Friday's free practice for the French GP, the seventh round of the 2022 MotoGP season scheduled this weekend at the historic Bugatti Circuit in Le Mans, saw good weather with mild temperatures and clear skies throughout the day.
Thanks to the favourable conditions, both Ducati Lenovo Team riders immediately found a good feeling with their Desmosedici GP bikes, progressively improving their lap times throughout the two sessions today. Having closed FP1 in 1:31.893, Bagnaia knocked another 258 thousandths off his best time in FP2, ending his first day at Le Mans with the fifth-fastest time overall. With grip conditions changed since the morning, Miller was one of several riders to suffer a crash in the afternoon. Although he was able to get back on track, several yellow flags displayed in the final minutes of the session meant he could not go beyond the 11th fastest time.
Enea Bastianini ended the day on top as he set a new all-time lap record of 1:31.148 with the Ducati Desmosedici GP of the Gresini Racing team.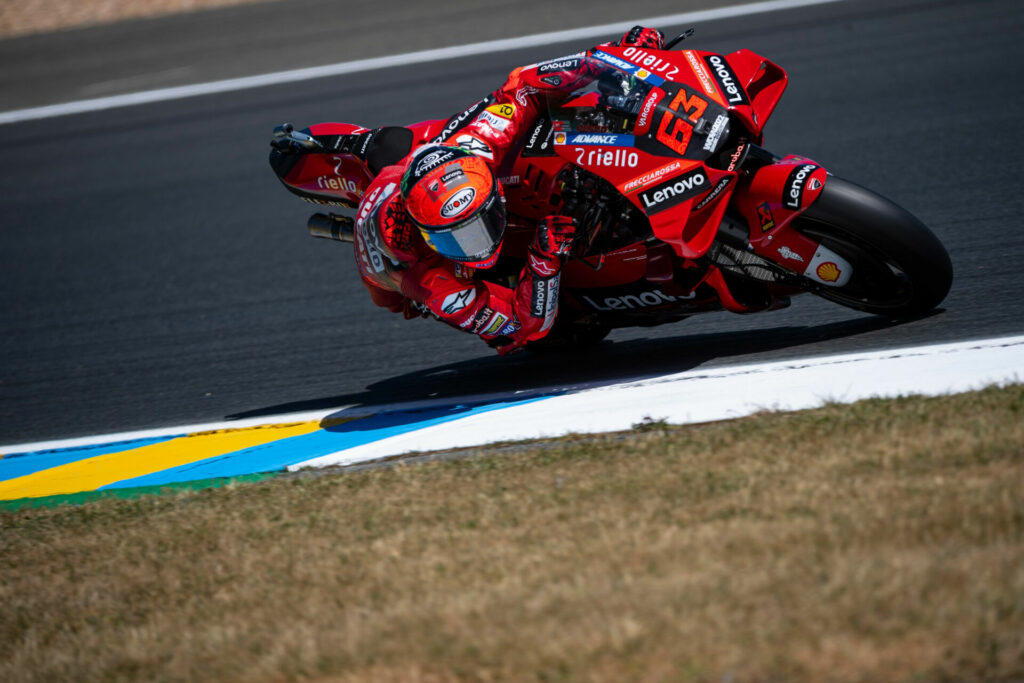 Francesco Bagnaia (#63 Ducati Lenovo Team) – 5th (1:31.635)
"It was a positive day for us. Last year I had some difficulties during the only dry session we had available, but today I was able to be fast and find confidence on the bike straight away. Unfortunately, we couldn't make a proper time attack this afternoon because, in the last four laps, I always found the yellow flags, but in any case, we finished with the fifth-fastest time. I, Aleix Espargaro and Quartararo are the ones with the fastest pace at the moment, but we'll see how the weekend evolves after tomorrow's FP3."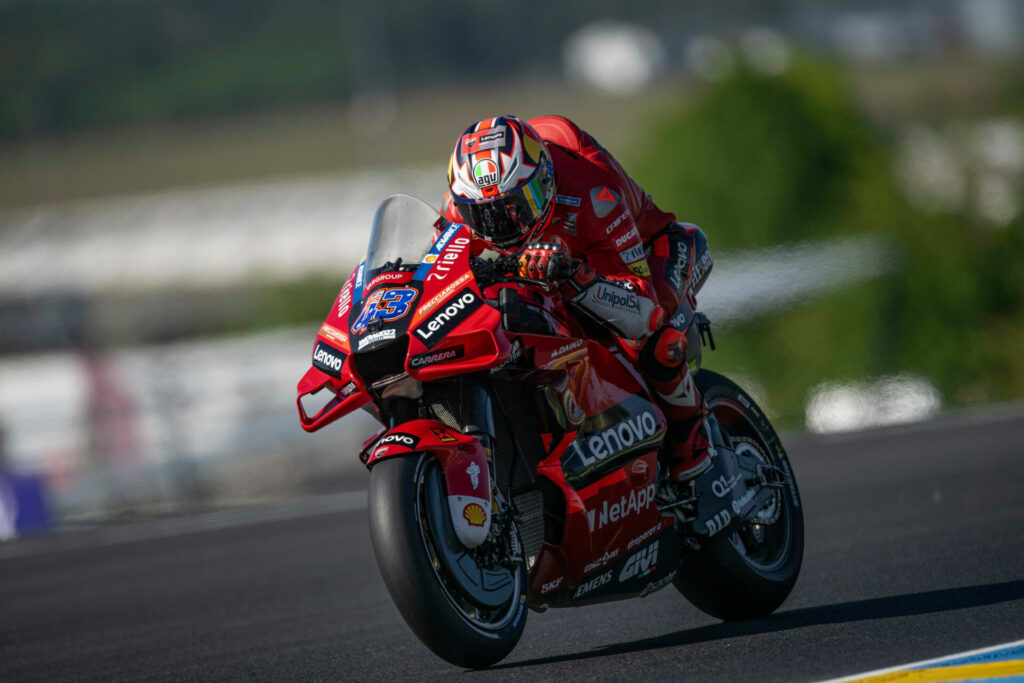 Jack Miller (#43 Ducati Lenovo Team) – 11th (1:31.914)
"Today was warmer than what we are usually used to here at Le Mans, but in any case, I felt comfortable right from this morning. In FP2, I had a crash, and it was very strange: I had the feeling that the grip was good, but probably with the warmer temperatures this afternoon, the conditions changed. Anyway, we have a good pace, which makes me confident ahead of Sunday's race. Unfortunately, we couldn't make a proper time attack this afternoon because of the yellow flags, so the goal tomorrow morning will be to get straight into Q2 in FP3."
The Ducati Lenovo Team riders will be back on track tomorrow at 9:55am for FP3, while French GP qualifying will take place in the afternoon, starting at 2:10pm, at the end of FP4.