More, from a press release issued by Dorna:
Bagnaia denies Rins by just 0.071 as action opens at Mugello
Ducati lead Suzuki lead Yamaha, with KTM stealing some of the spotlight in hot pursuit on Day 1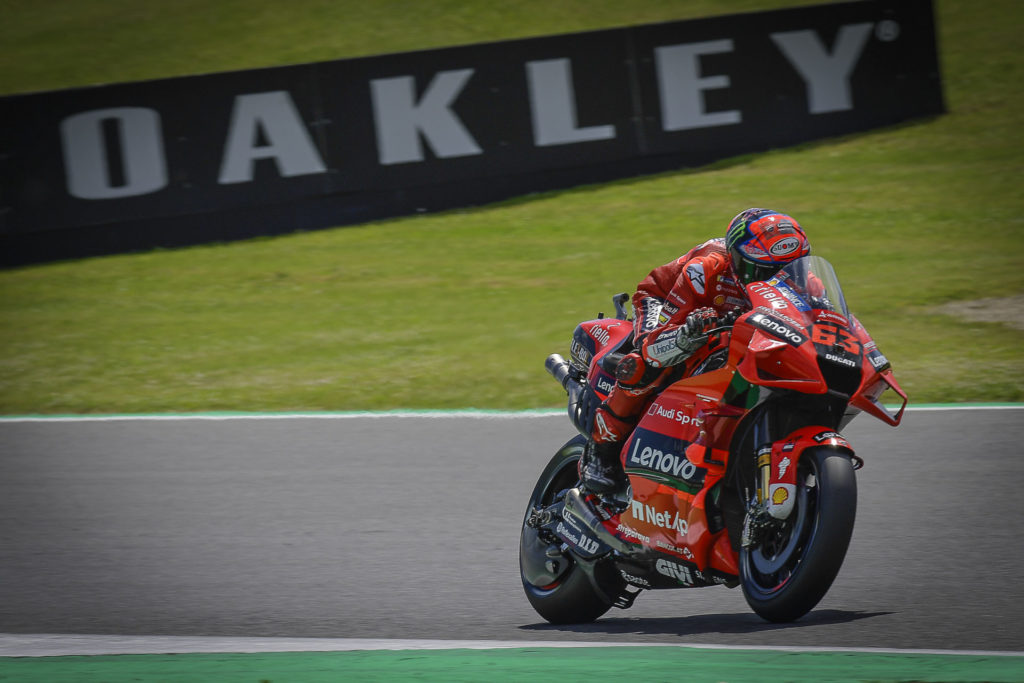 Friday, 28 May 2021
Francesco Bagnaia (Ducati Lenovo Team) is the man to beat after Day 1 of the Gran Premio d'Italia Oakley, the Italian just pipping Alex Rins (Team Suzuki Ecstar) to the top by 0.071 by the end of play. Franco Morbidelli (Petronas Yamaha SRT) continued impressing to lock out the top three and end Friday as the top Independent Team rider, with a sunny day's work at the stunning Autodromo Internazionale del Mugello welcoming MotoGP™ back to Italy.
FP1
The first man at the top was Ducati test rider and, this weekend, Pramac Racing replacement rider Michele Pirro as the Italian was fastest out the box. From there though, Yamaha started to put the hammer down as Maverick Viñales (Monster Energy Yamaha MotoGP) and teammate Fabio Quartararo traded fast laps, pretty close together on track to boot. A new front start device was also spotted on Iwata marque machinery Day 1.
Alex Rins enjoyed a brief stint at the top before Viñales then hit back, the number 12 eventually ending FP1 two tenths clear of Johann Zarco (Pramac Racing). Rins was third ahead of teammate and reigning Champion Joan Mir, with Morbidelli 0.008 further back and Bagnaia only a further 0.002 in arrears.
No one crashed in the session, but Rins did have a run off at Arrabbiata 1, getting straight back onto the track.
FP2
In the afternoon, KTM stole a few headlines. A new chassis first spotted by pitlane reporter Simon Crafar at the Jerez Test was spotted again as the day began, and FP2 saw a show of serious form from the Austrian factory. Bagnaia was fastest first for Ducati, but the Italian was soon deposed by Miguel Oliveira (Red Bull KTM Factory Racing). Brad Binder (Red Bull KTM Factory Racing) hit the top next before Oliveira returned the favour, the Portuguese rider then beating his own best to stay fastest a lap later. And there he stayed for more than half an hour, before the final push – with an eye on Q2 – got underway.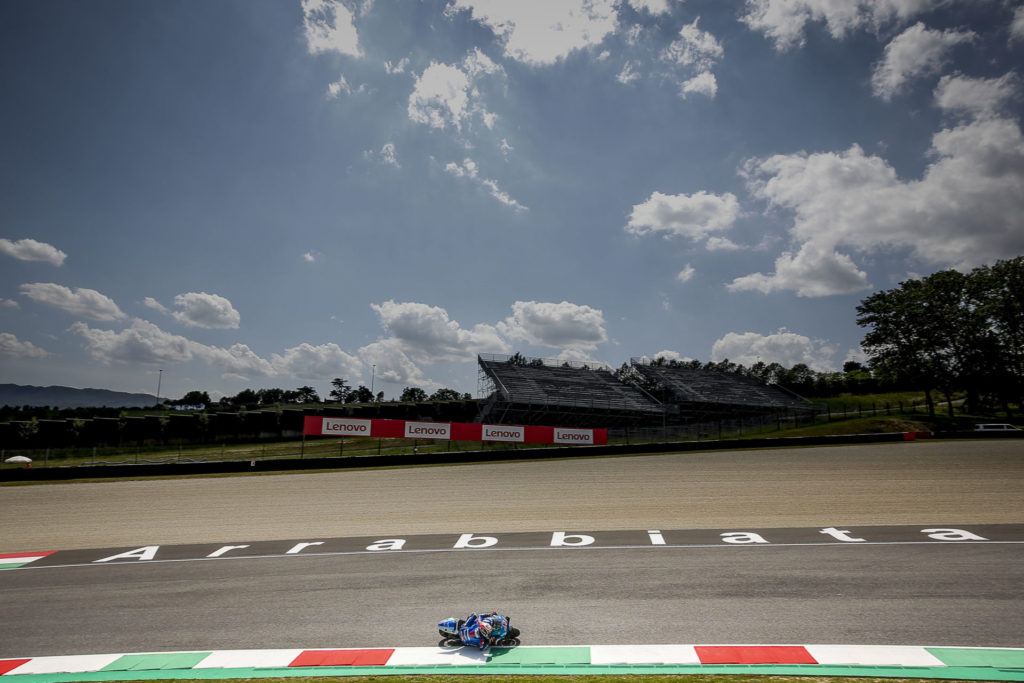 That's when Rins struck to lead the way, but Bagnaia hit back on his last lap of the day to go fastest by less than a tenth. Morbidelli slotted into third, with Quartararo making his way back up to fourth. Binder had one of his best efforts scrubbed for track limits, but the South African was able to get the job done on take two to complete the top five – just pipping his teammate by the flag as the Red Bull KTM Factory Racing form held firm in the face of a concerted onslaught from the rest, taking fifth and sixth.
Once again, no one crashed in the session, although Valentino Rossi (Petronas Yamaha SRT) had an excursion at Turn 1, the 'Doctor' able to rejoin.
Combined timesheets
The majority improved in the afternoon, with the top seven in FP2 – Bagnaia, Rins, Morbidelli, Quartararo, Binder, Oliveira and, in seventh, top Honda Takaaki Nakagami (LCR Honda Idemitsu) – the top seven overall. Eighth place on the combined times is FP1's fastest man Maverick Viñales, with the Spaniard's best in the morning his best overall and absolutely identical to that of Nakagami in FP2.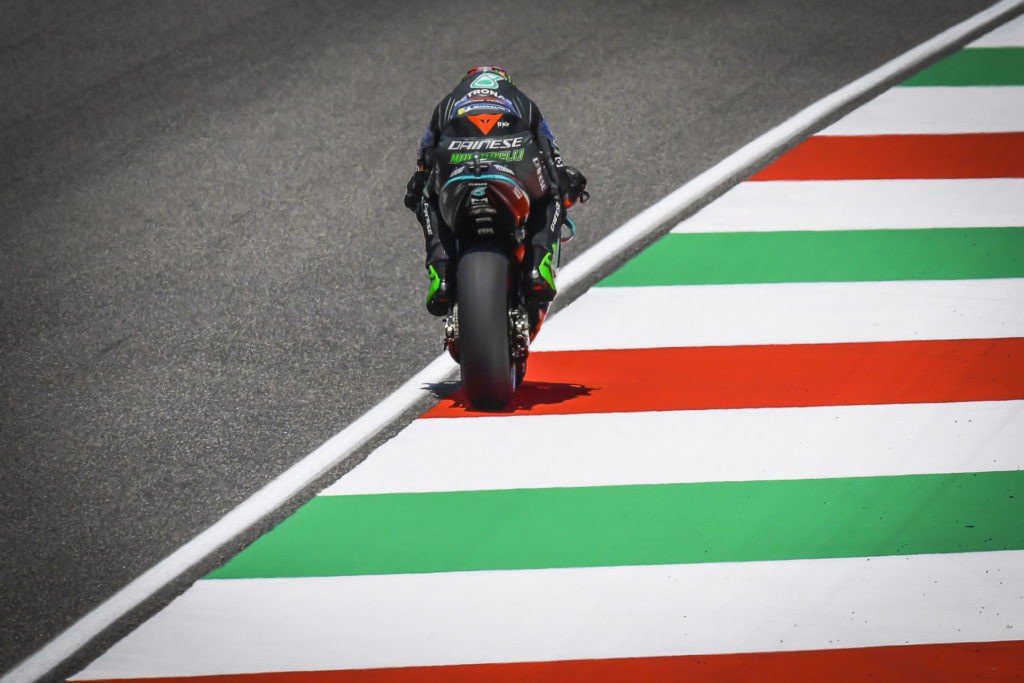 Aleix Espargaro (Aprilia Racing Team Gresini) ends Day 1 in ninth place, with Jerez and Le Mans winner Jack Miller (Ducati Lenovo Team) down in tenth and the second Ducati on the timesheets at a venue many would consider to be increasingly their turf. Miller voiced some frustrations over traffic in FP2 however, something that could mean there's a fair bit more to come in FP3.
Pramac Racing's Johann Zarco (Pramac Racing) is the first looking to reiterate Ducati's recent dominance in Mugello and move up the timesheets in FP3 as he finds himself a tenth outside the Q2 graduation zone on Friday, and by only a tenth. He was the second rider to not improve in the afternoon, along with Viñales.
Reigning Champion Joan Mir (Team Suzuki Ecstar) ends the day down in P12, just ahead of returning eight-time World Champion Marc Marquez (Repsol Honda Team) as the latter takes on one of the fastest and most physical challenges of the season. They'll want to put in a push in FP3, as will Valentino Rossi after a tough day on the timesheets for the 'Doctor' down in P21.
That's it from Friday, with the weather in Tuscany looking a little more stable than that in Le Mans and FP3 likely to give the field a chance to push forward. Tune in for that, before qualifying from 14:10 (GMT +2).
More, from a press release issued by Tech3 KTM Factory Racing:
Tech3 KTM Factory Racing duo kicks off Italian GP with improvements
Sunny Friday started with some decent steps forward for Danilo Petrucci. The latest MotoGP race winner at the Mugello circuit made up 1.19 seconds from FP1 to FP2 today, which also lifted him up from P18 to the top 15 in Free Practice two, although the Italian concluded day one 16th in the overall standings. Yet, he missed out on a possible Q2 entry by just 0.441 seconds in the ultra-competitive premier class field.
On the other side of the Tech3 KTM Factory Racing garage, Iker Lecuona was riding at the famous track in the Tuscan hills for the first time on a MotoGP machine and likewise got closer to the top throughout day one. In FP2, he went 1.205 seconds quicker than this morning, however, there is still room to do further steps in Free Practice three at 9:55 local time on Saturday.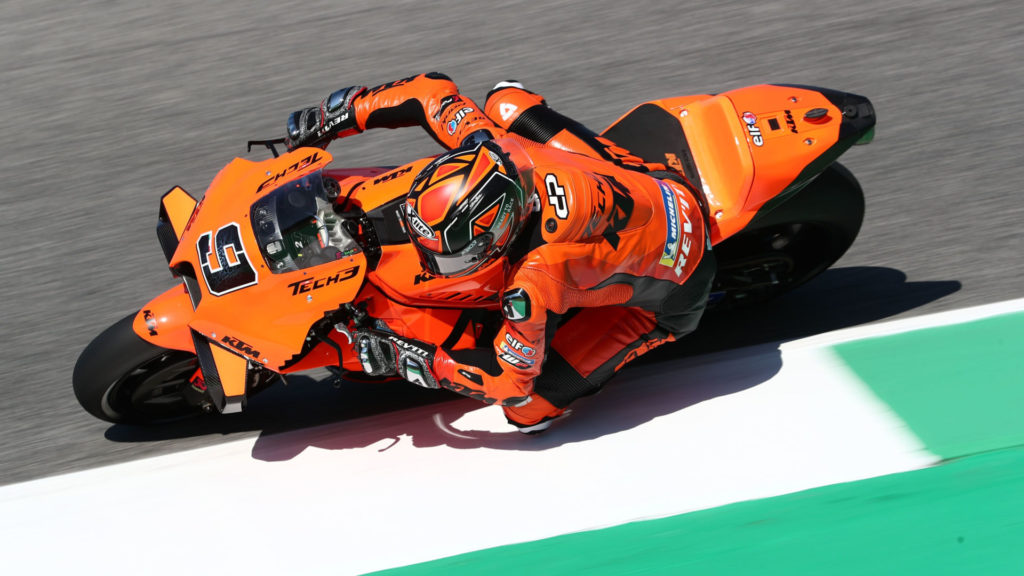 Danilo Petrucci
Position: 16th
Time: 1:47.129
Laps: 37
"It's always a very nice feeling to ride a bike at this track. We did some good progress, but we are still working to find a decent setup. I have the feeling, we already found something good, but we still miss some speed. We will see tomorrow. At least today, we have a clear situation of what we need. The gap to the front is still not as we want. But we have some ideas for tomorrow and we'll hopefully manage to do a good Qualifying."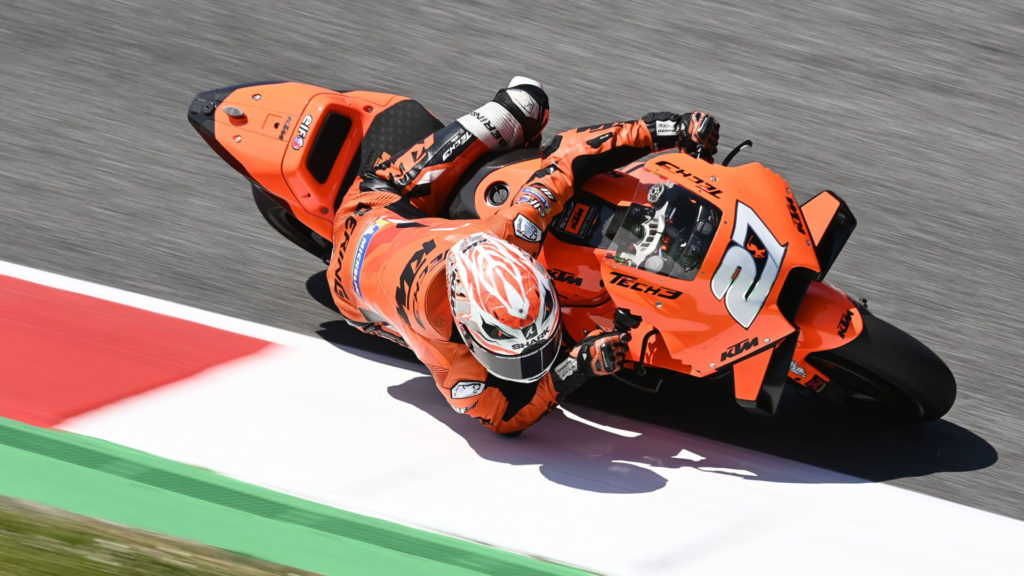 Iker Lecuona
Position: 22nd
Time: 1:47.792
Laps: 34
"I struggled quite a lot today. First of all, it was my debut with the MotoGP bike here, but I also don't have very much experience at this track at all and as it is quite technical, I needed many laps to understand. In FP1, I was pretty lost, took the wrong lines, so I had to improve a lot in FP2. I learned quite well and went way quicker. My fastest lap time was cancelled because I missed the track limits. I don't know exactly where, but it was still ok. We are still far from the top, so I'm not really happy. When I went out alone, I couldn't go faster, so we've got quite some things to do for tomorrow."
More, from a press release issued by SKY Racing Team VR46:
17th PLACE FOR LUCA MARINI AFTER THE FIRST FREE PRACTICES AT MUGELLO
The riders of the Sky VR46 Avintia has a gap of just a second behind the very first guys.
Scarperia (Italy), May 28th 2021 – The Italian weekend at the start for Luca Marini at Mugello which this Sunday will host the ItalianGP. First positive approach on the Tuscan track, favorable to the Ducati of the Sky VR46 Avintia, with a 17th final place in the combined standings of the day of Day1.
Good feelings and an important step forward between the two sessions for Luca who closes with a gap of just a second from the strongest guys (Bagnaia, 1'46.147) and a best lap time of 1'47.154.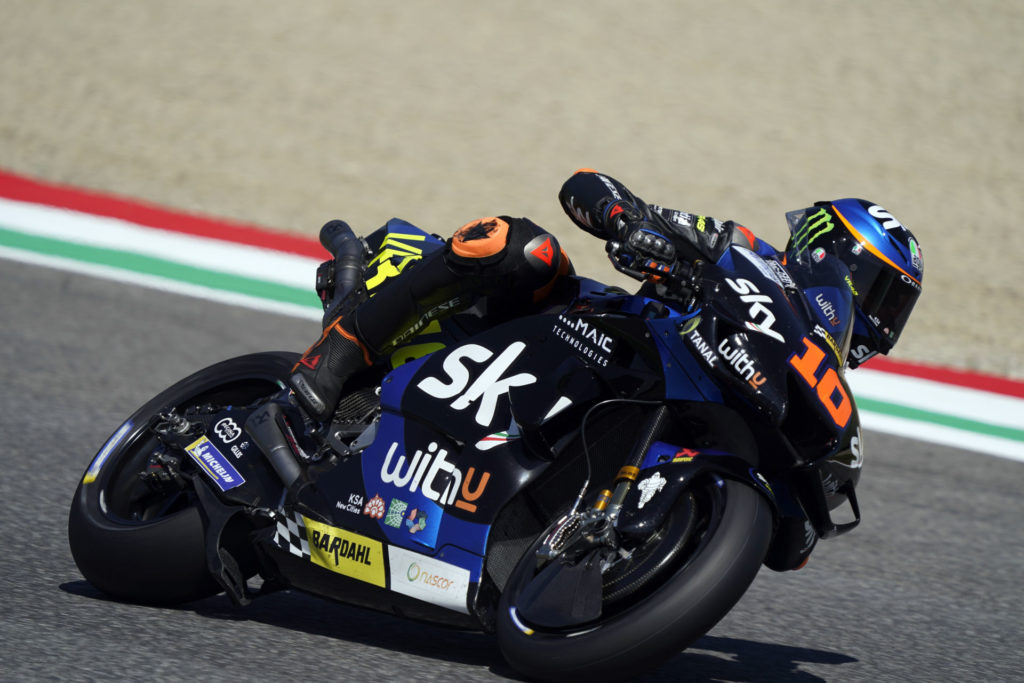 Luca Marini:
An overall positive first day: we have worked well even though I expected to be further ahead in the standings. They have all been really strong, the tires allow us to push hard and for sure tomorrow we will go below the track record. A second of gap from the very first guy is not bad at all, a pity because in the last run nobody wanted to push at 100% and I then put myself in front of everyone. A good step forward also on the setting so now let's focus on the data to be even closer tomorrow.
Ruben Xaus, Team Manager
Perhaps the best Friday since the beginning of the year: managed with solidity and characterised by a suitable temperature. The level is really high, but Luca is not far away and tomorrow I'm sure he will be able to get closer to the Q2. He will continue to work on the data, this is a track where you need to have a good feeling also in terms of electronics and ride with very precise lines.
More, from a press release issued by Esponsorama Racing:
BASTIANINI AND MARINI'S FIRST DAY OF ADAPTATION AT MUGELLO
Mugello (Italy), 28th May 2021
Enea Bastianini and Luca Marini completed the first day of the Gran Premio d'Italia Oakley. Both riders had their first runs with the Ducati Desmosedici GP19 at Mugello and did an intense work on the set-up of their bikes to face the rest of the weekend. At the end of the day Bastianini and Marini were 19th and 17th respectively in the combined sessions results.
Tomorrow the action returns to the Italian track for the third and fourth free practice sessions before qualifying for the Gran Premio d'Italia Oakley.
#23 ENEA BASTIANINI
"It's been a bit of a difficult day to tell the truth. This morning I felt pretty good. This afternoon I tried to keep working and improve, but I didn't feel very good. It was a bit unexpected because we thought we would be better, but it was a set-up problem. By the time we realised the problem it was a bit late and I managed to do only two laps. The important thing is that I improved and we know the direction to work in. Tomorrow I hope to do a good FP3 and try to get a position for Q2"
#10 LUCA MARINI
"An overall positive first day: we worked well even though I was hoping to be further ahead in qualifying. Everyone was really strong; the tires allow you to push hard and I'm sure we'll be under the track record tomorrow. To be one second behind the first is not bad at all, a pity because on the last attempt nobody wanted to push, and I was in front of everyone. A good step forward also in the set-up, so we will focus on the data to be even closer tomorrow"
More, from a press release issued by Pramac Racing:
Italian GP – Positive first day of practice for Johann Zarco and Michele Pirro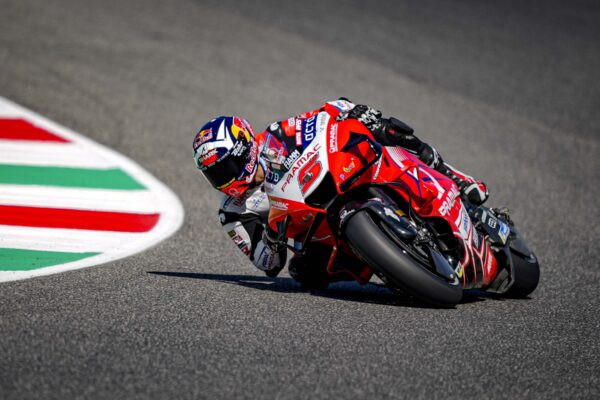 The long-awaited Grand Prix of Italy is finally underway this morning after the first day of free practice sessions. Johann Zarco and Michele Pirro arrive in eleventh and fifteenth place in the combined standings. Johann marked his best time in FP1 – a time of 1:46.802 earns him the second-best time. In FP2 he was not able to express himself as he would have liked to and finished the session in the tenth position. A good performance by Michele Pirro, who ended the first free practice session in seventh place. His personal best lap-time is 1:47.555. In FP2, the Italian rider lowered his morning-session lap-time by 4 tenths. He stands in fourteenth place.
Michele Pirro
I am happy, it has been a good first day. We need to work to improve a few things if we want to take a step forwards tomorrow, but regardless I am truly satisfied.
Johann Zarco
I am very happy with this morning's session; however, I am a bit disappointed to not have been able to lower the lap times in the afternoon. I will take this as a challenge to improve tomorrow morning. I need to be able to make the most out of the bike's potential because on this track, it is extremely fast. If I can find the right solution, it will help me for the rest of the season.
More, from a press release issued by PETRONAS Yamaha Sepang Racing Team:
Third on home GP opening day for Morbidelli at Mugello
Franco Morbidelli begins ItalianGP with third in Free Practice; Valentino Rossi 21st   
The opening day of the Gran Premio d'Italia proved to be a mixed one for home heroes Franco Morbidelli and Valentino Rossi. A masterful lap from Morbidelli around Mugello saw the PETRONAS Yamaha SRT rider end the day third, just 0.184secs shy of first, while team-mate Rossi was 21st.
Morbidelli had a good start to his home GP, staying inside the top-ten during his first few laps of the Mugello circuit in FP1. Dropping outside of this slightly as the session wore on, the Italian put in a series of quicker laps towards the end of the 45 minutes, the fastest of which – 1min 47.184secs – placed him fifth. The start of FP2 saw Franco once again inside the top-ten, however he then chose to focus on a longer run on used tyres. Biding his time until the final moments to complete his time attack, Morbidelli's final lap of 1min 46.331secs saw him jump up the timing screens to end the day third.
Team-mate Rossi also had a strong start to FP1, holding fifth place on the timing screens momentarily. The Italian then had a steadier end to the opening practice session and rounded out FP1 in 17th, with a fastest lap time of 1min 48.302secs. Valentino had a tougher time in FP2 and found himself running wide at Turn 1 on a couple of laps. Opting to try the harder compound tyres in the afternoon session, Rossi was unable to lap at the pace he wanted. Switching to the soft tyre for his final run, his best time of 1min 47.719secs placed him 21st in the combined times.
Tomorrow will see Free Practice 3 begin at 9.55am local time (3.55pm MYT) for the Italian duo, with the first of the MotoGP qualifying sessions due to get underway at 2.10pm local time (8.10pm MYT).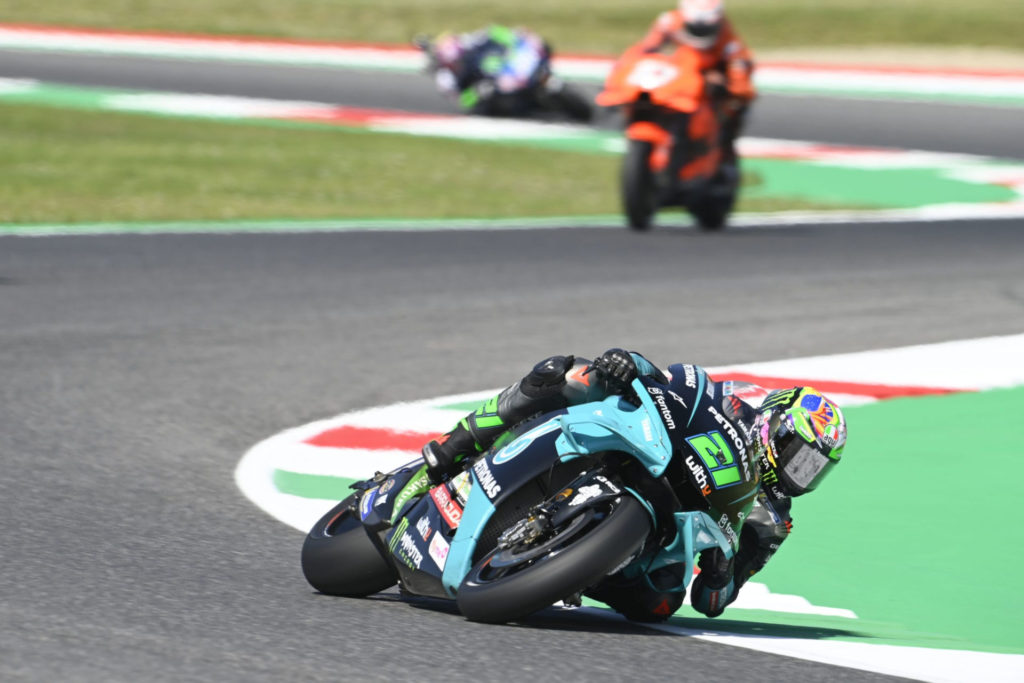 Franco Morbidelli
3rd (1'46.331)
First of all it feels great to be back in Mugello. This track is unique and it is such a huge pleasure to be riding on it again, you always forget how nice it is and it feels even better to be fast here. I was able to do some good laps on used tyres and we were able to understand some more things with the bike. I was also able to do a good lap on the soft tyre and be in the top three. We still need to figure out which tyre we will use in the race, but we have been looking at all the tiny details of the bike and I've been giving my maximum when I ride; I think with this combination we can do well. This home GP has a different feel and there is extra motivation to do well, although it is a big pity that there isn't going to be a big crowd on the hill this weekend.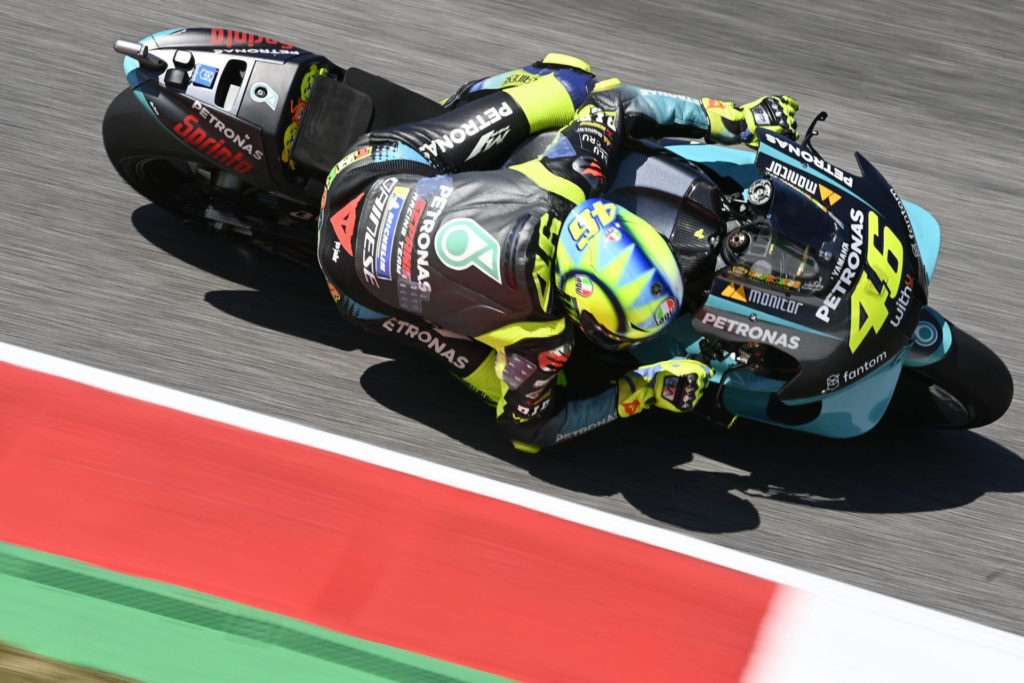 Valentino Rossi
21st (1'47.719)
It was a difficult day, especially in the afternoon. First of all we tried the hard tyres, but that was not the right choice so my pace wasn't the best. At the end I did one lap with the soft tyre and I improved my lap time, but it is not a good position. I had some problems when trying to stop the bike; I was not the quickest when changing direction and I made some mistakes, so tomorrow we need to try something different. We tried the new front start device today too and, although the feeling wasn't perfect, it looks alright for a first test of it. We'll now look at changing the setting of the bike to improve the balance and hopefully be stronger tomorrow.
More, from a press release issued by Repsol Honda:
Nothing to choose between Repsol Honda Team riders on Friday in Mugello
Marc Marquez and Pol Espargaro were hunting improvements on day one as a late charge moved them to 13th and 14th on the overall timings, just 0.013s splitting them as the Gran Premio d'Italia Oakley begins.
The MotoGP World Championship returned to the Mugello circuit for the first time since 2019 as round six of the 2021 season got underway in Tuscany on Friday. Free Practice Friday was held under clear skies with 25°C air temperature and 46°C track temperature, both Marc Marquez and Pol Espargaro able to make the most of available track time on their respective Repsol Honda Team RC213V machines.
It proved to be a trying Friday for Marc Marquez as he worked steadily throughout the day as he worked through his own plan and assessed his condition. Marquez and his team were aware it would not be a straightforward weekend around the 5.2-kilometer-long circuit and his physical condition remained the major limit on Friday. A late fly lap moved the eight-time World Champion up to 13th overall and just 0.013s ahead of his Repsol Honda Team team-mate.
For Pol Espargaro, Friday in Mugello offered the chance to try the Honda RC213V around another new circuit. Cutting almost a full second from his best time between the two practice sessions, Espargaro continues to make improvements with more and more bike time. Grip during corner entry and at high lean angles is the area Espargaro and his team are aiming to improve over the coming sessions. Espargaro remains confident under braking, feeling comfortable and fast through the first sector of the Tuscan track. Alongside his team-mate, Espargaro's final lap of Free Practice 2 proved to be his best of the day as his 1'46.986 placed him 14th overall on the combined times.
Forecasts are predicting similar weather conditions on Saturday which should result in an exciting Free Practice 3 session as the 22-strong field vie for position in the combined top ten. The session is scheduled to begin at 09:55 Local Time.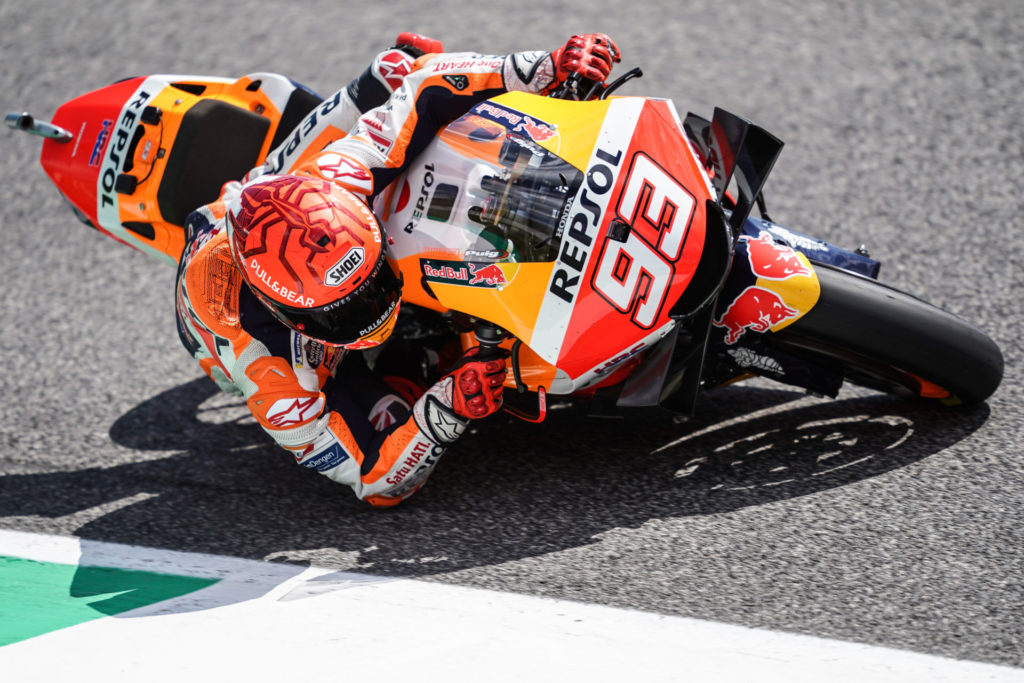 Marc Marquez
13TH  1'46.973
"We did not change the setting of the bike a lot today, we worked more on small things and the position of the bike to help my riding. We need to be patient; I am not riding like I want to be riding and we could understand our limitations quite quickly. I knew it would be a hard weekend before we started. Tomorrow we will see the situation but for the moment we are focusing on ourselves, doing our laps and working on what we need to do. At the end of FP2 we did a bit of a time attack and were able to improve our position a bit."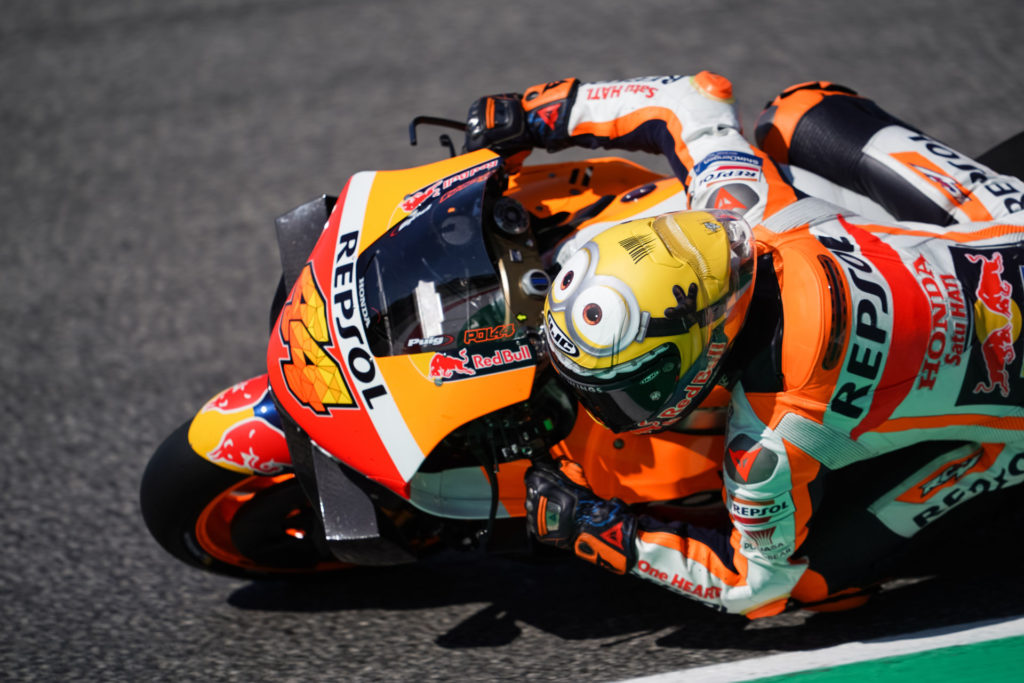 Pol Espargaro
14TH  1'46.986
"Today we were working a lot to improve the grip, we are struggling on corner entry – not on the brakes but on the last part where you release and turn the bike. Also with a lot of lean we are looking for something more. Under braking, the first corner and the first sector I feel good, even if our fastest lap didn't show it. We need to clarify some things for tomorrow and try what's possible. A night for the brain to process everything will help a lot after not coming here last year. Tomorrow we will come back with fresh ideas and more energy."
More, from a press release issued by Monster Energy Yamaha:
MONSTER ENERGY YAMAHA MOTOGP SHOW COMPETITIVE PACE IN MUGELLO ON FRIDAY
Scarperia (Italy), 28th May 2021    
GRAND PRIX OF ITALY
FREE PRACTICE
Monster Energy Yamaha MotoGP's Fabio Quartararo and Maverick Viñales successfully completed the first two free practice sessions at the Autodromo Internazionale del Mugello today. Though traffic on track spoiled their fastest laps in FP2, the pair ended the day in 4th and 8th place respectively in the combined session times.
4th FABIO QUARTARARO 1'46.372 (FP2) / 18 + 18 LAPS
8th MAVERICK VIÑALES 1'46.593 (FP1) / 20 + 21 LAPS
Monster Energy Yamaha MotoGP's Fabio Quartararo and Maverick Viñales were quickly up to speed at the start of the Gran Premio d'Italia Oakley weekend. The duo made the most of the sunny Day-1 track time to get refamiliarised with the technically challenging and physically demanding Autodromo Internazionale del Mugello. They secured the 4th and 8th fastest time respectively in the combined free practice results.
Quartararo didn't linger in the Tuscan sunshine this morning. He soon got into the groove and slotted into first place with a 1'47.566s, set on lap 6/18, making it an early Factory Yamaha 1-2. The Frenchman went on to improve the feeling with his medium rear tyre. His earlier red-hot time kept him in the top 3 for most of FP1, but he ultimately finished in 8th place, 0.973s off the fastest time.
El Diablo was all fired up and ready to make further improvements in FP2. He used most of the session to further fine-tune his bike's settings in preparation for the typical last-minute Friday afternoon shoot-out. Once he had a soft rear tyre fitted, he was on course to take over the top spot. However, heavy traffic on track spoiled his flying lap. On his second try he still managed to better his best morning lap by 1.194s, to take fourth place in the FP2 and the combined timesheets, with a 1'46.372s, 0.225 from the top.
Viñales is known to be a big fan of the Mugello track, and it clearly showed in FP1. The Spaniard was immediately happy with the base setting of his YZR-M1 and soon took over the top spot, before shifting his attention to the race set-up. Top Gun kept on improving and set a 1'46.593s on lap 19/20, to keep hold of first place with a 0.209s advantage over second.
In the afternoon, the number-12 rider focused on race tyre selection. He used the first half of the session to try a hard-hard option and later switched to a hard-medium, that moved him into the provisional top 5. Then with ten minutes remaining, it was time for action in the mini time attack and to change from medium-medium to medium-soft. Viñales was unlucky to hit traffic on track whilst setting red sectors, and he also had a small run off in Turn 9. He had time for two more attempts and wrapped up FP2 with a 1'47,195s lap, that saw him in 17th position, 1.048s from first. However, his fastest morning time kept him in joint seventh place in the combined FP results.
MASSIMO MEREGALLI
TEAM DIRECTOR
The end result of today doesn't actually tell the full story of what we have achieved at Mugello so far. Fabio and Maverick are both really fast here and were feeling quite comfortable with their bikes right from the start of FP1. In FP2, we already spent some time testing different tyre choices for Sunday and we have a good idea of which options we do and do not like. It's positive that the bike is working well, and we are already working on the fine-tuning to achieve a consistent pace for the race. It's a shame that both our riders hit traffic on track when they were on their fast laps. It was unfortunate timing, but it is clear that we have a competitive pace. Tomorrow we will focus on getting a top-10 position in FP3, and then we'll do some further preparations for the race in FP4.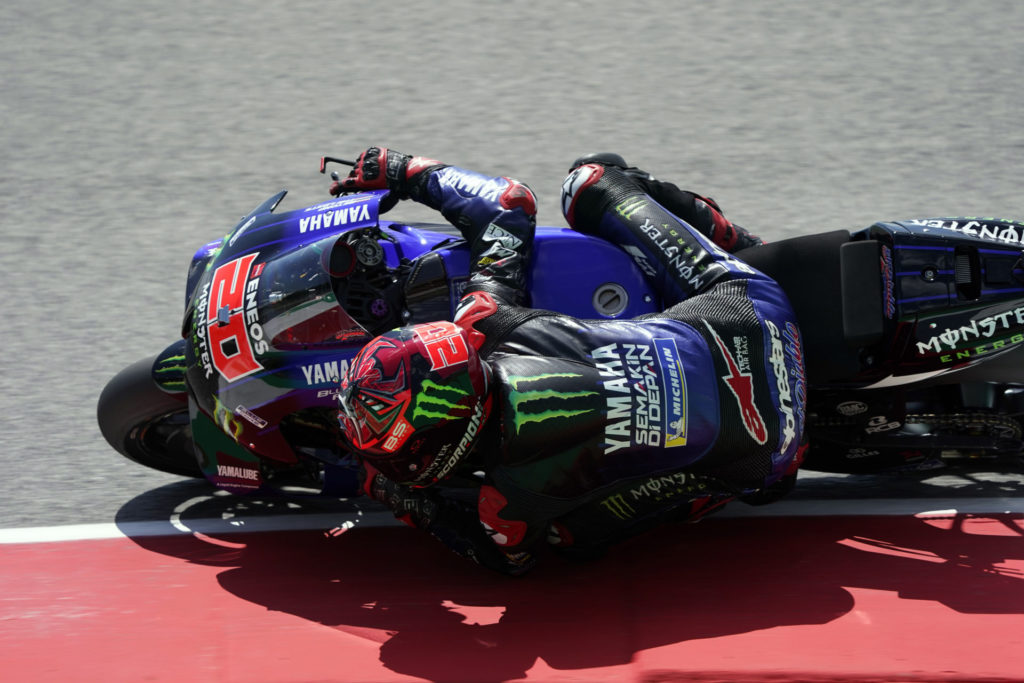 FABIO QUARTARARO
Honestly, I had a bad feeling in the morning with the rear tyre. But this afternoon, with the same compound, I made great laps with great consistency. My second run was really good. I was doing 1'47-low on five laps. Our pace is looking really good, and I'm feeling comfortable. We still have some little things to improve. Things like tweaking the electronics and my riding rather than the setting of the bike. Overall, I'm feeling good, and I think we have great potential at this track. I made a good lap in FP2, but I honestly don't know how, because there were so many riders cruising in sector 1, 3, and 4.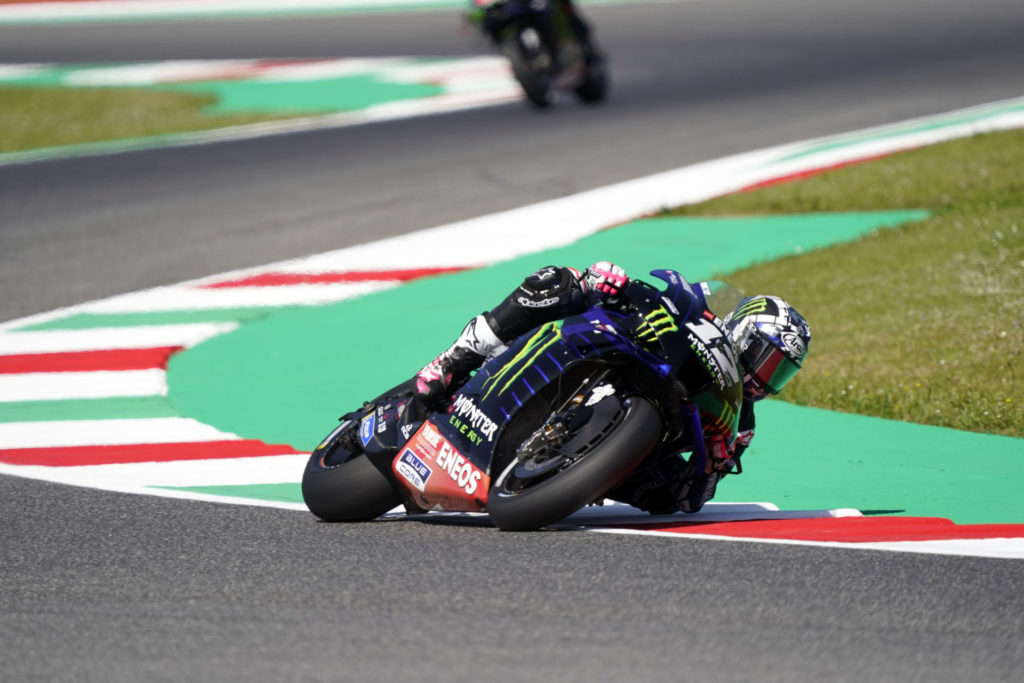 MAVERICK VIÑALES
I felt good straight away in FP1. I just felt really good on the track. I was feeling on point both in the morning and in the afternoon. I think tomorrow we will make a big jump in terms of lap time, because today we didn't do a good time attack. It wasn't good at all, so for sure we can be faster. But, anyway, what's most important is our rhythm, and we are building up the confidence step by step, like in Le Mans, where I felt really good on the first laps of the race. I feel like I had the potential to win there, had it stayed dry. We need to keep going forwards.
More, from a press release issued by LCR Honda Idemitsu:
TAKA SHOWS HIS POTENTIAL ON DAY ONE AT MUGELLO
LCR Honda IDEMITSU rider Takaaki Nakagami made an encouraging start to the Italian Grand Prix as free practice got underway at a sunny Mugello on Friday. The Japanese star finished the day in 7th position on the timesheets and looks on track to progress directly to Q2 when the MotoGP class reconvene for qualifying on Saturday.
Arriving on the back of three successive top-10 finishes, Taka again demonstrated the potential to challenge at the front of the field at what is one of his favourite circuits. The LCR man ended FP1 in 11th spot, but he improved by over a second in FP2 to comfortably break into the top 10 and is confident about his chances this weekend.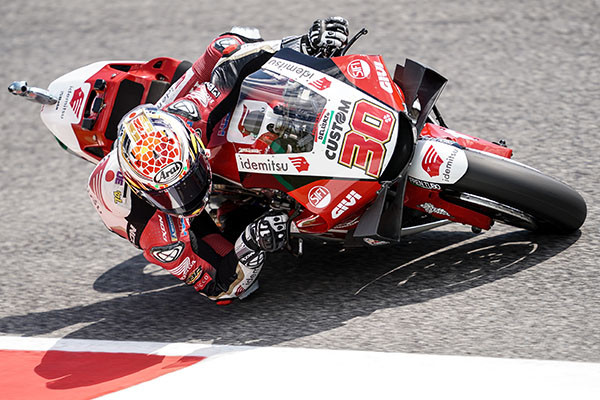 Takaaki Nakagami – 7th
(1'46.593)
"So, in FP2 I was able to follow behind Bagnaia, he was P1 , it was a good distance to be and helped us understand our potential. It was very interesting and I'm happy about our pace as we did many laps in the low 47s which is pretty good. Of course, we need to improve in some areas, especially sector 2, as we didn't have the best performance there and some corners I was not in a good shape. So, we'll try to improve there and prepare for FP3 as we have the potential to fight at the front. I'm confident for tomorrow and let's see what FP3 brings."
More, from a press release issued by Ducati Lenovo Team:
Italian GP. Pecco Bagnaia sets the fastest time at the end of Friday's free practices at Mugello. Tenth place for Jack Miller
Francesco Bagnaia leads the way at the end of Day 1 of free practices for the MotoGP Grand Prix of Italy, the home race of the Ducati Lenovo Team, that is held this weekend on the fascinating ups and downs of the Mugello Circuit. Sixth, at the end of this morning's first run, Pecco was able to put into practice the excellent work done with his team in today's two sessions, as he set the fastest time of the day at the end of FP2 in 1:46.147.
Jack Miller had positive sensations today, as he closed Friday with the tenth time overall in 1:46.688, just 541 thousandths behind his teammate. The Australian rider has focused mainly on fine-tuning his Desmosedici GP, primarily working with the different tyre options available for Sunday's race. With the weather forecasted to be clear tomorrow, Miller aims to attempt his time attack in FP3 to confirm his place in the top ten and move directly into Q2.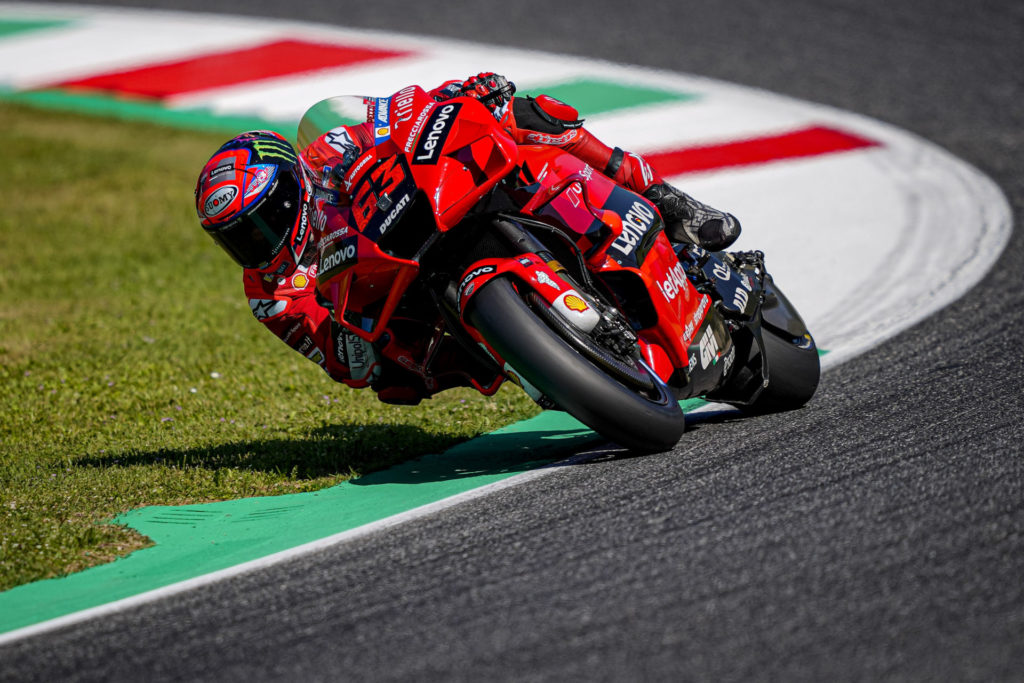 Francesco Bagnaia (#63 Ducati Lenovo Team) – 1st (1:46.147)
"I'm delighted with this first day at Mugello! Compared to previous GPs, here I have felt much more comfortable right from the start! We did a great job on the setup of the Desmosedici, which allowed me to immediately find the feeling with the bike and set my best time ever on this track! The Italian GP is our home race, and it was crucial to get a good start. Tomorrow, after the time-attack in FP3, we'll also have the FP4 session available to confirm some choices and, if we continue in this direction, I'm sure that we can fight for the top positions in the race".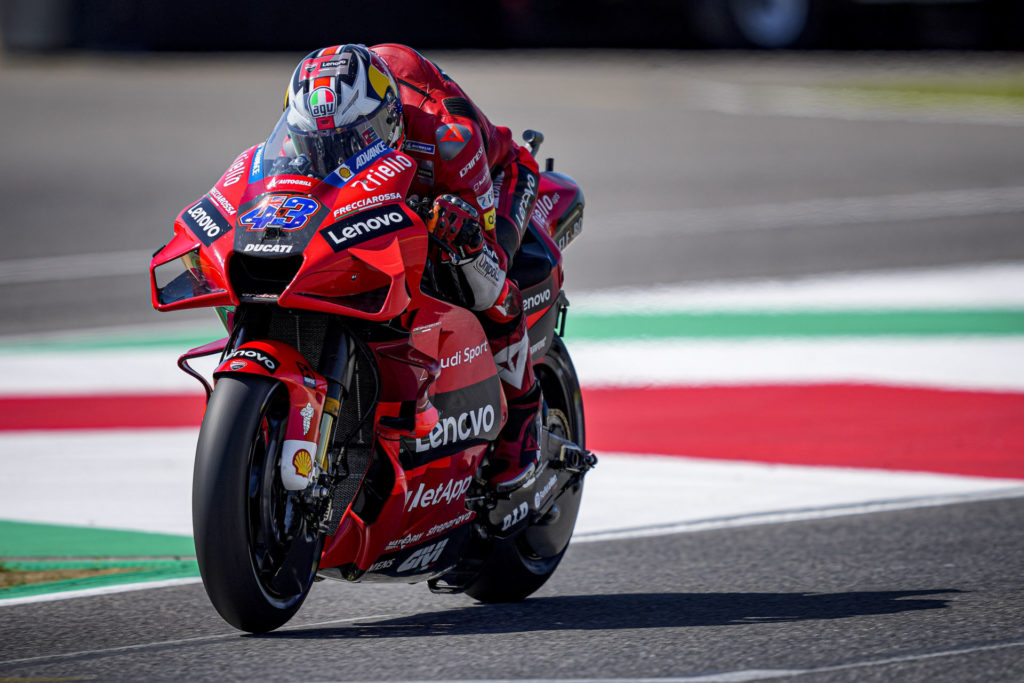 Jack Miller (#43 Ducati Lenovo Team) – 10th (1:46.688)
"It's really nice to finally be back on track at Mugello, a truly fantastic track! Today, we focused mainly on understanding how the three different tyres we have for the race work. We valued the characteristic of each option, also finding the modifications that we need to do on the bike's setup.  Tomorrow in the FP3, I will try my real time attack with the soft tyre to secure a spot directly in Q2. All in all, I'm delighted with this first day here".
The Ducati Lenovo Team will be back on track tomorrow at 9:55 am local time (CEST) for the third free practice session, while qualifying will take place in the afternoon, starting at 2:10 pm, at the end of FP4
More, from a press release issued by LCR Honda Castrol:
ÁLEX MÁRQUEZ LOOKING FOR MORE INTENSITY AT MUGELLO
Álex Márquez is targeting constant progress at the Italian Grand Prix this weekend after his first outing around Mugello on MotoGP machinery. The LCR Honda CASTROL rider improved throughout free practice on Friday, but still has work to do ahead of qualifying after finishing a competitive first day of free practice in 18th.
Round six of the 2021 World Championship got underway with the famous Tuscan circuit bathed in sunshine today. Fresh from his confidence-boosting 6th place at Le Mans, Álex finished FP1 in 19th position – just a tenth behind brother Marc Márquez. He then bettered his time by a second in FP2 as he ended in 18th, but was only a second behind top spot in a typically bunched session.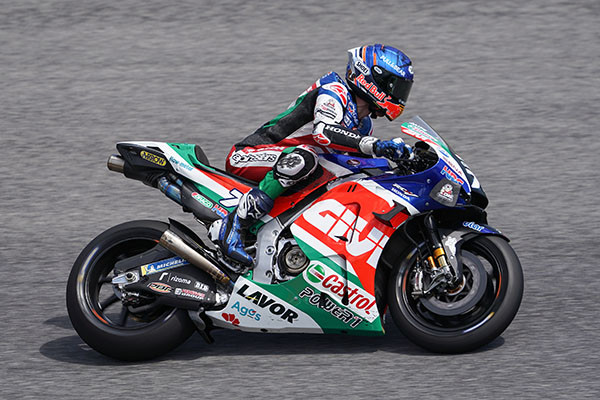 Álex Márquez – 18th
(1'47.326)
"It's the first day at Mugello and first time here on a MotoGP bike. It's a long track, a tricky track and was difficult at the beginning. We made a good step from the morning to the afternoon, but there are still many things to improve. We are only 1.1 seconds behind the top rider, so everything is so close and tomorrow we need to keep pushing and making steps. It's a weekend where we need to make constant progress, so this afternoon I will try to analyse everything to try to improve everywhere or identify which points we need to improve most. Tomorrow from the morning we need to be more competitive and show the intensity we did today in the afternoon."
More, from a press release issued by Team Suzuki ECSTAR:
TEAM SUZUKI ECSTAR KICK OFF MUGELLO WITH STRONG FORM
Italian GP Day 1:
Alex Rins: 2nd – 1'46.218 (+ 0.071)
Joan Mir: 12th – 1'46.847 (+ 0.700)
The lush green hills of Tuscany welcomed Team Suzuki Ecstar and the MotoGP™ World Championship for Round 6 at Mugello circuit.
Alex Rins and Joan Mir quickly found form on the technical and high speed track in the morning, placing themselves in the Top five and bringing their times down lap after lap. The pair closed FP1 in third and fourth respectively, with Rins featuring highly in three out of the four lap sectors.
The afternoon's FP2 saw the mercury rise and the lap times continue to fall. Rins and Mir maintained their good feelings on board their GSX-RRs and were determined to keep themselves within the Top 10. They managed this well, although towards the end of the session Mir didn't have the optimum feeling and he also lost a couple of fast laps due to traffic on the track and he was knocked to 12th in the combined standings. Meanwhile Rins was able to top the session, only slipping to second place right at the last moment, and just +0.071 from first.
Ken Kawauchi – Technical Manager:
"Today went well, a better start than some weekends. As you know, this track has a long straight, so we thought we might struggle a bit, but our base settings are working very well and we're feeling quite confident. Alex got second today and Joan's performance was also good, but he lost some laps when he was stuck in traffic. We're looking forward to tomorrow's FP3, where we're hoping to get direct passage into Q2."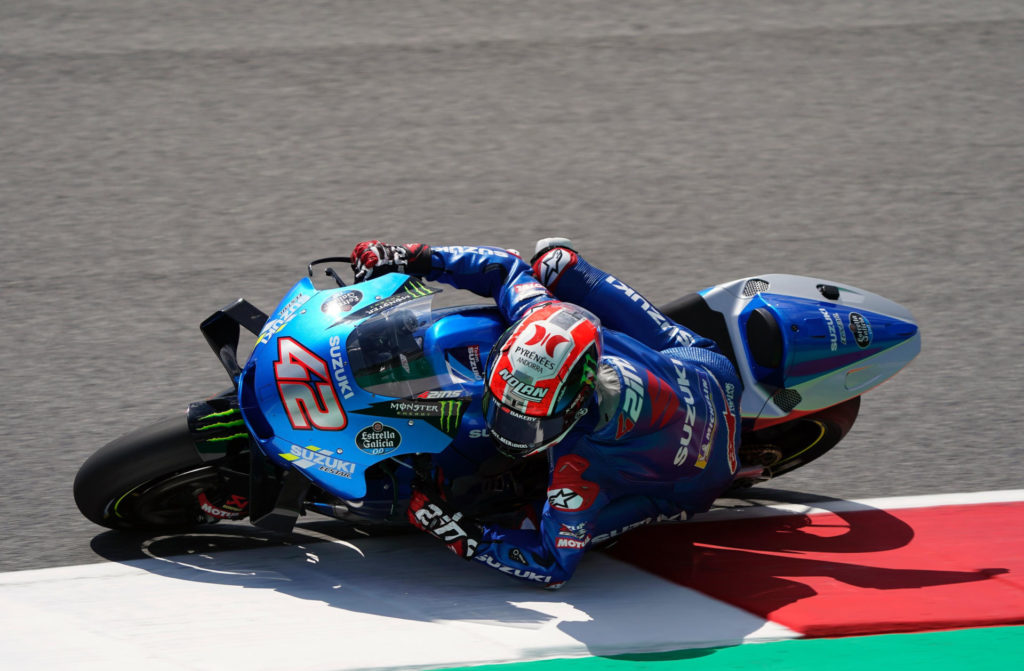 Alex Rins:
"Today was a good and productive day in the office! From FP1 I tried to find the flow needed to get the most out of Mugello. I managed to get that feeling quickly and I felt strong when trying different tyre options. I was able to set good lap times in both sessions, especially in FP2, but we will continue to work because it's sure to be a close race. We've made some improvements in terms of electronics and so far the bike feels good and we feel pretty confident about the coming days."
Joan Mir:
"This track is really special; high speed, hard braking, and fast corners. My feelings are good, and the bike has nice potential here. I feel like I could've finished a bit higher today because I had a few small issues with my setup, and I felt like I was fighting against the bike a bit, I wasn't flowing and smooth. I also lost some laps at the end of FP2 which was a bit frustrating. Tomorrow I'll try to find a better flow and see what I can do, but overall it's been a good day."
More, from a press release issued by Aprilia Gresini Racing:
ALEIX WORKS ON PACE AT MUGELLO AND PLACES IN THE TOP 10
LORENZO ON HIS MAIDEN MOTOGP ROUND AT THE TUSCAN TRACK
At a Mugello racetrack bathed in an almost summer sun, the first day of MotoGP practice got underway. The script was the one we've all become accustomed to for the category: two fiercely competitive sessions, minimum gaps and, in the combined standings, 17 riders all within one second of one another.
Aleix Espargaró work on pace in the morning session, using only one rear tyre and developing his feeling on a track where, although he knows it well, he last competed in 2019. The afternoon FP2 session heated up in the final moments, with repeated time attacks aimed at taking a top-10 placement and, with it, provisional access to the second qualifying session (Q2). Mission accomplished for the Aprilia standard bearer, with a time of 1'46.655, just over one half of a second behind the leader.
Lorenzo Savadori, on the other hand, underwent his "baptism of fire", astride a MotoGP bike for the first time here at Mugello. Therefore, he needed the first day to establish his references, which are vastly different for this category. In any case, the Italian rookie kept the gap down to 1.5 seconds, improving between the morning and afternoon by more than one second.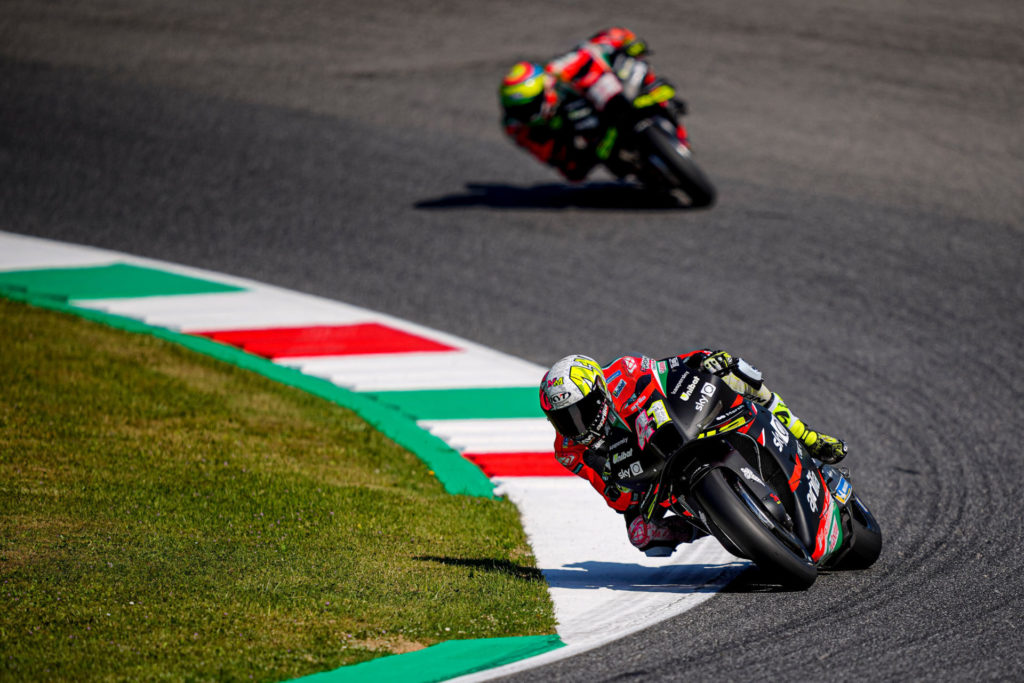 ALEIX ESPARGARO'
"I am satisfied with the way the RS-GP is performing in Mugello. It is definitely an important test bench for our project, which is consistently proving to be competitive. I have never been this fast on this track. I am truly very happy. I had some problems with my right arm which I had surgery on recently. I knew that this would be a demanding track and having the operation was undoubtedly the right decision. We'll be managing the issue over the coming days, but I don't think it will be a limitation."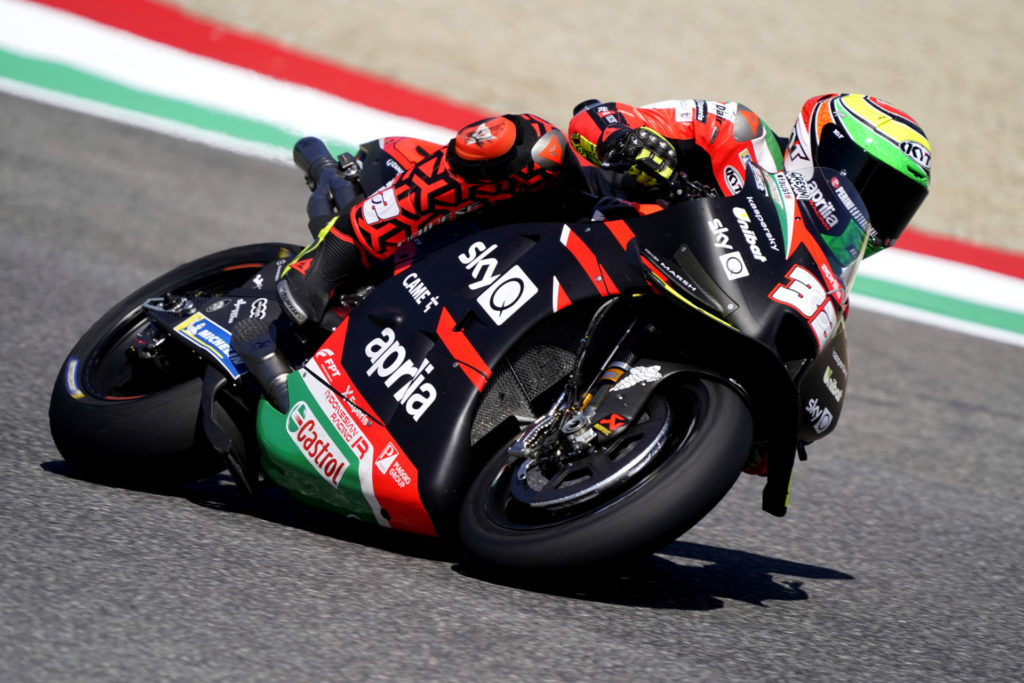 LORENZO SAVADORI
"Turning laps at Mugello with a MotoGP bike is incredible. Not only because of the speed, which is extremely high on the straight, but also because of the way you tackle the braking sections. Personally, I am happy with the way it went. Of course, the right moment to try for good times will be tomorrow morning, but I'm not far from the best. This is also taking into consideration that I made a mistake on the last turn during my attempt with a new tyre, losing a lot of time. I feel like we can improve a bit coming out of turns, but the bike is working extremely well and it is improving constantly."