"I don't know who my biggest rival is!"
The new era begins as the class of 2023 prepare for the first showdown of the season! Here are key photos, quotes, and more from a jam-packed Thursday
Thursday, 23 March 2023
The start of the season is no longer nigh – it's NOW! Thursday at the Grande Premio Tissot de Portugal kicked off a truly historic season of MotoGP™, with plenty happening in and around the Autodromo Internacional do Algarve. The class photos put the focus on the riders ready to thrill us throughout the year, and then a number of press conferences saw some key faces sit down to chat about pre-season and 2023. And that was all after the new titles and music got their world premiere!
PRESS CONFERENCES: Hear from some key players in 2023!
Check out the key quotes from the first THREE press conferences of the year, featuring some familiar faces sure to stand out this season.
The first line-up is Francesco Bagnaia (Ducati Lenovo Team), Fabio Quartararo (Monster Energy Yamaha MotoGP™) and Marc Marquez (Repsol Honda Team).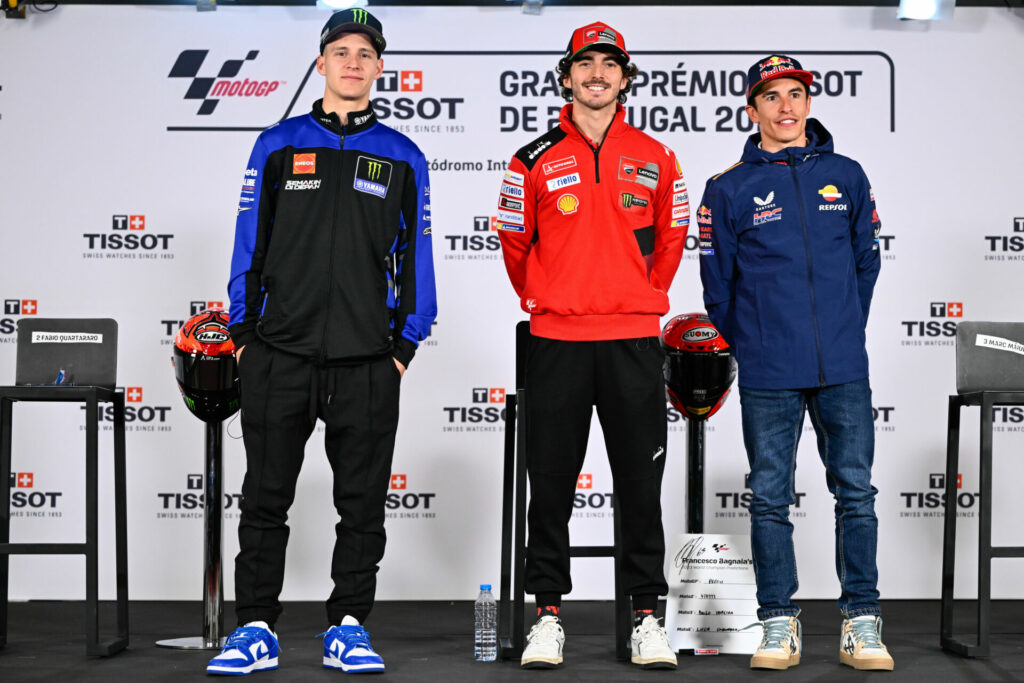 The second saw Enea Bastianini (Ducati Lenovo Team) joined by Aleix Espargaro (Aprilia Racing) and home hero Miguel Oliveira (CryptoData RNF MotoGP™ Team).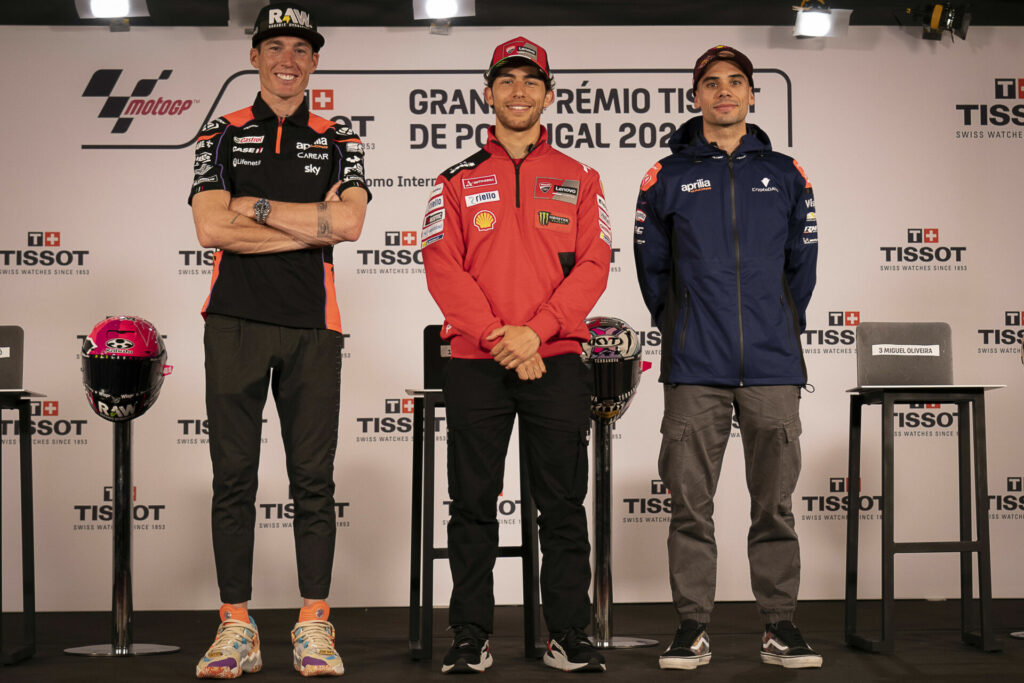 Finally, Jack Miller (Red Bull KTM Factory Racing), Joan Mir (Repsol Honda Team), Johann Zarco (Prima Pramac Racing) and Luca Marini (Mooney VR46 Racing Team) took to the stage!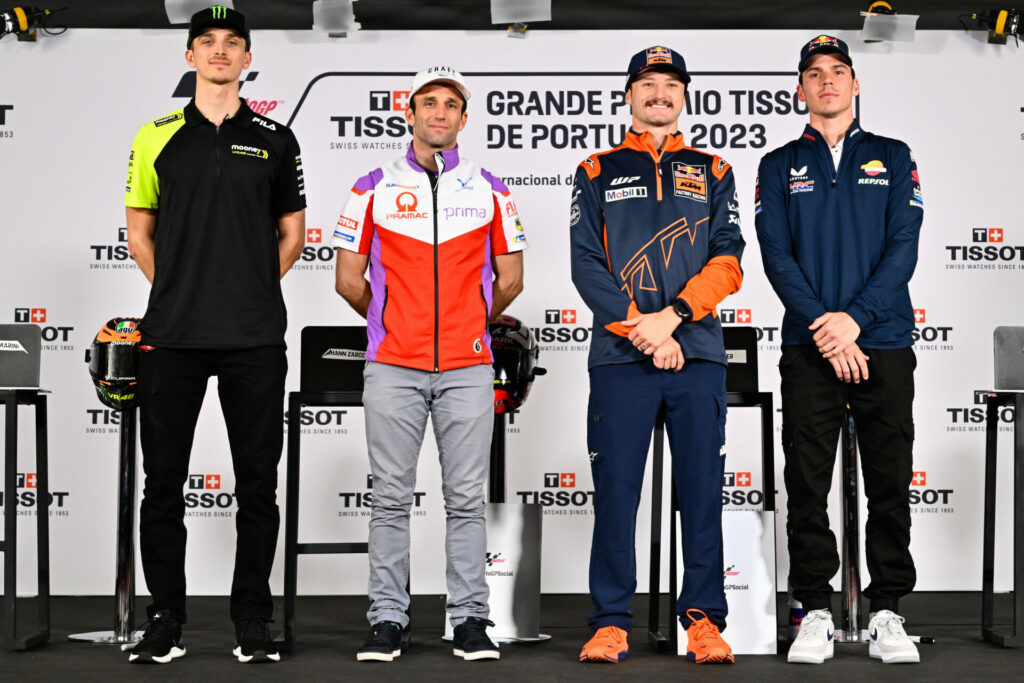 It looked like the perfect preseason, is that how it feels?
PECCO BAGNAIA: "Sincerely, I'm really happy about our preseason, because one year ago we were in trouble at the start of the season, but this year everything went perfectly. We learned from our mistakes so we started better. The new bike suits my riding style better. As soon as I tried it in Malaysia I was feeling great with it, so everything went perfectly, everything went well. Here in the test, we had time to improve our situation and our pace for the race, so at this moment, it's quite clear that we are in a better position compared to the others. I am quite sure that Yamaha, with Fabio on the last day made an incredible step. Marc, I think finished his job on the new bike he will be at the front, just like the Aprilias and just like Enea (Bastianini) on the Ducati. There are many contenders for sure for the first race, but we have to see who will be in front with the new schedule from the start of the weekend."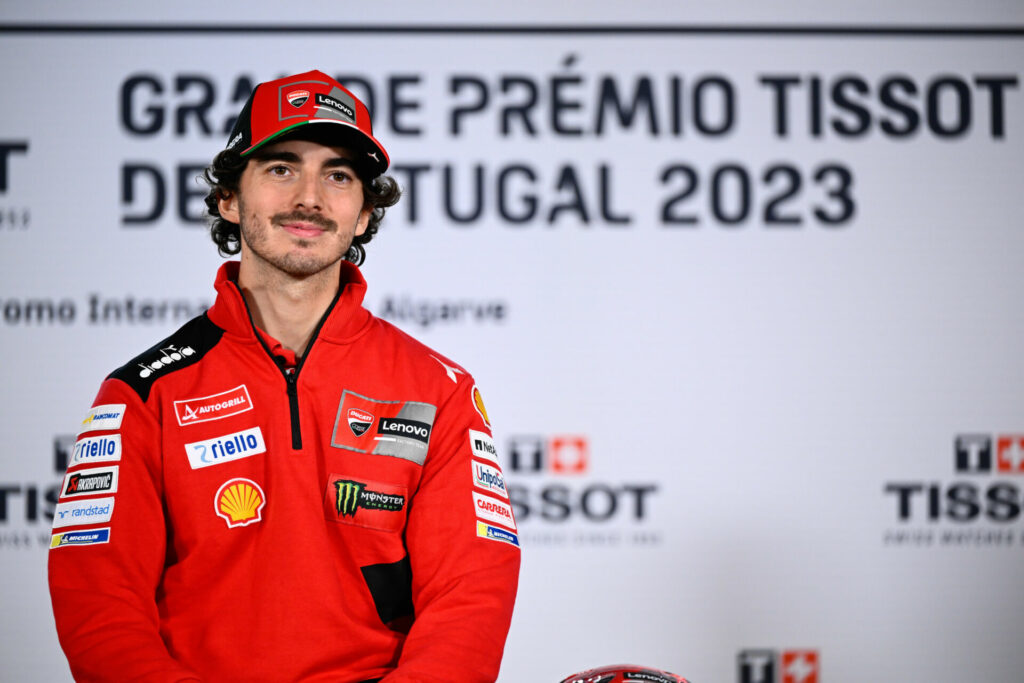 In what area has Ducati helped you improve this year?
"Sincerely, I was missing a bit of edge grip and turning last year. This was because the bike was a mix of things. The 2022 bike wasn't working well so we had to take a step back. But it was a mix of things. It was for sure a very competitive bike, but I was missing something that this year, the engineers have worked hard to give to me. As soon as I tried it in Malaysia I felt a lot better because it was the closest test to the last race. It felt better than the race. Here it was incredible the step we made compared to last year, so it's helping me to have more corner speed and more turning on the fast corners and this is something I was asking for."
How important is it now for you not to relax?
"Since I started watching racing it has only been Marc (Marquez) and Valentino (Rossi) that repeatedly winning the title. For sure I'm working a lot at home and here to do it. Having number 1 for sure is something to respect, and something to give the maximum to maintain it. I'm sure all the riders here want to steal this number from me, but I am quite sure if we work well and if we do everything well we can defend the title. For sure it won't be easy but we are there."
What's your view on people saying you and Enea Bastianini could be the next big rivalry, and how have you found the relationship with Enea so far?
"We are both smart enough to understand that if we work well together in the box, then our performance can grow for the race. For sure, it's a different story because with Jack we know him better as a teammate. But with Enea, we've known each other for a long time, so our relationship off-track is good. It's different because he's never had to do this kind of work in the box with his teammate. But I'm sure for the race we are free to do whatever we want, but for the practice it's important to improve together to have a better position in the race."
How well prepared do you feel for this new season?
FABIO QUARTARARO: "Yeah like you said I think there were a lot of new items, but in the end on the last day, we went back to basics and last year's setup. So actually, we spent four days trying to figure out how the new items are working, and we couldn't figure it out so we went back to last year's setup and went better immediately, so I don't know if it's good or not because we are more or less in the same place as last year. It's a little bit better of course because we have more top speed, but we have to try and work throughout the year to try and improve."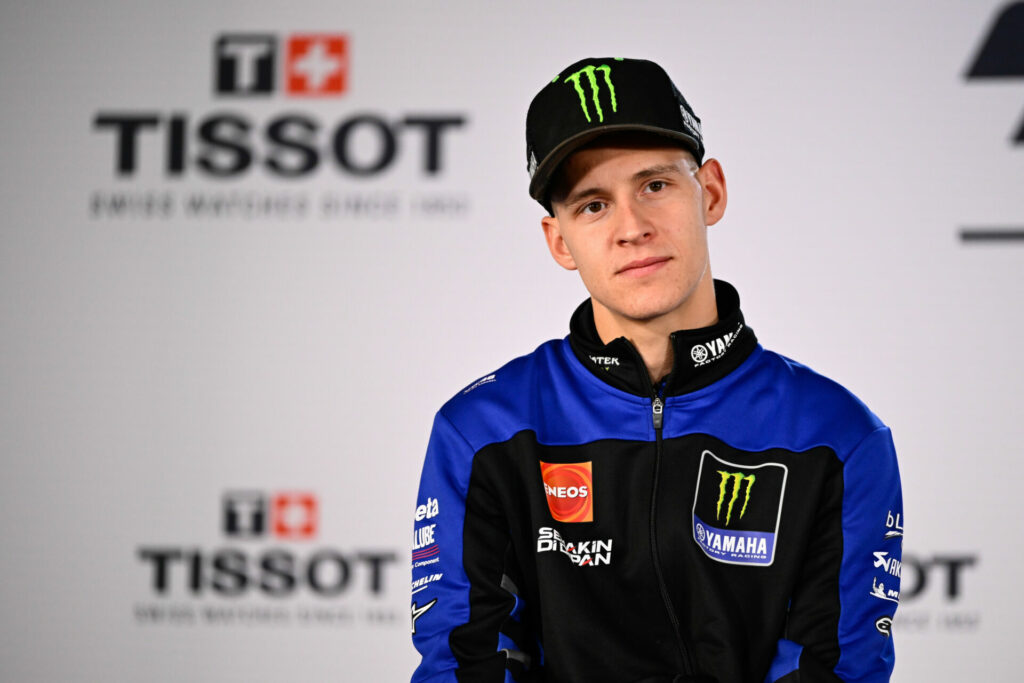 Where do you think Yamaha made the biggest step forward?
"Well basically, the engine. The engine is what I asked for. We've made a step forward, it's still not enough but they've worked hard and I think if they keep going they can improve it. We are still far away from what we have to have on the bike."
Are you confident you've solved the issues you were having with the time attack?
"Actually, during the last day of testing, I was able to make a great lap. I did two laps in a row on the same lap time. We are still lacking compared to Ducati because, on the last day, it was only Ducatis in the top eight. So of course we are lacking but, I think everybody is on the limit and it's all about detail. We have to take steps during the year. I think this is the weak point we had in previous years, as soon as we started the season we had no evolution until the end. I think this year if we want to be on top we need to evolve during the season."
What did you work on yourself that's going to help you beat Pecco and Ducati this year?
"Well you know physically I think I've made a step compared to last year. It's going to be hard I think we have 42 races this year, and I think the main thing is to be ready. I think the intensity this year will be much higher. Also, P2 at the end is one hour but it will be super intense because you have to do a time attack and also prepare for the race so it's going to be intense, also the sprint race. So yeah it's going to be intense and I think physically I have made a step this year."
What's your overall assessment of Honda's preseason and how do you rate your chance of being competitive at the start of the year?
MARC MARQUEZ: "Yeah as you say it was a really busy winter, especially because we changed so many things. We changed the technical director, and then there were new ideas in the box, and then we were just working on concepts. The only day I was working on myself and with the proper bike was the last day in Portimao, even like this we were far from the top guys. So right now we cannot think about a podium or victory, especially here in Portimao. In the end, the championship is long, we are working hard. I need to improve myself. Honda is working, and the team is working. The last day in Portimao was not bad, we were coming closer and closer. On race pace, we were able to be close to the top guys, in the single lap we are still very far especially to the Ducati riders. Let's see. Let's see how it is this weekend, but especially how it will be in the next few races. In the first three or four races you immediately understand if you can fight for the top positions or if you need to keep working to be closer."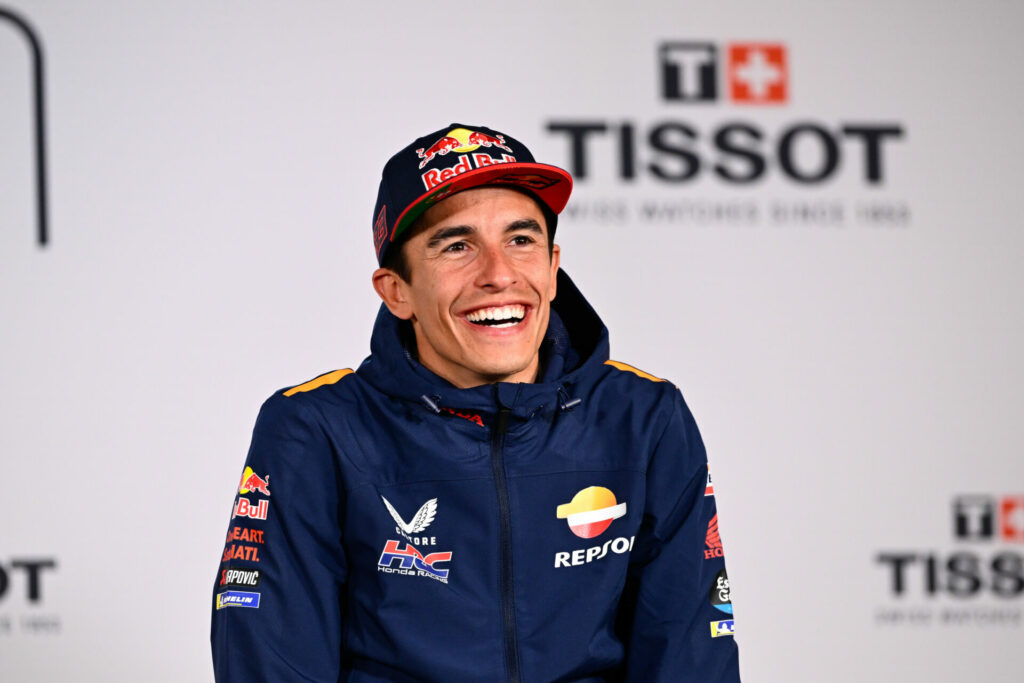 Can you explain what Honda is missing that you need to compete with Ducati?
"It's obvious that Ducati right now has a really strong package. All Ducati riders do, but Pecco is the fastest one. We are far from them but we are even further from Pecco who was incredibly fast in the preseason. We are still working in the garage and on the bike to try to better in the same areas as last year. We need to keep investigating how to improve and be closer to the top guys.
Do you feel Marc Marquez is more ready to win than Honda is?
"No, in the end, we are a team. We win together and we lose together. The last three years have indeed been tough for me, and tough for Honda. We are not coming from the best situation, and for this reason, we are not title contenders right now. We need to keep working, building the project, and trying to be more competitive in the future. But my ambition is the same as it was in 2013. I am here to fight for the top positions. I will do what I can to fight for the top positions. I believe in the project, I believe in Honda. The championship is very long, from one day to another the situation can change as we saw last year with Pecco. He started not so well, with many problems in the preseason but then from one race to another he started achieving a good level and then won many races in a row."
Is this a dream come true, first time racing with the Ducati factory team? 
ENEA BASTIANINI: "I'm very excited now there's the first race. It's good to be in red! I've done a lot of photoshoots! Now it's time for the first practice of the year and I think we've worked well in the test, we're prepared for the first race, and we have the new format with the Sprint on Saturday I think it will be very different, I have to be without a strategy, fast from early on which isn't like my strategy in the GP race. But it's ok! It'll be completely new for everyone so let's see!"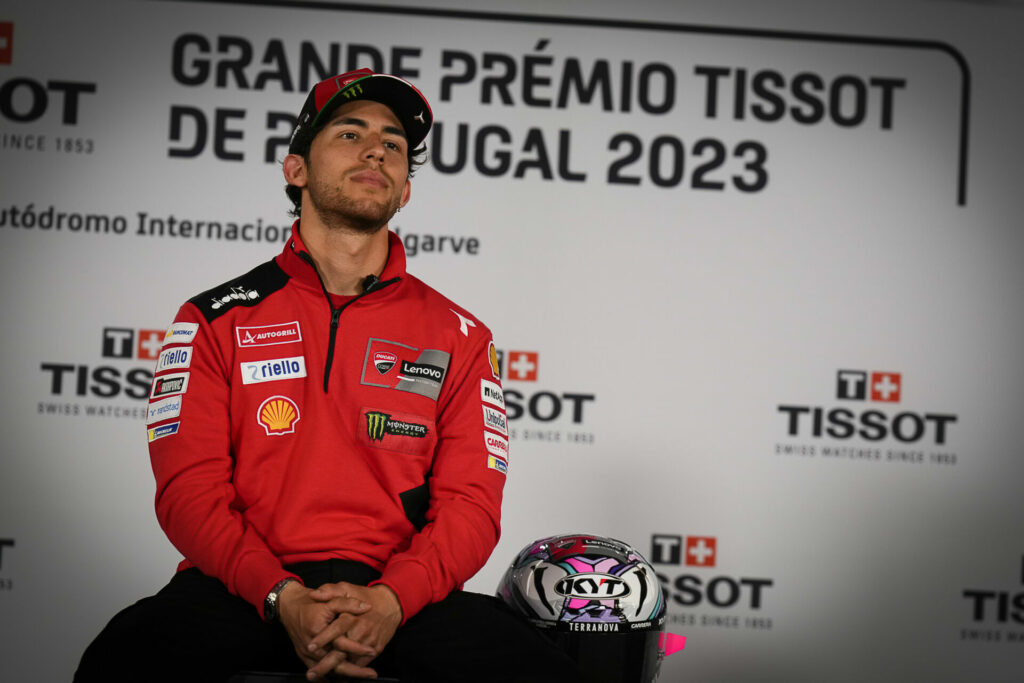 Being a factory rider, how different is it compared to last year?
"Compared to last year, the pressure is quite the same. But I've talked a lot with Ducati, and there are a lot of people, it's not simple but the work in the box is the same. I don't know yet what the approach to the race is like in this new team, but all the team are so relaxed and motivated, I don't think it'll be a problem."
Who do you see as your main rivals?
"I come into this from a beautiful season in 2022, much better than I expected and to do better this year could be more complicated! A lot of Ducati riders are so fast, as we've seen in the test, and many riders have the chance to win the title. All the riders are so, so fast. For the moment I don't know who my biggest rival is, but I think my first rival is Pecco. The number 1 on the fairing… I have to learn from him, especially at the start, to try and do something better."
Starting with surgery, how is the recovery and are you close to 100% fit? 
ALEIX ESPARGARO: "I feel perfect, the stitches could be a problem, tight, but I'm ok. I was quite worried after the test because I couldn't really understand what was going on, I had no strength in my hand and it wasn't like normal symptoms. I spent a day doing tests at the hospital, and finally we decided to operate and it was a good decision because immediately the day after I felt much better. Happy! It was tight but I'm here, I feel good… so I'm ready."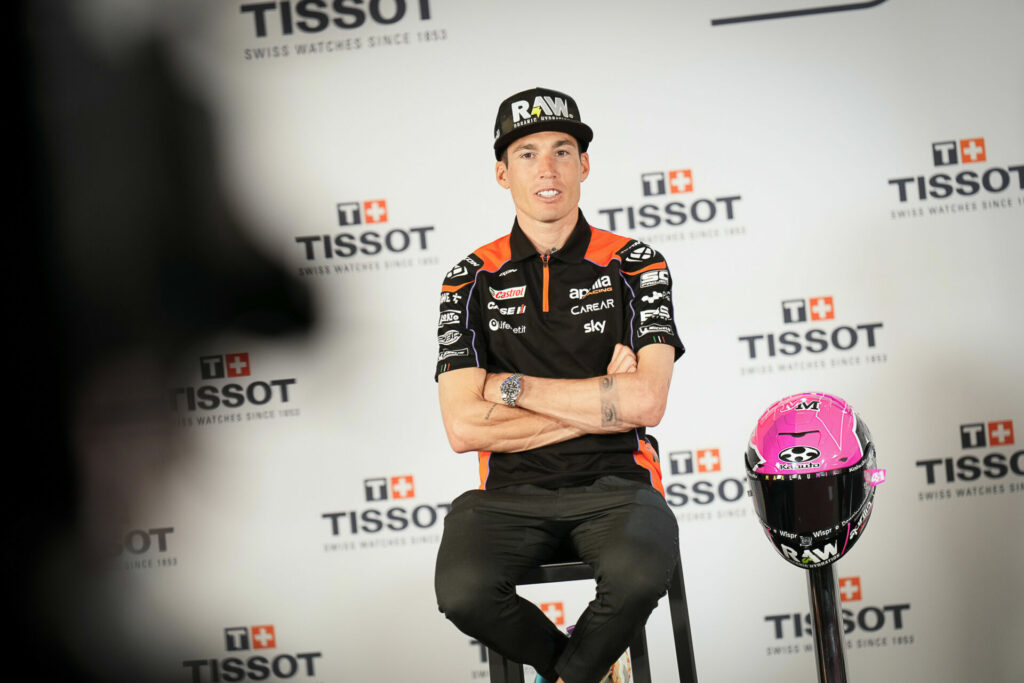 What are the key improvements to the RS-GP for this year?
"The 23 bike is not a revolution but it's an evolution of what we were missing last season. We have some extra horsepower, aerodynamics are a bit better, the cooling of the bike  – which was a problem at a lot of GPs – has been improved as well. I felt immediately the bike was one step more competitive but sometimes you have to wait for the race because sometimes it doesn't always depend on you – if you improve one step but the rest improve three, it means the bike is worse than last year! So we have to wait and see. But the pre-season has been good so far, I felt competitive, really good. Testing is testing but we're ready."
Does an amazing 2022 bring more expectation and pressure for this season, or do you feel you've got the experience now to handle it?
"It's a mix of both. I obviously felt more confidence, and more ready than ever in my career, but on the other hand I know everything was good, we were surprised and now we have to carry this extra pressure. But it's ok. Last year was a fantastic year, unfortunately with a technical problem in Valencia I lost third place to my friend Enea! but it was racing, it was a fantastic year, really good memories and hopefully 2023 can be even better."
On the documentary taking fans behind the scenes with Aprilia and their team radio:
"I really recommend everyone to watch the documentary. I really enjoyed it! When you're riding you don't really realise how high the tension is, how hectic those moments are. But when I watched it at home it's great to see it from another point of view. It was a good day for me because I came from two crashes and made it to Q2, qualified on the second row and finished on the podium… a good one!"
On the Sprint:
"I'm really excited, we've talked a lot about the Sprint and we'll try and organise as best we can. But at the end of the day you have to try it and see! The second will be better than the first, the third even better… step by step. But I really can't wait to try and see! Last year also, Friday wasn't too important but this year it could be very important. So you have to wake up more aggressive on Friday morning!"
New team, new challenge… you must feel very motivated! 
MIGUEL OLIVEIRA: "Yeah exactly! That's the main word. Motivated. Coming from a different environment the last four years into new colours, trying a new bike, it's quite exciting. For different reasons! Changing to Aprilia, and I get to race the opening round in my home country. Being the only Portuguese rider has its weight! It's exciting times and I hopefully the weekend can be a good one: just enjoy it and have fun during the races, and hopefully the result will be what it needs to be.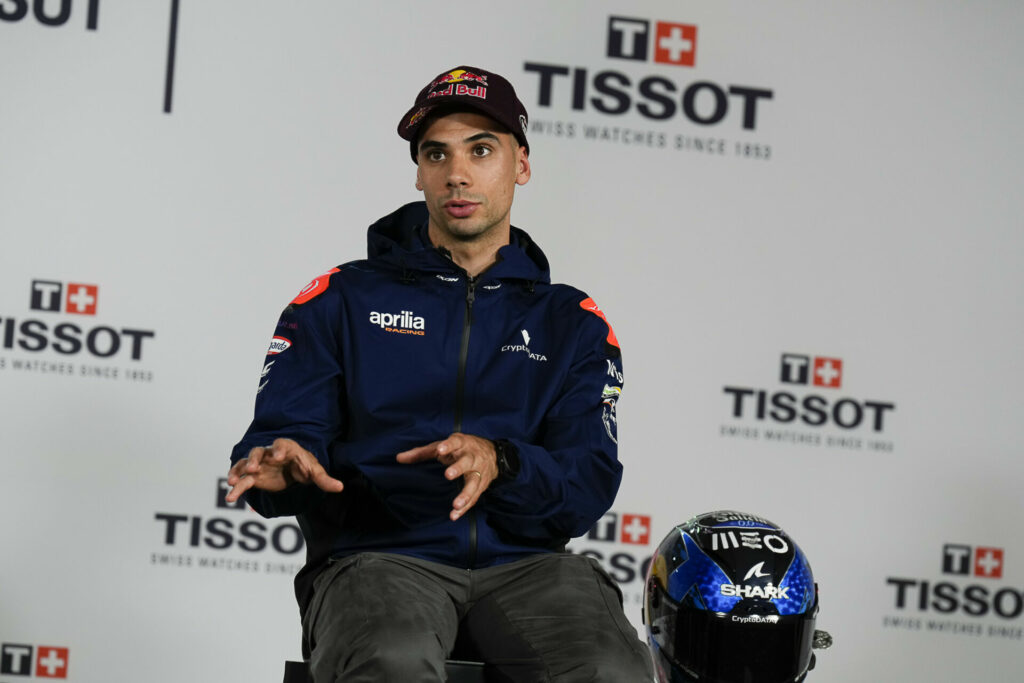 How's the adaptation going?
"Like any progress, you have days you feel it's going really well, and days you feel you get stuck and hit a wall, and it's hard to improve. But I'd say it's a normal adaptation. I had to change my riding style a bit but not too much, which is always good, but there are still some things where I'm not 100% comfortable. I can push but I don't know the bike quite well… it's something that in five days would be too much to ask, to know. And we will get to know it better during the GPs!"
Do you think fighting at the front for podiums is a realistic target?
"I think the idea is always to beat the other riders with the same machine, and we know Aprilia Factory Racing has an upgraded version of this bike which is a little better, but I think our target now is to enjoy and really explore what we have in our hands rather than starting to think about too many new things. They'd be welcome! But the factory team has to first validate and maximise their packages. I'm not worried about that, I just want to get the best out of what I have now."
On the Sprint:
"I don't know what to think at the moment! I think it could depend where we qualify. At the end of the day, there are points but not a lot, you risk, but what's the risk or reward, and it doesn't change the grid. I think we'll all discover what they really mean after the weekend."
Are you ready to race?
JACK MILLER: "We are ready as we can be. I was just sitting up here discussing with Johann how the winter testing went. It's always different when you're changing manufacturers there are a lot of things you need to learn, and a lot of things you need to understand and make that bike your own. We're as good as we can be after let's say five days of testing. The 1 day at the end of the year last year didn't do much, because you sort of forget pretty much everything you learned on that day throughout the winter break. The test in Sepang was good. The test here was good as well, we can make some decent strides in the 2nd day. I'm as ready as anyone to go racing, I think we've all got that itch to get back amongst it. It's been a long winter break, but it's been good to have a bit of downtime ahead of what's going to be a pretty hectic and stressful season."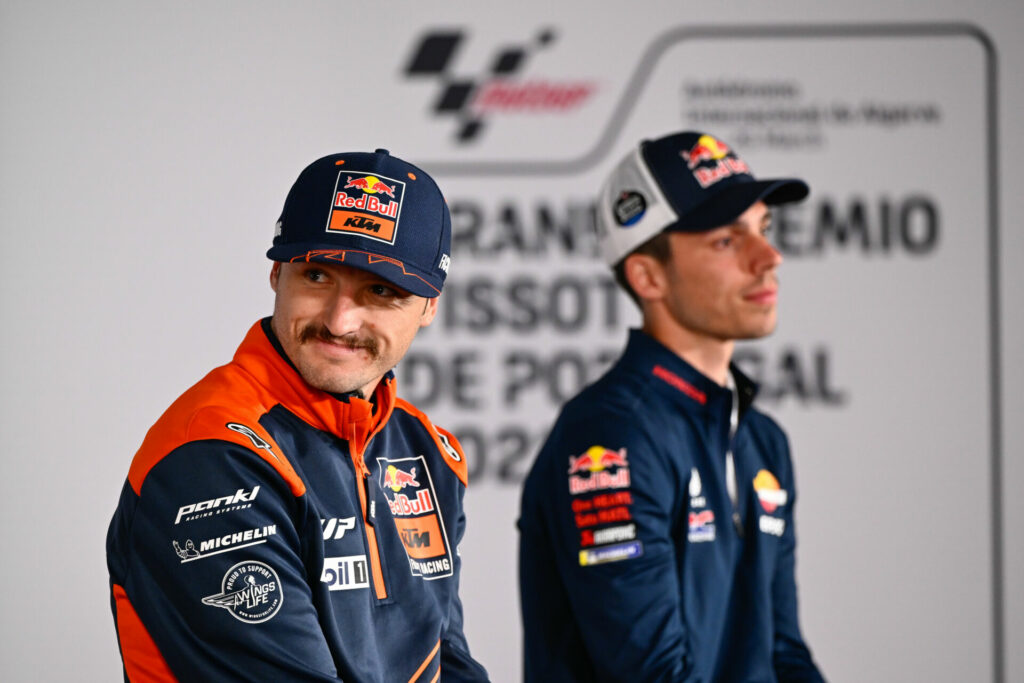 What are the strengths of this KTM concept?
"I'm finding them out more and more each and every time I ride the bike. Using the steel chassis is a different concept. It's something that they've stuck to and it's done them great things in the lower classes as well as winning multiple races in MotoGP I definitely something that can work. Changing suspension manufacturer after so many years on the same stuff, having to learn your spring rates and what type of valving you want, and so on. It's been busy but it's been good, I've embraced the challenge. It's been a lot of work. Then it was just trying to understand the philosophy of the bike and understand how the electronics work and tailor them to my needs and try to understand all that we could in the five days that we had and make the necessary adjustments. We'd all like another couple more days of testing but at the end of the day you've got to get out there and get racing, and that's all we're here for. I think once you've got set time limits and so on, that's when the real magic happens with the bike. We've got a decent base set together, so now it's just polishing it up throughout P1 and P2."
Do you think KTM can still work on acceleration to be more like Ducati?
"We've got our really strong points with KTM, and the new engine package for this year seems to be a massive improvement in terms of its rideability of it and the smoothness of the power curve. We've made a massive step in the right direction on that front. I think the new package has lots of potential, it's just managing to unlock that potential. I've jumped off one of the better bikes on the grid, if not the best bike on the grid. Hopping onto this project and doing what we're doing over here has been an awesome challenge for me, it's been awesome to bring over a couple of guys with me and be able to share our knowledge and to try to take the maximum out of this bike and I think it's something that's just going to flourish throughout the year."
You said it was a winter of adaptation, that was the key word. So how did that process go?
JOAN MIR: "Moving to this team is a big challenge for me. It's something I've been dreaming of for a long time, to be part of this team, and now we have to put the effort in to make it work! Winter has been tough. When you move to another manufacturer to a bike that's completely different, in MotoGP with this high level it's difficult to find that last tenth! And this is what we've done. We're tried to be focused, tried to improve in every test. We did a good job and I'm happy. We always want more and to be closer to the guys but it's part of the process and let's see what the future brings."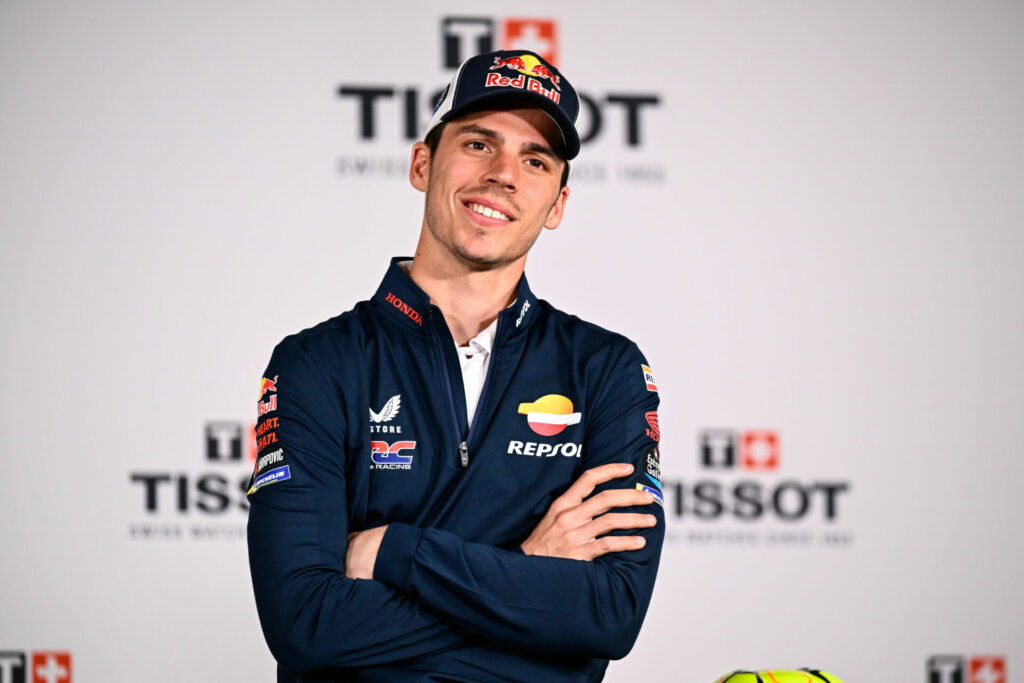 What are your expectations for the season?
"With expectations the most important thing is to be realistic and keep your feet on the ground. As I said before, we made a big change in my career and we need, as happened in the previous time, some time to adapt. For me the most important thing is try to make an evolution race by race and day by day. And that's what's happening. Every day I feel better, more adapted to this bike, plus we need to give good information to the engineers to try to improve the package. Putting everything together isn't easy but expectations are always high. I want to finish the season being near on top and to achieve that we need to start by being not too far off."
How is the experience sharing the garage with Marc and do you feel you're working together to bring Honda back to the front?
"It's very important to have such a strong teammate, you always give something more. When you have a rider on the other side of the garage who makes the difference, to try and be close to him you probably improve your level and that's what it means to have Marc in the garage. To be able to share data with him, to try and be focused to make the same evolution to the bike, give the same comments and bring a better package to the box – that's what it means."
What's the mood in the team?
JOHANN ZARCO: "It would be great to start the season fighting in the top three. Portimao is a good track, I have good memories and good results here, plus the last test, working on Saturday and Sunday, and Sunday concentrating more on a lap time. Finishing second was good for the confidence. A good rest week then to have the best energy possible for this weekend. The two tests, five days, I tried to change the approach on the Ducati to be able to use better my strong points and my riding style. I tried to adapt to the bike, and now we try to have better adaptation of the bike to my style so it is more natural ride. When things are coming, lap times are coming too and then it's also an opportunity to fight better in the race. We need to see now with the other riders around me how I can fight and keep my position."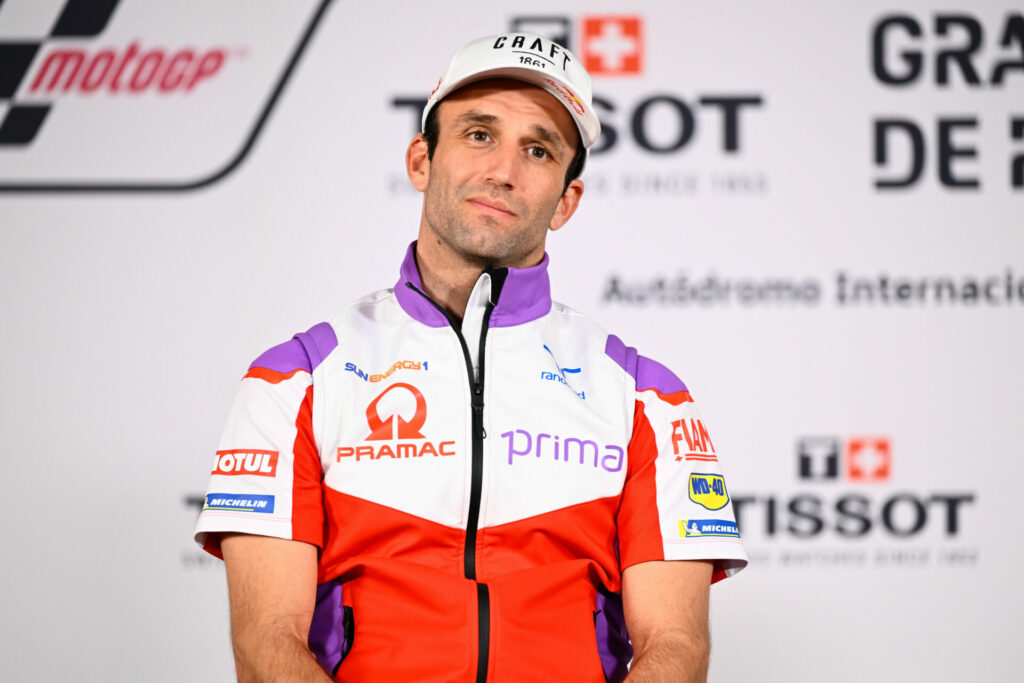 How about getting to Pecco's level?
"If you just take a technical view of Pecco's style, he's super strong in braking. I tried to focus more on that but I wasn't feeling super comfortable on the bike so I changed the style a bit. First feel good and then see if I am strong enough to overtake riders on the brakes. That's the kind of changes I want to do. I take Pecco for the best example because he has so much consistency, he is the world champion. What I see most is the way he is super flowing on the bike, which is why he is the right example."
Is 2023 your year – and can you get that win?
"In 21 I was pretty close to a win a few times but couldn't get the victory. I got good podiums and second places and then I was consistent all season. Everyone asks me if I need to win, and clearly, I want to otherwise I wouldn't race anymore! I couldn't catch it the years before. I said I will change a few things, I have nothing to lose, I'll change some things to get more natural and if I'm still able to do it, I think I can get it!"
Your pre-season must have given you so much confidence that you can fight for the podium at almost every Grand Prix?
LUCA MARINI: "That's the target. I think we had a fantastic winter, did an amazing job with the team, the new crew members are fantastic and the bike seems a little bit better, easier to ride, and the feeling from the beginning was really good. So let's keep going like this and I hope this weekend we can find the same feeling. I think the track will be a bit different to testing, with less rubber down, it may be different so we'll see tomorrow what position we're fighting for."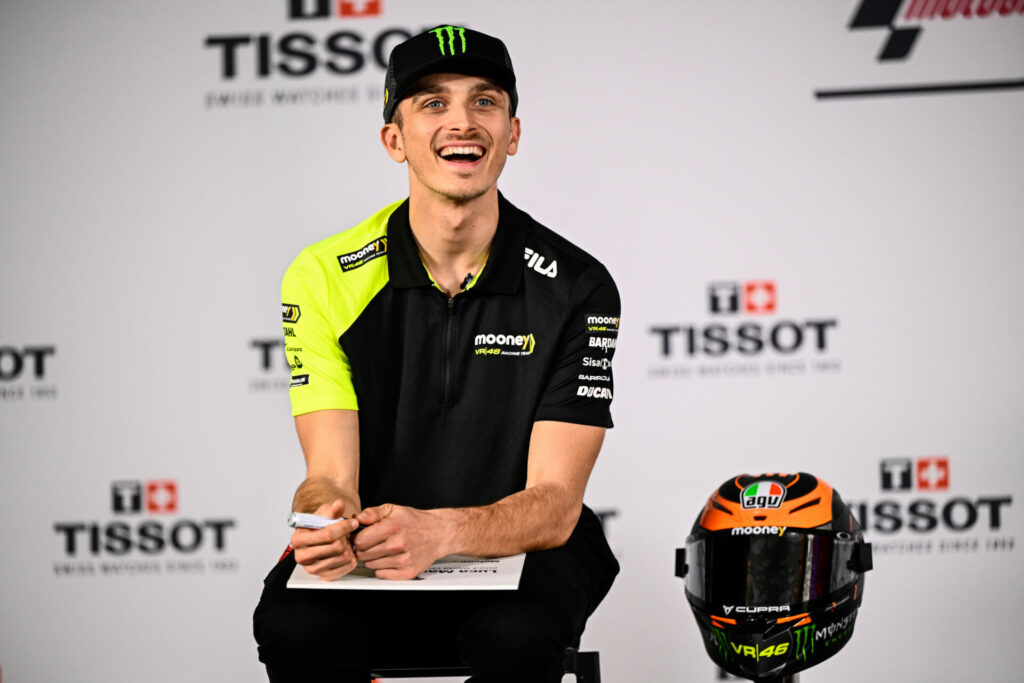 What areas did you focus on in winter to take that next step?
"I think for this season, everyone wanted to prepare better for qualifying, also also for overtaking. Every year it's more difficult, with the bike and the level of all the other riders, they're fantastic. It's difficult now! So qualifying and overtakes now are the key, for the race on Sunday and the Sprint."
How much is the team's greater experience going to help?
"A lot. This season everyone is so motivated, they have so much good energy, for this new format. For them it's also a lot of effort, and with a lot of races outside of Europe it's not easy. But the group is fantastic and I think me and Bez can fight for the top all season."