Current Race Lap Record: 1:54.927, Jorge Lorenzo, 2016
Current Pole/Circuit Best Lap Record: 1:53.680, Johann Zarco, 2018
FIM MotoGP World Championship Test
Losail International Circuit, Qatar
February 24, 2019
Day Two Best Lap Times (all on Michelin tires):
1. Alex Rins, Spain (Suzuki), 1:54.593
2. Maverick Vinales, Spain (Yamaha), 1:54.650
3. Fabio Quartararo, France (Yamaha), 1:54.908
4. Danilo Petrucci, Italy (Ducati), 1:54.953
5. Marc Marquez, Spain (Honda), 1:55.004
6. Aleix Espargaro, Spain (Aprilia), 1:55.173
7. Takaaki Nakagami, Japan (Honda), 1:55.175
8. Andrea Dovizioso, Italy (Ducati), 1:55.205
9. Cal Crutchlow, UK (Honda), 1:55.247
10. Pol Espargaro, Spain (KTM), 1:55.255
11. Joan Mir, Spain (Suzuki), 1:55.280
12. Jack Miller, Australia (Ducati), 1:55.380
13. Franco Morbidelli, Italy (Yamaha), 1:55.556
14. Tito Rabat, Spain (Ducati), 1:55.661
15. Francesco Bagnaia, Italy (Ducati), 1:55.680
16. Andrea Iannone, Italy (Aprilia), 1:55.698
17. Johann Zarco, France (KTM), 1:55.716
18. Jorge Lorenzo, Spain (Honda), 1:55.742
19. Valentino Rossi, Italy (Yamaha), 1:55.795
20. Karel Abraham, Czech Republic (Ducati), 1:55.951
21. Miguel Oliveira, Portugal (KTM), 1:56.274
22. Bradley Smith, UK (Aprilia), 1:56.866*
23. Hafizh Syahrin, Malaysia (KTM), 1:56.983
* test rider
More, from a press release issued by Red Bull KTM Tech3:
Oliveira and Syahrin further explore their new KTM RC16 under the floodlights
Red Bull KTM Tech3's Miguel Oliveira and Hafizh Syahrin worked off an intense testing program on day two at the Losail International Circuit today. While Portuguese premier class rookie Oliveira lapped the 5.380 km track 51 times, he lowered his fastest lap from yesterday by 0.617 seconds. On the other side of the Red Bull KTM Tech3 garage, Syahrin completed 42 laps and registered a best time of 1:56.983 minutes, 0.476 seconds faster than on day one.
Miguel Oliveira
Position: 21st – Time: 1:56.274 – Laps: 51
"Today has been quite different to yesterday. We improved the lap time, which is a good point. Everyone was very close today. Apart from this, we managed to do some decent work on the bike, we kept focused more on the long-runs and how the race should look like; tyre-wise and also setting-wise, we adapted the bike a lot – not to do a fast lap, but to have a fast pace. Overall, I felt quite strong, I finished the session with a good lap time with a very used tyre. Right now, our position doesn't really reflect our job and what we did today, but it was not the main focus. We have plenty of opportunities tomorrow to try to put in a fast lap and we'll be concentrated on tomorrow."
Hafizh Syahrin
Position: 23rd – Time: 1:56.983 – Laps: 42
"We improved, but we are still quite far. It has been a tough second day here. We tried to change many things to improve my feeling on the brake and especially on the front part of the bike. On the rear, we just tried the soft tyre. To be honest, I'm a bit disappointed of myself because I was expecting more, but there seem to be something that stops us from a big step. Anyway, we keep on working hard, try to understand more and I want to refresh for tomorrow, as it is the last day before the start of the season."
More, from a press release issued by Aprilia Gresini Racing:
MOTOGP – THE APRILIAS GROW IN THE QATAR TESTS
HARD WORK AND AN IMPROVEMENT IN TIMES FOR BOTH ESPARGARÓ AND IANNONE
BRADLEY SMITH CONTINUES HIS WORK ON DEVELOPMENT OF THE RS-GP
On the second day of MotoGP preseason tests in Qatar, the Aprilia RS-GP machines made rather clear improvements compared to yesterday but – more importantly – Espargaró and Iannone and their teams were able to move forward with their scheduled work on the Italian V4. For both of the Aprilia Racing Team Gresini riders, the day was focused on dialling in the chassis architecture and finding the best race pace feeling. It was an intense schedule that did not hinder a test on a new aerodynamic solution as well, taken out on track by Andrea.
In the end, Aleix turned 55 laps, doing a time of 1'55.173 which earned him sixth place on the time sheets for the day, whereas Andrea did 35 laps with a best time of 1'55.698, almost 8 tenths better than he did yesterday.
Bradley Smith (48 laps and a time of 1'57.137) and the test team continued development of the young 2019 RS-GP, also testing various winglet configurations and working on setup solutions on the electronics that will be made available to the two factory riders.
ALEIX ESPARGARO'
"I am satisfied overall. We managed to improve a lot compared to yesterday. I feel more at ease with the 2019 RS-GP although I must admit that there is still margin for improvement, especially in terms of my feeling, for example in the braking phase, where I take a few too many risks. But you also need to consider that this is our second test with the new bike. I learn something with every outing and the mechanics gather more information that lets us perfect the setting. Tomorrow will be a fundamental day, the last before the race weekend. We'll try a simulation to have a clearer idea of our level as compared to our rivals."
ANDREA IANNONE
"Our priority right now is to get to know the bike better, improving step by step. We improved compared to yesterday, but we need to keep pushing hard and make the right choices, especially in terms of setup. There is obviously always something that doesn't give us the results we expect, but we take that as another bit of information that helps us improve. As I said yesterday, we have good potential and the job is to make it consistent throughout race distance in order to maintain a good pace from start to finish."
More, from a press release issued by Repsol Honda:
Productive penultimate test day for Repsol Honda Team
An early start in Qatar allowed Marc Marquez and Jorge Lorenzo to improve the setup of their respective Honda RC213Vs alongside their lap times.
With information gained from the opening day of the Qatar Test, Marc Marquez and Jorge Lorenzo were amongst the first riders on track for day two. The Losail International Circuit started the evening in a much cleaner condition, allowing for more productivity from earlier in the day.
Within just a handful of laps, Marc Marquez was able to improve his time from the opening day by almost half a second. 57 laps around the 5.38 km Losail International Circuit produced a best time of 1'55.004, placing Marquez fifth overall. The day was not only for testing the Honda RC213V, but also to test Marquez's shoulder – the reigning champion completing the highest number of laps since his shoulder surgery in December.
Meanwhile, Jorge Lorenzo and his side of the Repsol Honda Team garage continued to adjust the ergonomics of the bike to suit the five-time champion's body and riding style. It proved to be a busy day for Lorenzo who was still able to complete 44 laps while improving his time by a substantial 1.348 seconds to a 1'55.742.
Just a single day of pre-season testing remains before the 2019 MotoGP™ World Championship begins in Qatar on March 8.
Marc Marquez
5TH 1'55.004
"I'm very happy today because it was my first 'normal' day of testing. I did a lot of laps, there was a little pain in the shoulder but it's manageable. We also made a big step with the setup of the bike, I'm happy overall with my condition and the bike. We're getting closer and closer at a circuit that's usually not the best for us and there's still a day of testing left."
Jorge Lorenzo
19TH 1'55.742
"Today was better than yesterday. We modified the bike to improve my feeling and confidence across the whole circuit. You can see we've improved by over one second, the position isn't much better but we are much closer to the front – this is the most important part. Tomorrow we're aiming to make another step forward again, especially with corner entry as I think there's still more to do there."
More, from a press release issued by Team Suzuki News Service:
QATAR DAY 2 SEES RINS FLY TO THE TOP OF THE SHEET
Alex Rins: 1st – 1:54.593
Joan Mir: 11th – 1:55.280 (+ 0.687)
•Alex Rins continues excellent pace ahead of season opener.
•Joan Mir shifts focus back to set-up and rhythm.
•Finalisation of settings important for final day.
Similarly to yesterday, it took a little while for things to get underway on Day 2 as the riders waited for track conditions to become optimum. Once out on track, both Alex Rins and Joan Mir experienced positive feelings on the Doha Circuit, with the pair completing a high number of laps and trying both race pace and one lap sprints.
Alex Rins showed his promising pace early in the day, and he improved lap by lap to finish the session on top of the time sheets, Rins was also the quickest rider through sector 4. The Spaniard put in 47 laps and reported enjoying a great rhythm on his GSX-RR, as well as feeling confident with the direction of the bike and its new parts.
For Joan Mir, Day 2 saw the rookie finish in 11th place once again, but the schedule played out a little differently with Mir shifting his focus onto finding his preferred set-up, especially with the front end of the bike, and trying the new exhaust. He then went for hot laps towards the end of the day. He put in 48 laps in total and was only 0.687 seconds from the top.
Davide Brivio – Team Manager
"We've had another positive day, the cherry on the cake was having the fastest lap time today. But the most important thing is that we were able to continue our plan and do our jobs well. Alex has good pace every time he takes to the track, and he puts together strong laps which is very helpful for us when it comes to testing. Joan improved again today and had another good lap time, close to many other riders. We are happy with the progress and the work we've done. Tomorrow we'll think more about the upcoming race."
Alex Rins
"It would be good if the race was tomorrow! We've been doing a great job; in Sepang we tested a lot of parts, but here we're confirming that those parts are good. But the important thing is the way I'm riding, step-by-step with a nice rhythm, and using worn tyres as well. The aim is to get everything 100% clear when we come back for the first race. I feel that our package is better than last year, just by changing small things. I feel happy with the bike."
Joan Mir
"I'm really satisfied with today, because I made good improvements. I'm feeling strong with the bike, especially as I improved my feeling with the front end which helped me to get a better pace. It was a shame because I put a new tyre in, but I wasn't able to get the lap I wanted, but we have another day tomorrow and I'll try again then. Today I tried the new exhaust and I'm happy about that too, I found positive things from it. The plan tomorrow is a race simulation and further improvements."

More, from a press release issued by Mission Winnow Ducati:
The Mission Winnow Ducati team resumes development at Losail: Petrucci 4th and Dovizioso 8th in the second day of official MotoGP tests
The Mission Winnow Ducati team resumed action at Losail (Qatar) to move forward with the development of the Desmosedici GP19 in the last MotoGP tests before the season opener, scheduled for March 8-10 on the track near Doha. In the second of three days, both Danilo Petrucci and Andrea Dovizioso made the most of the track time available to push hard from the very first laps to draw comparisons and further define the technical base.
With 48 laps in the books, Petrucci – who was the first rider capable of going under the 1:55 mark today – finished in 4th position, 0.360 seconds behind the provisional leader, with a personal best of 1:54.953, six tenths of a second faster than in day one. Dovizioso also showed progress, taking three tenths of a second off his previous best to post a 1:55.205. The Italian, who finished the session in 8th position 0.252 seconds behind his teammate with 53 laps completed, also did a simulation to cover the race distance in two consecutive exits at the time scheduled for the Grand Prix and was able to run further comparisons with the new aerodynamic profile (which was first evaluated two weeks ago at Sepang) with positive feedback.
Danilo Petrucci (#9 Mission Winnow Ducati) – 1:54.953 (4th)
"It's been a busy day. We were among the first ones to take it to the track, and I felt comfortable right away. In particular, I was happy with the feeling with used tyres, both the medium and soft compounds. Our pace is competitive, while we still need to improve in terms of pure speed on new tyres. I still have to look into detail at our rival's lap times, but we all seem to be quite close. Tomorrow we'll keep working on the setup and we'll also run a race simulation to make another step forward, which is crucial to fight for the podium during the race."
Andrea Dovizioso (#04 Mission Winnow Ducati) – 1:55.205 (8th)
"If we look at the lap times, today they probably don't reveal too much: many riders worked esclusively for the upcoming race, but what matters the most is that my feeling with the bike is good. Today, as we had previously done in Malaysia, we did a race simulation split into two runs. It's a very important task ahead of the opening race, even if it will unfold in slightly different conditions, and it allowed to gather interesting feedback even though it's still difficult to gauge the true potential of our opponents. I think we're working well and methodically, and tomorrow we'll continue to focus on some details to find more ways to further improve."
The Mission Winnow Ducati team will resume action tomorrow for the third and final day of tests before the season opener.
More, from a press release issued by LCR Honda Castrol:
IMPROVEMENTS FOR CRUTCHLOW ON PENULTIMATE DAY OF TESTS
With just one more day of testing to go at the Losail International Circuit in Qatar, before the 2019 MotoGP season kicks off at the same venue in two weeks' time, Cal Crutchlow made progress with his preparations for the year ahead.
The LCR Honda CASTROL man continued his planned schedule of tests with his Honda RC213V, and improved his lap time from the opening day by well over one and a half seconds. That placed him ninth overall in the standings, and less than seven-tenths behind the fastest rider on the night.
Monday sees the final night of testing in Qatar, before a final week and a half of intense preparations ahead of the curtain-raiser.
Cal Crutchlow – 9th
(1'55.247 – lap 29 of 35)
"We finished a little bit early today on our second day of testing here in Qatar. We got through everything in our programme for the day. We've got more to do tomorrow, and we've decided on a few different things we're going to try then on the last day of testing before the season starts".
"The LCR Honda CASTROL Team have worked really hard as always, and we are a bit more pleased than yesterday, but there's still a way to go to make sure we're at the front."
More, from a press release issued by Dorna:
Rins turns the tables on Day 2
Viñales remains in close company, Quartararo crushes the rest of the rookies in third and six factories end the day in the top ten
Sunday, 24 February 2019
Alex Rins (Team Suzuki Ecstar) went one better on Sunday as the Spaniard put in a 1:54.593 to go fastest on Day 2, but it remained tight at the top as the tables turned and Maverick Viñales (Monster Energy Yamaha MotoGP) ended the day just 0.057 in arrears. That made some headlines in itself, but the man in third stole some too: rookie Fabio Quartararo (Petronas Yamaha SRT) stormed to third overall.

(Above) Fabio Quartararo. Photo courtesy of Dorna.
47 laps was the final number for Rins as the Suzuki man continued to look like a serious 2019 contender. His teammate, rookie Joan Mir, also impressed and put in a 1:55.280 to end Sunday in P11 and less than seven tenths off his teammate – as well as the second quickest rookie. Team Manager Davide Brivio said Mir was also testing some things, as well as adapting to the bike, but that he'd like to "race tomorrow" looking at Rins' pace. That bodes well, and the Hamamatsu factory man also said everything "visible" on the bike is decided.
So what of Yamaha? Viñales did a slightly increased 52 laps on Day 2 and was almost top, but he did say they needed to make more progress and improve on the final day. It was a different story – in terms of laptime at least – for teammate Valentino Rossi. The 'Doctor' ended the day down in P19 and over a second off Viñales after 51 laps, but the number 46 has never been one to blast out the blocks in testing. Team Director Massimo Meregalli says it's been time to confirm positives from Sepang, and that the speed and consistency from Day 1 were encouraging. On Sunday they focused on back-to-back comparisons, and working on fairings as homologation date draws near. The fairing, says Meregalli, is the only thing left to be decided upon – but there was also a new tail unit spotted.
Petronas Yamaha SRT, meanwhile, remained impressive in their own right and as help with development for the Iwata marque. Quartararo's bike isn't far off that of Monster Energy Yamaha MotoGP, and teammate Franco Morbidelli's is the same as that of Viñales and Rossi. Quartararo stunned with his laptime in third, and Morbidelli ended the day in P13 after 52 laps of more important data gathering.
Another man echoing the sentiments of Suzuki boss Davide Brivio on Day 2 was Danilo Petrucci (Mission Winnow Ducati Team). The Italian said he'd be up to race ASAP too, and he was the fastest Borgo Panigale machine in P4. After 48 laps 'Petrux' did a best of 1:54.953 and, despite being down in P8, teammate Andrea Dovizioso was close with a 1:11.205 after 53 laps. Team Manager Davide Tardozzi said Ducati have "clear ideas regarding frame, engines, aerodynamics, electronics" and that they were concentrating on tyre life – with an interesting addition under the bike that rumour says is aimed at tyre temperature.
Jack Miller (Alma Pramac Racing) was the top Independent Team Ducati rider on Sunday and leapt up the timesheets into P12, with Tito Rabat (Reale Avintia Racing) in P14 despite a crash. He was just ahead of the second Alma Pramac Racing machine of rookie Francesco Bagnaia.
At Honda, Marc Marquez (Repsol Honda Team) was the fastest man for the marque, in fifth. A 1:55.004 was his best effort, but crucially the reigning Champion managed nearly 60 laps – a good sign in his ongoing recovery from shoulder surgery, with Marquez having done less than forty on most test days so far. Teammate Jorge Lorenzo was a second quicker than Day 1 but in a tight trio between Johann Zarco (Red Bull KTM Factory Racing) and Rossi, and he put in 44 laps with a best of 1:55.742 as he fights to recover from his broken scaphoid. He tried the latest fairing on Sunday, too, and said it was a much better day's work. "The most important thing is to find the final specification for the engine," adds Team Manager Alberto Puig, however…"this is what we're trying to understand and fix."
Takaaki Nakagami (LCR Honda Idemitsu) was second fastest Honda in P7, and rumour has it one of his bikes seemed to migrate to his teammate's side of the garage too. That teammate, Cal Crutchlow (LCR Honda Castrol), had a tough first day but was back in the mix in the top ten on Sunday, doing 35 laps and taking P9.
Aleix Espargaro (Aprilia Racing Team Gresini) impressed once again on Day 2. He ended the day in sixth – just 0.002 ahead of Nakagami – and put in 55 laps. Aprilia had a new exhaust, and Technical Manager Romano Albesiano said Espargaro and teammate Andrea Iannone were testing race setup and aero. Iannone reportedly had positive feedback on the aero, and he ended the day in P16. Test rider Bradley Smith, meanwhile, was focusing on electronics.
Completing the top ten on Sunday was another headline stealer: Pol Espargaro (Red Bull KTM Factory Racing). He was even higher up for much of the session, and his 1:55.255 meant that all six factories were within the top ten after a fitting 44 laps for the 2013 Moto2™ World Champion. Teammate Zarco was in P17 just ahead of Lorenzo, but quicker than Day 1. Team Manager Mike Leitner said the focus had switched from bigger changes to details, and noted the pressure to get ready – especially with so many items to test. He also said both have good feelings and noted the particularly positive results for Espargaro's testing.
So that's Day 2 and there's only one session remaining now before FP1 begins and the pressure really mounts. Is everybody ready to race? Some say they could start tomorrow, but there's track time left for those left with details to define. The action starts from 16:00 local time (GMT +3) once again.
More, from a press release issued by Monster Energy Yamaha:
MONSTER ENERGY YAMAHA MOTOGP PUSH ON WITH TESTING IN LOSAIL
Losail (Qatar), 24th February 2019
Monster Energy Yamaha MotoGP's Maverick Viñales and Valentino Rossi took another step with their testing programme on the second of the three days of riding in Qatar. The team-mates once again put in long hours and finished in second and nineteenth place respectively in today's results.
22:00 LOCAL TIME GMT+3 AIR 21°C / TRACK 24°C / HUMIDITY 82% NIGHT CLEAR MORE CIRCUIT INFORMATION
Monster Energy Yamaha MotoGP's Maverick Viñales and Valentino Rossi were back in action at the Losail International Circuit today, as they continued to look for the ideal balance of their bikes' settings. They ended the second day of the Qatar MotoGP Test in 2nd and 19th place respectively and hold 2nd and 14th position in the Combined Day 1-2 rankings.
Viñales entered the track around one-and-a-half hour into the session and showed yesterday's quickest lap wasn't a fluke. Despite having low grip due to track conditions, he impressed by setting a fastest lap of 1'54.650s on lap 33/52 for a temporary first place, before continuing his hunt for the perfect set-up. He headed out a few more times, not calling it quits until around 9.15pm local time, but as the track temperature had cooled down, he wasn't able to further improve on his best effort. He completed the second day in second position, just 0.057s from today's top time.
Rossi stuck to a similar schedule as his team-mate. He headed out on track just after 5.35pm local track time and used the early hours, with the best track conditions, working on his race set-up rather than putting in a time-attack. The Italian ranked 19th with a fastest lap of 1'55.795s, set on lap 45/51, 1.202s from today's leader, and is keen on fine-tuning his bike using different methods on Day 3.
The Monster Energy Yamaha MotoGP Team is looking forward to finalising their preseason testing schedule tomorrow on the last day of the Qatar Test, before starting the 2019 MotoGP season on 10 March.
MAVERICK VIÑALES
"We were working a little bit on the race pace and honestly I'm quite happy, because I think we made good improvements today. It was important to feel the bike a little bit more, to find a new set-up to go fast. I think that job has been done and I'm quite happy about that. We still have a lot of things to do tomorrow to further improve. I hope to go faster tomorrow, because I think the track today wasn't great. Tomorrow we can hopefully find a bit more grip. At the moment the grip level for me is quite low but we're still there at the front and that's the most important."
VALENTINO ROSSI
"Today was more difficult. I struggled more, especially with the rear grip. Yesterday we had a base setting, I was not so bad. Today we tried to improve, we tried some different settings, but also some different materials. Unfortunately we didn't improve. It was a difficult day, I was always too slow, so we're not happy. Tomorrow we'll try to follow some other directions, to be more competitive."
More, from a press release issued by Alma Pramac Racing:
#Qatartest D2 – Positive 2nd day of Losail testing as Jack (12th) and Pecco (15th) improved their lap times
(Above) Jack Miller.
The second day of testing at the Losail International Circuit (Doha) finished with positive indications for Alma Pramac Racing.
Jack Miller started well staying in the TOP 10 for a long time then he had to solve a technical issue that did not allow him to try the time attack with the best track conditions. His team did an excellent job, however, solving the problem and allowing him to return on track at the end of the session to improve yesterday's time by more than 1 second and 6 tenths, finishing 7 tenths of a second off the top.
Francesco Bagnaia also made progress as he continued to work on the set up with his team and was able to lap with a very interesting race pace.
For both of them, the time attack is postponed until the last day of testing scheduled for tomorrow.
P15 – Pecco Bagnaia 1:55.680
"It's been a good day. We have taken a big step forward since yesterday. We were able to take a path that led us to be faster. In the end, I went on track to do a long run and in the first six laps, the feeling was good. Tomorrow we will also do some time attacks because we saved a lot of soft tyres today"
P12 – Jack Miller 1:55.380
"I'm happier than yesterday. We worked effectively on the setup and geometry of the bike even though in the end we had to deal with a technical issue that slowed us down. I was able to improve my time despite the humidity that certainly didn't help and for this, I thank the team that did a great job. Tomorrow we will try again in better conditions".
More, from a press release issued by LCR Honda Idemitsu:
NAKAGAMI CONTINUES TO TAKE FORWARD STEPS IN QATAR TEST
Takaaki Nakagami made yet another step forward on the penultimate day of pre-season tests at the Losail circuit in Qatar. With just one more day of preparations left in the desert before the 2019 MotoGP season kicks off at the same venue in two weeks' time, the LCR Honda IDEMITSU rider secured yet another top-ten result, as he improved his best lap at the track by eight-tenths of a second.
The Japanese rider has undoubtedly raised expectations of his potential with his performances over the winter, as he builds on a positive rookie season in the premier class. This evening, Taka completed 47 laps of the track, with a best time of 1'55.175 placing him seventh overall in the combined standings and just half-a-second behind the fastest rider of the night.
With the season just around the corner, there remains just one more evening of testing in Qatar before the real action begins a week on Friday.
Takaaki Nakagami – 7th
(1'55.175 – lap 45 of 47)
"It was another positive test day for us, and step-by-step we are really making improvements on the bike. Also, I feel my riding improved even more today compared to the first day. I'm very happy with the feeling on the bike and of course with the LCR Honda IDEMITSU Team".
"The position is not so bad, and the lap time is closer to the top, so I'm really happy with the day and looking forward to the last day of pre-season tests. Let's see if we can make even more improvements tomorrow before the season begins."
More, from a press release issued by Petronas Yamaha Sepang Racing Team:
Quartararo shines in Qatar with third fastest time
PETRONAS Yamaha Sepang Racing Team enjoy positive second day of testing with French rookie in third position and Morbidelli in thirteenth.
The PETRONAS Yamaha Sepang Racing Team completed the second night of the Qatar Test with Fabio Quartararo in an impressive third position and with his teammate Franco Morbidelli in thirteenth after an exhaustive night of development on their Yamaha YZR-M1 machines. Higher track temperatures tonight allowed the riders to improve on their lap times from yesterday and make the most of the available track time.
Fabio Quartararo was one of just four riders to break the 1'55 mark tonight, the French rookie lapping alone throughout but setting a series of fast laps to finish in the top three. A best time of 1'54:908 came on his 46th lap of a total of 54. Quartararo was already inside the top ten on the opening night and confirmed his impressive form at the Qatar Test, finishing as the top rookie tonight as he worked on both race pace and outright speed.
Franco Morbidelli made a strong start to the evening, improving on his best lap from yesterday within the opening two hours. However his best lap of tonight came quite late, with a 1'55:556 on his 45th effort of 52 leaving him thirteenth overall. The Italian worked through an intense programme of testing alongside Yamaha.
Track action continues tomorrow night as PETRONAS Yamaha SRT complete their preseason testing programme before the start of the 2019 MotoGP World Championship.
#21 Franco Morbidelli
"Today we took a step forward from yesterday and we have understood some new things. We are still gathering experience with the bike and figuring out how it reacts to certain changes that we make. Looking at the lap times tonight, the pace was good but we can still improve over a single lap on the soft tyre. We have to work out the best way to do that, which is exactly what testing is for."
#20 Fabio Quartararo
"It has been a very positive Sunday night for us here at Losail and we have learnt a lot about the bike. We kept up a strong pace on used tyres and also took an important step forward with respect to our time attacks. Tonight was the first time I have left the box thinking, 'I'm going to set a fast lap no matter what,' and I am happy with the lap times we set, especially lapping alone, when I put together three great laps. The objective tomorrow is to complete a longer run to check how the tyres work when they are already worn, and then at the end of the evening we will try another time attack."
More, from a press release issued by Red Bull KTM:
SECOND DAY OF THE QATAR IRTA TEST IN THE BOOKS WITH FASTER LAP-TIMES
MotoGP 2019 IRTA test Losail (QAT)
The second day of three in the last pre-season test at the Losail International Circuit today meant different areas of work for the KTM MotoGP quartet. Red Bull KTM's Pol Espargaro finished as fastest again with the RC16 and was just 0.6 of a second from Alex Rins.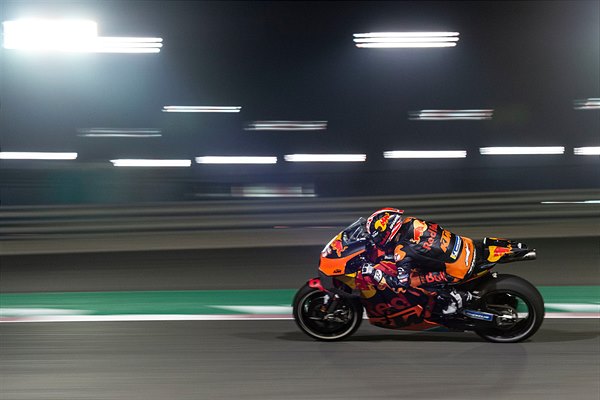 (Above) Johann Zarco.

More laps, more work and clearer solutions for Red Bull KTM and Red Bull KTM Tech3 teams in Qatar for the second day of testing in the cool Losail evening air. Pol Espargaro, quick out of the garage today and one of the first riders on track, posted 44 circulations of the fast layout and managed an effort just over half a second from the top of the final classification to sit 10th. Significantly #44 was almost a full second quicker than his chrono on Saturday.

Johann Zarco, 17th today, was the most prolific in terms of laps completed; the Frenchman managing 60 as he overcame some of the set-up obstacles he encountered yesterday and dipped into the high 1min 55s.

Over 90 laps in total today for Red Bull KTM Tech3 duo Miguel Oliveira (21st) and Hafizh Syahrin (23rd). The Portuguese dropped his best by more than a second and concentrated on race set-up, paying particular attention to tyre life. Syahrin continued to work on his feeling with the KTM RC16 under braking.

Tomorrow represents the final day of build-up to the 2019 MotoGP season.

Pol Espargaro: "A satisfying day. We knew we had a lot to try so we started early on. Traction is important on this track, especially from corners 9-12, but we have to be careful not to use the tyre. We were working on that – as well as the race pace – because we know it will be a hard GP for us. The race itself should be a bit earlier in the day, so it'll be warmer and tyre wear at the end will be really important. Tomorrow will be a hard day and we want to try a long run as well. Michelin are doing a good job, they have brought a new softer rear compound so they are trying to make our work fun, which is nice, and the performance of the bike is good. Overall though we must work on the electronics and the overall set-up."

Johann Zarco: "The second day has been better for me and straight away we were able to understand why I could not improve any more on the first day. It's important to feel that on the bike, and the positive and negatives things of our work. We moved a few steps forward for my sensation when riding and it made me smile. We're still one second away from the first guy but we made improvements. We made many laps here and while I'm not sure if we are fully set for this race yet we can do the best job we can. It is just about finding the right set-up for my riding style and when we put our finger on something I can immediately make progress. We are taking a while to find it…but this is just the beginning of our story. I would like to get inside a second tomorrow: that would be interesting. I want to get closer."

Miguel Oliveira: "Today has been quite different to yesterday. We improved the lap time, which is a good point. We managed to do some decent work on the bike, we kept focused more on the long-runs and how the race should look like; tyre-wise and also setting-wise, we adapted the bike a lot – not to do a fast lap, but to have a fast pace. Overall, I felt quite strong. We have plenty of opportunities tomorrow to try to put in a fast lap."

Hafizh Syahrin: "It has been a tough second day here. We tried to change many things to improve my feeling on the brake and especially on the front part of the bike. On the rear, we just tried the soft tyre. To be honest, I'm a bit disappointed of myself because I was expecting more. Anyway, we keep on working hard, try to understand more and I want to refresh for tomorrow as it is the last day before the start of the season."

Qatar IRTA Test Day Two final times

1. Alex Rins (ESP), Suzuki 1:54.593
2. Maverick Viñales (ESP), Yamaha +0.057
3. Fabio Quartararo (FRA), Yamaha +0.315
4. Danilo Petrucci (ITA), Ducati +0.360
5. Marc Marquez (ESP), Honda +0.411
10. Pol Espargaro (ESP), Red Bull KTM +0.662
17. Johann Zarco (FRA), Red Bull KTM +1.123
21. Miguel Oliveira (POR), Red Bull KTM Tech3 +1.681
23. Hafizh Syarin (MYS), Red Bull KTM Tech3 +2.390