To prepare for MotoAmerica's return to Indianapolis Motor Speedway (IMS) this coming weekend, I took a look back at my coverage from MotoAmerica's one and only previous visit to the 111-year-old motorsports venue back in 2015 to refresh my memory.
For starters, the MotoAmerica Superbike and Superstock 1000 riders didn't get the amount of track time at that event that they did at other MotoAmerica events. Instead of having the two hours and 40 minutes prior to qualifying they were used to, Superbike/Superstock 1000 riders only got 45 minutes. And instead of having three hours and 15 minutes of track time to prepare for the first race of the weekend, riders got only 80 minutes at Indy or an hour and 35 minutes if they qualified for the 25-minute Superpole session.
Cameron Beaubier, riding his Monster Energy/Graves Yamaha YZF-R1, earned the Superbike/Superstock 1000 pole position with a lap of 1:37.247 around the 2.6-mile, 16-turn infield road course and a trap speed of 190.747 mph on the long front straightaway.
In Race One, Beaubier dueled with Roger Hayden, whose Yoshimura Suzuki was adorned with special livery to celebrate the 30th anniversary of Suzuki's GSX-R line. Beaubier and Hayden took turns drafting and passing each other at the end of the long front straightaway going into Turn One.
At the start of the final lap, Hayden led at the start/finish line, but Beaubier passed Hayden into Turn One and was able to hold on to win by 0.040-second over Hayden.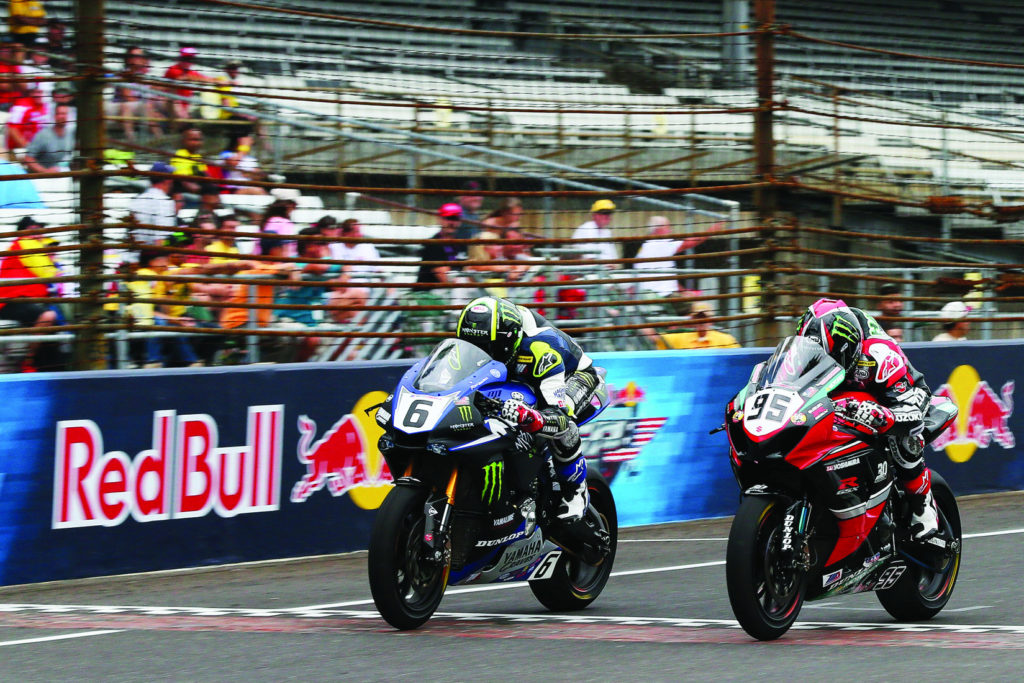 Four-time and then-defending Superbike Champion Josh Hayes was still coming to terms with the unfamiliar track (Beaubier and Hayden had both raced at IMS before) at the start of Race One and slipped back to third place, which he secured by holding off Hayden's teammate Jake Lewis.
Jake Gagne, riding his Superstock 1000-spec RoadRace Factory/Red Bull Yamaha YZF-R1, was with Hayes and Lewis until his bike's rear tire spun on the rim, forcing him to slow, but Gagne still had enough to win in the Superstock 1000 class.
(In the first year of Superstock 1000, several riders experienced tires spinning and moving on the required stock wheels.)
Race Two was less clear cut. The race started on a dry track but with some raindrops falling. Beaubier and Hayden had a repeat performance of their Turn One braking contest and this time Hayes was right with them and even made some passes on the leading duo in the tighter Turn-Two-Three-Four complex.
As the race went on, the rain slowly increased.
At the end of lap 15, Hayden and Beaubier crossed the finish line essentially side-by-side with Hayes tucked in their double-wide draft.  They crossed the finish line in this same formation at the end of lap 16, just before Hayden out braked Beaubier going into Turn One to take the lead.
As the rain intensified, Hayden started missing apexes and running wide, but neither Beaubier nor Hayes could take advantage of Hayden's slips due to their own lack of traction. The lap times were slowing, the conditions on course were deteriorating, and as the leaders came to the line to finish lap 17 of 18, the race was stopped with a red flag due to track conditions.
Scoring was reverted to the end of lap 15, and officials ruled that Beaubier was 0.015-second ahead of Hayden at that point and declared Beaubier the winner. For Hayden it was his third straight loss to Beaubier by less than 0.1-second. Hayes, meanwhile, was just 0.297-second back in third. This result gave Beaubier an 18-point advantage over Hayes with only two races remaining in the season.
Beaubier went on to win the 2015 MotoAmerica Superbike Championship, his first, during the season finale at New Jersey Motorsports Park.
Gagne finished fifth overall and first in the Superstock 1000 race-within-a-race, giving him a nearly insurmountable 43-point lead over Taylor Knapp with two races remaining in the Championship. Gagne went on to capture the Superstock 1000 crown.
In Supersport, which included Superstock 600 riders as wild cards to bolster the field, Bobby Fong claimed pole position with a 1:39.848 on his Latus Motors Racing/Castrol Triumph Daytona 675R, out performing Championship point leader JD Beach (1:39.892) and his Yamalube/Y.E.S./Graves Yamaha teammate Garrett Gerloff (1:40.521). All three riders had previous experience riding at IMS.
Run on Saturday afternoon, the sole Supersport race started out with Josh Herrin, riding his Wheels In Motion/Motosport.com/Meen Yamaha, leading a tight, four-way fight involving Fong, Beach, and Gerloff. This was good for Herrin as he needed to finish ahead of Beach to prevent Beach from clinching the 2015 Supersport Championship at IMS.
Then Nick McFadden crashed, bringing out the red flag and forcing a six-lap restart.
On the restart, Beach got the holeshot and Herrin crashed in the rush through the tight Turn Three-Four area, ending his title hopes. As he completed lap two, Beach's pit board informed him that Herrin was out, and while he processed this information, Gerloff used a double-draft move to pass Fong and Beach going into Turn One.
Gerloff and Fong swapped the lead a few times going into Turn One on the brakes. And while Fong could out brake Gerloff into Turn One, his Triumph didn't have enough horsepower to pass Gerloff before the start/finish line. As a result, Gerloff was able to beat Fong to the finish line by 0.036-second to take his second MotoAmerica Supersport victory and his first in the dry.
Beach seemed content to sit back in third, ending his six-race win streak but bringing him the 2015 MotoAmerica Supersport title with two races still remaining.
Herrin's teammate Joe Roberts (who had already clinched the 2015 MotoAmerica Superstock 600 Championship) turned the fastest lap of the restart, a 1:40.064, and finished fourth. Cameron Petersen, riding a RoadRace Factory/Red Bull Yamaha YZF-R6, was challenging Beach for third and his first MotoAmerica podium finish when he ran off the track on the last lap. Petersen was able to recover in time to still finish fifth.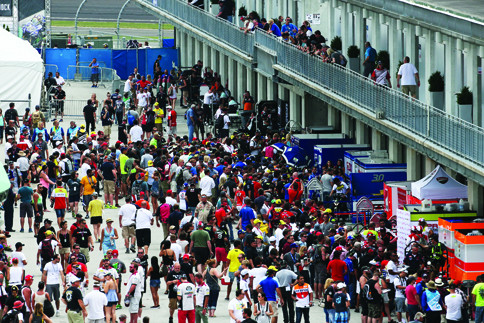 It's difficult to determine what impact MotoAmerica's involvement had on the 2015 Red Bull Indianapolis Grand Prix, but the 2015 event at IMS officially drew 145,558 spectators over its three days and that was the most since MotoGP's inaugural event at IMS in 2008.
This year, due to the ongoing COVID-19 pandemic, only a limited number of fans will be allowed to attend the MotoAmerica event at IMS.