MotoAmerica: Round 9 Results from Laguna Seca for the Altus Motorsports Tucker Hagerty Rangeline Team
(Monterey, CA)  The Altus Team ended the season on a high with a successful weekend at the famed Laguna Seca Raceway in Monterey, California. The team finished 2020 with Cam Peterson holding the Stock 1000 trophy and the Superbike Cup top spot.
"Taking the Stock 1000 Championship and also the Superbike Cup is a great feeling and it means a lot to Eric Gray and me. We could not have done it without the help of sponsors like Tucker, Hagerty, Rangeline, and Suzuki.  Team Hammer has also given us incredible support over the past 4 years – building the bikes and then being there every round. Chris and John Ulrich have gone above and beyond to support not just our bikes but also our riders. As a team, we are thankful for everyone who has assisted us in our success. And huge thanks to Cam for putting the bike on the box week-after-week," said team owner, George Nassaney.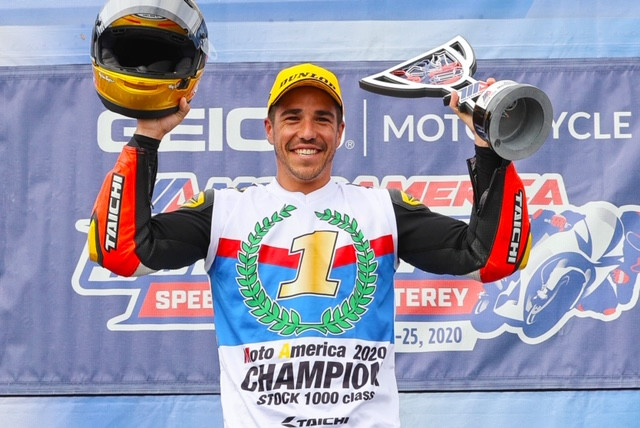 Honos Superbike & Stock 1000: Cam Petersen put an exclamation point on the season with another dominant win in the Stock 1000 class having only finished off the podium once while standing on the top step 8 of the 12 rounds. He also locked-up the first place in the Superbike Cup as the top point-scoring Stock 1000 bike running in the Superbike races.
Cam started all three of the Superbike races from 11th position. On Saturday's Race 1, he fought his way up to 8th place. In the first of two Sunday Superbike races, Peterson got a flying start and was in the podium battle for much of the race. In the end, however, he had to settle for 5th – no less impressive of a performance given it was on a Stock1000-spec Suzuki GSX-R1000. In Race 3, he battled for 7th for the entire race and crossed the line in 8th.
"This was a truly amazing year. I cannot thank the team enough. I had nothing at the beginning of the season and Altus took a chance on me – without them, none of this would have been possible. They gave me a bike and trusted me to show what I could do. Thanks go to George and Eric for staking their belief in me. I also have to thank the Hayes Family – they have changed my life. Josh and Melissa have taught me so much –  both on and off the track. I would not be the competitor I am without them. As my rider coach, Josh was with me before and after every session and played a massive role in my success. As my lead mechanic, Melissa's passion and determination made things happen, and regardless of what was going on, giving up was never an option for her. I owe a huge thanks to her and Ryan for everything they did to keep the bike tuned. I also cannot overstate the role Team Hammer played. Chris and John Ulrich and their crew supported our team with the bike and expertise. RS Taichi, Arai and Alpinestars boots helped keep me safe all year. I'm also grateful to Hagerty for their partnership. And, of course. thanks to my family – my mum, dad and sister and my fiance, Nina, for their support and sacrifice." said Cam Petersen.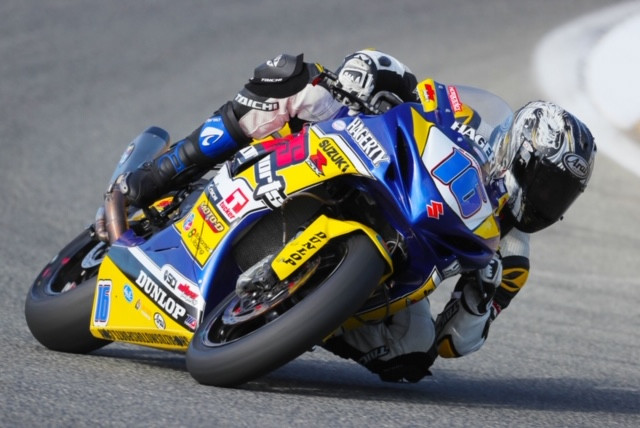 Supersport 600: Kevin Olmedo wrapped up his inaugural season on the Altus Motorsports Suzuki GSX-R600 with enough points to place 6th  in the MotoAmerica Supersport Championship. He collected points in almost every round including one third-place finish, two fourths, and seven fifths.
At the final round of racing at Laguna Seca, Kevin ran as high as 4th during practice and qualifying but ended up 8th on the starting grid. In the first race, a mistake in turn 2 on the fifth lap put Kevin down and out of the race. Olmedo spent the Sunday race locked in a fight for 8th place. Ultimately he took the checkered flag in 9th.
"I am very happy with this season. I think for my first season on the 600, it was very good. I finished 6th in the Championship and I am still learning a lot. I am looking forward to coming back next year and getting more podiums," said Kevin Olmedo.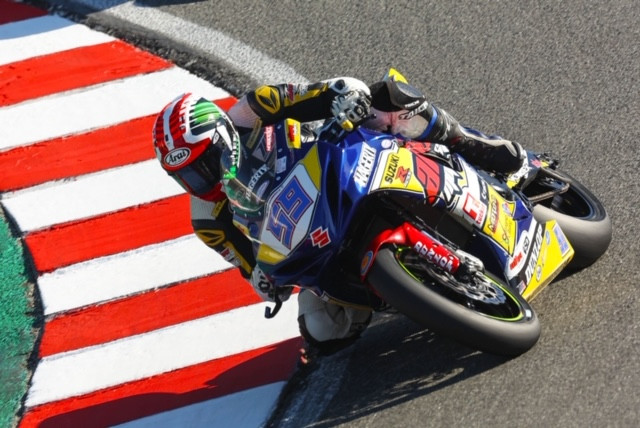 Jaret Nassaney finished the 2020 season with solid improvement. He scored championship points in all but three rounds of the season including 7 top 10 finishes.
At Laguna Seca, Jaret started the two Supersport races from 15th. He finished Race 1 in 10th place. In the second race, after a slow start and getting held up in 15th, he put his head down and began reeling in the group battling for 10th. While he closed down the 4-second gap to about a second, he ran out of laps before the end of the race and was not able to get into the fight.
"2020 was a crazy season with it being compressed due to COVID! We definitely had some ups and downs but overall, I feel that we had a really positive season. We made some really good progress in my riding and in the bike. I'm ready for 2021! We are going to work hard this offseason to come into next year strong," said Jaret Nassaney.
Liqui Moly Junior Cup: After missing the last race due to injury, Daniel Kinard returned to the Altus pit for the final round of the MotoAmerica Junior Cup. Kinard managed to score points in 10 of the rounds and finished the championship in 16th overall.
Like many of the tracks this season, Laguna Seca was new to Kinard. Unfortunately, he missed the first practice due to a quick shifter issue and was behind the curve when he rolled out for Q1. where he managed to get faster each lap.  During Race 1, Daniel continued to learn and improve. He finished 15th and dropped his previous best lap time by over a second. By Sunday's race, he bettered his time by an additional two seconds and finished in 13th position.
"It was a tough weekend. I am still pretty sore from my injuries. By the end of the races, my wrist was hurting and started to limit my ability. In spite of that, it was great to be able to ride Laguna Seca and improve every session we got on the track. I look forward to coming back next year. Now that I've got a bit more experience and some track knowledge, I know I can improve my results. I really want to thank Altus, Bison Track, and especially my dad for giving me the opportunity to race at the national level," said Daniel Kinard.
"This year has been a roller coaster ride with all the COVID stuff. The compressed end of the season caused excess stress and I couldn't be more proud of the crew for pulling it off. Eric and the mechanics did whatever they had to in order to keep our bikes on track. And our riders pushed themselves every round to improve. We are excited for next year. We are working to lock down our lineup and we are set to do some offseason testing out in California. Our goal is to improve every year. We will roll into the 2021 MotoAmerica season stronger than ever," said Team-Owner, George Nassaney.
The Altus Motorsports team is supported by our great family of sponsors: Altus Motorsports, Tucker Powersports, Hagerty, Suzuki, The Rangeline Group, VP Lubricants, RS Taichi, Arai, Moto D, Bonamici, Hotbodies Racing, SBS Brakes, Vortex, Motion Pro, Law Tigers Oklahoma, Arata Exhaust, Dunlop, Team Hammer, and Altus Factory Racing
More, from a press release issued by Quarterley Racing On Track Development:
Gloddy closes out the 2020 MotoAmerica Junior Cup Season Fourth in the Championship Points
Coming off of a mild injury sustained at Round Eight of the MotoAmerica Junior Cup Series, Quarterley Racing On Track Development rider, Ben Gloddy, was excited to race the final round at Laguna Seca. Though this track proved to be a challenge for Gloddy last season, he was confident he could make improvements on both his times and finishes.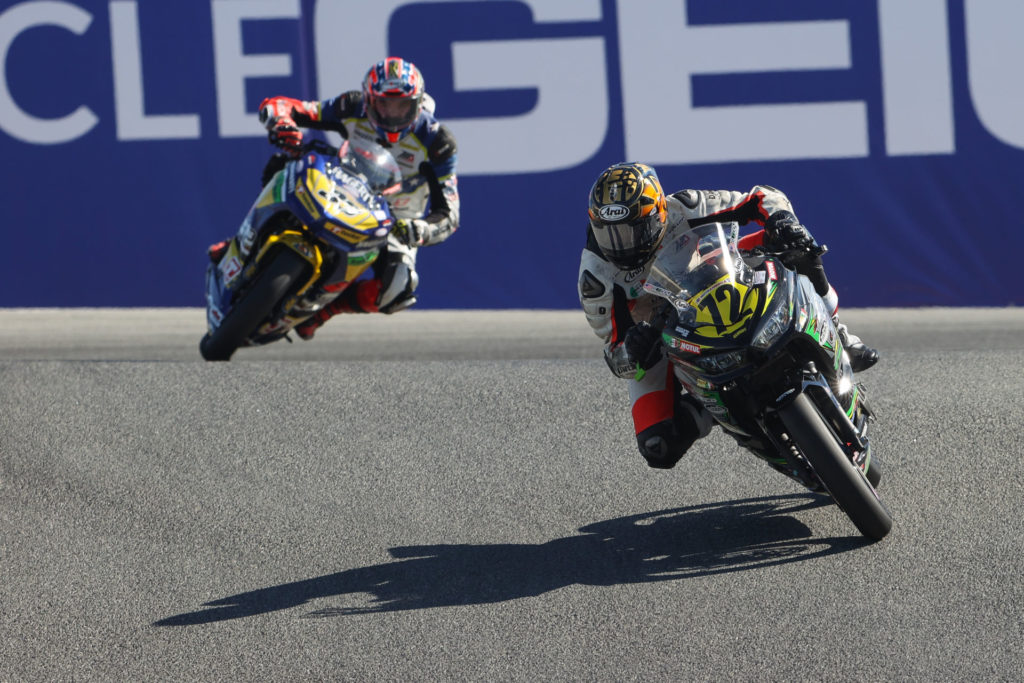 Ben Gloddy:
"I am from the East Coast, so last year was my first time racing Laguna Seca and I was definitely challenged by it, maybe even intimidated. This year I was determined to overcome the issues I faced last year. In 2019, we only had one race at Laguna and this year we had two, so I had more time to familiarize myself with the technical parts of the track and work on bike set up with my team. After the first qualifier, I was 8th, but was able to move up two spots after the second qualifying session. My qualifying time was only .823 seconds off of the pole sitter, so I was happy about that. Plus, my lap times were faster than last season, so I knew I was making some progress. In race one, I had a good back and forth battle the entire race. Coming off the final turn, I was able to get a good drive and finish in 5th place."
"For race two, we had made some changes to the bike. I was feeling really comfortable in the race. While battling with three other bikes for the final podium position, I ran the fourth fastest lap of the race, only off the lap record by .255 seconds. Unfortunately, on lap 6 going into the Corkscrew I lost the front and crashed. My bike slid down the Corkscrew and onto the other side of the track so I was not able to continue. It was a bummer to end the season that way, but overall, I am happy with how the weekend went and the progress Quarterley Racing and I were able to make. Thank you to everyone who helped out this weekend, especially Dale, Alex, Eric, Scott, Tige, Stoney, Rocco, Eraldo and Matthew."
"This year was my first full MotoAmerica season. Last year I was only able to compete from Utah on because of my age. Like all of the racers in the series, I came into this season with the goal to win the championship. I did not win the championship, but I feel like I made a lot of progress throughout the season and I know I will continue to improve. Congratulations to Rocco, Dom and Sam on their finishes this year. This season would not have been possible without the support of my parents, family, friends, sponsors and Quarterley Racing. Dale and Alex put in a lot of time between hauling the bike around the country, coaching me and wrenching on the bike. Thank you all, everyone, for the support and hard work all season. I am really looking forward to 2021."
For Team Sponsorship Opportunities please contact:
Dale Quarterley
Phone: 413-218-6464
For Rider Sponsorship Opportunities please contact:
Ben Gloddy
bengloddyracing.com
Some of Gloddy's personal sponsors for 2020 include: The Big S, SDM298 Racing, D'Andrea Foods, Penguin Racing School, Moto-Pizza, Woodcraft Technologies, First Trax Sports Shop, American Supercamp, Fast By Ferracci, Roche Realty Group, Stump Racing Kids, Arai Helmets, Freedom Cycle NH, C. Allaert, Sportbiketrackgear.com, Tink's Customs, Looney Bin, CFO Speed Shop, JC Tinting, REB Graphics, Innovative Motorsports, A&B Lock, Finn's Garage, MotoLiberty, Inter-tech, Fast Bike Industries and Yoshimura
Quarterley Racing On Track Development sponsors for 2020 include: Inter-Tech Supplies, Fast By Ferracci, Inc, Yoshimura Research & Development of America, Inc., Wiseco Powersports, Motul USA., Regina Chain, BrakeTech USA, Inc., Ferodo Racing, Matt & Jesse, Inc., Woodcraft Technologies, Fast Bike Industries, Nitron Racing Systems Ltd., Dynojet Research Inc., Beta Tools of Italy – USA, N2 Track Days, RoadracingWorld.com, MOTO-D Racing, VAN DYK Recycling Solutions, Earl's Racing Team, Barnett Clutches & Cables and Kiwi Classic Moto.