Rodio takes victory in first MotoAmerica Twins Cup Race of 2023
Rodio Racing powered by Robem Engineering rider leaves Daytona round with championship lead
 
DAYTONA BEACH, Fla. — It wasn't Gus Rodio's first time racing an Aprilia RS 660 at Daytona International Speedway, but the New Jersey rider kicked off the new-for-2023 Rodio Racing — Robem Engineering collaboration by scoring a win and runner-up finish at the opening round of the 2023 MotoAmerica Twins Cup season.
Rodio piloted his Aprilia to commanding win in his first race with the new team and come oh-so-close to scoring a second triumph at the March 9-11 event.
Rodio's teammate, New Hampshirite Ben Gloddy, had a positive start to the Daytona round before suffering an unfortunate injury that did not allow him to finish Friday's Race 1 or contest Saturday's Race 2.
In the Twins Cup's first on-track session of 2023, Rodio ended Thursday practice at the top of the time sheets. He best the next fastest rider for the best time in the class' only practice session by 0.064 seconds. Gloddy finished practice fifth-fastest. Later Thursday, Rodio and Gloddy finished Qualifying 1 fourth- and sixth-fastest, respectively.
Friday morning saw Rodio secure fourth on the starting grid in the second and final qualifying session. He missed out on pole by a mere 0.216 seconds. Gloddy wrapped up qualifying in sixth place.
The Daytona round's first Twins Cup race took place Friday afternoon and saw Rodio put in a dominant performance. Rodio moved up two places in the first several corners and was battling for the lead before the end of Lap 1. Gloddy also got a good start and ran as high a third before another rider crashed in front of him at the exit of the west horseshoe. The crash forced Gloddy to take evasive action, but unfortunately the crashed bike made contact with Gloddy's RS 660, which caused Gloddy to crash. What was a three-way battle for the lead between Rodio and two other riders in the middle of the nine-lap race gradually became a one-rider show as Rodio pulled away from the other frontrunners to win by more than eight seconds.
Unfortunately for Gloddy, he suffered an injury when he was forced off track that did now allow him to take part in Saturday's Twins Cup Race 2.
The second race was an eventful one for Rodio, who made the most of a race restart to extend his lead in the Twins Cup points standings. Rodio's motorcycle began exhibiting a problem with its fuel cap on the warm-up lap, which caused Rodio to pull back into his pit box while the rest of the field was forming up for the race start. The team worked relentlessly to get the motorcycle repaired in time to rejoin the race, and a short time later the race was stopped on Lap 3 due to a crash.
The race was restarted with its original starting grid and five laps to go, and Rodio once again quickly made his way forward to the battle for the lead. He was in the race lead at the end of Laps 1, 3 and 4 and gradually broke away from the rest of the field with another rider. Rodio put in a valiant effort to get a good drive out of the backstraight chicane but was bested to the finish line by 0.162 seconds. Rodio's second place added 20 valuable championship points to his tally, and he leaves Daytona with a nine-point lead in the class standings.
The MotoAmerica Twins Cup's next round takes place April 21-23 at the Road Atlanta circuit in Braselton, Ga.
Gus Rodio / No. 96
"It was an awesome first race of the season. I was able to break away from the pack and win my first Twins Cup race. It was my biggest margin of victory and I'm very happy. In Race 2, I broke away from the pack with another rider and had a race long battle for the lead. I ended up second in a close finish. I'm really happy with this result as I didn't think we would make it on track due to an issue we had. I'm really excited to get to Atlanta and keep working towards our goals."
Robem Engineering's technical partners for 2023 include Aprilia Racing, Piaggio Group Americas, Bitubo Suspension, Dunlop, Woodcraft Technologies, Dymag, Vesrah, Sprint Filter, DID, Sara Chappell Photos, NGK/NTK, Blud Lubricants, Millennium Technologies, Motovation USA and SC-Project.
Rodio Racing's technical partners for 2023 include NJ MiniGP, Luxestar VIP, MAR Contractors, Evolve GT, N2 Racing, Dunlop, Spellcaster Productions, Kathedral, The Martinn and MVR Endeavor.
More, from a press release issued by N2 Racing/BobbleHeadMoto:
N2/BobbleHeadMoto Blake Davis Scores Two Top Five Finishes at Daytona.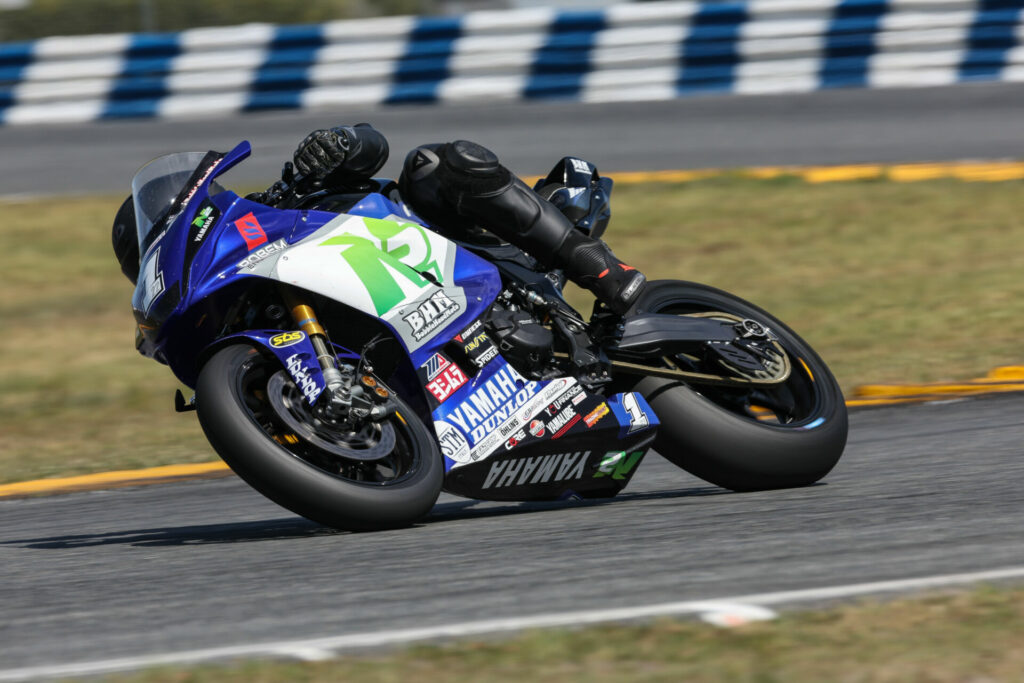 Media, PA – March 2023 – N2/BobbleHeadMoto Racing's Blake Davis leaves Daytona with a pair of fourths place finishes in Twins Cup and an 11th-place finish in his first Daytona 200. Blake was fast in every session scoring pole position in Twins Cup and leading both races, but small mechanical issues prevented Davis from capitalizing on his speed. Blake also competed in his first Daytona 200 with a Blake Davis Racing / Biothermal Yamaha YZF-R6 running with some of the best riders in the country in the final laps.
Blake was fast from the moment the team unloaded the championship winning N2/BobbleHeadMoto Yamaha YZF-R7. Blake led nearly every session and qualified on pole despite a crash in Q2. Blake just missed out on a chance at the Time Attack Qualifying session for the Daytona 200 and qualified on row four in 13th place.
Championships are about scoring maximum points on your bad days and that is exactly what Blake did. In Twins Cup Race One, Blake battled for the lead for most of the race until he started having temperature issues with his R7 that require that he back off a bit to make it to the finish in fourth place.
Twins Cup Race Two was very similar with Blake having race winning speed in the beginning, but suffering some minor technical issues. Instead of crashing or pulling in, Blake stayed out and nursed his Yamaha R7 to the finish in fourth place. These two fourth place finishes leave him fourth in the points, 19 points back from Gus Rodio.
Blake's focus in 2023 is defending his Twins Cup Championship, but Blake will participate in several Supersport rounds on his Blake Davis Racing / Biothermal Yamaha YZF-R6. The Daytona 200 was Blake's first Supersport race and he did not disappoint. Despite having an issue at the start that saw him fade back to well outside the top 20, Blake kept fighting for the entire race, putting in fast, consistent laps. The N2/BobbleHeadMoto/Blake Davis Racing team gave Blake two great pit stops which put him in the lead group for the final 10-lap sprint. Sixteen-year-old Blake Davis battled with the best, most experience racers in the country for those last 10 laps, running as high as second place. In the end, Blake finished sixth on the race track, but a pit lane speeding penalty pushed him back to 11th. An amazing result for Davis' first Daytona 200.
Blake Davis – "It was a tough weekend on the Yamaha YZF-R7 in Twins Cup. We were fast straight away and always in the mix, but we had some technical issues related to a crash that kept us from reaching our potential. It was positive that we brought home solid points in every race, and we are in decent shape to start the season. The Daytona 200 was awesome! I made a mistake in the beginning, but we fought the entire race and it was so much fun battling with the lead guys. Thanks to my N2/BobbleHeadMoto crew for an awesome R7 and thanks to Biothermal for all the support with the R6."
Shiloh Salopek (Crew Chief) – "This was a tough weekend for the team, but we were able to leave with valuable championship points from both races and the knowledge to be more prepared for the next round at Road Atlanta in April."
About N2: N2 – Ride, Race, Learn.
Founded in 2014, N2's mission is to build a sustainable motorcycle community through safe, structured motorcycle track days, advanced rider training programs based on Yamaha Champions Riding School teaching methods, with a strong affinity for motorcycle road racing. N2 successfully resurrected Motorcycle Endurance Racing in America partnering with WERA Roadracing and creating the N2/WERA National Endurance Series by Dunlop. N2 is a premier participant in the MotoAmerica Pro Racing Series with a multi-rider team competing in several classes. N2 is also a major contributor to the Roadracing World Action Fund through fundraising efforts and support from its large member base.
N2 Racing is proudly sponsored by: Dunlop Motorcycle Tires, Yamaha Motor Corporation USA, Dainese, BobbleHeadMoto, Trading Paint, GB Racing, Spider, Yoshimura, STM, Sunstar, Giaccmoto, Robem Engineering, Puig, Eazi Grip, SBS Brakes and Yamaha Champions Riding School.
More, from a press release issued by Blackmon Racing:
Blackmon Overcomes Injury To Double Podium At Daytona
The 2023 MotoAmerica Twins Cup Championship debuted at Daytona International Speedway over this past weekend. There were three days full of close racing from all the classes that were featured at the race. The Twins class saw some new talent enter the class, while other riders made their return such as Jackson Blackmon.
The 21-year-old rider from South Carolina suffered an ankle injury back in June of 2022 at Road America that ultimately put an end to his 2022 season. Trackday Winner/Blackmon Racing has made a return in 2023 with Jackson back aboard a 2022 Yamaha YZF-R7. With this being his third year competing in the class, he was hoping to use that experience to gain great results and minimize mistakes. Upon hitting the banks of Daytona in practice one, it was evident that Jackson hadn't lost any pace.
Coming out of the offseason, the team encountered multiple challenges while preparing for 2023. New partners for this year include K-Tech Suspension, M4 Exhaust, Robem Engineering, Spears Racing, REV'IT!, and Hustle Hard Racing. Trackday Winner has returned as title sponsor with numerous associate sponsors, including Yamaha, Yamalube, Finishline Machine, HJC, and Wiseco.
Blackmon Racing came to Daytona with a strong package that delivered astonishing finishes and fast speeds. Qualifying was up and down for Jackson. Continuing to make big changes to the race setup made it hard for him to get fast laps. He ended up starting seventh for the races, but he was feeling confident in the settings for Race One on Friday.
The first of the two races scheduled for the weekend consisted of some chaos that broke up the lead pack early on. Jackson had to take evasive action in a crash that saw him back in fourth position and seconds behind. He was able to continually find pace to eventually catch up to the second-place rider, Then, on the final lap he made a draft pass to the line to take over the position. From ending his last race with injury to starting this season with a podium was exactly how he wanted to return to racing.
The second and final race of the Twins class at Daytona saw a different story unfold. Starting with a red flag early on made for a five-lap restart. Blackmon struggled a bit in the infield and that let the top two guys get away, but he was still able to manage third place to make for a double podium weekend.
"The weekend couldn't have gone much better," Blackmon said about his 2023 Daytona experience. "It's been a long road of recovery on my ankle as well as a lot of long nights to prepare the bike for round one. So I was very pleased to pay back my Trackday Winner/Blackmon Racing team with two days on the box. These results give me a lot of confidence heading into Road Atlanta, and I cannot wait to get back on track soon."
Trackday Winner/Blackmon Racing would like to thank their 2023 partners for their support: Trackday Winner, Finishline Machine, Yamaha, Yamalube, K-Tech, Orient Express, HJC, REV'IT!, Robem Engineering, M4, Spears Racing, Wiseco, Hustle Hard Racing, Drippin' Wet, and Sidi.
More, from a press release issued by Indian Motorcycle:
INDIAN MOTORCYCLE RACING LEADS MISSION® SUPER HOOLIGAN® NATIONAL CHAMPIONSHIP FOLLOWING SEASON OPENER AT DAYTONA INTERNATIONAL SPEEDWAY
2022 Super Hooligan® Champion Tyler O'Hara Takes Early Points Lead Following Back-to-Back Wins At Daytona Doubleheader
Indian Motorcycle Racing Comes Away with Podium Finish in Mission® King of the Baggers,
O'Hara Ranks Fifth In Season Standings with 21 Points, McWilliams Eighth with 19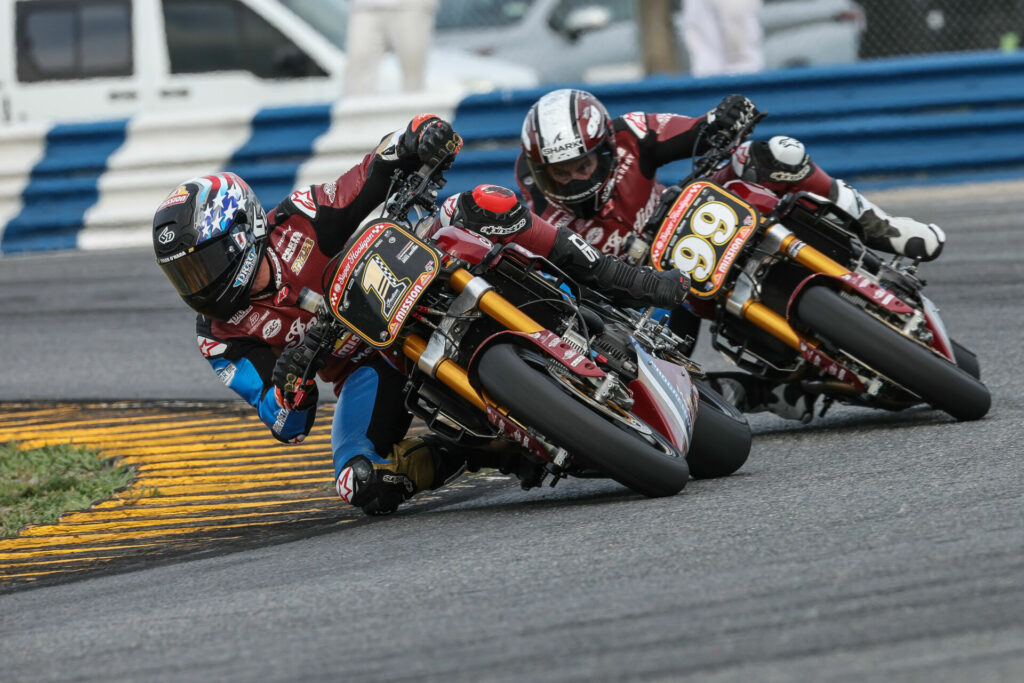 MINNEAPOLIS (MARCH 14, 2023) – Following an offseason that expanded the competitive landscape with new manufacturers lining up for the MotoAmerica® Mission® Super Hooligan® National Championship (SHNC), it was Indian Motorcycle Racing and its factory team claiming the top two spots on the leaderboard, following the season-opening doubleheader at Daytona International Speedway. Piloting a pair of S&S®-built Progressive® Mission® Foods Indian FTRs, reigning SHNC champion Tyler O'Hara and teammate Jeremy McWilliams each left Daytona with a pair of podiums, including back-to-back victories for O'Hara and third and second-place finishes for McWilliams.
On Friday, March 10, O'Hara strategically tailed RSD Indian FTR privateer Bobby Fong for nearly the entire six-lap race. Waiting for the final lap to strike, O'Hara was able to carry more speed through the chicane and go up and around the outside of Fong to capture the season's first win by .0064 seconds. McWilliams rounded out the podium to complete the Indian FTR podium sweep.
"Bobby was running fast all weekend and gapped me for a period until I was able to make up some ground. The lapper through the chicane definitely played a big role as I wasn't sure if I was going to be able to draft pass him on the finish," said O'Hara. "But what  a fun race, and for Indian Motorcycle to sweep the podium just shows how impressive this Indian FTR really is."
Race 2 on Saturday, March 11, was filled with plenty of action. After an early crash caused a red-flag restart, it was a five-rider group at the front of the pack. Pushing hard in the group, KTM rider Andy DiBrino lost his front end and laid his bike down, while Fong encountered a technical issue – making it a three-rider run for first between Harley-Davidson rider Cory West, O'Hara and McWilliams. While West ultimately crossed the finish line first, a post-race bike inspection found an illegal air intake that resulted in a disqualification – awarding O'Hara his second win of the weekend and earning McWilliams a second-place finish.
In the MotoAmerica® Mission® King of the Baggers (KOTB) class, O'Hara reached the podium with a third-place finish in Race 1. While the Indian Challenger had been running fast all weekend, even clocking the weekend's fastest speed on a bagger at 182 mph, both O'Hara and McWilliams suffered technical issues in Race 2. Indian Motorcycle Racing concluded the opening rounds at Daytona with O'Hara in fifth (21 points) and McWilliams in eighth (19 points) on the season's leaderboard.
"Our issues this weekend were specifically with our tires, MotoAmerica is a spec tire series, we are only given one choice for tires for Daytona and they failed with our higher speeds after four laps, but our new bikes are performing incredibly well, with a significantly higher level of both handling and power, as evidenced by both our riders registering speeds of more than 180 mph throughout the weekend," said Gary Gray, Vice President – Racing, Technology and Service for Indian Motorcycle. "At the end of the day, the performance of our Indian Challengers, coupled with our success in the Super Hooligan class has us feeling extremely optimistic and incredibly motivated heading into the second round in Atlanta."
The 2023 KOTB and SHNC seasons continue with Road Atlanta April 21-23. For more information visit MotoAmerica.com.
Indian Motorcycle Racing is presented by Progressive Insurance®, Mission® Foods and Medallia®, with additional support from Indian Motorcycle Motor Oil, S&S®, Parts Unlimited, Drag Specialties®, Performance Finance, and J&P Cycles®.
For information about Indian Motorcycle, visit IndianMotorcycle.com, or follow along on Facebook, Twitterand Instagram.
ABOUT INDIAN MOTORCYCLE®
Indian Motorcycle Company is America's First Motorcycle Company®. Founded in 1901, Indian Motorcycle has won the hearts of motorcyclists around the world and earned distinction as one of America's most legendary and iconic brands through unrivaled racing dominance, engineering prowess and countless innovations and industry firsts. Today that heritage and passion is reignited under new brand stewardship. To learn more, please visit www.indianmotorcycle.com.
INDIAN and INDIAN MOTORCYCLE are registered trademarks of Indian Motorcycle International, LLC.  Always wear a helmet, protective clothing and eyewear and insist your passenger does the same.  Ride within the limits of the law and your own abilities.  Read, understand and follow your owner's manual. Never ride under the influence of drugs or alcohol.
Progressive Insurance® is a registered trademark of Progressive Casualty Insurance Company; MOTOAMERICA® is a registered trademark of Krave Group, American Flat TrackSM is a service trademark of Daytona Motorsports Group LLC; Harley-Davidson® is a registered trademark of H-D U.S.A., LLC; King of the Baggers® is a registered trademark of KRAVE GROUP, LLC; Super Hooligan® is a registered trademark of Roland Sands Design, Inc.; Mission® is a registered trademark of Gruma Corporation; Monster Energy® is a registered trademark; Drag Specialties® is a registered trademark of LeMans Corporation; Bell® is a registered trademark of Bell Sports, Inc; Medallia® is a registered trademark of Medallia Inc.; S&S® is a registered trademark of S&S Cycle, Inc.; J&P Cycles® is a registered trademark of J&P CYCLES, LLC;  Öhlins® is a registered trademark of Öhlins Racing AB CORPORATION SWEDEN; Klotz®is a registered trademark of  Klotz Synthetic Lubricants, Inc.; Klock Werkssm is a service trademark of Klock, Brian INDIVIDUAL; RK TAKASAGO CHAIN is a registered trademark of RK JAPAN CO., LTD., Engine Ice®  is a registered trademark of KOST USA, LLC;  VP Racing Fuels® is a registered trademark of VP RACING FUELS Inc.; Motion Pro® is a registered trademark of Motion Pro Inc.; Corbi® is a registered trademark of CORBIN PACIFIC, INC; Unless noted, trademarks are the property of Indian Motorcycle International, LLC.
More, from a press release issued by Royal Enfield North America:
Royal Enfield And MotoAnatomy Get It Started In Daytona
Johnny Lewis and Ryan Wells kick off American Flat Track season at Daytona Short Track Doubleheader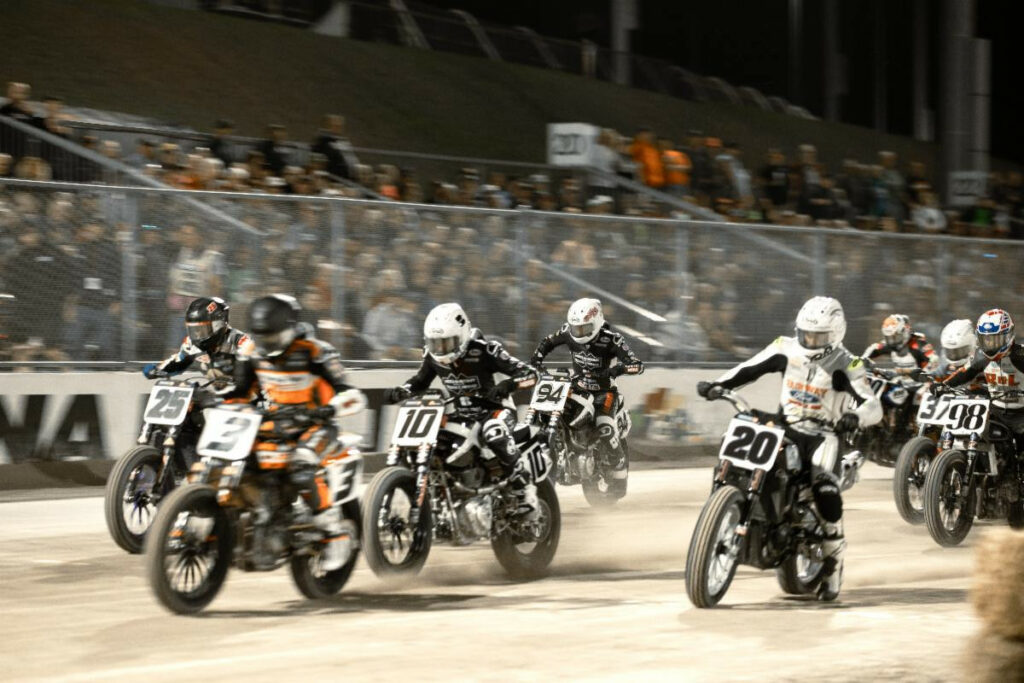 Milwaukee, WI (Tuesday, March 14, 2023) – It's been a busy off-season for Johnny Lewis and the MotoAnatomy Powered by Royal Enfield team, and the Daytona Short Track is where they got to showcase all the hard work, and reach more milestone moments for the brand. For Lewis, his 2023 season started with a heat race win, a main event holeshot and leading the first lap of Thursday night's Daytona Short Track I. For Wells, it was his first race with the team, and the Daytona Short Track II marked first time ever that two Royal Enfields have been in an AFT SuperTwins main event.
"I love every bit of Short Track," says Jonny Lewis. "Because it's intense racing, but you're really trying to control the motorcycle. We're really try to push the bike in, get a direction change and you're coming almost to a dead stop and accelerating really hard… so it's really about trying to contain the power as much as you can, and keep the bike precise on the track. In Short Track, it's really hard to do."
Lewis put his razor-sharp technique to good use as he grabbed the holeshot and led the charge in the very first main event lap of 2023 American Flat Track. It also marked the first-ever unified SuperTwins race in AFT (previously, Lewis competed in the Production Twins class, which is now combined with the premiere Mission SuperTwins class). From there, Lewis settled into a strong fifth-place, but was taken out by another rider. He would soldier on to finish a respectable eighth.
For Ryan Wells, Daytona was his official debut with the MotoAnatomy Powered by Royal Enfield team. Like his teammate, Wells had some shining moments in Florida, and is looking to build on the excitement and progress into the rest of the season.
"It's when I have someone like Johnny riding the same exact bike," said Ryan Wells, "because Johnny's really good at eliminating anything that could be under the bike's control and puts it under his own control. Seeing what he's doing made me want to work harder. Because he busts his butt every day of the week and he doesn't stop. I know we feed off each other when he sees me working hard, he wants to work harder and vice versa."
"This great team synergy, the progress made with the Royal Enfield Twins FT motorcycle and the enthusiasm for the entire 2023 season are our main takeaways from the Daytona Short Track Doubleheader," said Adrian Sellers, Royal Enfield Head – Custom & Motorsport. "This is an exciting ride for all of us into uncharted territory and we're already seeing the work pay off. Mostly, we're just happy to be officially underway for the 2023 season."
For more on the MotoAnatomy Powered by Royal Enfield team and a behind-the-scenes look at the Daytona Short Track Doubleheader, head to Instagram @motoanatomyxroyalenfield.
For more on the 2023 Progressive American Flat Track Championship, visit AmericanFlatTrack.com.
About Royal Enfield
The oldest motorcycle company in continuous production in the world, Royal Enfield made its first motorcycle in 1901. A division of Eicher Motors Limited, Royal Enfield has created the midsize motorcycle segment in India with its unique and distinctive modern classic motorcycles. With its manufacturing base in Chennai, India, Royal Enfield has been able to grow its production rapidly against a surge in demand for its motorcycles. Royal Enfield is a leading player in the global middleweight motorcycle market.
Royal Enfield North America (RENA) is headquartered in Milwaukee, Wisconsin, and is developing a growing network of more than 150 dealers in North America, including the contiguous U.S. and Canada. RENA currently offers the all-new Scram 411, Classic 350, Meteor 350, Himalayan and the 650 Twins (INT650 and Continental GT 650) motorcycles, along with a range of Genuine Motorcycle Accessories and apparel.
For more information on Royal Enfield North America, visit www.RoyalEnfield.com/us/en/, www.Instagram.com/RoyalEnfield_NA, www.Facebook.com/RoyalEnfieldNorthAmerica.