EXCITING DEBUT FOR MESA AND TYTLERS CYCLE RACING WITH THE EVA RIBELLE RS AT DAYTONA
Tytlers Cycle Racing and Stefano Mesa have completed the opening round of the 2023 Mission Foods Super Hooligan National Championship by MotoAmerica, with the fast and experienced Colombian rider able to ride the race-ready Energica EVA Ribelle RS to a seventh and a fifth place in the first two races of the series held at the iconic Daytona International Speedway in Florida, USA.
There was plenty of anticipation for the debut of the first full-time electric-powered effort in the series, and Mesa – who has had his fair share of success on the iconic Daytona high banks over the years – proved to be more than ready for the new challenge.
A successful performance at Daytona was everything but a given, as the lack of previous data at the track or experience with the spec Dunlop tires meant that there were still some unknowns on the overall potential of the Energica race package at the high-speed venue – which layout-wise is surely not the most favorable one for electric motorcycles.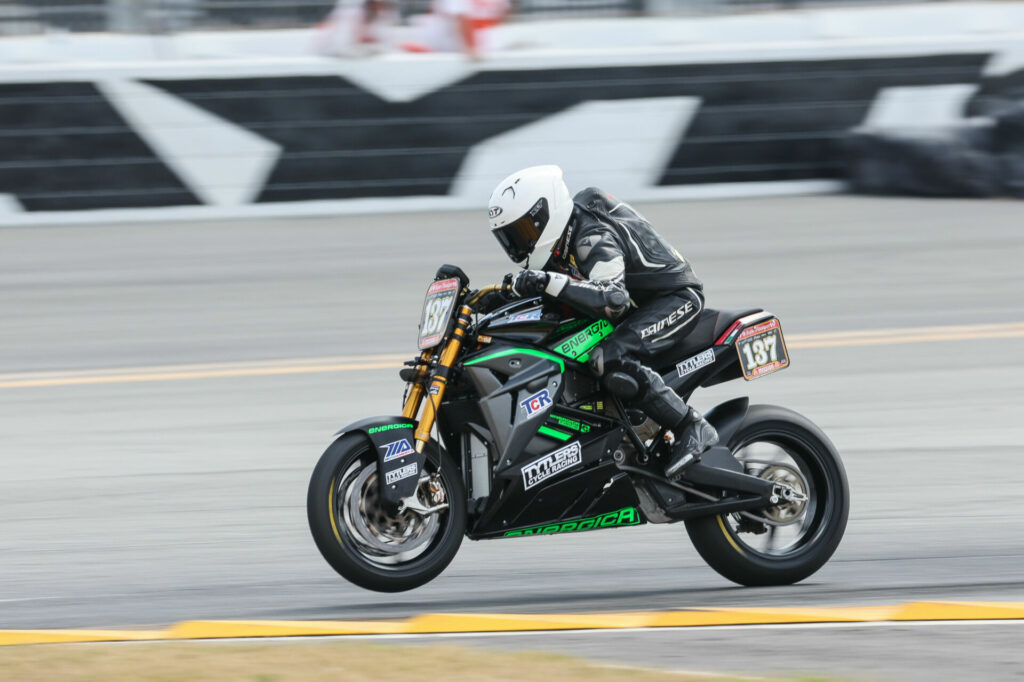 Despite all of the above, the  #137 rider mastered the full power of Energica's streetfighter machine while getting in the mix with ICE-powered competitors as well as making the most of the instant torque available to his right wrist at the start of the encounter. The Energica EVA Ribelle proved to be a solid package in more than capable hands, and the results achieved have injected further confidence for the upcoming race events.
The Super Hooligan series will now take a break before resuming proceedings for Round two at Ridge Motorsports Park in Shelton, Washington on June 23-25. For more on the Super Hooligan series go to: https://www.superhooligan.com
To view the first Super Hooligan Daytona 2023 race go to: https://www.youtube.com/watch?v=6Lj6s81flvE
To view the second Super Hooligan Daytona 2023 race go to: https://www.youtube.com/watch?v=2qPmXIUNlMw
For more on Tytlers Cycle Racing go to: https://www.tytlerscycle.racing
More, from a press release issued by Aprilia:
APRILIA RS 660 TAKES TOP STEP WITH RODIO IN MOTOAMERICA TWINS CUP SEASON OPENER AT DAYTONA
RODIO RACING POWERED BY ROBEM ENGINEERING RIDER NARROWLY MISSES THE DOUBLE, SETTLES FOR SECOND ON SATURDAY, LEAVING FLORIDA WITH AN EARLY CHAMPIONSHIP LEAD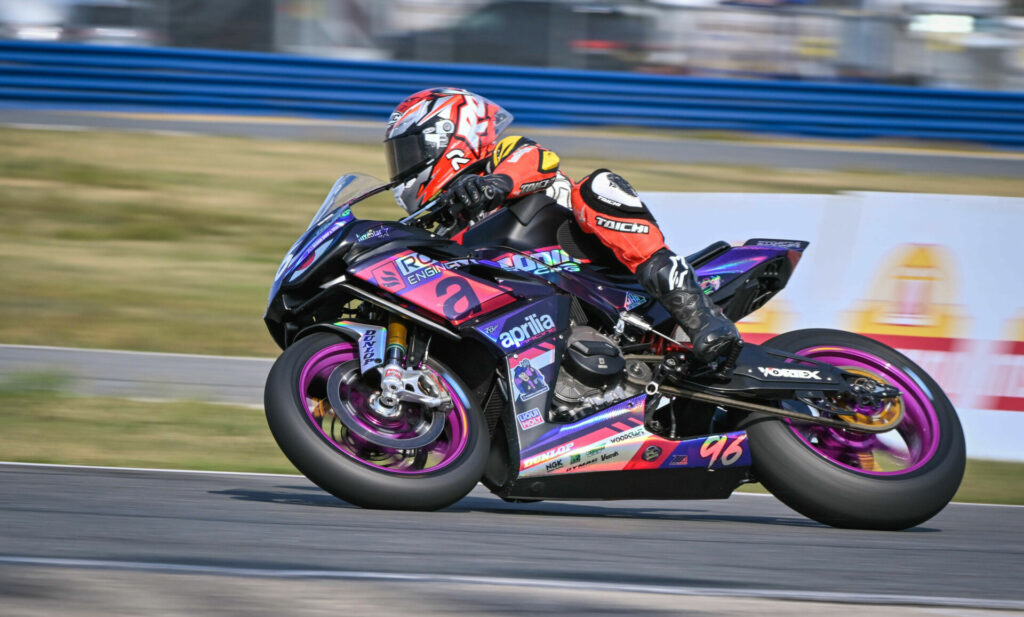 DAYTONA BEACH, FL – 12 MARCH 2023 – It was back to winning ways for Aprilia in MotoAmerica Twins Cup on Friday, as Rodio Racing powered by Robem Engineering rider Gus Rodio was victorious in the first series race of 2023. Rodio piloted his Aprilia RS 660 to a victory by a margin of more than eight seconds before nearly claiming a second win on Saturday at the March 9-11 round at Daytona International Speedway.
Rodio's performance, which included returning to the Saturday race after suffering a mechanical problem, allowed him to amass a nine-point championship lead by the end of the event. Two other Aprilia riders, Rodio's teammate Ben Gloddy, and Optimum Performance Motorsports' Jody Barry, put in strong performances at Daytona, though Gloddy's weekend was cut short due to an unfortunate injury.
The first Twins Cup practice session ended with an Aprilia rider at the top of the time sheet. Rodio put in a best lap of 1:57.671, which was 0.064 seconds faster than the second-best lap time. Two more Aprilia riders finish in the top five, as Barry was the fourth-fastest rider and Gloddy fifth.
The first qualifying session of the event took place later on Thursday. Rodio was again the fastest of the Aprilia riders. He finished the session in fourth place. Gloddy and Barry provisionally qualified in sixth and eighth, respectively.
Qualifying concluded Friday morning with three Aprilia riders having qualified in the top 10. Rodio secured fourth place on the Twins Cup starting grid, while Gloddy and Barry qualified sixth and eighth, respectively.
Friday afternoon saw the first Twins Cup race of 2023 get underway with Rodio quickly working his way up to the race lead by the end of Lap 1. Gloddy also got a good start and had advanced to third place by the end of the first lap. He was running in fourth when another rider crashed heavily in front of him and, despite his best effort, was knocked off his motorcycle and was unable to continue racing. Barry had a sluggish start to the race. He dropped down the running order as far as 12th on Lap 1 before charging forward to sixth place on Lap 3 — which is the position he finished the race in.
Rodio's pace improved to the rest of the field as the race went on. He was part of a three-rider battle for the race lead until the closing laps, when he steadily increased his lead each lap to take the victory by more than 8.5 seconds.
Gloddy was unable to take part in Saturday's Race 2 due to an injury he suffered during his crash in Race 1.
The Saturday contest was a trying one for Rodio and his team. As the field began forming up for the start of the race, Rodio pulled into the pits due to a technical problem with his motorcycle and was unable to take the start. As the lone Aprilia in the top 10, Barry put in a solid effort in the race's early laps. He was running in seventh when the race was stopped on Lap 3 due to a crash.
The race was restarted with the original starting grid, which allowed Rodio to rejoin the race on the lead lap. The start saw Rodio get a good jump off the line and he was back to the race lead by the end of the first lap. Rodio also led Laps 3 and 4 as he and another rider broke away from the rest of the field. While the other rider was able to draft past Rodio on the approach to the finish line, Rodio got the best drive he could onto the east banking and missed out on the win by a mere 0.162 seconds. Barry put in a strong showing in the restarted race but dropped two places on the last lap to seventh and missed out on a top five finish by 0.039 seconds.
Of the 38 riders entered for the MotoAmerica Twins Cup round at Daytona, 15 were registered to ride Aprilia RS 660s.
Gus Rodio / No. 96
"It was an awesome first race of the season. I was able to break away from the pack and win my first Twins Cup race. It was my biggest margin of victory and I'm very happy. In Race 2, I broke away from the pack with another rider and had a race long battle for the lead. I ended up second in a close finish. I'm really happy with this result as I didn't think we would make it on track due to an issue we had. I'm really excited to get to Atlanta and keep working towards our goals."
MotoAmerica's Twins Cup has two races scheduled for the next round, April 21-23, at Road Atlanta. The championship schedule, competitor information and class rules can be found at https://motoamerica.com/.
More, from a press release issued by Suzuki Motor USA, LLC:
SIXTH FOR VISION WHEEL M4 ECSTAR SUZUKI'S HOBBS AND DISAPPOINTMENT FOR ESCALANTE IN THE 81st DAYTONA 200
BREA, CA – March 12, 2023 – Vision Wheel M4 ECSTAR Suzuki left the MotoAmerica AMA/FIM North American Road Racing season opener with a top-ten result and a heavy dose of tough luck after missing a potential victory late in the running of the 81st Daytona 200.
MotoAmerica Superbike regular and former MotoAmerica Supersport champion Richie Escalante orchestrated a flawless performance as he negotiated the equally prestigious and arduous race. He guided the Mission Foods Suzuki GSX-R750 at or near the front of the pack deep into the contest, including leading into both scheduled pit stops.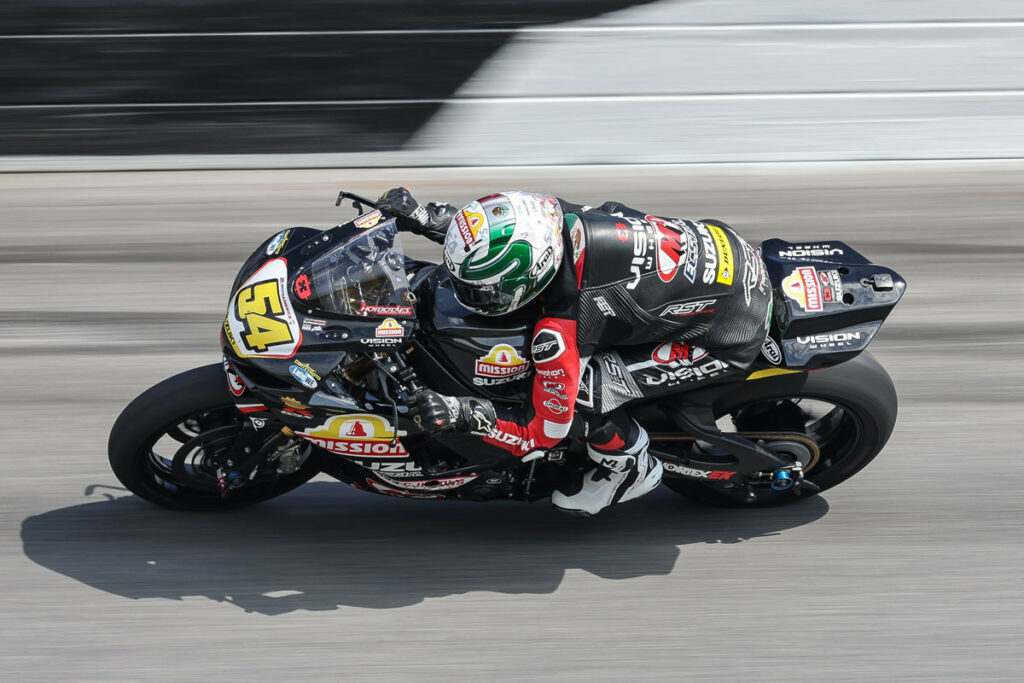 Seemingly locked in a two-rider race for victory with less than ten laps to go, Escalante was taken out in a collision that occurred when his opponent attempted a tight inside pass in Turn 1 that resulted in a penalty. Despite the ruling in his favor, the incident still instantly erased Escalante's excellent shot at the victory.
Escalante said, "First of all, I want to thank the team for everything they did for me, from pre-race testing, to qualifying and setting the lap record, to the amazing pit stops during the race. The Mission Foods Suzuki GSX-R750 was fantastic. I thought we performed well in the race, running a particularly good pace. It came down to the last ten laps, and I was trying to separate. There was a racing move, another rider touched my bike, and I crashed. I have a lot of respect for Josh Herrin. He is a former Superbike champion and has won a lot of races. I thought I was the fastest today, but sometimes you win, sometimes you lose, and sometimes you crash. We didn't win so I am not 100% happy. I thought we did well all week, but it did not work out the way we wanted in the end. It's back to work on Monday to get ready for Superbike in Atlanta."
A couple of short laps later, Vision Wheel M4 ECSTAR Suzuki's Teagg Hobbs came together with a lapped rider while running inside the top five. A resultant red flag provided the team with a shot at redemption after facing complete disaster, and Hobbs took full advantage.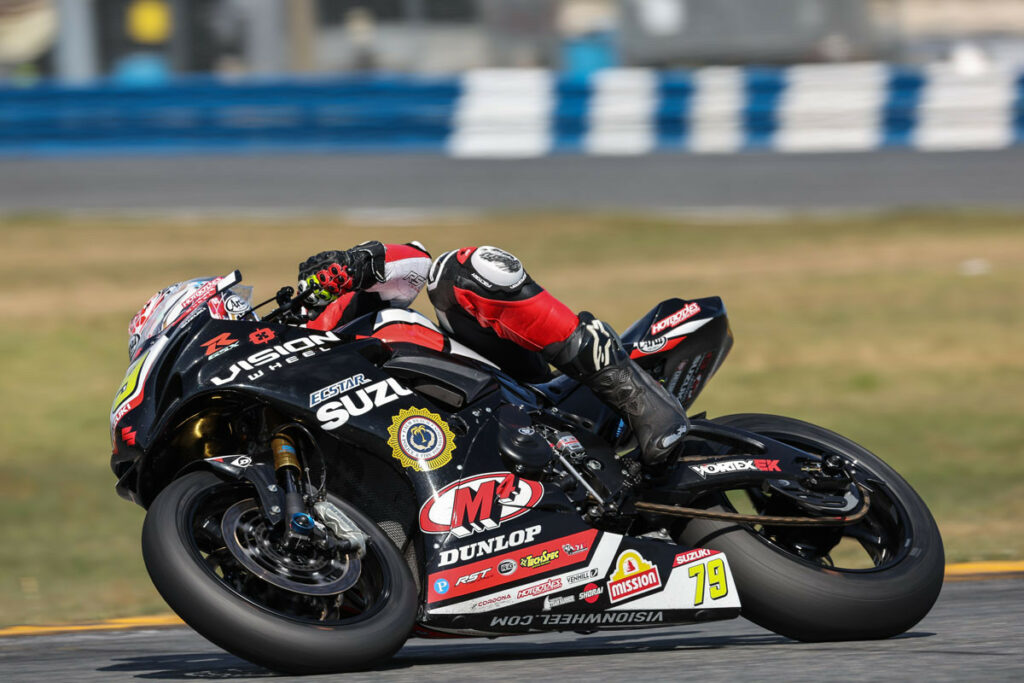 Hobbs battled with the lead group in the 10-lap shootout for a victory that followed the stoppage, even leading in its early stages. He gradually lost touch with the drafting war for victory, securing an eventual sixth-place effort in his maiden race aboard the Vision Wheel M4 ECSTAR Suzuki GSX-R750.
"I came together with another rider, and race officials made me go to medical," said Hobbs. "I was getting checked out when I saw the team putting my bike back together in pit lane on the screen. After they said I was okay, I put my gear back on and started limping back to the pits, then I borrowed a golf cart and made it back just in time. I was able to get up to the front and lead two laps but the bike and the rider both had some issues resulting from the crash. We got a good result at least. Over the weekend, we made nice progress and got the bike sorted."
Unfortunately, Tyler Scott's bid for the win from the front row never really materialized. The prodigious pilot encountered technical issues early and ultimately retired just 14 laps into a scheduled 57 (and actual 62) laps.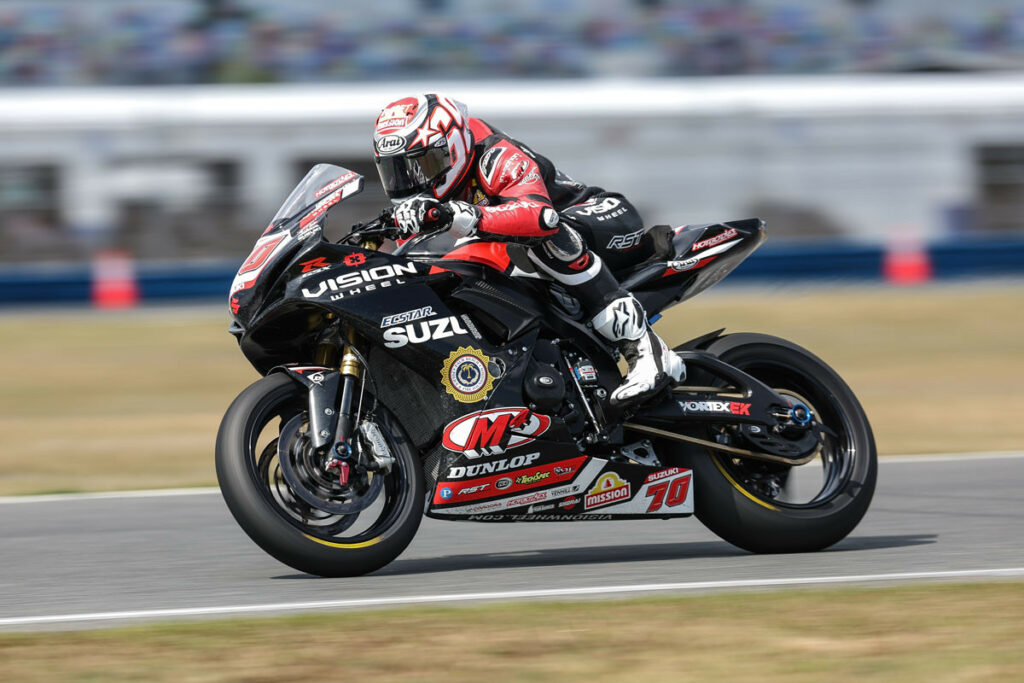 Scott said, "For the start in Turn 1, the bike was good, but we soon had electrical problems. I tried to do the best I could. Eventually, I had to pull off due to safety concerns. It didn't go the way we wanted but I'm really looking forward to racing the 200 with the team next year and can't wait for our next race in Atlanta."
For more racing news, results, and special team content please visit https://suzukicycles.com/racing/road-racing.
ABOUT SUZUKI
Suzuki Motor USA, LLC. (SMO) distributes Motorcycles, ATVs, Scooters, Automotive Parts, Accessories, and ECSTAR Oils & Chemicals via an extensive dealer network throughout 49 states. Suzuki Motor Corporation (SMC), based in Hamamatsu, Japan, is a diversified worldwide manufacturer of Motorcycles, ATVs, Scooters, Automobiles, Outboard Motors, and related products. Founded in 1909 and incorporated in 1920, SMC has business relations with 201 countries/regions. For more information, visit www.suzuki.com.
ABOUT TEAM HAMMER
The 2023 season marks Team Hammer's 43rd consecutive year of operating as a professional road racing team. Race bikes built and fielded by Team Hammer have won 129 AMA Pro and MotoAmerica National races, have finished on AMA Pro and MotoAmerica National podiums 345 times, and have won 11 AMA Pro and MotoAmerica National Championships, as well as two FIM South American Championships (in Superbike and Supersport.) The team has also won 137 endurance races overall (including seven 24-hour races) and 13 Overall WERA National Endurance Championships with Suzuki motorcycles, and holds the U.S. record for mileage covered in a 24-hour race. The team also competed in the televised 1990s Formula USA National Championship, famously running "Methanol Monster" GSX-R1100 Superbikes fueled by methanol, and won four F-USA Championships.
ABOUT VISION WHEEL
Founded in 1976, Vision Wheel is one of the nation's leading providers of custom wheels for cars and trucks, and one of the first manufacturers of custom wheels and tires for ATVs, UTVs, and golf carts. Vision Wheel looks beyond the current trends and to the future in developing, manufacturing, and distributing its wheels. Vision's lines of street, race, off-road, American Muscle, and Milanni wheels are distributed nationally and internationally through a trusted network of distributors. Vision Wheel also produces the Vision It AR app to allow users to see how their wheel of choice will look on their vehicle before purchase and installation. For more information on Vision Wheel, visit www.visionwheel.com.
More, from a press release issued by Harley-Davidson:
KYLE WYMAN AND FACTORY HARLEY-DAVIDSON DOMINATE MOTOAMERICA KING OF THE BAGGERS RACE 2 AT DAYTONA SPEEDWAY 
Rispoli and Gillim Fill Out an All-H-D Podium; Rispoli Wins Race 1, Leads Championship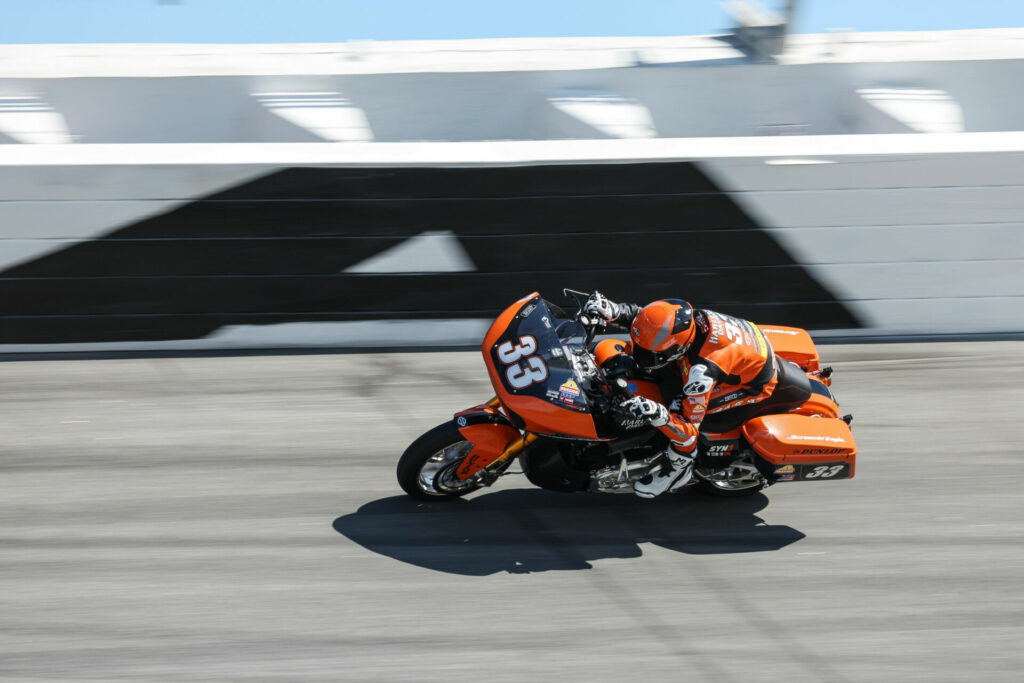 MILWAUKEE (March 12, 2023) – Harley-Davidson® Screamin' Eagle® factory rider Kyle Wyman scored a dominating win and topped an all-Harley-Davidson podium in the MotoAmerica Mission King of the Baggers race on Saturday at Daytona International Speedway in Daytona Beach, Fla. Wyman led the entire eight-lap race on the team's race-prepared Harley-Davidson® Road Glide® Limited motorcycle, crossing the finish line 8.03 seconds ahead of Vance & Hines/Mission Harley-Davidson teammates James Rispoli and Hayden Gillim. Team Saddlemen teammates Cory West and Jake Lewis finished fourth and fifth to complete a top five sweep of the race for Harley-Davidson Road Glide motorcycles.  
"I'm so excited that we got our Harley-Davidson Road Glide motorcycle working so well today," said Wyman. "This is my first win at Daytona since 2019, and this is such a special place, so a victory here is always special. We had a tough day yesterday, but the entire team just dug in and we had smooth sailing today. You can think of so many scenarios that could happen going into this weekend, but you could not predict either one of these days. It's a nice way to end the weekend at Daytona. I'm ready to take this momentum to Atlanta." 
On Thursday, Kyle Wyman topped King of the Baggers qualifying with a record-breaking best lap of 1:51.98 on the 3.510-mile Daytona road course. On Friday, Kyle looked strong in winning the King of the Baggers Challenge three-lap dash-for-cash race by 1.96 seconds. The Friday King of the Baggers race was a disappointment for the team, as both Kyle Wyman and his brother and teammate, Travis Wyman, retired with mechanical problems while leading the race respectively. Rispoli won that race on his Vance & Hines Harley-Davidson Road Glide, beating his teammate Gillim to the line by 0.089 seconds. Factory Indian racer Tyler O'Hara finished third. Team Saddlemen racer Cory West Finished fourth on his Harley-Davidson Road Glide. 
On Saturday, Kyle Wyman signaled that he was riding the bike to beat after demolishing his qualifying time with a new lap record 1:50.56 time in the warm-up session, going almost two seconds quicker around the course than anyone. In Saturday's race, Wyman had a fast lap of 1:50.86 and was never challenged. Unfortunately, his teammate Travis Wyman was knocked out of the race early with a mechanical issue. 
After two of 14 rounds in the 2023 MotoAmerica Mission King of the Baggers series, Vance & Hines racer Rispoli leads the championship with 45 points, followed his teammate Gillim with 36 points. Team Saddlemen Harley-Davidson rider Cory West sits third with 26 points, and Harley-Davidson factory rider Kyle Wyman is in fourth place with 25 points. Team Saddlemen's Jake Lewis is tied for fifth with Factory Indian racer Tyler O'Hara with 21 points. 
 The Mission King of the Baggers series features race-prepared American V-Twin touring motorcycles. Harley-Davidson® Factory Team Road Glide® motorcycles are powered by modified Screamin' Eagle® Milwaukee-Eight® 131 Performance Crate Engines. The team bikes also feature upgraded suspension components, including Screamin' Eagle/Öhlins Remote Reservoir Rear Shocks, plus competition exhaust, race tires and lightweight bodywork. 
The Harley-Davidson® Screamin' Eagle® factory team returns to action April 21-23 in the MotoAmerica Superbike Series at Road Atlanta in Braselton, GA. 
MotoAmerica King of the Baggers Race Results – Daytona Race 1 
1.      James Rispoli (H-D) Vance & Hines Racing 
2.      Hayden Gillim (H-D) Vance & Hines Racing 
3.      Tyler O'Hara (Ind) Progressive/Mission Foods 
4.      Cory West (H-D) Team Saddlemen 
5.      Jeremy McWilliams (Ind) Progressive/Mission Foods 
6.      Jake Lewis (H-D) Team Saddlemen 
7.      Hawk Mazzotta (Ind) Lloyds Garage 
8.      Kyle Ohnsorg (Ind) Roland Sands Design 
9.      Max Flinders (Ind) M3/Revolution Performance 
10.  Frankie Garcia (H-D) Team Saddlemen 
MotoAmerica King of the Baggers Race Results – Daytona Race 2 
1.      Kyle Wyman (H-D) Screamin' Eagle Harley-Davidson 
2.      James Rispoli (H-D) Vance & Hines Racing 
3.      Hayden Gillim (H-D) Vance & Hines Racing 
4.      Cory West (H-D) Team Saddlemen 
5.      Jake Lewis (H-D) Team Saddlemen 
6.      Hawk Mazzotta (Ind) Lloyds Garage 
7.      Kyle Ohnsorg (Ind) Roland Sands Design 
8.      Jeremy McWilliams (Ind) Progressive/Mission Foods 
9.      Max Flinders (Ind) M3/Revolution Performance 
10.  Danny Eslick (H-D) Nowaskey Extreme Performance 
Harley-Davidson invites you to kick off the 2023 MotoAmerica King of the Baggers season with some adrenaline pumping action. Check out, 'Push the Limit,' a film that shares the story of defending 2021 champion Kyle Wyman, teammate Travis Wyman and the Harley-Davidson Screamin' Eagle race team's 2022 championship pursuit. Watch it now on Harley-Davidson's YouTube channel.  
Harley-Davidson stands for the timeless pursuit of adventure and freedom for the soul. Go to H-D.com to learn more about the complete line of 2023 Harley-Davidson Grand American Touring, Sport, Adventure Touring, Cruiser and Trike motorcycles, Harley-Davidson Certified™ pre-owned motorcycles, Harley-Davidson Genuine Motor Parts & Accessories, Harley-Davidson MotorClothes and gear, and Harley-Davidson Financial Services.