Rodio Racing Concludes 2022 Season at Barber Motorsports Park
Gus Rodio Ties for STG Junior Cup Championship; Anthony Mazziotto Ties for 2nd Place in REV'IT! Twins Cup
Entering the season finale at Barber Motorsports Park Gus Rodio and Anthony Mazziotto held second place in their respective championships. Despite being 20 points behind in the class championship, with 50 points available in two races Gus was optimistic about the prospect of erasing the deficit. Rebounding from fifth place in the first qualifying session Gus secured a third place grid position being only one of three riders in the 1:35's. In an exciting Race One, Gus battled for the lead throughout, leading the white flag lap but dropping to third at the finish. Race Two was a different story, where Gus was credited with the lead in nine of the 11 laps, including the final lap for the his third win of the season. The win was enough to erase the entire points distance between Gus and the leader, finishing in a 285 point tie. After applying tie-breaker rules Gus was presented the second-place championship trophy. Gus announced that the 2022 Junior Cup season was his last and he will move up to Twins Cup racing in 2023.
Gus Rodio: "P2 in the 2022 MotoAmerica Junior Cup Championship. We lost by zero points. We managed 11 podiums, three wins, five second-place finishes, and three third-place finishes. There's so many people to thank for making this happen. Kevin Rodio is the backbone to my whole career let alone our Rodio Racing team. I appreciate everything he does, and has done for me. Thank you Rich Marshall for being my main mechanic this season. It went from helping out at Daytona, to him making every single round, giving me a dialed machine to push for this championship all season long. Frank Angel for data analysis and using his many years of experience and intelligence to our advantage. Thank you Artie Meeker for his help as always, and keeping the vibes high! Thank you to my mom Stacey Santora Rodio my sister Nat Rodio and my brother Maximilian Rodio for everything they do for me behind the scenes. Thank you to my grandparents Mark Rodio and Rose Marie Pitale Rodio for their support. Thank you to all of my sponsors that help me chase this dream, because without them, we truly wouldn't be doing what we are."
Anthony Mazziotto came to Barber in second place, 15 points behind the REV'IT! Twins Cup leader with 25 championship points available. An electronics issue prevented Anthony from running the entire free practice session, and he dropped out of Q1 with a mechanical after completing only six laps. In Q2 Anthony finally completed his first full on-track session to finish in 10th position. In Sunday's warm up things were looking improved for Anthony as he pushed to the fourth-fastest time. In the only race of the weekend an eighth-place finish secured a tie for 191 championship points that ultimately resulted in a season finish in third place after tie-breaker rules were applied.
Rodio Racing will retool over the off-season and be back in 2023 to chase more championships!
More, from a press release issued by Evike.com:
2021 MotoAmerica Mini Cup by Motul 110 & 160 Champion Kensei Matsudaira Returns to Win 2022 190 Championship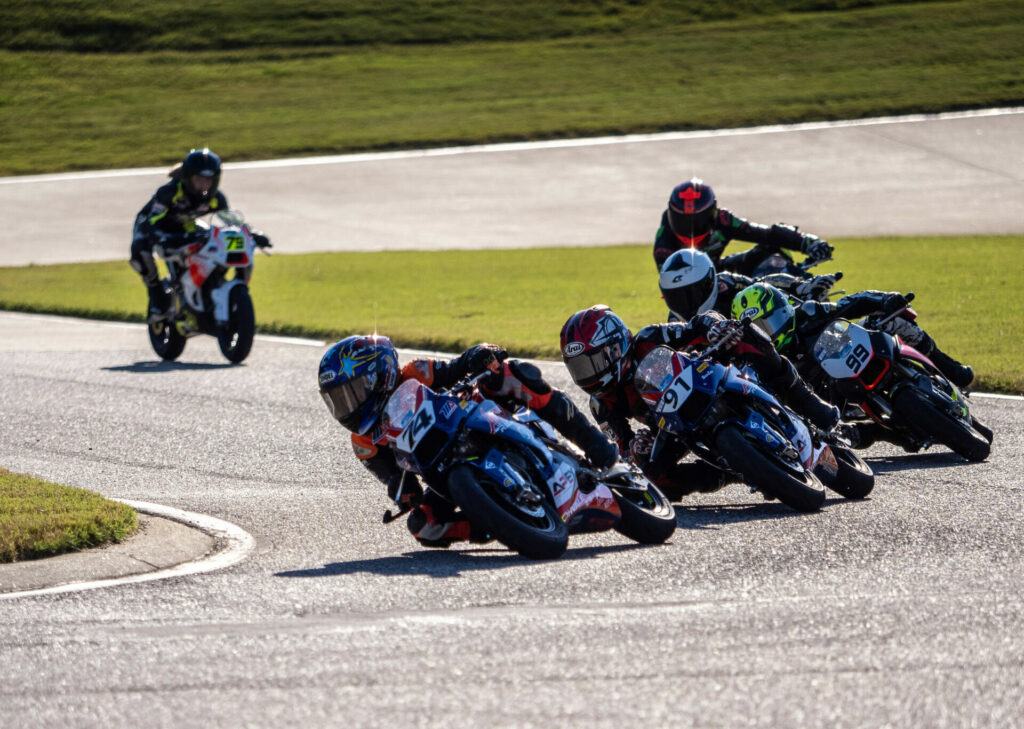 September 25, 2022
11-year old Kensei Matsudaira, 2021 MotoAmerica Mini Cup by Motul double class champion in the 110 and 160 classes, returned to the premier American road racing series in 2022 to compete again the 160 class and the new Ohvale GP2 190 class. This past weekend at Barber Motorsports Park in Birmingham, Alabama, Kensei accomplished his season-long goal of winning the 190 class championship, making him the first competitor to win the championship in every category of the highly competitive MotoAmerica Mini Cup series.
The weekend started with Kensei qualifying second on the 190 class grid, with a qualifying lap time just 0.02 seconds behind pole-sitter Jesse James Shedden. Unfortunately due to schedule conflicts with his North America Talent Cup races Jesse James was unable to participate in either of the two 190 class races despite being second in points in the championship, and Kensei was able to win both races leading from start to finish, finally ending the championship 36 points clear of his American Racing Team teammate Joshua Rayond Jr., who finished the championship in 2nd place.
The 160 class was a double-round weekend, meaning four races were held over the course of three days. Kensei entered the weekend fourth in the championship with hopes to improve his standing, but he struggled to bridge the gap to the point leaders on the smaller, less powerful bike while also struggling through severe allergies, and ended the championship ranked fifth after finishing three races in fourth, fifth, and sixth places, respectively, and missing the final race on Sunday due to worsening health conditions.
"I was definitely a little disappointed with how things went in the 160 races, especially on Sunday with how sick I was," Kensei said after the weekend. "Halfway through the first race I wanted to come in because I was gasping for air and it hurt just to breathe, but I was fighting for position every lap and I just couldn't back out of it. But for the second race, we decided I really shouldn't push myself like that again, especially since I still have another race next weekend in Spain. I'm also sad that I couldn't race with Jesse in the 190 races this weekend, but I had some good battles with Joshua and I'm really happy to be able to win the 190 championship."
Kensei and his team would like to thank MotoAmerica and Ohvale USA/Rise Moto for their support and all of their efforts in the Mini Cup by Motul series, and for all of the personal efforts above and beyond put in by all of the individual staff.
Kensei would also like to thank fellow competitor and friend Jesse James Shedden and his family for all of their support in 2022 with transportation and logistics for the races since Kensei traveled directly to or from Spain for almost all of the MotoAmerica rounds. Without their help it would have been impossible to attend all of the races in America.
Kensei now travels directly to Spain to compete in the final round of the Moto5 Cuna de Campeones Spanish Championship being held at Circuito de Jerez – Ángel Nieto in Andalusia, Spain where he will be racing at the historic grand prix circuit on a 250cc Spanish purpose-built race bike.
Kensei would like to thank all of his sponsors for their support to help him race both at home and abroad: American Racing Team & Academy, Fresh N Lean, Evike.com, Shoei Helmets, Dave Designs, AGV Sport, VNM Sport, D.I.D Chain, Galfer USA, Yoshimura R&D, Suspension Matters, TechSpec, The Starting Grid, Moto Tecnica, Mad Labs Minimoto, 73 Moto Parts, Bickle Racing, Vortex Racing, Landers Racing, Boyko Racing, Apex Racing Center, Live 100 Moto, DRT Racing, Karen E. Ott Photography, Hans King, Moto Survival School, California Superbike School, and Toni Elias School USA.
More, from a press release issued by Kreece Elliott Racing:
Kreece Elliott signs off from MotoAmerica season with double points finish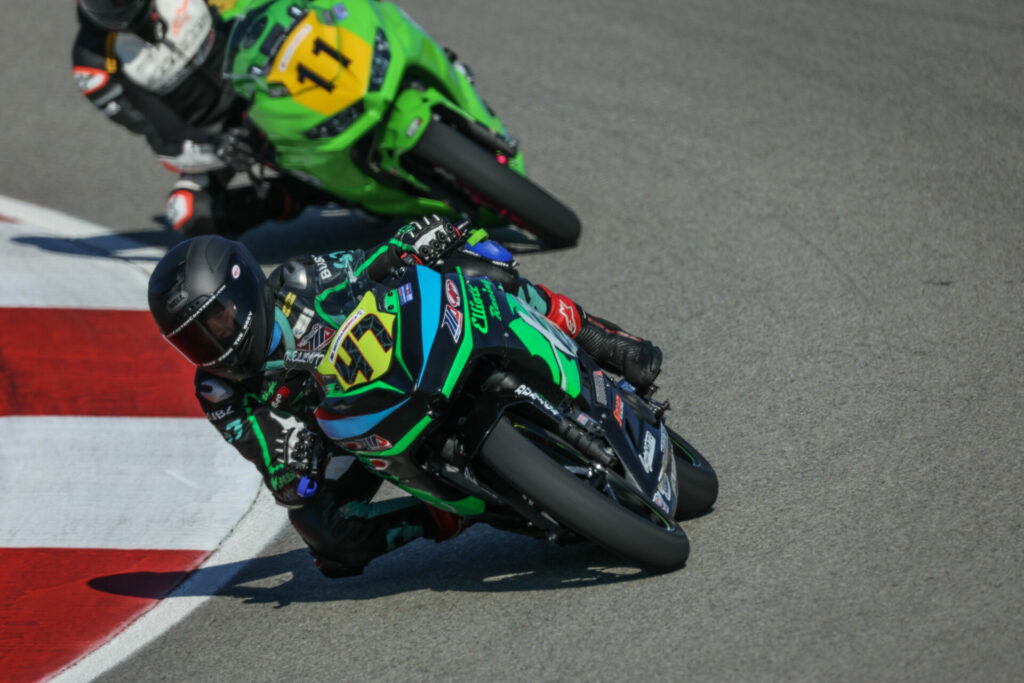 Fifteen-year-old Kreece Elliott may have only taken to racing on tarmac recently, but the teenager from Colorado has just completed the MotoAmerica Junior Cup championship with another double points finish in the season finale at Barber Motorsports Park.
Competing in selected rounds, the #47 Kawasaki rider achieved a season's best of eleventh, narrowly missing the top 10 at the Brainerd International Raceway, before rounding out the year with 13th and 14th placed finishes.
He also revealed a striking new logo and interactive website and will continue to post exciting content throughout the winter as he looks to build his profile ahead of a full season of MotoAmerica racing in 2023.
Kreece Elliott: "Race One went well. I started 17th and just put my head down from the start. I was running with the mid group and was able to score three championship points and improve my lap times. Race Two didn't go to plan. I didn't get the best of starts but I was able to maintain my position. I was struggling with front end chatter and some rear tire issues, so I just tried my best to manage the situation. I had to avoid a rider who crashed in front of me and that meant I was alone for the rest of the race. Overall, it was a good learning weekend, and I am now focused on 2023, where I will come back stronger."
More, from a press release written by Nathan Fitzgerald and issued by North America Talent Cup:
AS CLOSE AS IT CAN GET, DI MARIO WINS NATC CHAMPIONSHIP BY ONE POINT
It was Di Mario and Shedden down to the wire for the final round at Barber Motorsports Park alongside MotoAmerica.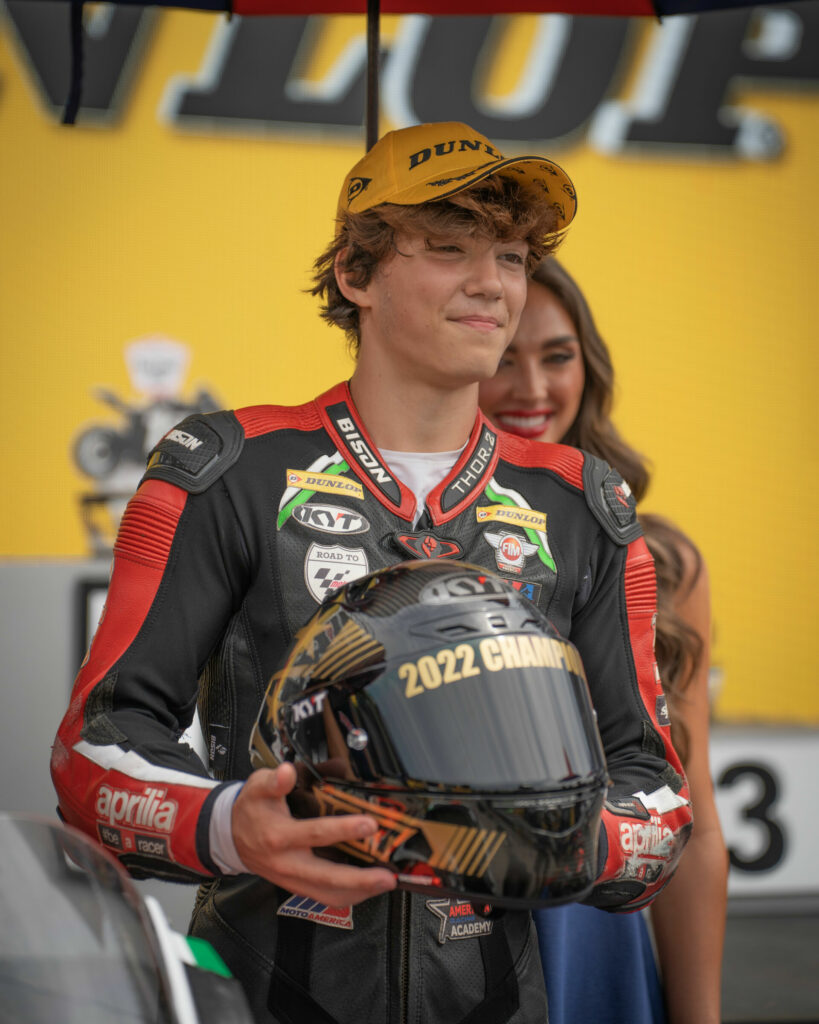 BIRMINGHAM, AL – The inaugural season of the North America Talent Cup, an official Road to MotoGP™ project, came down to a single point between the champion and the runner-up. It could not have been any closer—a true testament of the incredible show the young road racer put on throughout the year.
For seven rounds, aspiring professional road racers as young as 13-years-old put their heart and soul into the North America Talent Cup. The competitors impressed seasoned racers wherever they went, and made full-grown adults question their own guts on the track.
It was an old-fashioned dog fight between Jesse James Shedden and Alessandro Di Mario. Neither competitor was going to give an inch on the track. Ultimately, it was Di Mario who prevailed with an impressive and consistent season on the Aprilia RS250 SP2.
We could be telling a different story and announcing a different winner had any one of the 14 races ended any other way. The only blemish on Shedden's excellent season was a DQ during round six, giving him zero points for race one. That technical error ended up costing him the championship. A very hard pill to swallow, but the kind of lesson that forges a lifelong champion mindset. How will Shedden bounce back from NATC 2022?
Regardless, the numbers don't lie, and it was Di Mario who finished one-point clear of Shedden. What lies ahead for Di Mario? He has proven his talent and tenacity. He can race; can he also be true professional at the highest level?
For many of the other NATC racers, they too have become high-profile talent. Alex Enriquez will represent North America in the 2023 Red Bull MotoGP Rookies Cup — a phenomenal accomplishment. Logan Cunnison had a stellar year with several podiums and hard charging finishes. Aiden Sneed has shown he is definitely a force to reckon with and will continue to be a top competitor wherever he goes. Chris Clark, Jayden Fernandez, Logan Monk, Haydn Meng, Philip DeGama-Blanchet, and Suhaib Salem are all names we will continue to hear. I suspect we will see them on podiums in the near future.
All the competitors have proven they have what it takes to race at the national level. Thanks to the AMA and the NATC, we have been able to witness the genesis of America's future road racing champions.
Side note: As a journalist, I am tasked with simply reporting and not getting emotionally involved. After watching these young athletes compete round after round, watching their teams and parents face challenge after challenge, and witnessing the pressure, I cannot help but say something from a personal perspective. Regardless of where they finished in the points, these kids have my respect. Their first round, not having any experience on the bike, was alongside MotoGP at COTA. A huge track and an equally huge production on the world stage. They stepped up. While most kids play ball sports, these kids are pushing the laws of physics at speeds over 100 mph on a high-performance motorcycle, all while traveling around the country and living in a van. Kudos to them, and respect to their families who also sacrifice their time, energy, and money to make dreams reality.
About NATC
The NATC is a one-make spec-series of teams and riders, using the successful Northern Talent Cup as a blueprint. The limit on entries is 20 riders between 13 and 16 years of age in 2022. The spec-motorcycle will be the Aprilia RS250 SP2; a machine developed by Aprilia in partnership with Ohvale and proven to offer a competitive platform for developing talent. The NATC is designed to create close competition in a cost-effective manner. In its first year, the NATC will race throughout the continental U.S., with seven designated rounds taking place alongside MotoGP™, MotoAmerica™, WERA, and MRA.
About the FIM North America
FIM North America is one of six Continental Unions (CONUs) recognized as geographical subdivisions and accountable to the Fédération Internationale de Motocyclisme (FIM). It was founded in 1998. The national federations who are members of FIM North America are, by virtue of their geographical area and their membership in the FIM, the American Motorcyclist Association and the Canadian Motorcycle Association. FIM North America establishes an annual calendar of Continental Championship events and other activities and declares champions in designated disciplines and classes. Its member federations issue CONU licenses to riders participating in FIM NA events as well as those who are participating in Continental Championship events organized in other CONUs. For more information, visit fim-northamerica.com.