Westby Racing's Mathew Scholtz Finishes Fifth On Sunday In Final MotoAmerica Superbike Race Of The Season 
 
Birmingham, AL – Mathew Scholtz and the Westby Racing team had high hopes on Sunday morning at Barber Motorsports Park that they would finish the 2022 MotoAmerica season with another podium finish, which would have given them a dozen race results inside the top three for the year. Unfortunately, a technical issue with the #11 Westby Racing Yamaha YZF-R1 thwarted the plan, and Mathew did well to finish the race with a fifth-place result.
Starting from the third position on the front row of the grid, Mathew was overtaken by Danilo Petrucci on the opening lap. Hounding Petrucci for the next several laps, Mathew managed to get back around Petrucci and retake third on lap five. Petrucci quickly passed Mathew again on the next lap, though, and The Scholtz Kid realized he had a problem with his bike. On lap 11, PJ Jacobsen overtook Mathew, relegating him to fifth, and that was the position he remained in until the checkered flag.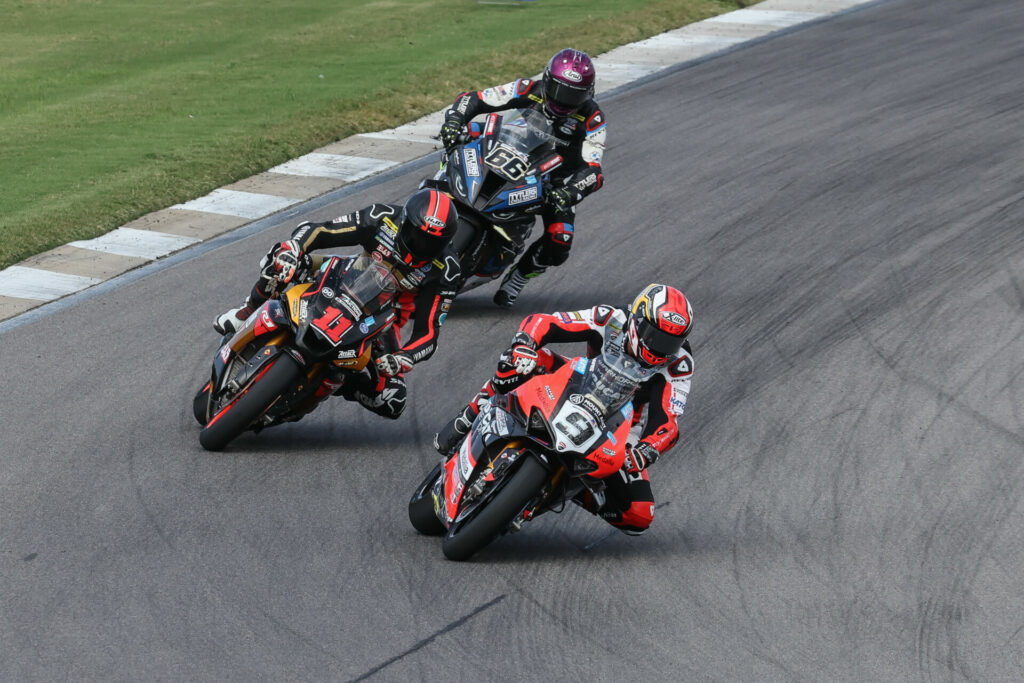 "I had a small issue with the bike during the race, and it affected my ability to move towards the front," Mathew said. "I did what I could, but I was only able to finish fifth. It's not the result that the Westby team and I had hoped for, but given the circumstances, I should be satisfied with fifth. I need to look on the bright side and realize that the result could have been much worse. I had hoped to be able to finish the season in the top three in points, but it just wasn't meant to be."
After a much-deserved rest, Mathew and the Westby Racing team will begin working towards the start of the 2023 MotoAmerica Championship. They plan to begin their off-season testing program in the coming months, so look for more information to come.
MotoAmerica Superbike Standings 
1. Jake Gagne – Yamaha – 376
2. Danilo Petrucci – Ducati – 356
3. Cameron Petersen – Yamaha – 304
4. Mathew Scholtz – Yamaha – 286
5. Hector Barbera – BMW – 190
For more updates about Westby Racing, including news, photos, and videos, visit http://www.WestbyRacing.com
Also, follow "Westby Racing" on your favorite social media sites.
More, from a press release issued by Suzuki Motor USA, LLC:
VISION WHEEL M4 ECSTAR SUZUKI'S TYLER SCOTT EARNS THE PODIUM IN ALABAMA
Barber Supersport Top Five Dominated by Suzuki GSX-Rs on Sunday
BREA, Calif. — Suzuki Motor USA and Team Hammer ended the 2022 MotoAmerica AMA/FIM North American Road Racing season at Barber Motorsports Park on Sunday in trophy-winning fashion.
Vision Wheel M4 ECSTAR Suzuki's Tyler Scott continues his rapid development with a podium performance while competing in among the most challenging conditions imaginable to close out his maiden Supersport campaign.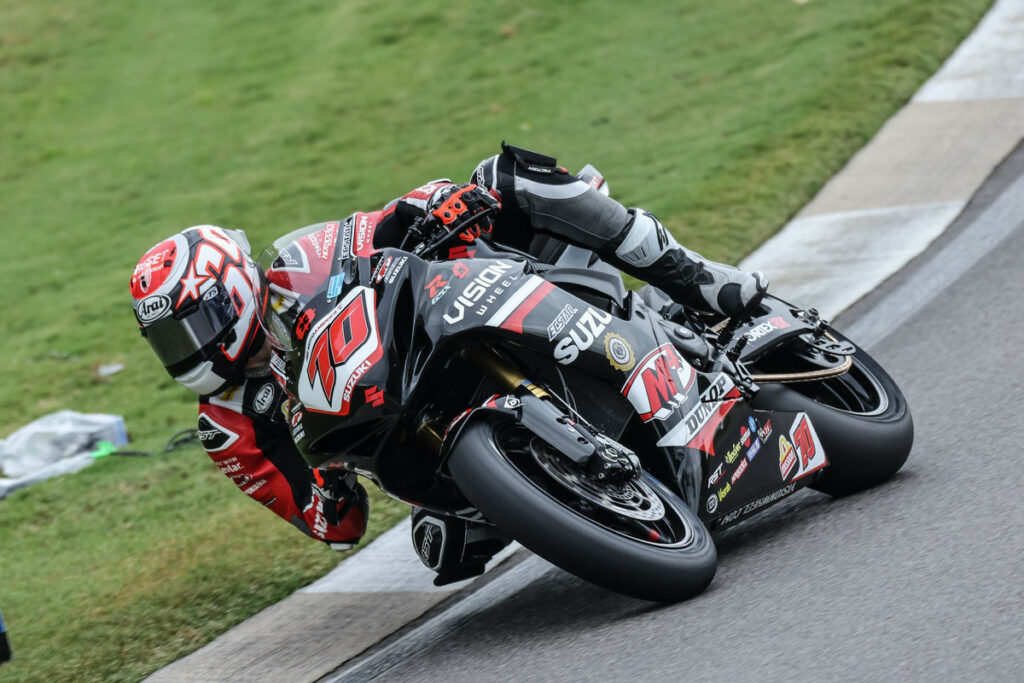 Faced with a wet-but-drying track, Scott charged into the race's opening corner in second aboard his GSX-R750 shod with wet-weather tires. Tentative initially, Scott dropped outside the top five before increasing his confidence at the 2.38-mile circuit.
As the track continued to dry out, the 16-year-old rookie upped his speed and fought his way back up to third and was closing on second position by the time he ultimately took the checkered flag.
The result was Scott's ninth podium of his breakout season, including a debut victory scored earlier in the year.
Scott, who finished the year ranked an impressive third in the Supersport points standings, said, "I didn't feel that great in the beginning of the race, but the track started to dry out and I started to get more and more pace. I thought I might be able to even get second by the end, but I just ran out of time.
"I want to give a big thanks to the whole Vision Wheel M4 ECSTAR Suzuki team for giving me the opportunity this year. I took full advantage of everything they had, and it's a great feeling to put it on the podium for the last race of the year. I think I learned a lot about bike set-up this year working with the team. Everyone has been a big help and I'm really happy with the progress I made."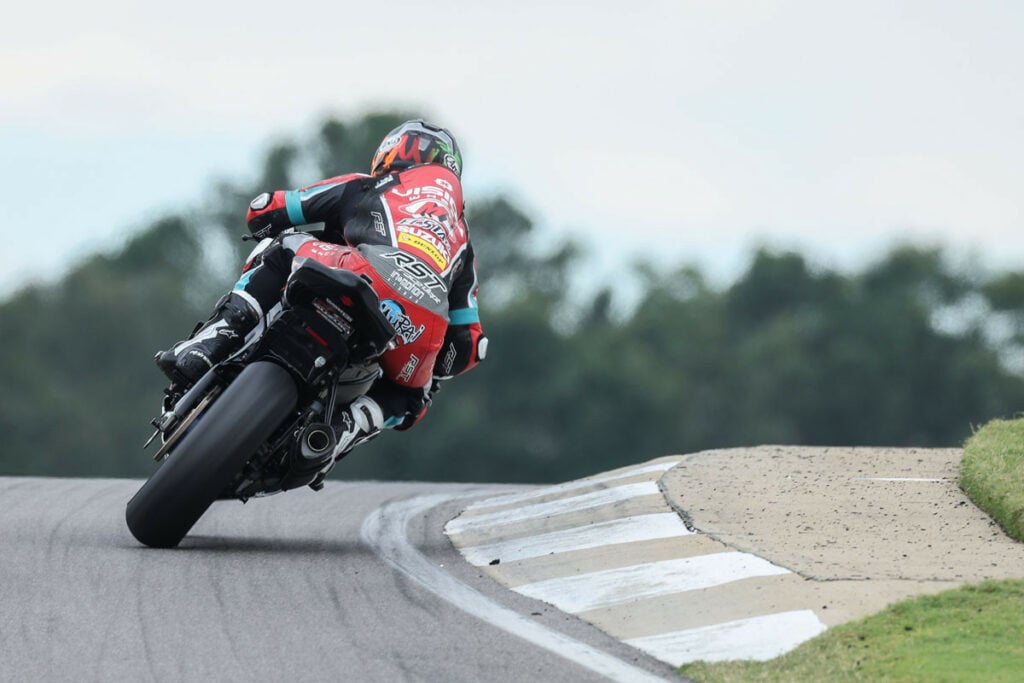 Suzuki GSX-R750s ultimately secured four of the race's top five positions, headed by 3D Motorsports LLC's Luke Power. The rider who completed the top five was Scott's Vision Wheel M4 ECSTAR Suzuki teammate, Sam Lochoff.
Lochoff, who continues to fight his way back to form and fitness following a lengthy injury-forced layoff, battled for the podium for much of the race before eventually earning an encouraging fifth.
"It was a fun race, but it was crazy. I have often raced in the wet, but never on a dry track with rain tires. Call that one a learning experience, but I was glad to get fifth." Said Lochoff. "I had dropped back to about seventh at one stage but I came back through the field. I thought I was going to make a pass for third, but I had no front tire left. The left side of the front tire was totally gone and the handlebars were moving back and forth even when I was on the straight."
Despite missing several races, the South African ended the season ranked ninth with three podiums and five top-five finishes.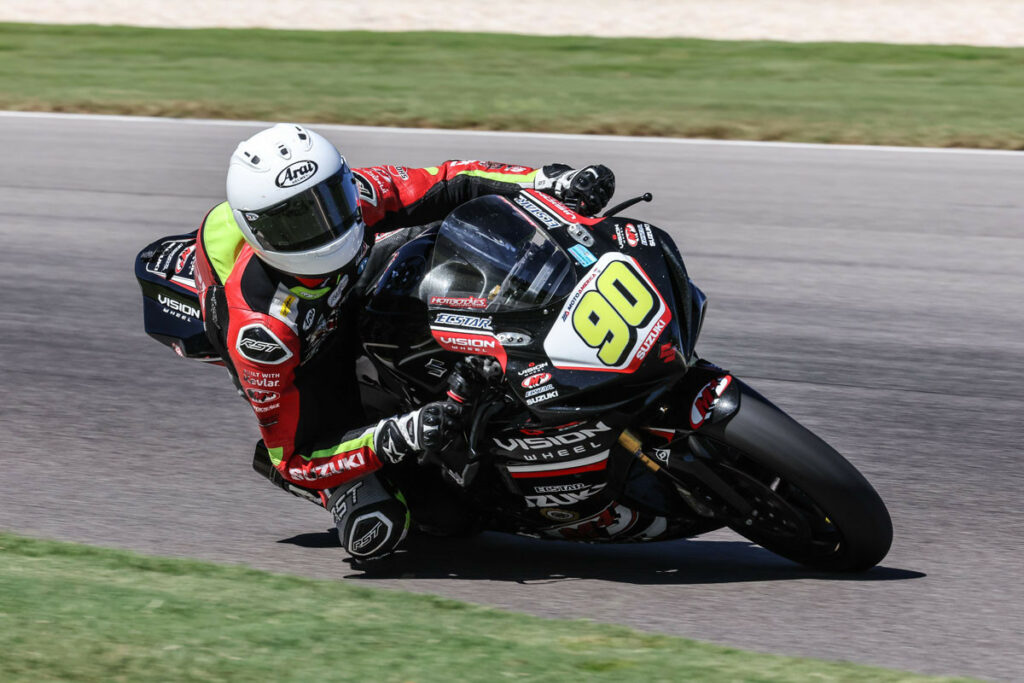 Third Vision Wheel M4 ECSTAR Suzuki Supersport entry Liam Grant had a more difficult time with the conditions. Grant took the risk of beginning the race on dry tires, ultimately fading from his grid position inside the top ten down to 16th. The youngster ended his rookie Supersport season ranked 13th on the strength of eight top-ten finishes, highlighted by the best result of sixth.
Vision Wheel M4 ECSTAR Suzuki's Superbike duo of Richie Escalante and Jake Lewis ended the year in formation, taking the final checkered flag of the season in sixth and seventh position, respectively.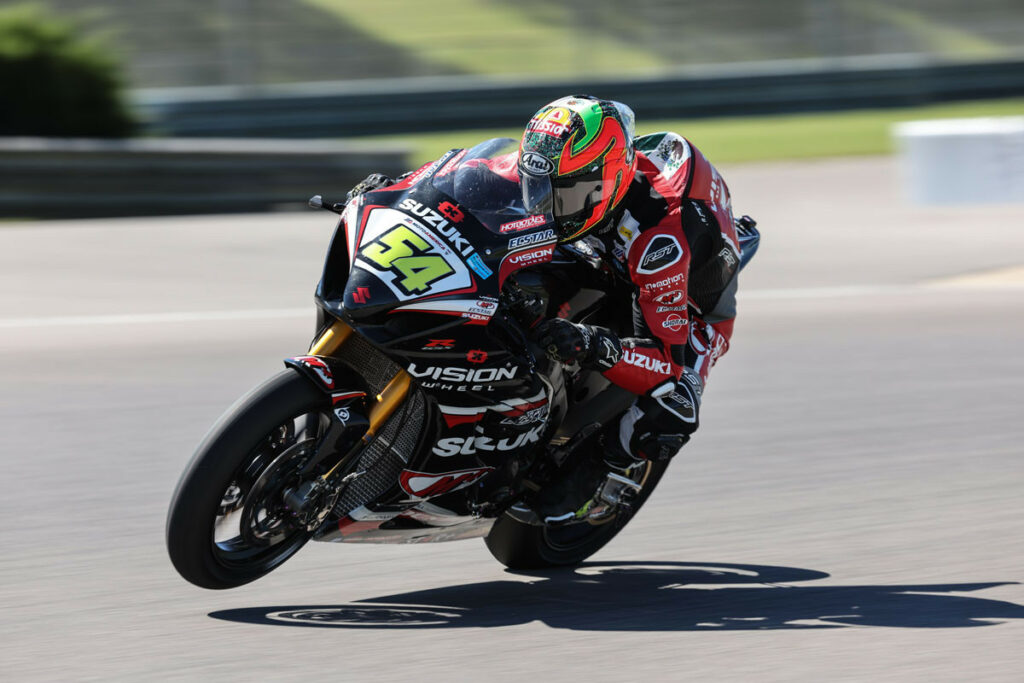 Premier-class rookie Escalante made a late pass on his veteran teammate to end the year with a promising sixth. The result was Escalante's 12th top ten in a year that saw him finish ninth in points while scoring five top fives, including a pair of fourths.
"The beginning of the race was a little difficult," said Escalante. "With the rain in the morning, the temperature was cooler today and we chose a different tire. Sometimes you have to take a risk and it did not work out at the beginning. As the race went on, I got stronger, and I was able to go faster and be the top Suzuki finisher. I am happy with the year, learning step by step with a great team. Now is the time to take what I learned and train hard to get ready for next season".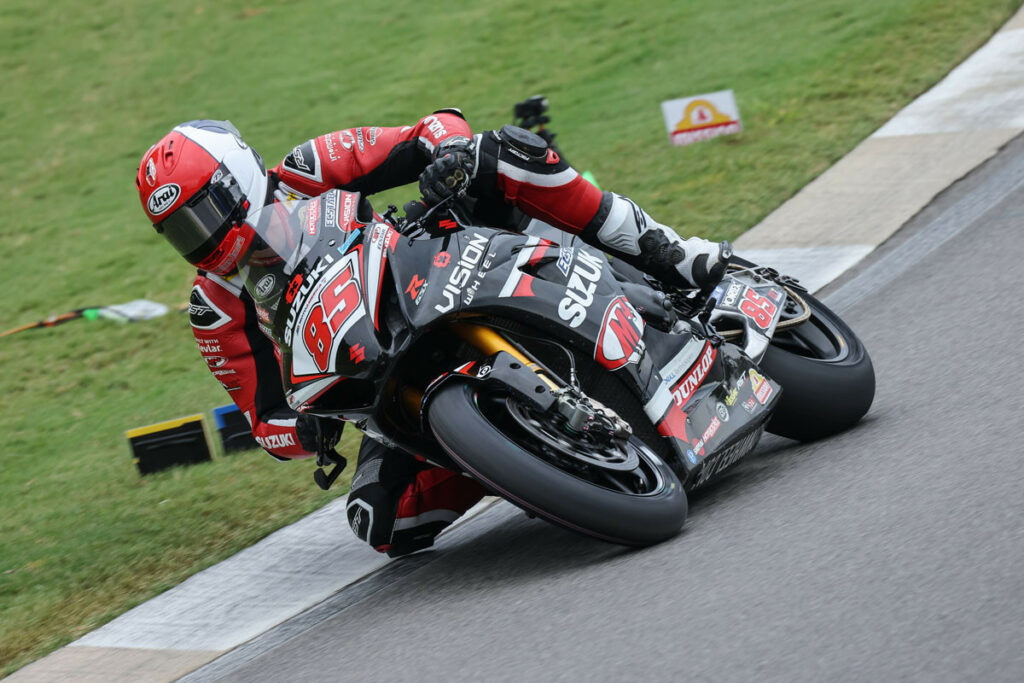 Lewis held sixth for much of the race over Escalante. His seventh was his 15th top ten. The Kentuckian ended the year ranked seventh, boasting three top fives on the season, including a podium.
ABOUT TEAM HAMMER 
The 2022 season marks Team Hammer's 42nd consecutive year of operating as a professional road racing team. Racebikes built and fielded by Team Hammer have won 129 AMA Pro and MotoAmerica National races, have finished on AMA Pro and MotoAmerica National podiums 345 times, and have won 11 AMA Pro and MotoAmerica National Championships, as well as two FIM South American Championships (in Superbike and Supersport.) The team has also won 137 endurance races overall (including seven 24-hour races) and 13 Overall WERA National Endurance Championships with Suzuki motorcycles and holds the U.S. record for mileage covered in a 24-hour race. The team also competed in the televised 1990s Formula USA National Championship, famously running "Methanol Monster" GSX-R1100 Superbikes fueled by methanol, and won four F-USA Championships.
ABOUT VISION WHEEL
Founded in 1976, Vision Wheel is one of the nation's leading providers of custom wheels for cars and trucks, and one of the first manufacturers of custom wheels and tires for ATVs, UTVs, and golf carts. Vision Wheel looks beyond the current trends and to the future in developing, manufacturing, and distributing its wheels. Vision's lines of street, race, off-road, American Muscle, and Milanni wheels are distributed nationally and internationally through a trusted network of distributors. Vision Wheel also produces the Vision It AR app to allow users to see how their wheel of choice will look on their vehicle before purchase and installation. For more information on Vision Wheel, visit www.visionwheel.com.
ABOUT SUZUKI
Suzuki Motor USA, LLC. (SMO) distributes Motorcycles, ATVs, Scooters, Automotive Parts, Accessories, and ECSTAR Oils & Chemicals via an extensive dealer network throughout 49 states. Suzuki Motor Corporation (SMC), based in Hamamatsu, Japan, is a diversified worldwide manufacturer of Motorcycles, ATVs, Scooters, Automobiles, Outboard Motors, and related products. Founded in 1909 and incorporated in 1920, SMC has business relations with 201 countries/regions. For more information, visit www.suzuki.com.
More, from a press release issued by Luke Power Racing:
Luke signs off from his maiden MotoAmerica season with a second podium and the accolade of being top Suzuki once again
Luke Power ended his maiden MotoAmerica Supersport season with a superb second place finish in the final race at Barber Motorsports Park yesterday. The result means the seventeen-year-old from Australia is classified fifth overall, an impressive result considering he had no prior knowledge of the circuits, tyres, or the motorcycle he would campaign.
A technical issue on the opening day saw Luke miss valuable track time following an FP1 spill. He salvaged a fourth row of the grid start in second qualifying before another technical issue threatened to put him out of Saturday's opening race on the sighting lap. Able to start the race, albeit on the back row of the grid, Luke passed half of the field on the first lap before a second crash cut short his hopes of another front running race.
A steady warm-up, after a bike rebuild by the team meant the #68 Suzuki mounted rider was able to compete on Sunday. Starting on wet tyres, he rode a brilliant race, backing up his early season podium at Road America with another outstanding performance on a drying track to ensure P5 in the final points classification. He also had the accolade of once again being the top Suzuki mounted rider.
Luke will now head to Europe for two weeks of off-track promotion, including a visit to the final European round of the FIM Superbike World Championship in Portugal. Details of his 2023 plans will be announced in due course.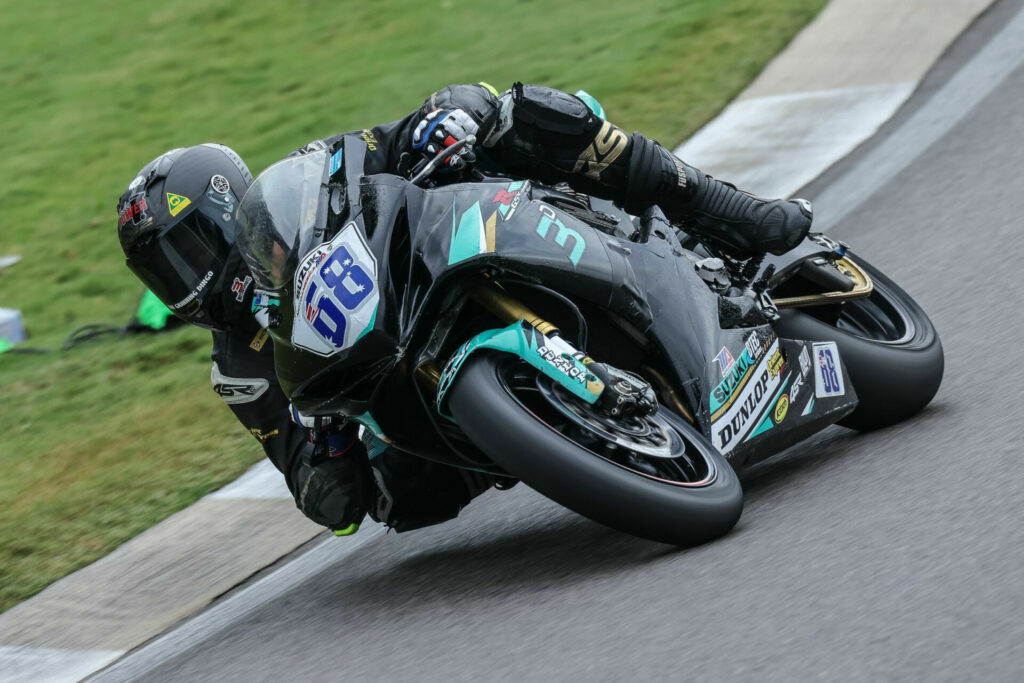 Luke Power: "What a weekend. I have no words. It has been such an up and down weekend, the toughest of my entire life. We had electronic issues, two crashes and so to finish on the podium yesterday and to be top five in my first year in the US is just unbelievable. I made a mistake in race one after we had a tech issue on the sighting lap, and I am sorry to Sam (Lochoff) as we both went down. Today in warm up I wasn't really feeling that confident but then we had a short session before the race, and I felt comfortable. I knew in the race I would have to manage the tyres and that was my plan. The target was to end the season with the best result I could, and the podium was just the icing on the cake. By the time I moved into second I could see that Josh (Herrin) was too far and I decided to just focus on hitting my marks and not making any mistakes. I want to thank 3D Motorsports for their support this year, all my sponsors, my manager, and my mam and dad for everything they continue to do for me and for letting me race motorcycles. Finally, I want to thank everyone at MotoAmerica for making my first year in the series such a memorable one. I am off to Europe now and really excited to be going to Portimão to check out the World Superbike paddock before heading home with a smile after ending the season in such a good way"
More, from a press release issued by Robem Engineering:
Robem Engineering riders score second-consecutive double podium finish Sunday at MotoAmerica season finale
Hobbs, Gloddy wrap up 2022 Twins Cup season seventh, eighth in points standings at Barber Motorsports Park
 
BIRMINGHAM, Ala. — The Robem Engineering team had both of its riders back on the box Sunday, as Teagg Hobbs and Ben Gloddy finished second and third to cap off the 2022 MotoAmerica Twins Cup season.
The pair of New Hampshirites were coming off a double-podium performance at the previous round at New Jersey Motorsport Park, and the strong outing at Barber helped Hobbs finish seventh and Gloddy eighth in the final 2022 Twins Cup points standings.
Both riders got good starts when the lone Twins Cup race of the Barber round got underway. They were running third and fourth when the race was stopped due to an on-track incident. When racing resumed, both riders got off the line OK, and Hobbs and Gloddy were in third- and fourth-place, respectively, at the end of Lap 1. Both Robem Engineering riders were in a three-way battle for the last two steps on the podium all race along, and Hobbs and Gloddy both got past the other rider on Lap 5 of the restarted nine-lap contest. Though there was some additional jockeying for position in the closing laps, Hobbs and Gloddy worked together to fend off the other riders vying for the podium to finish second and third, respectively.
The Robem Engineering duo made up two-thirds of the second all-Aprilia podium of the 2022 season. It was Hobbs' fourth and Gloddy's third podium finish of 2022.
Both riders started the weekend a little off the pace in Friday practice but were back in frontrunning form in Qualifying 1. Gloddy was the faster of the two in practice, finishing the session in fourth place. Hobbs finished practice ninth-fastest. When the first of two qualifying sessions took place Friday afternoon, Hobbs finished that session in second place and Gloddy was about three-tenths slower in third place. Qualifying wrapped up on Saturday with Gloddy having secured third on the starting grid and Hobbs fourth.
Robem Engineering thanks Teagg, Ben, Aprilia and its crew members and technical partners for their contributions to the team's on-track success in 2022. The team's racing plans for 2023 will be announced at a later date.
Teagg Hobbs / No. 79
"It was a great way to end the season. Ben Gloddy and I have had our struggles this year. For us to both be on the podium the last two races of the season and be consistently at the front in every session is a huge thing for the team – and us as riders. It just proves what the Robem Engineering team can do when it's facing hardships. I have to thank the team, all my sponsors and my family for supporting me this year. It was a great season."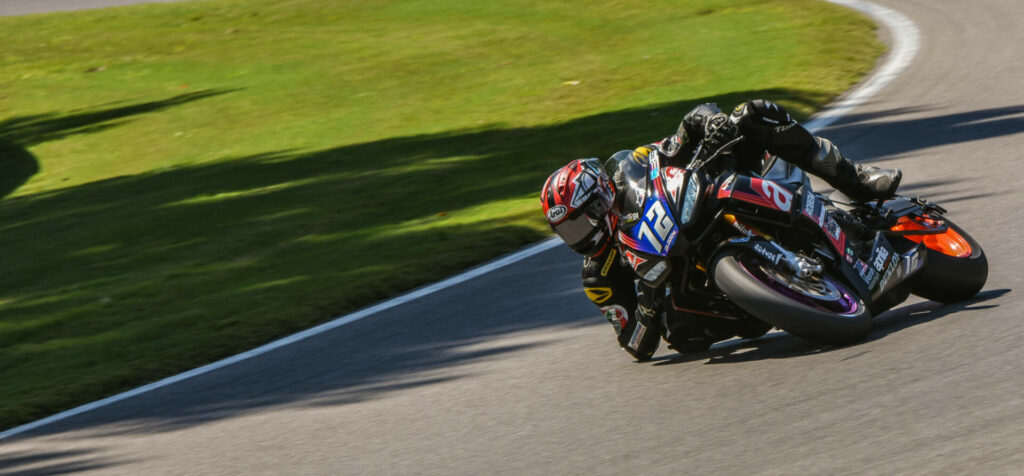 Ben Gloddy / No. 72
"I had a great race. I think we ended the season really well, and I want to keep this momentum rolling into next year. I wouldn't have been able to do this without the Robem Engineering crew being behind me, and I'm looking forward to seeing what next season has for us."
Robem Engineering's technical partners for 2022 include Aprilia Racing, Piaggio Group Americas, The Center for Plastic Surgery, Synchrony, Velocity Calibrations, Bitubo Suspension, Dunlop, Woodcraft Technologies, Dymag, Vesrah, Sprint Filter, DID, Magura USA, Sara Chappell Photos, NGK/NTK, Blud Lubricants, Millennium Technologies, Motovation USA and SC-Project.
More, from a press release issued by Pure Attitude Racing:
A MotoAmerica season of ups and downs draws to a close at Barber Motorsports Park
Pure Attitude Racing head into the winter break, proud of their achievements in the second half of the 2022 MotoAmerica season. After a difficult start, the entire team continued to work together, returning to the top ten of the Twins Cup thanks to the combined efforts of Liam MacDonald and Trevor Standish, who maintained their focus throughout the year. The team also had several front running performances with their Junior Cup rider Chase Black, including a front row start.
The final round of the season took place at Barber Motorsports Park took place this past weekend with Chase racing to a best finish of seventh, while Liam bagged another strong finish in eleventh. Trevor narrowly missed a point scoring result in P17.
2022 may only just have ended but the focus for Pure Attitude Racing is now firmly on 2023. They will be announcing their plans in the coming weeks so stay tuned. Also watch out for ALL ATTITUDE, a documentary which takes you behind the scenes of life within the MotoAmerica paddock in a way never seen before. It is currently in post-production and will air soon.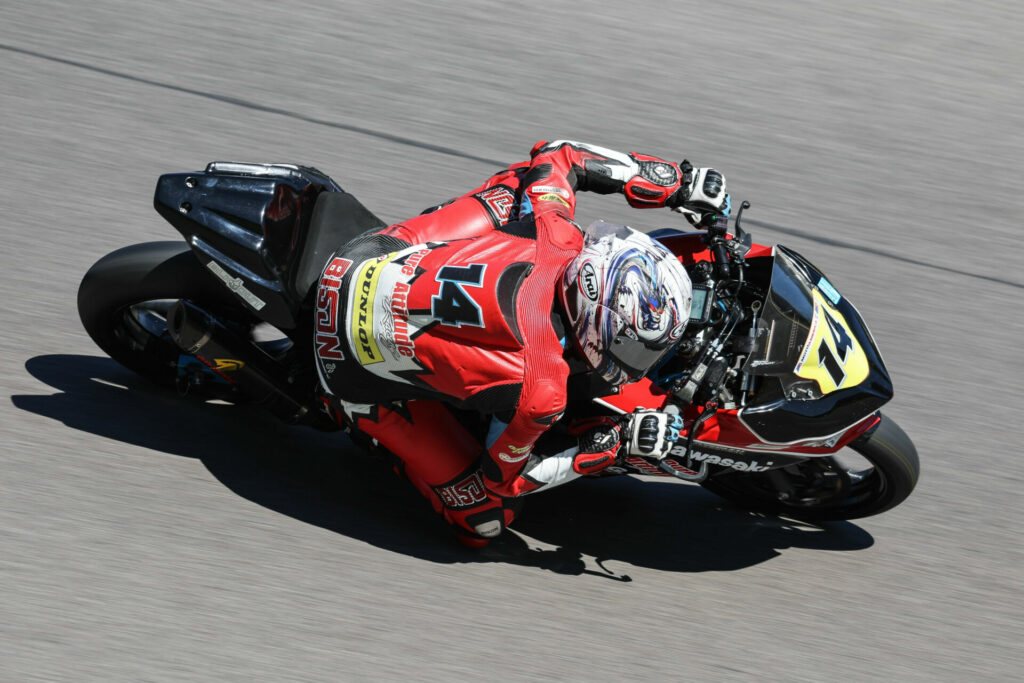 Chase Black: "Race 1 on Saturday was pretty good. Thanks to team and the changes they made I was able to beat the riders around me and was happy with the way I rode. I finished P11 on Sunday which was not where I wanted to finish but sometimes racing is like that. I want to thank Pure Attitude Racing for their support this year and all of my sponsors."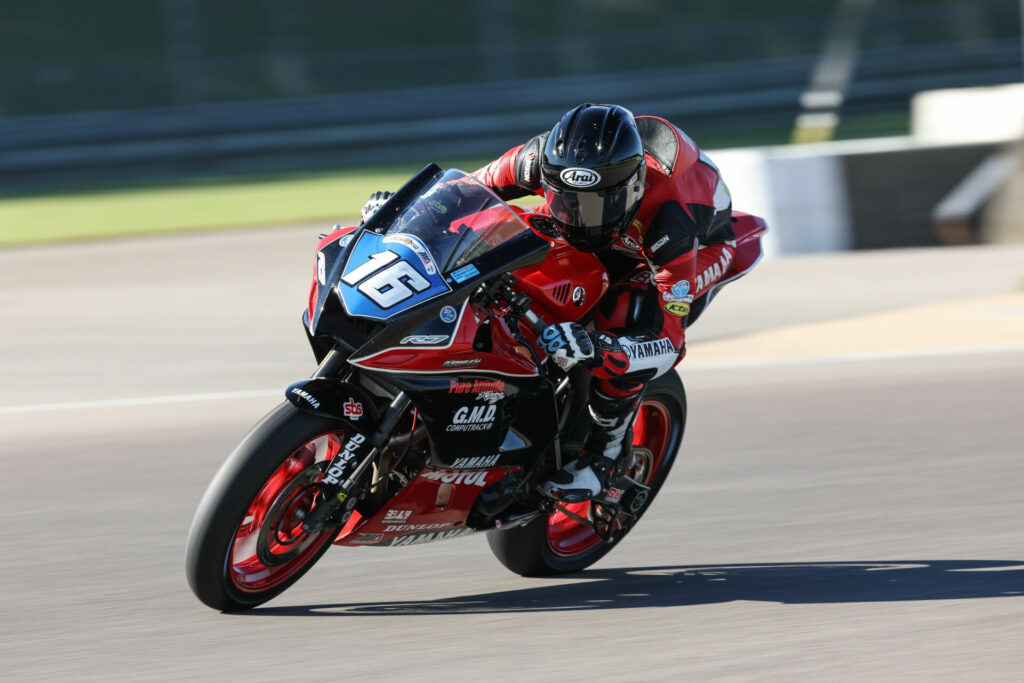 Trevor Standish: "I made a good start but lost a few places on the opening lap but then the red flag came out. A few people went down in the second start, and I was able to run a decent race. I am thankful to bring it home and end the season with a double finish for the team. I am not sure what the future holds but wherever I ride I will give it 100% as always. I want to thank the entire team for everything they have done, and to all our sponsors for sticking by us, especially with my injury. It's time to reset for 2023."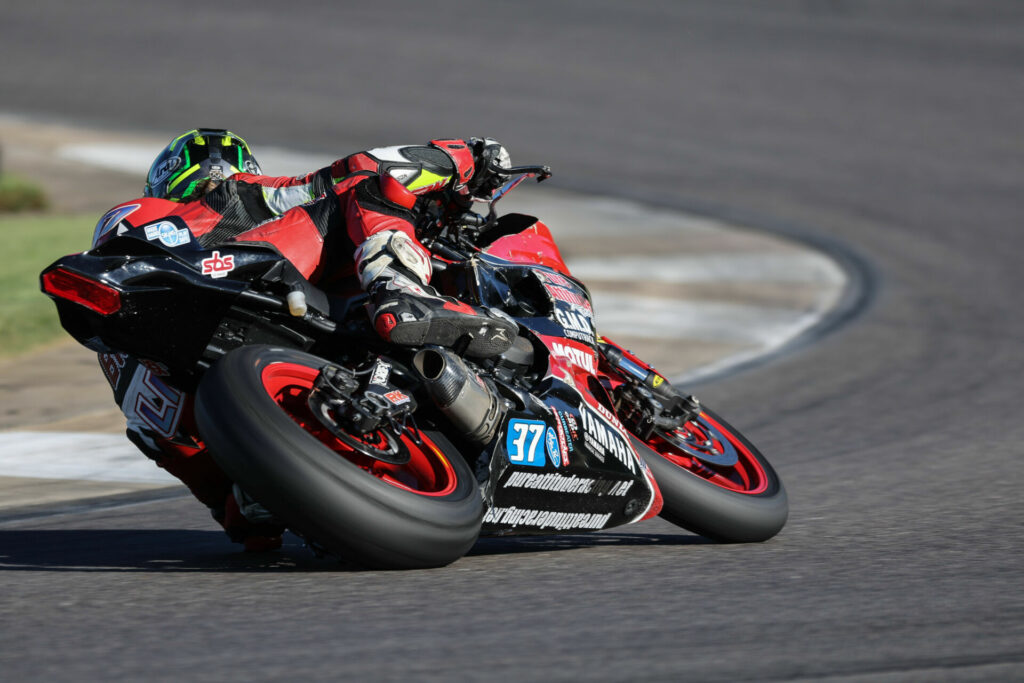 Liam MacDonald: "I am happy to end the year with more points and another fight for the top ten. It's annoying to be beaten at the line by 0.078s but I have to be pleased with how me and the team performed, especially in the last few races. We never gave up and continued to believe in the project and I am proud of what we achieved. I want to thank the entire team, Dean, Cyndy, Kent, Todd, Michael and want to say thanks to my team mate Trevor. It's been a blast sharing the tent with you again this season."
Dean Standish – Team Owner: "What a ride. What a season. It's been a rollercoaster that's for sure and we have had difficulties, but I couldn't be prouder of everyone that has been involved in this program this year. Our riders, Liam, Trevor, and Chase were professional throughout and we achieved some really good results along the way. We couldn't have don't it without any of our sponsors so a big thanks to them. Thanks to Michael for the fantastic job he does in promoting our team and to my wife for being my rock both on and off the track. We learned a lot and we will come back swinging in 2023. Thanks to MotoAmerica too for giving us such a great championship."
More, from a press release issued by Tytlers Cycle/RideHVMC Racing:
Tytlers Cycle Racing finish 1-3 overall in MotoAmerica Stock 1000 despite double DNF at Barber Motorsports Park
The Tytlers Cycle Racing powered by #RideHVMC Stock 1000 squad leave the final round of the 2022 MotoAmerica Championship disappointed with a double DNF and a 16th-place finish but elated on the other hand to have secured a 1-3 finish in the final standings thanks to the efforts of their riders Corey Alexander and Travis Wyman.
With the title wrapped up in New Jersey a fortnight ago, the three-rider squad – which also includes season rookie Zac Schumacher – headed to Alabama confident of another front-running performance and, after strong qualifying results, were optimistic ahead of Saturday's sole race.
From lights out, both Alexander and Wyman were in the mix but an unfortunate on-track incident put them both out of podium contention. Schumacher narrowly missed his fifth point-scoring finish of the year in P16 but can be proud of what he accomplished in one of the most competitive Stock 1000 championships in the world.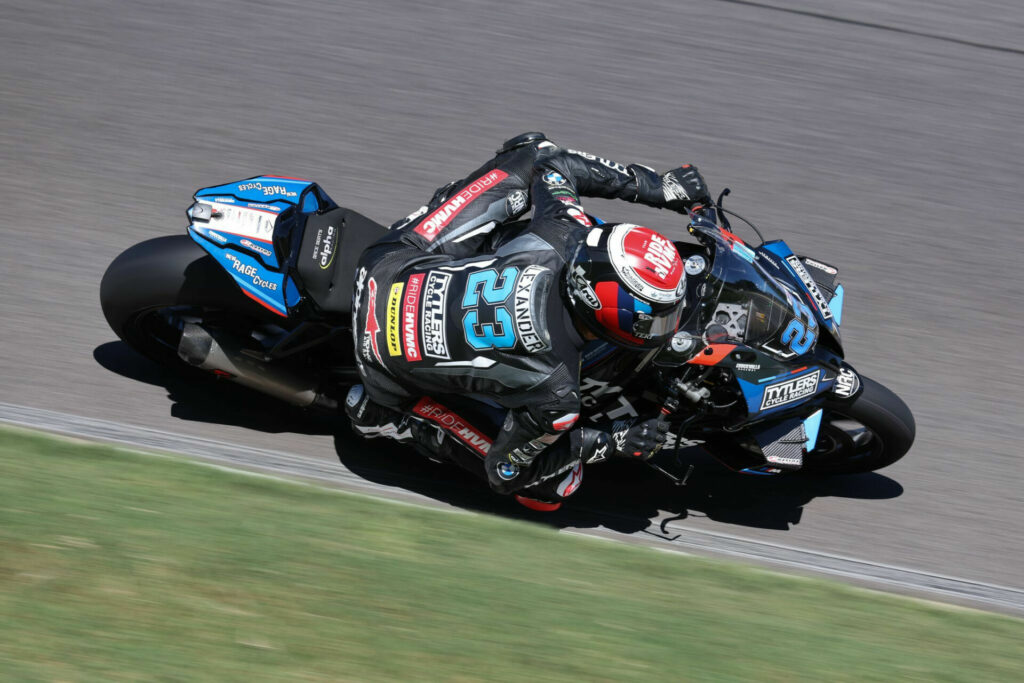 Corey Alexander: "This weekend started off strong but after some set up miscues and getting tangled up with Travis, it left us both off the podium. Not the result we wanted but it doesn't overshadow all the hard work and amazing results our whole team has been able to make happen this year. I'm thankful to everyone that supports us and look forward to 2023."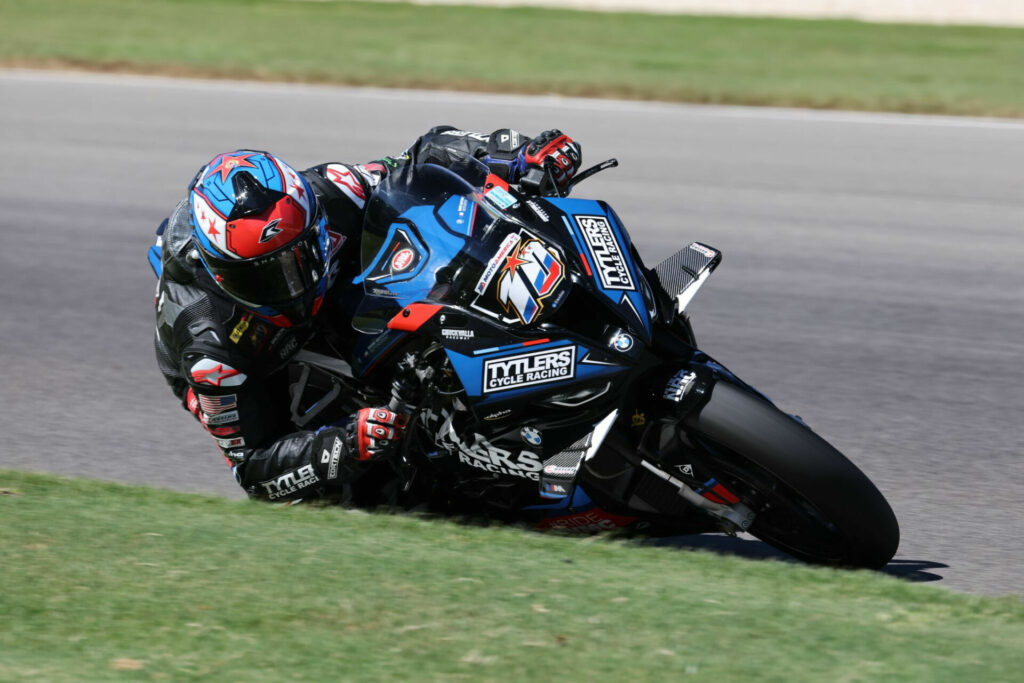 Travis Wyman: "I made a decent start and was running second. I had a bit of a moment when the white flag came out and I went down and unfortunately Corey had nowhere to go and ran me over. Neither of us got to finish and I'm bummed that neither of us could make the podium. I am happy for Corey – he is a deserving champion, and I am happy that I was able to still finish third overall. A big thanks to the entire team for their efforts this year."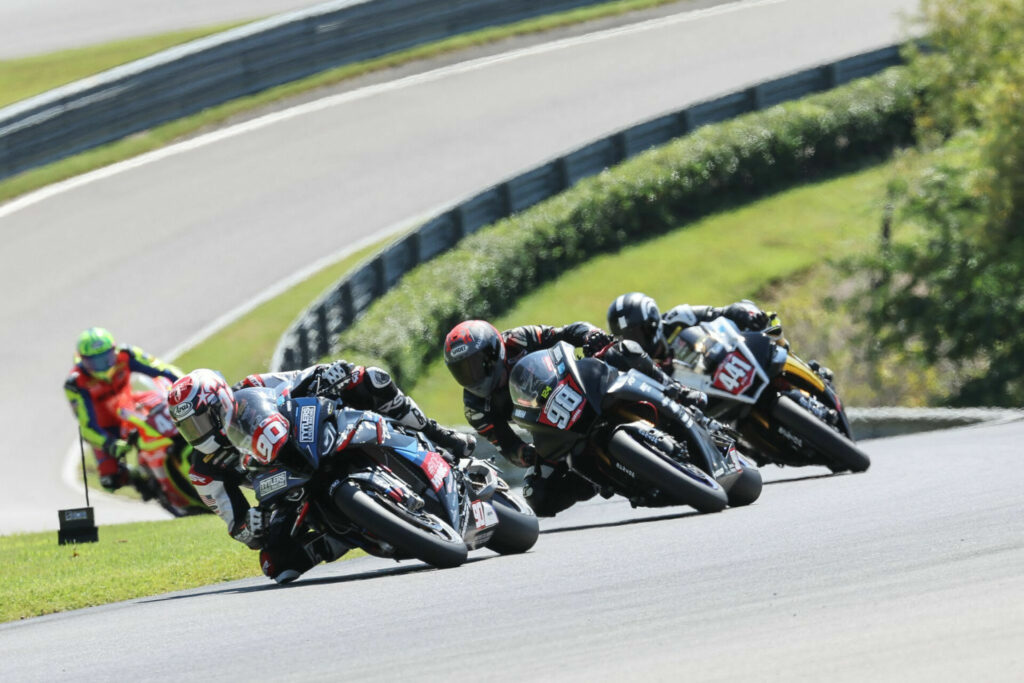 Zac Schumacher: "The race went quite well considering I had never ridden at Barber before. I really enjoyed riding the circuit and was able to throw down some reasonably quick times. I was involved in another race long battle and sadly was unable to make a safe pass so had to settle for sixteenth at the flag. I want to thank the team; it's been an incredible season and an experience I won't forget."