Gloddy wraps up The Ridge with two second place finishes
As this season has shown us so far, the MotoAmerica Sportbike Track Gear Junior Cup is stacked with talent and it can be anyone's race!
With temperatures at "The Ridge" soaring above 100 degrees all weekend, the heat was brutal, not only for the riders but for the teams and fans as well. Staying hydrated and cool was an uphill battle for everyone.
In race one, Landers Racing's Ben Gloddy had a good start and was immediately on the tail of the leader. As the race progressed, it was obvious Gloddy was formulating a plan to get past the leader. With four laps to go, Gloddy was finally able to make a clean pass into turn one and take the lead. With less than three laps to go as his team and fans watched on, it appeared Gloddy may have had a mechanical and lost the lead and fell back into third.
Due to a penalty issued to another rider, Gloddy was ultimately credited with a second place finish in race one.
Gloddy had this to say: "Race one at The Ridge was a lot of fun and extremely hot! I knew going into the race that I was on a race winning bike and I really like technical tracks. Unfortunately, with three laps to go, I was suddenly unable to move my left ankle and it hurt a lot. I looked down a couple times to see what was going on, but it wasn't anything with the bike. I did my best to push through and hang onto at least third place, which I did and I was even able to gain a little bit of time from what I had lost when I fell back a bit. I was pretty bummed about how the race ended. I know my Landers Racing bike was capable of winning, but I did give it my all. I saw medical after the race and everything with my ankle and leg seemed to ok, other than my calf was hard, but everything was where it was supposed to be, so the only thing we can come up with was that with the heat, I just had a horrible cramp that just wouldn't let up."
In race two, Gloddy was able to get another decent start and pull away from the pack with the leader, but wasn't ever able to capture the lead. With the track conditions seemingly deteriorating with the extreme heat, Gloddy was able to settle into second place without any incidents.
Gloddy stated: "Race two was a pretty lonely race, I was not able to catch the leader and I had a thirteen second lead on the pack that was battling for third place. My Landers Racing Team and sponsors worked so hard in the crazy heat all weekend and I appreciate them all so much, couldn't do this without them. Thank you to my team; Stoney, Tarl, Will, Jamie, Lees Cycle Service, Ohlins USA, KFG Motorsports, CJR Performance and Evol Technology, The Big S, Freedom Cycle, American Supercamp, Penguin Racing, REB Graphics/Innovative Motorsports, Atlantic Cruising Yachts, Arai Helmets, Dunlop, Scott Stump, Roche Realty Group, Sportbike Track Gear, Fast by Ferracci, Barnett Clutches and Cables, Beringer Brakes, SBS, Vortex, EK Chains, Tyrant Designs CNC and all of my team and personal sponsors for all of the support, as well as my parents, family, friends, and fans!"
Heading into Round 5 at Laguna Seca, Gloddy has only a two point deficit off the championship leader.
Team owner, Stoney Landers, had this to say: "Ben did a great job all weekend, he soldiered through a crazy situation with his ankle seizing up in Race 1 to end up being credited with 2nd place. In race 2, we made a small change to the bike. Ben showed a lot of patience as he kept the pressure on Tyler, at times pulling him back a bit, but ended up with a solid P2 in Race 2. The points are tight and we look forward to Laguna where we will be ready to do it all again!"
More, from a press release issued by Ethan Cook Racing:
Double DNF at The Ridge but Ethan Cook shows front running Twins Cup pace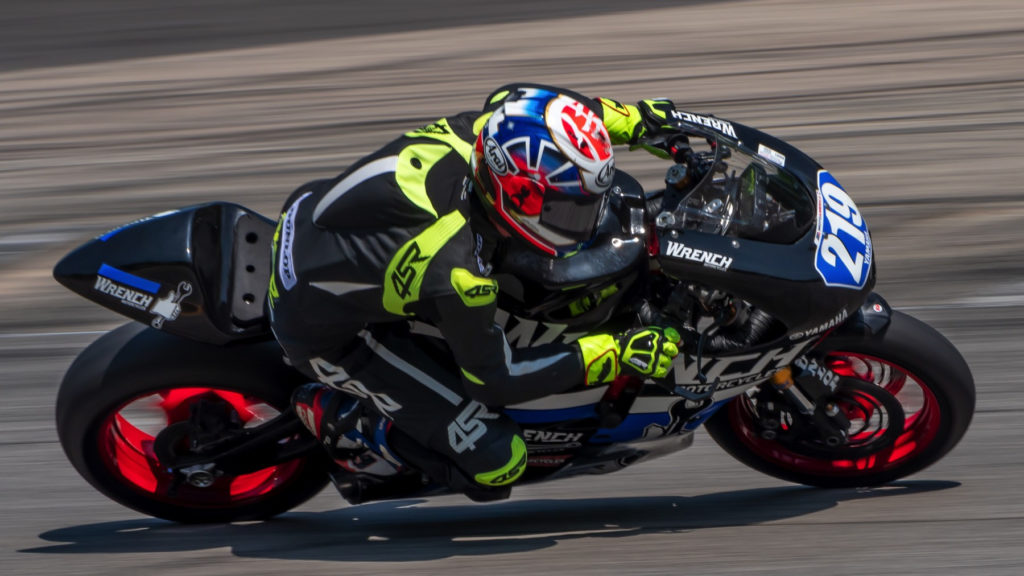 Ethan Cook may have left The Ridge Motorsports Park in Washington State with a double DNF but the Wrench Motorsport rider once again showed his riding talents in both thirteen lap encounters.
A new venue for the youngster in his debut season of MotoAmerica competition, Cook quickly learned the 2.47 mile undulating circuit, qualifying ninth, before running inside the top six on Saturday. He was well inside the top ten on Sunday too but unfortunately suffered a second spill in as many days.
Crashes aside, Cook now heads to the iconic Laguna Seca circuit in California, eager to tackle the 'corkscrew, and add to his impressive points tally so far this season.
Ethan Cook: "I qualified well and was really confident for the races. Riding on Thursday made a big difference and really helped me to be closer to the front when it counted. I made a terrible start in Race one and got swamped. I was able to recover and was running inside the top six when I went down. I was understandably frustrated and annoyed but I knew that we had another bit of the cherry on Sunday. Race two was going pretty good until I crashed again. I made a good start and was running inside the top eight and enjoying the battle. It's certainly more fun racing in a group than on your own. I was able to post my best lap of the weekend but then sadly I lost the front. It's a bummer but we are making improvements and the team have given me a great bike. I'm sorry to them for going down again but that's racing and we move to Laguna ready to fight again."
More, from a press release issued by HONOS HVMC Racing:
ALEXANDER DOES THE DOUBLE DESPITE RECORD HEAT AT THE RIDGE
Shelton, Washington – This past weekend marked the fourth round of the 2021 MotoAmerica championship and it proved to be the hottest yet. With record  breaking temperatures in the 110+ degree range HONOS HVMC Racing still racked up four more podiums to their seasons tally.
MotoAmerica kicked off the weekend with an official test Thursday due to a newly paved track surface. This allowed the HONOS HVMC team an opportunity to work on set up for both riders that would pay dividends.
Corey Alexander began Stock 1000cc race one from 7th on the grid due to a small mechanical issue in qualifying. Lap one saw the #23 Graves Spec Kawasaki ZX-10RR begin working it's way through the field making a series of bold passes. With three laps to spare Corey made his way to the lead to secure his second victory of the year by just over 1sec.
Race two saw Corey's closest championship competitor suffer a mechanical failure in the opening lap. Maintaining a fast pace he was able to gap the field with the exception of one rider whom made a late race charge. Alexander was able to fend off any pass attempts earning victory #2 for the weekend yielding him  the championship points lead by eight points.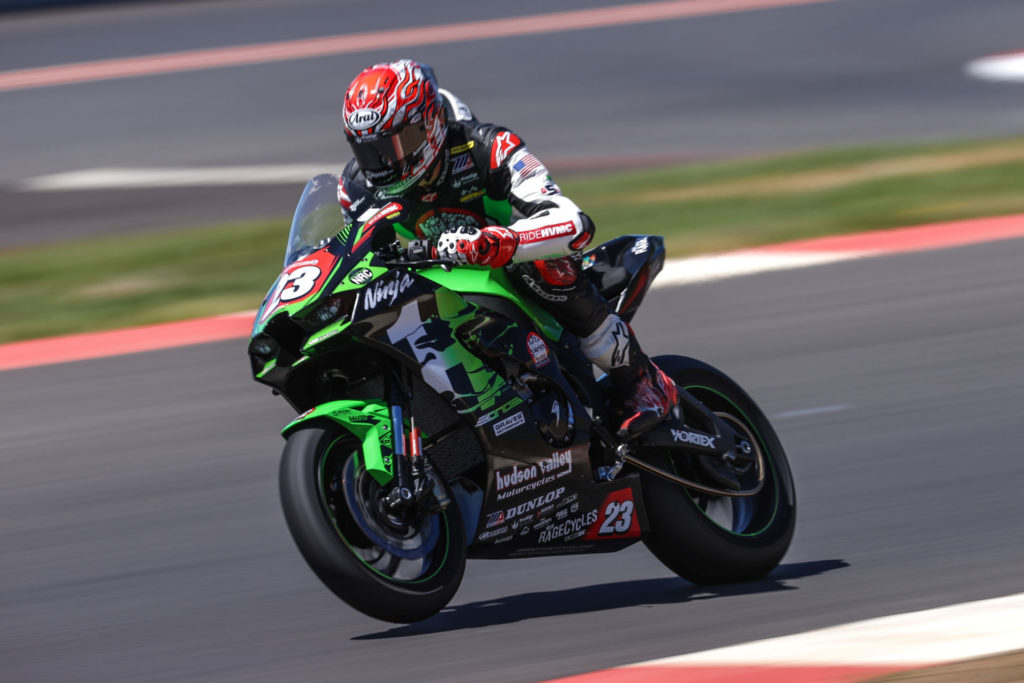 Aboard his same Stock 1000cc race bike Corey also scored his best HONOS Superbike finish of the season thus far with a 6th place during race one. He backed it up with a 9th during race two moving him into second place in the Superbike Cup championship.
"The Ridge was one of my toughest race tracks last season and so I was not super confident coming into the weekend though I knew we had made a lot of progress with the 2021 Graves Spec ZX-10RR. Testing Thursday allowed us the freedom to try some new things and find a set up that really worked well over race distance. All in all I don't think the weekend could've gone any better and now I'm really eager to get to some of my favorite tracks remaining on the calendar. Thanks to my crew for working so hard in the blistering temperatures."
Corey's personal sponsors include: Corey's personal sponsors include Arai Helmets, Alpinestars, Sals Pizza & Pasta, Ikoniqa, Four3 Performance Lab, Gemini, and Prestige Services Group.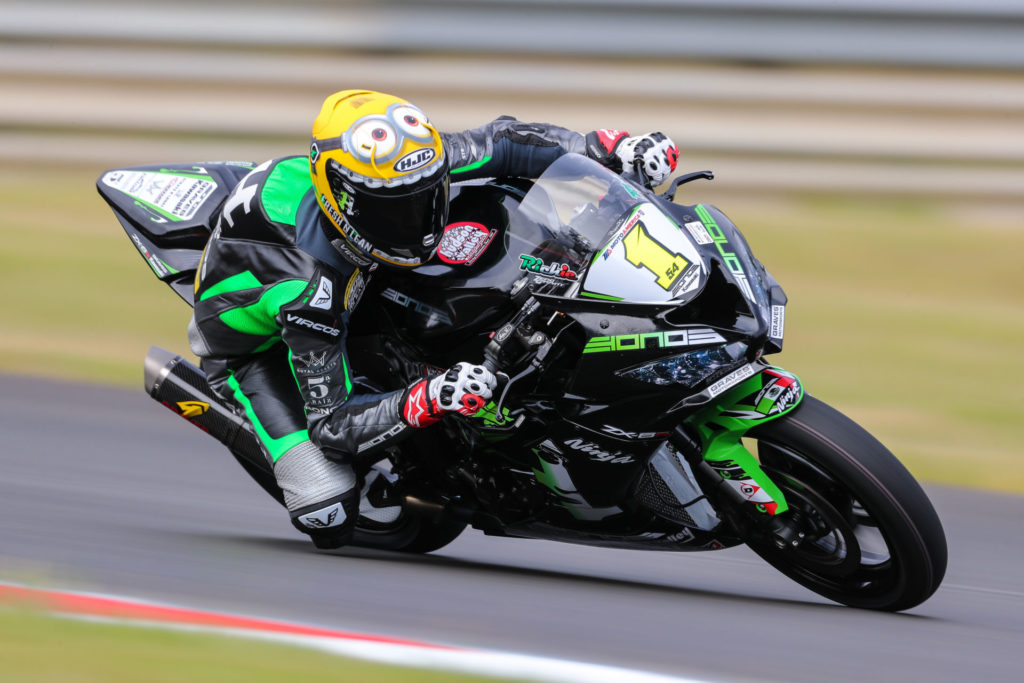 Richie Escalante maintained form with incredible speed throughout the weekend exchanging lap records with his championship competitor as he battled his Graves Spec Kawasaki ZX-6R to second place finishes in both Supersport races of the weekend.
Saturday's race saw Richie struggle with grip in the heat, lacking the confidence needed to make an attempt at the lead despite early passing efforts. He would go on to secure a solid second place finish 16 seconds ahead of third place.
After an early battle at the start of Supersport race 2 Richie trailed the leader just over 1.5sec. With three to go Escalante made a surprise late race attempt for the win coming up just short as he and his Graves-Spec Kawasaki ZX-6R finished 0.107 behind his championship rival.
Richie added.. "It was another good weekend. We finished with two podiums and good points for the championship but we have work ahead of us. We have learned a lot and I am already excited to be in Laguna, which is a track that adapts to our bike." Richies personal sponsors include Fresh & Lean, HJC Helmets, Vircos Leathers, Alpinestars, and Hidalgo.
The HONOS HVMC Racing team heads to Weathertech Raceway Laguna Seca for round 5 of the MotoAmerica Championship July 9-11th. You can purchase tickets to the event via MotoAmerica.com or in person at the race track.
About WE ARE HONOS®
Founded in 2018, HONOS is a Los Angeles based performance gear and fashion apparel brand that promotes talent within the adrenaline sports realm. With worldwide partnerships ranging from the American Racing team in Moto2 to title sponsorship of the HONOS Superbike class in MotoAmerica, HONOS has heavily invested it's brand into motorsports. Follow @wearehonos or visit wearehonos.com to shop for team gear now.
About Hudson Valley Motorcycles
Hudson Valley Motorcycles (HVMC) is a family owned and operated motorcycle dealership that has been serving New York's Hudson Valley and Westchester County as well as Connecticut, Massachusetts, New Jersey, and New England region. HVMC has offered Kawasaki, Ducati, Scrambler Ducati, Suzuki, Energica and ATV, motorcycle or UTV Sales, Parts, and Service for over 50 years. For more info visit hudsonvalleymotorcycles.com, call (914)-762-2722 or follow @hvmotorcycles on social media.