Westby Racing's Mathew Scholtz Finishes Just Off The Podium In Sunday's Superbike Race At Ridge Motorsports Park
Shelton, WA – June 28, 2021 – After finishing fifth in Saturday's Superbike race at Ridge Motorsports Park, Westby Racing's Mathew Scholtz improved in Sunday's race with a fourth-place result and maintained his second-place position in the 2021 MotoAmerica Superbike Championship.
Starting in the middle of the second row based on his fifth-place finish in Saturday's race, Mathew got a good jump off the line and moved into fourth place on the opening lap. He got shuffled back to fifth for a few laps in the middle of the race, but he fought hard in the 100-plus-degree air temperatures, moved back up to fourth place, and tenaciously held the position all the way to the checkered flag.
"We made some setup changes from Saturday to Sunday's warmup, and they seemed positive," commented Mathew.  "Then, when the race came in the afternoon, it was a lot hotter, and I just seemed to suffer (in the heat) a little bit more than I did yesterday. I brought the bike home in fourth, which was obviously not what we wanted, but it is an improvement from yesterday, so we can take the positives from that.
"We've got our work cut out for us, but I really am looking forward to Laguna Seca. It's always been good to me, and with the help of Niccolò Canepa's setup from last year (when he was a fill-in rider for the team at WeatherTech Raceway Laguna Seca while Mathew recovered from injuries he sustained in a crash the round before at Indianapolis Motor Speedway), moving forward with the bike and understanding what we know now should help us try to run up front and battle for the podium there. I just want to give a big shout-out to the Westby team. It's been difficult lately, but we are all in this together, and we can definitely make our way back up to the top."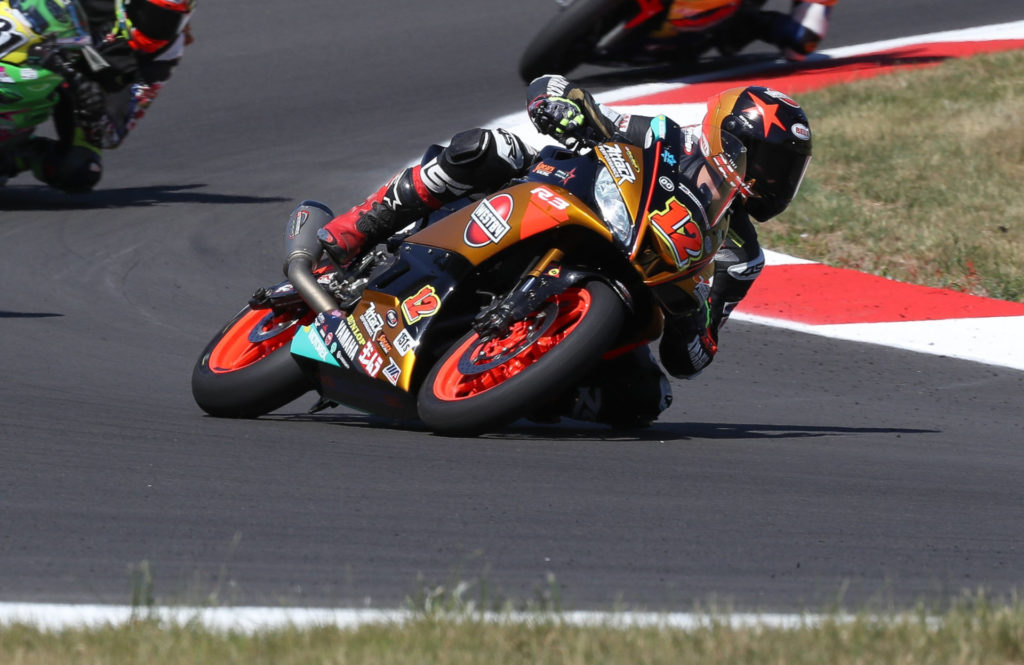 Westby Racing's Junior Cup rider Jack Roach's weekend at the racetrack closest to his home in British Columbia, Canada, did not go quite as well as he had hoped, but on the bright side, his Sunday result was an improvement on Saturday. After finishing 12th in Saturday's race, he moved up three positions to finish 9th and inside the top 10 on Sunday. In addition, Jack's results at Ridge moved him up three positions in the 2021 MotoAmerica Junior Cup Championship.
Next up for Westby Racing is round six of the MotoAmerica Championship, which will take place at WeatherTech Raceway Laguna Seca in Monterey, California, on July 9 through 11.
MotoAmerica Superbike Standings
1. Jake Gagne – Yamaha – 175
2. Mathew Scholtz – Yamaha – 131
3. Josh Herrin – Yamaha – 123
MotoAmerica Junior Cup Standings
1. Tyler Scott – KTM – 157
2. Benjamin Gloddy – Kawasaki – 155
3. Cody Wyman – Kawasaki – 116
13. Jack Roach – Yamaha – 24
For more updates about Westby Racing, including news, photos, and videos, visit http://www.WestbyRacing.com
Also, follow "Westby Racing" on your favorite social media sites.
More, from a press release issued by Ducati North America:
Ducati on Point in The Woods of Washington with 4-3 Results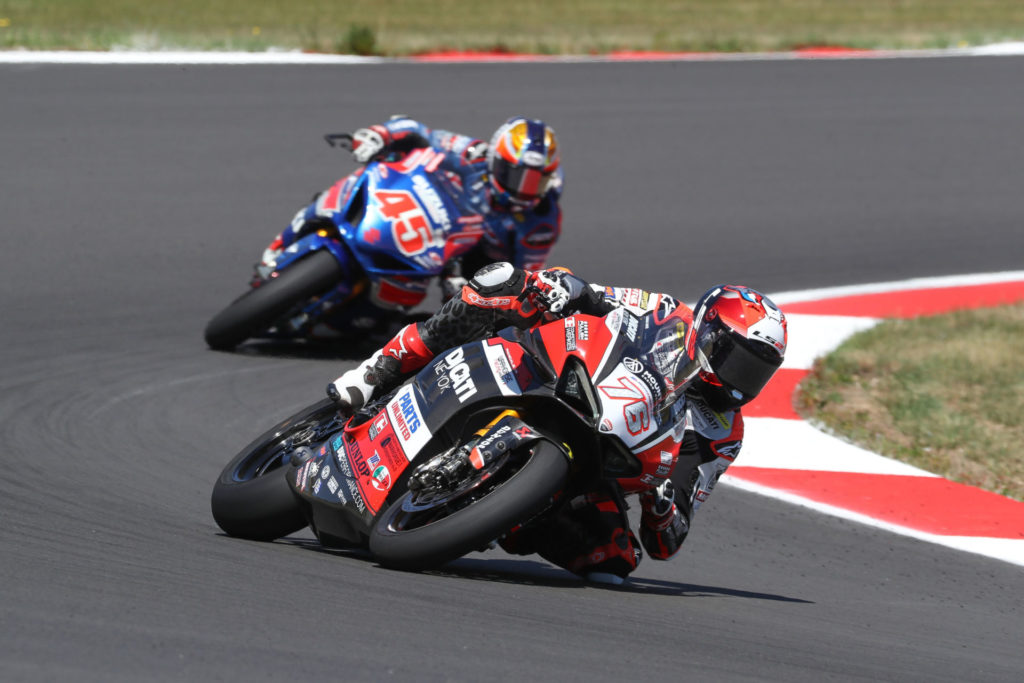 Sunnyvale, Calif – In stifling heat, Loris Baz (Warhorse HSBK Racing Ducati New York) completed his best weekend of the season to date at The Ridge, taking fourth and third place finishes on the factory-spec Ducati Panigale V4 R SBK.
The sole Ducati representative in Washington after Kyle Wyman's Road America accident and subsequent arm injury, Baz and the Warhorse HSBK Racing Ducati New York battled back from a fourth place finish in race one for a superlative second in race two behind double winner Jake Gagne (Yamaha). The result hoists Baz up to sixth in the standings, seven points off of Suzuki rider Bobby Fong.
2021 MotoAmerica Superbike Standing – Top 5
P1 – Jake Gagne (Yamaha) 175
P2 – Mathew Scholtz (Yamaha) 131
P3 – Josh Herrin (Yamaha) 123
P4 – Cameron Petersen (Suzuki) 108
P5 – Bobby Fong (Suzuki) 89
P6 – Loris Baz (Ducati) 82
P8 – Kyle Wyman (Ducati) 49
Loris Baz (Warhorse HSBK Racing Ducati New York – Ducati #76)
"It's been a great weekend, honestly," Baz said. "I've never felt so good on the bike, even after the big changes we made between sessions. It was a little rough in the race with the rear tire on the left side which made it difficult to push in race one so I just decided to bring it home in P4. But as soon as the track temperature raised, I was confident but I didn't feel a lot of rear grip which made it difficult to push like I wanted. We just have to keep learning, especially in hot weather. The competition has been in this heat before but we haven't so we are still learning. We've got a little break so I will head to LA for a couple of days and then go to Laguna Seca, which is a track I love. Plus, it's a track I know, so that is a bonus!"
More, from a press release issued by Robem Engineering:
De Keyrel scores two podium finishes at MotoAmerica Superbikes at the Ridge, maintains Twins Cup points lead
All three Robem Engineering riders secure top-five finishes in extremely hot conditions at The Ridge Motorsports Park
SHELTON, Wash. – After putting in a dominant performance at Road America two weeks ago, Robem Engineering rider Kaleb De Keyrel did enough at MotoAmerica's Superbikes at the Ridge round to stay atop the Twins Cup points standings. The Minnesotan persevered through brutally hot conditions at The Ridge Motorsports Park to score two podium finishes, which kept the Aprilia rider in the lead for the 2021 MotoAmerica Twins Cup title.
De Keyrel and both of his Robem Engineering teammates — Hayden Schultz and Toby Khamsouk — scored top-five finishes at the June 25-27 event aboard their Aprilia RS 660s, and Schultz and Khamsouk both moved up three places in the class standings. The results were hard-earned, as the riders and team had to contend with temperatures at or above 100 degrees for both races.
The team's first on-track session on The Ridge's recently repaved, 2.47-mile road course was Friday morning practice, which De Keyrel finished at the top of the time sheets. Schultz was the fifth-fastest rider in the session, and Khamsouk was eighth fastest. Twins Cup qualifying got underway later Friday, with De Keyrel finishing the qualifying session in second place, Schultz in sixth and Khamsouk in eighth.
Qualifying wrapped up Saturday morning with all three Robem Engineering riders having secured top-five places on the weekend's starting grid. De Keyrel led the team's qualifying effort, finishing third and securing a spot on the front row of the grid. His teammates were line-a-stern behind him, with Schultz nabbing fourth place and Khamsouk claiming fifth place.
In Saturday's Twins Cup race, De Keyrel and Schultz both got good starts and were in the mix for a podium or better early in the race. Schultz unfortunately had slid down the running order to fifth place by the end of Lap 3, but De Keyrel briefly the lead of the race in the early laps before being passed by another rider. When the race leader crashed out on Lap 7, De Keyrel found himself leading the field again until the penultimate lap. He was passed by another rider at the track's very tight and slow Turn 13 and did his best to get back into the lead, but had to settle for a hard-fought runner-up finish. Khamsouk crossed the finish line behind De Keyrel in fourth place, and Schultz's fifth place made it three Robem Engineering riders in the top five.
Sunday's race saw Robem Engineering riders score two more top-five finishes. All three riders got away well when the lights went out. Schultz showed strong pace early, finishing the first lap in third place. However, Schultz and another rider made an error under braking heading into Turn 13 on Lap 2, which allowed De Keyrel to move up from fourth to second in one corner. De Keyrel was passed by another rider on Lap 5 and dropped to third place but was able to maintain consistent pace and scored his second podium finish of the event. Schultz had the pace to stay with De Keyrel but wasn't able to challenge him for a podium and claimed a fourth-place finish. Khamsouk recovered from a mistake in the early laps of the race to finish seventh.
The team has a weekend off before it's back in action at the next round of the MotoAmerica season, which is scheduled for July 9-11 at WeatherTech Raceway Laguna Seca in Monterey, Calif.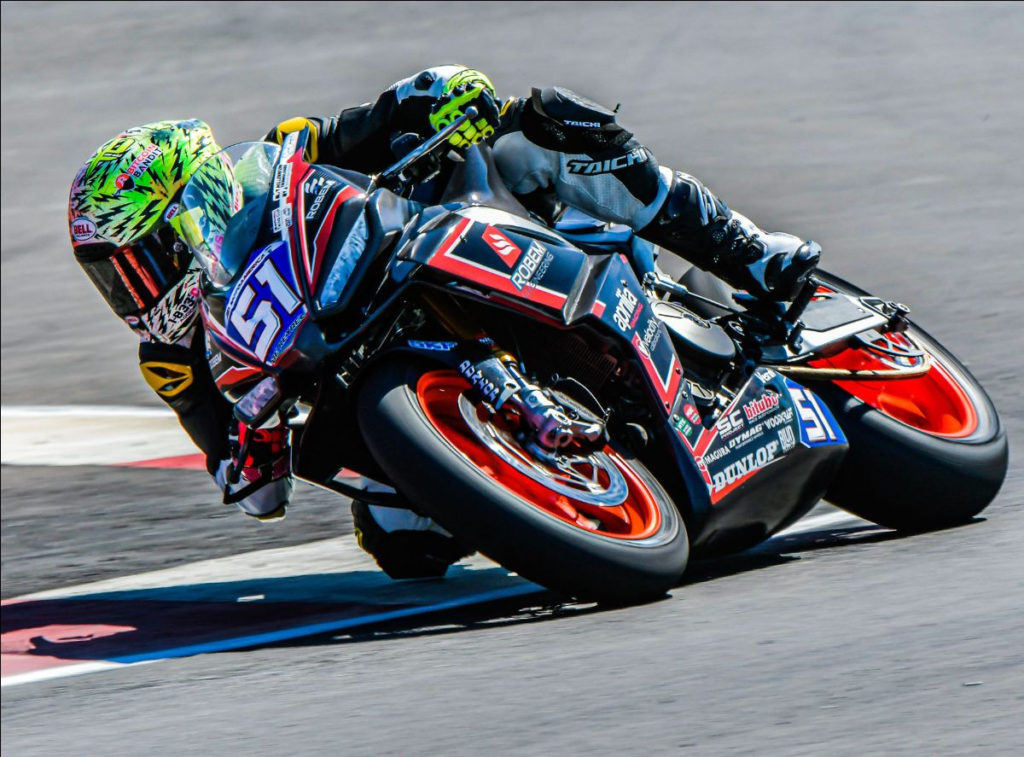 Kaleb De Keyrel / No. 51
"Overall, it was a positive weekend. We're still leading the championship, and I feel like I gave it 100 percent every time I hit the track. We struggled with grip due to the hot conditions and – with sliding around a bit – I just didn't have the confidence in my bike that I needed to win. We overcame a lot and learned a lot. This track is a lot smaller and tighter than the other tracks we race at, but we learned more about our Aprilia every time we hit the track. This round taught me a lot about tire management in the heat. I'm really looking forward to the next round at Laguna Seca. It's one of my favorite tracks, and I think we take a lot of what we learned this weekend and apply it there."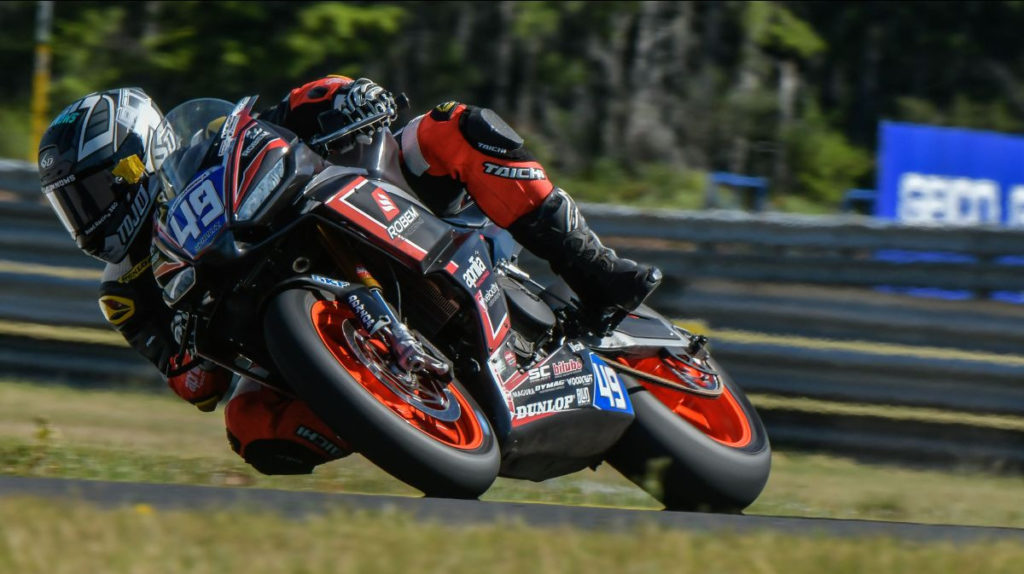 Hayden Schultz / No. 49
"It was a hot weekend in Washington, but we got some solid results. I was aiming for a podium this weekend but fell a little short of that. In Race 1, we had some trouble adapting our setup to the ridiculously high track temperatures, but the team made some big changes for Race 2 and we much better pace on Sunday. A big thanks to the entire Robem Engineering crew for helping me bounce back on Sunday. Overall, I'm happy with the progress we made, and we got some positive momentum going here that we'll carry into the next round at Laguna Seca."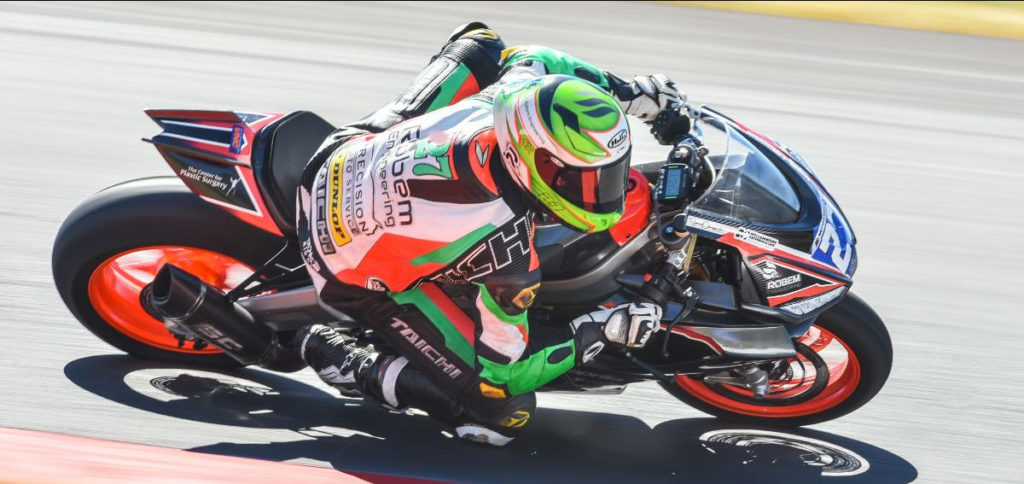 Toby Khamsouk / No. 27
"I got a bad start in Race 1 but worked my way back up to fourth place. In Race 2, I got a good start off the line, but made a mistake in Turn 13, which caused me to lose touch with a front group. I'm looking for some positive vibes for Laguna Seca, which is my home race."
Robem Engineering's technical partners for 2021 include Aprilia Racing, Piaggio Group Americas, The Center for Plastic Surgery, Velocity Calibrations, Bitubo Suspension, Dunlop, Woodcraft Technologies, Dymag, Vesrah, DNA Filters, Magura USA, Sara Chappell Photos, NGK/NTK, Blud Lubricants, Millennium Technologies and SC-Project.
More, from a press release issued by Pure Attitude Racing:
Top Ten finishes in Supersport and Twins Cup for Pure Attitude Racing at The Ridge
The Pure Attitude Racing team were back in action in the latest round of the MotoAmerica Championship at The Ridge Motorsports Park near Shelton, Washington this past weekend, with once again their riders Austin Miller, Nate Minster (Supersport) and Liam MacDonald (Twins Cup), adding multiple championship points to each of their respective tallies this season.
With double races for each category and with temperatures soaring to 117 degrees on Sunday, the on-track action was intense.
Liam MacDonald, the team's sole representative in Twins Cup following Trevor Standish's spill last time out at Road America, once again found himself inside the Top Ten in Race 2, after running close to the Top Six throughout Free Practice earlier in the weekend. Race 1 sadly saw Liam record his first DNF of the season, the Kiwi, struggling to overcome an intermittent gear change issue that the team resolved for Sunday's second encounter. Despite the obvious frustration, Liam remains ninth overall in the overall standings, well in contention for the Top Six with numerous races remaining.
In Supersport, Saturday's race saw another double point scoring ride from Nate Minster and Austin Miller. Minster raced hard to record his third Top Ten finish of the season, whilst Austin Miller rode the race of his short MotoAmerica Supersport career to finish an impressive eleventh at the flag – his best result in the category to date. Sunday saw both riders running inside the points once again until the #61 slid out of contention. He would remount to finish twentieth, with Minster adding an additional two points to his 2021 scorecard in fourteenth.
The team move next to the WeatherTech Raceway at Laguna Seca in California in a fortnight for Round 5 eager to build on their continued successes.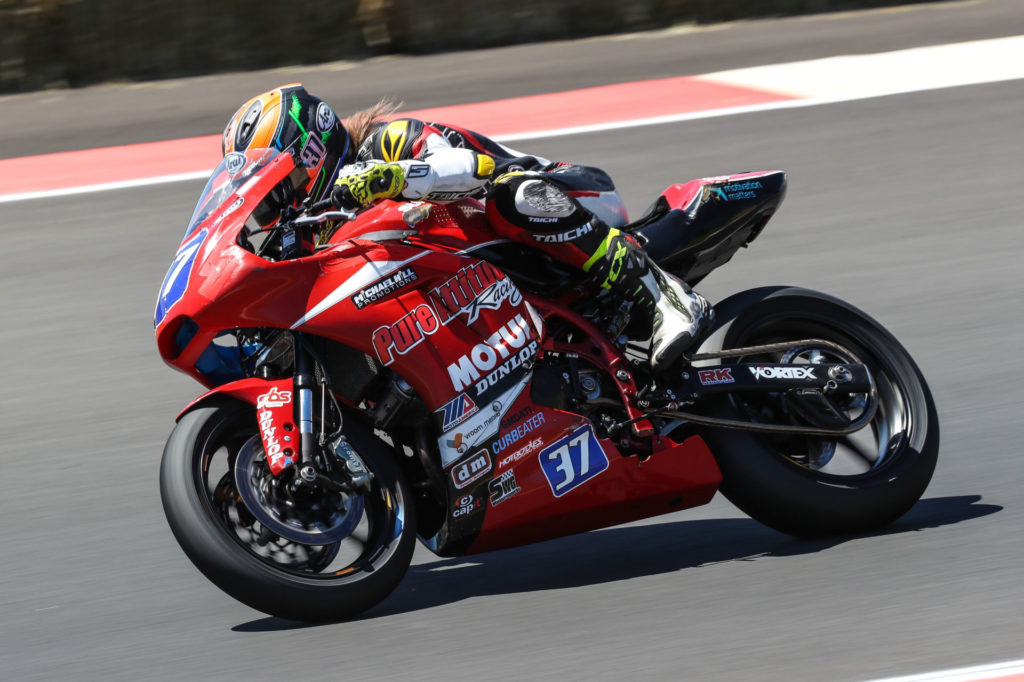 Liam MacDonald: "We made a good step in the right direction on Sunday, and I was able to run a consistent pace and finish in the Top Ten, which after Saturday's disappointment was important for my confidence as we move towards the halfway point in the season. I am really looking forward to racing at Laguna in a couple of weeks. It will be interesting and be another new circuit for me. I am looking forward to riding such an iconic track but more importantly am looking forward to continuing to improve the way I ride and to continue to improve my feeling with the bike. I gave it everything today and tried many things during the race which I know will make us stronger next time out. A big thanks to the whole team for working so hard, see you all in California."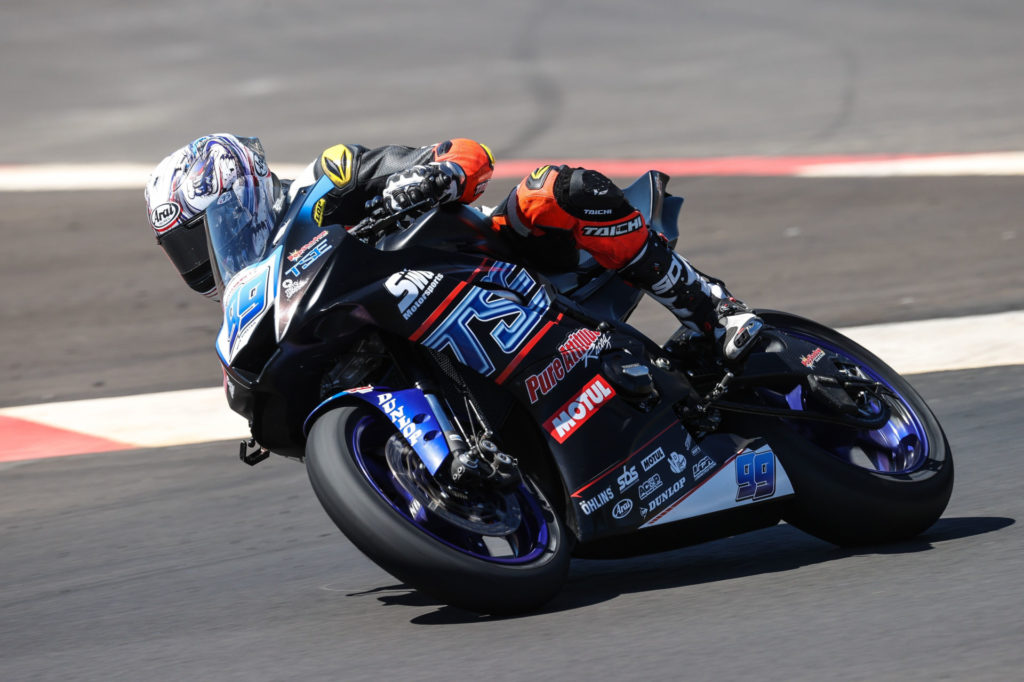 Nate Minster: "It was a solid start to the weekend, but I had a small crash at the end of the test on Thursday. We struggled a bit in Q1 and Q2 after we made some changes that destroyed the rear tyre, but I was confident for the race. Race 1 actually went ok considering the extreme heat a few things not quite right with the bike. I was pretty exhausted after the race, but we managed to bag another top ten which is important for the championship. Sunday's race was ok, but I still wasn't feeling great, the heat was insane, and I made a mistake at Turn 1 on the opening lap which kind of compromised my race. We fought hard and finished fourteenth and we can move on to Laguna confident of two strong races there."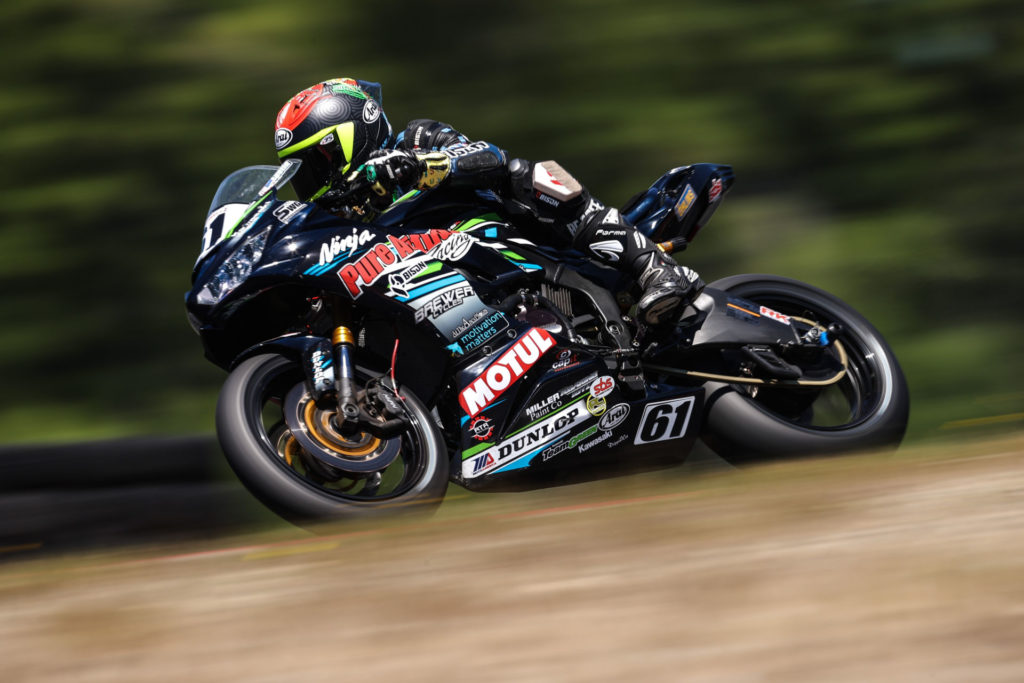 Austin Miller: "I am so pleased with how Race 1 went. I think it is the best I have ever rode and even though we had some front-end chatter as the race went on, I was able to start strong, pass a ton of people and run the pace of the top ten consistently throughout. I had a lot of rear slides towards the end but honestly Race 1 went amazing. I achieved a season and career best and I am so happy! Race 2 also started good, and I was running P13. I had changed tyre compound for Sunday's race, but it wasn't really any better and unfortunately, I crashed. I was able to remount and was able to pass a few people and I brought it home. It's frustrating because it would have been more points, but this is racing, and these things happen. The main thing is I am ok and so is the bike and we go to Laguna ready to fight hard for my first MotoAmerica Top Ten in Supersport."