3D Motorsports' Power claims top-five finish Sunday in MotoAmerica Supersport race after suffering big crash on Saturday
Shakespeare takes home points-paying finishes in Stock 1000, Twins Cup at The Ridge Motorsports Park
 
SHELTON, Wash. — 3D Motorsports' Luke Power was back to competing with the frontrunners in MotoAmerica's Supersport Class Saturday and Sunday at The Ridge Motorsports Park. Though Power crashed out of the Saturday's race, the Australian – who netted his first MotoAmerica podium finish at the prior round – capped off his first time racing at the Washington State track with a top-five finish on Sunday.
One of the team's other riders – Brit Steven Shakespeare – pulled double duty at the June 24-26 event and claimed points-paying finishes in both Stock 1000 and Twins Cup.
Power took some time to learn The Ridge's undulating 2.5-mile layout in practice but upped his pace for Friday qualifying. He finished Friday practice 10th fastest but moved up three places in Qualifying 1 while shaving more than three seconds off his best lap time. The team's third rider, Joe Mariniello, struggled to start the weekend, as he finished Junior Cup Friday practice in 13th and Qualifying 1 in 14th.
Shakespeare also endured a challenging start to the event in Twins Cup. He finished Twins Cup Friday practice in 21st and Qualifying 1 in 20th, though he did improve his best lap time by about three seconds in qualifying. In the Stock 1000 Class, Shakespeare had better fortunes. He concluded Friday practice in 16th but fell to 20th in Friday's Qualifying 1.
Qualifying for all classes concluded Saturday morning, with Power having secured seventh on the Supersport starting grid, Mariniello 11th in Junior Cup and Shakespeare 21st in Twins Cup and 17th in Stock 1000.
First up to race on Saturday afternoon was Shakespeare in the first of the weekend's two Stock 1000 races. Though he didn't get a great start, Shakespeare made up two places in the first three laps of the 10-lap race and was able to finish the race in 16th. Mariniello got a decent start in the Saturday Junior Cup race but wasn't able to move up the running order and ran in a lonely 11th place for all 10 laps of the race.
Power showed excellent pace in the opening laps of Saturday's Supersport race. He had moved up to sixth place on the first lap, but a crash on Lap 4 brought his race to an early end. Shakespeare was back on track later Saturday for the Twins Cup contest. Though he was struggling for pace, attrition farther up the running order in the shortened seven-lap race allowed Shakespeare to finish in 15th and score his first Twins Cup points of the 2022 season.
The first race of the day on Sunday was Stock 1000, which saw Shakespeare net his second points-paying finish of the event. Shakespeare was running as high as 15th before the race was stopped due to an on-track incident. Taking the restart from 16th on the grid, moved up to 15th on Lap 4 of the restarted 5-lap race thanks to attrition father up the order, then advanced another position on the last lap to finish 14th. Shakespeare was right back out on track for the day's Twins Cup race, which he finished in 16th place.
Mariniello had an unfortunate start to the Sunday Junior Cup race, as he was assessed a time penalty for jumping the start. Though he advanced past another rider on Lap 1, Mariniello slipped back to 11th in the running order on Lap 2 and retired from the race on Lap 5.
Power bounced back from his crash on Saturday to nab a top-five result on Sunday. Starting in seventh, Power finished Lap 1 in sixth place – a position he maintained through Laps 2 and 3. Though he dropped as low as seventh during the 15 lap race, attrition on the last lap promoted Power to a fifth-place finish.
The 3D Motorsports LLC team will be back in action the weekend after next when MotoAmerica visits WeatherTech Raceway Laguna Seca on July 8-10.
Luke Power / No. 68 
"This weekend was definitely not what I'd hoped for. We made great progress on Friday, which made the weekend promising for myself and the team. In Race 1, I was in the podium fight and was feeling really good, but unfortunately sent the bike into the trees. The 3D Motorsports team worked their butts off all night to get the bike fixed. I wasn't feeling great for Race 2, but I pushed on and managed to salvage a fifth place even with a fading rear tire. A massive thank you to the whole team for their endless work and late nights, as they definitely got me out of the crap today. Now it's on to Laguna, which is a track I've been looking forward to all year."
3D Motorsports' sponsors for the 2022 MotoAmerica season include Orient Express, K-Tech, BTEC Turbines, 4SR USA, Blud Lubricants, CG Law, Evol Technologies, AF1 Racing, Southern Adrenaline, M4 Exhaust, Valor Farms, Second Hand Motorsports, LS2, Motorcycle Dealer Services and DrippinWet.
More, from a press release issued by SportbikeTrackGear.com:
Double Deuces for LiMandri at the Ridge
Joseph LiMandri Jr. backed up his first professional win last round with two 2nd place finishes in his very first visit to Ridge Motorsports Park in the SportbikeTrackGear.com Junior Cup this past weekend [June 24-26].
Despite only seeing the track for the first time during Friday's practice session, Joe was able to quickly adapt and qualify a reasonable sixth.  That enabled him to get away with the lead group and keep the pace.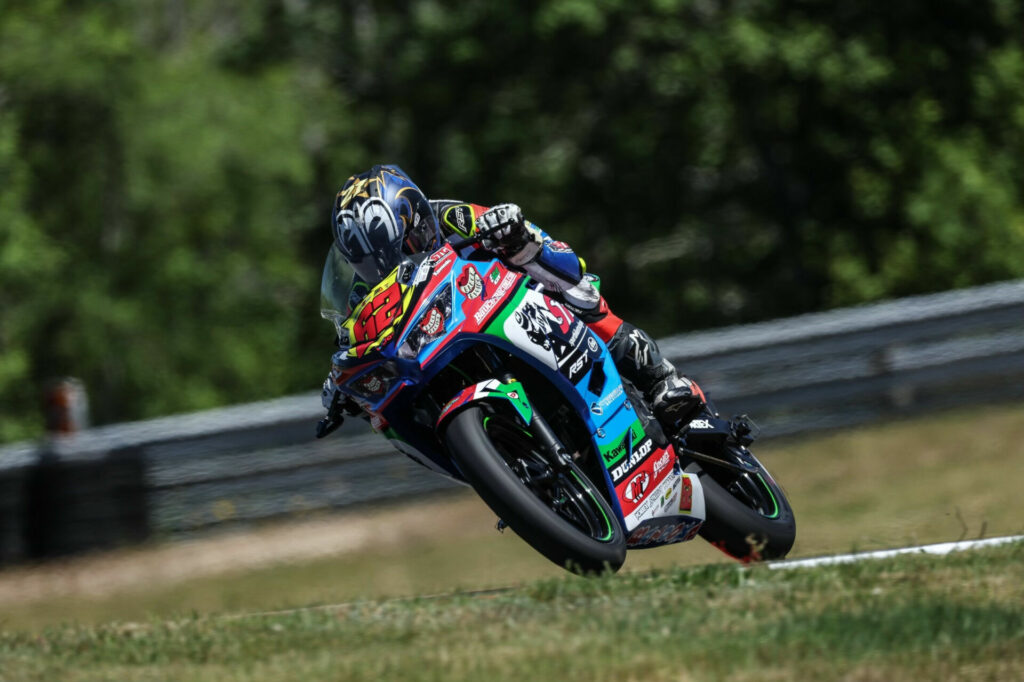 Being under the weather all weekend, Joe gave credit to his team. "Corbo (of Bauce Racing) always gives me all the confidence in this Ninja 400 I need, so I can just focus on riding.  A couple of laps in, I could barely breathe, but I knew if I kept them in my sights, I'd have a shot."  Speaking of shots, he's quick to mention his main sponsor, "Without the support of SportbikeTrackGear.com, we wouldn't be here, so I'm super thankful to them too."
LiMandri finished just 0.2 second off the leader in Race One, and 0.4 second off in Race Two while setting the fastest lap of the weekend.
Teammate Max Van had solid rides with a fifth in Race One, then improving to fourth in Race Two.  "We just didn't have the pace of the lead group this weekend," Max said.  "These were tough races, but given the last couple of unlucky ones, I'm happy to get the points haul, and ready to regain some confidence at Laguna."
Joe and Max sit third and fifth, respectively, in the championship standings with five rounds remaining.
The SportbikeTrackGear.com squad returns to the West Coast on July 8th at Laguna Seca.
As always thanks to: all the SportbikeTrackGear.com customers, Helmet House, Bauce Racing, Cybersafe Solutions, Racing for a Reason, Vortex Racing, M4 Exhaust, REB Graphics, Armour Bodies, Woodcraft Technologies, Motul, Alpinestars, Shoei Helmets, RST, Arai Helmets, SportbikeTrackTime, Evolve GT Track Days, N2 Track Days, Gazebo Contracting, UTR/Torres Racing, Brake Tech USA, Ferodo Racing, Scott Powersports, Spiegler USA, Hanshaw Racing Engines, Precision Auto Works and Driven Racing.
More, from a press release issued by Rodio Racing/Warhorse HSBK Racing:
Nearly perfect performance for Rodio Racing/Warhorse HSBK Racing at The Ridge
With two combined pole positions, three race wins and a third place Rodio Racing/Warhorse HSBK Racing riders Gus Rodio and Anthony Mazziotto had their best event of the season at Ridge Motorsports Park near Shelton, Washington.
A qualifying time of 1:53.572 earned Gus Rodio the pole position for the races, over a half a second ahead of the competition. He used the grid position to his advantage to stretch out an early lead in Race One that at times was over two seconds, ultimately bringing his Kawasaki Ninja 400 home for the win. In Race Two, a mechanical issue caused Gus to jump the start. He finished the race in second place, but after a five-second penalty for the infraction Gus was scored in third.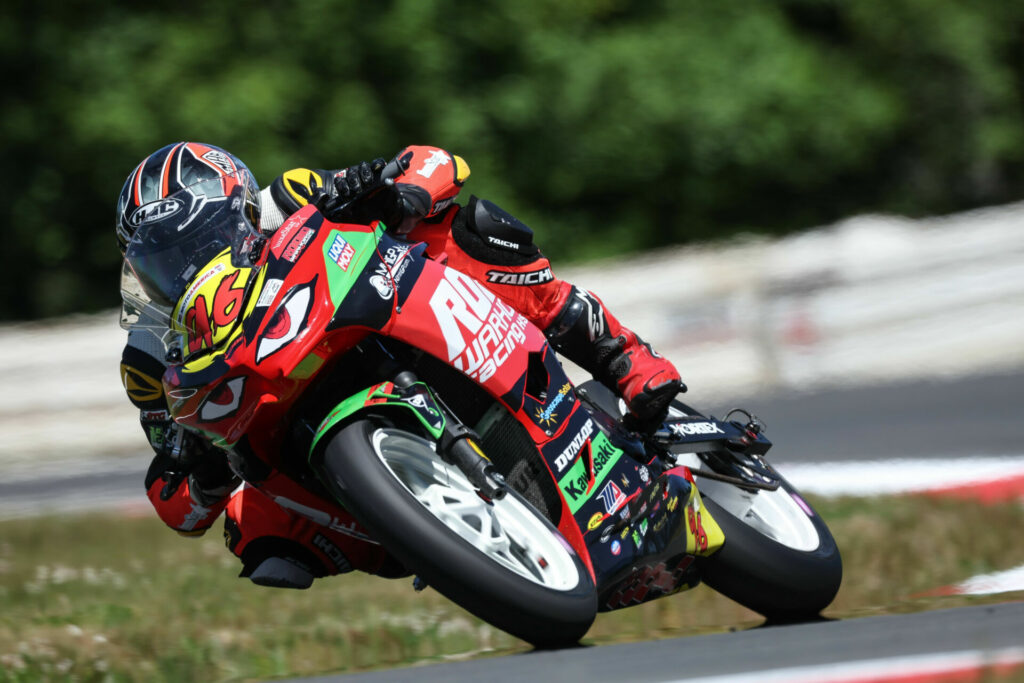 Gus Rodio: "From the beginning of the weekend I felt great at this track. The bike was working well and I was having a lot of fun. When Sunday came around we had clutch issues from warm up to the race, but managed to bring the bike home. We're going to keep working at this and I'm happy to be leading the championship going into Laguna."
Smashing the existing Twins Cup lap record with a 1:46.152, Mazziotto claimed the pole position for the weekend and earned a Wilbur watch in the process. Winning red flagged Race One and a full-distance Race Two Anthony leaves "The Ridge" in second place in the championship.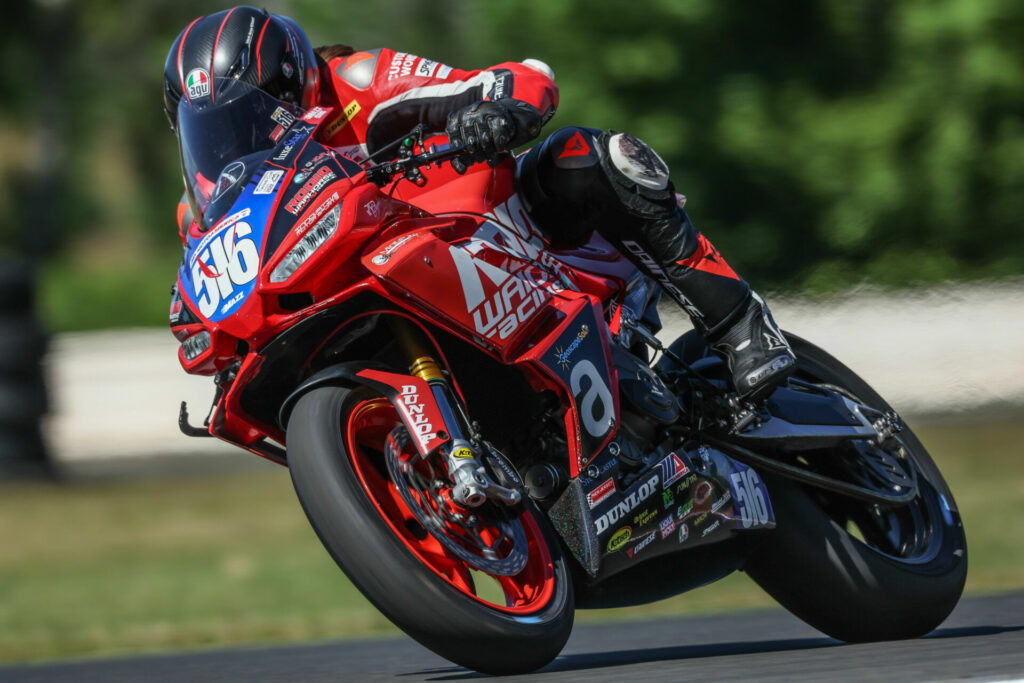 Anthony Mazziotto: "Coming into The Ridge I had an amazing feeling that the Rodio Racing Warhorse HSBK Aprilia was going to perform well. It was a track where I have experience and felt confident in coming back. We started off leading in P1, but slipped to third in Q1. The team knew what to do to get the bike on pole, and in Q2 we did just that. We are coming home with a pole position and two race wins, so this weekend was a perfect one for us."
Rodio Warhorse HSBK Racing returns to MotoAmerica racing at WeatherTech Raceway Laguna Seca July 8-10, 2022.
More, from a press release issued by Altus Motorsports:
MotoAmerica: Results from The Ridge Motorsports Park for the Altus Motorsports WPS FLY Racing Team
(Shelton, WA) The first stop on the West Coast for MotoAmerica was the beautiful, but technical track at Ridge Motorsports Park in Shelton, Washington. The fantastic weather welcomed the team (which was without Justin Jones who opted out for the remainder of the season) for what turned out to be a great weekend.
Superbike Cup & Stock 1000
Brandon Paasch continued his progress on the Altus Suzuki GSX-R1000R. Unlike some other races on the schedule this season, "The Ridge" featured a doubleheader for the Stock 1000 class. Paasch finished both in sixth position. In the Superbike Races, he finished 15th in Race One and 14th in Race Two. The Superbike Cup is a race-within-a-race of Stock 1000 bikes among the Superbikes. In that class, Brandon garnered good points taking third place both days.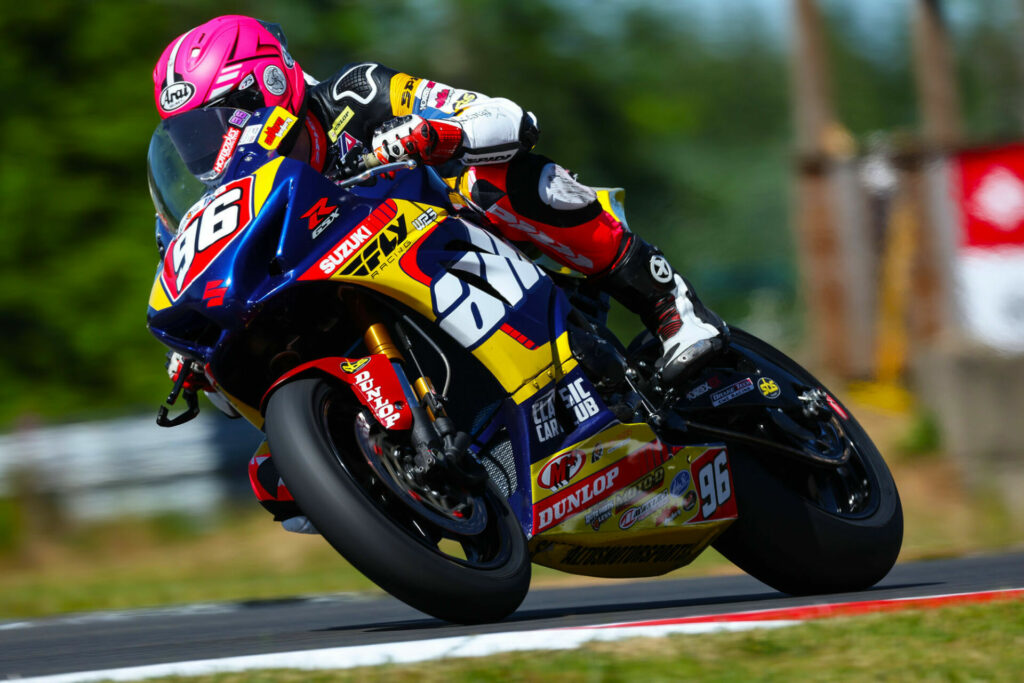 Supersport 
Jaret Nassaney made a step forward in his riding this year. He has finished in the top 10 almost every round and is now targeting the top five spots. In Supersport Race One at "The Ridge," Nassaney started in eighth and finished in seventh. In the second race, he was battling for fifth when he and another racer collided and ended up on the ground. In spite of the crash, Jaret finished 10th after picking the bike up.
"I was excited to go back to 'The Ridge' because it's a track I really enjoy. I rode my tail off all weekend but didn't get the results I was hoping for. I was in fifth for most of all Race Two but had an incident with another racer that caused us both to go down. I got the bike up and managed to finish 10th. I was really looking forward to another top five finish! We know we can be up there and I'm looking forward to Laguna Seca in a few weeks," said Jaret Nassaney.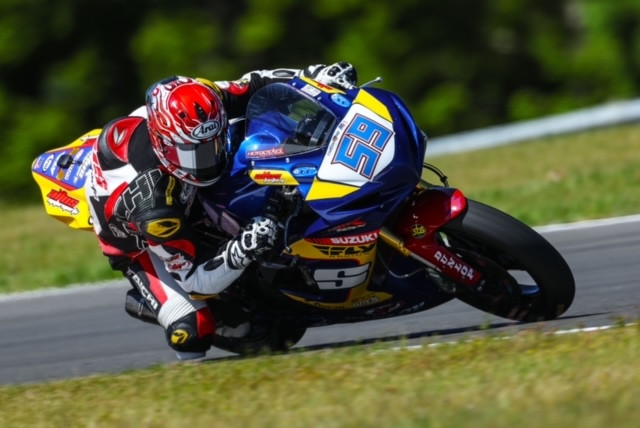 Junior Cup
Kayla Yaakov has been on almost every Junior Cup podium this year, but the top step has eluded her. That changed at "The Ridge." She started both races from the middle of the first row – her best qualifying of the season. In Race One, she managed third place but the bike setup was not optimal. After a set-up overhaul, Kayla rolled the bike out in Sunday morning warm-up and it was "perfect." And it showed in Race Two. Kayla led most of the race and notched her first victory. This is not only an iconic moment for her, but also for the sport. Yaakov is the first female winner since MotoAmerica began running the American series. Kayla currently sits in fourth place in the Junior Cup series but is only eight points out of first place.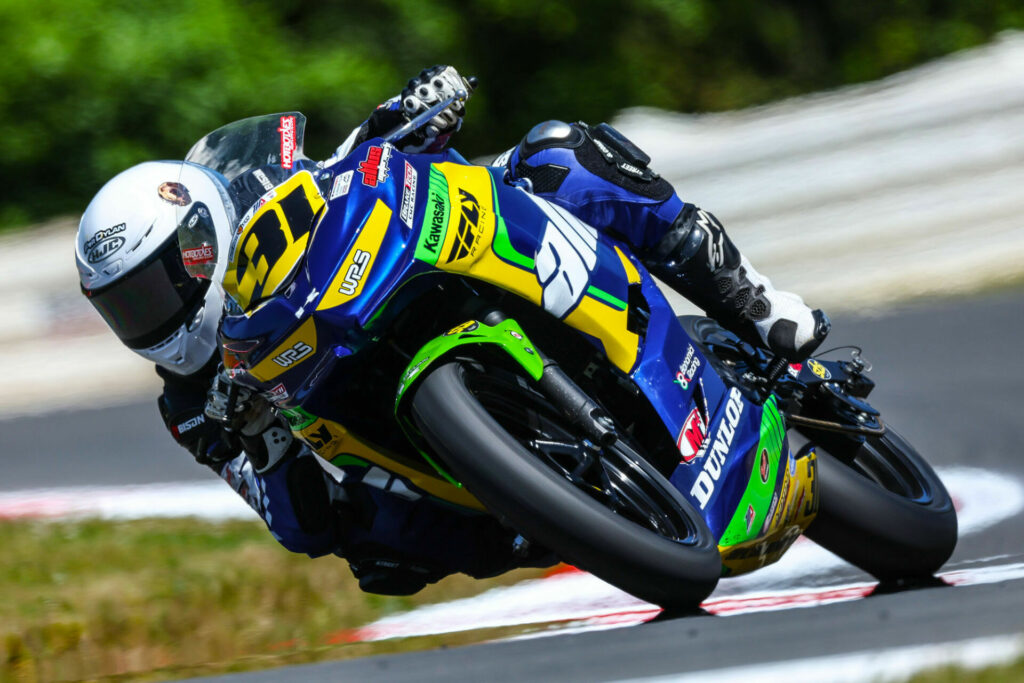 "What an absolutely amazing weekend at Ridge Motorsports Park! Not only was this a huge win for me personally, but I became the first woman to ever win a MotoAmerica race! This truly feels like the best weekend of racing in my entire career. I was in the top three in all of my sessions. I started the weekend with my best ever qualifying position of second, (a big step up from my previous best qualifying position of seventh). That gave me a tremendous amount of confidence going into the races. In Race One, we battled a bit with the setup but still came home with another podium in third place. I knew that a change needed to be made for the second race. My entire Altus Motorsports crew (with the help of Stoney and Rocco Landers) made a bunch of adjustments. In Sunday morning warmup, the motorcycle was almost completely different from the start of the weekend, but it felt absolutely perfect. This was a huge confidence boost. I had an awesome Race Two. I led the most laps and had one of the fastest laps of the race. Most importantly, I had a great bike under me that was able to give me the confidence and ability to win. I'm so happy to finally get this elusive victory, and hopefully, there are many more to come in the future! This year has been dedicated to my brother Dylan Quaid, who passed away in December of last year. This win was entirely for him, and I know he's smiling wherever he is. Thank you to all of the wonderful people and sponsors who have made this possible!" said Kayla Yaakov.
"The team had a great weekend in Washington. Our crew is a great family and our pit is a wonderful place to be. We support each other and I could not ask for a better group of crew and racers. I can't express how proud I am of Kayla. We knew her win was coming. She is an immensely talented and fantastic person and we are just glad to be a part of her success. And I'm also super proud of Jaret and Brandon. Both continue to make progress. Jaret was up as high as fourth at one point. His step forward this year has been impressive," said team owner George Nassaney.
The Altus Motorsports team is supported by our great family of sponsors: Altus Motorsports, FLY Racing WPS, Suzuki Motor USA LLC, MOTO-D Racing, Bonamici, Hot Bodies Racing, M4 Exhausts, Vortex EK, Motion Pro, Barnett, Maxima Racing Oils, SBS Brakes, BrakeTech USA, Inc., Ohlins, K-Tech, RS Taichi, Arai, Law Tigers Oklahoma, and Altus Factory Racing.