Hector Barbera delivers double top five in latest MotoAmerica round at The Ridge
With temperatures soaring, the Tytlers Cycle Racing team were once again at the sharp end in the latest round of the 2022 MotoAmerica Superbike championship.
Fresh from their podium successes at Road America, riders Hector Barbera and PJ Jacobsen were full of confidence as the series moved towards its mid-point with the ninth and tenth races of the year.
A strong qualifying for Hector saw him qualify on the second row, although a penalty for a rider ahead would see him promoted to the front row for Saturday's opening race. From lights out the Spaniard gave his all, making changes to his BMW 1000 RR when the race was red flagged. At the restart, his pace was strong with Barbera crossing the line a fraction behind the fourth placed finisher. He finished fifth. Sunday's second race brought a similar result. Setting off from row two he was soon lapping faster than in Race 1, coming out on top am intense battle for P5.
PJ Jacobsen was racing at the 2.47-mile Ridge Motorsports Park for the very first time in what is his return to racing and whilst learning the track posed no real problem, the #66 struggled to find the optimum feeling. A spill in Race 1 added to the frustration. A determined Jacobsen dug deep on Sunday and whilst still not 100% comfortable was able to secure a top ten finish, with ninth, at the flag.
Stock1000 title contenders Corey Alexander and Travis Wyman were also in action in the Superbike class. The pair finished seventh and eleventh respectively on Saturday, whilst Corey also secured an eighth placed finish on Sunday.
Hector Barbera: "Race 1 was not the easiest. I expected to fight for the podium, but the track conditions were so different to this morning and with the start/stop because of the red flag we made changes and I lost a little bit confidence. The gap to the front wasn't too bad and P5 is not so bad. The second race was much more normal as we didn't have a red flag. I started well but lost some feeling with the rear tire which started to spin. We are making progress, but we still need to keep working to be in the podium fight more regularly. I am not happy with another fifth position, but I am happy when I see we are getting faster. I am super motivated and looking forward to being at the front at Laguna."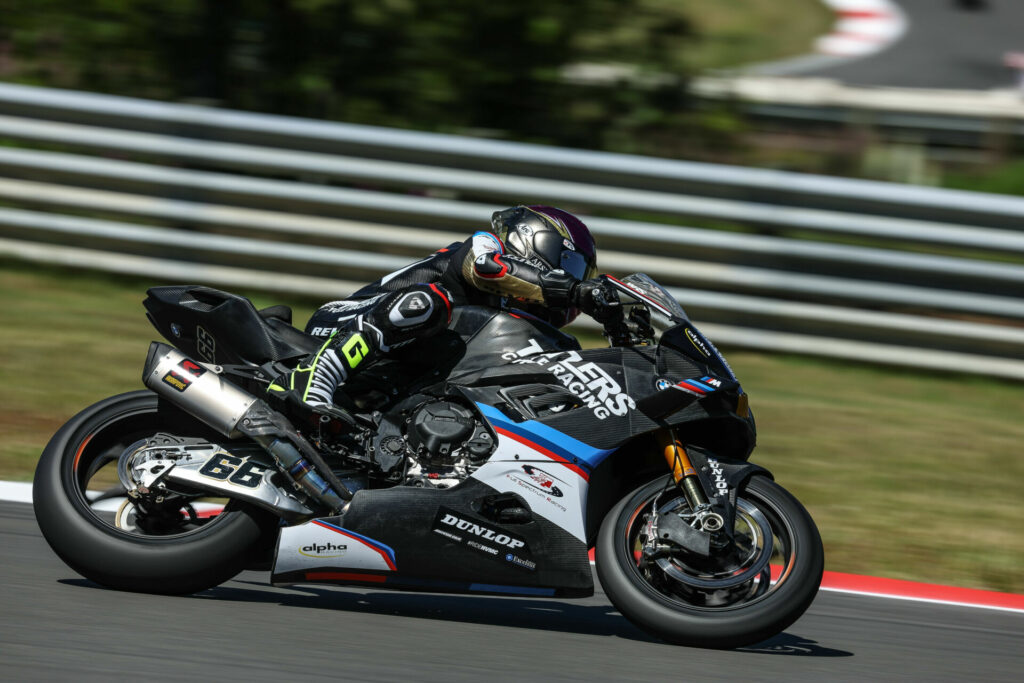 PJ Jacobsen: "The whole weekend was tough for me. I had to learn the track as it was new to me and then in the races I struggled. In Race 1 I don't know whether it was tire or suspension, but I didn't have a good feeling with the front of the bike and unfortunately, I went down. Race 2 wasn't much better. I had no confidence and it's not what me or the team expected in terms of results. That said, we will regroup and go again at Laguna."
More, from a press release issued by N2 Racing:
N2 Racing Scores a Podium Finish at The Ridge.
Media, PA – June 2022 – N2 Racing scores its second podium finish of the year with a third-place finish in Supersport Race Two by rider Kevin Olmedo. Blake Davis scored a fifth place in Twins Cup Race One and an incredible fourth place finish in Race Two on his Yamaha YZF-R7. The Ridge was the teams best overall weekend with strong finishes by both riders and great points in the championships.
Kevin Olmedo had his best weekend of the year at The Ridge. The Yamaha YZF-R6 was competitive on Friday, only requiring a few gearing and suspension adjustments to allow Olmedo to qualify in fourth place. Kevin got boxed out at the start of Race One falling back to fifth place early on but fought back to third during race long battle with Sam Lochoff. In the latter part of the race, the rear tire became very greasy, and Kevin finished in fourth place. In Race Two, Kevin got a better start and immediately locked into a race long battle with Tyler Scott. The two riders battled with by far the most exciting action on track. In the end, Kevin was able to score his first podium of the year. This was also the teams first podium in Supersport since entering the class in 2019. Kevin is now fourth in points.
Blake Davis qualified 11th in the middle of the fourth row for Twins Cup at The Ridge, leaving a tall mountain to climb for both races. Blake had a great start and made up 2 places before turn 1.  He started making passes back and forth with two other riders and on lap seven, broke away and his lap time dropped by half a second. The race was red flagged on the 8th lap and he didn't have time to catch the other riders. In Race Two, Blake got a great start again and made several key passes. When a few of the leaders had issues, Blake was there to capitalize to finish just off the podium in fourth place. Blake is fourth in the Twins Cup Championship standings, only 56 points from first.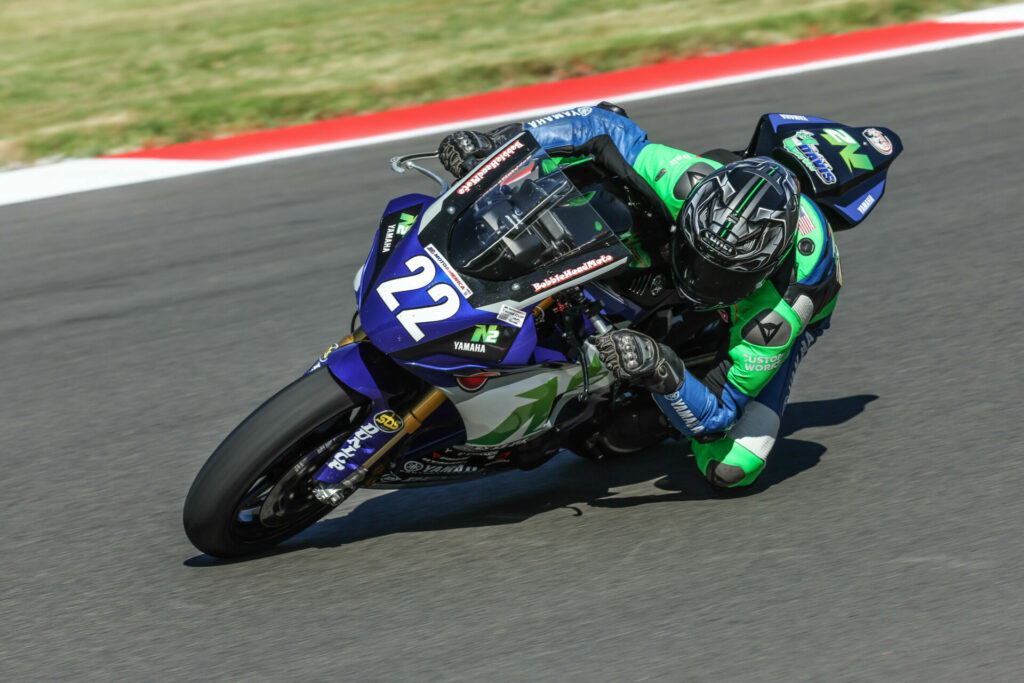 Blake Davis – "What a great weekend! The bike was pretty competitive straight off the truck, but the team made good changes and we dropped time in every session. The struggle right now is in qualifying. It's very hard to start from the fourth row and get on the podium with the talent in this class. When we get the qualifying figured out, we will be good to go. That is the focus."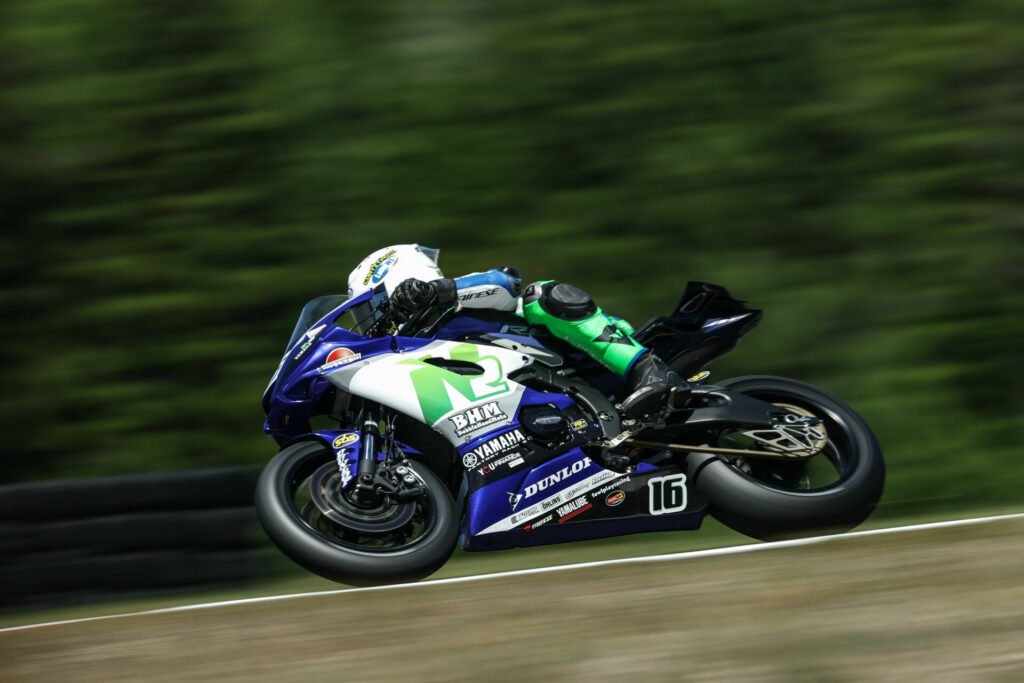 Kevin Olmedo – "This was best the bike has felt all year. The team has done an amazing job of adapting the bike to me and finding a competitive set up and I can't thank them enough. They are professional and I love the family atmosphere. Thanks to Yamaha, Dunlop, N2 Track Days, Dainese, Arai, and all the other sponsors that help make this happen."
Shiloh Salopek (Crew Chief) – "The Ridge is one of the more difficult tracks to find a balanced compromise in the bike's setup to accommodate all the variables in the track layout.  For us to be able to overcome this obstacle and have such solid results with both Blake and Kevin, it gives us a lot of confidence and momentum to roll into Laguna Seca in two weeks."
About N2: N2 – Ride, Race, Learn.
Founded in 2014, N2's mission is to build a sustainable motorcycle community through safe, structured motorcycle track days, advanced rider training programs based on Yamaha Champions Riding School teaching methods, with a strong affinity for motorcycle road racing. N2 successfully resurrected Motorcycle Endurance Racing in America partnering with WERA Roadracing and creating the N2/WERA National Endurance Series by Dunlop. N2 is a premier participant in the MotoAmerica Pro Racing Series with a multi-rider team competing in several classes. N2 is also a major contributor to the Roadracing World Action Fund through fundraising efforts and support from its large member base.
N2 Racing is proudly sponsored by: Dunlop Motorcycle Tire, Yamaha Motor Corporation USA, Dainese, BobbleHeadMoto, Karnes Performance, Trading Paint, GB Racing, Westby Racing, Attack Performance, Robem Engineering, Puig, Eazi Grip, ProBolt, SBS Brakes and Yamaha Champions Riding School.