Xavi Fores continued his perfect performance so far in MotoAmerica by winning Supersport Race Two Sunday at Road America in Elkhart Lake, Wisconsin.
Fores, riding his Warhorse HSBK Racing Ducati Panigale V2, led most of the race but was pressured by Stefano Mesa all the way to the checkered flag. At the finish, it was Fores winning his fifth race in five starts by 0.399 second over Mesa and his Tytlers Cycle Racing Kawasaki ZX-6R.
After finishing sixth in Race One, Tyler Scott stepped up in Race Two to score third on his Vision Wheel M4 ECSTAR Suzuki GSX-R750.
Josh Hayes was a close fourth on his Squid Hunter Racing Yamaha YZF-R6, and Michael Gilbert rounded out the top five finishers on his Michael Gilbert Racing Suzuki GSX-R750.
More, from a press release issued by MotoAmerica:
Fong, Fores, Wyman, Moor And Much Moore At Road America On Day Two
Bobby Fong, Xavi Fores, Rossi More, Mikala Moore And Travis Wyman Win Big On Sunday In Wisconsin
ELKHART LAKE, WI (June 4, 2023) – With a record three-day crowd of 41,000 spectators on hand at Road America on Sunday, the five support classes of the MotoAmerica Championship were on center stage and they didn't disappoint.
Mission King Of The Baggers – The Fonger!
The last thing anybody thought would happen in the Mission King Of The Bagger race at Road America was that one rider would simply ride off in the distance and leave the rest to fight for second place. But that's what happened on Sunday as Sac Mile/SDI Racing/Roland Sands/Indian's Bobby Fong annihilated the rest of the Mission King Of The Baggers field, winning by an unheard of 5.7 seconds.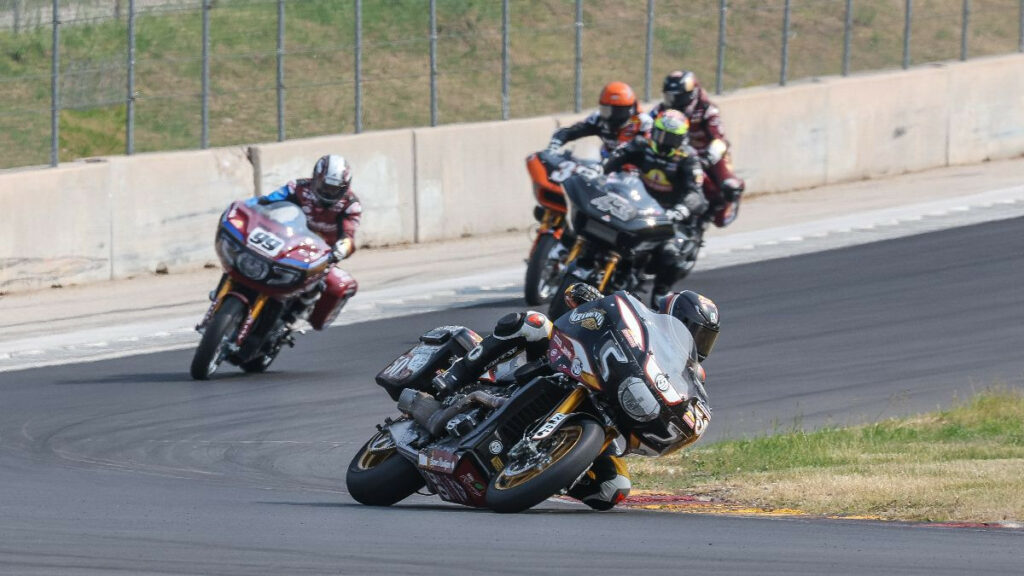 The race didn't start well for Fong as he somehow made the airbag in his leathers activate after the warm-up lap and he started the race looking like Bibendum. It didn't slow him down, however, as he got a great start and simply pulled away.
In Fong's wake was a full-on war with James Rispoli, Kyle Wyman, Hayden Gillim and Jeremy McWilliams brawling over the remaining podium spots. The runner-up spot ended up going to Vance & Hines/Mission Harley-Davidson's Rispoli over H-D Screamin' Eagle's Wyman by just .010 of a second. Gillim was right behind them in fourth with Travis Wyman fifth on the second H-D Screamin' Eagle Harley. McWilliams, meanwhile, crashed out of the race on the last lap two turns from the finish.
"It's been a rollercoaster of a year, but we've shown some glimpses of hope here and there and had some bad luck, but that's part of racing," Fong said. "I've dealt with worse in the past. I'm just thankful to be up here today. Before the race, I was just doing my little warmup, pump me up, little pump my chest and the damn airbag popped off, but it gave me a little adrenaline rush right before the race. The main thing, my goal was just to get away from the chaos behind me. I knew it was going to be a mess back there. I got the initial jump and then I started slipping my clutch. I'm like, 'damn, they're all going to blow by me,' and nobody got by me. Yesterday Tyler (O'Hara) and Jeremy (McWilliams) had a hell of a start, so I was just waiting for them to blow by me. But I just put my head down the first lap. I'm like, 'okay, I feel good.' The pace was pretty smooth. I felt pretty good doing it, but I can't get too used to this. These guys are going pretty good. Laguna (Seca) they go real well also. I'm going to have my hands full for the rest of the year, and we'll just keep our head down and keep pushing."
Supersport – Fores Still Perfect
When Xavi Fores inked his deal to come to America to ride a Warhorse HSBK Racing Ducati Panigale V2 in the MotoAmerica Supersport Series, he figured he'd win races and challenge for the title. Little did he know he'd win the first five races of his MotoAmerica career, but that's exactly what he's done as he won his fifth in a row at Road America on Sunday.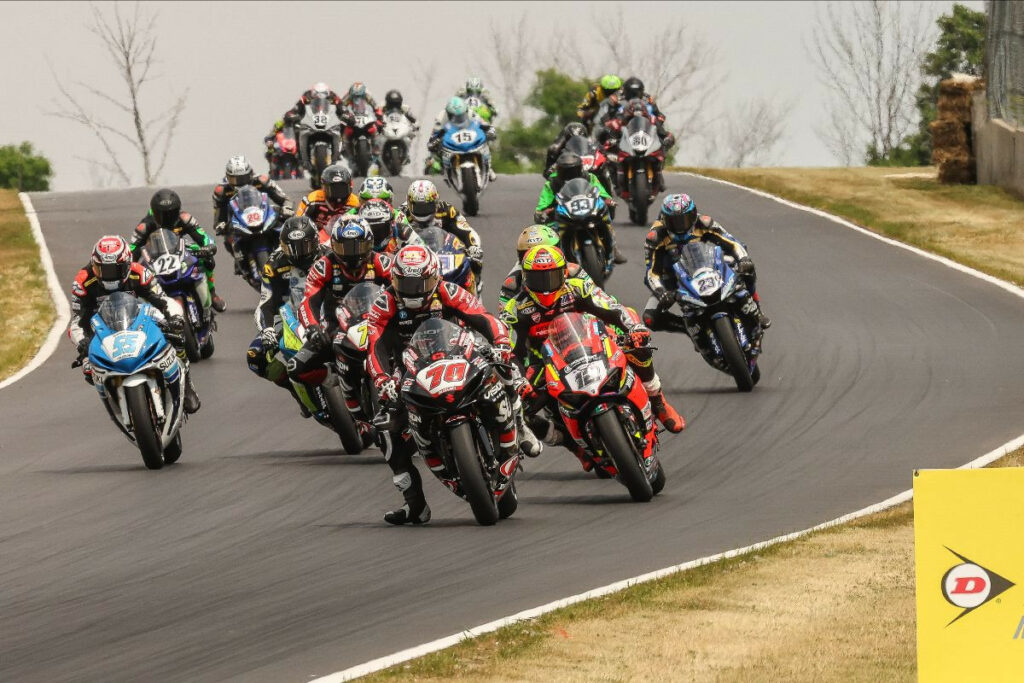 Forest battled throughout the race with Tytlers Cycle Racing's Stefano Mesa with the Floridian coming up just .399 of a second short after the run up the hill to the finish line.
Third place went to Vision Wheel M4 ECSTAR Suzuki's Tyler Scott with the youngster topping Squid Hunter Racing's Josh Hayes by a tick over a second. Michael Gilbert Racing's Michael Gilbert rounded out the top five.
"I realized already this morning in warmup I was not able to pass him on the draft," Fores said. "He is lighter than me and the bike is fast, but I wanted to see how was his pace. I ran wide in the chicane. I lost the front a little bit, so I said, okay. I looked back and no one was coming close to us. I said, "okay, I'm going to let him pass and try to understand his pace.' So after that, on the first split, I was a little bit faster than him and I was solid braking into turn five, so I passed again. I was quite okay doing 16 on my pace. I was pushing so hard. I was looking back all the time and he was there. The bike was working quite well, despite some issues I still have on the front. I never felt the front on my side from the first race of this year. But we are working a little bit. We are improving the bike a little bit, but it is still not enough. I lose the front sometimes when I am deep on the brakes. But I'm enjoying my riding. I'm enjoying fighting with them, discovering new tracks. If it's winning races like that, it's always welcome."
Junior Cup – Rossi Wants More
It was a big day for Fairium NGRT- Gray Area Racing KTM rider Rossi Moor. The fifteen-year-old former Mini Cup rider, who podiumed in Saturday's Junior Cup race one, notched his first career MotoAmerica race on Sunday at Road America in Junior Cup race two. It was another "pack mentality" race for MotoAmerica's entry-level riders where you didn't know who'd win till they actually took the checkered flag. Moor prevailed over SportbikeTrackGear.com Kawasaki rider Max Van, who came from back in the pack to take the runner-up position over third-place rider Avery Dreher aboard his Bad Boys Racing Kawasaki.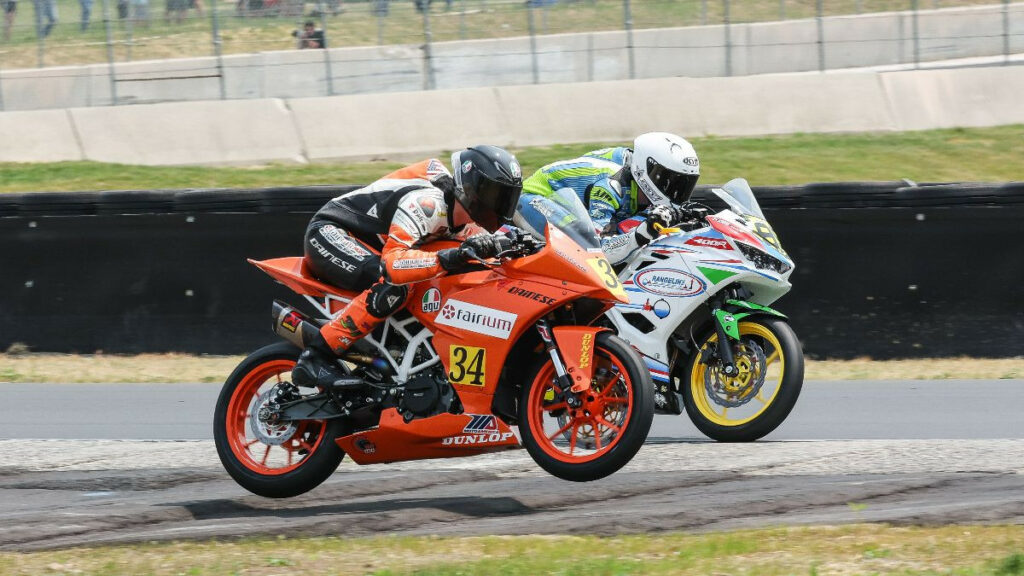 "Yesterday, I wanted to try and stay in second place and try to not lead the race because I remember when Avery was saying that on this track you really don't want to lead, especially on the last laps since the draft is so important here," Moor said. "But I was analyzing the race yesterday and I thought that I had the pace to be able to break away. I just have to put my head down and sometimes you need a little bit of luck, like somebody making a mistake, to have that little breakaway. So, it was a really good race for me, after the bad luck I've had this season with two DNF's. But finally, I got the win and I'm super excited."
Royal Enfield Build. Train. Race. – One Moore
The 12 ladies of the Royal Enfield Build. Train. Race. program kicked off Sunday's racing at Road America with their second feature event of the weekend. Mikayla Moore, who won Saturday's race one by more than 17 seconds, was victorious again on Sunday. But, this time, Kayleigh Buyck, who suffered a mechanical in race one and was unable to finish, came back on Sunday to finish second and a little under 12 seconds behind Moore. Completing the podium was Aubrey Credaroli, who was another 9 seconds behind Buyck.
The BTR series will race again at MotoAmerica's next round, which is Ridge Motorsports Park, June 24-26.
"I have a lap-timer on my bike, and surprisingly, my fastest time all weekend was in qualifying 2. I did a 2:53.8," Moore said. "This time I think I was a second off. I'm still finding a little bit of bike setup during the race, but other than that, I just kept consistent. Made sure I hit all my lines, hit all my marks, and I'm glad these ladies are up here with me. Not going to lie, going onto the straightaway I could see the big screen, and I was watching. I was like, 'Oh, there's a battle going on back there.'"
Stock 1000 – Wyman Does It
According to Travis Wyman, he struggled with the setup of his Travis Wyman Racing BMW throughout most of the Road America weekend. This was despite the fact that he qualified in the pole position for the weekend's two Steel Commander Stock 1000 races and finished second in Saturday's race two.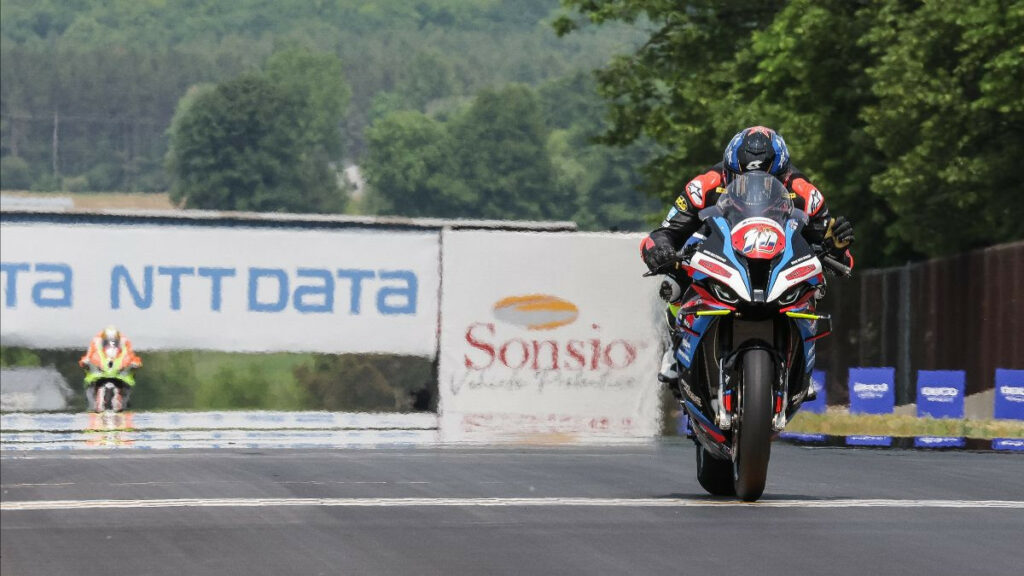 On Sunday, Wyman won the race over Orange Cat Racing's Kaleb De Keyrel, who was also aboard a BMW and just a little over two seconds behind Wyman. Third place went to Disrupt Racing Suzuki rider Hayden Gillim, the Kentucky rider happy to get a podium result at a track where he felt he would struggle due to the power and speed of the BMWs. Gillim was some 16 seconds behind De Keyrel at the checkered flag, and he was also able to take advantage of the fact that points leader Ezra Beaubier ran off the track and finished fourth.
"It's definitely where I wanted to be yesterday," Wyman said, "But I think we were still missing a little bit of something. So, the guys put a great package underneath me today. I think just the little bit cooler temperatures gave me more confidence to just get out and push, because in Q2 yesterday morning it was about similar temperatures, a little overcast, and the bike felt its best. Yesterday in the race when the sun was beating down, I didn't have the confidence in the grip level. I knew if I got a holeshot, I could put my head down and go to work. I saw the gap getting bigger and bigger, and then all of a sudden it was back down to the plus zero again. Honestly, I thought it was Ezra behind me the entire time, and I just kept my head down for a couple more laps and I looked up and I saw on the monitor going into three and it was Kaleb. Kaleb has been strong at the end of the races, so I had to keep going. Just really never looked back. The bike was phenomenal. It was a huge step up from yesterday. It felt like it did in Q2. I got to give it all to my team. It's been a long time coming. It's been since Laguna 2021 when I won a Stock 1000 race."