Josh Herrin rode the race of his life to win MotoAmerica Medallia Superbike Race Two Sunday at Road America, in Elkhart Lake, Wisconsin.
With PJ Jacobsen breathing down his neck throughout most of the race, Herrin went faster and faster until he broke the All-Time Lap Record on the final lap of the race on his Warhorse HSBK Racing Ducati NYC Panigale V4 R and secured the victory by 2.014 seconds.
Jacobsen was less than a second behind Herrin for most of the race but came up a little bit short in second place on his Tytlers Cycle Racing BMW M 1000 RR.
Two-time and defending Champion Jake Gagne finished a challenging weekend by taking third just 0.051 second ahead of his teammate Cameron Petersen, who was fourth.
Toni Elias passed Westby Racing Yamaha's Mathew Scholtz on the run from the final corner to the checkered flag to score fifth on his Vision Wheel M4 ECSTAR Suzuki GSX-R1000R.
Cameron Beaubier was fighting Herrin for the lead on lap four when Beaubier's BMW suffered a technical problem, forcing him to retire.
More, from a press release issued by MotoAmerica:
Herrin And Ducati Win Medallia Race Two At Road America
Josh Herrin Wins His Ninth Career Superbike Race And His First With Ducati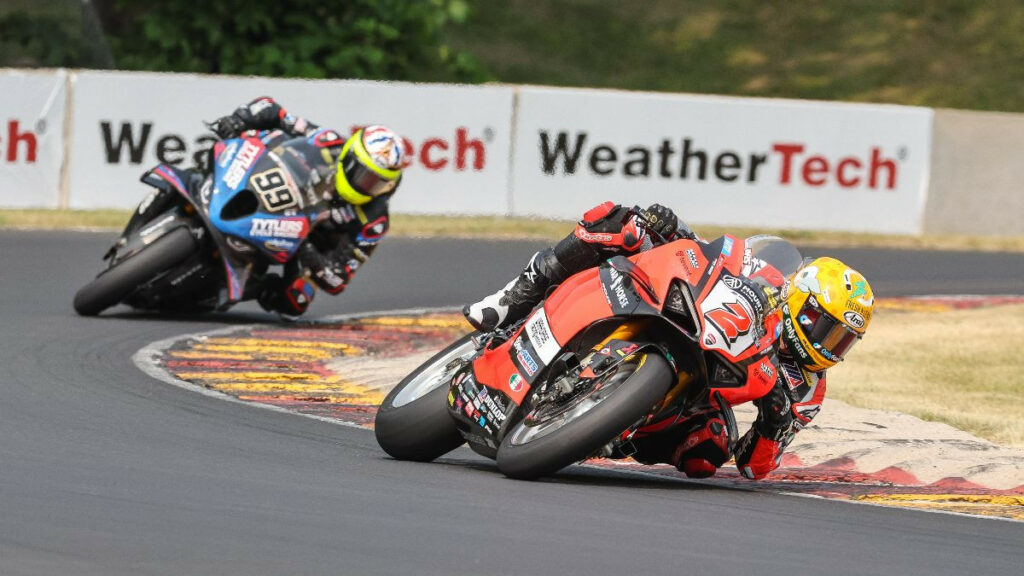 ELKHART LAKE, WI (June 4, 2023) – Going into the second of two MotoAmerica Medallia Superbike races at Road America on Sunday, Josh Herrin had won AMA Superbike races on two different makes of motorcycles – Yamaha and Suzuki. As of Sunday afternoon you can add Ducati to that list as the Warhorse HSBK Racing Ducati rider rode his Panigale V4 R to his first victory of the season and the ninth Superbike win of his career.
Herrin led from the start and then tussled with Tytlers Cycle Racing's Cameron Beaubier in the early laps until Beaubier's BMW M 1000 RR suffered a mechanical failure that put him out of the race. From there Herrin withstood the constant pressure from a second Tytlers Cycle Racing BMW ridden by PJ Jacobsen.
But Herrin was fast, consistent, and mostly mistake-free en route to a 2.01-second win over Jacobsen after 12 laps of the four-mile Road America circuit. The win came in front of a record three-day crowd of 41,000 spectators at "America's National Park of Speed."
Jacobsen finished second for the second straight day after crossing the finish line some eight seconds ahead of Fresh N Lean Progressive Yamaha Racing's Jake Gagne.
For Gagne the third-place finish was a reprieve from a weekend he and the team would like to forget. Mechanical problems plagued the team for the first two days of the Road America weekend and Gagne failed to finish yesterday's race, which cost him his championship points lead.
However, with Beaubier's non-finish combined with Gagne's third-place finish, Gagne was back atop the championship point standings by 12 points over Beaubier, 111-99. Herrin, meanwhile, jumped to third in the standings with 90 points.
Fresh N Lean Progressive Yamaha Racing's Cameron Petersen was the ultimate wingman to his teammate Gagne and ended up a shadow fourth despite racing with his injured right wrist.
Vision Wheel M4 ECSTAR Suzuki's Toni Elias was fifth in what was the Spaniard's final race as he announced his retirement on TV immediately after the race. Elias drafted past Westby Racing's Mathew Scholtz at the stripe, beating the South African by just .161 of a second. Those two were well clear of Tytlers Cycle Racing's Corey Alexander, who bested Vision Wheel M4 ECSTAR Suzuki's Richie Escalante by half a second.
Aftercare Scheibe Racing's Ashton Yates and Disrupt Racing's Hayden Gillim rounded out the top 10 finishers.
Superbike Race Two
Josh Herrin (Ducati)
PJ Jacobsen (BMW)
Jake Gagne (Yamaha)
Cameron Petersen (Yamaha)
Toni Elias (Suzuki)
Mathew Scholtz (Yamaha)
Corey Alexander (BMW)
Richie Escalante (Suzuki)
Ashton Yates (BMW)
Hayden Gillim (Suzuki)
Josh Herrin – Winner
"It was just for the haters, man. It just felt good. It felt right. But it was all in good fun. That felt really good. Like I said on the podium, I think this just motivates me to do more. I know that this is for sure one of our strongest tracks, but we've got to figure out how to make tracks like Barber not be such a weakness for us. I think just getting more time on the bike and a little bit more confidence will for sure help with that. I'm so happy that I'm a part of this team. It's been really like a family these last two years. It's a bummer that the DeNaples couldn't be here for this one, because I know that they wish they could. It just feels good. It feels good to be 33 years old winning Superbike races on a bike like I'm riding right now and just having fun. This track has always been one of my favorite tracks, but today it really felt like… I've been racing here since 2006. This is my 18th season racing at this track. It felt like '06 with the crowds that we had today. It was just really special going around the track afterwards and seeing everybody cheering on the fence. It's really motivating as a racer to be out there and see a crowd like that. So, thank you to everybody for showing up. Thank you to the whole team for everything that they do for me. I'm ready to keep going."
PJ Jacobsen – Second Place
"Josh (Herrin) rode really, really well today. My starts just suck, and they've been sucking all year. So, that's one thing that I need to figure out how to get off the line better. In the race, I feel like we were doing pretty consistent lap times, into the nines and stuff like that. I caught up to him and Cam (Beaubier), and then Cam had the problem. Then I felt like I was catching Josh a little, and then it stayed like that. Then the last few laps it felt like we were going pretty fast. I think I did 2:09.2 with two laps to go. Then there was pretty decent gap. I don't know if it was a gap enough to go and try to challenge for the win. After turn three or whatever, we were ripping and I was like, I don't know if I should really throw this thing away trying to go faster than that lap time we just did, because it was fast enough. I was trying really hard. Josh rode a really good race. So, it was a bummer. I felt really good in morning warmup and breaking the track record this morning. It was kind of a bummer not to get the win today, but I felt like I rode pretty good, and my team did a great job all weekend. The bikes were super, super fast all weekend. So, it was really good. I'm pretty happy with the whole weekend."
Jake Gagne – Third Place
"That was about all I could expect, I think, coming from the last couple days. Josh (Herrin) and PJ (Jacobsen) and Cam (Beaubier), those guys were really flying. They had pace. I know what it feels like now. They had pace that I just couldn't run, no matter what. They took off right away. I wanted to get a good start and at least try to clear some of the other guys. My teammate, Cam (Petersen), was on me the whole race long. I could hear him breathing down on me. Again, the team went through a lot of crap this weekend and had some real bad luck. It was just one of those weekends. So, I'm happy that we at least put it up on the box today. With Beaubier having a DNF, I got some luck on my side too, which isn't how you want it, but we're up here and I'm ready to get out of this state."
More, from a press release issued by Ducati:
Ducati's Josh Herrin and Xavi Forés Hold Nothing Back at Road America MotoAmerica
 
Josh Herrin takes pole position and dominates race two for his debut win of the season Forés retains perfect season with another double win
Sunnyvale, Calif., June 4, 2023 — The Warhorse HSBK Ducati NYC duo of Josh Herrin and Xavi Forés held nothing back during round three of the 2023 MotoAmerica Championship at Wisconsin's Road America. Herrin settled for third in the opening Superbike race at the newly paved Road America but dominated race two for his debut win of the season. As for Forés, he doubled once again, achieving a perfect season so far in the Supersport Championship.
Herrin piloted his Panigale V4 R to the pole position Saturday before settling for third in that day's race one. He led until lap six when BMW's Cameron Beaubier passed him. Herrin then lost another position on lap eight to Beaubier's teammate PJ Jacobsen, who stuffed him in the chicane, forcing Herrin to go wide.
But it was a much different story for Sunday's race two. The 2022 MotoAmerica Supersport Champion Herrin led the entire 12-lap race from the pole, even breaking the lap record on the final lap with a 2:09.025. Herrin finished 2.014 seconds ahead of Jacobsen and his performance bumped him from fifth to third in points; he is now 21 points behind the leader Gagne.
In the Supersport class, the Spaniard Forés was again untouchable aboard his Panigale V2. In race one Saturday, he was constantly challenged by Kawasaki rider Stefano Mesa and Yamaha's Joshua Hayes, but was able to hold them off to secure his fourth win of the season.
Forés continued his dominance in Sunday's race two, again holding off a charging Mesa. But he was able to keep the focus until securing his fifth win of the season and retaining a perfect record so far in the 2023 Supersport class.
2023 MotoAmerica Superbike Standings After Round Three
P1 – Jake Gagne (Yamaha) 111
P2 – Cameron Beaubier (BMW) 99
P3 – Josh Herrin (Ducati) 90
P4 – Mathew Scholtz (Yamaha) 81
P5 – PJ Jacobsen (BMW) 72
2023 MotoAmerica Supersport Standings After Round Three
P1 – Xavi Forés (Ducati) 150
P2 – Stefano Mesa (Kawasaki) 113
P3 – Josh Hayes (Yamaha) 83
P4 – Tyler Scott (Suzuki) 79
P5 – Michael Gilbert (Suzuki) 70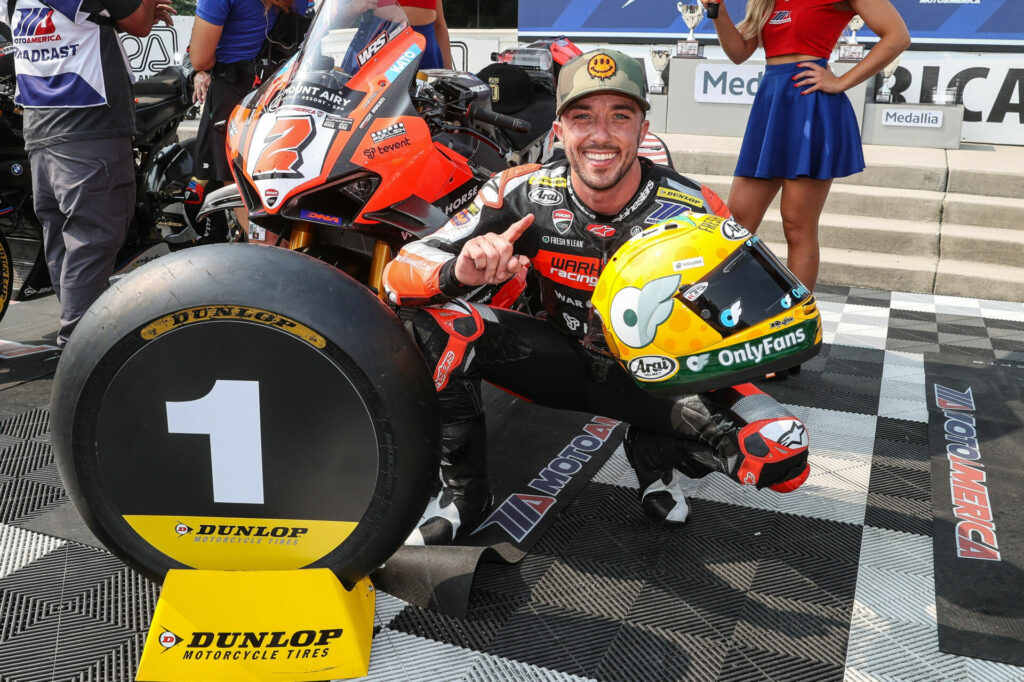 Josh Herrin (Warhorse HSBK Racing Ducati NYC – #2)
"Sunday's win felt very special. The team was working really hard this weekend. We were bummed Saturday during race one because we thought we'd have the win. But we chose the wrong front tire and had some issues. But Sunday was awesome. That was one of my favorite wins ever. I'm so happy for the team, and that they gave me a chance to be part of this program. Now I'm looking forward to the next round at The Ridge and riding the V4 R some more."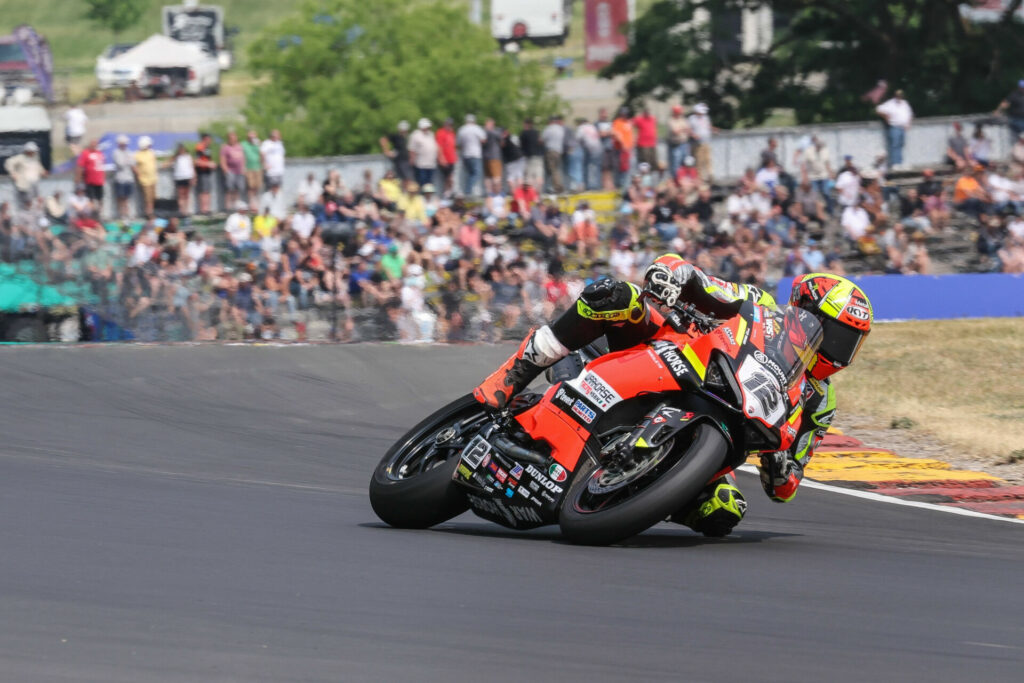 Xavi Forés (Warhorse HSBK Racing Ducati NYC – #12)
"Five victories in a row is much better than I was expecting at the beginning of the season. I felt strong all weekend and on pace and had a great time riding the Panigale V2 on the newly paved Road America. On Sunday, I was pushing very hard all the race to make some gap, and it worked just enough to hold off Mesa. I'm happy with the job done this weekend and look forward to the next round at The Ridge. Thanks to the Warhorse HSBK Ducati NYC Team for such a great job!"
Round Four of the 2023 MotoAmerica Superbike and Supersport Championship will take place at Ridge Motorsports Park in Washington June 23-25.
More, from a press release issued by Yamaha:
Gagne Reclaims Superbike Points Lead with Road America Podium Finish
Fresh N Lean Progressive Yamaha Racing's Jake Gagne returned to the podium with a third-place finish to reclaim the championship lead in Race 2 at Road America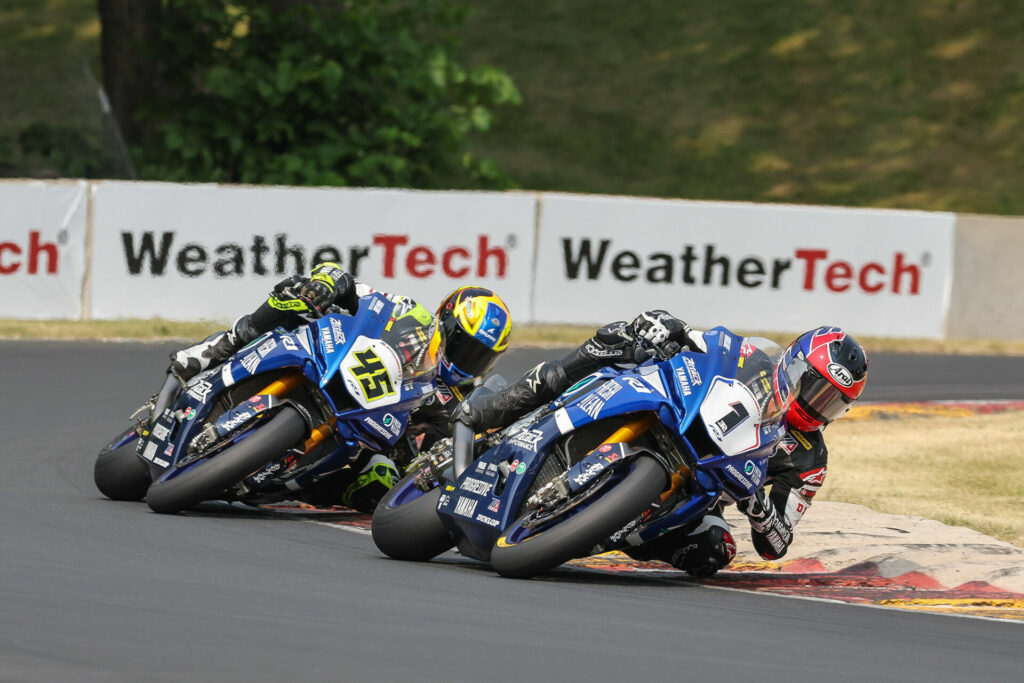 MARIETTA, Ga. – June 4, 2023 – Fresh N Lean Progressive Yamaha Racing's Jake Gagne returned to the podium and reclaimed the points lead with a third-place finish in today's MotoAmerica Superbike Race 2 at Road America. It was a positive conclusion to a roller coaster weekend for the reigning champ and his team, with Cameron Petersen also improving his result to fourth on the second day of racing at the third round of the championship in Elkhart Lake, Wisconsin.
Although he did not repeat yesterday's impressive start from the second row of the grid, Gagne was a force to be reckoned with on the opening lap. In sixth after the start, he quickly made his way to fourth and then went from fourth to the runner-up spot shortly after. The defending champ tried to hold onto the position but ultimately was shuffled back to fourth a few laps later. Undeterred, he ran his own race with his teammate on his heels and ultimately advanced to third after his championship rival had to withdraw from the race. Gagne rode on to take the final podium spot, reclaiming the number-one spot with a 12-point lead.
Petersen made improvements on the final day of racing at the 4.05-mile track, getting a great start from the fifth spot on the grid to third. After being passed by Gagne on the opening lap, he was shuffled to fifth. He continued to run a strong pace on the heels of his teammate despite still not feeling 100% with his wrist injury and crossed the line fourth.
The Fresh N Lean Progressive Yamaha Racing Team returns to action on June 24-26 for Round 4 of the MotoAmerica Superbike Championship at Ridge Motorsports Park, in Shelton, Washington.
Richard Stanboli – Fresh N Lean Progressive Yamaha Racing Team Manager
"We made a good step today with both riders. We were just behind all weekend, but the riders and the team stayed positive and pushed until the end. Jake goes away with a championship lead, and Cam rode well to finish on his heels despite the wrist pain. We are happy to leave with decent points and move on to more technical tracks that we know will suit our Yamaha R1s. We are looking forward to seeing our fans at The Ridge in Washington."
Jake Gagne – Fresh N Lean Progressive Yamaha Racing
"It was a good to finish the weekend with some points. We overcame a lot of adversity this weekend, so it feels great to be back on the podium. I was surprised to come out with the points lead, but that's racing. I'm ready to head to The Ridge, which has always been good for the Yamaha."
Cameron Petersen – Fresh N Lean Progressive Yamaha Racing
"It was a positive end to the weekend. I had a fun race with Jake, and I'm happy to bring the bike home in fourth. I'm looking forward to the rest of the season and heading to The Ridge in a couple of weeks; the Yamahas are going to be good!"
About Yamaha Motor Corporation, USA
Yamaha Motor Corporation, USA (YMUS), is a recognized leader in the outdoor recreation industry. The company's ever-expanding product offerings include Motorcycles and Scooters, ATV and Side-by-Side vehicles, Snowmobiles, WaveRunner Personal Watercraft, Boats, Outboard Motors, Outdoor Power Equipment, Power Assist Bicycles, Golf Cars, Power Assist Wheelchair Systems, Surface Mount Technology (SMT) and Robotic Machines, Unmanned Helicopters, Accessories, Apparel, Yamalube products, and much more. YMUS products are sold through a nationwide network of distributors and dealers in the United States.
YMUS has a corporate office in California, two corporate offices in Georgia, facilities in Wisconsin and Alabama, and factory operations in Tennessee and Georgia. Additional U.S.-based subsidiaries include Yamaha Marine Systems Company (YMSC) with divisions Bennett Marine (Florida), Kracor Systems (Wisconsin) and Siren Marine, Inc. (Rhode Island), Skeeter Boats (Texas), with division G3 Boats (Missouri), and Yamaha Precision Propeller (Indiana).
More, from a press release issued by Westby Racing:
Mathew Scholtz And Westby Racing Endure A Difficult Weekend At Road America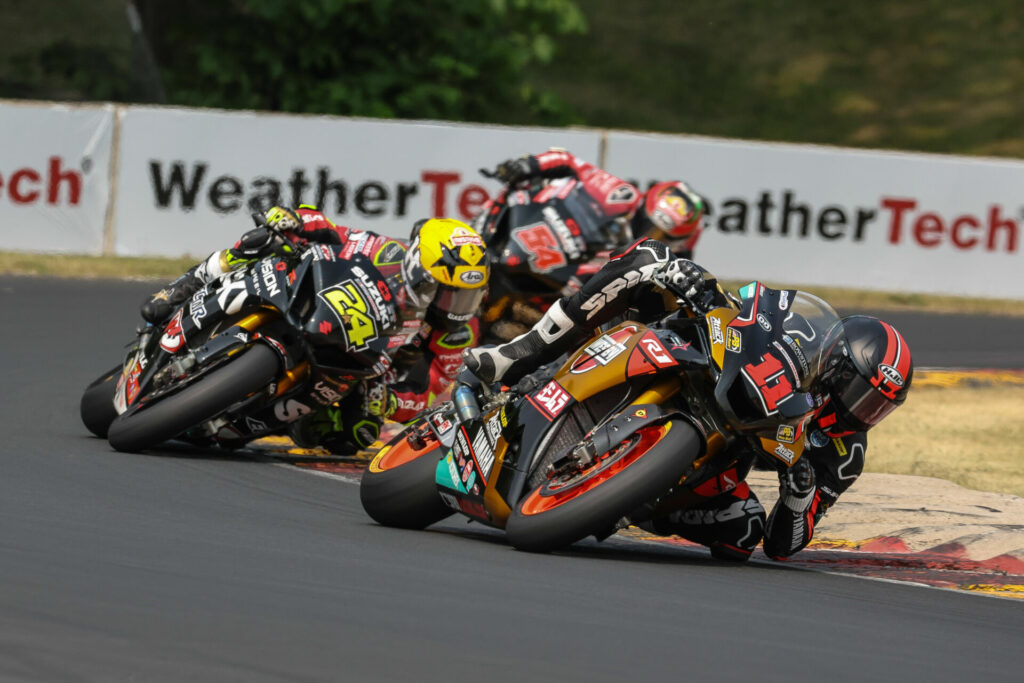 Elkhart Lake, WI – June 4, 2023 – Round three of the 2023 Medallia Superbike Championship took place at Road America, and "America's National Park of Speed" had been repaved during the off-season. Record-setting laps and top speeds were expected, so Mathew Scholtz and his Westby Racing team knew they had their work cut out for them since their Yamaha YZF-R1 is built for razor-sharp handling more than eyeball-flattening speed.
After qualifying fourth on the starting grid for the weekend's two races, Mathew struggled with a lack of grip in Saturday's race one. He ended up in sixth place when he crossed the finish line, but he was penalized two positions after officials ruled that he passed riders when the yellow flag was waving. So, that moved him back to eighth in the results.
Mathew and the team regrouped overnight. Then, in Sunday morning's warm up session, air temperatures were cooler and even though he was seventh-fastest, Mathew felt more comfortable with the setup. The track heated up in the afternoon, however, which caused him to struggle again with grip, and he ultimately finished sixth.
"We obviously knew coming into the Road America track that it was going to be one of the more difficult weekends, just because the Yamaha is a little bit down on horsepower compared with the BMWs and the Ducatis," Mathew said. "But, leaving Barber, we were pretty confident that we had a really good setup, and that we could challenge up front, or at least near the front. Since the circuit is newly repaved, we had to use the harder-compound Dunlop tires because the track is so abrasive, and it just seemed like we were really far away on the setup. From the first practice session on Friday, I was struggling with the rear coming around on the entry of the corners. We were just kind of chasing that all weekend long. We did make it better and better after each session, and we finally got it the best for Sunday warmup, which at least gave me confidence that we were managing to sort things out.
"It was one of the most difficult weekends of my career, to be honest. Finishing eighth, granted, I did finish sixth and got docked two positions for passing on a yellow flag. But an eighth and a sixth place are, by far, the worst two races I've had since stepping up to the Superbike class. However, I do feel like this is the strongest package we've had, so, it was just kind of a hard pill to swallow. Road America is, by far, the toughest track for our bike. Now, we'll be going towards tighter, twistier tracks that suit the Yamaha, and we can use the advantage of the flowing Yamaha frame with the softer regular tires that we're used to running and that we've actually set up the bike for."
The Westby Racing team will be back in action on June 23 through 25 at Ridge Motorsports Park in Shelton, Washington, for round four of the 2023 MotoAmerica Superbike Championship.
MotoAmerica Superbike Standings
1. Jake Gagne – Yamaha – 111
2. Cameron Beaubier – BMW – 99
3. Josh Herrin – Ducati – 90
4. Mathew Scholtz – Yamaha – 81
5. PJ Jacobsen – BMW – 72
For more updates about Westby Racing, including news, photos, and videos, visit http://www.WestbyRacing.com
Also, follow "Westby Racing" on your favorite social media sites.