KurveyGirl.com brings you the results of this weekend's events.

At our online motorcycle parts store, you'll find a specialized selection of quarter turn "Dzus" fasteners, titanium hardware, premium tire valve stems, Vesrah racing brake pads, Brembo parts and accessories, and other unique hardware specifically designed for race and trackday motorcycles.
Tyler Scott took a thrilling victory in MotoAmerica Supersport Race One Saturday at rainy New Jersey Motorsports Park, in Millville, New Jersey. Riding his Vision Wheel M4 ECSTAR Suzuki GSX-R750, Scott won the 14-lap race by 0.206 second.
Anthony Mazziotto challenged Scott for the lead for the entire race but had to settle for the runner-up spot on his North East Cycle Outlet Racing Yamaha YZF-R6.
Riding in just the third Supersport race of her career, 16-year-old Kayla Yaakov made history by finishing third on her Tytlers Cycle Racing Kawasaki Ninja ZX-6R, becoming the first female to finish on the podium in a MotoAmerica Supersport race. Yaakov also turned the fastest lap of the race, a 1:40.650.
David Anthony was running third late in the race when he had a moment that dropped him to fourth, where he finished on his Wrench Motorcycles Suzuki GSX-R750.
Josh Hayes led five laps of the race and was pulling away when he crashed his Squid Hunter Racing Yamaha YZF-R6 on lap eight. He was able to remount his machine and salvage fifth place.
More, from a press release issued by MotoAmerica:
Gillim Closes In On Mission King Of The Baggers Title At NJMP
Gillim, Scott, Davis And Block Come Up Big In New Jersey Rain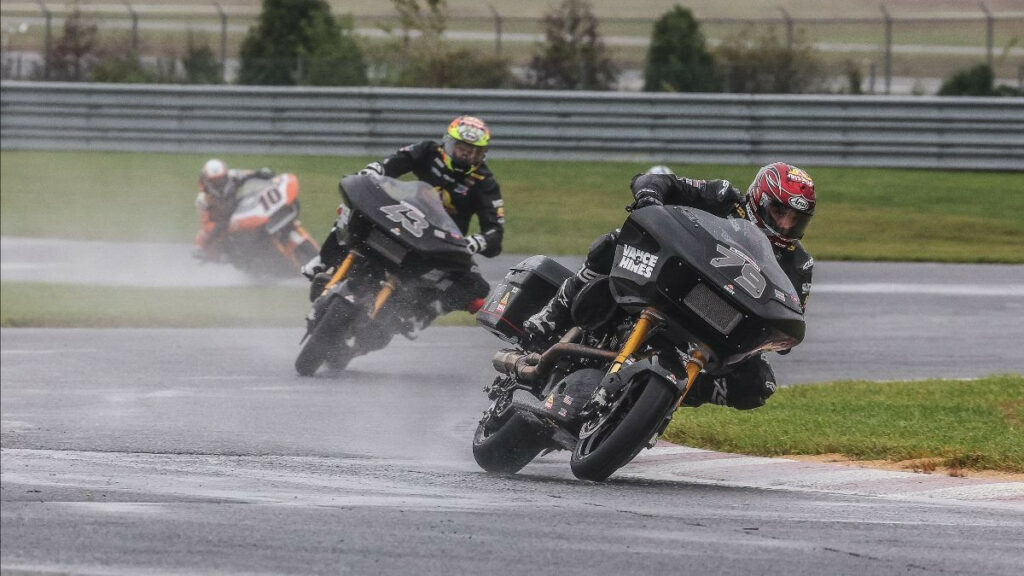 MILLVILLE, NJ (September 23, 2023) – Hayden Gillim put himself in the catbird seat for Sunday's Mission King Of The Baggers season finale with the Vance & Hines/Mission/Harley-Davidson-backed Kentuckian earning a rain-sodden victory on Saturday to take a seven-point lead into the season finale.
Gilim's teammate James Rispoli kept his hopes alive by finishing second to Gillim, but the New Yorker doesn't control his own destiny. Gillim, however, does. If he wins tomorrow and Gillim finishes second, the title will go to Gillim.
Sadly, the third contender for the title – H-D Screamin' Eagle's Kyle Wyman – had a horrible day and fell out of championship contention after a warm-up lap crash and a non-finish.
Although Kyle Wyman's crash put a big damper on it, his teammate and brother Travis earned his first podium of the season after riding the second H-D Screamin' Eagle Road Glide Special to third place behind the two Vance & Hines Harleys.
Roland Sands Design/Indian Motorcycle's Kyle Ohnsorg and Sac Mile/SDI Racing/Roland Sands/Indian's Bobby Fong rounded out the top five.
"Coming into the weekend, I was just happy no matter how the weekend ended up I would be top three," Gillim said. "Now, after today, unfortunately with Kyle (Wyman) going out, it's made it where now I can't get lower than second. So, I'm enjoying it. It seemed like a foggy race, like it was just kind of happening. It just worked out. It was a weird one. I didn't really think about it much until after the race was over. The last two weekends… last Sunday I had a little baby girl and the Sunday before that I won the Stock 1000 Championship. So, I'm really hoping that we can just have a good day tomorrow and keep my nose clean. Hopefully, get another race win and bring this championship home, too."
Supersport – Scott In A Thriller
The Supersport race-one podium at New Jersey Motorsports Park had a slightly different look on Saturday with a couple of different riders joining four-time Supersport race winner Tyler Scott on the podium.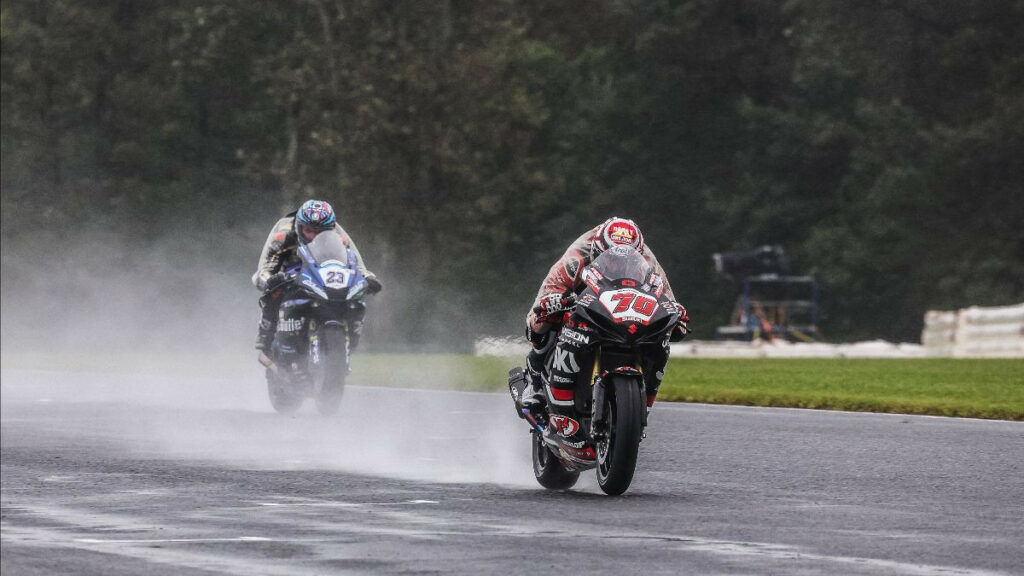 Scott took the victory aboard his Vision Wheel M4 ECSTAR Suzuki by just .206 of a second over runner-up place Anthony Mazziotto, who scored his second podium finish of the season aboard his North East Cycle Outlet Racing Yamaha.
Third place went to 16-year-old phenom Kayla Yaakov, who, in only the third Supersport race of her career, became the first female to reach the podium in a MotoAmerica Supersport race. She also recorded the fastest lap of the race during her spirited charge to the front of the pack aboard her Tytlers Cycle Racing Kawasaki.
"In the early parts of the race, I was giving it good acceleration out there," Scott said. "Then, a river formed right outside the corner, so you'd slip up once and then twice. That's probably the trickiest spot on the track and the easiest to crash, even just pushing through there. You have to worry about your front end, as well."
REV'IT Twins Cup – It All Comes Down To Tomorrow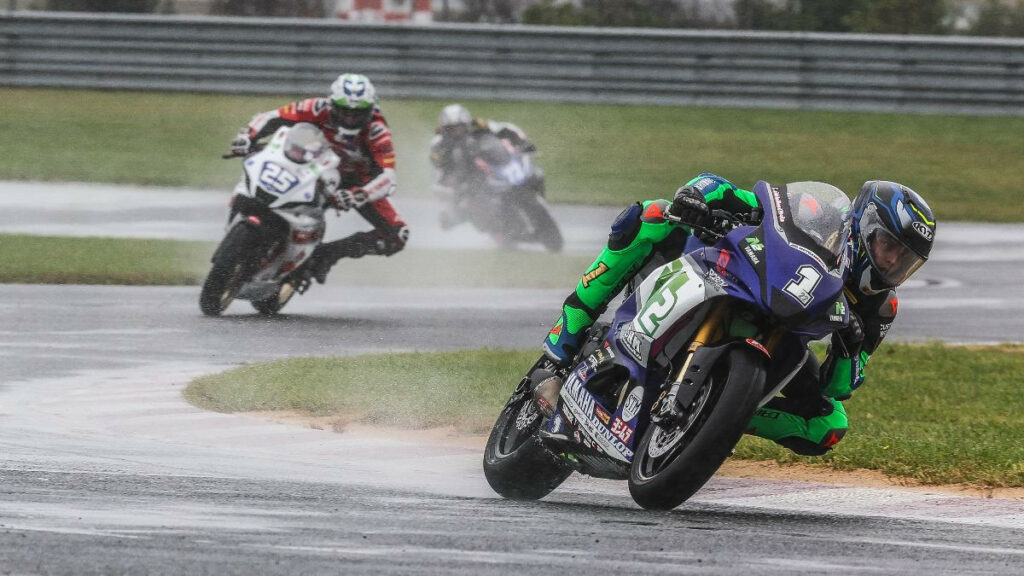 The REV'IT! Twins Cup Championship will be decided on Sunday, the final day of the season, after the results of Saturday's race one.
Defending class champion Blake Davis won the race in dominant fashion aboard his N2 Racing/BobbleHeadMoto Yamaha, which gave him a one-point lead in the standings over Rodio Racing – Powered by Robem Engineering Aprilia's Gus Rodio, who finished third. Coming home second in the race was Team Iso Yamaha's Dominic Doyle, who notched his fourth podium result of the season and is fourth in the championship.
"Yeah, I love the rain," Davis said. "I like the rain a lot. Like Gus (Rodio), Q2 this morning was my first time on the twin in the rain. We had a whole season on it last year and just never got in the rain. Any bike I ride, I really love running in this kind of weather. I felt really comfortable. I'd love the weather to be the same tomorrow. I had a good race."
Junior Cup – New Guy On The Block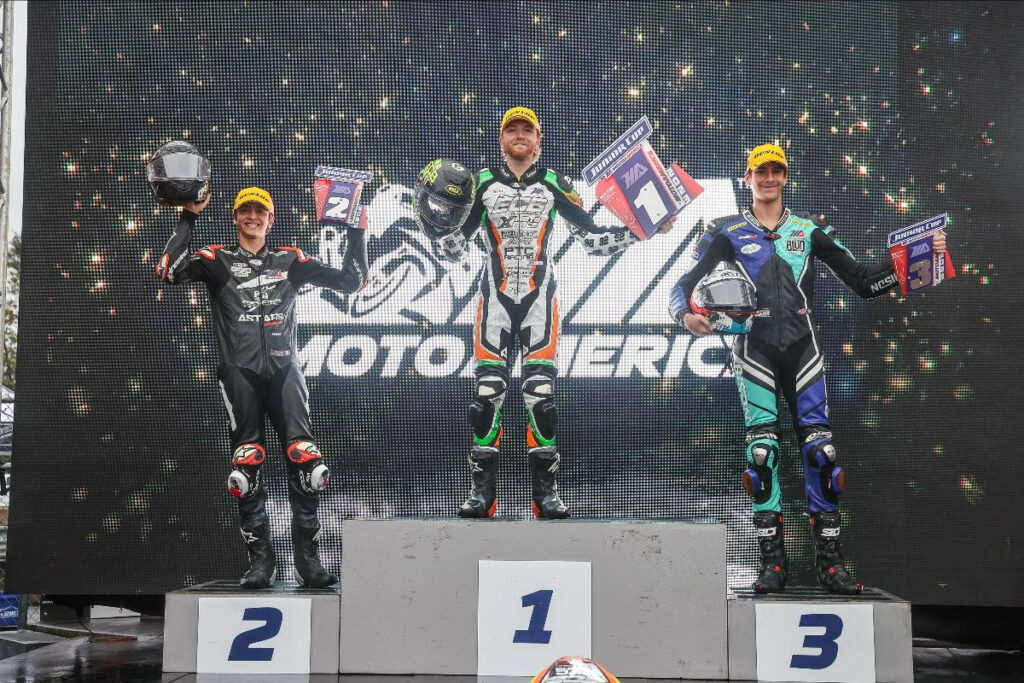 Although his 21st birthday was on Friday, Team ECB/Barton Racing's Eli Block waited until Saturday to truly celebrate his 21st birthday and he did so with a first career victory in the MotoAmerica Junior Cup series.
Block, who lives in Connecticut and races quite a bit at New Hampshire Motor Speedway, was the rain master as he stormed off to a 27.167 victory over Fernandez Racing's Jayden Fernandez. Fernandez, meanwhile, earned his second podium finish of the season by just .363 of a second ahead of MonkMoto's Logan Monk, who landed on the podium for the first time in his career.
"I've been racing at Loudon since 2018, so either we have one or two rounds a year where we have rain and I've always loved it," Block said. "I've always tried having a very smooth riding style where it's really nice at Loudon because of how slick it is with all the paint strips. The Loudon Classic this year, I raced that."
More, from a press release issued by Suzuki Motor USA, LLC:
TY SCOTT VICTORIOUS IN THE RAIN FOR VISION WHEEL M4 ECSTAR SUZUKI
GSX-R750s Continue to Dominate the Field on Saturday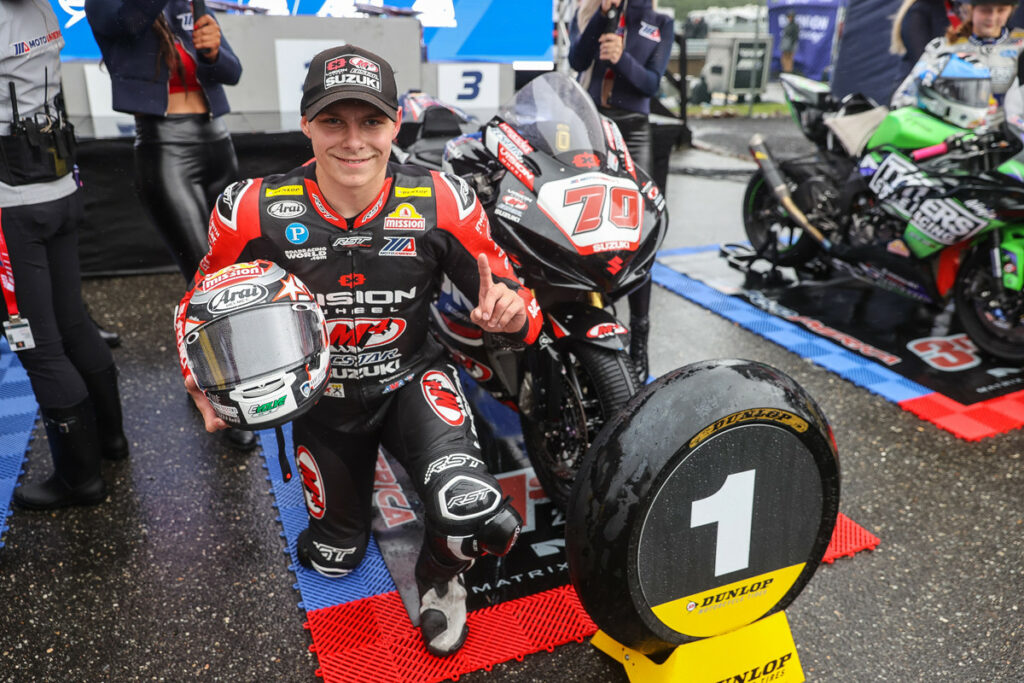 BREA, CA, September 24, 2023 — Suzuki Motor USA and Team Hammer emerged victorious despite inclement weather at New Jersey Motorsports Park on Saturday, with Tyler Scott earning his fourth MotoAmerica Supersport victory of 2023 in difficult wet conditions.
Race Highlights:
Vision Wheel M4 ECSTAR Suzuki

Supersport

Tyler Scott won his fourth MotoAmerica Supersport race of the year with a great ride in the wet.
Teagg Hobbs earned 8th and picked up valuable wet racing experience.

Superbike

Richie Escalante had a difficult race but managed to finish 11th.
Brandon Paasch crashed out of fifth position but is looking forward to Sunday's race.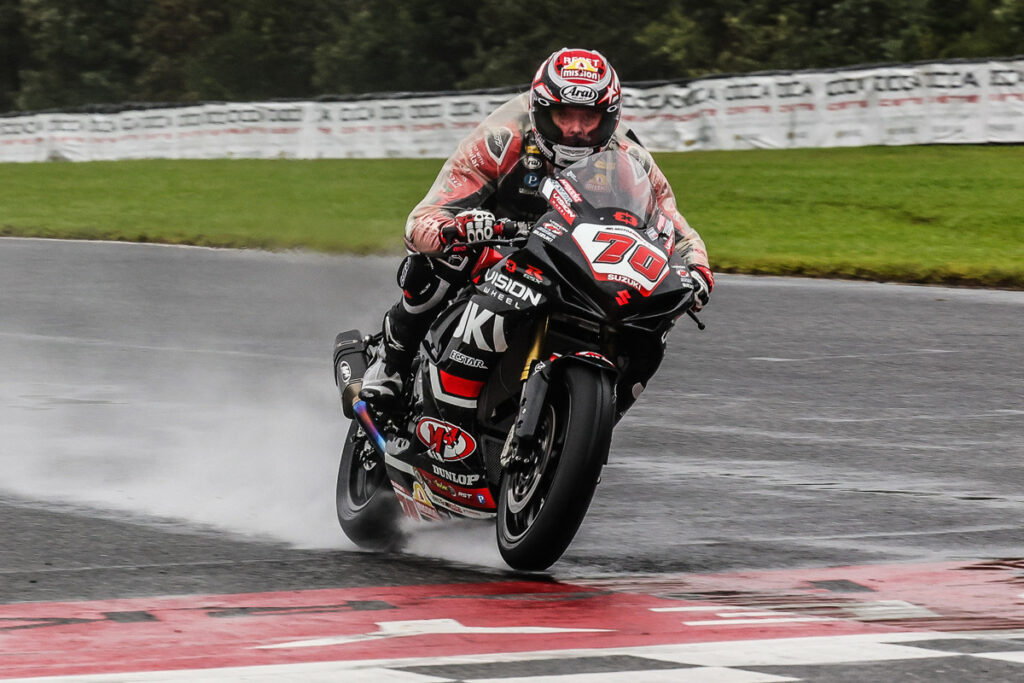 Vision Wheel M4 ECSTAR Suzuki's Tyler Scott (70) fought to another victory on Saturday, eventually earning the win in brutal wind and rain. While several riders showed quick pace, the relentless Scott had a great start from pole and remained a factor throughout with a calculated performance. The Pennsylvanian avoided falling while maintaining his speed, managing a narrow lead, and earning the win despite pressure from rivals throughout the entire race.
Scott gained his fourth win and eleventh podium of his '23 campaign aboard the next-generation Suzuki GSX-R750. The proven GSX-R750 once again made up 50% of the top ten finish positions in Supersport.
"The whole race was really on the edge," said the 17-year-old Scott, who started from pole. "I was passed early, and the leader was starting to get away, so I really started to push under braking and acceleration, using everything I had. I had a few moments and decided to keep a safer pace and maintain second. The leader unfortunately made a mistake in Turn 10 and ended up on the ground."
Scott may have regained the lead in the middle stages of the race, but the action was far from over as several riders managed to set the fastest lap during the race. None, however, would pass Scott, who won by 0.206 after 14 laps. After winning races with last-lap heroics or dictating the pace from the front, the young rider added a strategic, victory in tough rainy conditions to his list of accomplishments.
"We were in the race lead, but I wanted to keep pushing the pace," Scott continued. "I knew everyone else may have caught up if I wasn't pushing. The track conditions got worse, lap-by-lap. The whole Vision Wheel M4 ECSTAR Suzuki team has done a great job. I'm happy with my Suzuki and happy with the team. It's cold and rainy, but I'm thrilled to see everyone here."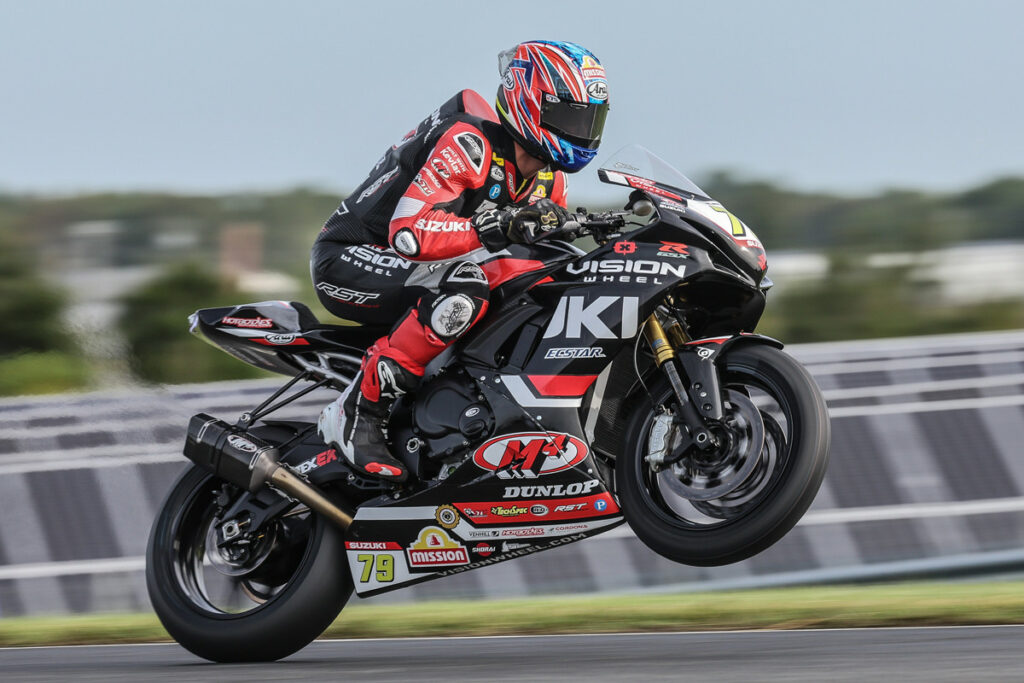 Teagg Hobbs (79) was eighth in the race, with the young rider unable to find the podium form he has shown numerous times in his first year with the Vision Wheel M4 ECSTAR Suzuki team.
"It was a long race. I had an okay start, but I didn't have any confidence to push my pace the way I wanted to, given the rainy conditions," said Hobbs. "This track in the rain is a tough one. It was important to make sure we finished, and we'll see how things are for tomorrow."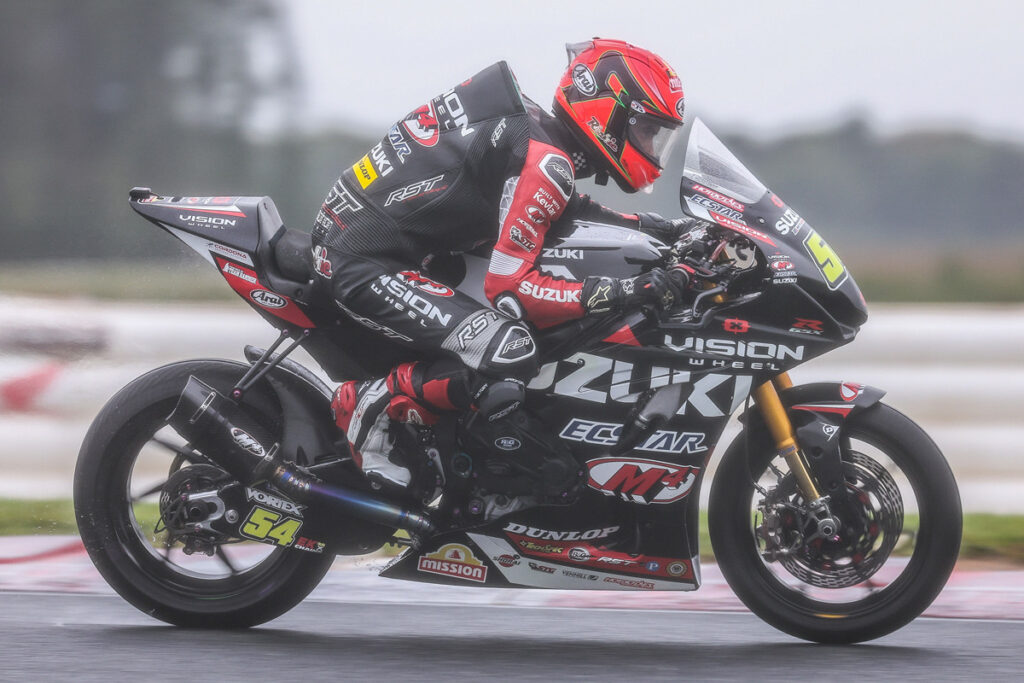 After scoring his first Superbike podium at the previous event in Texas, Richie Escalante set his sights on a career-first premier-class victory in New Jersey. Escalante started his race in fourth on his Vision Wheel M4 ECSTAR Suzuki GSX-R1000R but fell back at the start and was never able to find his usual place near the front, finishing 11th.
"I want to finish the year strong. The first day, the bike was amazing and then the rain came," Escalante said. "The rain is difficult for me. I needed more laps, and the conditions were windy and cold. My confidence was not good. We made progress and by the end, we had our fastest laps. I think we may make more progress tomorrow. We will seek more improvements to the bike and give it another shot. I am sorry to my team for not being more competitive, but I was happy to finish the race without destroying the bike, and I feel we improved. Looking to the future, you must be competitive in all conditions, so this is on my list. I want to be a Superbike champion, and know I need to improve my performance in the wet."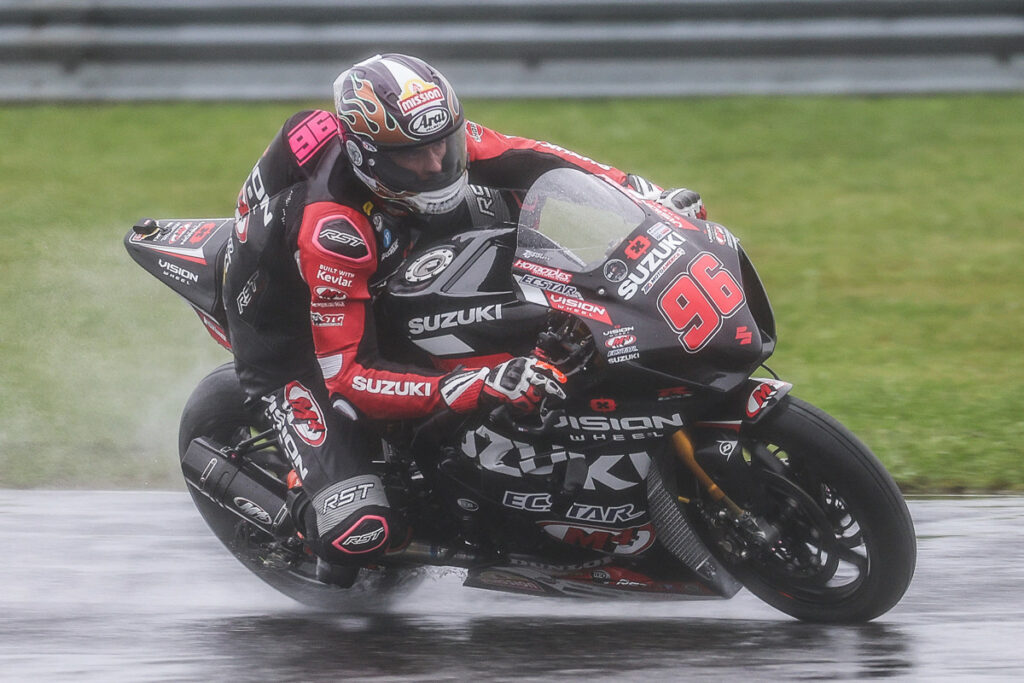 Vision Wheel M4 ECSTAR Suzuki Superbike pilot Brandon Paasch (96) sought to make his mark in the wet race on his GSX-R1000R. Paasch entered the contest with eight top-ten results in ten attempts with the team and looked to earn his fourth top-five, but Paasche crashed out while running fifth late in the race.
Paasch said, "I got up to fifth on the start and tangled with another rider. I lost a lot of ground and wasn't really able to make it up. I was stuck back in fifth or sixth. I was hoping to be in a good spot at the end and, as other riders had trouble, the race started coming back to me. I knew if I started to push, we might be able to get a good result. Then I hit a bad puddle, the bike hydroplaned, and it sent me to the moon."
Paasch said he would race on Sunday, despite being sore from the shunt.
The 2023 MotoAmerica AMA/FIM North American Road Racing Championship season will conclude on Sunday at New Jersey Motorsports Park, in Millville, New Jersey.
ABOUT TEAM HAMMER
The 2023 season marks Team Hammer's 43rd consecutive year of operating as a professional road racing team. Racebikes built and fielded by Team Hammer have won 133 AMA Pro and MotoAmerica National races, have finished on AMA Pro and MotoAmerica National podiums 361 times, and have won 11 AMA Pro and MotoAmerica National Championships, as well as two FIM South American Championships (in Superbike and Supersport). The team has also won 137 endurance races overall (including seven 24-hour races) and 13 Overall WERA National Endurance Championships with Suzuki motorcycles, and holds the U.S. record for mileage covered in a 24-hour race. The team also competed in the televised 1990s Formula USA National Championship, famously running "Methanol Monster" GSX-R1100 Superbikes fueled by methanol, and won four F-USA Championships..
ABOUT VISION WHEEL
Founded in 1976, Vision Wheel is one of the nation's leading providers of custom wheels for cars and trucks, and one of the first manufacturers of custom wheels and tires for ATVs, UTVs, and golf carts. Vision Wheel looks beyond the current trends and to the future in developing, manufacturing, and distributing its wheels. Vision's lines of street, race, off-road, American Muscle, and Milanni wheels are distributed nationally and internationally through a trusted network of distributors. Vision Wheel also produces the Vision It AR app to allow users to see how their wheel of choice will look on their vehicle before purchase and installation. For more information on Vision Wheel, visit www.visionwheel.com.
ABOUT SUZUKI
Suzuki Motor USA, LLC. (SMO) distributes Motorcycles, ATVs, Scooters, Automotive Parts, Accessories, and ECSTAR Oils & Chemicals via an extensive dealer network throughout 49 states. Suzuki Motor Corporation (SMC), based in Hamamatsu, Japan, is a diversified worldwide manufacturer of Motorcycles, ATVs, Scooters, Automobiles, Outboard Motors, and related products. Founded in 1909 and incorporated in 1920, SMC has business relations with 201 countries/regions. For more information, visit www.suzuki.com.