This weekend's results are brought to you by Blud Lubricants – Racing Is In Our Blud!!!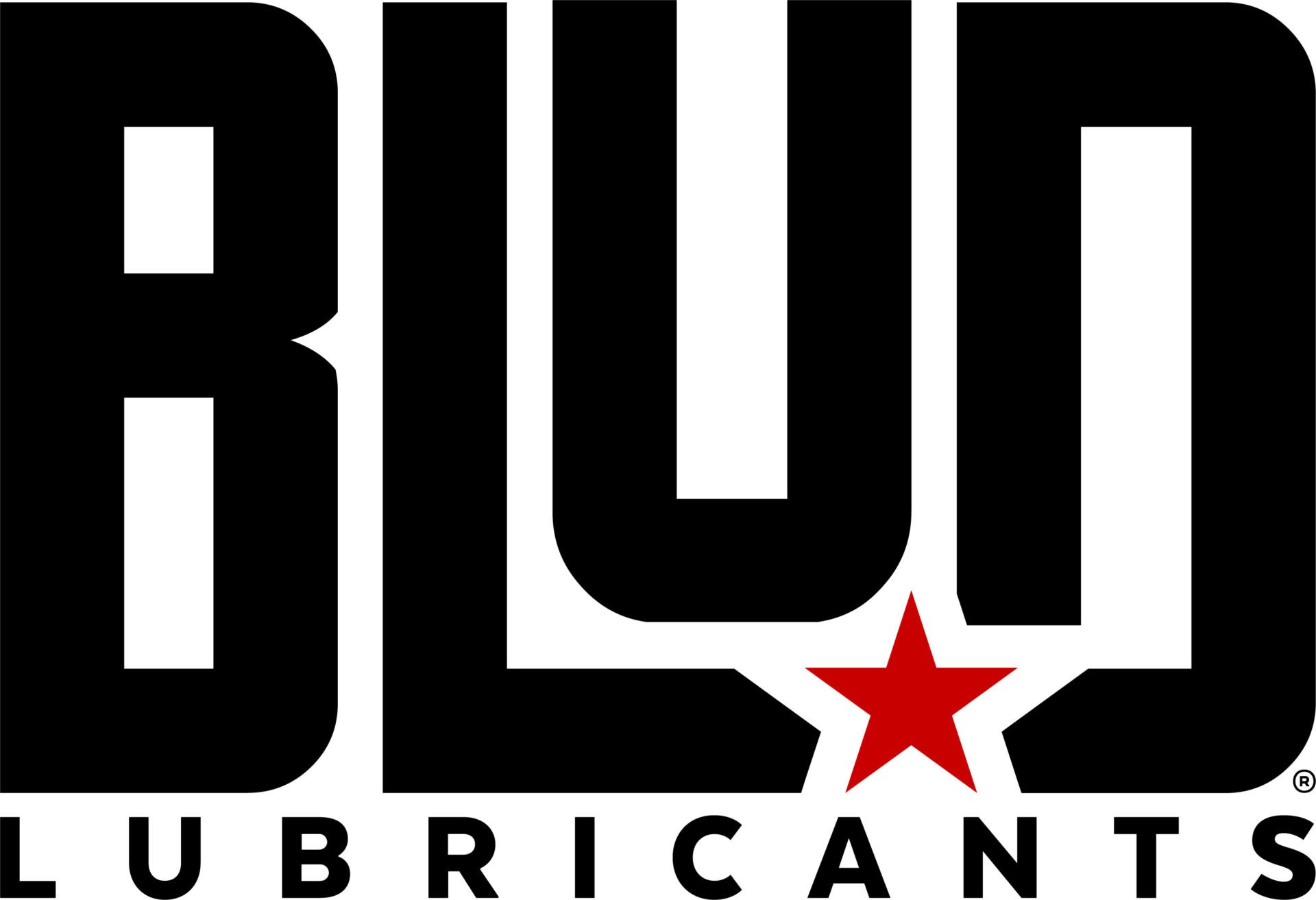 Blud Lubricants – Designed For Performance And Protection
More, from a press release issued by MotoAmerica:
Escalante, Gloddy Staying Alive In MotoAmerica Championships At Pitt Race
Richie Escalante and Ben Gloddy Take Much-Needed Victories
WAMPUM, PA (August 14, 2021) – The two riders who really needed to win on Saturday at Pittsburgh International Race Complex to keep their championship aspirations alive did exactly that.
In Supersport, that rider was Richie Escalante, the defending class champion who had watched up close as his rival Sean Dylan Kelly ripped off six straight wins. On Saturday at Pitt Race, Escalante put a stop to that and won his third race of the season to keep his slim championship hopes alive.
In SportbikeTrackGear.com Junior Cup, Ben Gloddy pulled off the win while his championship rival Tyler Scott finished fourth – and now Scott's lead is just four points with five races left to run.
Supersport: Escalante Gets It Done
M4 ECSTAR Suzuki's Sean Dylan Kelly came into Pitt Race with a six-race winning streak and a total of nine wins on the season. Meanwhile, defending Supersport Champion and HONOS HVMC Racing Kawasaki rider Richie Escalante has two wins this year, and he has finished second to Kelly seven of the nine times that he has won. But, in race one at Pitt Race, Escalante finally turned the tables on Kelly, broke his winning streak, and notched his third victory this year. In this race, Kelly finished second, while Landers Racing Yamaha's Rocco Landers followed up his second-place finish at Brainerd with a third-place result in race one at Pitt Race
"For sure, I'm very happy," said Kelly. I finished too much in second place, so I'm happy to be back in first. Very difficult weekend. I lost practice one yesterday (due to a technical issue with the bike), so I needed to step by step feel better with my bike. I'm not a qualifying rider. I like the races. Every race, I feel good. I think Sean's (Kelly) very fast during all the race, so I learned a couple things. I'm just waiting, waiting, and then in some moments, especially in the chicane it's very difficult to find a good line when you're behind riders or every lap I just lose time there. I'm scared to touch the curb and grass. For sure, I need to continue improving for tomorrow. The most important thing is to start winning races, and we'll see. It's a championship and these are the last rounds, so I'm very happy. Thanks to all my team who support me. Keep pushing."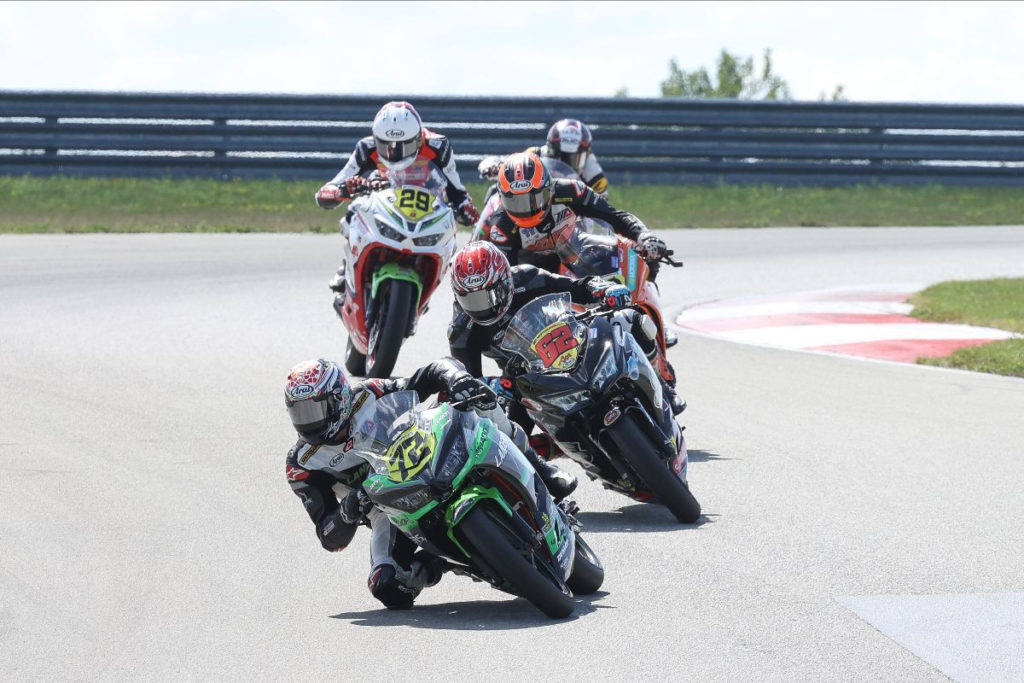 SportbikeTrackGear.com Junior Cup: Gloddy Closes In
The points race is tight in the SportbikeTrackGear.com Junior Cup class as the season approaches its conclusion, and Landers Racing Kawasaki rider Ben Gloddy, who is second in the championship, knows that he needs wins over points leader Tyler Scott to overcome his deficit.
Saturday's race one started out like it was going to be another lap-by-lap battle between second-place Gloddy and race leader Scott. But, as the laps wound down, Gloddy managed to overtake Scott. Then, seemingly out of nowhere, a group of riders that included Joe LiMandri Jr., David Kohlstaedt, and Gus Rodio joined the fray.
At the checkers, it was Gloddy who got the win, with Bauce Racing/Cybersafe Solutions/JL62 Racing Kawasaki's LiMandri Jr. finishing second and just .358 of a second behind Gloddy, while Veloce Racing Kawasaki's Kohlstaedt finished third and only .259 of a second behind LiMandri Jr.
"It was an awesome race," said Gloddy. "I tried to keep the pressure on Tyler (Scott) as much as I could. I guess me and Tyler just weren't going fast enough to pull away. I almost lost it there at the end. I had a couple moments with the front end. I was struggling with some chatter. We're trying to get that sorted for tomorrow. I was praying Joe (LiMandri Jr.0 didn't draft me to the line. Luckily, he didn't, and I came out with the win."
Royal Enfield Build. Train. Race: Lukacs, Again
The first race of the weekend was round two of the Royal Enfield Build. Train. Race. Championship, and CJ Lukacs followed up her win at Brainerd International Raceway with a victory at Pitt Race. And, as a matter of fact, the entire podium at Pitt Race was identical to the one at Brainerd, with Becky Goebel finishing second and Trisha Dahl coming home in third. The seven women who make up the program each custom-built their own Continental GT 650 racebikes, which they are racing in the three-round series.
"I wasn't comfortable from the first time out all day yesterday," Lukacs said. "I struggled a lot with that, and I couldn't get my bike to turn. I was frustrated, for sure. It was hard. But, at the end of the day and then in qualifying this morning, I felt 200 times better than I did at any point yesterday. I definitely felt way more confident coming into that."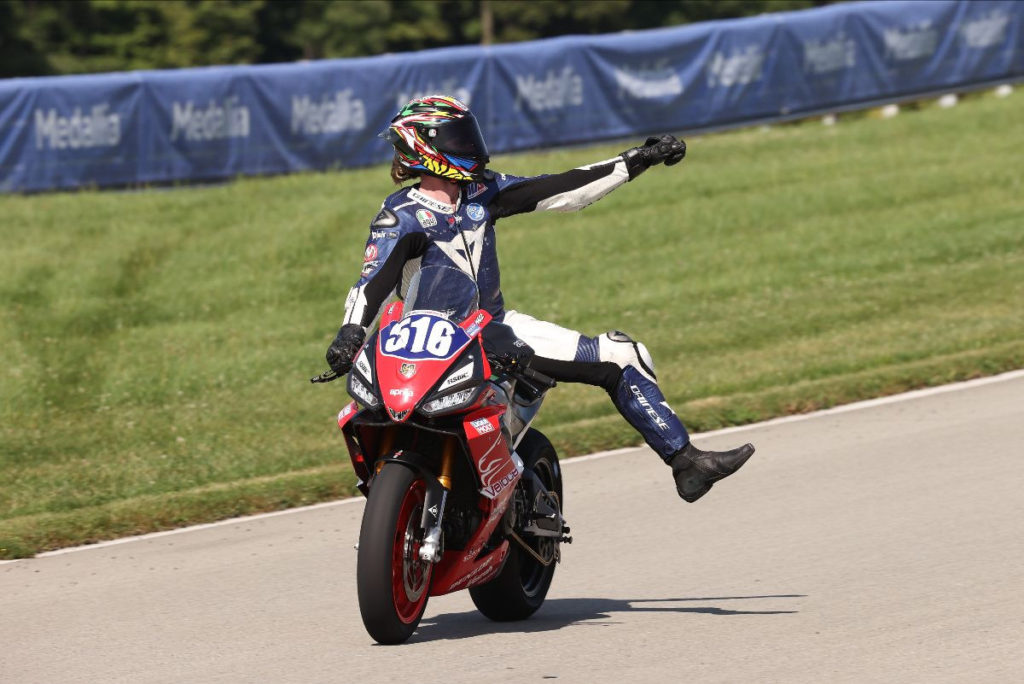 Twins Cup: Mazziotto Does It Again
The final race of the day on Saturday was the Twins Cup class's lone event of the weekend. Veloce Racing Aprilia rider Anthony Mazziotto, who joined the team midway through the season, won his second straight race, and in this one, Mazziotto took the checkered flag by more than three seconds over second-place finisher Hayden Schultz, who was aboard his Hayden Schultz Racing Yamaha. Incidentally, Schultz was moved up from third to second after Teagg Hobbs was disqualified following a post-race inspection of his bike. And, with Schultz moving up to second, Righteous Racing Aprilia's Jody Barry rounded out the podium.
"Looking at the times this morning, I thought it was going to be him (Teagg Hobbs) and me up front," said Mazziotto. "Everyone was just going so fast in the race. I was just trying my hardest to keep them 48's down in the low 48.5, as low as I could keep the 48 just the best I could try to do. Just trying to break them guys. I looked back a few times and saw I had pulled a little bit of a gap, so the last couple laps of the race it was just smooth sailing for me. I actually saw someone filming coming over turn two, and I gave him a quick 'peace'."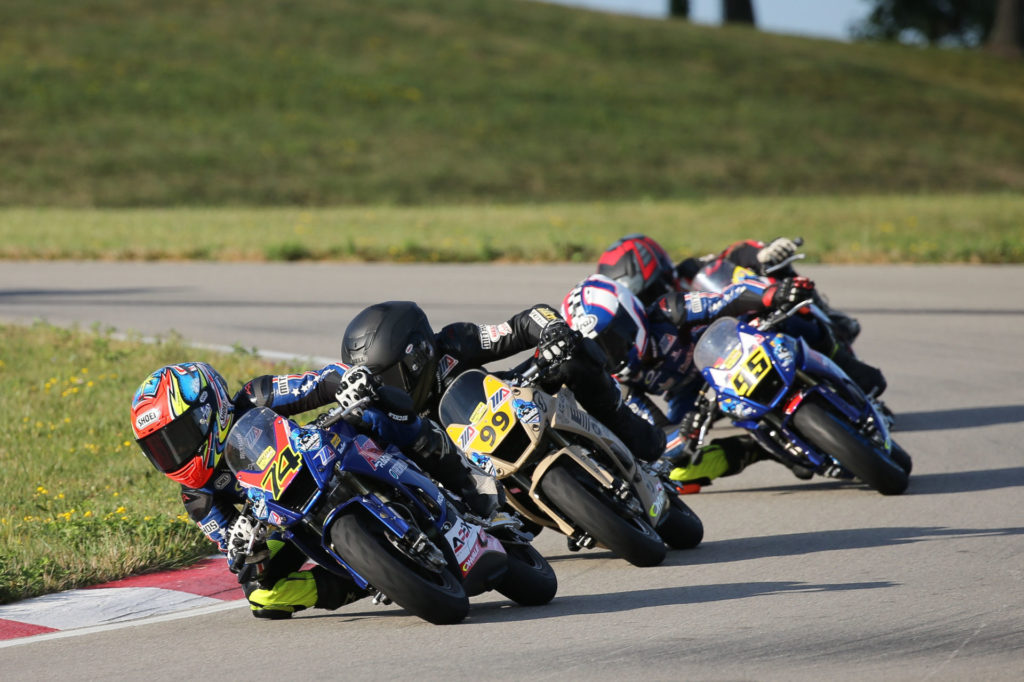 Mini Cup by Motul: Red-Hot Action
In Mini Cup by Motul, which took place on the kart track adjacent to Pitt Race's main track, Nathan Gouker and Kensei Matsudaira each won both of their respective races. Gouker took both 110-class races aboard his Warhorse HSBK Racing Ducati New York Ohvale, while American Racing Team's Kensei Matsudaira took the victories in both 160-class races. In the 190 class, GPMSC-Xtreme Autoglass Pros' Ryder Davis was the victor in race one, while California Mini Grand Prix rider Alexander Enriquez wrapped up the round by winning race two.
More, from a press release issued by Team Hammer:
KELLY CONTENDS IN PITTSBURGH, EARNS SECOND IN A CLOSE RACE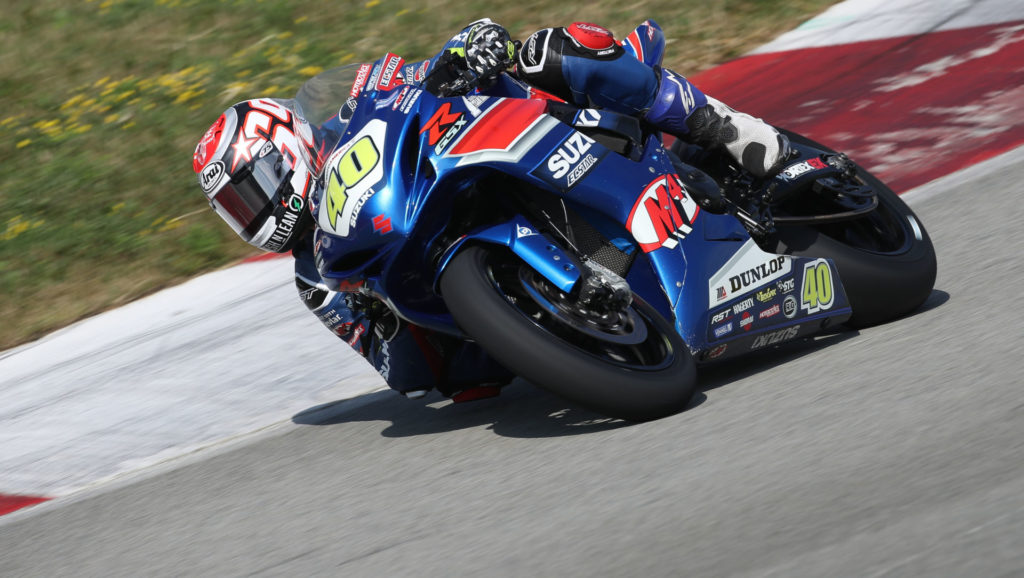 Team Hammer earned the podium again as the 2021 MotoAmerica AMA/FIM North American Road Racing Championship resumed at Pittsburgh International Race Complex on Saturday.
M4 ECSTAR Suzuki's Sean Dylan Kelly scored Team Hammer's 320th AMA Pro/MotoAmerica podium with a fighting runner-up finish in the day's MotoAmerica Supersport contest.
Kelly, who entered the weekend with a six-race win streak and opened the day's race from pole, led from the start aboard his Suzuki GSX-R600 racebike. The Floridian held strong there until finally being overtaken by his rival with two and a half laps remaining.
'SDK' executed an immediate counter to reclaim the lead at the start of the penultimate lap but was ultimately displaced to second by 0.144 seconds at the checkered flag.
Kelly remained upbeat after the race after gaining valuable MotoAmerica Supersport championship points. Suzuki-mounted Kelly now leads by a 56-point margin after the first race day in Pennsylvania.
Now boasting nine wins and three seconds in 13 races, SDK said, "That was definitely a great race. We have to be happy to still be fighting like this in this stage of the championship. Honestly, it was a good race. I wasn't able to see where he was stronger than me throughout the race, so I just tried to stay as close as I could. I tried to prepare a pass, but cut the curb a little too much and had a moment. I lost my chance to fight in the last few corners, but it's okay. To be that close is super important.
"We have some homework to do. I know some things we can do to improve for tomorrow, both with the bike and with myself. Like always, we're going to keep on working. I have to give another huge thank you to my M4 ECSTAR Suzuki team."
Meanwhile, teammate Sam Lochoff found himself embroiled in a four-rider fight for the final spot on the Supersport podium. Starting from sixth, the South African quickly worked his way up to third, where he would stay until mid-distance.
Lochoff ran off at the chicane and was pushed down to sixth late but made a final-lap maneuver to secure a top-five result at the checkered flag.
MotoAmerica Superbike ace and fellow South African Cameron Petersen did one better than his countryman in the subsequent premier-class clash.
Petersen made an aggressive pass on his M4 ECSTAR Suzuki GSX-R1000R early in the race to sneak into third. After some jockeying, he finally arrived in fourth on lap 7, which is where he would remain until the end.
Teammate Bobby Fong made the best of a race day marred by some serious misfortune. Slated to line up alongside Petersen on the second row, Fong was forced to return to pitlane following the warm-up lap due to a malfunctioning aftermarket remote brake adjuster. After some quick adjustments by his crew, the Californian returned to the fray well back of the field.
Nevertheless, Fong not only used the race as an extended test session, he picked up some valuable points by gaining nearly 20 positions en route to an inspiring eighth-place performance.
Completing the race just behind Fong, Jake Lewis highlighted his recent form on the Team Hammer-built Altus Motorsports Suzuki GSX-R1000R by finishing first in the Superbike Cup, a designation for racers competing in the race with stock machinery. Lewis had separated from a pack that included M4 ECSTAR Suzuki's Wyatt Farris (4th in Superbike Cup and 12th overall.)
The MotoAmerica Superbike and Supersport contenders will be back on track on Sunday. They'll be joined by the Stock 1000 class, which also includes a similarly impressive Team Hammer presence. Title leader Jake Lewis will open the race aboard his from pole while M4 ECSTAR Suzuki's Wyatt Farris will look to continue his strong recent form after qualifying seventh.
About Team Hammer
The 2021 season marks Team Hammer's 41st consecutive year of operating as a professional road racing team. Racebikes built and fielded by Team Hammer have won 120 AMA Pro and MotoAmerica National races, have finished on AMA Pro and MotoAmerica National podiums 320 times and have won nine AMA Pro and MotoAmerica National Championships, as well as two FIM South American Championships (in Superbike and Supersport.) The team has also won 137 endurance races overall (including seven 24-hour races) and 13 Overall WERA National Endurance Championships with Suzuki motorcycles, and holds the U.S. record for mileage covered in a 24-hour race. The team also competed in the televised 1990s Formula USA National Championship, famously running "Methanol Monster" GSX-R1100 Superbikes fueled by methanol, and won four F-USA Championships.