LEWIS AND TEAM HAMMER EARN TOP FIVE IN TEXAS
M4 ECSTAR Suzuki's Jake Lewis secured his first top-five result of the 2019 MotoAmerica Superbike season with a promising ride in Sunday's Race 2 at the Circuit of the Americas in Austin, Texas.
Moments after the conclusion of the weekend's dramatic MotoGP race, the Superbike stars hit the circuit for the final time. Lewis got away with the leaders aboard his GSX-R1000 race bike and immediately demonstrated the capacity to equal their hot pace.
Lapping nearly a second-and-a-half quicker than yesterday's best (2:10.001 vs 2:11.403), the Kentuckian made a move to slot into sixth while working lap four. He then picked up another position during the race's last two laps to break into the top five, and held the position to the checkered flag.
At the end of the combined MotoAmerica/MotoGP weekend, Lewis said, "We made some big improvements, and today's race was a lot better than yesterday's. We got off to a good start and were able to run with the leaders. The pace was really fast — I went over a second faster today, which was nice — and I actually got to learn some things running with those guys.
"I made a pretty big mistake with about six laps to go. Up until then I was riding pretty much at the limit and had a few moments. At that point, I backed off and brought it home because I realized wasn't going to be able to catch them.
"It's nice to get our first top five of the year and be the top non-factory bike out there. Overall this was a much better weekend than last week, and we keep making progress. We've got a couple weekends off to heal up and perhaps even test in order to get ready for the next one, which should be a good race weekend for us."
Felipe MacLean made progress in Race 2 as well. He put in another points-paying ride with a second 14th-place finish on the weekend aboard the second M4 ECSTAR Suzuki GSX-R1000, while upping his pace considerably in the process. Like Lewis, MacLean dropped his fast time by around a second-and-a-half on Sunday compared to the day before.
The full Team Hammer contingent will be back in action on May 4-5 when MotoAmerica travels to Virginia International Raceway for the first two-day race weekend of the 2019 season.
About Team Hammer
The 2019 season marks Team Hammer's 39th consecutive year of operating as a professional road racing team. Racebikes built and fielded by Team Hammer have won 71 AMA Pro and MotoAmerica National races, have finished on AMA Pro and MotoAmerica National podiums 207 times and have won five AMA Pro National Championships, as well as two FIM South American Championships. The team has also won 135 endurance races overall (including seven 24-hour races) and 13 Overall WERA National Endurance Championships with Suzuki motorcycles, and holds the U.S. record for mileage covered in a 24-hour race. The team also competed in the televised 1990s Formula USA National Championship, famously running "Methanol Monster" GSX-R1100 Superbikes fueled by methanol, and won four F-USA Championships.
More, from a press release issued by Kyle Wyman Racing:
SC Project/KWR Ducati team notches top-10 finishes at Circuit of the Americas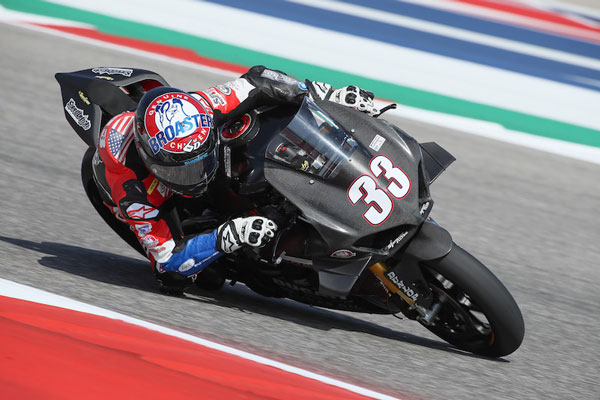 (Above) Kyle Wyman (33) on his SC Project/KWR Ducati Panigale V4 R Superbike. Photo by Brian J. Nelson.
AUSTIN, Texas — The SC Project/KWR Ducati team put up another pair of top-10 finishes this past weekend at Circuit of The Americas for the second round of the MotoAmerica Superbike championship. Kyle Wyman rode his Ducati Panigale V4 R to another stout performance considering the team's early state of development on the new platform.
Wyman posted an impressive time of 2:11.183 to finish the qualifying practice 6th overall on the time sheets, bettering his previous personal best time at the track. After a short Superpole session Wyman was unable to better his race-tire time on the qualifying tire, and would start 9th on the grid, in the same position as Road Atlanta a week prior.
Saturday's Race One was run in windy conditions, and Wyman suffered through the 15-lap race with handling issues, many of which caused by a sustained wind with gusts up to 45mph. He finished 10th despite running as high as 8th in the early laps.
"Race One was really tough," Wyman said. "We tried a few things with the setup to improve on our pace from Friday, and I think we went the wrong direction on a couple things. It's extremely difficult to find time to improve at the COTA round because of our limited track time, so changes are a gamble no matter what. This bike is so new to us, so every time we change the bike, for me is like riding a new motorcycle."
Wyman got a good start in Sunday's Race Two, and was able to follow the lead group for the opening couple laps. He settled into a race-long battle with David Anthony, and was able to hold off the Aussie for 7th position to finish up, lapping at nearly 3 seconds per lap faster throughout the race, compared to Race One.
"For Sunday we went back toward our Friday setup, with a spring change in the front and a couple other small changes," Wyman added. "To me this felt like my first true race on the new Panigale V4 R. I was able to really find a rhythm and be consistent from start to finish. Although our pace is not what I know we are ultimately capable of, I do feel that we are maximizing our performance considering the tools and the time we've had available."
With two rounds in the books, the MotoAmerica championship doesn't resume until May 4-5, 2019 at Virginia International Raceway. The three-week break will offer some time for the KWR team to regroup, improve the bike and come out swinging at the next round. Wyman expects there to be some new parts and updates on the way for the next round on the calendar.
"This past weekend we were able to meet and talk with the folks from Ducati Corse, who run the Ducati MotoGP team," Wyman said. "They have been in contact with us since day one on this project, and have been helpful during the whole process. Our goal for the first two rounds was to just get a bike on track, and gather data. Now that we have some time off we will be able to implement some of the ideas that they have given us. I look forward to planning for Virginia and catching up on some much needed sleep."
The next round of MotoAmerica is at Virginia International Raceway, May 4-5, 2019
LIVE coverage of MotoAmerica is available for only $69.95 per year at www.motoamericaliveplus.com
Visit www.kylewymanracing.com for more news and updates.