It's Sure To Be Fast Times At Road America With MotoAmerica
A Repaved Road America Should Bear Record Speeds In Wisconsin For The Men Of The Medallia Superbike Championship
 
IRVINE, CA (May 31, 2023) – Although a new lap record on the fast and newly repaved Road America this coming weekend is almost a given, the rest of the results from the MotoAmerica Medallia Superbike Championship weekend on the four-mile circuit located on the outskirts of the lakeside resort town of Elkhart Lake, Wisconsin, promise to be anything but a certainty.
While Fresh N Lean Progressive Yamaha's Jake Gagne arrives in Wisconsin with a three-race win streak and a 21-point lead in the championship, there's already talk of Road America, with its two long straightaways, being a track that will favor the fast but not-so-nimble BMW M 1000 RR and the also-fast Ducati Panigale V4 R over the steadfast Yamaha YZF-R1. There's also the fact that the top gun thus far on the BMW is none other than five-time Superbike Champion Cameron Beaubier, who also happens to be the all-time winningest rider at Road America with his 10 Superbike victories at "America's National Park of Speed."
But first things first and the first thing that's talked about with the Medallia Superbike Championship is the man atop the series standings and that man is Gagne. Although the two-time defending class champion had issues last year at Road America that resulted in him finishing a lackluster (for him) fifth and fourth in the two races after arriving on a three-race win streak, Gagne rarely finishes off the podium and he's yet to do so thus far in 2023.
Beaten in the opening race of the season by Tytlers Cycle Racing's Beaubier and the BMW, Gagne has won the past three races (race two at Road Atlanta and both races at Barber Motorsports Park a few short weeks ago) and arrives, as always, as the rider to beat.
Beaubier finished off the podium for the first time in race one at Barber but bounced back with a fighting third in race two. He comes to Road America trailing Gagne by 21 points, 95-74, and needs to turn the tables on his former teammate to make the gap more manageable.
Westby Racing's Mathew Scholtz, who won race two last year at Road America on his Yamaha YZF-R1, is third in the title chase coming into Road America, a further 11 points behind Gagne and 14 points ahead of Warhorse HSBK Racing Ducati's Josh Herrin.
Herrin has one podium finish in the four races held thus far, but Road America should be a good track for the Panigale V4 R to stretch its legs. Last year, Danilo Petrucci put the Italian bike on the podium twice at Road America and led the championship when the series left Wisconsin.
Vision Wheel M4 ECSTAR Suzuki's Richie Escalante is off to a good start in his sophomore season on the Suzuki GSX-R1000R Superbike as he seems to gain confidence with every race. The former MotoAmerica Supersport Champion finished fourth the last time he threw his leg over the Suzuki in race two at Barber. He trails Herrin by just six points.
Gagne's teammate Cameron Petersen has had a difficult start to his 2023 season, and it got worse on the Monday after Barber when he crashed during a test day and suffered a wrist injury. Petersen, with a fourth and a second in the two races he did finish, is 62 points behind his teammate after two DNFs in four races.
Tytlers Cycle Racing's Corey Alexander is tied with Petersen in points with his consistent start to his first full-time Medallia Superbike season. Alexander is just one point better than his teammate PJ Jacobsen, who joins Petersen as the only two riders in the top 10 to card a DNF. Jacobsen's DNF came in the first race of the season when he crashed out of race one at Road Atlanta.
Vision Wheel ECSTAR Suzuki's Toni Elias is also off to a slow start with and uncharacteristic seventh-, eighth-, 13th- and ninth-place finishes in the four races. Elias is ninth in the series standings, four points behind Jacobsen and four ahead of Disrupt Racing's Hayden Gillim.
Pre-Road America Superbike Notes
Westby Racing's Mathew Scholtz and Fresh N Lean Progressive Yamaha's Cameron Petersen were victorious in last year's two races at Road America, though it was Warhorse HSBK Racing Ducati's Danilo Petrucci who left with the biggest points haul (and the championship points lead) after second and third-place finishes on the Panigale V4 R in 2022.
Although Jake Gagne was off the podium in both races last year, he did start the two races from pole position, though his 2:10.617 qualifying time was just off his lap record from 2021 of 2:10.529. With race conditions less than ideal, no one came close to Gagne's best race lap of 2:10.998 from 2021.
As mentioned earlier, five-time MotoAmerica Superbike Champion Cameron Beaubier is the rider with the most Superbike wins at Road America with his 10 victories, one better than Australian Mat Mladin and two better than Josh Hayes.
Active MotoAmerica racers with Superbike victories at Road America other than Beaubier and Hayes (who is now racing in the Supersport class) are Toni Elias, Jake Gagne, Mathew Scholtz, Cameron Petersen and Bobby Fong (who is now racing in the Mission King Of The Baggers class).
Jake Gagne's two victories at Barber Motorsports Park were the 31st and 32nd of his Superbike career and moved him into a tie with Miguel Duhamel and Toni Elias for fourth on the all-time AMA Superbike win list.
Cameron Beaubier's next Medallia Superbike win will be his 56th and will put him just five short of Josh Hayes, who sits second on the all-time list with 61 wins to Mat Mladin's 82 Superbike victories.
Hayes, meanwhile, continues to chase the all-time AMA road race win record as he is currently tied with Miguel Duhamel with 86 wins across all classes. Hayes will be aboard his Squid Hunter Racing Yamaha YZF-R6 in the two Supersport races at Road America. Beaubier, meanwhile, lurks in fourth on the all-time list with 76 wins – 10 behind Duhamel and Hayes.
As far as manufacturers go, Yamaha has the most wins at Road America with 26 followed by Suzuki with 18, Honda (12), Ducati (eight) and Kawasaki (four). Yamaha had won seven of eight races until Suzuki swept both races in 2019 with Toni Elias and Josh Herrin. In 2020, however, Beaubier and Yamaha chalked up three more wins before Bobby Fong gave Suzuki another victory in race two in the June event. In 2021, Jake Gagne gave Yamaha two more victories in America's Dairyland and last year Mathew Scholtz and Cameron Petersen both earned their wins on Yamaha YZF-R1s.
Three-time World Champion Freddie Spencer won the first-ever AMA Superbike race at Road America in 1980. Spencer will be on hand this weekend in his new role as mentor/coach for Royal Enfield and its Build. Train. Race. program.
The two Medallia Superbike races will start at 3:10 p.m. on Saturday and Sunday. The two races will be preceded by the Supersport races (2:10 p.m.) and followed by the two Mission King Of The Baggers races (4:05 p.m.).
About MotoAmerica
MotoAmerica is North America's premier motorcycle road racing series. Established in 2014, MotoAmerica is home to the AMA Superbike Championship as well as additional classes including Supersport, Stock 1000, Twins Cup, Junior Cup, and King Of The Baggers. MotoAmerica is an affiliate of KRAVE Group LLC, a partnership including three-time 500cc World Champion, two-time AMA Superbike Champion, and AMA Hall of Famer Wayne Rainey; ex-racer and former manager of Team Roberts Chuck Aksland; motorsports marketing executive Terry Karges; and businessman Richard Varner. For more information, please visit www.MotoAmerica.com and follow MotoAmerica on Facebook, Instagram, TikTok, Twitter, and YouTube.
More, from a press release issued by Westby Racing:
Speed Is The Need At Road America, And Scholtz And Westby Racing Are Hoping To Unleash It This Weekend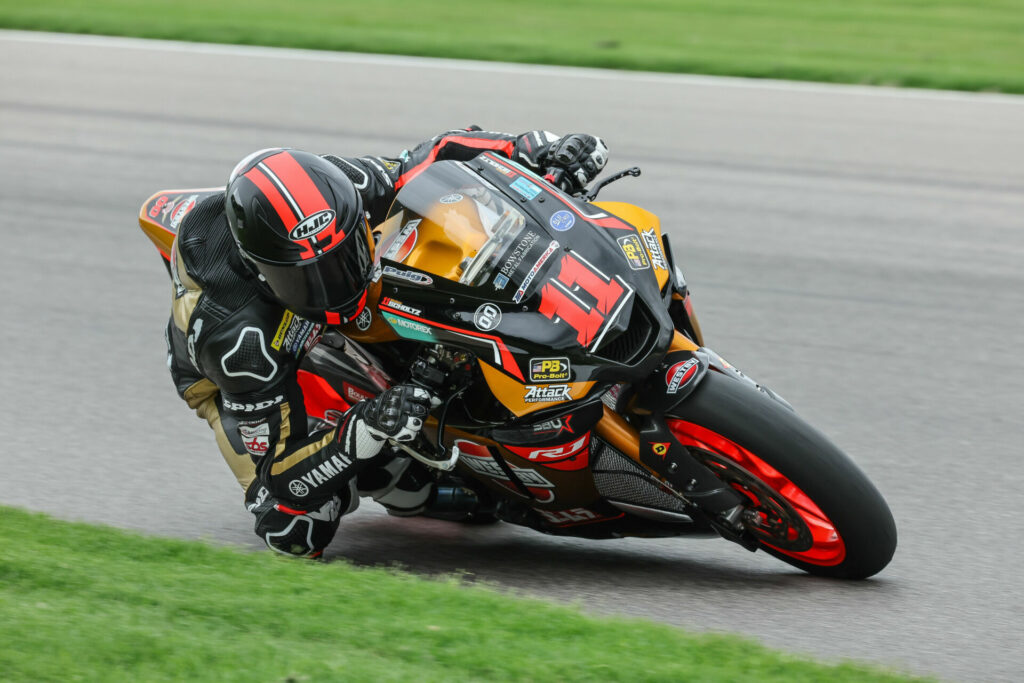 Tulsa, OK – May 31, 2023 – Round three of the 2023 MotoAmerica Medallia Superbike Championship starts this Friday at Road America in Elkhart Lake, Wisconsin, and the annual visit to "America's National Park of Speed" is always a highlight of the season for Mathew Scholtz and the entire Westby Racing team.
This year, the Road America round is even more highly anticipated than ever because of two very good reasons: 1) Mathew and the team are returning to the track where they notched a victory in Superbike race one last year, and 2) Road America's 4.048-mile, 14-turn road course has been completely repaved. And motorcycle road racers like nothing better than newly paved, ribbony-smooth asphalt.
Mathew is currently ranked third in the Championship points standings behind Cameron Beaubier in second and Jake Gagne in third, and he knows that Road America is a critically important round, even at this early stage in the season.
"We've had success at Road America," Mathew said. "And it's a road course and location that I like a lot. There's just something about racing in Wisconsin that suits me. It's a horsepower track, where top speed plays an advantage. We're hopeful that our new software package and engine build will do the trick this weekend."
Superbike final qualifying is on Saturday morning at 10:45 CT, Superbike race one will go green on Saturday afternoon at 3:10 CT, and Superbike race two is on Sunday afternoon also at 3:10 CT. Both races will be broadcast live on MotoAmerica's YouTube Channel.
For all the action from Road America, as it happens, subscribe to MotoAmerica Live+, which is MotoAmerica's live streaming and on-demand service.
Meet Mathew, Get An Autographed Poster, And More
Mathew will be available for autographs during the Dunlop Hot Pit Walk & Autograph Session, scheduled for 11 to 11:40 a.m. Sunday on pit lane at Road America. He and the team will be handing out free posters and T-shirts, so don't miss it.
Check Out The Westby Racing Sponsor Showcase
BrakeTech USA and Renthal Ltd are the featured team sponsors on display in the Westby Racing paddock area this race weekend, so be sure to stop by to say hello and learn about some of the companies that support the team.
For more updates about Westby Racing, including news, photos, and videos, visit www.WestbyRacing.com
Also, follow "Westby Racing" on your favorite social media sites.
More, from a press release issued by Ducati:
Josh Herrin and Xavi Forés Head North to Road America to Challenge Grid Aboard Their Warhorse HSBK Ducati Panigales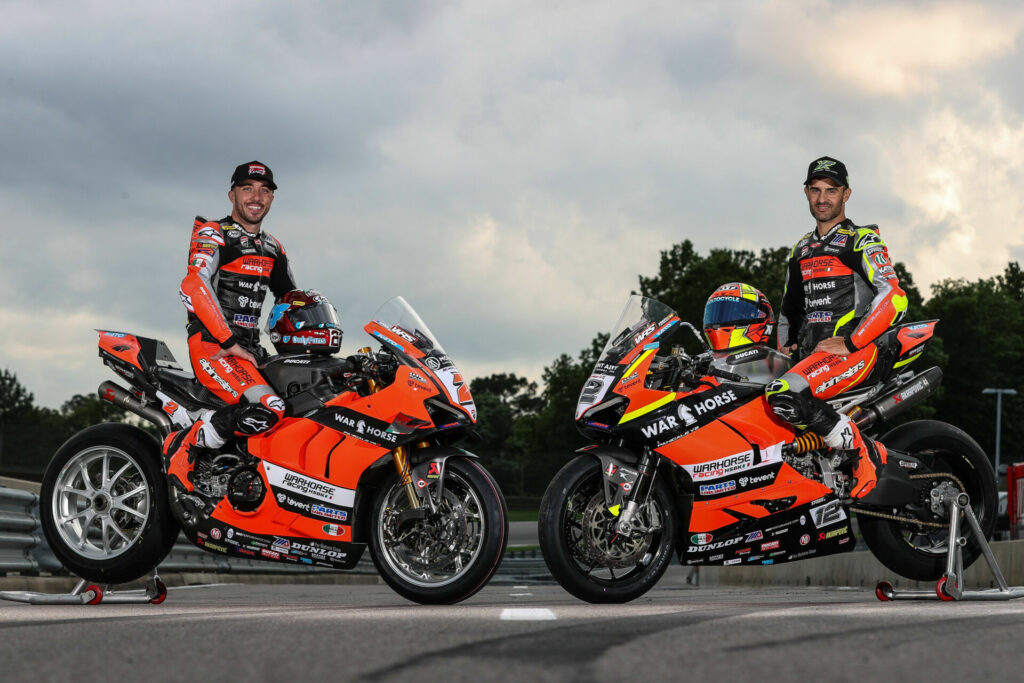 Sunnyvale, Calif., May 31, 2023 — The Warhorse HSBK Racing Ducati NYC duo of Josh Herrin and Xavi Forés head north to Wisconsin's Road America, a long, four-mile circuit with 14 turns that has challenged the best of the best for over 60 years. The team arrives in Elkhart Lake following some dominating results last round for Forés and mixed results for Herrin.
During round 2 May 19-21 at Alabama's Barber Motorsports Park, Xavi Forés impressed at MotoAmerica's first-ever Supersport "Extended" race, a 37-lap long race that occurred Saturday instead of the typical double race format.
Although he dealt with multiple red flags, the Spaniard made it look easy on the #12 Warhorse HSBK Racing Ducati NYC Panigale V2, grabbing his third-straight win in the MotoAmerica Supersport series. Barber's race was double points, and Forés now has 100 points, 27 ahead of Kawasaki's Stefano Mesa and 46 ahead of Yamaha's Josh Hayes.
Herrin's weekend at Barber didn't go as smoothly as Forés. The 2022 MotoAmerica Supersport Champion claimed sixth in both races aboard his #2 Warhorse HSBK Racing Ducati NYC Panigale V4 R, citing tire issues that affected most of the Superbike grid. Heading into round three of nine, Herrin is fifth in the point standings, 49 behind Yamaha's Jake Gagne.
Josh Herrin (Warhorse HSBK Racing Ducati NYC – Ducati Panigale V4 R – #2):
"Road America has always been an excellent track for me, and I think it'll suit the Ducati V4 R pretty well, especially with the new pavement." Herrin said. "We're looking forward to getting to Road America and letting the V4 R show its strength, which is under hard braking and accelerating on the track's long straightaways. Because we're in Wisconsin, I also got a special cheese-themed helmet for this weekend that we'll be rolling out on Friday. I'm also just as excited to go and hang out with all the fans in Wisconsin. There's always a great crowd there, and hopefully, we can get some good results like we did in Atlanta."
Xavi Forés (Warhorse HSBK Racing Ducati NYC – Ducati Panigale V2 – #12):
"As usual, it will be another discovery weekend as this is another new track for me. Despite that, though, I feel really confident about some solid race performances as we head back into the Supersport Saturday/Sunday format rather than that one long race at Barber. I feel strong on the Panigale V2, especially on race pace. We have a good package! Hopefully, the weather will stay warm and nice, and we can enjoy another victory and more points."
On-track action for the third round of the 2023 MotoAmerica Supersport Championship kicks off Friday morning. Forés will take to the track for Supersport FP1 at 9:45 CDT a.m. on Friday, June 2, while Herrin will be on track for Superbike FP1 at 11:15 a.m.