Jamie Astudillo raced the 2018 MotoAmerica Junior Cup as
part of the Quarterley Racing/On Track Development team. She scored 10 top-10
finishes out of 17 total races during the season and became the first female in history
to finish on the podium in MotoAmeica competition. She was also nominated for
American Motorcyclist Association Female Racer of the Year, in addition to
winning the FIM Women's Motocross Latin American Champion.
Recently, an offer to race in New Zealand's 40th Annual
Classic Racing Festival on the North Island and the Burt Munro Challenge on the
South Island came up, and Jamie jumped at the chance.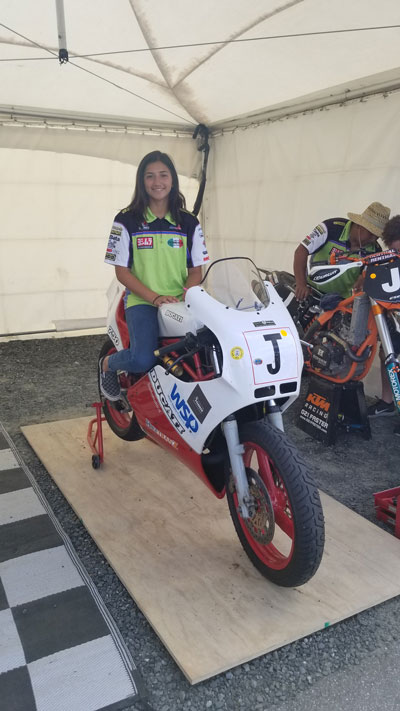 (Above Jamie Astudillo on the Ducati F1 she raced in New Zealand.
How did this deal
come about?
Jamie: Bob Robbins (co-owner of the Quarterley Racing/On
Track Development Team) owns a Britten motorcycle which was made in New Zealand
and he's friends with some other [Britten] owners and the people who built the
bike. He was going to the races there and he asked my parents and I if we would
like to come along and that I could race.
Is that the farthest
you have traveled so far for a race?
Jamie: Definitely, although I had been to Europe to race
motocross before.
What was your first
impression of New Zealand?
Jamie: Just how nice people are there, so welcoming.
Everyone is so friendly.
What was the first
track you went to and what did you think of it?
Jamie: The first track was Pukekohe Raceway Park just
outside of Auckland on the North Island. They took us around for a lap in a
truck and I thought, "Wow, this is really bumpy!" The bumps were huge. That was something I had to get
used to, my head moving around and getting the bike to stay still. Also, the
track was pretty short. It has 11 turns but the lap times were under one minute
20 seconds even on the vintage bikes.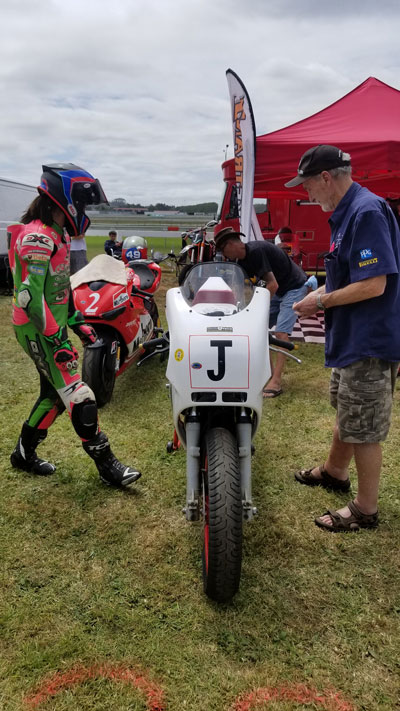 (Above) Jamie Astudillo creeps up on her vintage Ducati F1 at Pukekohe Park.
How many races were
you in at Pukekohe Park?
Jamie: I was in five races per class, with two classes, so a
total of 10 races. The races weren't long because they had so many classes.
What bike were you
riding and did you learn anything from it?
Jamie: I rode a vintage Ducati 750 F1 Santamonica provided
by Kevin Grant. That's the heaviest bike I've ever ridden and now that I'm back
I can turn the 400 so much easier. The 400 wants to go into the grass on the
inside of the turns! Also, the engine braking on the Ducati was huge and you
can't shift as fast. You had to slow down the process of riding and think about
it more.
Was it difficult
dealing with all the bumps?
Jamie: Not really. I ride motocross all the time and the
track is constantly changing during a motocross race. I found a line where the
bumps weren't as bad and although it might not have been the fastest line, I
ended up doing pretty good lap times because I could be smooth and stay on the
gas.
How were the other
racers?
Jamie: Classic races are mostly a bunch of racers having fun,
but there were some top-level riders as well. All the racers were pretty
respectful. Some of them were a little off-line and there was a huge variety of
machines, but they weren't super aggressive. It was pretty relaxed. I knew
scouts wouldn't be watching (laughs).
What kind of races
did you do on the South Island?
Jamie: Four kinds: hill climb, beach race, sprint road races
and a street race. All the races in the south were pretty quick. It was over by
1:00 or 2:00 o'clock in the afternoon.
What bike did you
ride in the South Island races?
I rode a KTM 450 SMR and the Ducati F1 again in a vintage
class.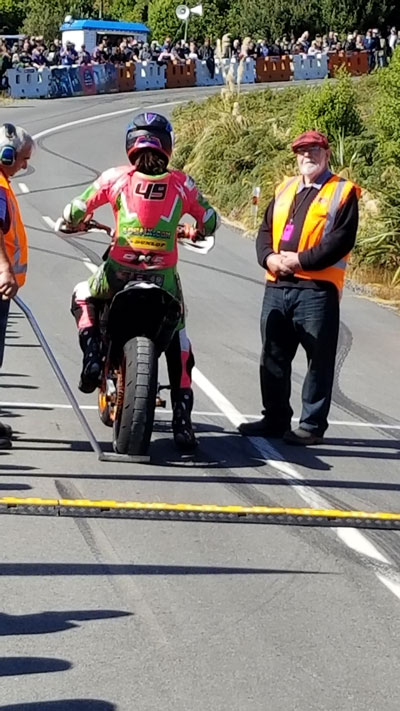 (Above) Jamie Astudillo (49) prepares for a run at the hill climb.
Had you ever done a
hill climb before?
Jamie: No. The hill climb was first and that was a bit
intimidating. There was a long straightaway before the finish, you're going
pretty fast and there were spectators on the road.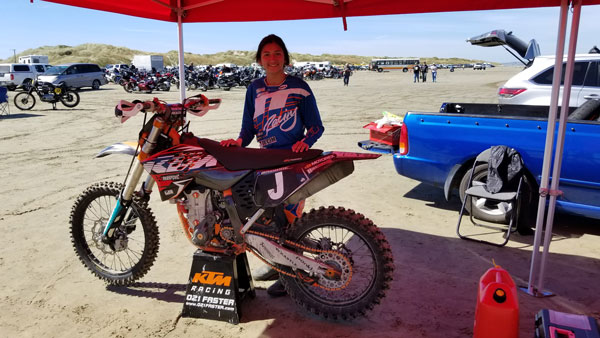 (Above) Jamie Astudillo with her KTM at the beach race.
How about the beach
race?
Jamie: That was my first beach race, too. I thought I would
be more at home because of all the motocross riding I do, but I was totally
wrong. It was nothing like I expected it would be. The tide was high and the sand
was wet and hard. The roost of the sand hurts, especially when it's wet. I had
welts all over my arms. We noticed other racers were putting newspapers on
their arms, so we put plastic dinner plates on my arms. It didn't help.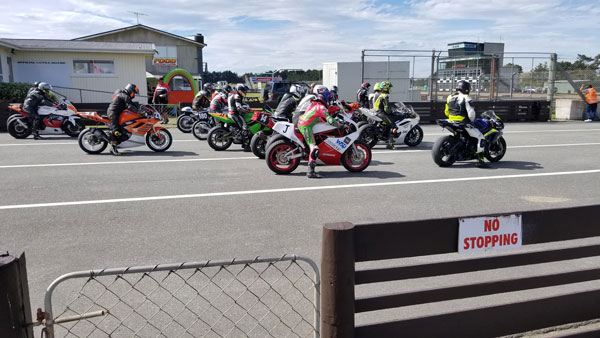 (Above) Jamie Astudillo (J) on the pre-grid before a sprint race at Teratonga.
How did the sprint
races go?
Jamie: The track in the south, Teratonga, only has seven
turns, but it's fast and flowing. There were three races per class with three classes.
In the first race on the Ducati F1 I was leading my class when the chain fell
off on the white flag lap. So I had to start in back for the second race and,
with 35 riders, I got all the way up to third. I got second overall in the next
race.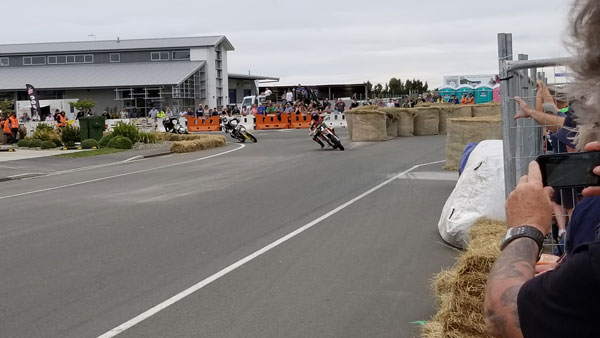 (Above) Jamie Astudillo (J) coming out of a corner during the street race.
And the street race?
Jamie: That was my favorite. I've never done one before and
it was the most intimidating. It's right in the middle of town with all these
buildings around you. I had to remember not to turn or brake on the paint on
the road, but I got the hang of it pretty quickly. I qualified eighth and
finished fourth.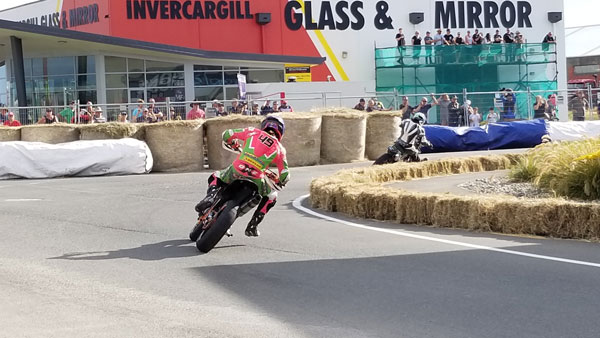 (Above) Jamie Astudillo (49) in action during the street race.
Did you have any
goals before you arrived in New Zealand and did you accomplish them?
Jamie: Yes. I knew I had to learn all new tracks and some
new types of racing and that I had to learn them quickly. I knew I had to learn
quickly how to adapt and that that was how it was going to be, just get
everything done and learn it as soon as possible. I think I did accomplish
that.
Outside of the
racing, was there anything that stood out from your trip?
Jamie: Yes, two things. We flew from Auckland on the North
Island to Christchurch on the South Island, but, from there, it's another seven
hour drive to the track at Invercargill. We could have flown, but we decided to
drive instead, which we split into two days. I'm glad we drove because Bob's
friend from New Zealand would stop every half hour or so and point out all
these beautiful sights.
The second thing was that my mom and dad came along. They've
put so much time and money into my racing career so it was nice to be able to
bring them. Both my parents came from countries that didn't have much money and
when they were young they didn't have a lot. Mom said it was the best trip
ever. It was nice to repay them, a little reward for them while I'm trying to
make my way in racing.
About Quarter4ley Racing/On
Track Development
Quarterley Racing/On Track Development is a professional
motorcycle road racing team devoted to supporting, guiding and nurturing the
best young riders as they enter the ranks of professional racing. Riders are
chosen not only for their proven on-track success, but also for their
character, positive attitude, ability to learn and willingness to work.
Commitment to the sport and support from family are two things we look for
most. The ability to interact in a positive way with the team, spectators and
the general public and represent their sponsors in the best possible light are
each an absolute must. It is the objective of the team to improve the careers
of its racers and, at the same time, broaden the awareness of the sport of
motorcycle road racing. Quarterley Racing/On Track Development will be
competing in all nine rounds of the 2019 MotoAmerica series with four riders:
Jamie Astudillo, Dallas Daniels, Teagg Hobbs and Ben Gloddy. The team
principals are Dale Quarterley and Bob Robbins.
Jamie's 2018 personal sponsors include: Bell Helmets, Ohlins, One-X, TCX Boots and medAge
Quarterley Racing On Track Development 2018 sponsors include: Fast By Ferracci , Yoshimura, Definace Lifestyle Clothing, Inter-Tech, Scott Powersports, Roadracing World, Beta Tools, SBS Brakes, Dynojet, Woodcraft-CFM, Fast Bike Industries, Earl's Racing Team, Regina Chain, Drippin' Wet Graphics, and Motul.