The Kings Of Atlanta: Can Anyone Stop Beaubier And Elias At Road Atlanta
The Two Champions Are The Only Previous Superbike Winners In The Field
IRVINE, CA (July 29, 2020) – In the 10 MotoAmerica Superbike races held at Michelin Raceway Road Atlanta in the five-year-old MotoAmerica era, only two riders have tasted victory – Cameron Beaubier and Toni Elias – with those two tied with five wins apiece. Thus, if one of those two wins a race and the other doesn't in the upcoming two HONOS Superbike races in Braselton, Georgia, July 31-August 2, that tie will be broken. And if they are both beaten, the streak will be over.
Beaubier got a two-race head start on Elias at Michelin Raceway Road Atlanta, the four-time MotoAmerica Superbike Champion racing to two wins in 2015 while Elias was still in Europe. In 2016, Elias showed up and followed up his two race wins in the series opener at COTA with a race-one win at Road Atlanta on his Yoshimura Suzuki. Beaubier, however, won race two.
The following year will go down as the "I have long memory" race when Beaubier and Elias got together, and Elias ran off track and Beaubier rode to victory. The two had a war of words in the post-race press conference after the second race and it was the real beginning of a rivalry between the series' two best Superbike racers to date. With Elias winning race two, Beaubier led the war of wins four to two.
Since 2017, Elias has had the most success at Road Atlanta, the Spaniard and his Suzuki winning three of the last four races to tie Beaubier with five wins apiece. To recap, it's Cam, Cam, Toni, Cam, Cam, Toni, Toni, Toni, Cam, Toni. Phew.
Now it's time to see if that continues as the series holds its third round at Michelin Raceway Road Atlanta this coming weekend.
In the past, it's been a given that those two riders would run at the front. Not the case this season as they arrive in Georgia on opposite ends of the spectrum. Beaubier and his Monster Energy Attack Performance Yamaha YZF-R1 will start Friday's practice with wins in three of the first four races, with all four being held at Road America in Wisconsin. And Beaubier looked to be heading to win number four when he made a mistake, hit a notorious bump in turn one and crashed out of the race. Still he comes to Road Atlanta as the championship points leader.
As round three gets ready to begin, Elias is so far out of championship contention he can't see it with binoculars. The former Moto2 World Champion is 11th in the title chase after four races, 53 points behind Beaubier after a dreadful start to his season. M4 ECSTAR Suzuki's Elias started the season without earning a point in round one, the Spaniard a victim of a tossed chain in race one and a crash in race two. In round two, things improved with Elias finishing fourth in race one. But then it went bad again when he was knocked down in race two after a collision with Westby Racing's Mathew Scholtz for fourth. Elias dusted himself off, remounted, finished seventh and then had words with Scholtz after the race. After four races last year, Elias led the championship with 90 points. This year he has 22 points. But, as everyone in the paddock will tell you, you can't count the Spaniard out. His lap times thus far in 2020 have been faster, but his results have not. He's hoping his reversal of fortune begins in Georgia this weekend.
By virtue of three podium finishes in four races, Beaubier's new teammate Jake Gagne sits second in the title chase – nine points behind the defending four-time series champion. Gagne finished second to Beaubier in race two of Road America 1 and was in position to win his first career Superbike race when Beaubier crashed out of race two in Road America 2, but he couldn't find a way past M4 ECSTAR Suzuki's Bobby Fong in the closing stages of the race.
Fong is off to a flying start in his Superbike debut season, the non-defending MotoAmerica Superport Champion earning his first career HONOS Superbike victory in Wisconsin. Fong is third in the championship, 17 points behind Beaubier and eight behind Gagne and has inserted himself in the battle for the title.
Fong is just two points ahead of one of the surprises thus far in the 2020 MotoAmerica season – KWR Ducati's Kyle Wyman. If the season continues to go the way it has, it will take a plastic surgeon to remove the smile from Wyman's face as he's visited the podium twice with third-place finishes in the last two races at Road America on his Ducati Panigale V4 R. Prior to that he was fifth and fourth in the opening two battles.
Fifth place in the title chase is held by Scheibe Racing BMW's Josh Herrin, the Georgian who now calls Southern California home, earning a podium in the second race of the year in just his second start on the BMW S 1000 R. Herrin and the team have been working hard on the BMW to get him more comfortable and it will be interesting to see how the effort pays off at a racetrack that's much different than Road America.
Scholtz's season started with a bang with a second-place finish in the very first race of the year at Road America. He followed that up with a crash in race two but came back to form in the next two races with fifth- and fourth-place finishes. He is 31 points behind Beaubier but just two markers behind Herrin.
Although we are only two rounds and four races into the HONOS Superbike season, FLY Racing ADR Motorsports' David Anthony is another rider who has gotten off to a good start to his season. The Australian is seventh, eight points behind Scholtz and nine ahead of Celtic HSBK Racing's PJ Jacobsen, the New Yorker missing race two of Road America 2 after a morning warm-up crash left him injured. He will be back in action at Michelin Raceway Road Atlanta.
Altus Motorsports' Cameron Petersen, who like Jacobsen is doing double duty in the HONOS Superbike and Stock 1000 classes, is ninth in the Superbike title chase – just one point clear of Thrashed Bike Racing's Max Flinders.
Both of the two MotoAmerica HONOS Superbike races will air live on FS1 this coming weekend from Michelin Raceway Road Atlanta.
Road Atlanta Superbike Notes…
With his three wins in the first three rounds of the 2020 MotoAmerica Series, Cameron Beaubier now has 41 HONOS Superbike victories to his credit. The 41 wins puts him third on the all-time win list behind Mat Mladin (82) and Josh Hayes (41). The next active rider on the list is Toni Elias with the Spaniard tied with Miguel Duhamel for fourth on the all-time list with 32 wins.
History lesson: The very first AMA Superbike race at Michelin Raceway Road Atlanta was held in 1980 and that race was won by four-time 500cc World Champion Eddie Lawson. The first-ever AMA National motorcycle race at Road Atlanta was held in 1971 and was won by Kel Carruthers.
Riders from six different countries and eight different states will line up at Road Atlanta in the HONOS Superbike class with the U.S., Spain, South Africa, Great Britain, Brazil and Australia all represented. As for the states, California leads the way with four riders from the Golden State, then Georgia (3) and New York (3).
Garrett Gerloff earned pole position at Michelin Raceway Road Atlanta last year with his lap of 1:23.844 during Superpole. Gerloff's best lap bettered that set by Toni Elias with Mathew Scholtz rounding out the front row for the two races last year. Gerloff's best was a new motorcycle lap record at Road Atlanta.
As for the races last year, Beaubier and Elias split wins with Beaubier beating Elias in race one by 2.7 seconds and Elias topping Mathew Scholtz by 1.8 seconds with Beaubier third. The fastest lap from the two races, Beaubier was the only rider to dip into the 1:24s with his best lap in race one, a 1:24.882, bettering his 1:24.887 from race two.
Geoff May will make his 2020 MotoAmerica debut at Road Atlanta and the Georgian will do double duty as he races in both the HONOS Superbike and Stock 1000 classes on his Disrupt Racing CCFOfficeSolutions.com Kawasaki ZX-10R.
For the full 2020 MotoAmerica Series schedule, click HERE
To purchase tickets to any of the 2020 series rounds, click HERE
For information on how to watch the 2020 MotoAmerica Series, click HERE
About MotoAmerica
MotoAmerica is the North American road racing series created in 2014 that is home to the AMA Superbike Championship. MotoAmerica is an affiliate of KRAVE Group LLC, a partnership that includes three-time 500cc World Champion, two-time AMA Superbike Champion, and AMA Hall of Famer Wayne Rainey, ex-racer and former manager of Team Roberts Chuck Aksland, motorsports marketing executive Terry Karges, and businessman Richard Varner. For more information on MotoAmerica, visit www.MotoAmerica.com. Also make sure to follow MotoAmerica on Twitter, Facebook and Instagram.
More, from another press release issued by MotoAmerica:
Escalante Is Perfecto As MotoAmerica Heads To Road Atlanta
Richie Escalante Remains Unbeaten In Four Races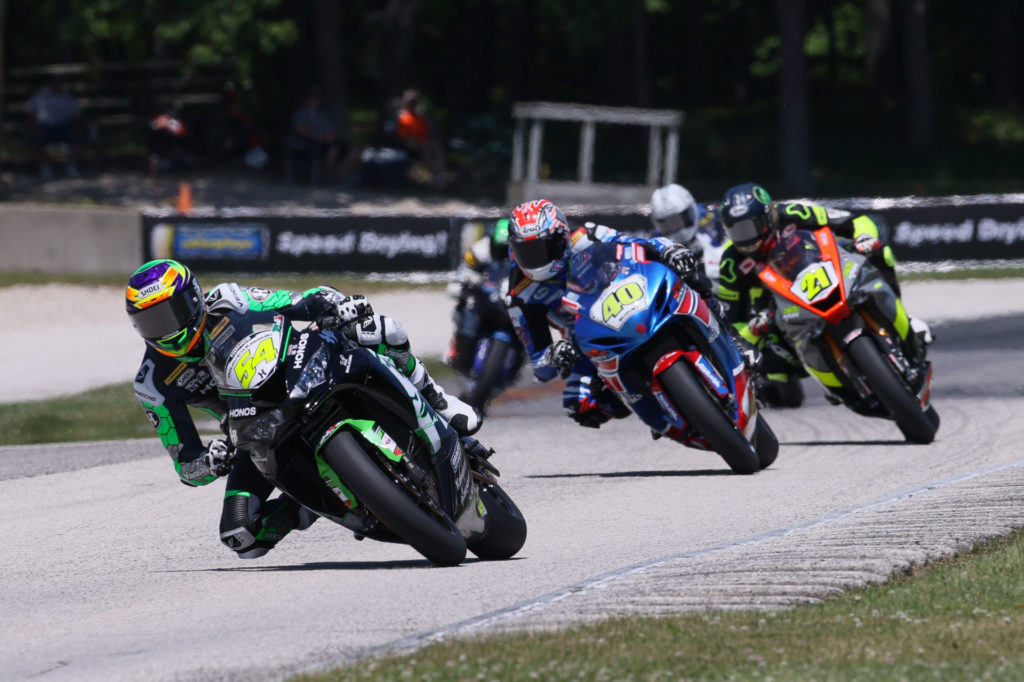 IRVINE, CA (July 29, 2020) – Only one rider remains undefeated in the 2020 MotoAmerica Series as the championship heads to Michelin Raceway Road Atlanta this weekend and that man is Richie Escalante, the Mexico City resident carding a perfect 100 points from the first four Supersport races of the season.
With his perfect tally, HONOS Kawasaki rider Escalante has a 40-point lead in the Supersport Championship, but he's the only one with that sort of breathing room in the five MotoAmerica classes.
The closest points battle is in the Twins Cup class where 1-833-CJKNOWS Accident & Injury Law's Kaleb De Keyrel leads Rocco Landers by just nine points after two rounds. In the Liqui Moly Junior Cup Series, Dominic Doyle leads Landers by just 10 points, which translates to  Landers trailing in the two series combined by just 19 points. Although the gap is slightly larger in the Stock 1000 Championship between Cameron Petersen and Stefano Mesa (12 points), from top to bottom that one is closer with fifth-placed PJ Jacobsen only 20 points out of the lead.
Escalante's closest rival in the Supersport title chase as the series ventures to Georgia for round three is Sean Dylan Kelly, the Floridian finishing second in three of the four races to Escalante. Unfortunately for the M4 ECSTAR Suzuki rider, he crashed out of race one. Thus, the points deficit. But Road Atlanta is a different venue with the opening two rounds taking place at Road America and with a change of scenery comes a change of hope for the Suzuki rider.
And the Supersport class is by no means a two-horse race as Brandon Paasch has shown that he and his Celtic HSBK Racing Yamaha YZF-R6 are also going to be a factor as he's posted three podiums in the first four races. He was also on the podium in the other race but was disqualified after the post-race weigh-in showed that his bike was underweight. Paasch is only eight points behind Kelly and 48 behind Escalante.
One of the big Supersport surprises thus far in 2020 is TSE Racing's Nate Minster, the youngster from Minnesota finishing fourth twice, fifth once and sixth once and that puts him fourth in the title chase. Minster is just five points ahead of RiderzLaw Aguilar Racing's Jason Aguilar, who is fighting to make up ground after not finishing the opening race of the season.
As mentioned earlier, the Stock 1000 class is led by Altus Motorsports' Petersen, the South African 12 points ahead of Mesa37 Racing's Stefano Mesa. Petersen has a second-place finish and a win in the two races thus far with Mesa finishing fourth and second in the two races.
Gilbert Racing's Michael Gilbert, meanwhile, sits third – just six points behind Mesa and only a single point ahead of Ride HVMC Racing's Corey Alexander. Alexander, in turn, is just one point ahead of Jacobsen, who won the first race of the season but missed race two after suffering injury in the morning warm-up. He will be back on board his Celtic HSBK Racing Ducati Panigale V4 R at Road Atlanta.
With three wins in four starts, De Keyrel leads the Twins Cup Championship but only by nine points over Landers, who won the first Twins Cup race of his young career in race three at Road America. Those two are well clear of third-placed Jason Madama on the Syndicate Racing/Apex Assassins Yamaha FZ-07/MT-07 with the Coloradan 32 points behind De Keyrel and seven points ahead of a tie between Jackson Blackmon, the Robem Engineering rider finishing second in race two at Road America, and former class champion Chris Parrish and his AP MotoArts/Ghetto Customs Yamaha.
BARTCON Racing's Dominic Doyle is just .069 of a second from being undefeated in the 2020 Liqui Moly Junior Cup class because that was the difference between the South African and victory in the fourth race of the year. It was Landers who beat Doyle to the line in a well-deserved win as the youngster had been thwarted in the previous three tries by Doyle with eerily similar margins of victory. Quarterley Racing/On Track Development's Benjamin Gloddy is third in the series standings with two podium finishes to his credit. He is just two points ahead of another South African – Samuel Lochoff. Lochoff and his Celtic HSBK Racing Kawasaki have two podium finishes from the four races.
Road Atlanta Support Class Notes…
To say that Rocco Landers arrived in the MotoAmerica paddock a year ago with a bang would be an understatement. In his very first Liqui Moly Junior Cup race in round one of the series at Michelin Raceway Road Atlanta last April, Landers dominated. He won race one by an unheard of 16.2 seconds and race two by 4.9 seconds.
The two Supersport races at Road Atlanta last year were won by Hayden Gillim and Bobby Fong. Gillim beat Fong after an intense battle in race one and Fong came back to win race two over PJ Jacobsen. Fong would go on to win the Supersport title.
Andrew Lee got his Stock 1000 title defense off to a good start a year ago when he barely beat Michael Gilbert to take the win – by .130 of a second.
Michael Barnes won both Twins Cup races at Road Atlanta last April, the Quarterley Racing Ducati rider topping Curtis Murray in race one and Chris Parrish in race two.
Twenty-eight Twins Cup riders will take to the track at Michelin Raceway Road Atlanta with that class leading the way in the amount of entries for round three. Stock 1000 will feature 26 racers with the premier HONOS Superbike class consisting of 23 entries. Supersport (20) entries and Liqui Moly Junior Cup (18 entries) will complete the program with 115 total entries spread over the five classes.
More, from a press release issued by Westby Racing:
Westby Racing's Two-Rider Team Has Their Heads Down Heading Into Michelin Raceway Road Atlanta
Tulsa, OK – July 29, 2020 – Round three of the 2020 MotoAmerica AMA/FIM North American Road Racing Championship starts this Friday at Michelin Raceway Road Atlanta in Braselton, Georgia, and riders Mathew Scholtz and Cody Wyman, along with the entire Westby Racing team, are looking forward to racing on Road Atlanta's 2.54-mile, 12-turn natural road course.
For the team's Superbike rider Mathew Scholtz, competing in the MotoAmerica event this weekend is extra-special because the South African expatriate now lives in the Atlanta area and considers Michelin Raceway Road Atlanta to be his home track. Mathew is focused on putting his #11 Westby Racing Yamaha YZF-R1 up front for his many fans and friends who live in the area, as well as across the U.S., in South Africa, and around the world.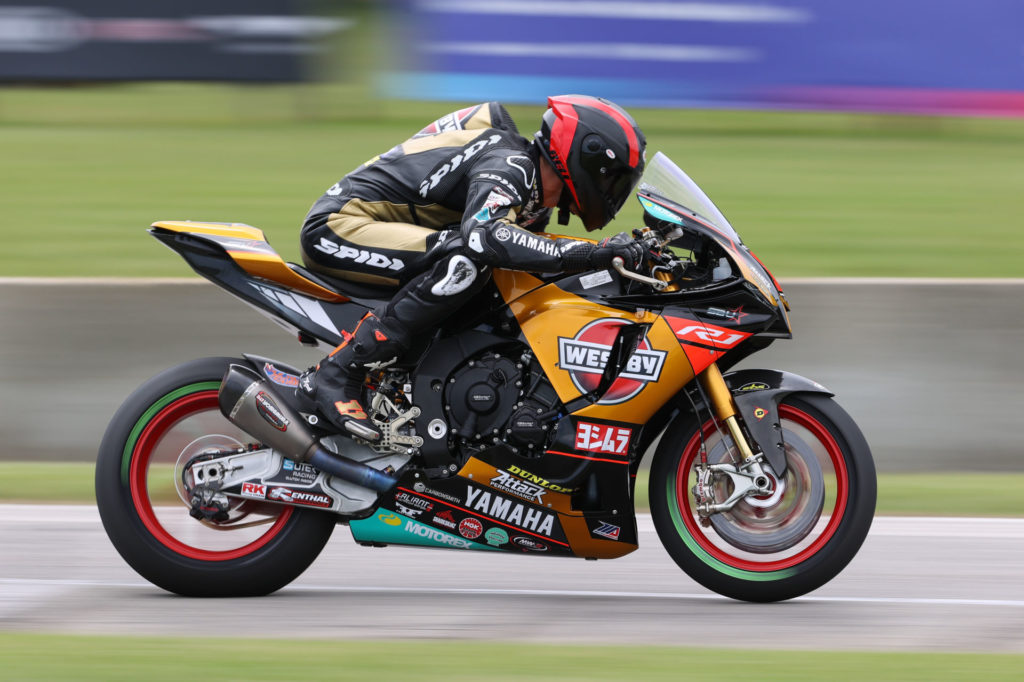 "I'm looking forward to this weekend and to get a little bit of redemption," commented Mathew, who wasn't satisfied with his results from rounds one and two at Road America in Wisconsin, despite his second-place finish in the first Superbike race of the year. "Road Atlanta is a home track for me, and also, (team manager Chuck Giacchetto's) race shop is really close by. I have some local friends and neighbors who are coming, which gives me even more incentive to do well. Road Atlanta is a track that's been really good to me in the past. It kind of favors my riding style and closely resembles the tracks that I raced on back in South Africa. I know that we're capable of running up front, and I can't wait to get out there and continue working on improving the Westby Racing R1 Superbike. Over the past couple of weeks, the guys have been working hard on the engine package, and I've been training exceptionally hard on the mountain bike and the motocross bike. We're ready to put the bike up on the podium where it should be."
Superbike Superpole is on Saturday at 11:15 AM Eastern, Superbike race one will go green on Saturday at 3:00 PM Eastern, and Superbike Race 2 is on Sunday also at 3:00 PM Eastern. Both races will be broadcast on FOX Sports 1 (FS1) and Eurosport, as well as streamed on MotoAmerica Live+.
The last time Westby Racing's MotoAmerica Junior Cup rider Cody Wyman competed at Michelin Raceway Road Atlanta was five years ago, so the native New Yorker who now lives in Las Vegas is especially glad to be reunited with a race course that he enjoys and to be racing for the Westby team aboard the #34 Yamaha YZF-R3.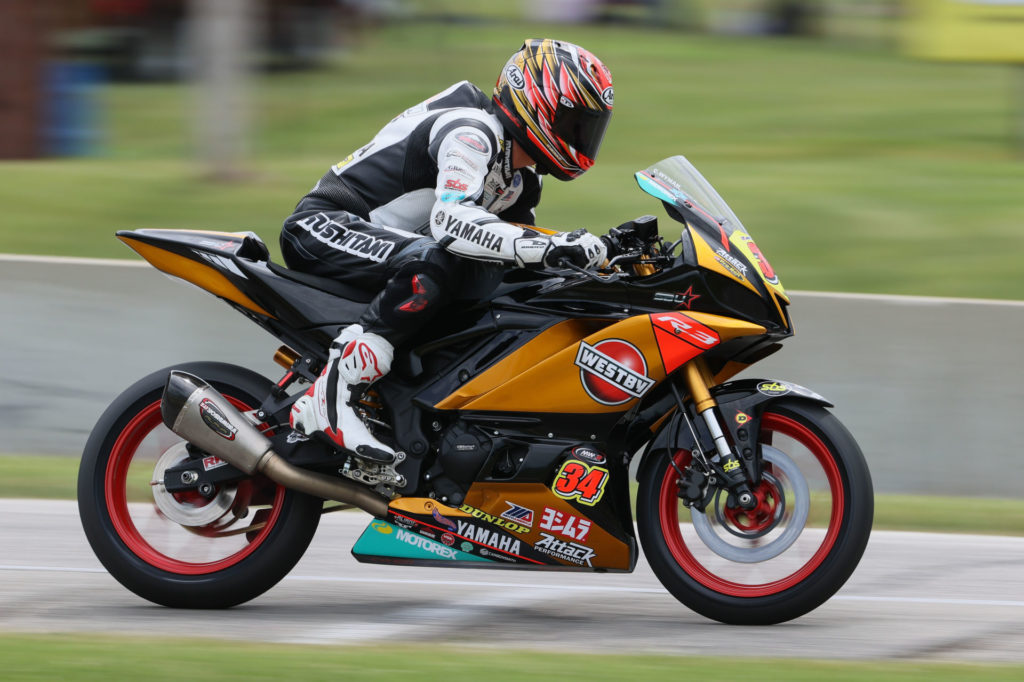 Cody said, "It's been a long few weeks since the previous round, so I am more than ready to get back to racing. I've been training in the heat at my house in Las Vegas to get ready for these back-to-back rounds. After the first two rounds at Road America—as much as I love racing in Wisconsin—I'm glad we're going to a new racetrack. Road Atlanta is a racecourse that I've really liked in the past, and it'll be great to race there again after five years away. It's another one of those tracks with a very large fan base, and I'm looking forward to putting on a show for them. I really want to work on closing the gap to the front this weekend. It's tough seeing the leaders get away early on, but it's a long championship, and we're still learning a lot about this Westby Racing Yamaha R3. Thank you to my team and sponsors for your continued support, and we'll see you at the track!"
Junior Cup race one starts on Saturday at 4:00 PM Eastern, and Junior Cup race two is on Sunday at 2:00 PM Eastern. Both races will be broadcast via tape-delay on FOX Sports 2 (FS2). Check your local listings for FS2 airtimes. In addition, both Junior Cup races will be streamed on MotoAmerica Live+.
Watch Great Racing While Maintaining Your Social Distance
Michelin Raceway Road Atlanta is located on 750 acres of park-like surroundings in the rolling hills of Northeast Georgia, so you can watch Mathew, Cody, and the rest of the MotoAmerica racers while maintaining proper social distancing. There is plenty of room for you, your family and/or your entire crew to enjoy professional motorcycle road racing on one of the country's best tracks.
Pick Up Some FREE Westby Racing Autograph Cards
Westby Racing has produced some limited-edition, autographed cards of Mathew and Cody, and they'll be available next to the team transporter throughout the weekend, so swing by and pick one up while maintaining proper social distancing.
For more updates about Westby Racing, including news, photos, and videos, visit https://www.WestbyRacing.com
Also, follow "Westby Racing" on your favorite social media sites.
More, from a press release issued by Travis Wyman Racing:
Travis Wyman to race at Road Atlanta despite injury
BMW rider excited to compete at his favorite track on the MotoAmerica calendar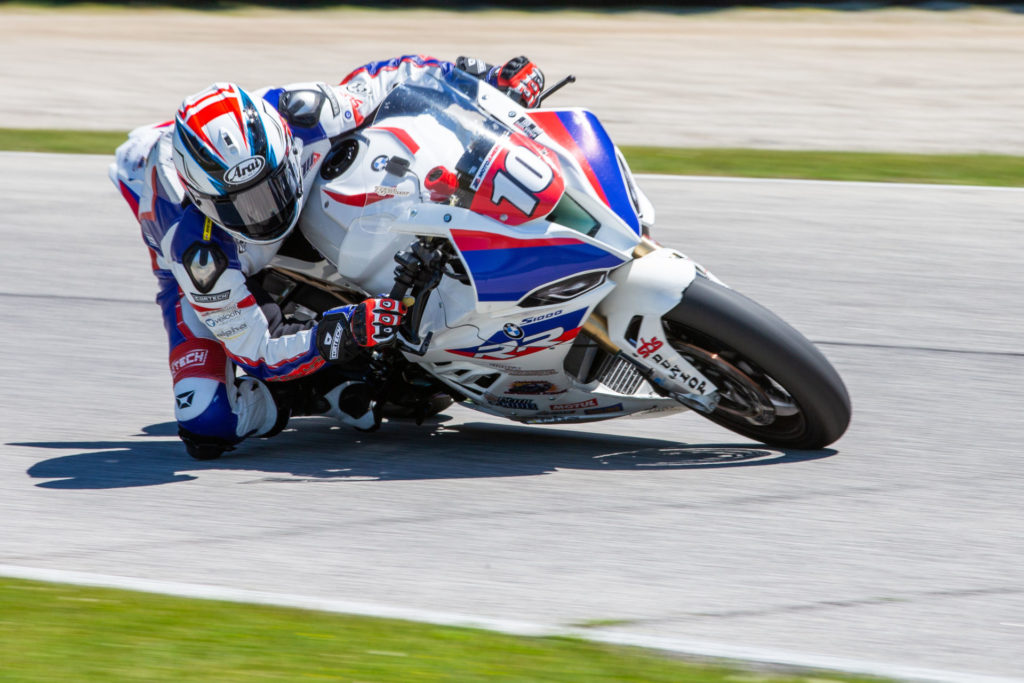 Travis Wyman's broken left elbow won't be fully healed by the time this weekend's MotoAmerica Superbikes at Atlanta round kicks off on Friday, but the Las Vegas rider is excited to be racing his team's 2020 BMW S 1000 RR at the Road Atlanta circuit.
Wyman is still recovering from the broken elbow he sustained in a mountain bike crash just days before the most recent MotoAmerica round at Road America on June 26-28. Though the surgery to reattach the broken-off piece of bone in his left elbow was successful, Wyman is still working through the six-to-eight-week recovery period for the injury. He is scheduled to race the team's BMW S 1000 RR four times at the 2.550-mile, Braselton, Georgia, track, including two Stock 1000 Class races and two Superbike Class races as part of the MotoAmerica Superbike Cup program.
Road Atlanta has been the scene of two of Wyman's five professional road racing victories, including his win in the first-ever MotoAmerica Stock 1000 race in 2018.
"I'm still dealing with a lot of stiffness in my elbow, but I owe it to my sponsors, team and fans to get out on track this weekend and get as many points as I can," Wyman said. "Road Atlanta is a special place for me because of how much success I've had there. If I'm going to have to race injured somewhere, I'd rather do it at a track I know well and have been successful on. It's going to be a tough weekend with four races on my plate, but I learned a lot about how to race with this injury at Road America 2. Hopefully starting the weekend with that knowledge will help us score podium finishes or better in the Stock 1000 races and top-10s in the Superbike races."
This weekend's Superbike races will be broadcast live on Fox Sports 1 at 3 p.m. Eastern/noon Pacific on Saturday and Sunday, and all MotoAmerica races and qualifying sessions can be viewed live or on-demand by subscribing to MotoAmerica's Live+ streaming service. To learn more about MotoAmerica Live+, visit www.motoamericaliveplus.com.
More, from a press release issued by Team Suzuki Press Office:
The opening weekend of August sees the M4 ECSTAR Suzuki Team back on track for the third round of the revised MotoAmerica AMA Superbike Championship at the Michelin Raceway Road Atlanta Circuit in America.
After being on track for a recent test aboard their GSX-R1000 machinery, team riders Toni Elias and Bobby Fong will be on circuit in Georgia on Friday (July 31st) for the opening practice sessions.
After two rounds and four races run so far during lockdown from the Coronavirus COVID-19 pandemic, and run under a closed circuit with no spectators, Fong is currently third in the points and Elias 11th after an unfortunate no-score at the opening round.
The races will be broadcast live on various global TV and internet channels.
To check-out access, visit the Official MotoAmerica website: HERE
August 1-2: Round 3. MotoAmerica AMA Superbikes. Michelin Raceway Road Atlanta Circuit. Georgia. USA.
#SuzukiStaySafe #RidersAtHome #StayAware