Expect Battles Royale In MotoAmerica Season Finale
Drama-Filled Finale Expected For WeatherTech Raceway Laguna Seca

IRVINE, CA (October 22, 2020) – Champions have been crowned in all four of the MotoAmerica support classes as the series rolls into WeatherTech Raceway Laguna Seca for the MotoAmerica GEICO Motorcycle Superbike Speedfest At Monterey, but the racing is far from over. While the champions come to Monterey wanting to end the season on a high, the challengers arrive wanting nothing more than to prevent that as they head into the off-season.
Case in point: The Supersport class. Nobody would like to end their championship season with a win more than Sean Dylan Kelly and Brandon Paasch. HONOS Kawasaki's Richie Escalante wrapped up the Supersport title at Indianapolis Motor Speedway and left the facility with his 12th and 13th wins of a dominant season. Kelly and his M4 ECSTAR Suzuki have been Escalante's biggest challenger this season but by no means are his three wins enough to satisfy him for what will be a long off-season. Ditto for Paasch, who has gone so far as to join Escalante's team for the series finale at Laguna and will race a HONOS Kawasaki. How's that for, if you can't beat 'em, join them?
To add a bit more fuel to the fire, the Celtic HSBK team is bringing in the winningest Supersport rider in the history of the MotoAmerica Series to ride the Yamaha YZF-R6 vacated by Paasch. That rider is none other than two-time MotoAmerica Supersport Champion JD Beach, who arrives in Monterey with 32 Supersport wins to his credit and plenty of pent-up aggression following a rather dismal season of flat track racing.
Understatement of the week: Expect a complete and utter barn burner for the series finale in the Supersport class.
The same can be said for the Twins Cup and Liqui Moly Junior Cup classes with both series being dominated by one rider: Rocco Landers.
In the Twins Cup Series, SportbikeTrackGear.com Roadracingworld.com Suzuki's Landers beat out 1-833-CJKNOWS Accident & Injury Law's Kaleb De Keyrel, reeling the Minnesotan in after getting beaten in three of the first four races. Once he started winning, De Keyrel never countered and Landers ended up winning seven in a row. A year ago, De Keyrel won his first-ever Twins Cup race and that win came at… WeatherTech Raceway Laguna Seca. De Keyrel will roll into Laguna full of confidence from last year's win and hungry to stop the Landers freight train. Again, expect a good battle from this one.
The story in Liqui Moly Junior Cup is eerily similar. BARTCON Racing's Dominic Doyle won the first three races of the season, besting Landers in each of those three in ultra-close finishes. Then Landers turned the tables again and he hasn't been beaten since, with the Norton Motorsports/Ninja400R/Dr. Farr/WonderCBD-backed Oregonian reeling off 13 wins in a row. If you don't think Doyle would like to stop that streak in the series finale, then you haven't been paying attention.
The two Liqui Moly Junior Cup races at Laguna will also determine who finishes second in the championship. Heading into Monterey, Doyle leads that battle over Celtic HSBK Racing's Samuel Lochoff, but the margin is just two points. So that will bring a bit more intrigue to the finale.
The Stock 1000 Championship again proved that it's not how you start but how you finish. Celtic HSBK Ducati's PJ Jacobsen started out like gangbusters and won the first race of the season before a crash in round two at Road America 2 left him injured and out of contention for the rest of the season. At that point, it became a back-and-forth battle between Altus Motorsports' Cameron Petersen and Ride HVMC Racing's Corey Alexander for the next three races. Then it became all Petersen with his six wins in the last seven races earning him the title. The only other rider to win a Stock 1000 race was Travis Wyman Racing's Travis Wyman at Indianapolis Motor Speedway after Petersen was given a time penalty for exceeding track limits. Those two bring a bit of bad blood between them to Laguna, so watch for potential fireworks there as well.
WeatherTech Raceway Laguna Seca Notes…
Twenty-three racers have entered the MotoAmerica Heritage Cup at WeatherTech Raceway Laguna Seca with 21 of the 23 from California. The two non-Californians in the field are from Montana and Wyoming. The oldest bike entered is a 1974 Kawasaki Z1 900.
Bobby Fong beat PJ Jacobsen by 1.6 seconds last year to win the lone Supersport race at WeatherTech Raceway Laguna Seca with Richie Escalante finishing third. The fastest lap of the race was set by Fong with his 1:27.142.
The Twins Cup race last year at Laguna was won by Kaleb De Keyrel by .683 of a second over Michael Barnes with Alex Dumas finishing third.
Rocco Landers beat Dallas Daniels by over nine seconds to win the Liqui Moly Junior Cup race with Kevin Olmedo nipping at Daniels heels in third place last year.
Andrew Lee beat Geoff May to the line by less than a second in the Stock 1000 race in 2019 with Stefano Mesa rounding out the podium in third.
More, from a press release issued by Ducati North America:
Ducati chargers Kyle Wyman and Lorenzo Zanetti ready to close out 2020 in style at Laguna Seca
Sunnyvale, Calif. – The 2020 MotoAmerica Superbike Championship will make its final stop at WeatherTech Raceway Laguna Seca this weekend for the MotoAmerica Superbikes Speedfest at Monterey.
The optimism is high in the Ducati camp following Lorenzo Zanetti's historic victory in race two of the previous round at Indianapolis Motor Speedway. The Italian sensation took full advantage of his Ducati Corse-supplied Panigale V4 R SBK in the vast expanses of The Brickyard, and will be looking to do the same in the very different surroundings of the tight and twisty Laguna Seca venue, nestled in the hill of Salinas, California.
Kyle Wyman will likewise be looking to build on the confidence he took from race three at Indy, where the Arizona resident scorched to his fastest ever lap of the track to take an encouraging fifth place. Wyman will be looking for three good results at Laguna Seca to try at stealing fifth in the championship chase for 2020.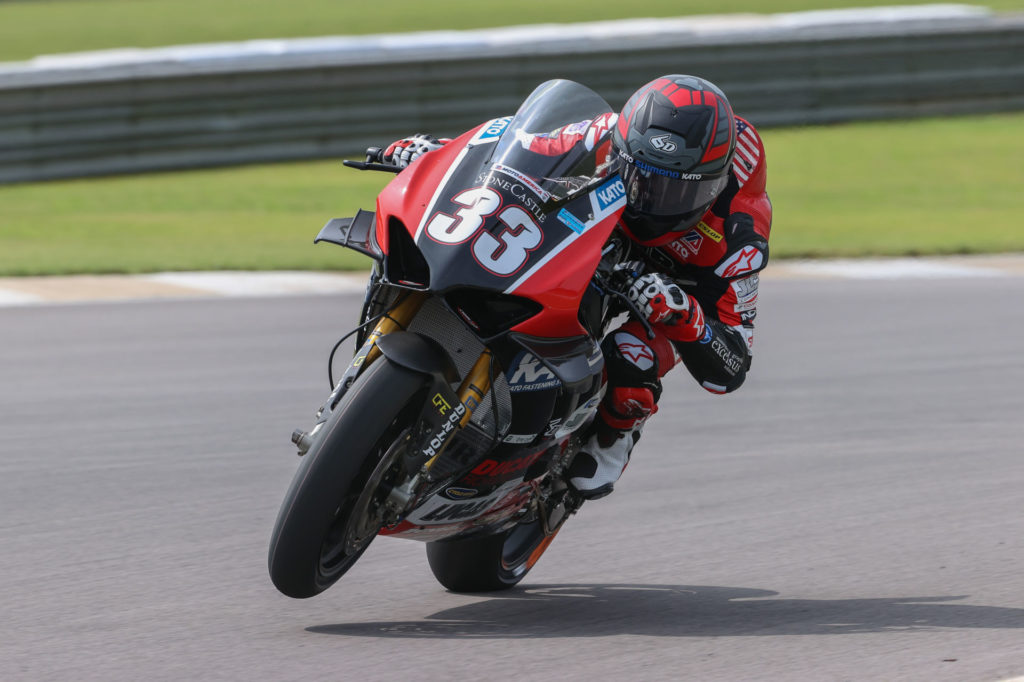 Kyle Wyman (#33 Ducati Richmond/KWR Ducati Team) — Seventh (Superbike)
"We're feeling good," Kyle enthused. "Laguna is another track we have data from so we're not going there blind. I think it should be a good track for our bike. The surface is similar to Indy so where we left off in terms of machine set-up should be close.
"I'm changing the mindset a little for this weekend. We've got three races, anything can happen, and we are 21 points off sealing fifth in the series. I want points in all three races—it's crazy to see how close we are to the top five after a few zeros this year.
"We'll be running our stock motor at Laguna. We ran it at Indy, and it was pretty amazing to see how fast that motor was, especially with the long straights that track has. It's a testament to how good that motor is straight out of the box."
Lorenzo Zanetti (#87 Celtic HSBK Racing Team)
"I've never been to Laguna Seca before, but I managed to get about 20 laps in last week on a Ducati streetbike, so it's better than nothing," Lorenzo laughs. "I've tried to memorize some corners so I am ready to go on Friday. From what I see, Laguna is an old-style track, and I like these kinds of tracks. I'm confident I can understand the track in the first session and then push in the second. Of course, the schedule is different than normal—you need to be fast immediately because you have qualifying on Friday. I will start with a very similar machine set-up to Indy, then we will see how it goes after the first session."
More, from a press release issued by Westby Racing:
Canepa and Wyman Are Ready To Race At WeatherTech Raceway Laguna Seca, A Favorite Circuit For The Westby Racing Teammates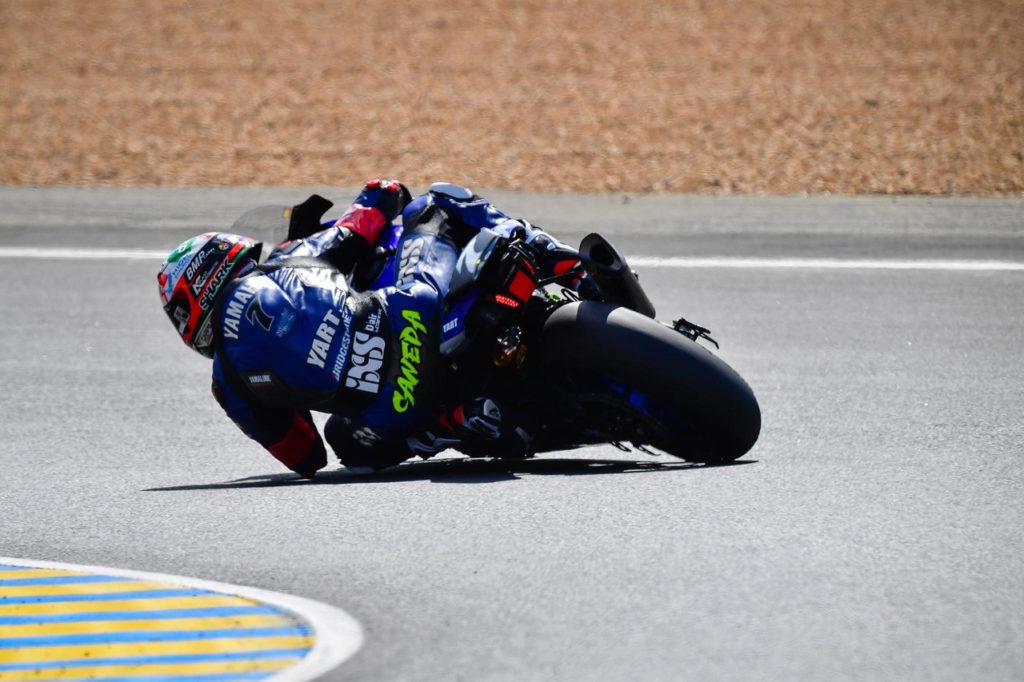 Tulsa, OK – The 2020 MotoAmerica AMA/FIM North American Road Racing Championship concludes this weekend at WeatherTech Raceway Laguna Seca in Monterey, California, and the Westby Racing team is determined to conclude the season on a high note.
Niccolò Canepa, the team's fill-in Superbike rider in place of injured Mathew Scholtz, is ready for his return to WeatherTech Raceway Laguna, which he considers to be one of his favorite racetracks anywhere in the world. With Niccolò's familiarity and love for Laguna Seca, along with his vast experience aboard the Yamaha YZF-R1 both in sprint racing and endurance competition, the team is very much looking forward to the Italian's feedback and input, in order to continue developing the Westby Racing Yamaha R1 Superbike for the upcoming 2021 season.
"I'm excited for the opportunity to ride the Westby Superbike this weekend," the Yamaha World Superbike test rider said. "Laguna Seca is one of my favorite circuits in the world. The layout is unique, and the atmosphere is completely different from the racing in Europe. I came to Laguna with MotoGP and with World Superbike for many years. The last time I was there was in 2016, and I was the fastest Yamaha World Superbike rider across the finish line that weekend. I'm ready to compete aboard the number 59 Westby Racing Yamaha R1 Superbike and am 100% fit for this race weekend!"
Superbike race one is on Saturday at 3 p.m. Pacific, Superbike race two starts on Sunday at 11 a.m. Pacific, and race three is also on Sunday, at 3 p.m. Pacific. All three Superbike races will be broadcast LIVE on FOX Sports 2 (FS2) and Eurosport. In addition, all Superbike qualifying sessions and races will be streamed live and also available on Video On Demand through MotoAmerica Live+.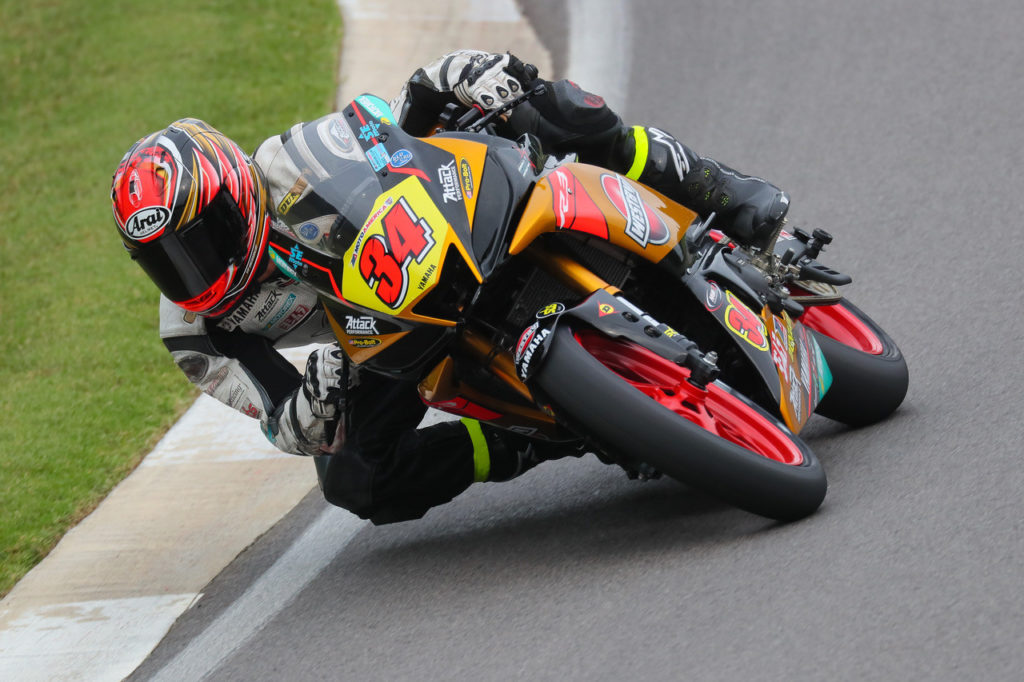 Westby Racing's MotoAmerica Junior Cup rider Cody Wyman is also relishing his return to WeatherTech Raceway Laguna Seca, a track that, like his teammate Niccolò, he counts among his favorites.
"It has a been a long and challenging year, but I'm really excited to get to Laguna Seca," the rider of the number 34 Westby Racing Yamaha YZF-R3 said. "It's such a fast and flowing layout that it should be a lot of fun on the Yamaha R3. I raced at Laguna back in 2015 and had a decent top-ten finish. My goal is to be fighting for a podium spot and stand on the box this weekend. Thank you to my team, sponsors, family, and friends for supporting me and believing in this program. I want nothing more than to finish the year off strong."
Junior Cup race one starts on Saturday at 4:10 p.m. Pacific, and race two is on Sunday at 2:10 p.m. Pacific. Both Junior Cup races will be streamed on MotoAmerica Live+, and they will also be broadcast via tape-delay on FOX Sports 2 (FS2) on Tuesday, October 27th starting at 6 p.m. Pacific.
For more updates about Westby Racing, including news, photos, and videos, follow "Westby Racing" on your favorite social media sites. Also, visit https://www.WestbyRacing.com
More, from a press release issued by Kyle Wyman Racing:
Ducati Richmond/KWR Team ready for MotoAmerica season finale at WeatherTech Raceway Laguna Seca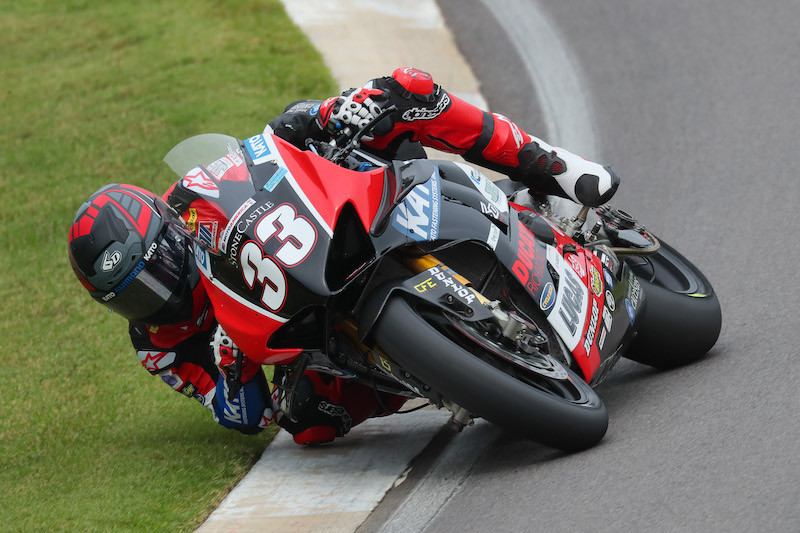 TUCSON, Ariz. (Oct. 22) — The KWR Ducati Team is ready to cap off the 2020 season at WeatherTech Raceway Laguna Seca this weekend for the round 9 and the final MotoAmerica Superbike event of the year. Kyle Wyman will ride the #33 Ducati Richmond/KWR Ducati Panigale V4 R for the triple header Superbike weekend.
Wyman currently sits 7th in series standings with 145 total points scored, and just 21 points out of 5th place with three points-paying Superbike races yet to run in the final round this coming weekend. The KWR team hopes to score valuable points and claw back up to 5th overall on the season. Wyman looks poised to break his personal best season points haul of 157 points that he scored in the 2018 MotoAmerica Superbike Championship, finishing 8th overall.
The Laguna Seca race track should give Wyman a great opportunity to fight again for podium positions, with some data gained from the 2019 event. Wyman was taken out in the first race at Laguna last year however, and scored zero points on the weekend.
"I'm excited to get back to one of my favorite racetracks on the schedule at Laguna Seca," Wyman said. "Last year this was one of our better Friday results, but in race one I was taken out last year and broke my wrist, so we do not have some race-long data to compare to. I feel great after the third race at Indy though and I feel like our bike should work well at Laguna this year. Big thanks to the Ducati Richmond dealership in Canada who supports our team, and can't wait to put on a good show for the fans all over the world who have tuned into MotoAmerica this year."
Action begins at 10:40am PST Friday, October 23rd with a Superbike QP1 session. With one race on Saturday, and two on Sunday, all three races will be shown live on FS2 and the MotoAmerica Live+ streaming service.
Visit www.kylewyman.com for more news and updates.