BOBBY FONG AND ALEX DUMAS WIN FOR TEAM HAMMER IN UTAH
Team Hammer closed out the MotoAmerica weekend at Utah Motorsports Campus with a pair of spectacular victories on Sunday.
After finishing second in MotoAmerica Supersport on Saturday, M4 ECSTAR Suzuki's Bobby Fong came through in a huge way in Sunday's rematch. Again, Fong leapt out to the lead on the opening lap, only to be quickly pushed back into second. From that point forward, Fong hounded his leader, applying extreme pressure and constantly reminding his rival that he was there, showing him a wheel in corner after corner while planning a last-lap, last-corner move.
Even his crew thought Fong was destined to finish second again, because he hadn't told anyone that he had a strategy before the race even started. But when the leader ran another defensive line into the final corner of the race, Fong set him up perfectly, got a great drive out of the corner, swung alongside and powered past on the short run to the finish line to win by 0.003-second.
An excited Fong said, "We have such good acceleration with the Suzuki GSX-R600, I knew if he ran tight in the last corner, I could get a drive on him. I had that in my mind the entire race and was sizing it up. I figured he would run a defensive line on the last lap, and I worked my strategy just right. I'm excited to get the M4 ECSTAR Suzuki on top of the box today. Kudos to my team–we got the 'W' today, and I'm looking forward to my home round at Laguna Seca coming up next."
Young Sean Dylan Kelly appeared destined to make it another Supersport double rostrum result for Team Hammer, on another track he had never seen before the start of practice on Saturday. The teenager got away in third, clung on to the lead duo for several laps, and then ran alone in third for most of the race. Unfortunately, a heat-related issue slowed his bike and forced him to give up a pair of positions on the final lap-and-a-half. Kelly still managed to hold on to collect a top-five result at the stripe.
While Fong left his winning move for the last possible moment, Twins Cup contender Alex Dumas made an immediate bid for victory on his Roadracing World Young Guns Suzuki SV650. After qualifying on pole earlier in the day, Dumas powered off the grid in the lead and never looked back. By the finish of the 13-lap race, Dumas had built an impressive lead of more than 14 seconds on his way to scoring his first Twins Cup victory.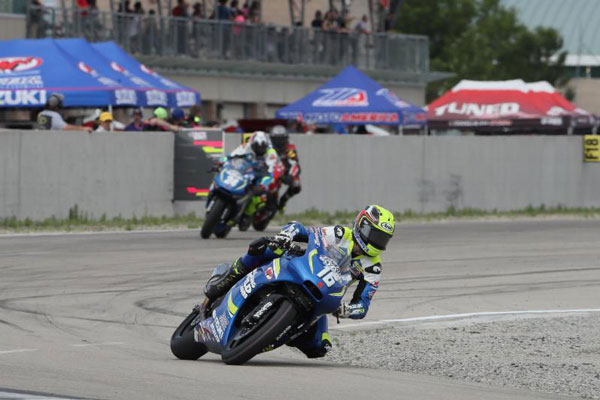 (Above) Alex Dumas (16) leads Autovest Suzuki's Joseph Blasius (24) early in the MotoAmerica Twins Cup Race at Utah Motorsports Campus. Photo by Brian J Nelson.
"I'm really happy how the race went," said Dumas, the 2018 Junior Cup Champion who has moved up into the Twins Cup for 2019. "It's incredible to win a Twins Cup race. We're off to a good start in the season and hopefully the rest of the races go like this."
Autovest Suzuki's Joseph Blasius very nearly gave Team Hammer a double podium Twins Cup result. Blasius qualified third and then ran second early in the race, found himself dropped back to fifth, and then charged back into position to fight for the podium at the flag.
He made a bold attempt at third with just over a lap remaining, but encountered an errant lapped rider and couldn't quite hold the position when he changed his line to make a pass, got on a sealer strip, and lost traction while accelerating, doing well to stay on board but allowing his rival to swoop back ahead. Blasius finished in fourth, less than a second off the podium.
Team M4 ECSTAR Suzuki's Jake Lewis enjoyed another solid outing in Sunday's MotoAmerica Superbike race. Lewis was embroiled in a fight for another top-five result when the race was red-flagged with 10 laps remaining. He got away from the restart in sixth to resume that battle, and maintained to finish sixth.
Team Hammer will next head to Monterey, California, on July 12-14 for the highly-anticipated combined WorldSBK/MotoAmerica Superbike weekend at Laguna Seca.
About Team Hammer
The 2019 season marks Team Hammer's 39th consecutive year of operating as a professional road racing team. Racebikes built and fielded by Team Hammer have won 74 AMA Pro and MotoAmerica National races, have finished on AMA Pro and MotoAmerica National podiums 216 times and have won five AMA Pro National Championships, as well as two FIM South American Championships. The team has also won 135 endurance races overall (including seven 24-hour races) and 13 Overall WERA National Endurance Championships with Suzuki motorcycles, and holds the U.S. record for mileage covered in a 24-hour race. The team also competed in the televised 1990s Formula USA National Championship, famously running "Methanol Monster" GSX-R1100 Superbikes fueled by methanol, and won four F-USA Championships.
More, from a press release issued by Jayson Uribe's publicist:
Jayson Uribe In The MotoAmerica Superbike Mix At Utah – UPDATED
Jayson Uribe made a welcome return to the MotoAmerica Superbike series at the Utah Motorsports Campus this weekend, campaigning the sole Honda in the series and showing from the off that he wasn't back simply to make up the numbers.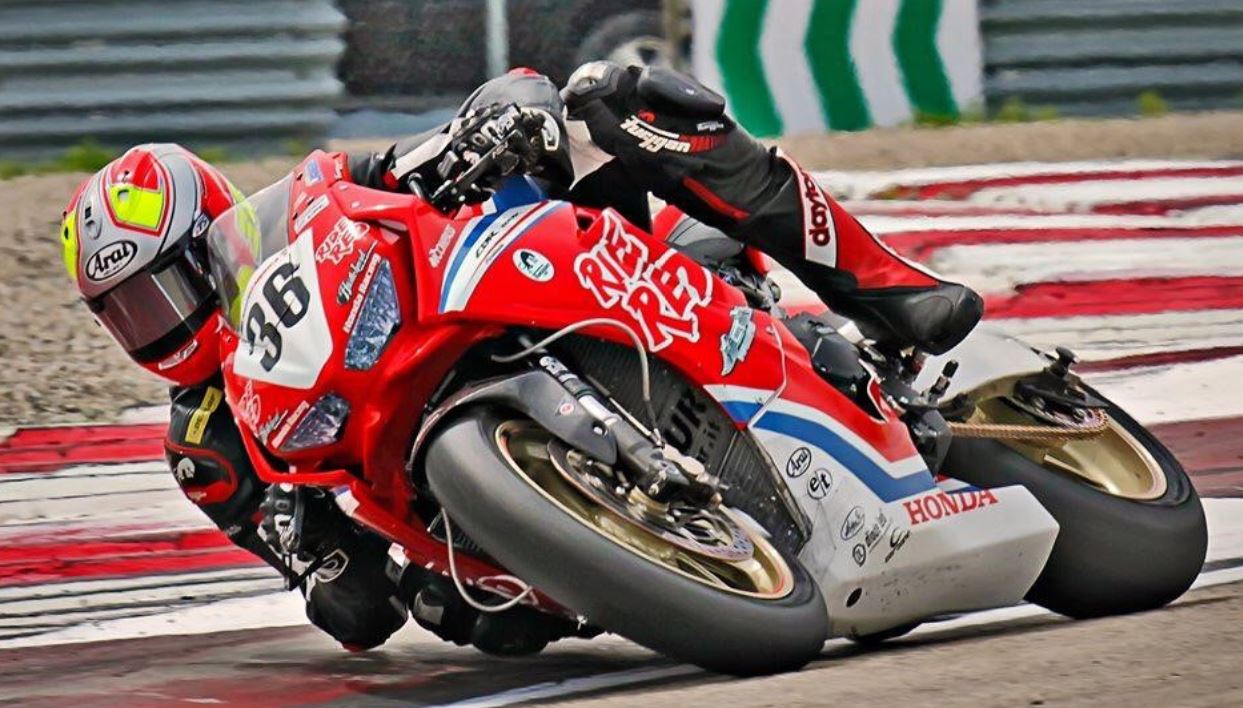 (Above) Jayson Uribe (36). Photo by Steve Midgley.
A new track configuration at UMC, situated close to Salt Lake City, levelled the playing field a little with Uribe qualifying an encouraging tenth position ahead of the opening twenty-three lap encounter.
A fast start followed by an aggressive but fair first few turns soon saw the #36 up into eighth where he sat comfortably on the back of the leading group. After losing touch slightly with the leaders as the race progressed after a small brake issue, Jayson rode smart to ensure he crossed the line eighth at the flag.
Race two saw Uribe end the opening lap in twelfth, the Californian easing himself into the weekend's second twenty-three lap race. Up to ninth after a couple of laps, the race was halted prematurely on lap fourteen after a crash at turn six.
A short stoppage before the grid reformed for a ten-lap re-run allowed which gave the sole Honda on the grid a second bite of the cherry. A better start saw Jayson immediately slot into eighth where he would remain until the flag after a race long duel with former World Superbike top ten finisher Jake Gagne.
Jayson will be back on the grid at WeatherTech Raceway Laguna Seca in a few weeks' time when MotoAmerica runs alongside the FIM Superbike World Championship.
Jayson Uribe: "Had a great debut weekend in the MotoAmerica Superbike championship. We've been preparing for this weekend since early November 2018, and it seems that our hard work has paid off. Being a two-day race event, everything was pretty compact. Not much time to find a decent set up or fix problems. My Honda CBR1000RR ran like a champ, and we only had two minor mechanical issues throughout the weekend. We ran up front for a short period in both races. It was good for me to see where I was stronger, and weaker, than my competitors. Had rear brake problems in both races, but we ended up finishing P8 regardless. Had a killer battle with Jake Gagne – sorry about the extra rubber and red paint on your BMW Jake! – We came in with no expectations, and we're leaving with high hopes of a top 5 in the future rounds. Can't wait to get back out there! Also: I need to thank Danny Walker and Steve Karol for the parts. Without their help, I couldn't build a bike to finish these long races."
More, from a press release issued by Yamaha:
Garrett Gerloff and Cameron Beaubier Make Positive Strides in the MotoAmerica Superbike Championship at Utah Motorsports Campus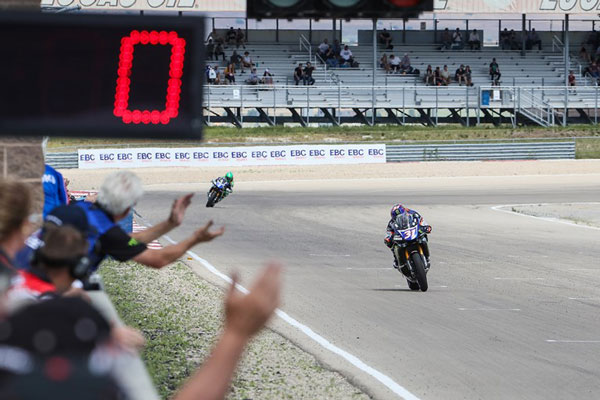 (Above) Garrett Gerloff (31) and Cameron Beaubier (1) at Utah Motorsports Campus.
The weekend at Utah Motorsports Campus always proves interesting with the challenges of high elevation but Garrett Gerloff was able to stand on the podium in both races, while his Monster Energy Yamalube Yamaha Factory Racing teammate Cameron Beaubier took the runner-up spot in race two after finishing off the podium in fourth in race one.
After qualifying on pole, Beaubier took advantage and rocketed out to the lead in race one. He was setting pace for most of the race but fell to second just after halfway. When he wasn't expecting it, the reigning Superbike champ moved back to third and then lost another position when he wasn't able to hold his teammate at bay. Gerloff, who struggled with a technical issue, had found himself as far back as sixth around the midway point of the race before taking advantage of competitors' mistakes and pushing his Monster Energy Yamalube Yamaha Factory Racing YZF-R1 to a podium finish in third by the end of the 23-lap race.
The team put in the work overnight and race two saw Beaubier claim the lead and build a comfortable gap on the competition. Gerloff also looked good and was in a solid podium position when a red flag was called for a downed rider. On the restart, the Californian didn't get the same jump as the first green flag and was shuffled back to second whilst his teammate maintained third. Beaubier did everything he possibly could to make a pass stick and retake the lead he held for much of the race before the restart, but ultimately had to settle for second and take some championship points. Gerloff joined him on the podium in third. Although the red flag was unfortunate, positive ground was made for the team on the weekend and they look to build on that forward progress.
Up next on the schedule for the Monster Energy Yamalube Yamaha Factory Racing team is a joint round with the World Superbike Championship at WeatherTech Raceway Laguna Seca, July 12-14.
Tom Halverson
Monster Energy Yamalube Yamaha Factory Racing Team Manager
"This was a difficult weekend racing a two-day schedule on a track layout that we've never been on. On Saturday, Cameron had some problems but managed a fourth. Garrett put in another really strong ride to finish in third. On Sunday, Cam turned things around and had over a two-second lead before a red flag. After the red flag it was a great fight, but unfortunately Cameron missed the win by just 0.3 seconds with Garrett a really close just 0.5 seconds back. It was disappointing for us not to get the win today, but we were in the fight with both riders. We're looking forward to Laguna and will fight again for the win."
Cameron Beaubier
Monster Energy Yamalube Yamaha Factory Racing
"Saturday's race we were pretty confident going into after leading both practice sessions, but as soon as the lights went out, I had no rear grip compared to practice. I rode as hard as I could, but fourth was the best we could do. Sunday morning's practice went really well and we confirmed it was the tire. I put my head down early in the race and opened up a healthy gap. My R1 was feeling so good. Then the race got red flagged and we restarted with 10 laps to go. It was a battle to the finish and unfortunately we came up short in second. No wins this weekend, but we are gonna keep trucking. My team is great, and I'm happy with my riding. I'm really looking forward to my home race at Laguna."
Garrett Gerloff
Monster Energy Yamalube Yamaha Factory Racing
"It was a good weekend. We had a pretty decent qualifying and two solid races. I had a little technical issue in race one, which kind of cost me in the middle of the race and I dropped back to fifth place, but I was able to work my way back to third. Today I was running in third place, I felt good. Toni and I were doing the same pace, but we were all separated with a pretty good gap to Cam. After the restart everything got a lot tighter and I was able to be there for the last 10 laps of the race. I gave it my all, rode the best that I could, I was just maybe just missing a half a percent. I was able to throw in some shots in the earlier parts, but on the last lap, I was there but had no advantage to be able to try and make a pass. I just kind of had a front row seat to watch those guys duking it out in the last couple of corners.
"I'm glad to have two podiums, my sixth one in a row. I just want to get higher up on that podium. We're making progress and we're doing good work, so I'm excited to go to Laguna and keep moving forward."
More, from a press release issued by Westby Racing:
After Finishing Second in MotoAmerica Superbike Race One At Utah Motorsports Campus, Westby Racing's Fortunes Bite The Dust On Sunday

(Above) Mathew Scholtz (11) trails Garrett Gerloff (31) and Toni Elias (24) into Turn One at the start of Superbike Race Two at UMC. Photo by Brian J. Nelson.
Grantsville, UT – June 17, 2019 – As is sometimes the case in MotoAmerica Superbike racing, the joy that Mathew Scholtz and his Westby Racing team felt after their runner-up result in Saturday's Superbike race one at Utah Motorsports Park was countered by disappointment when Mathew suffered a tipover in Sunday's race two and was unable to restart what ended up as a 10-lap sprint to the checkers.
Mathew got a great start in Sunday's race, was immediately among the lead pack, and looked to heading for a result as good, if not better, than his second-place finish on Saturday. Running in fourth at the time, he unfortunately lost the front end of his #11 Westby Racing Yamaha YZF-R1 Superbike in turn six and took a high-speed tumble into the gravel.
The race was red-flagged, and Mathew hitched a ride back to the pits with Kyle Wyman. Meanwhile, the crash truck brought Mathew's bike back to the garage, and the crew immediately went to work on getting the bike ready for the restart. Unfortunately, it was too damaged to be repaired in time to make the restart, so Mathew and the team had to call it a day.
Westby Racing team manager Chuck Giacchetto summarized the up-and-down weekend by saying, "All told, the weekend was spectacular. The drive out to Utah was drama-free and perfect, very enjoyable ride out. The team worked exceptionally well Friday night till about 9:30 to get everything settled for the weekend. Right out of the box, Mathew was really fast, and a good part of that is due to the setup by the crew, which is led by our technical director Ed Sullivan. First qualifying was very good; we were happy. But, we made a change that really didn't make the bike better for Q2, and Mathew's P4 result wasn't very accurate of his real pace. We think he could have qualified on the front row, at least, if we hadn't made that change.
"Race one was fantastic. Saturday was a glorious race for us. Good feedback and good info to add to the database. The team worked very well together. I don't think anyone should look at Mathew's crash in Sunday's race two as a 'fail." He's disappointed enough in himself. The bike actually did not have a lot of damage to it despite the entire fuel cell coming off. We had a little bit of damage to the wiring harness and that was really the only reason we couldn't continue. We had all the spare parts ready to go, except that the damage to the wiring harness was too much to overcome in the short timeframe before the restart.
"So, now, we're heading to California to do some work out there before heading back home. We'll fly back out to California and possibly get a test in with another team or two before the next round. Again, fantastic job this weekend. I'm really proud of Mathew and our crew."
The Westby Racing team will regroup and get ready for the second half of the 2019 MotoAmerica Superbike Championship, which begins with round six at WeatherTech Raceway Laguna Seca in Monterey, California, on July 12 through 14.
MotoAmerica Superbike Standings
1. Toni Elias – Suzuki – 201
2. Cameron Beaubier – Yamaha – 175
3. Garrett Gerloff – Yamaha – 136
6. Mathew Scholtz – Yamaha – 100
For more updates about Westby Racing, including news, photos, and videos, visit https://www.WestbyRacing.com
Also, follow "Westby Racing" on your favorite social media sites.
More, from a press release issued by Attack Performance/Estenson Racing:
Beach Scores Another Top-Five MotoAmerica Superbike Finish for Attack Performance Estenson Racing Team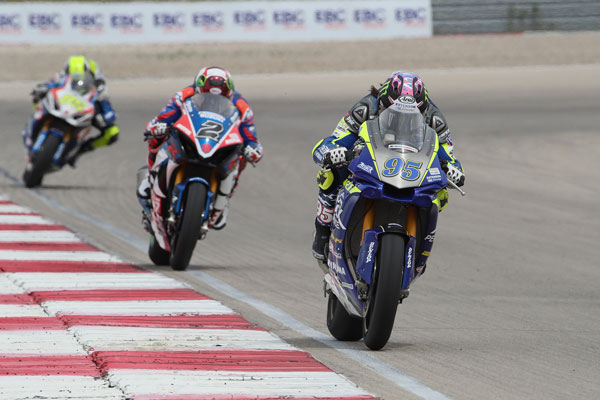 (Above) JD Beach (95). Photo by Brian J. Nelson.
Attack Performance Estenson Racing team's JD Beach took home another top five finish in the MotoAmerica Superbike Championship on Sunday's race two at Utah Motorsport Campus on June 16.
After a rough Saturday in the gravel, the dirt track/road racer went into the second day of the two-format looking for some redemption. Beach got off to a good start but a technical issue prevented him from fighting up front. He got a second chance after the red flag with a 10-lap battle for the finish, but ultimately it was a repeat of the first part of the race and he opted to keep it on two wheels. In the final moments Jake Lewis, challenged for position but he was able to hold off his fellow Kentuckian to finish fifth.
Beach also currently sits fifth in the championship standings as the series hits the halfway mark.
Next up on the calendar is Laguna Seca in Monterey, California on July 12-14, held in conjunction with the World Superbike Championship.
JD Beach — MotoAmerica Superbike #95:
"Race two was good. We finished the race and came home with another top five. We did struggle with the front a little bit and we were getting a lot of chatter. We've been fighting that all weekend. We can't really figure out where that's coming from, so being able to fight back from that and get fifth is a good result for the day. We've got some work to do. We'll go back to the drawing board and see what we can come up with for Laguna."
More, from a press release issued by Yoshimura Suzuki:
Yoshimura Suzuki's Toni Elias Scores Double Victory in Utah
Elias Pushes Series Lead to 26 Points at Mid-Season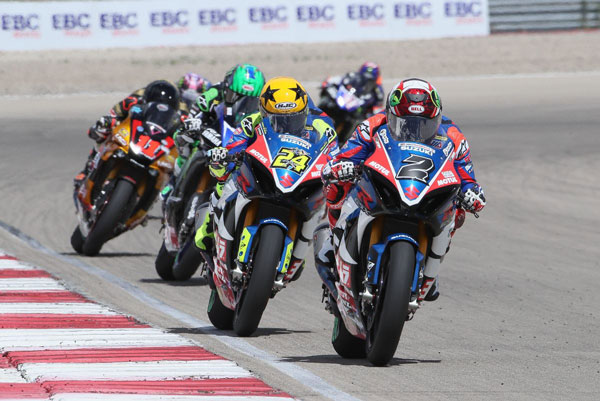 (Above) Josh Herrin (2) and Toni Elias (24) racing at the front in Utah. Photo by Brian J. Nelson.
Grantsville, Utah — It was a big weekend for Yoshimura Suzuki Factory Racing's Toni Elias at Utah Motorsports Campus. Elias won Saturday's race convincingly, but had to fight hard to take a thrilling victory in Sunday's race two. It was a major bounce back for Elias after crashing in race two at Road America a couple of weeks ago and seeing his series lead narrowed to nine points.
At the halfway point in the 2019 season Elias now has a series-leading five wins, and with the Utah sweep pushed his series lead back up to 26 points. Also significant is Elias reached a milestone 30th-career MotoAmerica Superbike victory on Sunday. He moved past former Yoshimura Suzuki racing legend Ben Spies for fifth on the all-time MotoAmerica/AMA Superbike wins list.
Icing on the cake for Elias is that he was able to celebrate the Father's Day victory with his dad on the winner's rostrum.
It was a decent weekend for Yoshimura Suzuki's Josh Herrin as well. Coming off his second win of the season in Wisconsin, at the last round, Herrin scored a sixth on Saturday (hampered by severe back pain) and bounced back to take fourth on Sunday.
Herrin moved from fifth to fourth in the standings.
Saturday's race was an epic battle early, with seven riders in the lead pack. Elias was able to open a gap late in the race and took a 1.969-second margin of victory. On Sunday Elias was helped by a red flag stop of the race. That allowed him a fresh shot at the other riders. On the restart it was a 10-lap sprint on the very tight and technical 2.2-mile UMC East Course, being used for the first time in a MotoAmerica event. It was a thrilling final lap with Elias and Cameron Beaubier swapping the lead. With just a few turns to go, Elias shot up inside exiting the corner, then forged ahead and held on by a scant three-tenths of a second at the checkered flag.
"This was an amazing weekend for us," Elias said. "We found a very good setting to allow me to open a gap in the final laps in Saturday's race. Then today the red flag helped. I had picked a tire that was too hard and I was not comfortable pushing. But then things got much better late in the race. Cameron fought very hard, but I was fortunate to find a way to get back into the lead before the finish.
"Today was a great day to win because it was Father's Day and MotoAmerica allowed my father to come up on the podium and this was very emotional. I dedicate this win to him and to my son."
Herrin had a lower back problem crop up suddenly in Saturday's race after leading several laps
"I was running up front and felt like I could pass whenever I wanted," Herrin explained. "And then I had a problem with my back. It was so bad I had to set up and stretch it out and then nurse it home. In Sunday's race I was nervous about it. In the back of my mind I felt like I had to be careful. I made a mistake in turn six, ran wide and lost the leaders with three laps to go. I'm bummed, but I was able to run up front this weekend, so I'm really looking forward to Laguna."
Yoshimura Suzuki and the MotoAmerica Series visits Monterey Bay next for the combined Superbike World Championship/MotoAmerica weekend at WeatherTech Raceway Laguna Seca on July 12-14, 2019. If you can't make the race in person, MotoAmerica Superbike races can be watched on Fox Sports 2. Check your local listings for times.
More, from a press release issued by Hudson Motorcycles:
Hudson Motorcycles leaves Utah Motorsports Campus MotoAmerica Supersport Round 5 holding onto their 3rd place in the Championship.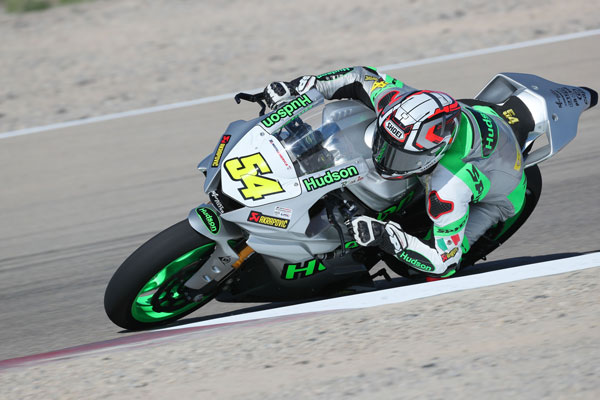 (Above) Richie Escalante (54).
Escalante finished the weekend with one Podium 3rd Place 9finish) on Saturday. After a strong practice and qualifying in P3, he was able to position himself and his Hudson Motorcycles Yamaha R6 into the front row of the starting grid during Race 1. With a great start, Escalante fought his way to the podium, finishing in 3rd. Sunday, Escalante once again started from P3 and positioned himself in 5th, keeping up consistent lap times with the front 4 riders. However, while trying to over-take (another rider) into turn 1, Richie overestimated his breaking point and ran off the track. Quickly recovering he was able to get back on track and finished Race 2 in 6th place.
This weekend brought the team a lot of new information to help steer them into the right direction for the upcoming races and the team couldn't be more pleased with how the weekend turned out. Not only has the team built a strong camaraderie amongst themselves, the rider and crew chief; Curtice Thom, have developed a great communication system between themselves to be able to get the bike to where it needs to be to stay in the front of the pack with the top riders.
Mark Shinder (Team Manager): "I couldn't be more proud of our team and our rider, Richie Escalante. We have really come together as a family and we continue to learn and improve as the season progresses. In the next couple weeks, we plan to regroup, refocus and return to the raceway with our eyes set on a race win."
As always we couldn't do this without our sponsors. Thank you for all your support. Akropovic Exhaust, Bel Ray Lubricants, Vortex EK, Vesrah, Motion Pro, Velocity Tape, Sprint Filter, Dynojet, CoreMotoUSA, Galfer, Shoei Helmets USA, Vesrah and Spidi.
More, from a press release issued by Altus Motorsports:
MotoAmerica: Altus Motorsports Tucker TerpTastick.com VP Lubricants Race Report "A Solid and Successful Weekend" at Utah Motorsports Campus
(Tooele, UT) While Utah Motorsports Campus has been on the MotoAmerica Calendar for many years, 2019 marks the first time the shorter East Course has been used. This layout incorporates the last half of the previous configuration but shortens the front straight and replaces the first half of the track with seven fast, flowing new corners. For many pro racers, this was the first time riding the East Course. This leveled the playing field slightly and made for some exciting racing. For Altus Motorsports Tucker TerpTastick.com Team, the Utah event was the smoothest weekend yet with all of the riders making progress and finishing in the points in every race.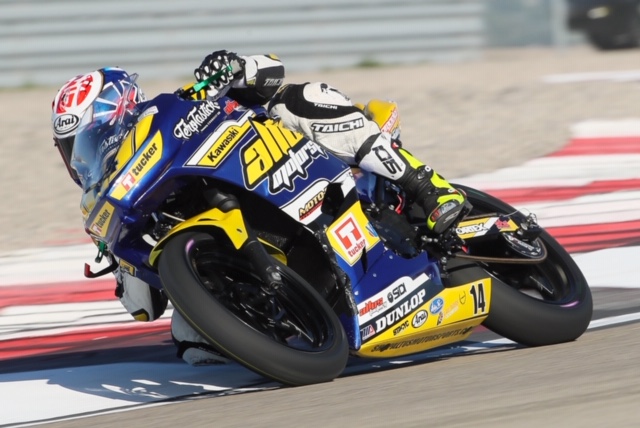 (Above) Kevin Olmedo (14).
Liqui Moly Junior Cup: The MotoAmerica event at Utah is another of the season's 2-day events. The compressed schedule means that there is very little time to get the bike sorted. For the Junior Cup riders, they get just one practice session and one qualifying. Kevin Olmedo learned the new track layout quickly but struggled with front end chatter through practice and qualifying. The issue continued in the first race but Olmedo managed to better his lap time and bring the bike home in third. By warm-up on Sunday, the team had solved the front end issue and Kevin felt great on the bike and was ready to run at the front. A couple of early mistakes created a gap from the battle for first. Kevin pushed to get back in touch but the track was a bit slick and he opted to play it safe and collect the third place points. "My pace on Sunday was good and if I hadn't made a couple of mistakes in the first few laps, I think I would have been in the battle for first," said Olmedo.
Stock 1000: For Miles Thornton, UMC was the best round of the season to date. In spite of overheating during Qualifying 1, his Suzuki GSX-R1000 was solid and the team managed to make progress every session. Starting the race from p6 Thornton got a good launch and jumped up to 5th before being shuffled back to 7th. The new UMC layout has very few places to pass without significant risk. As the race went on, Miles felt better and better. With a couple of laps to go, Thornton made the pass for 6th. On the next lap, with worn tires, Miles dropped his lap time by 1.2 seconds and clocked his second fastest lap of the race. "In hindsight, I wish I had made the pass earlier in the race. The bike felt great and I had amazing pace. I think I could have run down the group ahead of me if I had pulled the trigger sooner. But it's a long season and I didn't want to push my luck," said Thornton. With the bike issues resolved and a good foundation for setup, the team is excited for the rest of the season.
Supersport 600: Lucas Silva came into the Utah round suffering from a knee injury that plagued him all weekend. Despite the pain, Silva managed to qualify 10th. After recovering from a rough start in Race 1, he found himself in a group of three riders vying for 8th place. With all three riders running an almost identical pace, the fast, flowing track didn't allow for many passing opportunities. Rather than force it, Lucas brought his Suzuki GSX-R600 across the line in 10th. Sunday's race start was significantly better but an outside move into turn one didn't work and he was forced to give up the gains he made on his great launch. After battling for part of the race, things settled down and Silva finished in 10th again. With a few weeks off before the next round, Lucas is going to rest the knee so he can come back fully recovered and ready to race.
It seems that every weekend Jaret Nassaney feels stronger and more confident on his GSX-R600. And his results show it. The shortened weekend meant that the team needed to take advantage of every session to make improvements, which they did. From Practice to Qualifying, Jaret dropped more than 2 seconds and moved from p18 to p12. In Race 1, he battled for 12th place most of the race, finally crossing the line in 13th. In Race 2, Jaret found himself again in a multi-bike battle for 12th. Having come out on the wrong side of the fight on Saturday, Nassaney was committed to owning the spot on Sunday. Every time he was passed he tried to quickly retake the position. His tenacity paid off and he held 12th place at the finish.
Team owner George Nassaney was thrilled with how the UMC weekend went: "This was our smoothest event yet. While some of the riders have had better individual results in the past, as a team, this round was our best. We are blessed to have this group of riders, mechanics and staff around us. They truly make these weekends fun and rewarding."
The next round for the MotoAmerica series will be at Laguna Seca and the entire team is excited. All of the riders have previous experience on the track and are looking forward to another successful weekend.
The Altus Motorsports team is supported by our great family of sponsors: Altus Motorsports, Tucker Powersports, TerpTastick.com, Conquest CBD, VP Lubricants, RS Taichi, Arai, Moto D, Bonamici, Hotbodies Racing, SBS Brakes, Vortex, Motion Pro, STACYC, Law Tigers Oklahoma, BrakeTech Rotors, M4 Exhaust , Braking Rotors, Yoshimura R & D, Dunlop, Team Hammer, and Altus Factory Racing.