Gagne Storms to Victory for Road America Sweep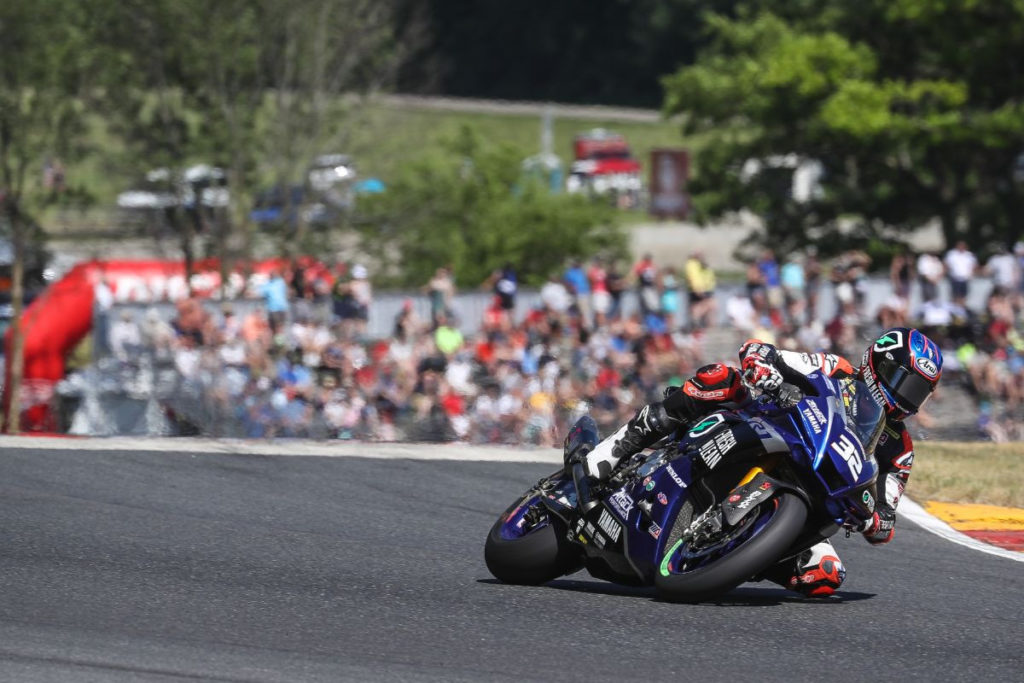 Fresh N' Lean Attack Performance Yamaha Racing's Jake Gagne continues to dominate, breaking another track record en route to victory in today's MotoAmerica Superbike Race 2 at Road America. Teammate Josh Herrin overcame adversity to score his second top-five finish this weekend in Elkhart Lake, Wisconsin.
Once again, Gagne grabbed the holeshot from pole position, but this time around, the competition was hot on his heels and made the pass in Turn 5. The 28-year-old quickly reclaimed the lead and then upped the ante by breaking Cameron Beaubier's track record in a Superbike race, an impressive 2:10.998. From there, Gagne put in some consistently fast times to win his fifth consecutive race by a 6.7-second margin, expanding his lead in the championship to 18 points.
Herrin lined up fifth for today's grid and got a great start from the second row to third. Unfortunately, he got shuffled back to seventh in the opening laps, but the 2013 Superbike Champion kept pushing to fight his way back. He made the pass for fifth going into the first turn on Lap 5, and then advanced to fourth a lap later. The battle heated up with five laps to go, and Herrin was pushed wide in the chicane and shuffled back to sixth. He was able to move back into fifth a lap later, where he ultimately finished.
The Fresh N' Lean Attack Performance Yamaha Racing Team heads to The Ridge Motorsports Park in Shelton, Washington, for Round 4 of the MotoAmerica Superbike Championship on June 25-27.
Richard Stanboli – Fresh N' Lean Attack Performance Yamaha Racing Team Manager
"Road America is a special track, and the fans were awesome! It was another great day for the Yamaha R1. Jake once again was in complete harmony with the machine and led every lap for the win and set another race record. As a matter of fact, the R1 has every track record on our circuit with the exception of Brainerd, where we haven't raced but will be testing there next week. We look forward to the next race at The Ridge where we will see if Josh or Jake can break Cameron's track record from 2020. It should be good fun."
Jake Gagne – Fresh N' Lean Attack Performance Yamaha Racing
"The Fresh N' Lean Attack Yamaha R1 was on rails all weekend! I'm super happy for the team and that we were able to put everything together to have two great wins here at Road America. We'll keep this momentum going and keep working hard for more great weekends like this. It was amazing to see the great fan turn out this weekend as well. I'm looking forward to the next one."
Josh Herrin – Fresh N' Lean Attack Performance Yamaha Racing
"It was a tough weekend, but we still managed to leave with some decent points. We will get back to work and come back swinging at The Ridge."
More, from a press release issued by Westby Racing:
Westby Racing's Mathew Scholtz Notches His Fifth Podium Result In Six Races
Elkhart Lake, WI – After finishing sixth in Saturday's Superbike race at Road America, Westby Racing's Mathew Scholtz bounced back with a podium finish on Sunday. With his third-place finish, Mathew has reached the podium in five out of the six races thus far in the 2021 MotoAmerica Superbike Championship.
Starting on the outside of row two based on his sixth-place finish in Saturday's race, Mathew got off to a good start and quickly went to work moving towards the front. He raced the #11 Westby Racing Yamaha YZF-R1 all the way up to third place by lap three and maintained his podium position all the way to the checkered flag, while also successfully holding off a strong challenge from Bobby Fong on the run up the hill to the finish line.
"We made some pretty huge changes with the traction control just to try to drive out of the corners better," Mathew said. "Yesterday, we could see that the top speed wasn't bad, but it was that third, fourth, fifth gear coming out of the corners where we were losing big time. So, we decided to turn off the traction control, which made it really hard, but it definitely drove better. You could see the lap times were better for the first couple of laps. It worked out perfectly that I got past (Bobby) Fong, (Josh) Herrin, Kyle Wyman, and just rode my own race from there. Then, with maybe four laps to go, something started happening. There was liquid shooting back up at me, and the clutch lever was bouncing backwards and forwards. Everything wasn't really working well, but I managed to hold on. I'm happy to be third and back up here on the podium. Thank you to the Westby team. Everybody has been working hard. We have our work cut out for us to try to catch up to Jake, but we're ready for the challenge."
Westby Racing's Junior Cup rider Jack Roach's weekend could be summed up as a learning experience. After qualifying 7th, but finishing 14th in the race on Saturday, he ran off the track in Sunday's race and ultimately finished 18th.
Next up for Westby Racing is round four of the MotoAmerica Championship, which will take place at Ridge Motorsports Park in Shelton, Washington, on June 25 through 27.
MotoAmerica Superbike Standings
1. Jake Gagne – Yamaha – 125
2. Mathew Scholtz – Yamaha – 107
3. Josh Herrin – Yamaha – 83
MotoAmerica Junior Cup Standings
1. Tyler Scott – KTM – 119
2. Benjamin Gloddy – Kawasaki – 115
3. Cody Wyman – Kawasaki – 95
16. Jack Roach – Yamaha – 13
For more updates about Westby Racing, including news, photos, and videos, visit http://www.WestbyRacing.com
Also, follow "Westby Racing" on your favorite social media sites.
More, from a press release issued by Ducati North America:
Ups and Downs for Ducati Duo in Wisconsin
Sunnyvale, Calif. – Round three of the 2021 MotoAmerica Superbike Championship saw the trials and tribulations of professional motorcycle racing never more evident for Ducati duo Loris Baz and Kyle Wyman.
In a weekend of near perfect racing conditions at the legendary Road America, Baz lit up the scorecard by snatching second place on the line in race one after an epic battle with Suzuki riders Cameron Petersen and Bobby Fong.
The French maestro used all his guile and the speed of the Warhorse HSBK Racing Ducati New York machine to out-drag Petersen to the flag, with Wyman ending race one a solid seventh on the Panera Bread Ducati.
However, as so often goes in motorcycle racing, the Ducati racers were in for a shock in Sunday's race two with Baz enduring a technical issue and Wyman suffering a crash.
2021 MotoAmerica Superbike Standing – Top 5
P1 – Jake Gagne (Yamaha) 125
P2 – Mathew Scholtz (Yamaha) 107
P3 – Josh Herrin (Yamaha) 83
P4 – Cameron Petersen (Suzuki) 82
P5 – Bobby Fong (Suzuki) 72
P7 – Loris Baz (Ducati) 53
P8 – Kyle Wyman (Ducati) 49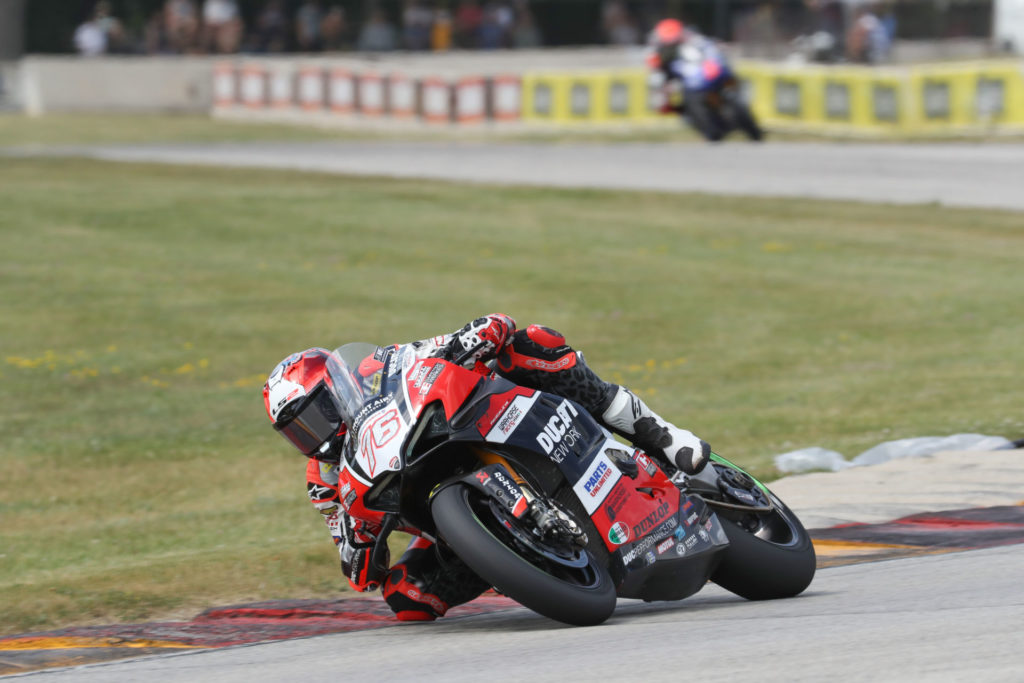 Loris Baz (Warhorse HSBK Racing Ducati New York – Ducati #76)
"It's been a tough weekend," Baz said. "I have a bittersweet taste because we struggled a lot in qualifying, but after qualifying we made some big changes on the bike, so thank you to the crew for that. We found the way and we started race one with a totally different bike—I needed a couple of laps to learn the settings—then I managed to improve my pace to get in front of Bobby (Fong) and Cameron (Petersen) at the end.
"We made another big change this morning and I felt so good for race two. We closed the gap to Jake and I was really starting to think we could fight for the win. In such a small time the team did an amazing job with changing the bike, but straight away in lap one I felt something in the engine, and then in lap three it expired. We'll put our heads down and come back better for the next round."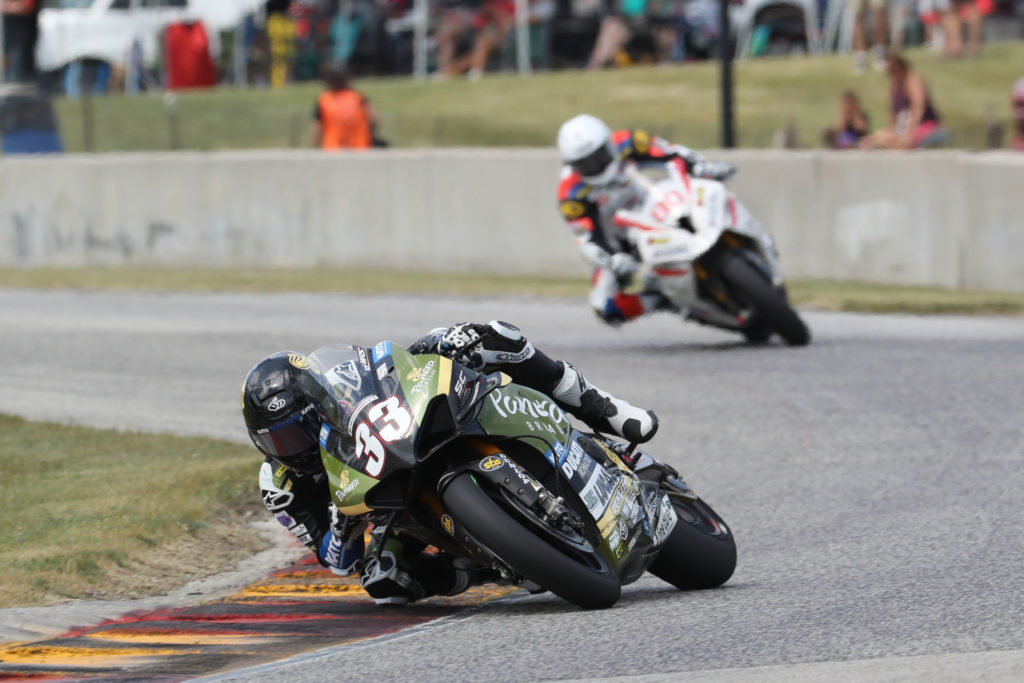 Kyle Wyman (Panera Bread Ducati – Ducati #33)
"I crashed in the middle of race two and broke the radius in my elbow," Wyman said. "I'll have to wait until Tuesday to get surgery. Up until that point I was having a good race but I was having a few issues with the front. These are the highs and lows of racing. It was a little low side crash and I caught my elbow on the inside of the curb and I felt it immediately. We'll come back stronger."
More, from a press release issued by Robem Engineering:
Robem Engineering rider De Keyrel takes victory in Twins Cup race at MotoAmerica Superbikes at Road America
Schultz scores third top-five finish of 2021 MotoAmerica season at June 11-13 event
ELKHART LAKE, Wis. — Kaleb De Keyrel had lots of friends and family cheering him on Friday and Saturday at MotoAmerica's Superbikes at Road America round, and the Minnesotan didn't let his audience down. The Robem Engineering rider piloted his Aprilia RS 660 to a dominant win in Saturday's Twins Cup race, claiming his second victory of the 2021 season.
De Keyrel's teammate, Hayden Schultz, also had a positive weekend. The Arkansas rider scored a fourth place in Saturday's race and held onto seventh place in the Twins Cup standings.
The win allowed De Keyrel — who was the runner-up in the 2020 MotoAmerica Twins Cup — to move up from fourth to first in the class' points standings, and it was his second victory in five races aboard the newly-homologated-for-2021 Aprilia RS 660.
The team's third rider, Toby Khamsouk, did not take part in the Road America round to attend to a personal matter.
Part of the team's success at Road America can be attributed to the test day it conducted after the previous MotoAmerica round at VIRginia International Raceway had concluded. The additional track time allowed the team to gather much-needed data about its trio of Aprilia RS 660s and greatly improve its baseline setups for all three riders.
De Keyrel and Schultz got very little track time on Friday at Road America due to the morning Twins Cup practice session being red-flagged and later canceled because of an on-track incident. De Keyrel finished the session at the top of the time sheets, and Schultz posted the third-fastest time. Later Friday during Qualifying 1, De Keyrel laid down the second-fastest time of the session, and Schultz finished the session seventh-fastest.
De Keyrel's commanding pace was on full display when qualifying wrapped up Saturday morning, as he claimed pole position by a margin of 0.852 seconds. Schultz finished qualifying in sixth place, posting a time of 2:31.583 around the 4.048-mile circuit.
It was De Keyrel's time to shine in the weekend's only Twins Cup race, and he delivered an impressive performance. After getting a good start and claiming the holeshot, De Keyrel gradually built a lead over the pack of riders battling for second place. He led all eight laps of the race, taking the win by a margin of more than 7.9 seconds. Schultz also had a good race on Saturday. After getting shuffled back a couple positions at the start, he worked his way to a fourth-place finish.
The Robem Engineering team will be back in action at Round 4 of the 2021 MotoAmerica season, which takes place June 25-27 at The Ridge Motorsports Park in Shelton, Wash.
Kaleb De Keyrel / No. 51
"We only got two laps in during Friday practice, but I felt comfortable right from the start aboard my Aprilia. It felt great being able to go out and put down quick laps right away. We made some changes to our setup from what we used at VIR, and we learned a lot about what I needed out of the bike during Qualifying 1. That helped me feel comfortable to push the bike more at the start of Qualifying 2 on Saturday, and we were able to go quite a bit faster than everyone else. Drafting is a huge factor here at Road America with its long straightaways. I knew I was going to have to put my head down from the start and try to break the draft. I was able to do that pretty quickly and was able to focus on just being smooth and smart with the lead I had. The Aprilia RS 660 handled like a dream: it was easily the most comfortable I've felt on the bike. I'm extremely excited to be leading the championship now and am looking forward to bringing this momentum to Washington."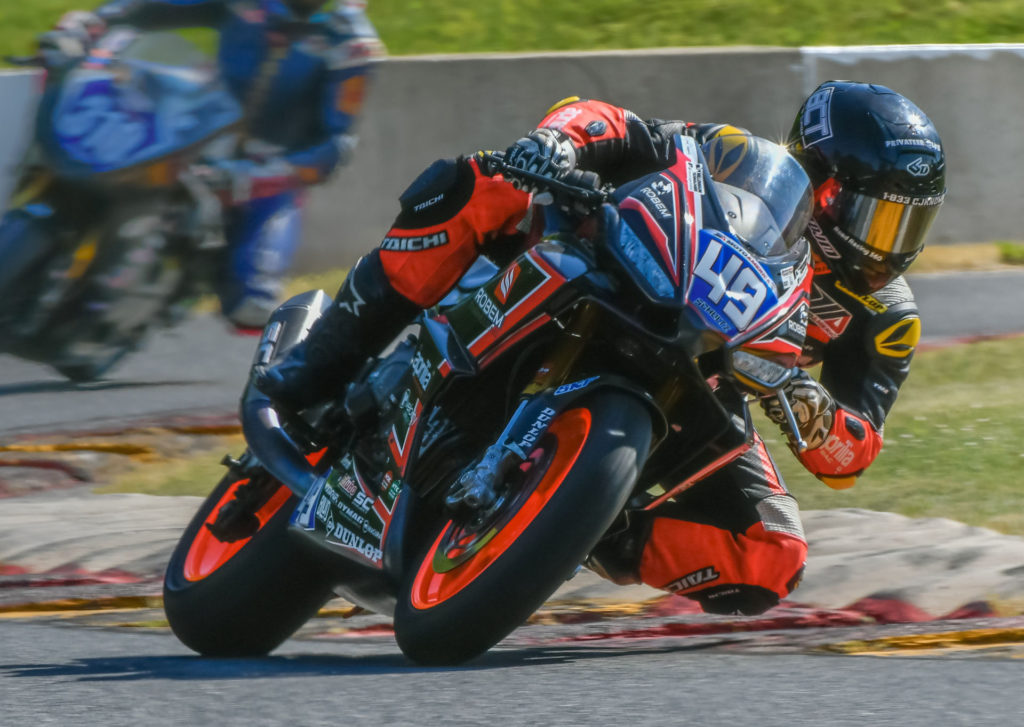 Hayden Schultz / No. 49
"I was happy to come away from the Road America round with good points, although the result isn't exactly what I was hoping for this weekend. I worked incredibly hard to try to get to the front, but with limited track time – due to the length of the track and losing most of the first practice session – I struggled to give the team the feedback it needed to find an ideal setup. I unfortunately wasn't able to run up front with my teammate in the race, but we're going to carry what we learned here at Road America into the next round. We'll have time to test the bike at the Ridge to improve our setup and, hopefully, we'll be able to join Kaleb on the podium at The Ridge."
Robem Engineering's technical partners for 2021 include The Center for Plastic Surgery, Velocity Calibrations, Bitubo Suspension, Dunlop, Woodcraft Technologies, Dymag, Vesrah, DNA Filters, Magura USA, Sara Chappell Photos, NGK/NTK, Blud Lubricants, Millennium Technologies and SC-Project.
More, from a press release issued by Aprilia:
APRILIA RS 660 CONTINUES TO WIN IN MOTOAMERICA
AT ROAD AMERICA POLE POSITION AND SOLO VICTORY FOR KALEB DE KEYREL, NOW LEADER OF THE TWINS CUP CHAMPIONSHIP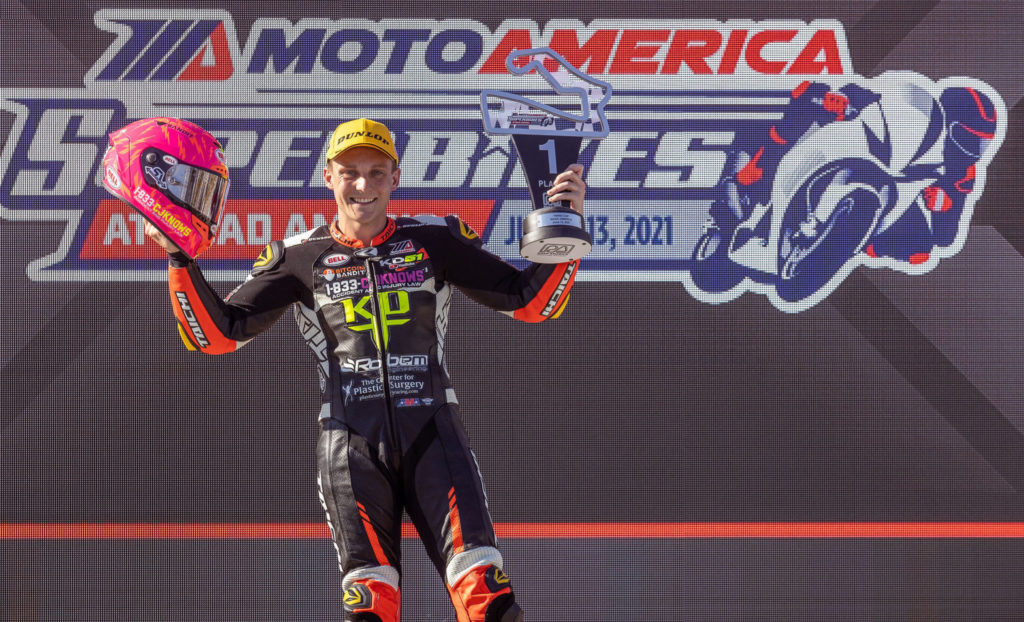 The Aprilia RS 660 continues to win and amaze in the hard-fought Twins category of the US MotoAmerica championship: already the protagonist at the beginning of May of a sensational debut in the inaugural race in Atlanta, with three Italian bikes in the first three positions, this weekend the brand new mid-range sports bike from Noale scored another success on the demanding Road America circuit at Elkhart Lake in Wisconsin.
A confirmation of the dynamic and engine qualities of the RS 660, homologated just before the start of the championship and now already among the favorites for the final victory of the prestigious US series for twin-cylinder bikes.
Kaleb De Keyrel, riding his RS 660 prepared by the Robem Engineering team, was the author of a weekend of dominance, he first obtained the pole position with a margin of over 8 tenths of a second place, then in the race he kept an unapproachable pace for his opponents, crossing the finish line with almost 8″ of gap on Jackson Blackmon (Yamaha).
Thanks to this success, his second of the season, De Keyrel has also taken the lead in the overall standings with 76 points, 10 more than his closest rival, Chris Parrish (Suzuki).
"I felt comfortable right from the start with my Aprilia. It felt great being able to go out and put down quick laps right away, that helped me feel comfortable to push the bike more at the start of Qualifying 2 on Saturday, and we were able to go quite a bit faster than everyone else. Drafting is a huge factor here at Road America with its long straightaways. I knew I was going to have to put my head down from the start and try to break the draft. I was able to do that pretty quickly and was able to focus on just being smooth and smart with the lead I had. The Aprilia RS 660 handled like a dream: it was easily the most comfortable I've felt on the bike."
Aprilia RS 660, launched last October, is revolutionizing the concept of sportiness, it is so light and effective between the curves that, although designed to be used daily on the road, it is capable of transforming itself with a few changes into an extremely fast and fun bike between the curbs. The dynamic qualities, the rigour of the frame, the reduced weight and the exciting performance of the new 100 HP twin-cylinder engine enhance the driving pleasure of a motorcycle that, after being one of the most eagerly awaited novelties, has proved to be fun and enjoyable, able to give emotions in every situation of use.
More, from a press release issued by Harley-Davidson:
FACTORY H-D RIDERS KYLE AND TRAVIS WYMAN FINISH 1-2 AT ROAD AMERICA
Harley-Davidson Racers Sweep Podium Spots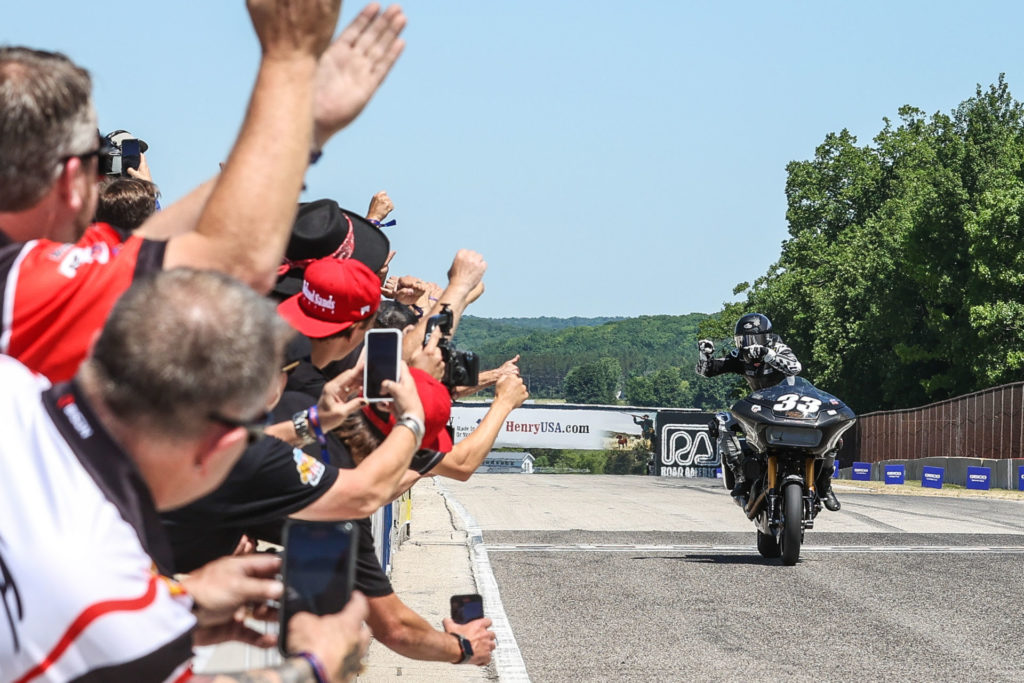 MILWAUKEE (June 14, 2021) – The Harley-Davidson® Screamin' Eagle® factory racing team put a dominating stamp on the second round of the MotoAmerica King of the Baggers road racing series at its home track of Road America, in Elkhart Lake, Wis. Kyle Wyman, aboard the #33 factory-prepared Harley-Davidson Road Glide® Special powered by a modified Screamin' Eagle® Milwaukee-Eight 131 Performance Crate Engine, set pole position, posted the quickest lap of the race, led every lap, and took the win by more than 15 seconds. His new teammate and brother Travis Wyman finished second in his debut on his #10 factory prepped Harley-Davidson Road Glide Special. Hayden Gillim took third and completed the podium sweep for H-D racers aboard his #79 Vance & Hines Harley-Davidson Street Glide.
With the win, Kyle Wyman takes a commanding 16-point lead over Gillim in the MotoAmerica King of the Baggers series heading into the final round at Laguna Seca. Indian motorcycle racers Frankie Garcia and Tyler O'Hara sit in third and fourth, while Travis Wyman is fifth in points.
"It's pretty amazing, getting a chance to ride for the factory, is something that's a dream come true," said Kyle Wyman. "Now to win for the factory is incredible. I can't thank Harley-Davidson enough and really all the individuals on the team because these guys are so passionate. They deserve this win so much. These guys put in so much work. It just feels amazing. One-two for the Wyman brothers, one-two for Harley-Davidson, it couldn't be any better."
"When I found out that my brother got this deal with Harley-Davidson, I was pretty excited for him but also jealous," said Travis Wyman. "I actually made a joke to him that if they ever want a second rider to hit me up. And then within a month of having this program he asked me if I wanted to join the team. Through testing Kyle was quicker than me, but I knew that if we got the right set up, I would have a shot at the podium, and that was my goal for the weekend. Each time I got on the bike I felt more comfortable. With Kyle finishing first and me finishing second, it's an accelerated dream come true for both of us."
Kyle and Travis Wyman are the sons of Kim Wyman, owner of Harv's Harley-Davidson in Macedon, N.Y., and grew up around Harley-Davidson and flat track racing.
"All of us at Harley-Davidson are very proud of Kyle and Travis, and the dedicated team of Harley-Davidson engineers who developed this program entirely in-house in addition to their everyday assignments," said Jochen Zeitz, chairman, president, and CEO Harley-Davidson.
The MotoAmerica King of the Baggers series is for race-prepared, American V-Twin touring motorcycles equipped with a fairing and saddlebags. Harley-Davidson is offering a nearly $30,000 cash contingency program for qualified Harley-Davidson® competing racers. The final round of the King of the Baggers series is July 9-11 at WeatherTech Raceway Laguna Seca, Calif.
MotoAmerica King of the Baggers Race Results Road America:
Kyle Wyman (Screamin' Eagle Harley-Davidson)
Travis Wyman (Screamin' Eagle Harley-Davidson)
Hayden Gillim (Vance & Hines Harley-Davidson)
Danny Eslick (Rossmeyer Daytona Racing Harley-Davidson)
Frankie Garcia (RSD Indian)
Zack Nation (Zack Nation Racing Harley-Davidson)
John Sueberling (Mad Monkey Motorsports Harley-Davidson)
Eric Stahl (Jiffy Tune Racing Harley-Davidson)
MotoAmerica King of the Baggers Series Points:
Kyle Wyman 45 (Screamin' Eagle Harley-Davidson)
Hayden Gillim 29 (Vance & Hines Harley-Davidson)
Frankie Garcia 27 (RSD Indian)
Tyler O'Hara 25 (S&S Indian)
Travis Wyman 20 (Screamin' Eagle Harley-Davidson)
John Sueberling 19 (Mad Monkey Motorsports Harley-Davidson)
Eric Stahl 19 (Jiffy Tune Racing Harley-Davidson)
Danny Eslick 13 (Rossmeyer Daytona Racing Harley-Davidson)
Zack Nation 10 (Zack Nation Racing Harley-Davidson)