Westby Racing's Mathew Scholtz Finishes Just Off The Podium On Sunday At Ridge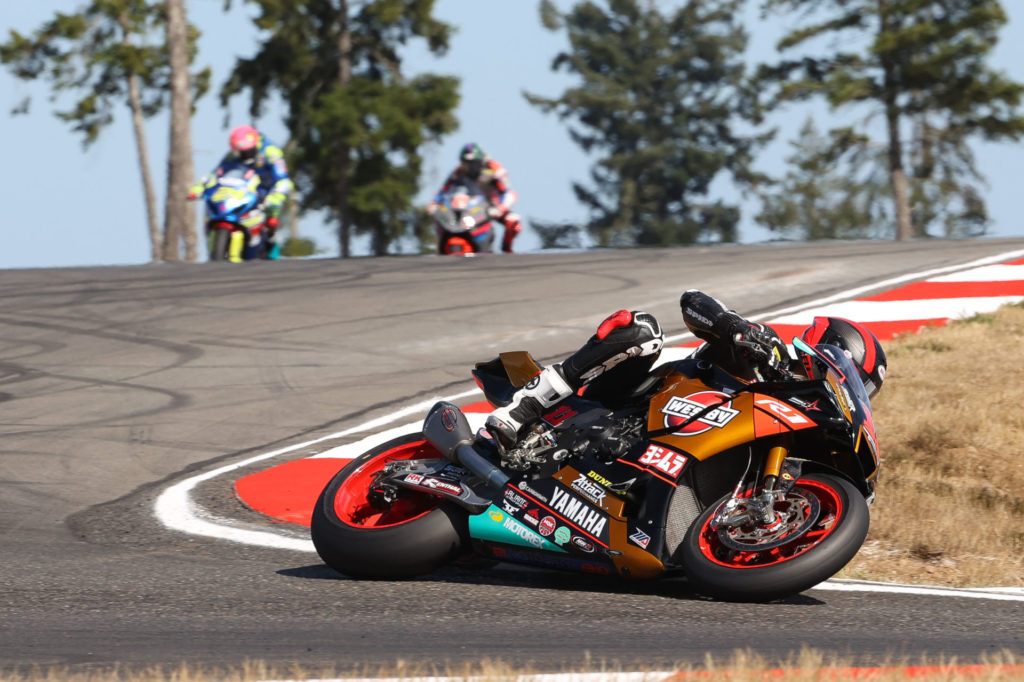 Shelton, WA – After finishing second in Superbike race one at Ridge Motorsports Park in Shelton, Washington, on Saturday, Westby Racing's Superbike rider Mathew Scholtz raced his #11 Yamaha YZF-R1 to a fourth-place finish on Sunday.
Starting in fourth position on the inside of the second row of the grid, Mathew got a good jump off the line and held on to fourth tenaciously throughout the 17-lap weekend-concluding race. He got within striking distance of overtaking third-place Bobby Fong a few times during the race, but Mathew couldn't quite make the move around him. Bobby did a good job defending his position, and it was clear that he wasn't going to let Mathew surprise him with an overtaking maneuver like he did in Saturday's race.
As hard as Mathew tried to keep his five-race podium-finishing streak alive, he ultimately crossed the finish line in fourth to record his ninth top-five finish out of ten races thus far in the season.
"All in all, it was a successful weekend for the Westby Racing Team and me, especially at this new track and in a part of the U.S. that I've never visited, but I definitely look forward to coming back to," Mathew said. "We got up to speed very quickly this weekend, and the guys had the bike working perfectly on what is a very technical and challenging race course.
"The track has a lot of grip, and choosing the right compound of front and rear tires is critical because tire wear is definitely an issue. The weather was absolutely perfect the whole time we were here, and it's a shame that we couldn't have had spectators because it was a good show from start to finish. I hope all the fans got to see us race on TV or on MotoAmerica Live+.
"Also, I hope that we'll be back here again next year, and that we'll have the fans here with us to enjoy the circuit and cheer us on. For now, we'll travel back to the East Coast, take a little break, and get ready to race again in about a week-and-a-half."
Next up for Westby Racing is round six of the MotoAmerica Championship, which will take place at the New Jersey Motorsports Park in Millville, New Jersey, on September 11 through 13.
MotoAmerica Superbike Standings
1. Cameron Beaubier – Yamaha – 225
2. Jake Gagne – Yamaha – 171
3. Mathew Scholtz – Yamaha – 149
For more updates about Westby Racing, including news, photos, and videos, visit http://www.WestbyRacing.com
Also, follow "Westby Racing" on your favorite social media sites.
More, from a press release issued by Yamaha:
Beaubier and Gagne Storm to Double Podium in Race Two at The Ridge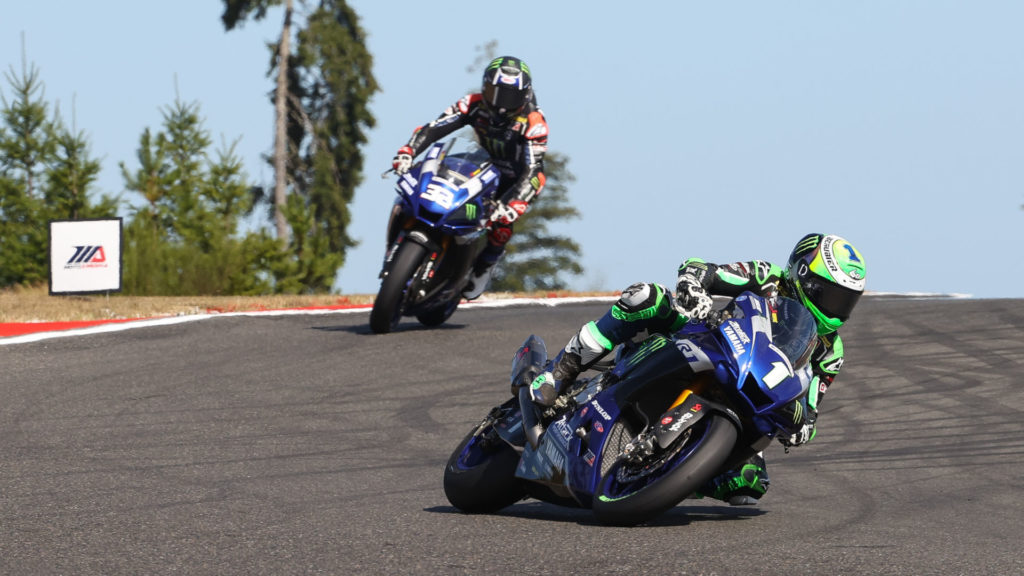 Monster Energy Attack Performance Yamaha Racing's Cameron Beaubier and Jake Gagne took a dominant 1-2 finish in Sunday's race two of the fifth MotoAmerica round at The Ridge in Shelton, Washington.
Starting in their Saturday qualifying slots of pole position and second, respectively, Gagne and Beaubier both made good launches off the line. Race one winner Beaubier just took the lead into Turn 1, building a gap immediately and leading Gagne by over three seconds on the seventh lap. In full control of the race, Beaubier was consistently throwing down some fast times and took home another commanding victory, his ninth of 2020, and a career-best record for the most wins in a season.
Behind his teammate, Gagne lapped solidly in second place, maintaining his gap to the chasing pack. In the final laps, the Californian had a rider in hot pursuit, but he held off the challenge to return to the podium, his eighth of the season.
The double podium on Sunday gives the Monster Energy Attack Performance Yamaha team an excellent lead at the top of the standings, with reigning champion Beaubier and Gagne in commanding first and second positions in the championship. The team will be back in action at the New Jersey Motorsports Park, in Millville, New Jersey, September 11-13.
Richard Stanboli – Monster Energy Attack Performance Yamaha Racing Team Manager
"We had a great result today. Cameron and Jake in conjunction with our 2020 Yamaha R1s continue to set the standard. Not only did we finish 1-2 but we also made some important improvements that we will take to our next event. We look forward to racing at New Jersey and Barber Motorsports Park the following weekend."
Cameron Beaubier – Monster Energy Attack Performance Yamaha Racing
"Everything's going so good right now. I'm really comfortable on my R1. The whole team's working really hard and I've got a great teammate (Jake Gagne). So it's great to be able to go 1-2 for the team and show them that the hard work is paying off. I couldn't have asked for a better weekend. Sunny and 75 degrees and two wins. I really enjoyed this track and look forward to coming back here in the future."
Jake Gagne – Monster Energy Attack Performance Yamaha Racing
"We got off to a good start behind Cam and my bike was feeling good today, but he had a great pace out front and we just couldn't quite hang with him. After a few changes yesterday we were able to improve in some areas but also struggled in some other areas. I'm really happy with the progress that we've made over the weekend and the team has been awesome. I can't wait to get to New Jersey!"
More, from a press release issued by Ducati:
Kyle Wyman struggles at The Ridge as Zanetti makes a strong MotoAmerica impression
Sunnyvale, Calif. – Kyle Wyman (OneCure/KWR Ducati Team) suffered a tough race weekend at round five of the MotoAmerica Superbike Championship at The Ridge Motorsports Park in Shelton, Washington, as Yamaha's Cameron Beaubier took both race wins.
The lead Ducati protagonist in the MotoAmerica Superbike series suffered a high-speed crash during Thursday's pre-race test session, the rebuilding process ensuring Wyman didn't get any track time on Friday and missed Superpole.
That meant he was last on the grid for both Superbike races, and a massive turn one pile-up saw not just Wyman but a number of riders hit the deck, the crash wrecking his newly rebuilt Ducati Panigale V4 R.
As a result of the two crashes and the critical shortage of parts, Wyman and the OneCure/KWR Ducati Team decided to pull out of race two and focus on rebuilding ahead of the New Jersey Motorsports Park round in two weeks' time.
Down pit lane in the Celtic HSBK Racing Ducati team, MotoAmerica debutant Lorenzo Zanetti made a good impression as he took the Panigale V4 R to sixth in Superpole, followed by a seventh in race one. He was running inside the top seven again in race two but was forced to retire with a mechanical issue.
The Italian former WorldSSP racer and current Ducati Corse test rider proved the competitiveness of the Panigale V4 R in largely stock racing trim and is hopeful of a series return before the 2020 season is out.
MotoAmerica Superbike Standings — Top 5
P1 — Cameron Beaubier (Yamaha) 225
P2 — Jake Gagne (Yamaha) 171
P3 — Mathew Scholtz (Yamaha) 148
P4 — Bobby Fong (Suzuki) 114
P5 — Josh Herrin (BMW) 98
P6 — Kyle Wyman (Ducati) 89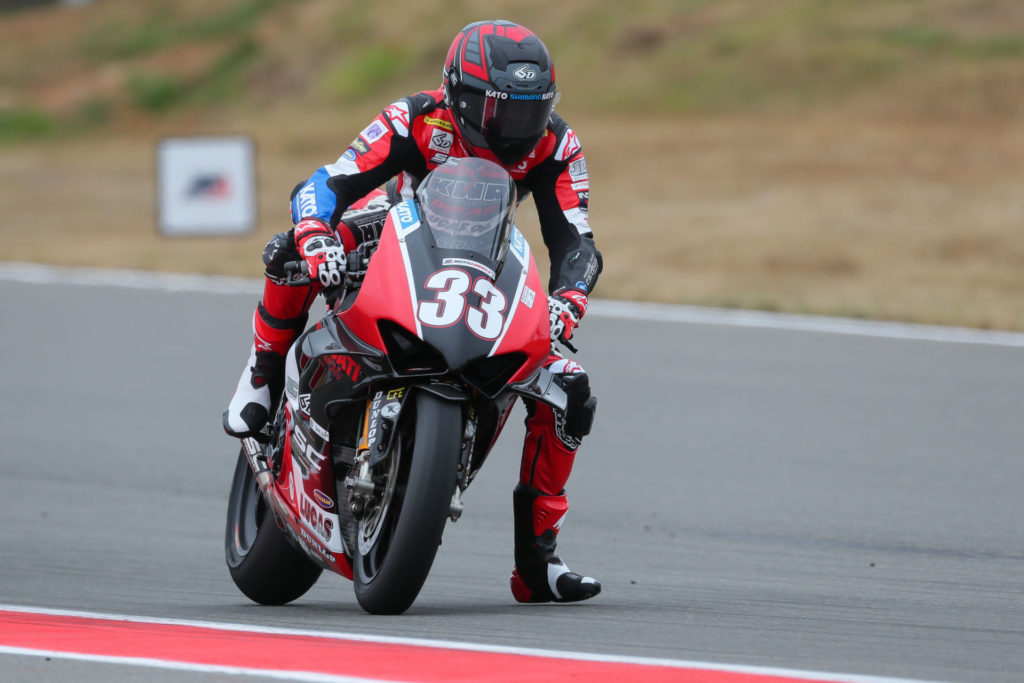 Kyle Wyman (OneCure/KWR Ducati Team — Ducati #33)
"I was too far back to see it happening," Wyman said of the race one crash, "and by the time I realized people were scattering I had my front wheel taken out. I got run over, pushed around, it was a mess down there.
"We decided on Saturday night to pull the pin on racing today," Wyman continued. "We've got to make sure we're OK for the rest of the year, so we have to put ourselves in a position that we make the most of what's left. Gridding up in last and maybe fighting for a few points, I don't think, is worth the risk of being taken out again. We're going to gather it up, and put together a plan for the rest of the year because the rounds are stacked up on top of each other so we have to be ready."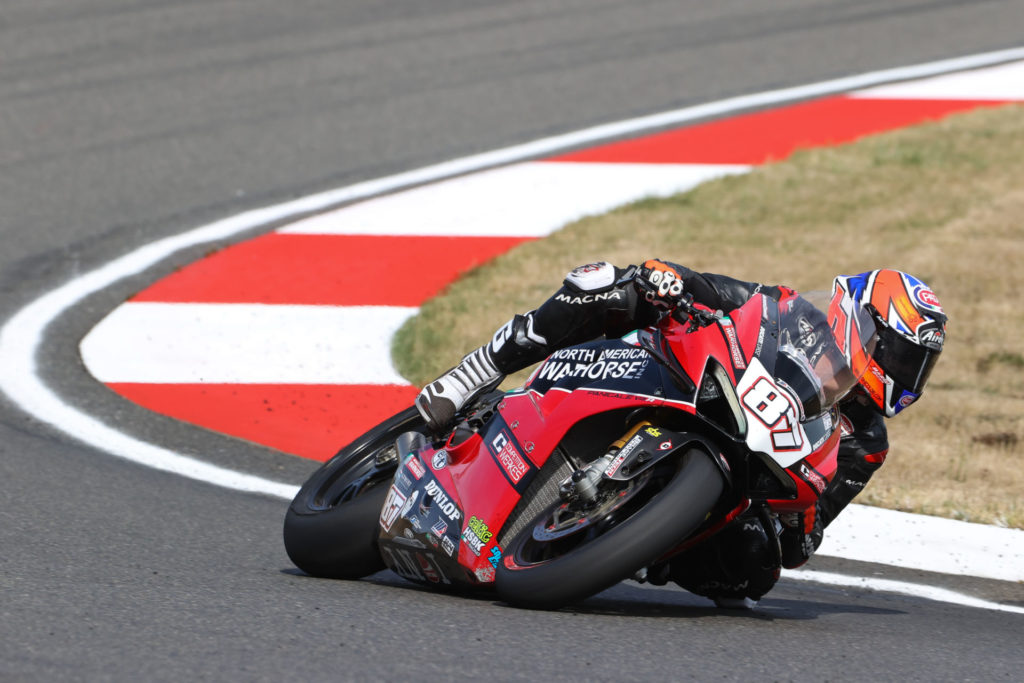 Lorenzo Zanetti (Celtic HSBK Racing Ducati — #87 Ducati)
"We lost a lot of oil from the bike," Zanetti said after recording a DNF in race two. "I'm lucky, because from the beginning (of the race) I had a bit of problem with the temperature, maybe a small engine problem. We're not sure if it was a problem from yesterday in the race. But I continued in race one, where we got seventh, and first of the Stock 1000 guys.
"My first MotoAmerica experience was not too bad," Zanetti continued. "I like the championship, it has quite a good atmosphere, and this is nice. The championship has good potential. Also, the team wants to make some more improvements, but they know what we need if we are to compete for the win."
More, from a press release issued by Bradley Ward Racing:
Fifth Top 10 of the season for Bradley Ward who rips it at Ridge Motorsports Park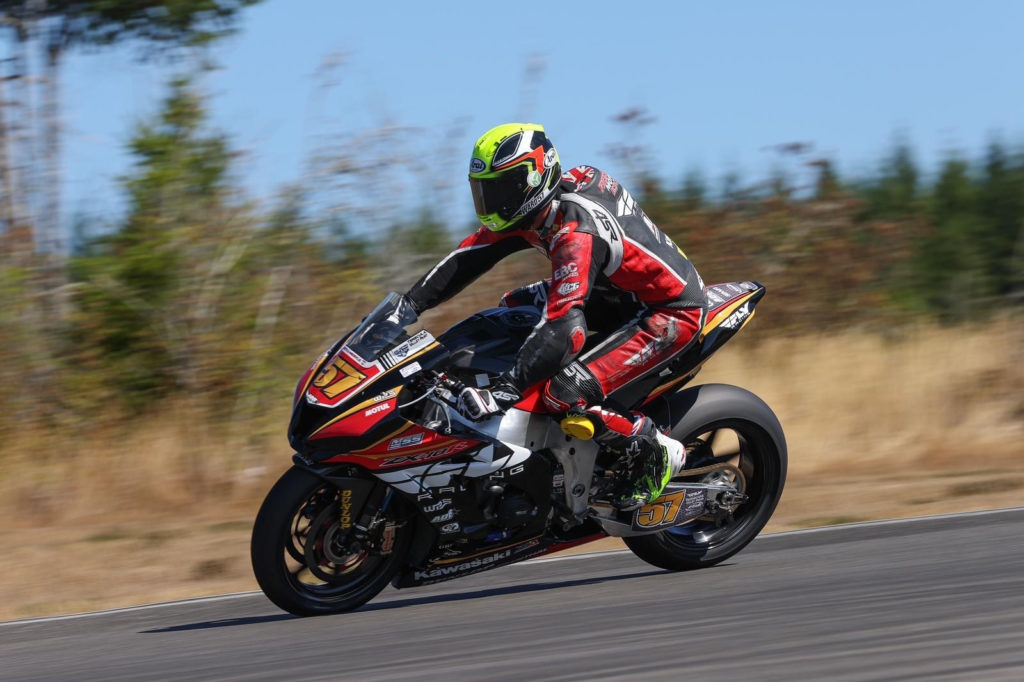 Bradley Ward was back in the top ten twice as the 2020 MotoAmerica Superbike Championship debuted at the Ridge Motorsports Park in the Pacific North West, albeit behind closed doors (with no fans).
The lack of support track side didn't slow the British rider down, and despite a small spill in Practice on Friday the #57 FLY Racing ADR Motorsports Kawasaki rider lined up thirteenth and twelfth on the grid for the two races at the technically demanding 2.5 mile circuit.
A red flag on lap one of the opening encounter saw a reduction in laps (17 to 13), with Ward coming home tenth, a couple of seconds from the top eight! Sunday's second race once again saw Ward in the mix. He eventually crossed the line ninth, securing his fifth top ten finish of his 'rookie' Superbike season!
Bradley Ward: "I didn't make Superpole so started Race 1 from the fifth row. I was a lot more comfortable with the bike after we made some changes in Warm-Up and was able to make a good start – I think I was eighth. There was a big pile up and the race was red flagged. I made another solid start in the restart and was sixth or seventh into the first few corners. On the third or fourth lap I caught my knee at Turn 6, which is a long sweeping left hander. I ripped my knee slider off, so from then on it was pretty difficult as I rely on my slider quite a lot for feeling. I was lapping consistently but I do believe that I would have been able to run a faster pace had it not been for the earlier incident. Sunday I was moved up to twelfth on the grid. I was on the outside but made a good start. I was seventh and then got hit, so I have a nice tyre mark on my leathers – there was definitely a bit of rubbing at Turn 1. Uribe (Jayson) passed me and I didn't have the pace to run with him. My pace was similar to Saturday, but I was unable to get into the '43s. In the end it was another top ten, more points and I kept it upright. There was a lot of carnage, so we have to be happy that we were able to go to a new track, learn it and come away with two good results."
For more information go to bradleywardracing.com
More, from a press release issued by Jason Aguilar Racing:
Crash on Friday, Podium on Sunday – Aguilar rebounds at Ridge Motorsports Park
Jason Aguilar has taken his second career MotoAmerica Supersport podium!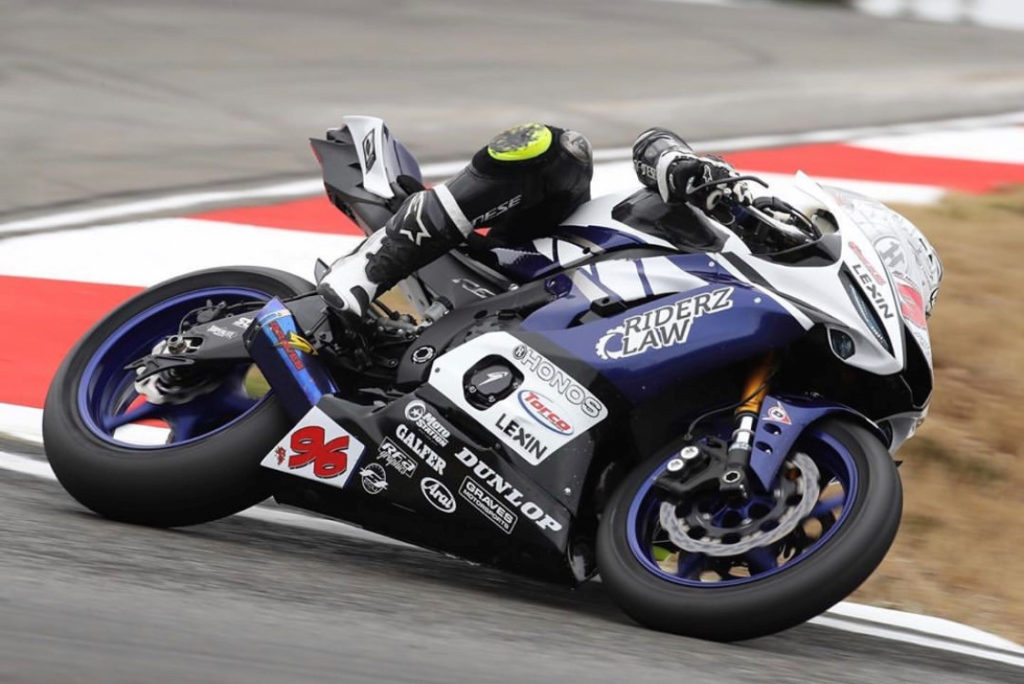 A monster crash in first qualifying at The Ridge Motorsports Park may have put Jason Aguilar on the back foot as the 2020 MotoAmerica series made its first visit to the Pacific North West but the hard charging #96 Riderzlaw Yamaha rider dug deep and after rebuilding the bike including some last minute changes after yet more issues in Saturday morning's Warm Up session he was able to bring it home in seventh and third places respectively in the weekend's two to consolidate his fourth in the overall classification.
Saturday's race was a lonely affair, but Jason knew that points make prizes and rode sensibly to add nine championship points to his tally. Sunday however was a different story. Lapping significantly faster than the previous day, he was able to latch on in the early stages to the leading group after avoiding the mayhem on the opening lap that saw several riders fall. A perfectly executed race from start to finish resulted in a podium finish and this one meant everything with actually able to take his place in winners circle.
Jason Aguilar: "Saturday was a crazy day. I was trying to put down a good time. After Friday's crash something didn't feel right. I was able to qualify tenth, but I knew something was wrong. A further check revealed that the forks and the triple clamps were bent so whilst that explained what I was feeling on track meant even more work for us before Race 1. We just made the race, so I want to say a massive thanks to my whole crew. I was so tired and stressed before the race and I was able to bring it home in seventh. It took me a few laps to get used to things again. I did the best I could under the circumstances and considering the day and half we had I was satisfied. I didn't get the best start on Sunday. I saw all the chaos happen ahead. I thought there would be a red flag but there wasn't. I was running fourth and the gap between me and Silva (Lucas) was staying pretty constant. I saw Paasch (Brandon) go down and that put me into third. I had a big gap behind me and after the weekend I'd had I decided to cruise it in. It's great to be on the podium but I'm not happy with how I rode. I want to be on the podium without others crashing. For sure the podium is great, but I want more, and I'll be giving it everything next time out to beat the guys straight up!"
More, from a press release issued by Suzuki Motor of America, Inc.:
SUZUKI RIDERS DOMINATE AT RIDGE MOTORSPORTS PARK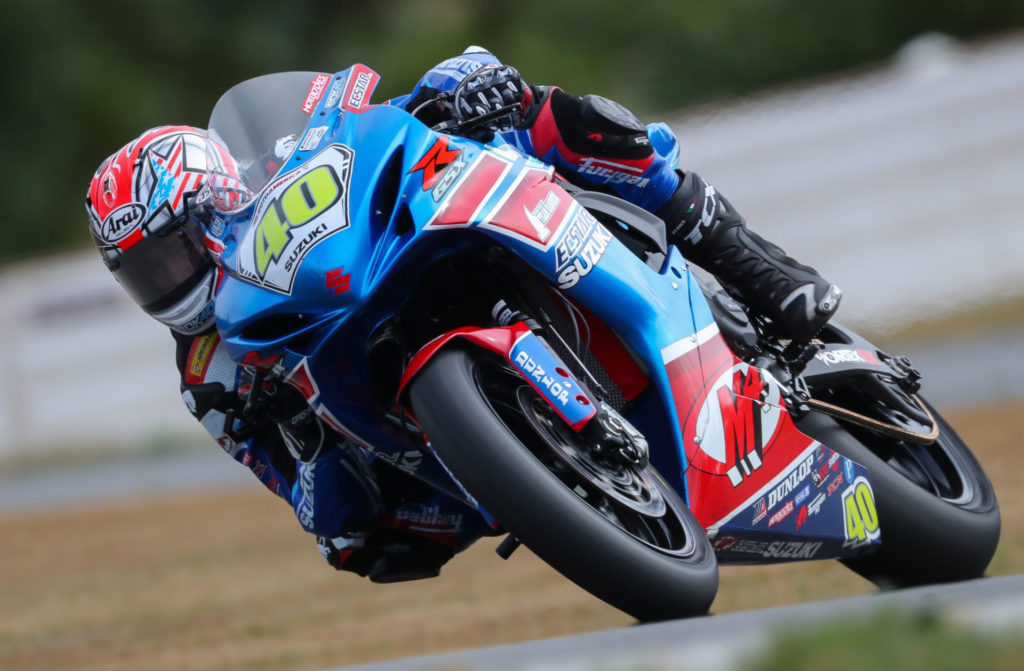 Brea, CA (August 31, 2020) – M4 ECSTAR Suzuki, Suzuki Motor of America, Inc.'s official MotoAmerica race program, and Altus Motorsports Suzuki's Cam Petersen reigned victorious in the series' first-ever visit to Ridge Motorsports Park.At the conclusion of an eventful weekend, Suzuki teams left Shelton, Washington, with seven additional podium trophies in their possession, highlighted by Sean Dylan Kelly's dominant win in Sunday's MotoAmerica Supersport race and Cam Petersen's thrilling victory in the Stock 1000 class.
'SDK' was in spectacular form throughout the weekend, securing the pole aboard his M4 ECSTAR Suzuki GSX-R600, trading haymakers up front en route to a Saturday second, and then racing home with an 18-plus-second margin of victory on Sunday.
The Florida native sprinted ahead at the start, which crucially moved him clear of a first-turn incident just behind his rear wheel. He then pressed forward with a punishing pace, which broke the challenge of another rival, opening the path to a walkaway win.
"I'm happy to be in the P1 spot and pick up 25 points," Kelly said. "I wasn't too aware of what was going on behind me. I did hear something in the first corner, and it sounded really close so I thought it might be one of the guys right behind me. I just focused on my own race and went as hard as I could. I definitely had a better pace compared to yesterday."
"I'm really happy to get my second victory on the season, but we know we still have work to do. We have a long way to go to get what we want this season. We're working really hard, and I want to give a huge thanks to my whole M4 ECSTAR Suzuki team for believing in me."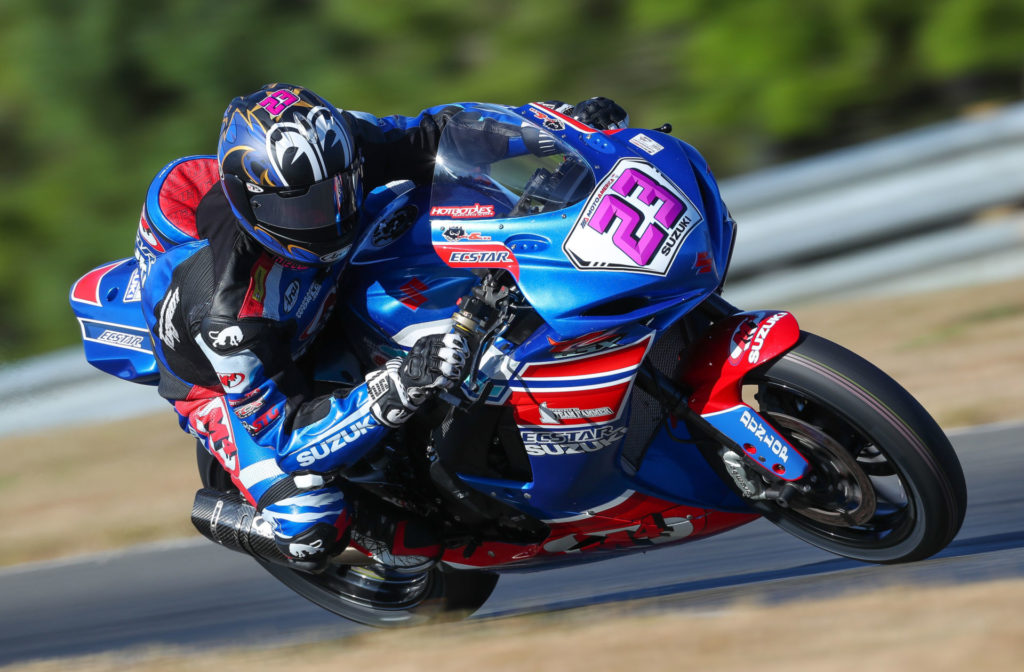 Adding to the team's joy was the fact that Kelly's ever-improving Supersport stablemate, Lucas Silva, gave M4 ECSTAR Suzuki a magnificent 1-2 in the race.
Silva did well to avoid the early-race drama and then demonstrated a hot race pace more than a half-second stronger than his qualifying best.
The runner-up result marks Silva's first career MotoAmerica Supersport podium and continues his perfect season streak of top 10s, including a Saturday sixth.
He said, "Honestly, I have no words. With everything that happened in the race, I had to keep my focus. I tried to do my best to hang with the leaders in the first few laps, and once I saw there wasn't anyone behind me, I just maintained my pace.
"Man, I don't even know what to say. This is amazing. I did the whole cool down lap smiling and crying. Thank you to everyone."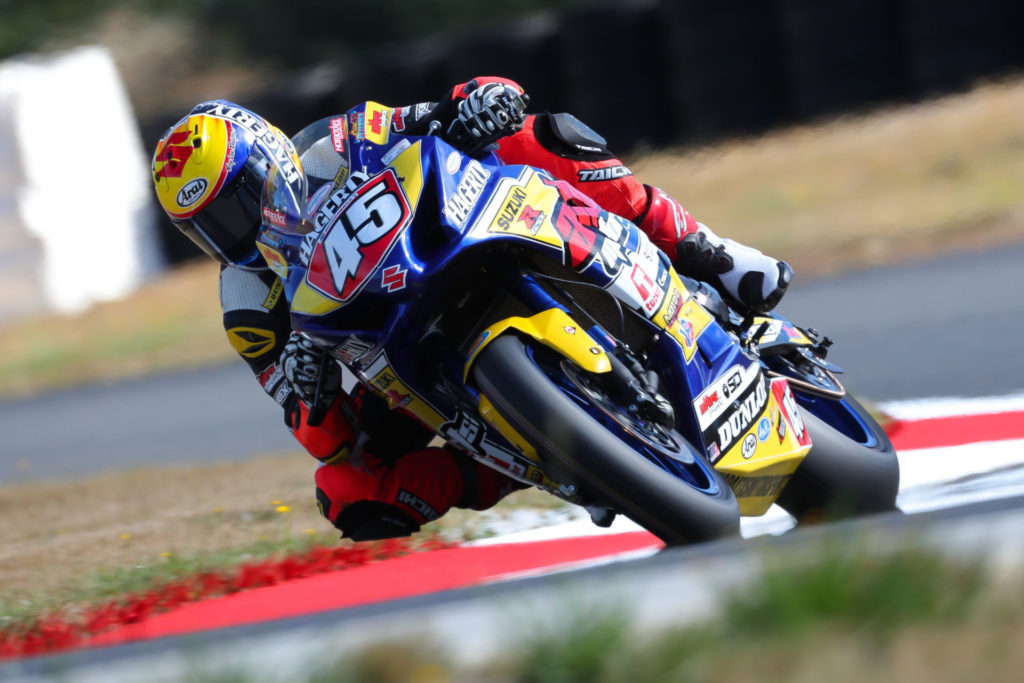 Another standout performer mounted on a Suzuki GSX-R was Altus Motorsports' Cam Petersen, who dominated the weekend in the Stock 1000 class. Petersen won pole and then took charge of the red-flagged race to win by over ten seconds.
"We've made some pretty big steps this weekend with the motorcycle and the way it handles," Petersen said. "It's made me feel more at home, It feels like it's my motorcycle now. It's been nothing but good vibes this weekend."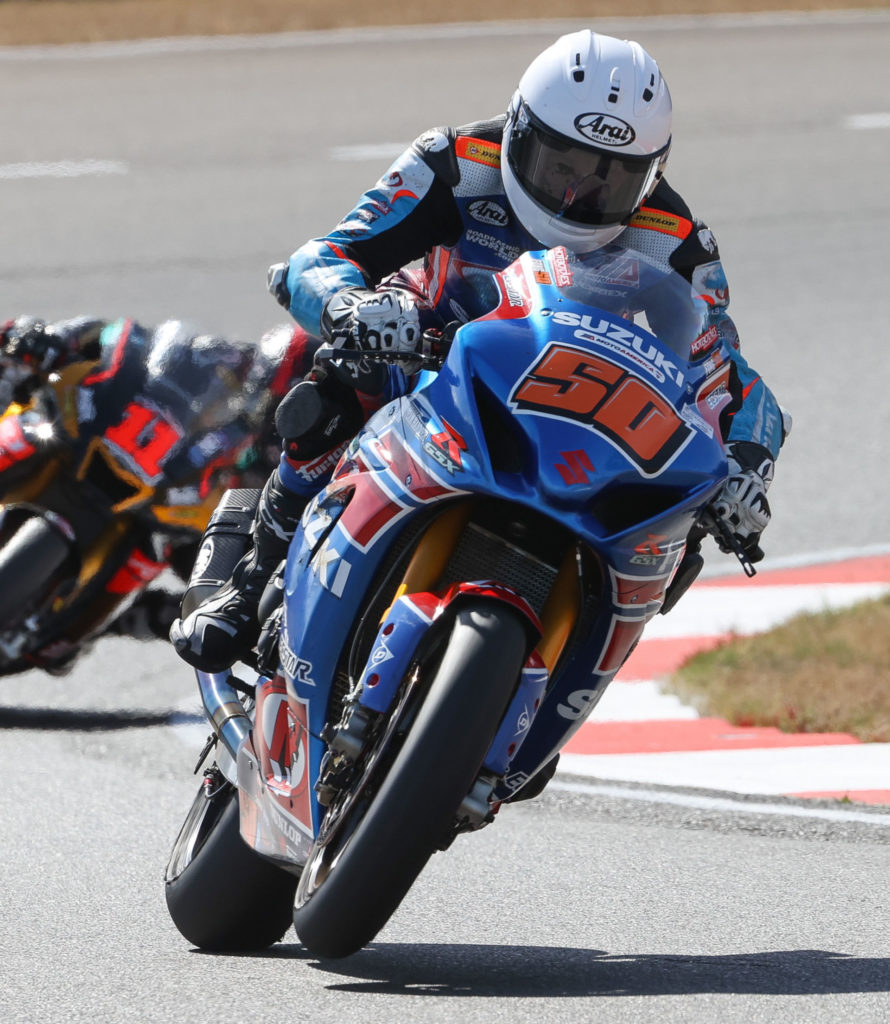 Meanwhile, in the premier MotoAmerica Superbike class, Bobby Fong collected a pair of thirds that were as impressive as victories under normal circumstances.
Fong put on a brave face despite still riding in considerable pain after injuring his left hand at the previous round. Despite the added difficulty, the Californian put up a serious fight in both races. He battled for second to the last lap on Saturday, and then did the same on Sunday, registering his fastest lap of the entire weekend on the final lap to close to within a half-second of second place.
Fong said, "What can I say? My M4 ECSTAR Suzuki GSXR-1000 made me look good. This double podium definitely feels like a win after going down in Pittsburgh. I've got to give it up to the Lord, my crew, my coach, and all the doctors looking after me this weekend."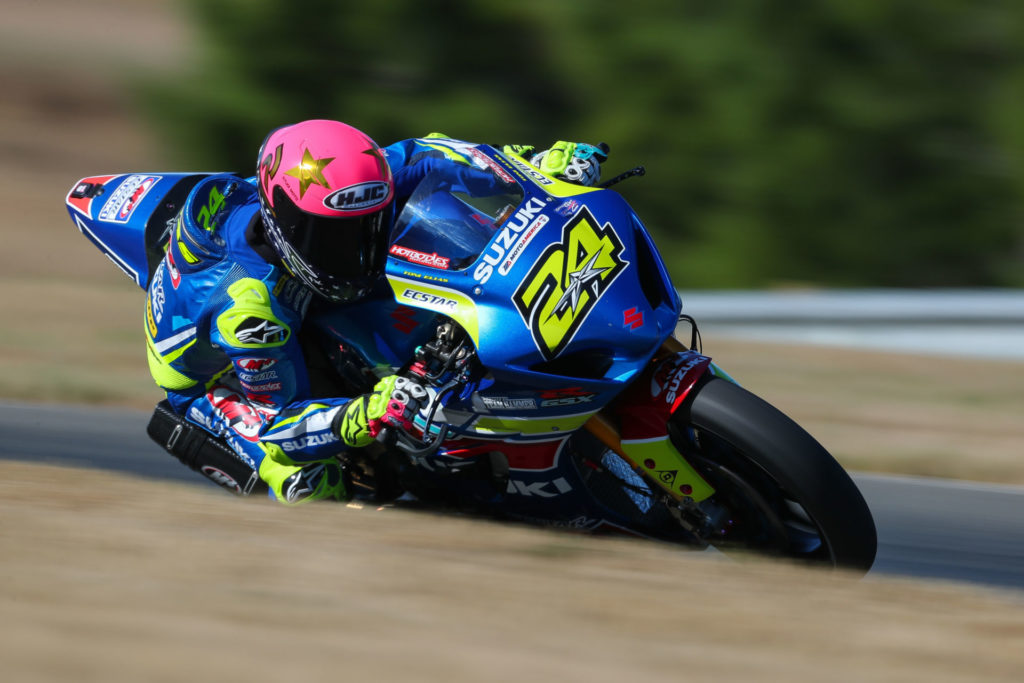 Former series champion Toni Elias finished fifth on the track each time out, including a spirited battle in Sunday's race that saw him make a pass for position on the last lap. Elias was docked one spot, however, when he ran straight through the turn one chicane after the race was over and was classified in sixth.
With all the highs, the team also suffered a low on the weekend. The meteoric rise of Alex Dumas was placed on a temporary pause when he suffered a broken bone in his right arm after getting caught up in a first-corner incident in Saturday's Superbike contest.
As a result, the French Canadian was unable to take his front-row grid position and seek his maiden Stock 1000 race win in Sunday's class contest.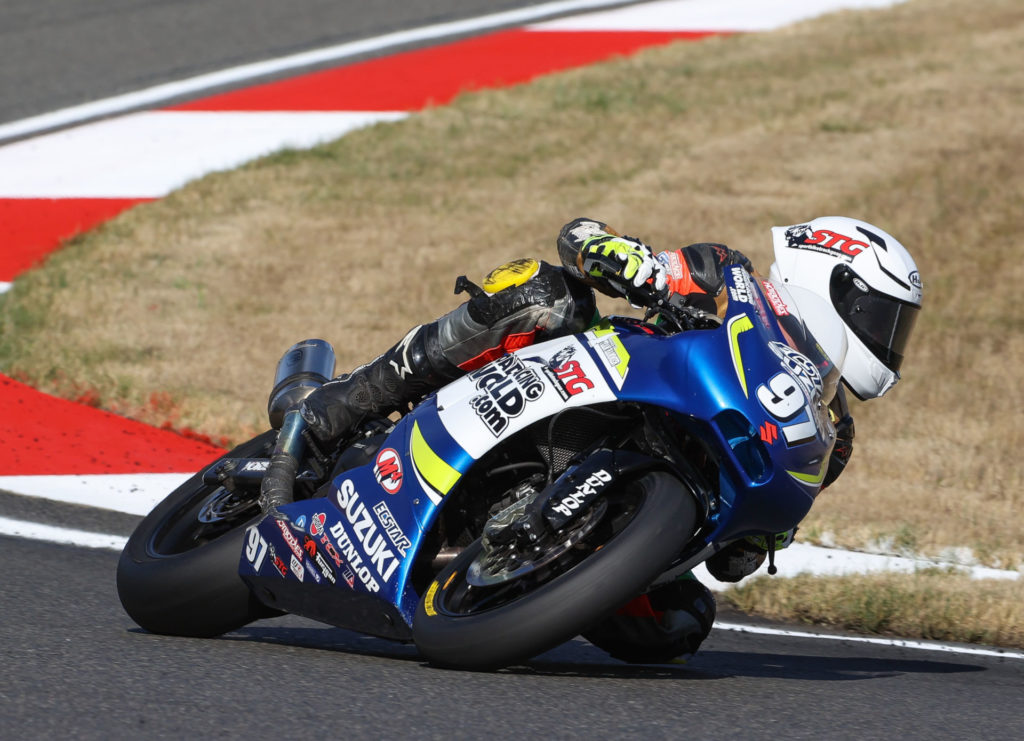 Rocco Landers won the 12-lap Twins Cup race at the Ridge, bringing home his Sportbike TrackGear.com Suzuki seven seconds ahead of the competition.
After the race, polesitter Landers said, "My SportbikeTrackGear.com/Roadracing World Suzuki SV650 has been awesome this weekend. The team worked super hard prepping the bike and getting it ready for the race and we made the right tire choice. It's only due to a few small hiccups that we're not leading this championship right now, so we're just going to keep pushing and keep pushing and see what we can do."
M4 ECSTAR Suzuki, Altus Motorsports, and the rest of the MotoAmerica paddock will now travel across the country for Round 6 of the 2020 MotoAmerica AMA/FIM North American Road Racing at New Jersey Motorsports Park on September 11-13.