Westby Racing's Scholtz Is A Superbike Double Runner-Up At PittRace, While Wyman Rolls A Pair Of Sixes In Junior Cup
Wampum, PA – At first glance Westby Racing's results on Sunday at Pittsburgh International Race Complex (PittRace) appear to be a carbon-copy of Saturday's results. Superbike rider Mathew Scholtz raced his #11 Yamaha YZF-R1 to a second-place finish just as he did on Saturday, and Junior Cup rider Cody Wyman finished sixth on Sunday aboard his #34 Yamaha YZF-R3 to match his sixth-place result on Saturday. But, for both riders, their Sunday races were very different from their Saturday races.
For Mathew, who started from the middle of the front row, he was pounced on in the first lap by fellow Yamaha rider Jake Gagne. Jake had improved his setup from Saturday's race, and it showed in Sunday morning's warmup with him going second-fastest in the session compared with Mathew being third-fastest.
With Cameron Beaubier in the lead and Jake in second, Mathew knew he had his work cut out for him in running down the pair. Undaunted, Mathew put his head down and focused on doing fast, consistent laps. His efforts, combined with Jake experiencing a technical issue, enabled Mathew to catch Jake, pass him, and create a gap of more than 13 seconds over Jake, which enabled Mathew to secure a runner-up finish for the second day in a row.
"I kind of figured that something happened to him," Mathew said about Jake. "Looking at the morning warmup times, we saw that they had upped their pace. I was a little bit disappointed in the warmup that we didn't break into the 40s. My whole game plan was just to kind of follow Cameron and Jake and just sort of hang onto them and try to see, maybe from the halfway point, if I could consistently run low 41s and try to catch up to Jake, but something happened and he fell back. I'm just really happy to be back up on the podium and finish second for the Westby Racing team again today. We've been working hard. I feel like we're getting better every time we go out. Just when we kind of think that we've caught up to Cameron, he pulls something out. So, we'll just carry onward and find something more."
Cody started fourth on the grid in his race and rode a consistent race in a pack of closely bunched riders, which has been the recurring theme this season. He ran no lower than seventh due to the shuffling of positions within his group, and he was in sixth place and planning his strategy for the finish line when the red flag was displayed due to an incident on the track that didn't involve Cody. The race was declared final instead of being restarted, which spoiled Cody's plan to move up in the results.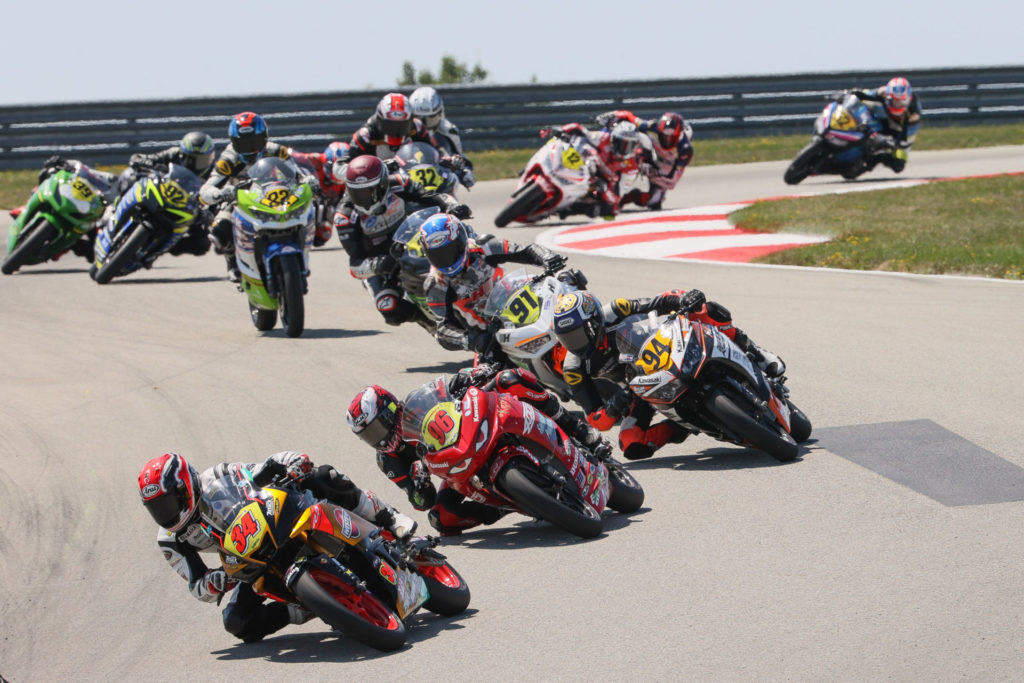 Cody said, "This morning, we tried new gearing, and I thought that was the right move for the race. I knew we were in our own battle for fourth place. I tried to study the other riders, and I thought I was in a good spot. But then, a red flag ended our race early. I was bummed because I really wanted a short sprint race to the finish. Two sixth-place finishes aren't the worst, though. I really wanted a podium yesterday, but it's a long season. Thank you to my team, family, and friends who came out to PittRace. On to a brand-new track on the West Coast. I'm always stoked to learn a new course, and I can't wait to get out there."
Next up for Westby Racing is round five of the MotoAmerica Championship, which will take place (without spectators in attendance) at the Ridge Motorsports Park in Shelton, Washington, on August 28 through 30.
MotoAmerica Superbike Standings
1. Cameron Beaubier – Yamaha – 175
2. Jake Gagne – Yamaha – 138
3. Mathew Scholtz – Yamaha – 116
MotoAmerica Junior Cup Standings
1. Rocco Landers – Kawasaki – 185
2. Dominic Doyle – Kawasaki – 151
3. Samuel Lochoff – Kawasaki – 126
6. Cody Wyman – Yamaha – 71
For more updates about Westby Racing, including news, photos, and videos, visit http://www.WestbyRacing.com
Also, follow "Westby Racing" on your favorite social media sites.
More, from a press release issued by Ducati North America:
One up for Kyle Wyman in the MotoAmerica Superbike Championship after PittRace 2020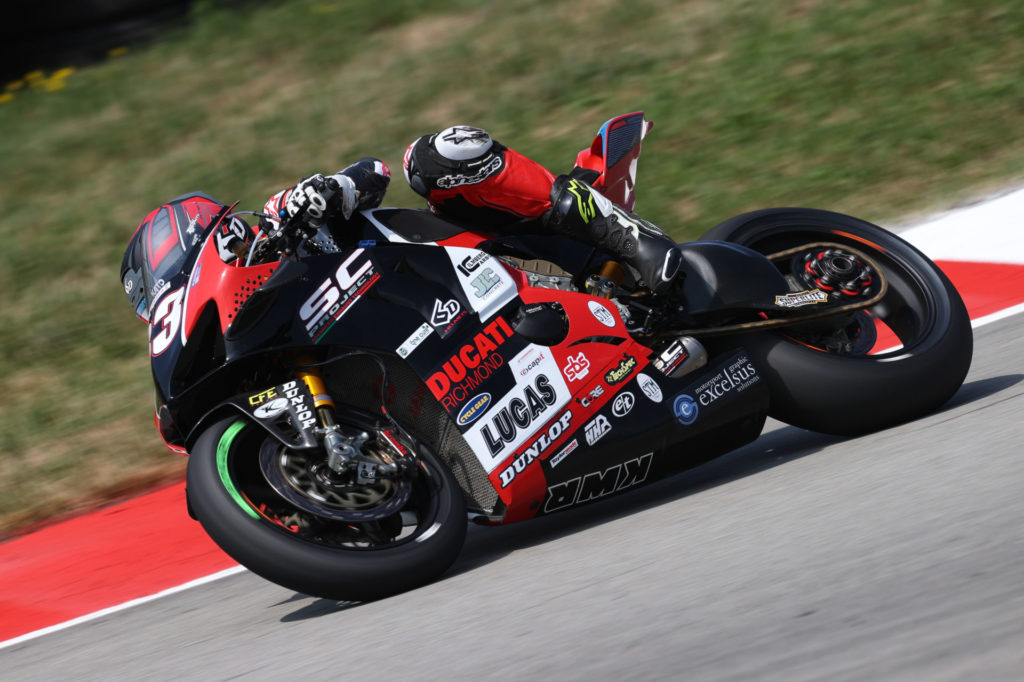 Mountain View, Calif. – Kyle Wyman (OneCure/KWR Ducati Team) jumped up one place in the MotoAmerica Superbike Championship to fourth following two hard-fought races at round four of the series, held at the Pittsburgh International Race Complex this weekend.
After qualifying in fifth after Superpole, Wyman raced to an excellent fourth in Saturday's race one behind winner, Yamaha's Cameron Beaubier.
Sunday's race two was a gloves-off affair, as Wyman recovered from a bad start to be eighth into turn one, clawing his way back to fourth and engaged in a race-long scrap with Suzuki's Toni Elias and BMW's Josh Herrin.
Struggling with grip issues from lap two, Wyman was on the limit throughout the 17-lap race but had to settle for sixth at the flag, with Beaubier again taking the win.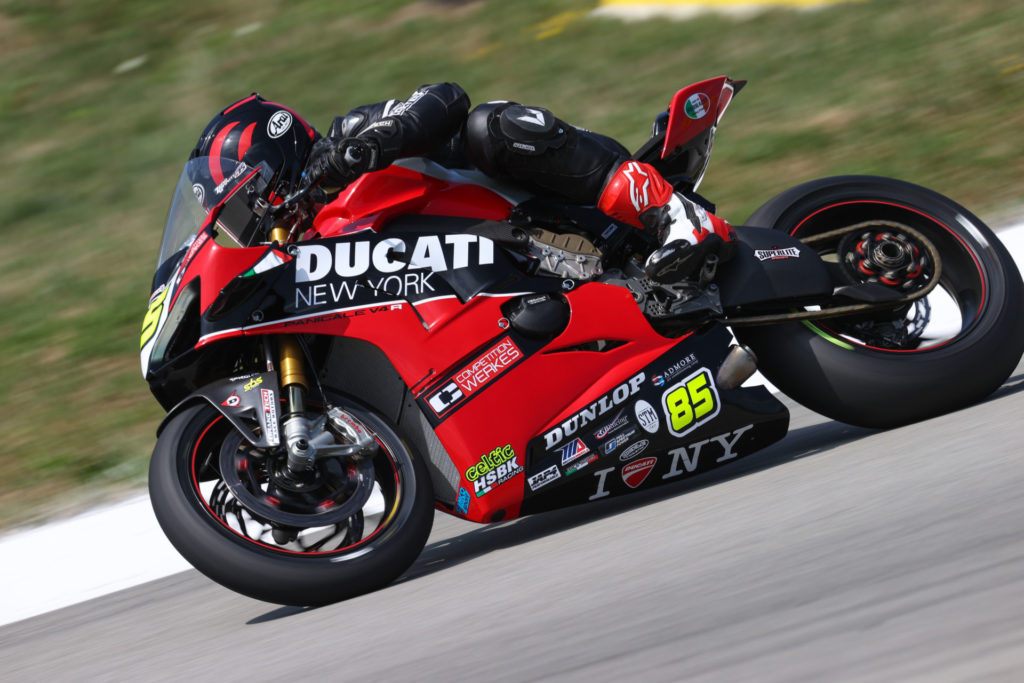 Jake Lewis (Celtic HSBK Racing Ducati), filling in for the injured PJ Jacobsen, collected eighth in race one and eleventh in race two for his Ducati debut at Pittsburgh this weekend.
MotoAmerica Superbike Standings — Top 5
P1 — Cameron Beaubier (Yamaha) 175
P2 — Jake Gagne (Yamaha) 138
P3 — Mathew Scholtz (Yamaha) 116
P4 — Kyle Wyman (Ducati) 89
P5 — Bobby Fong (Suzuki) 82
15 — Jake Lewis (Ducati) 20
Kyle Wyman (OneCure/KWR Ducati Team — Ducati #33)
"Saturday was really good," Wyman said. "We were happy with fourth, considering we didn't have a lot of pace. I wanted to replicate that today (Sunday) but I got a terrible start. I had to fight back to the top five but I got there relatively quickly, and up to fourth. I tried to put in laps and get a gap but I only saw +.5 as the biggest gap and I was pretty hosed early on.
"I had no grip from the beginning and a bunch of chatter in the esses. I was at my limit by about lap seven. We missed the set up, but I did everything I could by going from eighth to fourth and eventually sixth. We came into the weekend fifth in points, and left fourth. It's not where we want to be but we have to take the positives."
Jake Lewis (Celtic HSBK Racing Ducati — #85 Ducati)
"It was lot more difficult than I thought," said Lewis. "I was stuck at a certain pace and couldn't go much faster than that. Both my starts were terrible. Five people passed me each time, and today I ran off track early. I got a few places back but it wasn't nearly as good as I expected from this weekend.
"The team's great to work with, but it's a struggle going fast. I didn't have a great feeling with the rear and couldn't feel the tire biting into the tarmac. The torque in second gear wasn't what we hoped and we lost ground on corner exit. The bike's easy to ride but you have to charge to go fast. It wasn't an easy week, for sure."
More, from a press release issued by Jason Aguilar Racing:
Plenty of Supersport points in the bag at Pitt Race for Jason Aguilar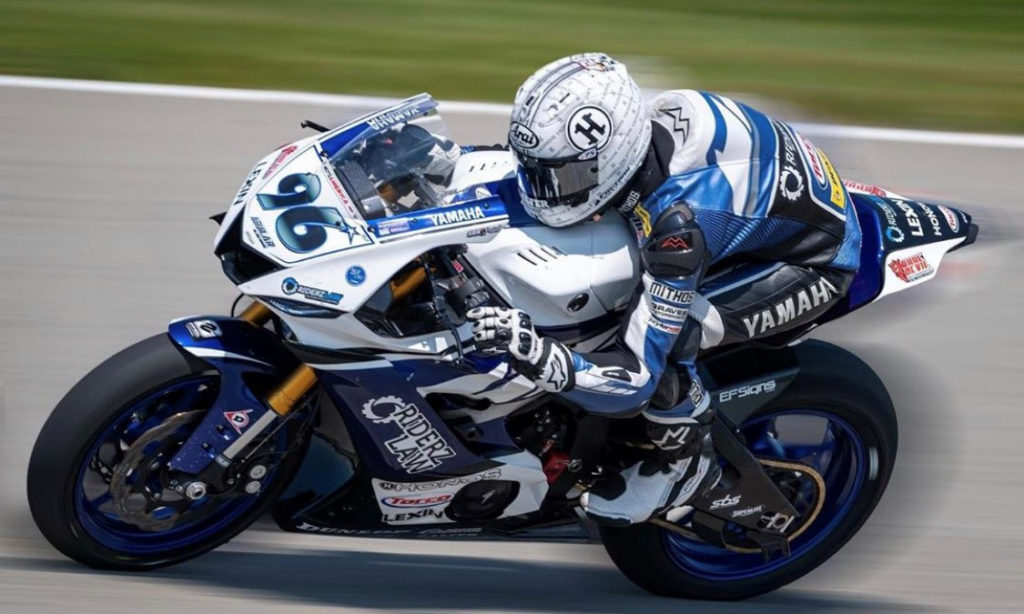 Jason Aguilar produced arguably his best races of 2020 at Pittsburgh International Race Complex this past weekend, finishing fourth in the two sixteen lap Supersport encounters.
Starting from the second row of the grid, the RiderzLaw Yamaha rider was in podium contention throughout Race One, making some aggressive overtakes, clearly at home banging bars whilst in the midst of a six-rider battle. Dropping to sixth, Aguilar dug deep, recovering to fourth at the flag on Saturday, a whisker away from third.
Sunday's race saw Jason lose touch early on with the top three, the #96 using his head to launch an attack for fourth in the closing stages, crossing the line to add another thirteen championship points to the thirteen he added twenty four hours earlier.
The double fourth position finish consolidates Jason's place in the overall standings, keeping him well in contention for P3 as the series heads to a new venue – The Ridge – in a couple of weeks.
Jason Aguilar: "We made some pretty significant changes on the bike this weekend, just to try a few things. The first session on Friday we found something that didn't work but the second session (qualifying one), we found something that actually worked really well. We didn't do the usual strategy of coming in and using two tyres, we focused on the race and I left the same tyre on for the whole session. I was able to run my fastest lap on the last lap, on a tyre that had done sixteen laps.  The race distances are sixteen laps, so it was encouraging, and we had a new tyre in the bank for final quali. I got off to a fairly good start in Race 1 and pushed hard to hang with the lead guys. Ben Smith passed me, I passed him back and we got into a bit of a scrap. I hit a false neutral and tagged him but luckily stayed upright. I have no idea how I saved it. I lost quite a bit of time, but I regrouped, caught the guys, and managed to grab P4 on the final lap. I showed a good pace and it was the closest I've been to the podium this year so on one hand I was satisfied but on the other I was pretty bummed. Race 2 honestly didn't go as I wanted. Some personal stuff messed with my head a little and I felt like I wasn't really there come race time. I did go faster than Saturday, but something was definitely off. The top three got away, so I used my head and took fourth on the last lap. Another fourth, which I guess is better than fifth, but we will regroup, and I am looking forward to Washington – a new track for us."
For more information go to www.aguilarracing.com
More, from a press release issued by Yamaha:
Beaubier Perfect in Pittsburgh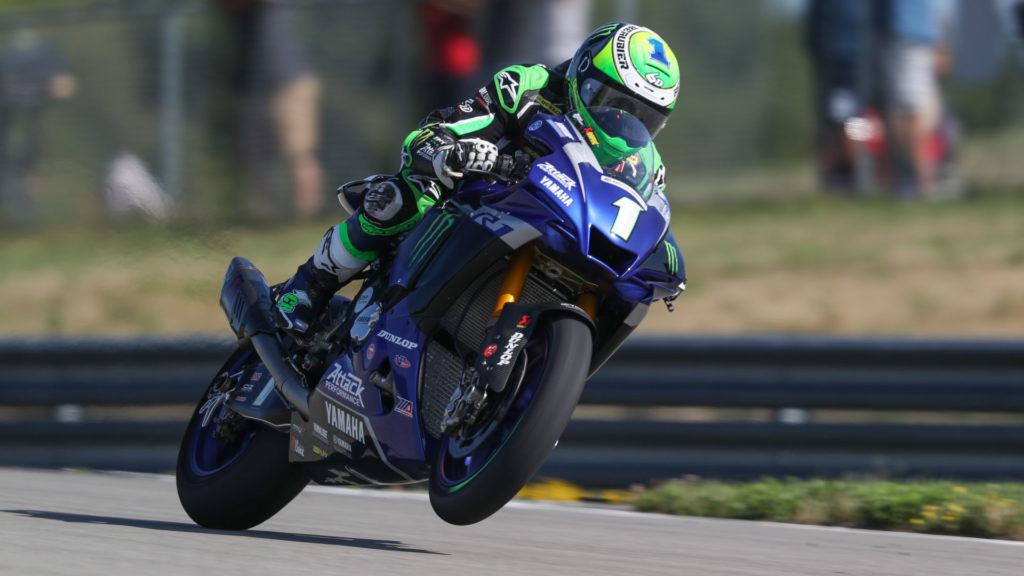 Monster Energy Attack Performance Yamaha Racing's Cameron Beaubier capped off a perfect weekend at Pittsburgh International Race Complex with a win in race two to further strengthen his title defense in the MotoAmerica Superbike Championship. His teammate Jake Gagne held onto a third-place finish to give the team a sixth-double podium of the season.
Beaubier led every session and set about leading the final one by grabbing his second holeshot of the weekend. The reigning Superbike champ tried to pull another disappearing act but his teammate was moving along right with him. Holding up to the pressure, he focused on putting in some fast, consistent laps in the 1:40s and ultimately crossed the line nearly 10 seconds ahead of the competition to score his seventh win in eight races. As the series nears the halfway mark, Beaubier holds a 37-point lead in the championship.
Gagne got off to a good start in third and quickly moved into second a few turns later so that he didn't give up too much time on his teammate. He was able to stay with Beaubier for the first half of the race, but unfortunately, a technical issue arose, costing him time and his healthy gap on fellow Yamaha R1 rider Mathew Scholtz. Just after crossing the finish line with four laps to go, he got shuffled back to third. From then on, the Californian did everything he could to salvage a podium, his second third-place finish of the weekend.
The Monster Energy Attack Performance Yamaha Racing Team heads to the Pacific Northwest in two-weeks time for round four of the championship at The Ridge Motorsports Park in Shelton, Washington, on August 28-30.
Richard Stanboli – Monster Energy Attack Performance Yamaha Racing Team Manager
"Once again the team came together to improve the performance of the machines for race two. Impressively, Cameron has won every race that he has finished and Jake has shown pace that is at the same level. We will digest what we learned and go to the Ridge race with an even better package."
Cameron Beaubier – Monster Energy Attack Performance Yamaha Racing
"It was an amazing two weeks for me racking up some wins. I couldn't ask for anything more. Our team has given Jake and I some amazing bikes this year and we are putting them to use. Jake was pushing me hard today up until about the halfway mark where he had a little problem. I just kept my head down to get to the checkered flag. I'm looking forward to Ridge!"
Jake Gagne – Monster Energy Attack Performance Yamaha Racing
"We made some great progress with the bike this morning in the warm-up and smoothed out some of the issues that were holding us back yesterday. I got off to a good start and got in behind Cam right away. Our pace today was much faster. We managed to keep Cam pretty close to us until about the halfway point and unfortunately ran into some technical problems that got worse and worse. I'm really happy with the crew and the progress that we've made throughout the weekend. Thankfully we kept it on the podium. I'm looking forward to the next one."
More, from a press release issued by Suzuki Motor of America, Inc.:
KELLY AND DUMAS FIGHT TO THE PODIUM FOR M4 ECSTAR SUZUKI IN PITTSBURGH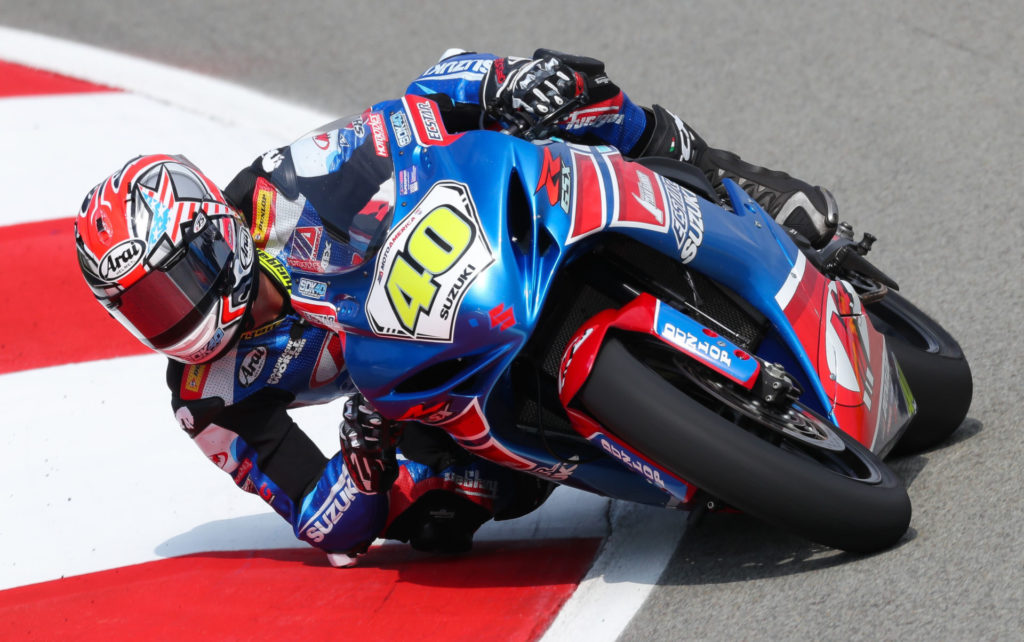 Brea, CA (August 10, 2020) – Suzuki Motor of America, Inc. and M4 ECSTAR Suzuki followed up last weekend's abundant trophy haul at Road Atlanta with three additional podium finishes this weekend as the MotoAmerica AMA/FIM North American Road Racing championship completed Round 4 of the 2020 season at Pittsburgh International Race Complex in Wampum, Pennsylvania.
And like at Road Atlanta, it was the team's two 18-year-old prodigies who registered the weekend's highlight performances for the squad.Sean Dylan Kelly continued his consistent excellence in MotoAmerica Supersport action, hustling his M4 ECSTAR Suzuki GSX-R600 to a pair of runner-up finishes. The twin seconds upped the Floridian's impressive string of first- or second-place finishes to seven.
On Saturday, 'SDK' battled for the lead over the race's opening half before settling into a clear runner-up position. On Sunday, he had to fight for second right down to the checkered flag, losing the position on the final lap only to reclaim in the race's final corner and then win the sprint to the checkered flag.
Kelly said, "In today's race, I knew where he wanted to pass me because I could hear him there every lap. I tried to block it but went a little wide and he got me on the switchback. He then tried blocking me in the last corner, but he went a little wide, so I said, 'Okay, perfect.'
"We're here to fight for the win, and I gave it my 100% in both races but it just wasn't enough. Everyone with M4 ECSTAR Suzuki is pushing their hardest. I wish I could have given them another win this weekend, but it wasn't to be.
"Overall, I'm happy because I gave it all I had, but I'll admit it was a struggle because we really want to win — that's our goal — and we just didn't have enough to do it. It's not easy fighting a displacement disadvantage but we're going to keep on working and we'll come back at Washington and do what we can. I'm looking forward to getting to an even more technical track and we'll look to bring home a couple wins."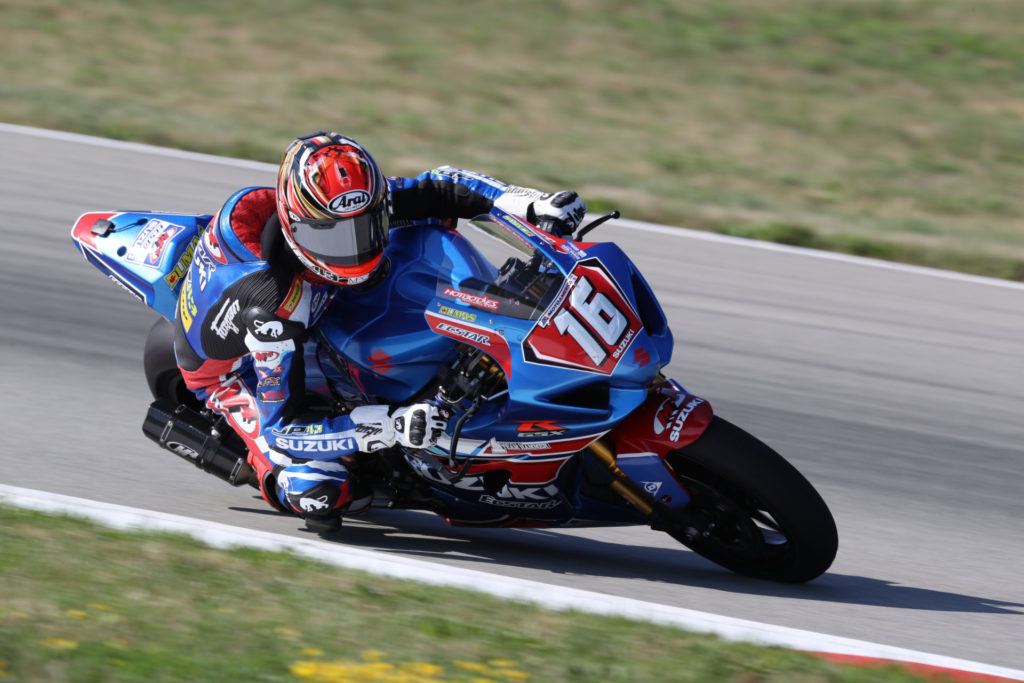 Fellow teenage sensation Alex Dumas extended his meteoric rise with his best showing yet since throwing a leg over the fire-breathing M4 ECSTAR Suzuki GSX-R1000 in the Stock 1000 class.
While Dumas was expected to take some time coming to grips with a literbike after coming off back-to-back national titles in the MotoAmerica Junior Cup and Twins Cup classes, the French Canadian was fast from the start and only continues to get faster as he gains experience.
After improving from seventh to fourth to third to second in his first four races in the class, Dumas very nearly finished off the run with a win on Saturday. He slashed up from fifth to first only to narrowly lose out on the win on the final lap and 'settle' for another second.
"I had a really good race," Dumas said. "I didn't get a great start but I got through almost everybody. I was catching the lead little bit by little bit and then I got through in Turn 7 thanks to getting a really good run in 6.
"I gave it everything I had but just came up short on the last lap. I was pretty fast coming out of Turn 14 and coming onto the back straightaway, but I almost highsided. After that there was nothing I could do."
Dumas followed that up with a fourth in Sunday's Stock 1000 race before making his MotoAmerica Superbike debut later in the afternoon. There he proved to be a quick learner as well, picking up a top-ten finish with a ninth in his maiden premier-class attempt despite running a considerably more stock-spec machine than the established class' frontrunners.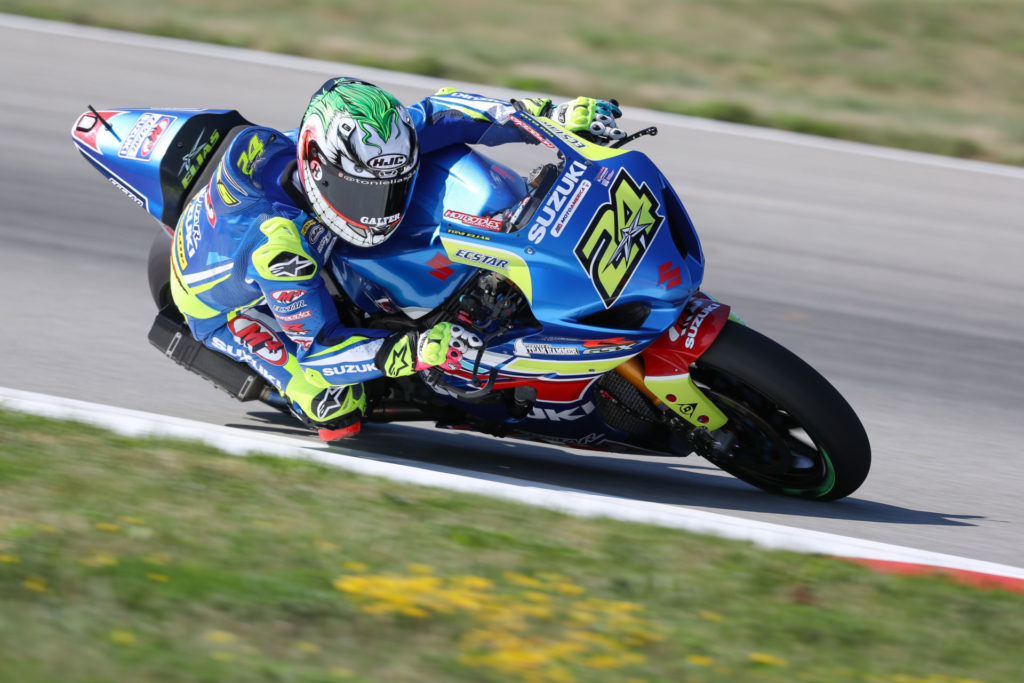 The team's decorated Superbike regulars had a more difficult weekend. Road America race winner Bobby Fong battled for second in Saturday's main event before a crash took him out of contention at mid-distance.
Unfortunately, the Californian injured his left thumb in the fall. While he made a brave attempt to collect some points on Sunday, he was ultimately forced to retire from the race due to the pain and lack of grip strength.
2017 MotoAmerica Superbike champion Toni Elias scored a pair of top-five finishes on the weekend. The Spaniard took over fifth on the final lap of Saturday's race and backed that up with another fifth on Sunday, taking the checkered flag on his M4 ECSTAR Suzuki GSX-R1000 with a podium finish less than two seconds up the road.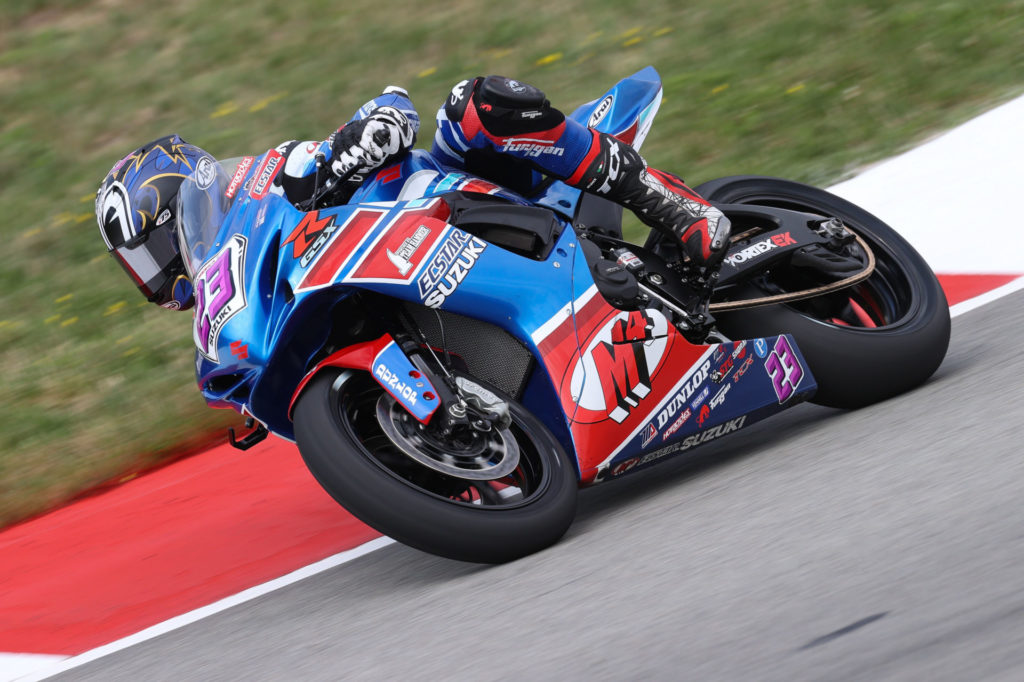 Finally, Lucas Silva extended his perfect season's run of top-ten finishes in MotoAmerica Supersport competition. The young racer notched up his third consecutive sixth-place finish on Saturday and then backed that up with a strong seventh on Sunday.
Additionally, Cameron Peterson (Altus Motorsports Suzuki) and Rocco Landers (SportbikeTrackGear.com Suzuki) won on bikes built by Team Hammer.
The team will return to action on August 28-30 when the '20 season resumes at Ridge Motorsports Park in Shelton, Washington.
More, from another press release issued by Suzuki Motor of America, Inc.:
Petersen Dominates in Pittsburgh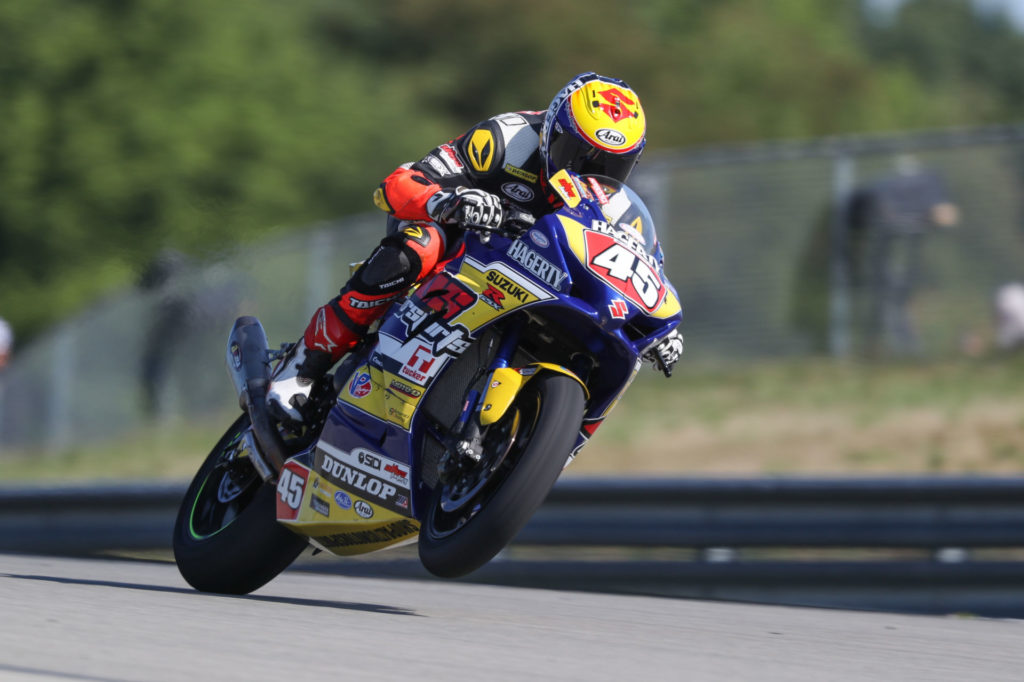 Brea, CA (August 10, 2020) – Altus Motorsports rider Cameron Petersen completed the perfect weekend at the Pittsburgh International Race Complex by taking pole position, winning both races convincingly and claiming the championship points lead in the MotoAmerica Stock 1000 class. Petersen started the weekend strong by taking pole position with a blistering time of 1:43.824 on his Altus Motorsports GSX-R1000. Starting from pole position, Petersen battled all race long and traded positions with fellow Suzuki GSX-R1000 rider Alex Dumas until the final laps when he took the lead for good and secured the win on Saturday.
The young South African rider then continued his success on Sunday in race two, taking the lead from the very first lap and continued to ride tenaciously for the remainder of the race taking another hard fought win over a field of strong contenders in the class.
"That was a better race for sure," said Cam Petersen after race two, " We found something this morning and we were able to push throughout the whole race. The pace was way quicker than it was yesterday, but I'm not going to let those wins go that easily."
Cameron Petersen takes his Stock 1000 championship points lead to the fifth round of the MotoAmerica roadracing championship at the Ridge Motorsports Park August 28-30 in Shelton, Washington.
More, from a press release issued by Altus Motorsports:
MotoAmerica: Round 4 Results from Pittsburgh for the Altus Motorsports Tucker Hagerty Rangeline Team
(Wampum, PA)  After a tough Round 3, the goal of the Pittsburgh race weekend was to regain lost momentum, get back to winning and show why Altus is a significant player in the MotoAmerica paddock.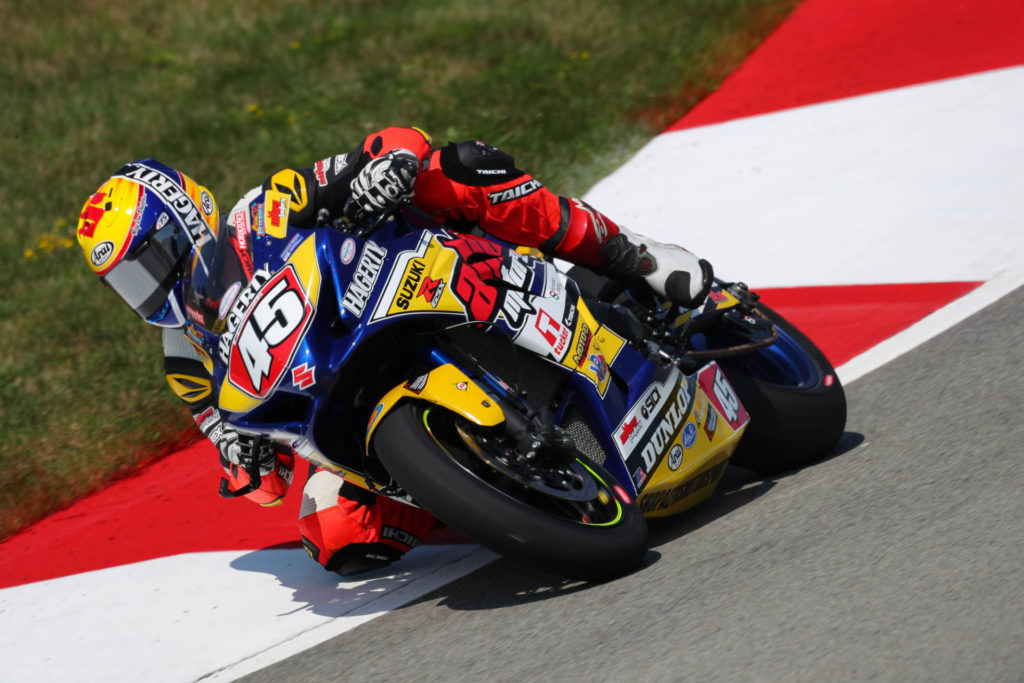 Honos Superbike & Stock 1000: The Altus Team showed up in Pittsburgh cautiously optimistic that they had solved the brake fade issues that have plagued Cameron Petersen's Suzuki GSX-R 1000 since the beginning of the season. Over the course of the weekend, they did manage to find a fix and Cam was able to achieve his goal of "regaining some of the points we left on the table in Atlanta." Once again he topped the Stock 1000 timesheets on Friday and locked in pole position for the races.
Petersen had a great start in the Saturday race and was building a commanding lead when the race was stopped due to a red flag. In the eight-lap restart, Petersen had to fight for the win. After multiple lead changes over the duration of the race, the Altus rider made a last-lap pass to take the win.
The Sunday Stock 1000 race was another hard-fought battle. The last two laps were a nail-biter with Petersen's tenacity and skill again leading him to the top step of the podium.
"I love races like that," said Cameron Petersen, "The pace was quicker on Sunday. The competition is really stepping up. I can't thank the team enough for all of the hard work. It looks like we conquered our brake issue and now we can start working on some set-up adjustments to go even faster."
"Credit to Cam's experience to put that last round behind him and trust that the team would do what it takes to give him a bike he can win on," said team-owner George Nassaney.
In the Superbike Race 1, Cameron started from the middle of the 4th row and finished in 13th. In the Sunday Superbike race, Petersen managed an 8th place finish on his Stock 1000 legal motorcycle.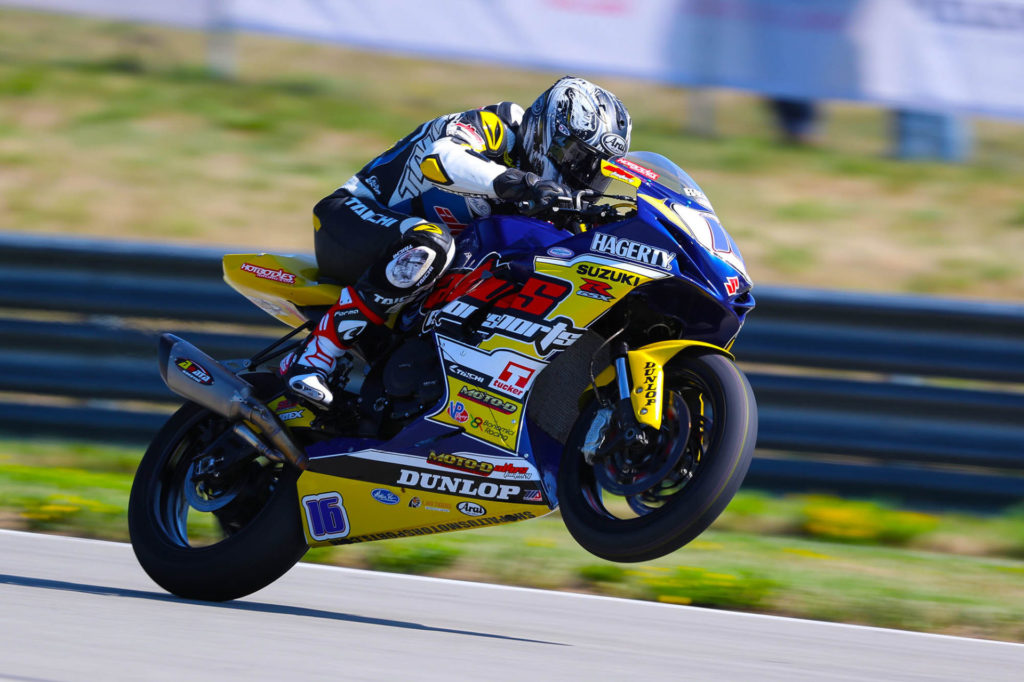 Supersport 600: Kevin Olmedo continues to impress. His practice and qualifying times were good enough to put the Supersport 600 rookie on the front row of the starting grid in 3rd. Unfortunately, he missed the sighting lap for the Saturday race and was forced to start from the back. Olmedo didn't want to let the lead group get away and wasted no time getting through the pack. Kevin crossed start-finish in 7th at the end of the first lap. With three laps to go, Olmedo powered his GSX-R 600 into third place. A position he held off-and-on during a 3-bike battle for the last three laps. Ultimately, he finished the race in 5th.
On Sunday, Kevin started the race from his proper grid position on the front row. He spent much of the race battling for 4th place and took the checkered flag in 5th
"I am getting more comfortable on the GSX-R 600. I am able to run with the front guys and continue to finish in the top five. I am very happy with these results for my first year on a 600," said Kevin Olmedo.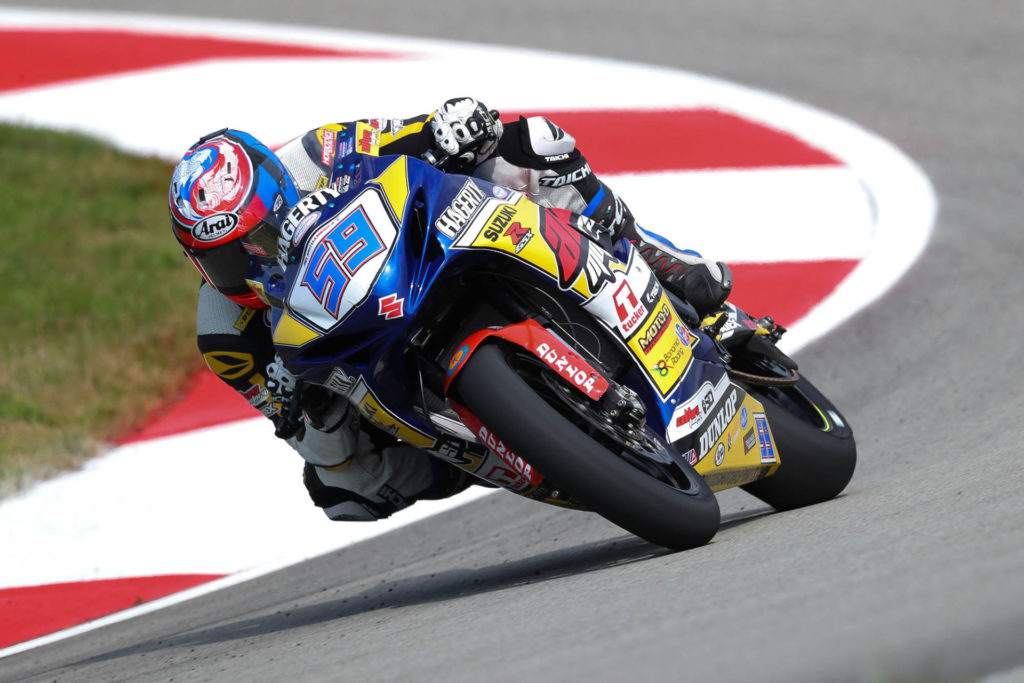 Jaret Nassaney had a tough weekend. He was unable to get comfortable on the bike on Friday and was off his previous pace. A clutch issue ended his Saturday race before it started. During Sunday's warm-up things started to look up. After a set-up change, Jaret's lap times were close to his previous best. Unfortunately, a massive crash on lap 5 of Race 2 ended his weekend.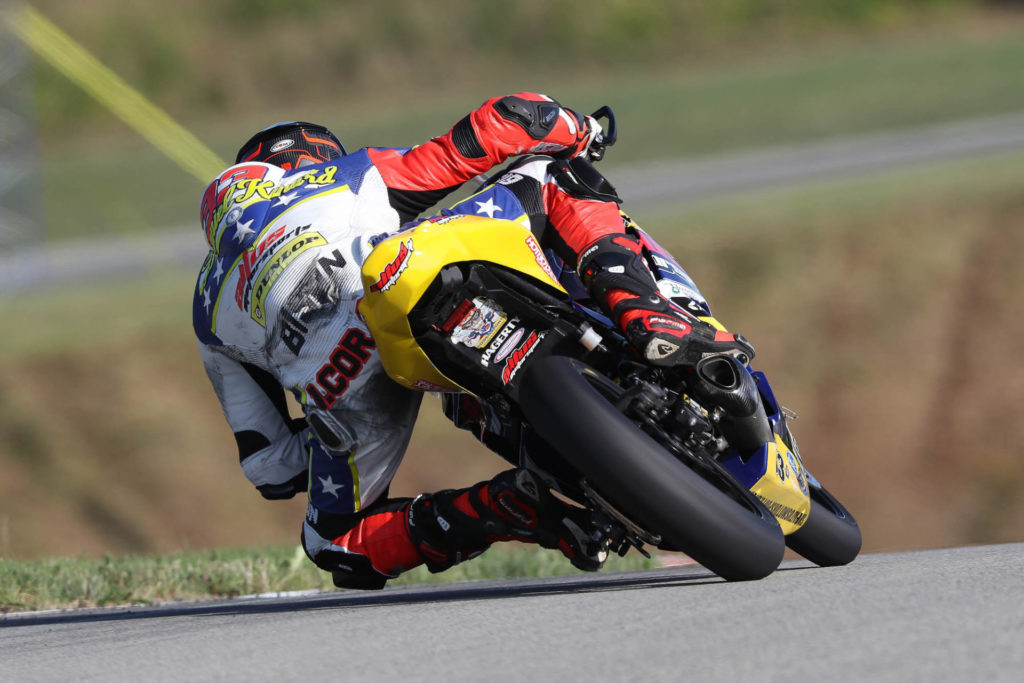 Liqui Moly Junior Cup: PittRace is yet another brand new track for Daniel Kinard. His goal for the weekend was to learn the track and improve every session. And he did. He dropped a couple of seconds between first practice and Qualifying 1. Shaving a few more seconds in the second qualifying session put him 15th on the grid for the race starts. Kinard continued to improve and get faster in each race. He finished Race 1 on Saturday in 13th and Race 2 in 15th.
"This weekend was really good for the team. We've really started to gel and communicate better. Getting the two wins in Stock 1000 was a fantastic boost. We will take that momentum to the west coast in a few weeks," said George Nassaney.
The Altus Motorsports team is supported by our great family of sponsors: Altus Motorsports, Tucker Powersports, Hagerty, Suzuki, The Rangeline Group, VP Lubricants, RS Taichi, Arai, Moto D, Bonamici, Hotbodies Racing, SBS Brakes, Vortex, Motion Pro, Law Tigers Oklahoma, Arata Exhaust, Dunlop, Team Hammer, and Altus Factory Racing.