This weekend's results are brought to you by 6D Helmets.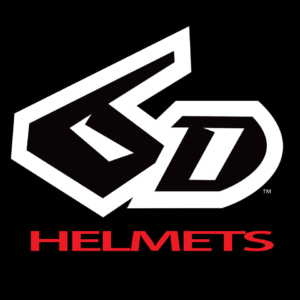 More, from a press release issued by MotoAmerica:
Win Number Six For Beaubier At PittRace
Six Wins In Seven Starts For The Four-Time Champion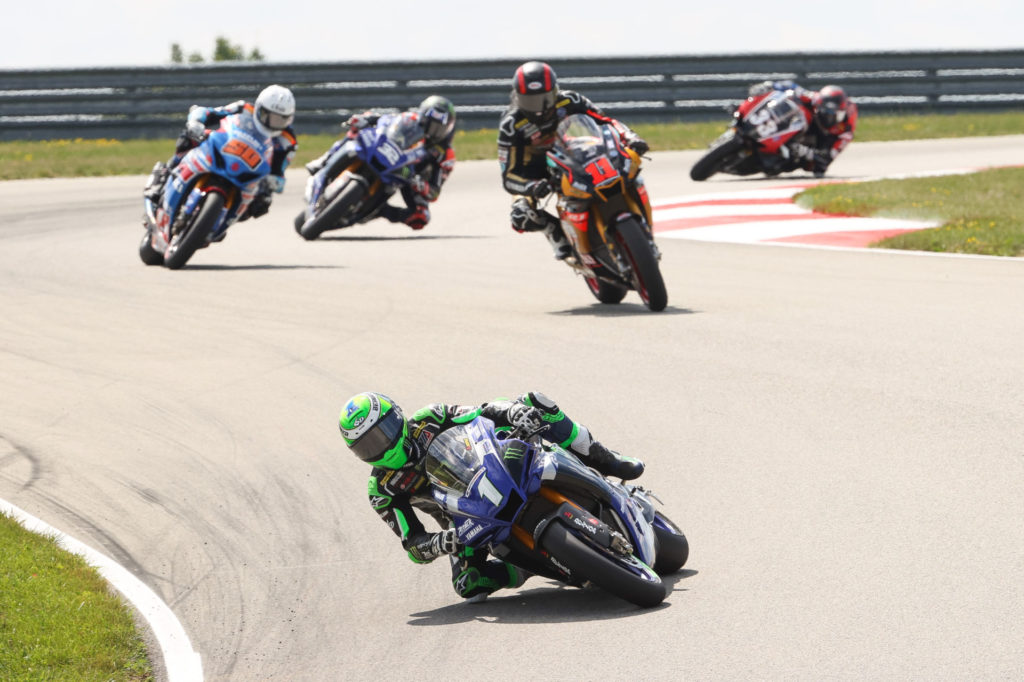 WAMPUM, PA (August 8, 2020) – Monster Energy Attack Performance Yamaha's Cameron Beaubier won his sixth HONOS Superbike race out of seven starts today at Pittsburgh International Race Complex, the four-time defending MotoAmerica Superbike Champion leading from start to finish as he continues his dominating start to the season.
Beaubier began his day with his fourth pole position of the year and he finished it with his sixth win, this one by 2.976 seconds after 17 laps of the 2.78-mile undulating PittRace road course.
The podium was the same as the last two races at Road Atlanta last weekend, though the order was different with Westby Racing's Mathew Scholtz turning the tables on Beaubier's teammate Jake Gagne to finish second behind Beaubier on a sunny day in Pittsburgh.
"Both these guys are on it since the first lap yesterday," Beaubier said of Scholtz and Gagne. "I haven't had that little gap that I've had in practice. Qualifying was pretty tough. We all got in the same 10th (of a second). I knew it was going to be a pretty tough race. I was able to get a good start and nailed the first section pretty good, which I was happy about. I came by and I saw .5 or .8 on my board the second lap. From there I was like, 'I have to put my head down and charge because I know these guys have had pace all weekend.' I'm just feeling so good right now. My R1 is working so good. Like I said at the previous rounds, it's just exciting for me going to each track because the bike is quite a bit different than last year, and just seeing what it's capable of at each track. So far, it's been great. I'm just going to try to keep this ball rolling as long as I can. Like I said, just feeling great. I'm sure tomorrow is going to be tougher. Everyone is going to go back and do their homework and come out swinging for the next race."
Scholtz battled with M4 ECSTAR Suzuki's Bobby Fong and Gagne early before Fong exited the race in dramatic fashion with a big crash on lap nine. That left Scholtz and Gagne to battle for second with Scholtz getting the nod despite losing his left knee puck early in the race.
"I'm not sure what happened," Scholtz said. "Maybe lap four or five or six (when he lost the knee puck), somewhere about there, and for the next two or three laps it was kind of worrying. I couldn't really tell how much was being over. The track was really difficult. Every time I started pushing on the front, I couldn't lift myself back up if something happened. Just really happy to manage to keep it safe."
Gagne chased Scholtz to the finish, ending up just .130 of a second behind while earning his sixth podium finish of the season.
"Got off to a pretty good start," Gagne said. "A couple of those guys in the second row got by me on that first lap. Had to get by Kyle (Wyman). Obviously, Cam (Beaubier) was going fast right away after he got in that lead. We kind of knew he'd be going for it. Got into a little run with Mat and Bobby (Fong) and, unfortunately, in the middle of the race or so Bobby hit that inside curb and washed out. That was kind of a surprise. Right in front of me, too. Mat rode a great race; Cam rode a great race. These Yamahas are working really well. We got a little bit of work to do tomorrow to try to pick up the pace. I'm sure me and Mat will want to be a little bit closer to Cam. But it was a good race, good battle. I think we'll be ready to go for tomorrow."
SC Project/KWR Ducati's Kyle Wyman rode to fourth, some 16 seconds behind Gagne and almost six seconds ahead of M4 ECSTAR Suzuki's Toni Elias. Elias, in turn, was well clear of FLY Racing ADR Motorsports' David Anthony.
Scheibe Racing BMW's Josh Herrin was in a battle with Elias for fifth when his handlebar came loose on the last lap, putting him off track at one point and costing him a shot at fifth place. Herrin persevered for seventh place.
Jake Lewis finished eighth in his debut on the Celtic HSBK Racing Ducati Panigale VR 4 R. Lewis barely bested Anthony's teammate Bradley Ward with Travis Wyman Racing's Travis Wyman rounding out the top 10 finishers on his BMW S 1000 RR.
With his 150 points out of a possible 175 points thus far, Beaubier leads Gagne by 28 points in the HONOS Superbike Series point standings. Scholtz is third, 96 points behind Gagne. Fong stays in fourth but is just three points ahead of fifth-placed Wyman.
More, from a press release issued by Yamaha:
Beaubier Bags Another Win in Pittsburgh
Cameron Beaubier continues to dominate the MotoAmerica Superbike field, scoring his sixth win of the season in Saturday's race one at Pittsburgh International Race Complex in Wampum, Pennsylvania. Jake Gagne finished third to give the Monster Energy Attack Performance Yamaha Racing team another double podium.
Beaubier led every session and kept his Superpole streak going to start from pole position. The reigning champ rocketed into the lead to take the holeshot and never looked back. He set a blistering pace and built a comfortable gap on the competition. At the checkered flag, he was nearly three seconds in the lead to score his 44th career Superbike victory and expand his lead in the championship to 28 points over his teammate.
As for Gagne, he didn't get the start from the front row that he wanted and was back in fourth going into Turn 1. He got shuffled back a spot, but quickly retook fourth and was in a three-way battle for the podium. On lap nine, that battle came down to two with one of the riders crashing out of the race. The Californian kept pushing and tried to make his move on the final lap but third was the best result on the day.
The squad heads into tomorrow's race two looking for another top result at the Pittsburgh International Race Complex.
Richard Stanboli – Monster Energy Attack Performance Yamaha Racing Team Manager
"Today was a bit more challenging than normal. The track changed quite a bit since last year so we are still in the process of optimizing the machines for the riders. Cameron nonetheless put in a great ride to lead from start to finish. Jake also rode very well to capture third. Using the data we gathered in today's race, we are confident that we will evolve the machines to better suit the track. We are looking forward to tomorrow's race."
Cameron Beaubier – Monster Energy Attack Performance Yamaha Racing
"Going into the race I was preparing for a battle with how fast Matty (Scholtz) and Jake have been going this weekend, but I was able to get away early and kept my head down. My R1 is working great. I'm just going to try to keep this going!"
Jake Gagne – Monster Energy Attack Performance Yamaha Racing
"We've made a lot of progress throughout the weekend and learned more about getting the bike set up for me. I didn't get the best start today and the first few laps weren't the best either but we settled into a good rhythm. I think we can improve a few things for tomorrow and pick up the pace a bit for race two!"
More, from a press release issued by Westby Racing:
At PittRace, Westby Racing's Scholtz Is Runner-Up In Superbike And Wyman Finishes Just Outside The Top Five In Junior Cup
Wampum, PA – August 8, 2020 – After racing this past weekend at Michelin Raceway Road Atlanta in Georgia, the Westby Racing team is back in action this weekend at Pittsburgh International Race Complex (PittRace) in Pennsylvania.
The team's Superbike rider Mathew Scholtz finished fifth in both races last year at PittRace, so he and the team came into the Keystone State with absolute determination to put the new 2020-spec #11 Westby Racing Yamaha YZF-R1 on the podium.
Saturday morning's Superpole session was a clear harbinger of good things to come. Mathew negotiated PittRace's 2.78-mile, 19-turn road course faster than he'd ever gone before, and he was the fastest Superbike rider in the paddock until four-time Superbike champ Cameron Beaubier barely nipped him as the session ended. Beaubier's pole-winning lap time was only a little more than five one-hundredths of a second faster than Mathew.
Starting from the middle of the front row in the afternoon's Superbike race one, Mathew rocketed off the line and slotted in behind polesitter Beaubier. He maintained second place throughout the entirety of the 17-lap race and kept Beaubier's teammate Jake Gagne behind him in third despite the blistering race pace, a missing left knee puck that was torn off Mathew's leathers during the race, and Gagne figuratively nipping at Mathew's heels.
The second-place finish was Mathew's second runner-up finish of the season and his fourth podium result out of seven races thus far.
Mathew commented about the missing knee puck and his race. "I'm not sure what happened," he said. "Maybe lap four or five or six (when he lost the knee puck), somewhere about there, and for the next two or three laps, it was kind of worrying. I couldn't really tell how much I was leaning over in the turns. The track was really difficult. Every time I started pushing on the front in the left turns, without the knee puck, I couldn't lift myself back up if something happened. I was just really happy to manage it, keep it safe, and finish second."
Sunday's Superbike Race 2 is at 3 PM Eastern and will be broadcast live on FOX Sports 1 (FS1) and Eurosport, as well as streamed on MotoAmerica Live+.
In Junior Cup race one, which was the final race on Saturday and was red-flagged and restarted because of a scary-looking crash involving multiple riders on the opening lap (thankfully, no serious injuries were sustained in the incident), Cody Wyman looked very stout and appeared to also be destined for a podium finish. Unfortunately, his #34 Westby Racing Yamaha YZF-R3 developed a technical issue that hampered his result.
"First off, it was unfortunate to see the incident early on," Cody said. "I hope the riders involved have a fast recovery. I got a decent start, but I couldn't roll with the leaders, so I settled into a battle for the final step on the podium. On some of the laps I could do trial runs and experiment with trying to lead the group to the finish line, or draft to the line, and I got beat every time, so I had to strategize something different. Then, the bike had a couple of issues shifting, and that hurt me on the last run up the hill. I tried to draft the group ahead, but I ended up sixth. I wanted to be on the box so badly, but it just didn't work out. We're going to try a couple of changes in the morning warmup that we hope will make the bike stronger. So, we're definitely looking forward to having another go tomorrow."
Sunday's Junior Cup Race 2 is at 2 PM Eastern and will be broadcast via tape-delay on FS2 (check your local listings for FS2 airtimes), in addition to being live-streamed on MotoAmerica Live+.
For more updates about Westby Racing, including news, photos, and videos, visit http://www.WestbyRacing.com
Also, follow "Westby Racing" on your favorite social media sites.