Westby Racing And Mathew Scholtz Celebrate Their Second Double-Podium Race Weekend In A Row
Wampum, PA – Following up their two Superbike podium results at Brainerd International Raceway, Mathew Scholtz and the Westby Racing team notched two more podium results this weekend at Pittsburgh International Race Complex. In fact, Mathew and the team exactly matched the results from Brainerd with a third-place result on Saturday and a runner-up result on Sunday, perfectly illustrating the team's and the rider's collective ability to improve as the race weekends progress.
On Sunday, Mathew lined up on the front row in third position, got a good jump at the start, and maintained his third-place position for the first four laps. On lap five, he overtook Toni Elias for third and focused on catching race leader Jake Gagne. As the laps wound down, Mathew managed to cut into Jake's gap at the front, but there just weren't enough laps left in the 17-lap race, and he ultimately took the runner-up result at the checkered flag.
Mathew commented:
"Overnight, we made a decent TC (Traction Control) change and just one or two torque changes to try to get it out of the corner better. Yesterday, I was just spinning up way too much, so we softened it slightly and made one or two TC changes to get it to hook up better. I felt like it definitely did in today's race. It felt pretty cool doing mid-41's during the morning warm up. I kind of knew that I had a decent pace. We were doing 40's, which was a little bit of a surprise to me. I followed Toni for a couple laps, got past him, and Jake was only maybe three or four seconds ahead. I put in a couple of heater laps, and I closed in on Jake slightly, but then, he obviously noticed that the gap on his board was getting smaller, and he turned it back up. So, kudos to him. Overall, I was really happy just to ride my own pace, my own rhythm, and show that we can be up there challenging. We just need to try to get with Jake for those first couple of laps, and we might be able to do something at the end. But, right now, Jake is riding incredibly well. Well done to Bob (Fong, who finished third). I feel like both of us should have been winning this year, but it seems like things weren't really working out for us. It seems like we're kind of finding our way back to where we should be. So, overall, I'm just happy to be back up here. I've got to give a huge thanks to the Westby Racing team. There's a three-week break now. I get to go and see my wife who I haven't seen in six or seven months, so I'm really happy about that. It's going to really make me feel better going to Jersey and to Barber having that time with my special person (his wife Kiara). It's kind of been a difficult year staying by myself with no family and stuff."
Ed Sullivan, Westby Racing Crew Chief, said:
"It was a really strong weekend for Westby Racing. I feel today was our best race of the season so far. We made some changes overnight, and took another small step after warm up, all aimed at improving drive grip. Just as he did at Brainerd, Mathew showed what he's capable of, and the next two rounds can't come soon enough."
Chuck Giacchetto, Westby Racing Team Manager, said:
"What did I tell you yesterday? Tune in! I was locked to the monitor on pit road today. This was as sweet as our win at Road Atlanta in the first race of the year. Mathew has proven yet again that he is more than capable of running up front with a vengeance. I am extremely proud of the entire team.
"Overnight, Ed and Herschel (Auxier) went to work and from Mat's feedback, we were able to give him an even more impressive weapon for today's race. In my opinion, man and machine arrived as one in race two. I hope the entire team feels great about their performance because they were 'great.' Special thanks to the diehard MotoAmerica fans. We love all the support you provide."
Next up for Westby Racing is round eight of the MotoAmerica Championship, which will take place at New Jersey Motorsports Park in Millville, New Jersey, on September 10 through 12.
MotoAmerica Superbike Standings
Jake Gagne – Yamaha – 325
Mathew Scholtz – Yamaha – 232
Cameron Petersen – Suzuki – 184
For more updates about Westby Racing, including news, photos, and videos, visit http://www.WestbyRacing.com
Also, follow "Westby Racing" on your favorite social media sites.
More, from a press release issued by Yamaha:
Gagne Extends MotoAmerica Superbike Win Streak to 13
Fresh N' Lean Attack Performance Yamaha Racing's Jake Gagne once again dominated today's proceedings at the Pittsburgh International Race Complex to score a 13th-straight win in MotoAmerica Superbike Race 2. The victory also broke the series' record for consecutive victories, which he had previously set in the past two races. Standing in for Josh Herrin this weekend, Toni Elias had another solid result for the team in fourth.
With Saturday's victory, Gagne duly took pole position for the second race. After the start, the points leader and his fellow Fresh N' Lean Attack Performance Yamaha rider launched well to hold first and second after the first lap. The Californian put some distance between himself and Elias within a couple of laps, repeating yesterday's masterclass performance to run a lonely race out front. He crossed the finish line comfortably with a 6-second margin, increasing his formidable series' consecutive win record and extending his championship lead to 93 points with six races remaining.
After another great start in the runner-up position, Elias found himself under pressure from fellow Yamaha rider Mathew Scholtz a couple of laps into the race. He fought hard to hold him off but was passed on Lap 5 and soon had other company. The Spaniard engaged in a thrilling battle after the halfway mark but ultimately was shuffled to fourth on Lap 11, where he would finish.
The Fresh N' Lean Attack Performance Yamaha Racing Team now enters nearly a month-long break before heading to the New Jersey Motorsports Park for Round 8 of the MotoAmerica Superbike Championship, 10-12 September.
Richard Stanboli – Fresh N' Lean Attack Performance Yamaha Racing Team Manager
"Today was fun, and Jake rode a safe race for another win. He has such great rhythm, and the crew is doing a great job keeping him comfortable. We made a decent step overnight with Toni's bike and improved his pace. Unfortunately, that pace was not sustainable, and he had to settle for fourth. Hats off to him for bringing a good atmosphere to the team while maintaining the determination to race at the front. It was a lot to ask of a rider, to race without any testing, and to be competitive, so the results were better than anticipated.
"Also, hats off to Mat (Scholtz) and the Westby team for making it a Yamaha 1-2. We now look forward to seeing our fans at NJ in a few weeks. Josh should be fully recovered by then and in good form, and Jake will do what he does best."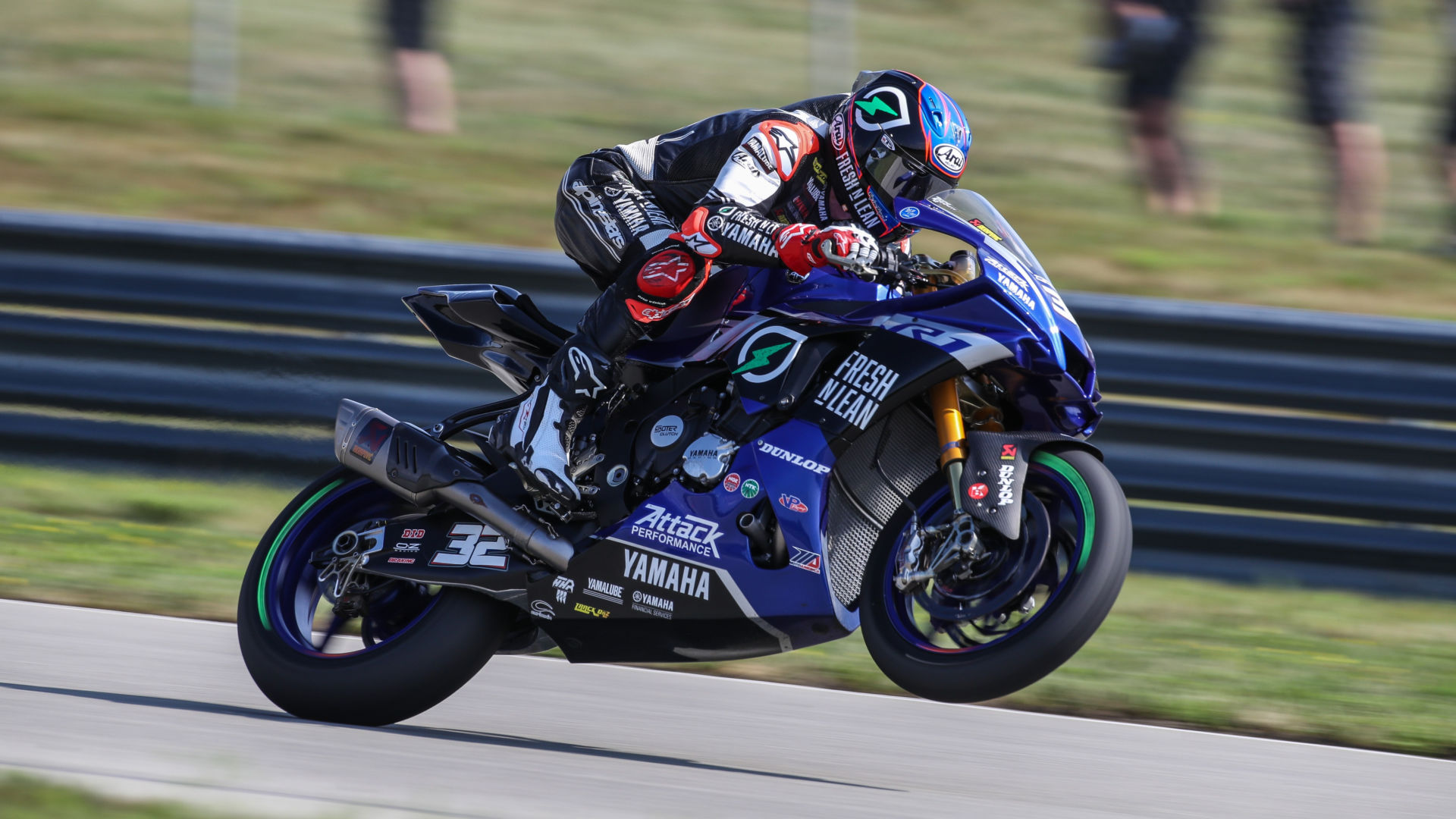 Jake Gagne – Fresh N' Lean Attack Performance Yamaha Racing
"It was another great weekend for the whole team! I'm happy to see that all of the hard work that this crew puts in keeps paying off. This Attack Yamaha R1 worked amazing at this track all weekend. I got off to another great start and rode my laps to the end to pull off another win! We're ready for a little break, and then it's back-to-back weekends which will be awesome."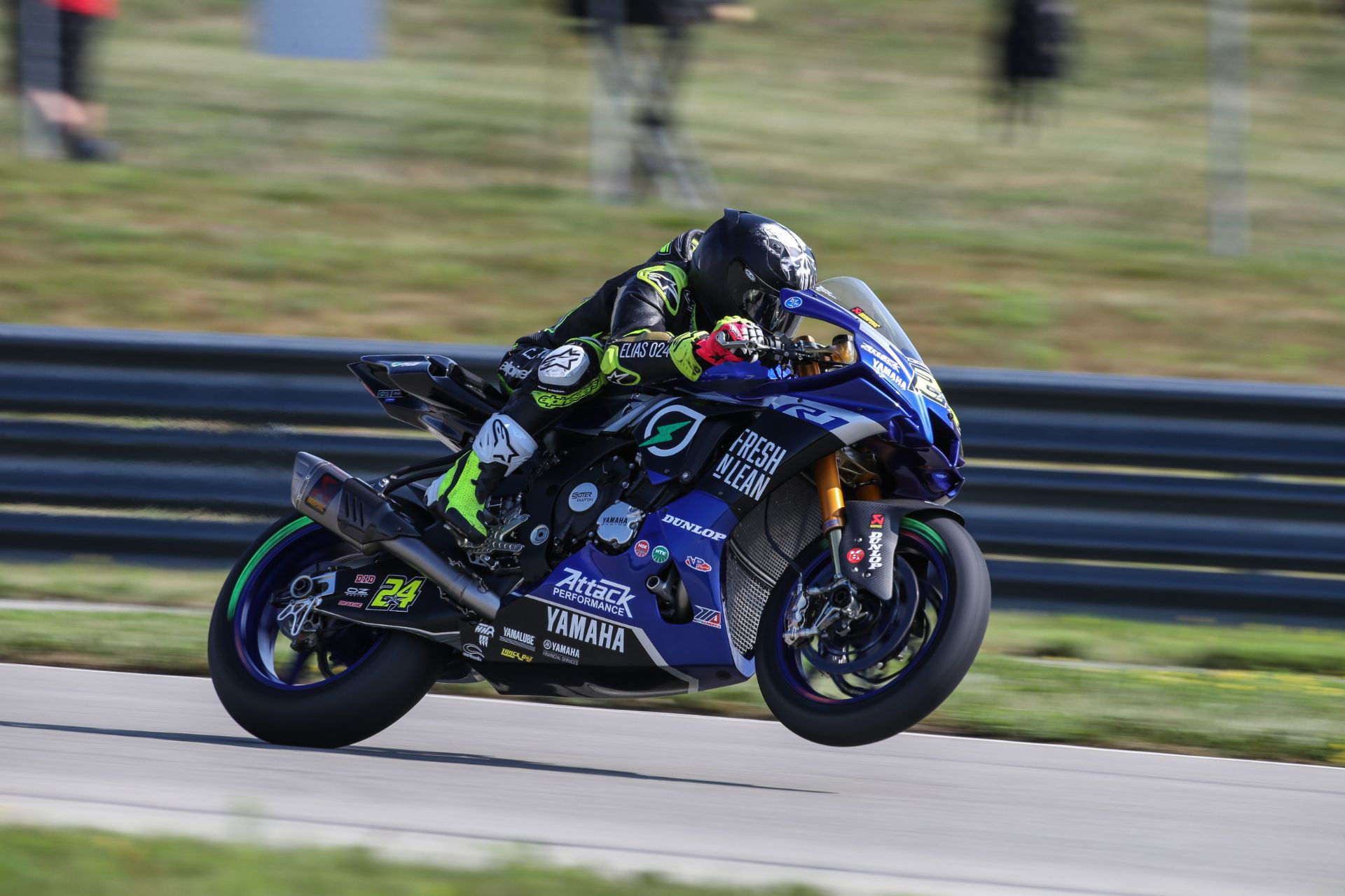 Tony Elias – Fresh N' Lean Attack Performance Yamaha Racing
"Today, I had more speed but less pace, and I paid the price midway through the race. I was hoping for another podium after yesterday's result, but anyways, a second and fourth-place finish was more than what I was thinking to achieve for the first run with the R1. It has been a pleasure to work with this amazing bike and team, so a big thank you to Richard Stanboli and the Fresh N' Lean Attack Yamaha team for the opportunity!"
More, from a press release issued by Ducati:
Ducati Duo Take The Positives From a Trying Weekend In Pittsburgh
Sunnyvale, Calif. – The lush green surrounds of the Pittsburgh International Race Complex saw Ducati duo Loris Baz Loris Baz (Warhorse HSBK Racing Ducati New York) and Kyle Wyman go into battle against America's best in what was ultimately a trying weekend for the two.
Baz put the #76 Ducati in third on the grid for race one but crashed out on lap three while lying third, pushing him back to a fourth row start for race two. Suffering acute pain in his left hand following the crash, Baz put on a brave face and charged home to an impressive fifth with Yamaha's Jake Gagne taking both wins.
For Wyman, his first full race meeting back on the Panera Bread Ducati Panigale saw him get steadily faster across the weekend, culminating in an incredible battle with former MotoGP rider, Hector Barbera. Wyman and the Spaniard pushed each other to the limit, with Barbera just getting the better of Wyman at the flag. Regardless, it was a solid performance from the Arizona resident, who carded sixth and eighth place finishes in Pittsburgh.
2021 MotoAmerica Superbike Standing – Top 5
P1 – Jake Gagne (Yamaha) 325
P2 – Mathew Scholtz (Yamaha) 232
P3 – Cameron Petersen (Suzuki) 184
P4 – Bobby Fong (Suzuki) 165
P5 – Loris Baz (Ducati) 149
P10 – Kyle Wyman 67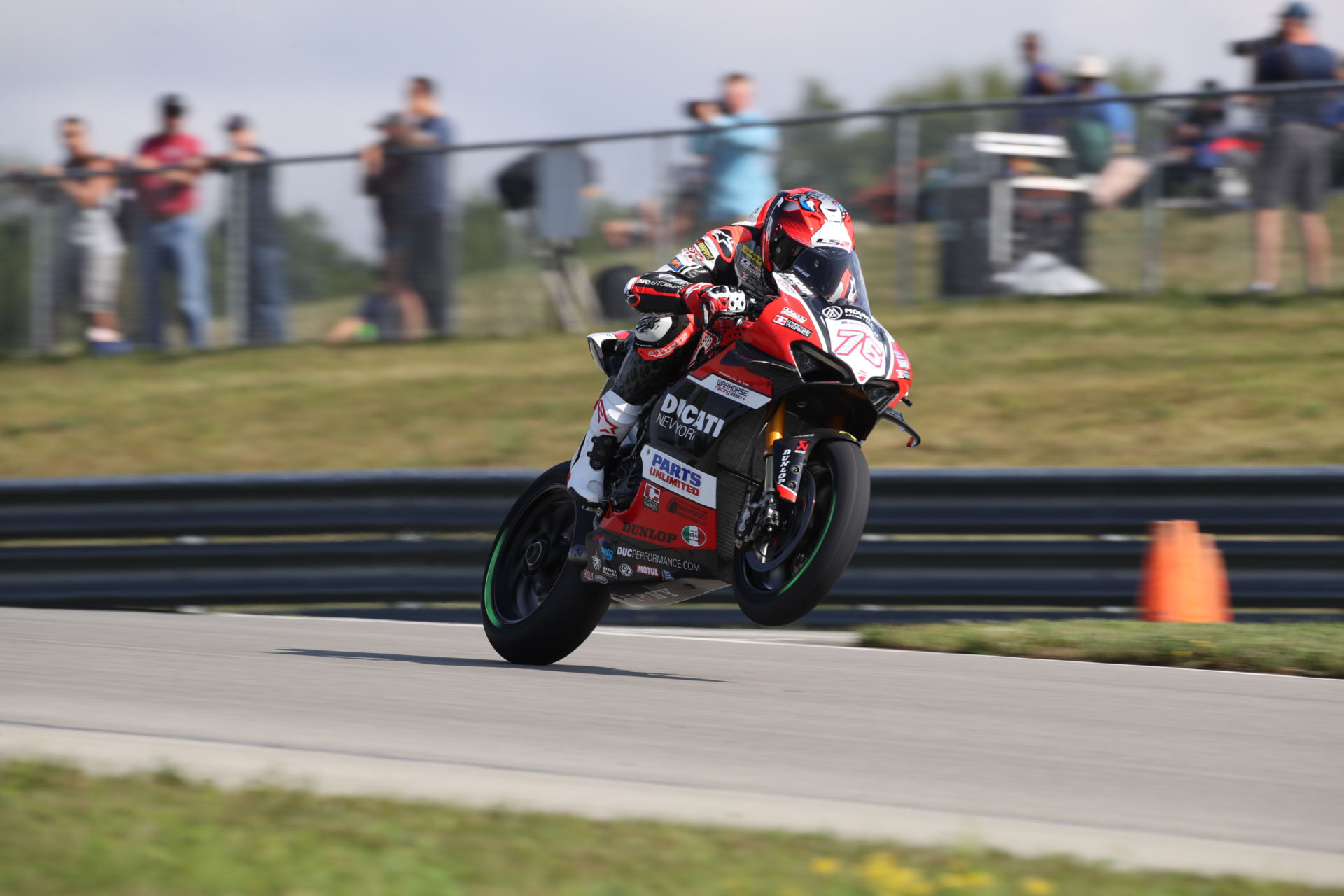 Loris Baz (Warhorse HSBK Racing Ducati New York – Ducati #76)
"It's been a rough weekend," Baz said. "We started with P3 in qualifying. I knew we didn't have the pace to match Jake, but I tried hard and I don't regret it (the crash). I gave it my best but it was not enough. I lost the front and crashed and hurt my finger a little on the left side, but it was OK. Fortunately, the bike wasn't too badly damaged. I apologized to my team and said we are in the position where we have to try and stay with Jake, rather than settle for third or fourth. Today, we started from P11 and it was pretty warm, so I just tried to come back as soon as I could. I went to P5 but I struggled a lot with pain in my hand. I was screaming in my helmet for 20 laps. Now, we have three weeks off so I will go back home to France and I have an appointment with the hospital tomorrow to see what I can do with the hand. We'll regroup and come back in New Jersey. I leave my heart on the bike and I give everything, just like all the guys in the team and I'm proud to work with them."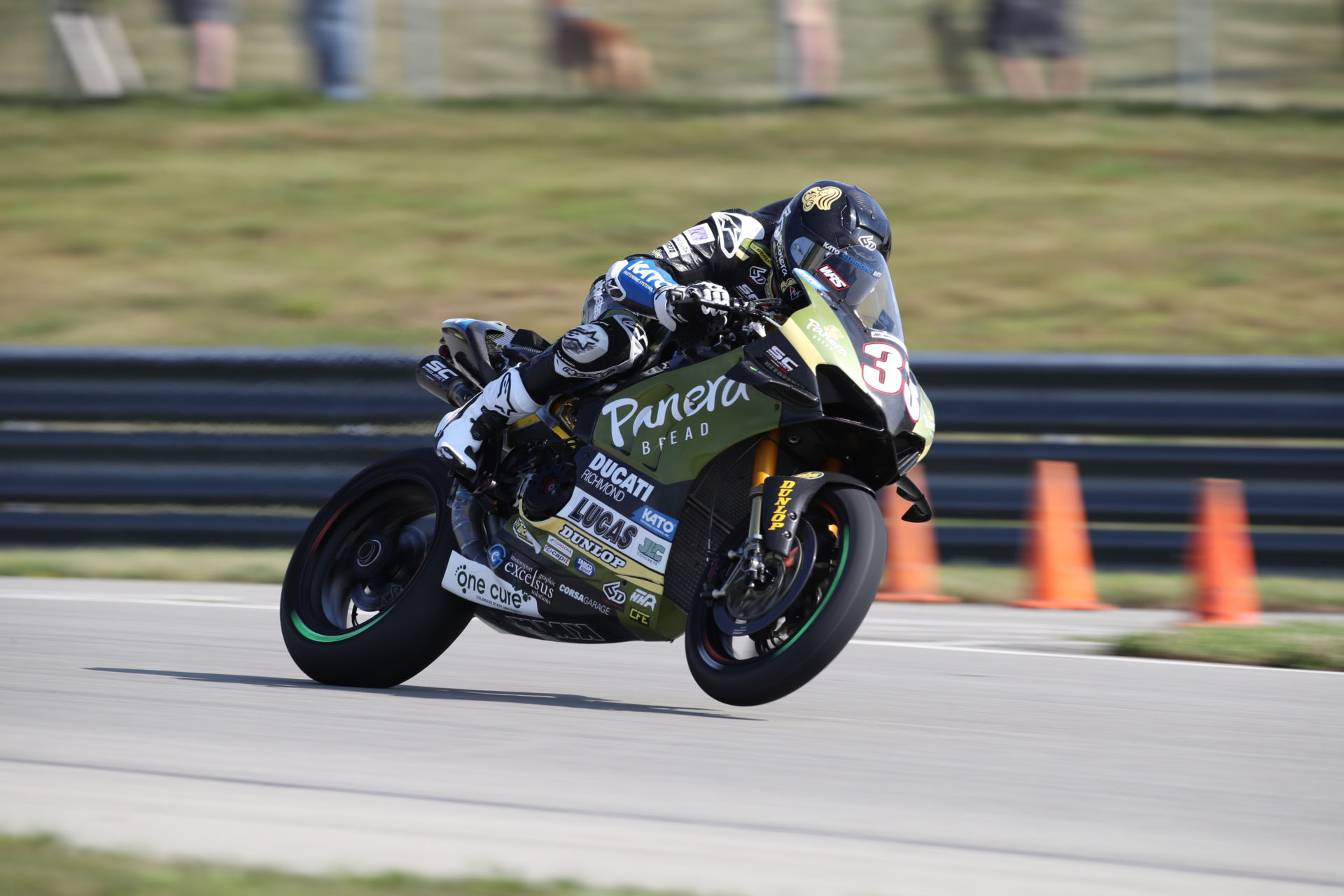 Kyle Wyman (Panera Bread Ducati – Ducati #33)
"Today went quite a bit better," Wyman said after race two. "We are still a little off where we'd expect to be, here at Pittsburgh, but we made some progress with the bike. The elbow was hanging in there and I made it through the weekend physically, so that's a plus, considering I haven't been on a bike in a while. We made some positive changes and I had a really good battle with Hector Barbera. I think we passed each other about 20 times throughout the race, and it felt good to be in a battle and to fight again. Sixth and eighth is not where we know we can be but we have some time off now to get focused on what we need to do for New Jersey and then to finish off the year at Barber, but we'll be trying our best to finish the season with the Ducati on a high note."
More, from a press release issued by Travis Wyman Racing:
Travis Wyman perseveres through injury from near-crash Saturday to score Stock 1000 podium Sunday at MotoAmerica Superbikes at Pittsburgh
BMW rider remains second in Superbike Cup standings, moves up to third in Stock 1000 points at Pittsburgh International Race Complex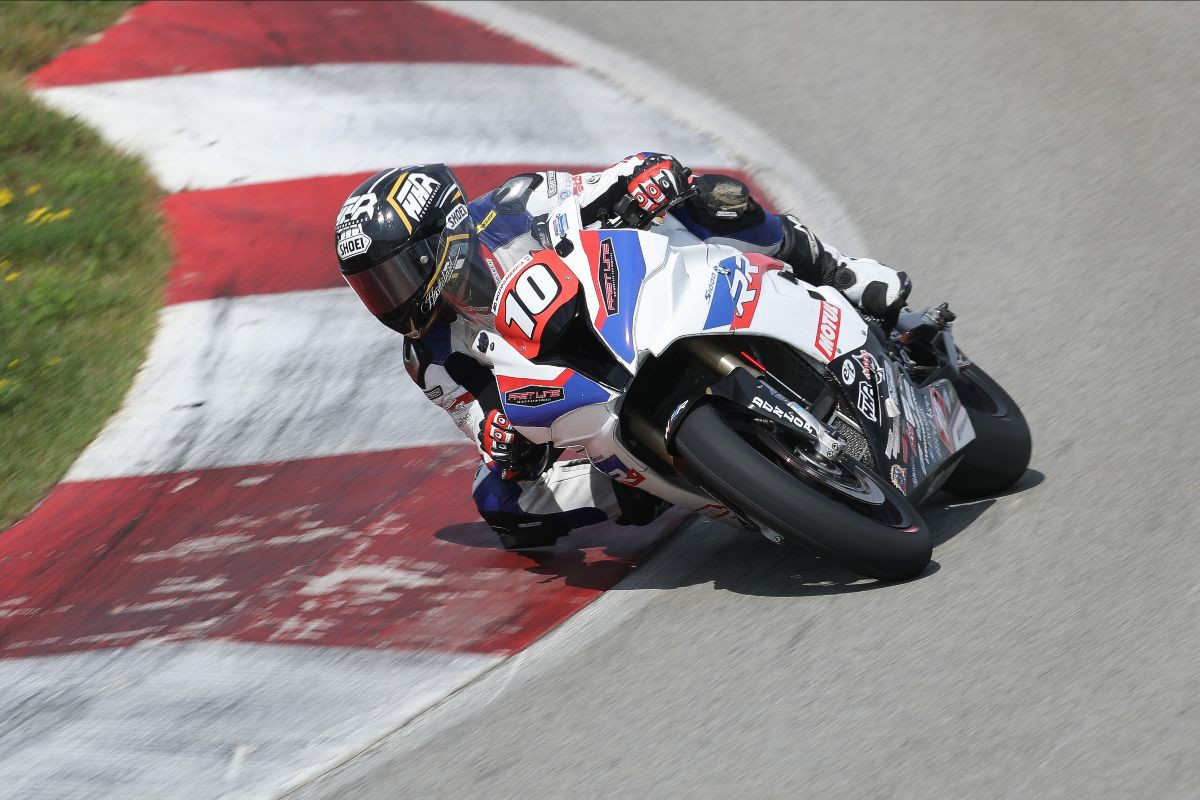 WAMPUM, Pa. — Travis Wyman's weekend racing at Pittsburgh International Race Complex could easily have ended Saturday in spectacular fashion. Instead, the BMW rider showed true grit persevering though a leg injury to claim a podium finish Sunday and move up from fourth to third in the MotoAmerica Stock 1000 standings.
The Las Vegas resident suffered a torn calf muscle while keeping his motorcycle from running into a track barrier in the Saturday MotoAmerica Superbike race, but the contender for two MotoAmerica class titles could not be deterred from taking part in two races on Sunday. Thanks to Wyman's determination to compete, he maintained second place in the chase for the 2021 MotoAmerica Superbike Cup and is ninth in the overall Superbike standings.
Wyman and the other top five riders in the Superbike Cup practiced and qualified with the Superbike Class — something that had been done at previous rounds. Wyman had a good start to the weekend in Friday morning practice. He finished the session 10th overall and was the fastest of the Cup competitors. Later Friday, Wyman ended Qualifying 1 in 10th and was the second-fastest Cup rider.
In Saturday morning's Qualifying 2 session, Wyman did enough to secure second on the Stock 1000 starting grid and 12th for the Saturday Superbike race despite struggling for grip in the rear tire.
The first Superbike race of the weekend didn't produce the results Wyman had hoped for, but his great save kept him in the Superbike Cup title hunt. Wyman got a good start, finished the first lap in 11th place and moved up to 10th on Lap 3. He was still in 10th when the violent near-crash on occurred on Lap 6. As Wyman exited Turn 2 – the same corner he had a big crash at two years ago – his motorcycle began bucking uncontrollably. Wyman valiantly tried to get the BMW back under control and managed to keep the bike on the track. Though he stayed in the race, Wyman dropped to 13th in the running order and went on to finish 14th.
Wyman's first of two races on Sunday was the event's lone Stock 1000 contest — though that race wouldn't be restarted until after the day's Superbike race. Wyman got a decent start and successfully defended second place into Turn 1. He was running close behind the race leader when the race was stopped due to a crash and bike fire.
In Superbike Race 2, Wyman got off the line well from 14th on the grid and was running in 12th place at the end of Lap 1. When another rider dropped out of the race on Lap 5, Wyman moved up to 11th, but ran a lonely race from thereon. He finished the race in 11th, about eight seconds behind the 10th place rider and about nine seconds ahead of the rider in 12th.
About an hour after the Superbike race wrapped up, Wyman was back on the grid for the restarted Stock 1000 race. After a good start, Wyman was the second rider through the first corner – a position he wouldn't relinquish through the rest of the race. Wyman caught up to the race leader midway through the shortened 10-lap race, but discomfort from the injuries he sustained Saturday forced him to back off his pace. His runner-up finish was Wyman's fourth Stock 1000 podium this season.
The team has three weeks to prepare for the last two rounds of the 2021 season, which are scheduled for Sept. 10-12 at New Jersey Motorsports Park in Millville, N.J., followed by the season finale Sept. 17-19 at Barber Motorsports Park in Birmingham, Ala.
Travis Wyman / No. 10
"I was confident coming into this weekend that we could get back on top of the box here at Pitt Race. Qualifying went great, as we qualified second for the Stock 1000 race. I was looking forward to the first Superbike race, but I had a big moment that set me back a bit. I tore my left calf muscle in the incident, and I woke up Sunday morning not sure if I'd be able to race. I got help from the doctors here and my riding coach, but I knew it was going to be difficult to get through the day. I battled in the Sunday Superbike race to get a pretty good finish – third among the Cup riders. In the Stock 1000 race, I knew if I got a good start and pushed hard early I could break away with the polesitter and battle with him until the end of the race. I just couldn't push in the last handful of laps due to arm pump and my calf injury. I'm not super happy with second place, but it was great to bring home another podium for the team."
More, from a press release issued by Robem Engineering:
Toth scores sixth-place finish in Robem Engineering debut Saturday in MotoAmerica Twins Cup race at Pittsburgh International Race Complex
De Keyrel recovers from off-track excursion to score top-10 finish, maintains championship points lead
WAMPUM, Pa. — It wasn't the weekend the Robem Engineering team had hoped for in its first time racing the Aprilia RS 660 at Pittsburgh International Race Complex. Yet, Saturday's Twins Cup race featured the team's newest rider have a promising debut and its championship-leading rider recovering from an early setback to maintain his lead in the points standings.
Though he wasn't able to pad his championship lead with one of his usual podium finishes, rider Kaleb De Keyrel finished the MotoAmerica Superbikes at Pittsburgh round with a 53-point advantage– the same margin he'd started the event with. And the team's newest rider, Max Toth, of Belmont, Calif., finished sixth in his first time racing on the 2.78-mile Pitt Race circuit.
The team had a slower-than-usual start to the weekend. De Keyrel and Toby Khamsouk finished Friday morning practice in eighth and ninth place, respectively, and Toth and Carl Price were 14th and 18th. Later Friday, De Keyrel finished Qualifying 1 as the eighth-fastest rider. Khamsouk was 10th fastest, Toth was 17th and Price 24th. The second and final qualifying session of the weekend on Saturday morning ended with De Keyrel having secured 6th, Toth 10th, Khamsouk 12th and Price 22nd on the starting grid for the lone Twins Cup race of the weekend.
Saturday afternoon's race saw De Keyrel get a good start but drop to seventh in the running order for the first three laps. In his first race aboard an Aprilia RS 660, Toth struggled a little in the early part of the race – falling from 10th to 12th by Lap 2. Khamsouk and Price had good starts to the race, as Khamsouk advanced to eighth and Price moved up from 22nd to 20th on the first lap.
De Keyrel was running in seventh place on Lap 4 when he ran off track and rejoined the race in 17th place. Having fallen out of the points-paying positions, De Keyrel rallied to make up as many positions as he could. He moved up two positions before the end of Lap 4 and was running in 14th at the end of Lap 5, 13th on Lap 6 and 12th on Lap 7. De Keyrel made up one more position before the conclusion of the race to cross the finish line in 11th.
Newcomer Toth led the team's effort in the race, moving up three places in the last three laps of the 11-lap race to cross the line in seventh. One of the riders he passed was his teammate Khamsouk, who crossed the finish line in ninth to score his ninth top-10 finish of the season. Price's pace improved as the race progressed, and he crossed the line in 18th — four places ahead of where he'd started.
A post-race disqualification of another Twins Cup rider moved all four of the Robem Enginnering riders up one place in the results. Toth was re-classified in sixth place, Khamsouk in eighth, De Keyrel in 10th and Price in 17th.
Next up on the Robem Engineering schedule is the penultimate round of the 2021 MotoAmerica season, which takes place Sept. 10-12 on the 2.25-mile Thunderbolt circuit at New Jersey Motorsports Park in Millville, N.J.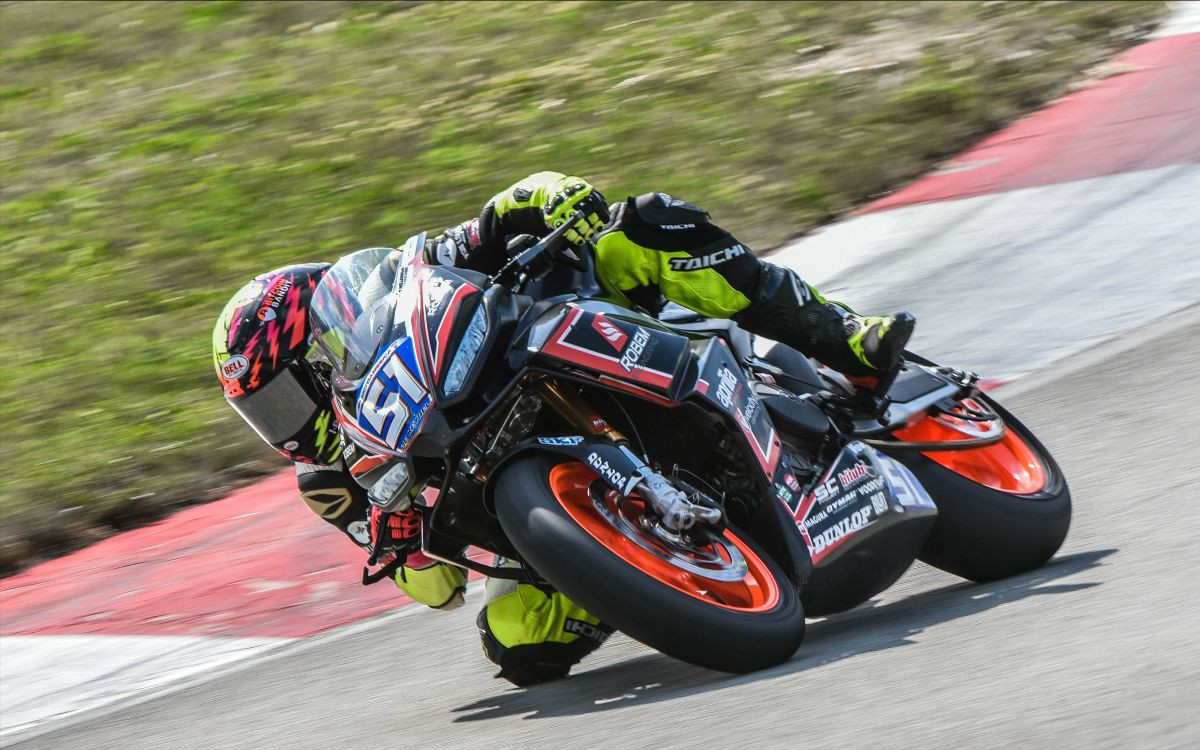 Kaleb De Keyrel / No. 51
"Unfortunately, we had a technical problem on Lap 4 that caused me to run off-track. I got the problem sorted enough to continue racing and get as many points as I could. Obviously, the championship is on the line here, so every couple points really helps. I made the best of it and rode as good as I could. I'm looking forward to having things sorted out for New Jersey and getting back on the podium there. I think setup is going to be huge there, as it's a very technical track with several left-right corner combinations."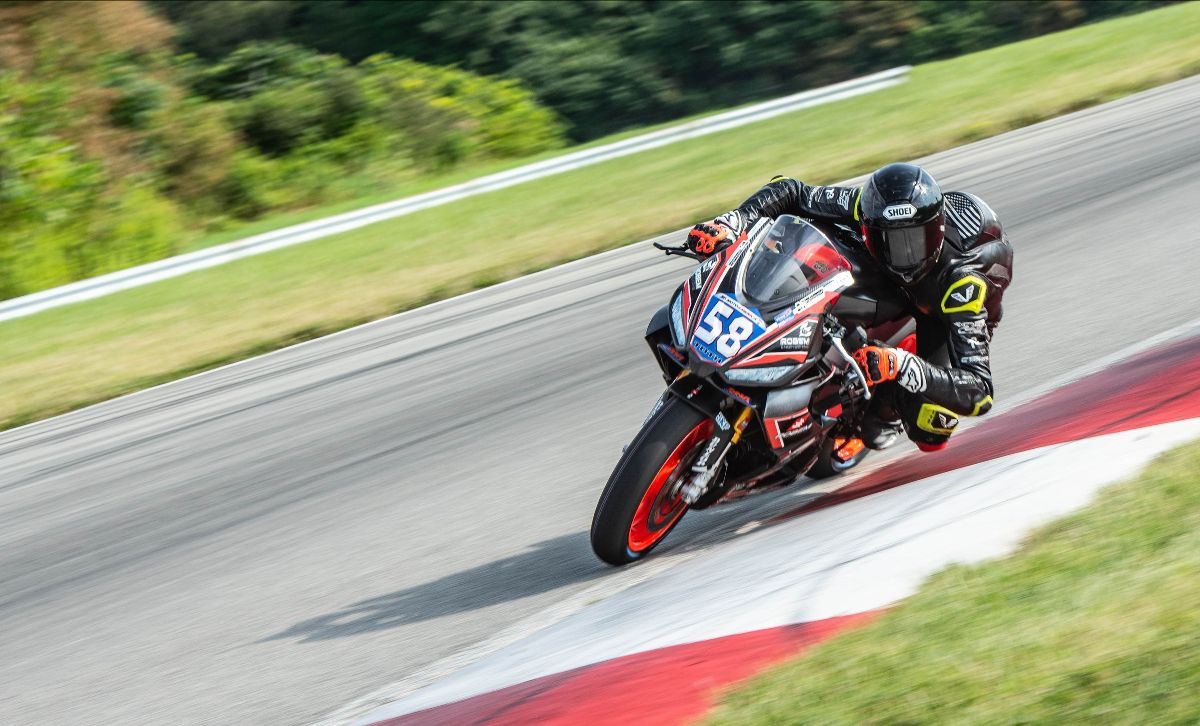 Max Toth / No. 58
"It was a really tough weekend with a lot of ups and downs. We had technical problems for the first two sessions that set us back a bit. I didn't finish where I wanted to, but we made some big improvements from where we started. It's going to be an all-new experience racing at New Jersey and Barber – just like it was here – but I think we can go into the next round with a lot more confidence."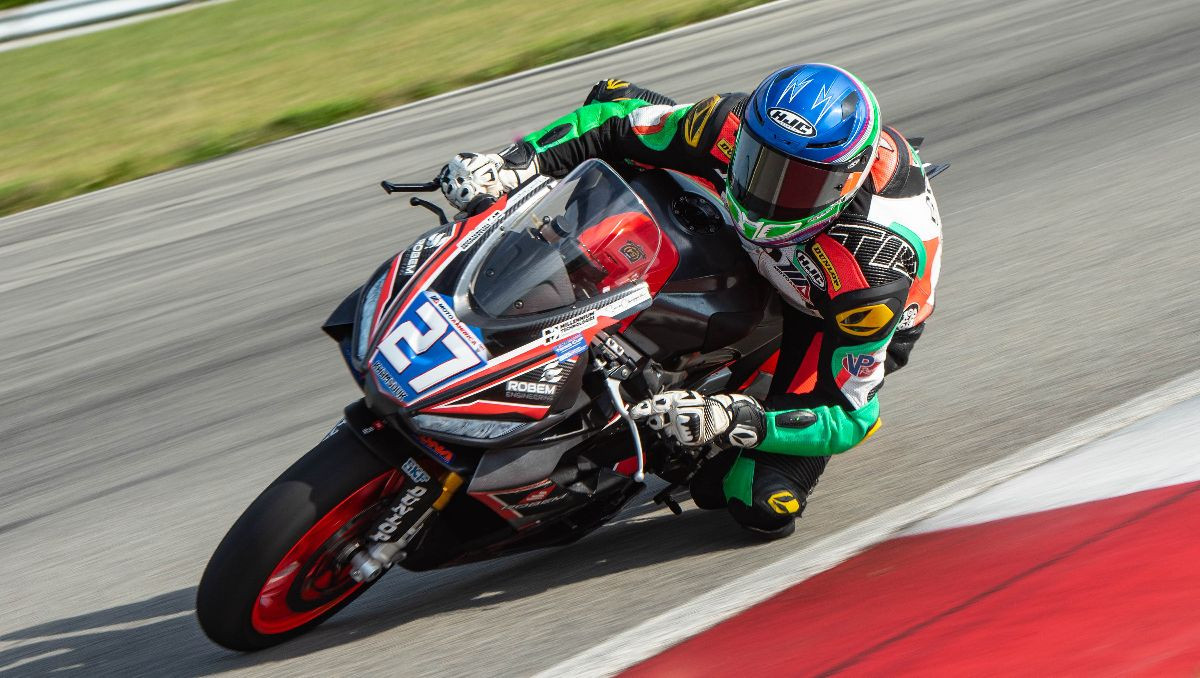 Toby Khamsouk / No. 27
"We started the weekend OK in Friday practice, but we spent a lot of the weekend trying some things with the rear of the bike to get me more comfortable. We made a change in the race, and it was a step in the right direction. We still have some things to figure out, but the whole team is working very hard on it. I'm looking forward to the next round. New Jersey Motorsports Park is a fun track."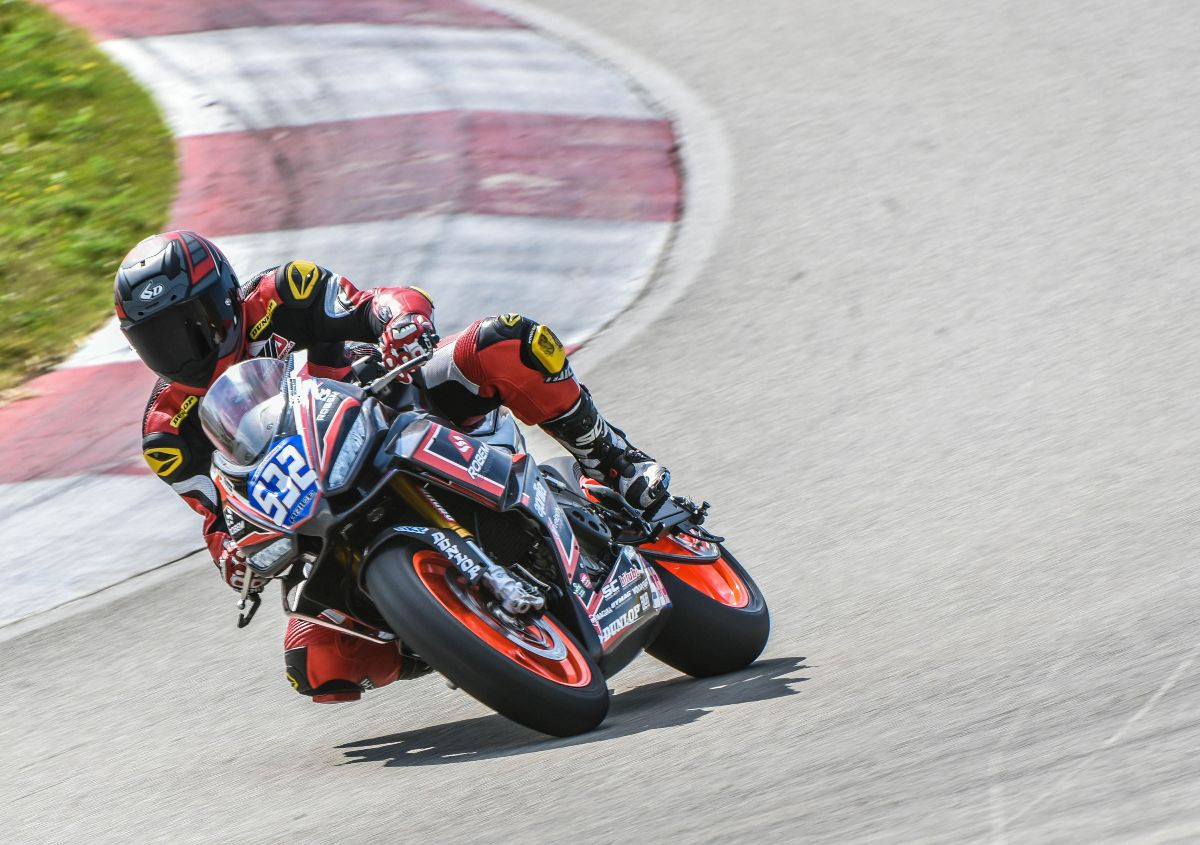 Carl Price / No. 532
"It was a great weekend and it was so much fun to be back out racing a motorcycle. The Robem Engineering team put in a Herculean effort to get this Aprilia RS 660 together for me. I can't say enough good things about the Aprilia, and I did my fastest lap of the race on the last lap. I won't be back on the bike at New Jersey, but I'm hoping to race the last round of the season at Barber."
Robem Engineering's technical partners for 2021 include Aprilia Racing, Piaggio Group Americas, The Center for Plastic Surgery, Velocity Calibrations, Bitubo Suspension, Dunlop, Woodcraft Technologies, Dymag, Vesrah, DNA Filters, Magura USA, Sara Chappell Photos, NGK/NTK, Blud Lubricants, Millennium Technologies and SC-Project.
More, from a press release issued by Pure Attitude Racing:
Points aplenty at Pitt Race for Pure Attitude Racing in Twins Cup and Supersport
Pure Attitude Racing picked up plenty of points in the latest round of the 2021 MotoAmerica Championship at the Pittsburgh International Race Complex this past weekend, with all four riders, Liam MacDonald, Trevor Standish, Austin Miller and Nate Minster, once again in action in the Twins Cup and Supersport series.
Solid qualifying by all four competitors ensured that the team were once again able to leave Round 7 with a double Top Ten finish and a bagful of points in both categories. The event also saw the return of early Twins Cup points leader Trevor Standish. The #16 had missed several races following his Road America crash and whilst a technical issue forced his retirement, Standish rode through the discomfort to run strongly in the top ten prior to his stoppage.
Liam MacDonald finished P9, consolidating his overall championship position of P8 in Twins Cup, whilst in Supersport Nate Minster and Austin Miller both scored points once again on Saturday, with Nate bagging a double points finish with P13, whilst Austin's weekend in a DNF after he was taken out by a fellow competitor.
The team now has a couple of weeks to regroup prior to the penultimate round of the 2021 season, taking place in September at New Jersey Motorsports Park.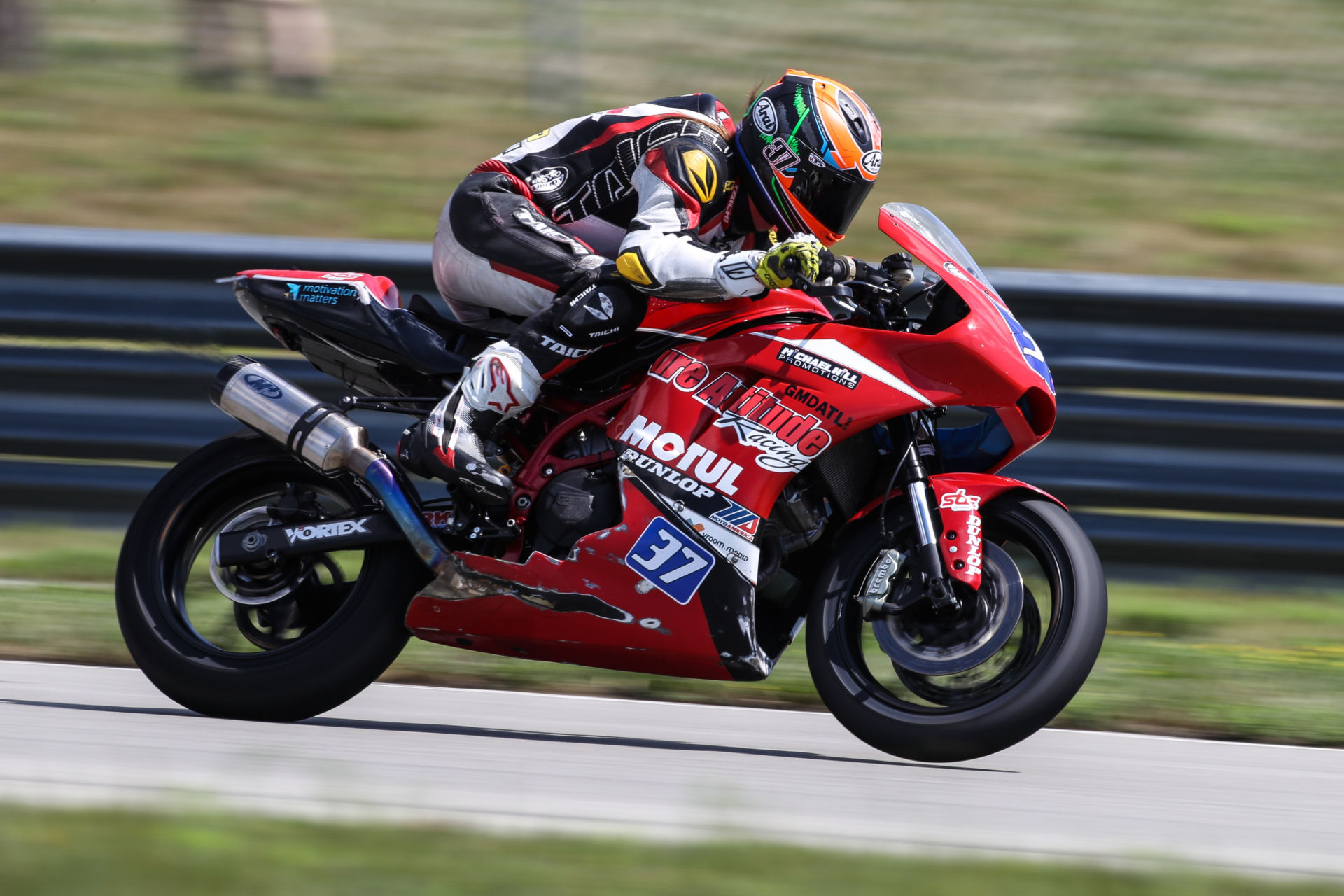 Liam MacDonald: "It was a great race. The track reminded me a lot of Suzuka in Japan. It is very flowing and favors smoother riders but is super intense. It was another new circuit for me and the first time that I was able to race the entire race in a group. It was a lot of fun. I know I could have finished higher than I did but it has been so long since I was in a race long fight that I was honestly just a bit rusty. I must be happy with another top ten and I am already looking forward to the next one in New Jersey. Big thanks to the team who did another awesome job this weekend."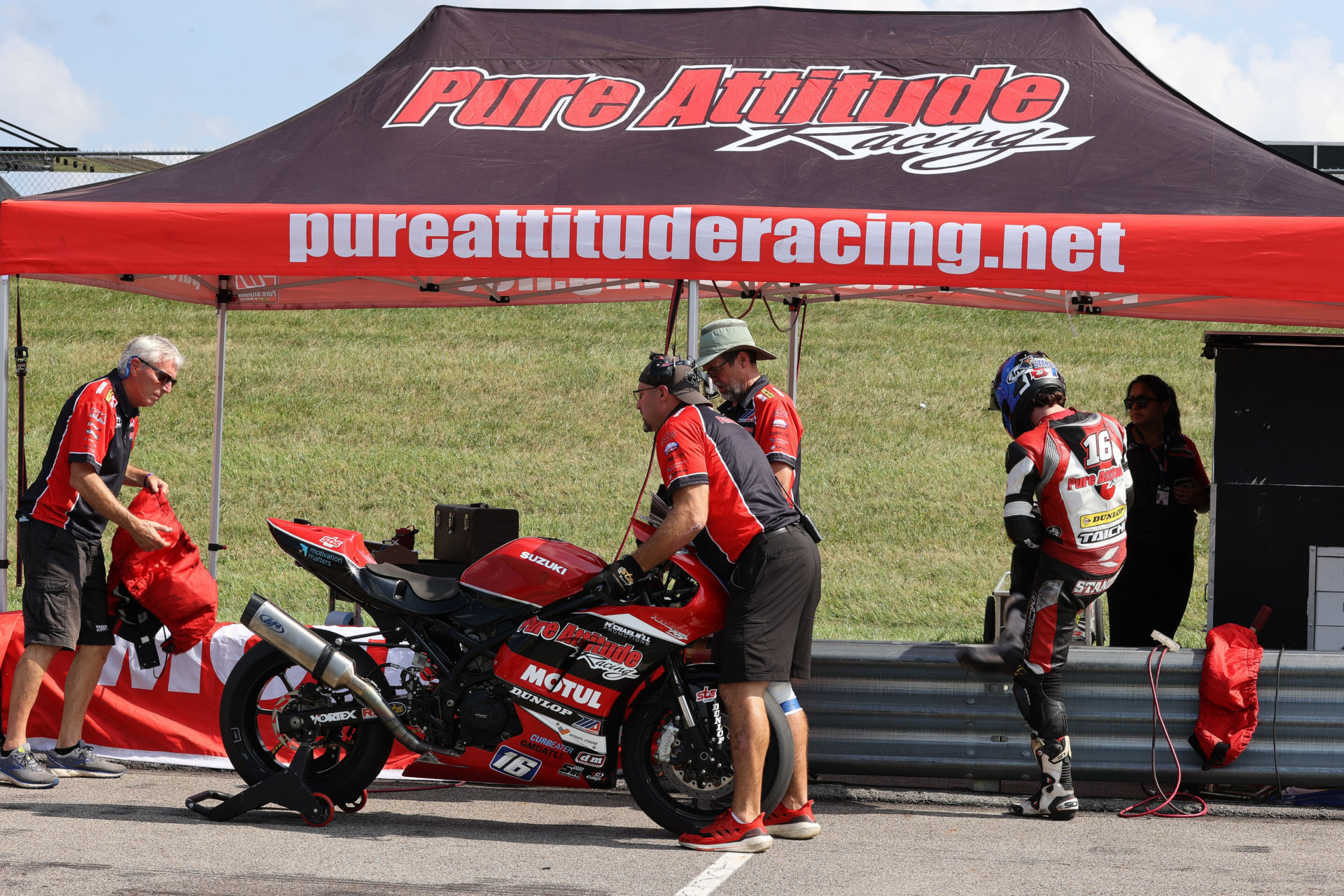 Trevor Standish: "Unfortunately I made a call to change something on the bike for the race that meant we went in the wrong direction but I powered through and after almost being taken out at the start was able to run some competitive times considering my wrist is still not 100%. Sadly, we hit a small technical issue which meant I had to pit. The team did a great job and I went back out but sadly finished outside of the points. It's a bittersweet feeling as we were strong in qualifying and I am stoked to be back on track, but we live and learn, and we move onto New Jersey ready to push again."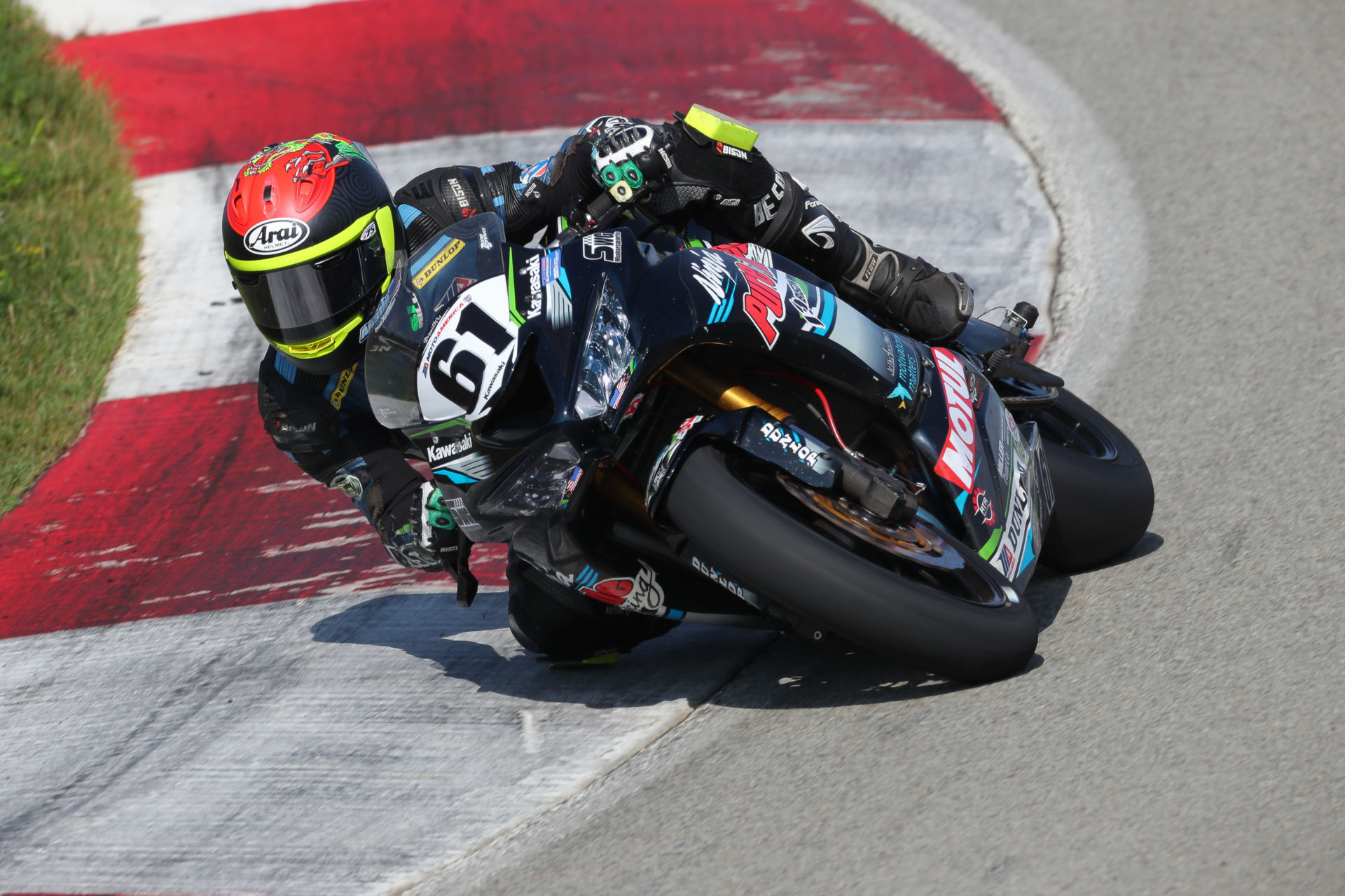 Austin Miller: "Race 1 on Saturday was decent, and we were able to finish in the points again which is always the aim. On Sunday I made an ok start and held my position but then I got hit by another rider which bent my exhaust and basically ruined the rest of the race. I did a couple of laps, but the bike was damaged, and we got black flagged. It's annoying as once again we were looking good for points, but I am taking the positives, we were not a million miles away from the top ten pace wise for the third consecutive race which shows our progress. We will go again in a few weeks."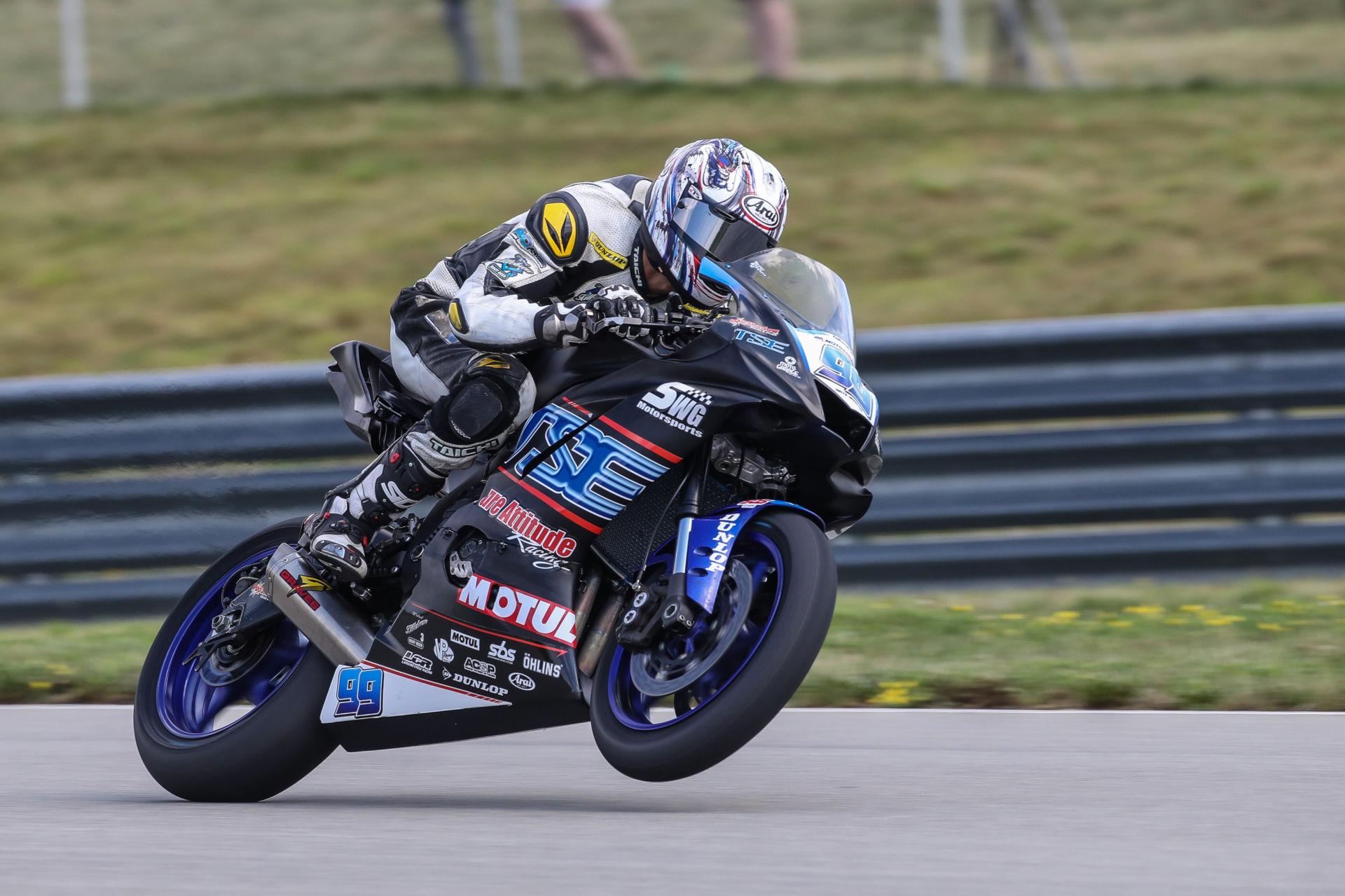 Nate Minster: "I made a good start in Race 1 but made a small mistake and lost a couple of positions. I regrouped and fought my way back into contention. We were able to score some good points and I was confident for Sunday. Race 2 went well. I ran P9 for most of the race. It was a bit lonely but then I was told at the end of the race I had jump start penalty which I don't understand as you can see from the footage that my entire row and those ahead all moved at the same time so I don't agree with the decision at all. Nevertheless, that's how it is, and we have to take the positives and move on to New Jersey knowing that we were once again well inside the top ten and not far from the top 6 or 7."