Gagne Bounces Back to Podium Finish in Texas
Fresh N Lean Progressive Yamaha Racing's Jake Gagne rode to a podium finish in yesterday's Race 2 of the 2022 MotoAmerica Superbike season opener at the Circuit of The Americas. The defending champion put in a resolved ride to score some valuable points on a challenging weekend in Austin, Texas. His teammate Cameron Petersen finished fourth for a solid debut with the team.
After the MotoGP World Championship completed the Grand Prix of the Americas at the 3.41-mile track in Austin, Texas, the MotoAmerica Superbike Championship took to the grid. Both Fresh N Lean Progressive Yamaha Racing riders got a good start with Petersen rocketing to the front aboard his Attack Performance Yamaha R1. Sitting in fourth, Gagne jostled for position in the top five on the opening lap and ultimately reclaimed fourth. He soon closed in on his teammate in third and passed him on Lap 3. With Petersen on his heels, the duo started to close the gap on the front runners around the halfway point, but ultimately Gagne crossed the line third to score some valuable points in the championship.
Petersen led the first lap but was shuffled to third a lap later when his teammate advanced. He patiently waited behind Gagne, matching the pace of the reigning MotoAmerica Superbike Champion, but lost some ground after the halfway mark. He then rode on to finish comfortably in fourth and earn his second top-five finish after yesterday's podium.
The Fresh N Lean Progressive Yamaha Racing gets a short break before heading to Road Atlanta in Braselton, Georgia, for Round 2 of the MotoAmerica Superbike Championship on April 22-24.
Richard Stanboli – Fresh N Lean Progressive Yamaha Racing Team Manager
"It was an unusual weekend, but we recovered and can take away some positives from it. Jake had little time on the bike but used his skill to change his style and adapt to the unfamiliar feeling of his motorcycle. Cameron was able to follow Jake and match his pace, so it was a good first weekend aboard our R1, and he learned a lot through the weekend. The team will now regroup. We are ready to bring the fight at our next round in Atlanta and look forward to seeing our fans at the podium celebration."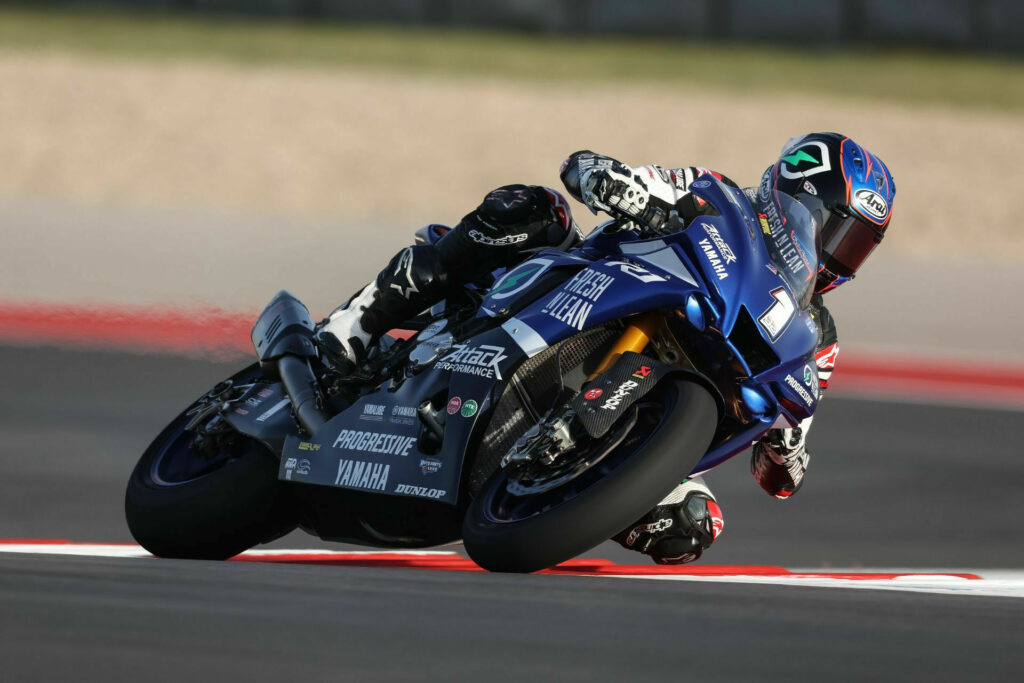 Jake Gagne – Fresh N Lean Progressive Yamaha Racing
"It's been a tough weekend. We were dealing with a lot of weird little things, and we missed out on some good track time. I knew it was going to be tough to fight for the win after the warmup lap – a new bike and some different things that I wasn't used to. After being out of the race yesterday, the priority was bringing it home and getting some points. I'm just happy to get on the podium and to roll on and get out of this place. So yeah, it was a rough start, but I know we are ready to rock the rest of the year."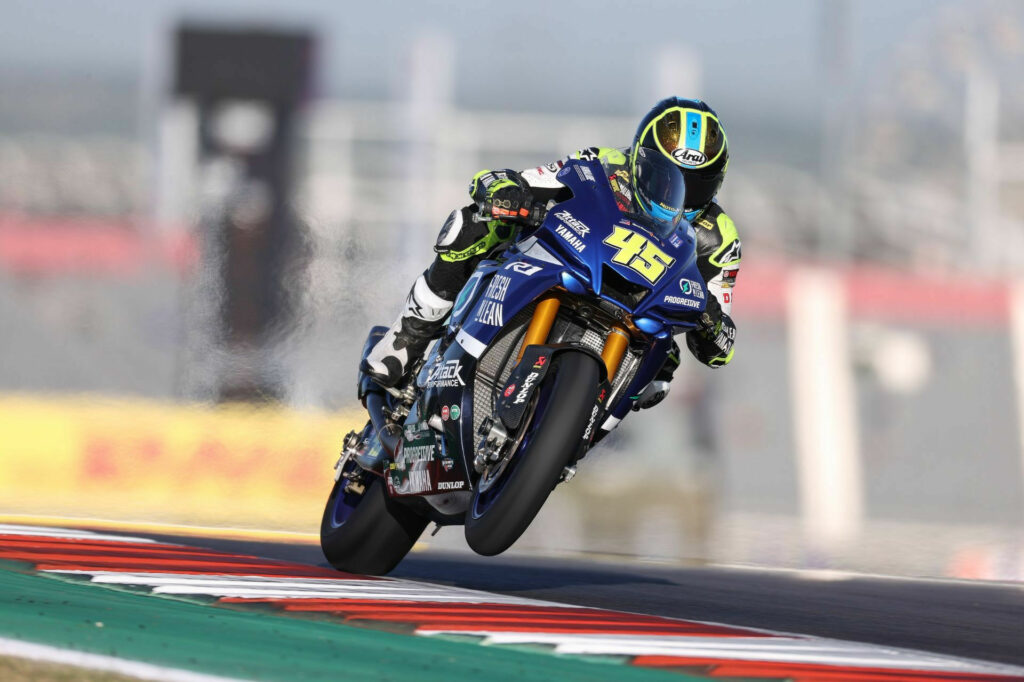 Cam Petersen – Fresh N Lean Progressive Yamaha Racing
"It was a better race than the first one. I was more consistent and was a little bit closer to the front. So it was a good starting point, but I've got to be on the podium every single race. I'm not happy with finishing fourth, but I'm happy to walk away with two race finishes and have some solid points under our belt. Now we are going to some of the tracks that I really love going to and that I go good at. I think the rest of the season is going to go well; it was a great first weekend with the team."
More, from a press release issued by Tytlers Cycle Racing:
Tytlers Cycle Racing competitive at COTA
PJ Jacobsen and Hector Barbera powered the all new Tytlers Racing BMW M1000 RR to a brace of top six finishes in the opening round of the 2022 MotoAmerica Superbike Championship at the Circuit of the Americas this past weekend.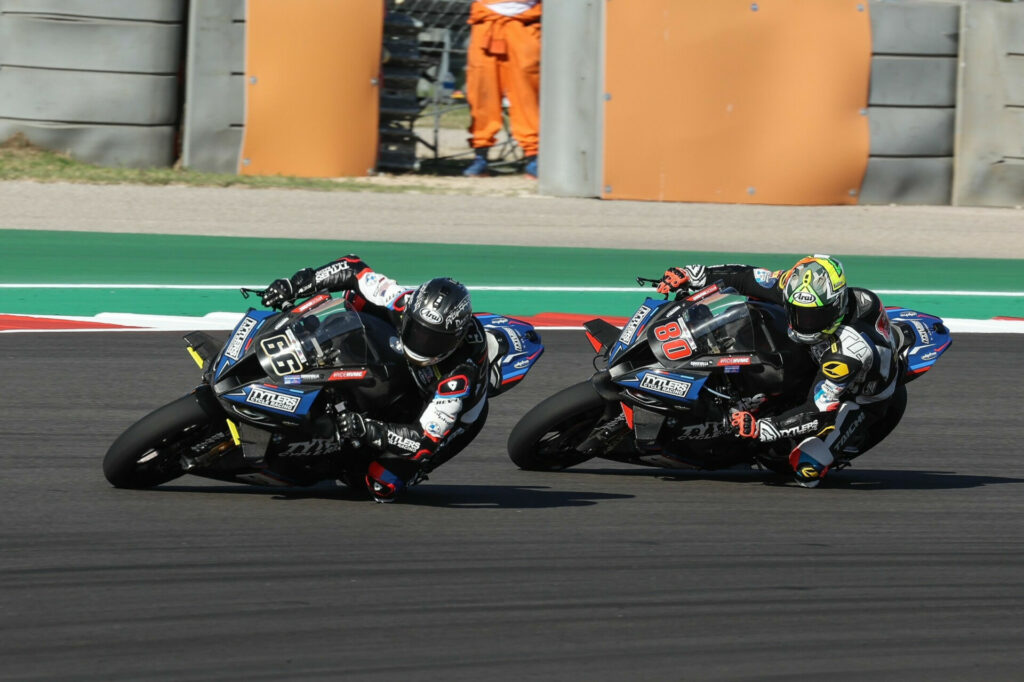 Hector, who is in his sophomore MotoAmerica season, has previous racing experience of COTA and revelled at being back on track in Texas. A strong qualifying performance ensured the Spaniard was in the mix from lights out, the #80 crossing the line less than a second behind his team mate PJ Jacobsen. Barbera also fought hard in the second encounter of the weekend narrowly missing out his second top six of the event. He crossed the line seventh.
For PJ Jacobsen there was plenty to smile about. His racing return on Saturday saw him romp to a strong fourth place finish. A technical problem in Race 2 prevented what could have easily been an even better performance for the #99, who made a brilliant start and was in podium contention for the first half lap.
Travis Wyman and Corey Alexander, the team's two Stock1000 challengers when the series kicks off at Road Atlanta in a fortnight, were also in action. Wyman raced to pair of ninth place finishes whilst Alexander finished tenth and thirteenth in the two fourteen lap encounters.
All things considered it was a successful first round of MotoAmerica for the all-new squad and the entire Tytlers Racing team is now even more motivated and excited for the season ahead after showing that the BMW M1000 RR, which makes its debut in the US national series this year, is competitive.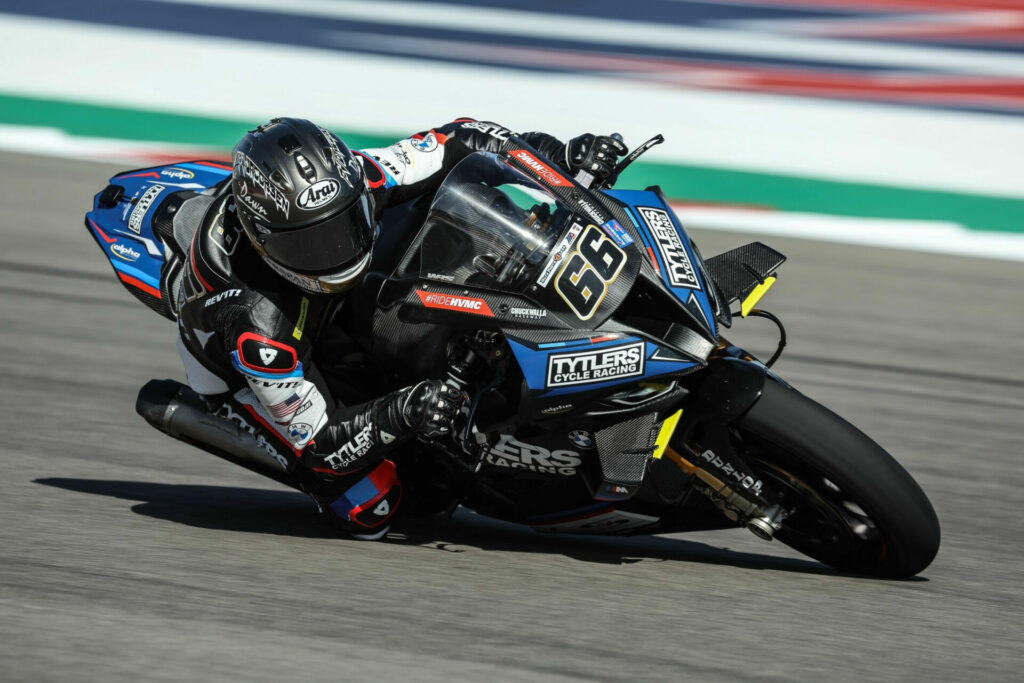 PJ Jacobsen: "After not racing for two years to get P4 in my first race bike with this new team was really good. I was pumped and excited when I was sitting on the grid to get the first race going. The team did a fantastic job and Saturday's result is for them., for all their hard work to get us ready to go racing. We had no warm up session on Sunday, so we had to go straight into Race 2 on Sunday. We made some changes and even on the sighting lap to the grid it felt pretty good. My plan was to try to stay at the front longer. I was in the top three into Turn 1 and as we got onto the back straight, I was with the leaders, but we had a small issue and that put me out of the race. To come away with a fourth in race one and to feel as good as I do on the bike is positive for the rest of the year."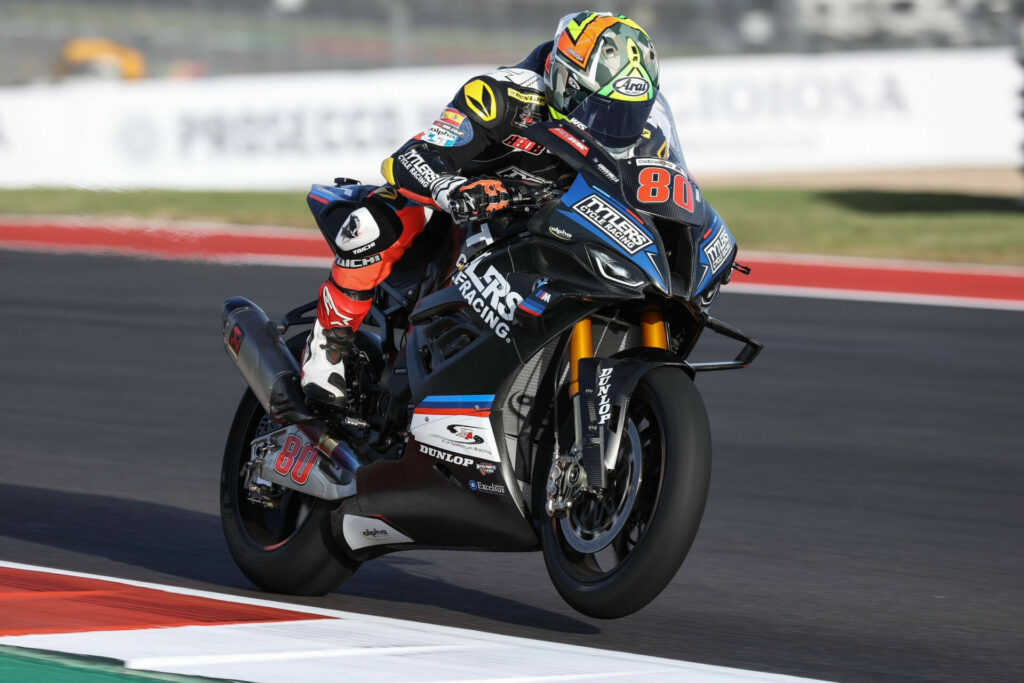 Hector Barbera: "My first race with the new BMW M1000 RR was positive even if I started losing grip in the rear lap by lap. It became a harder to push and my lap times started to get slower. That said, for the first race it was not so bad. I am happy with how race two went because we were able to improve the setting with the bike. My feeling, especially in the first five laps was much better. For sure we need to find a way to be consistently fast later in the race, but I am confident that we will get there. The bike is very fast, and I feel like it will be possible to battle for the victory this year."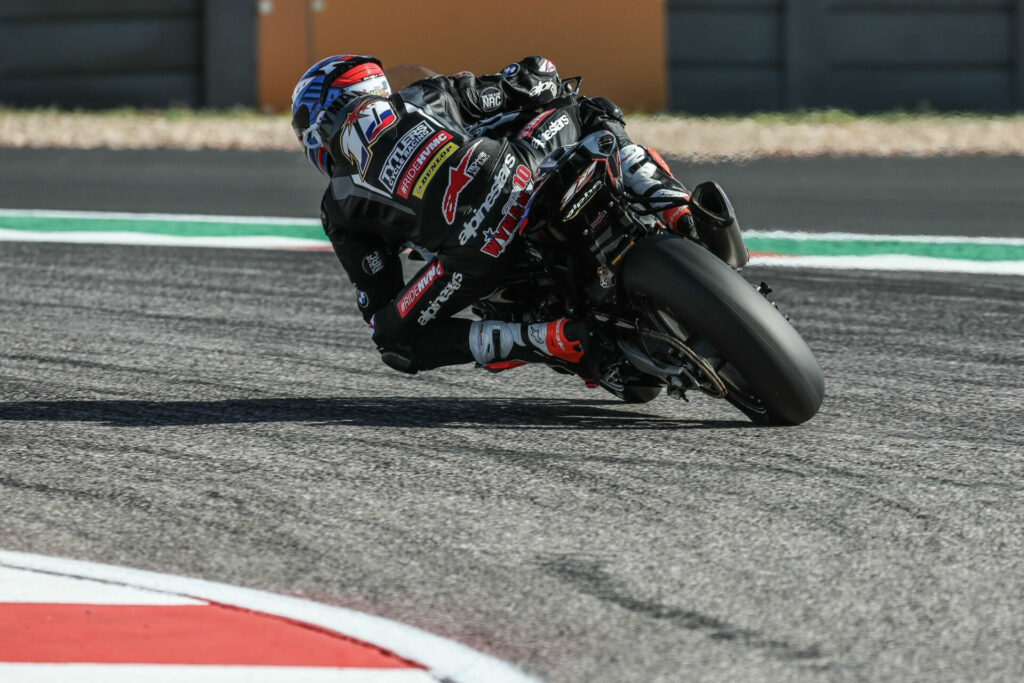 Travis Wyman: "After missing FP1 on Friday I felt like I was a little behind. I qualified fourteenth and was just hoping to get a good start and be able to hang with the group when the lights went out. The second half of the race the settings we had came to me and I was able to progress forward and ended up fighting for the top eight. I eventually came home ninth which was a great start for me and for the team in our first race together. Race two was just as fulfilling as Saturday's. I got off to a way better start and was able to feel much more comfortable on the bike. We improved our package but there is still a lot to learn. I am excited to start our championship season at Road Atlanta in a couple of weeks."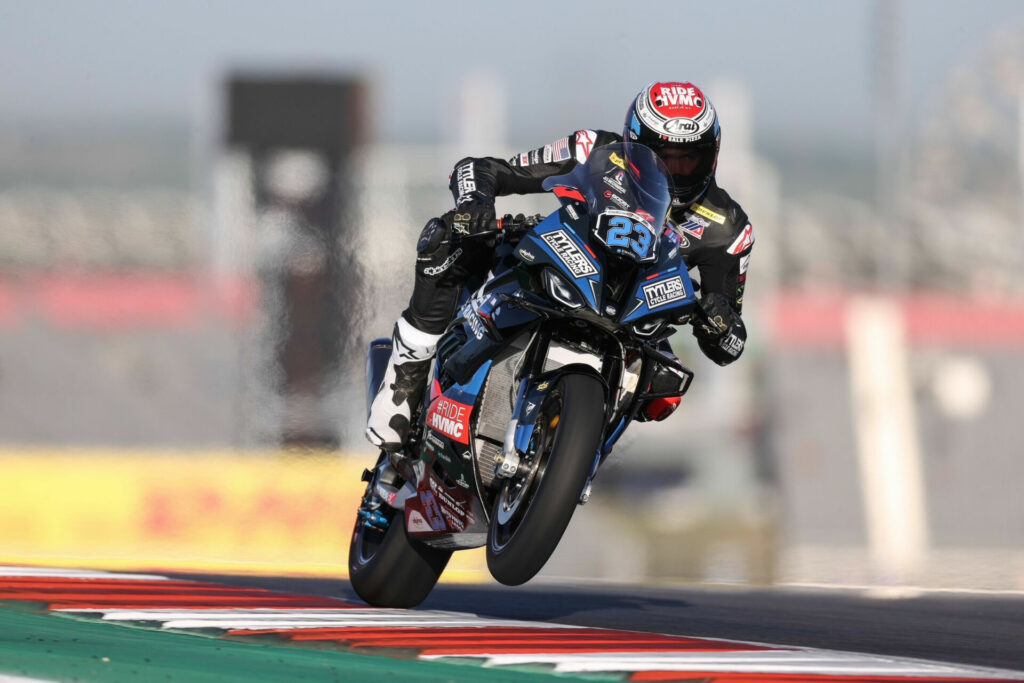 Corey Alexander: "It was good to get the first race of the season out of the way. Sunday was another productive day. I learned more about the bike, and we were able to make progress in understanding more things. Overall, it was a positive weekend for the team with no major technical issues which is encouraging for our first outing together as a four-rider team. I am looking forward to a more normal weekend in terms of timetable so we can keep moving forward. See you in Atlanta!"
More, from a press release issued by Suzuki Motor USA, LLC:
FIRST SUPERBIKE TOP FIVE FOR VISION WHEEL M4 ECSTAR SUZUKI'S RICHIE ESCALANTE IN TEXAS
BREA, Calif., April 11, 2022 — Suzuki Motor USA and Team Hammer's Vision Wheel M4 ECSTAR Suzuki Superbike effort found more speed on Sunday at the Circuit of the Americas as Superbike class rookie Richie Escalante spearheaded a 5-6 finish for the team in the second round of the 2022 MotoAmerica Superbike season.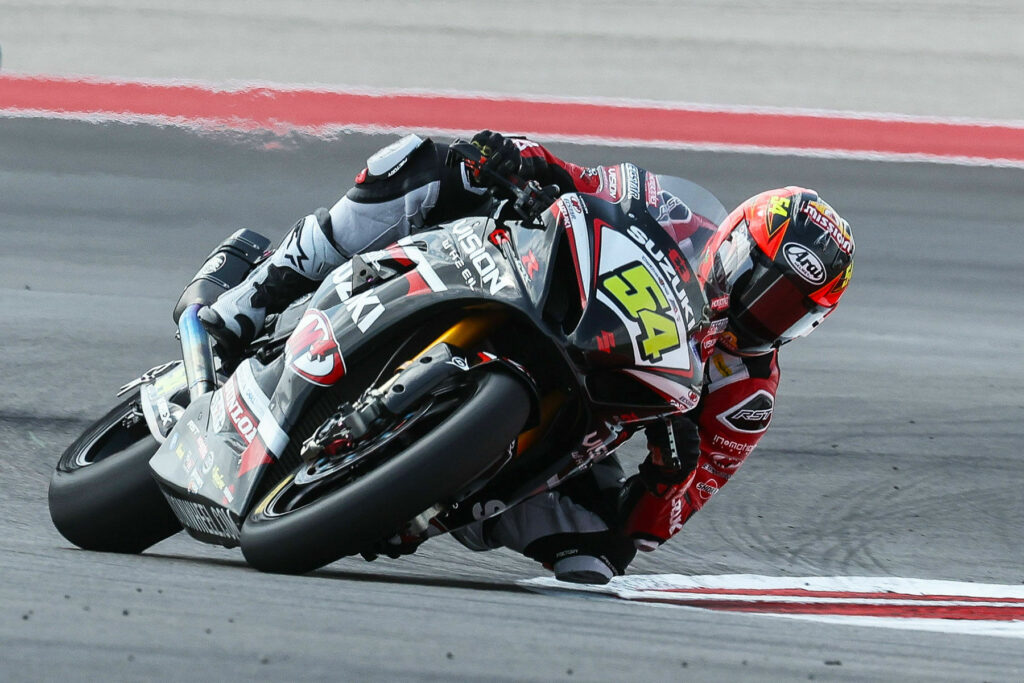 Escalante and teammate Jake Lewis got away in seventh and eighth, respectively, and immediately started fighting forward aboard their factory-backed Suzuki GSX- R1000Rs.
Reigning Stock 1000 champion Lewis took point and the two positioned themselves to strike for a place inside the top five. Kentuckian Lewis was the first to do so, but he was then overhauled by impressive class newcomer Escalante, who is quickly finding his form on the bigger, faster machine after years of stardom on middleweight equipment.
Escalante not only ultimately scored his first premier-class top five, but he also effectively slashed the gap between himself and victory by half overnight.
Escalante said, "We made some changes on the bike and we surely improved, especially in the later laps. I'm super happy to put up consistent laps and finish P5. My entire Vision Wheel M4 ECSTAR Suzuki crew did an amazing job.
"I'm excited, but there's still a lot of work to do to win in Superbike. I can't wait until Road Atlanta to continue my process."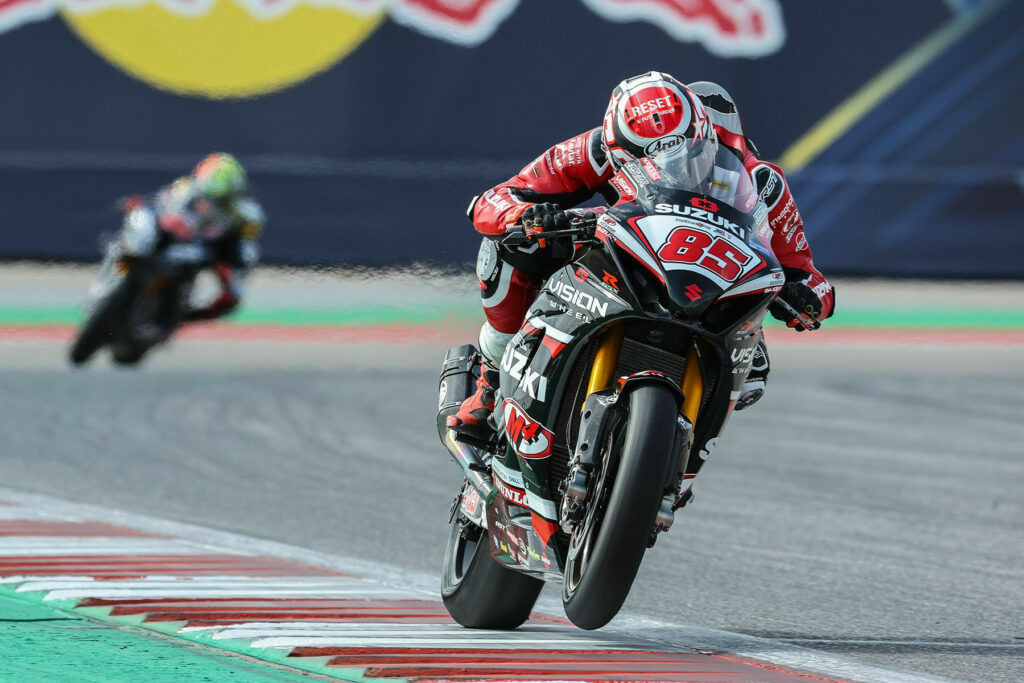 Lewis finished one position back to walk away from a promising first weekend back with the team with a pair of sixths.
He said, "We picked up another sixth, but we made a little bit of progress in that race. I got a decent start and then got into a rhythm and kept charging and charging. When Richie came by, I had run out of tire a little bit and didn't have anything for him."
"Overall, it was a better day and a better race. We will continue to try some things and hopefully progress for the next round."
Both athletes are tied for fourth in the points standings after a challenging first event of the season, with limited track time to dial in the settings on their Suzuki GSX-R race bikes.
The AMA/FIM North American Road Racing Championship will resume with all classes in action together for the first time this season in two weeks' time at Road Atlanta in Braselton, Georgia, on April 22-24.
ABOUT TEAM HAMMER 
The 2022 season marks Team Hammer's 42nd consecutive year of operating as a professional road racing team. Racebikes built and fielded by Team Hammer have won 128 AMA Pro and MotoAmerica National races, have finished on AMA Pro and MotoAmerica National podiums 332 times, and have won 11 AMA Pro and MotoAmerica National Championships, as well as two FIM South American Championships (in Superbike and Supersport.) The team has also won 137 endurance races overall (including seven 24-hour races) and 13 Overall WERA National Endurance Championships with Suzuki motorcycles and holds the U.S. record for mileage covered in a 24-hour race. The team also competed in the televised 1990s Formula USA National Championship, famously running "Methanol Monster" GSX-R1100 Superbikes fueled by methanol, and won four F-USA Championships.
ABOUT VISION WHEEL
Founded in 1976, Vision Wheel is one of the nation's leading providers of custom wheels for cars and trucks, and one of the first manufacturers of custom wheels and tires for ATVs, UTVs, and golf carts. Vision Wheel looks beyond the current trends and to the future in developing, manufacturing, and distributing its wheels. Vision's lines of street, race, off-road, American Muscle, and Milanni wheels are distributed nationally and internationally through a trusted network of distributors. Vision Wheel also produces the Vision It AR app to allow users to see how their wheel of choice will look on their vehicle before purchase and installation. For more information on Vision Wheel, visit www.visionwheel.com.
ABOUT SUZUKI
Suzuki Motor USA, LLC. (SMO) distributes Motorcycles, ATVs, Scooters, Automotive Parts, Accessories, and ECSTAR Oils & Chemicals via an extensive dealer network throughout 49 states. Suzuki Motor Corporation (SMC), based in Hamamatsu, Japan, is a diversified worldwide manufacturer of Motorcycles, ATVs, Scooters, Automobiles, Outboard Motors, and related products. Founded in 1909 and incorporated in 1920, SMC has business relations with 201 countries/regions. For more information, visit www.suzuki.com.