Fresh N Lean Progressive Yamaha rider Jake Gagne will start the first MotoAmerica Medallia Superbike race of the 2022 season from pole position Saturday at Circuit of The Americas (COTA), in Austin, Texas, in spite of the defending Champion not posting any lap times in the final qualifying session Friday.
Gagne led Qualifying One with a lap time of 2:08.450 on his YZF-R1, but his bike suffered a technical problem and lost power early in Qualifying Two (Q2), preventing him from completing any timed laps in Q2.
Gagne's time from the earlier session held up as fastest overall and he got pole position, but the veteran lost the 40 minutes of track time in Q2 that he planned to use doing long runs and evaluating his race tire choices.
The fastest rider in Q2 was Mathew Scholtz, who did a 2:08.484 on his Westby Racing Yamaha and ended up second-best overall.
Former MotoGP rider Danilo Petrucci qualified third with a time of 2:08.788 on his Warhorse HSBK Racing Ducati NYC Panigale V4 R.
Gagne's teammate also suffered an engine failure on his Yamaha and failed to do any fast laps during Q2.
After the Q2 session, Fresh N Lean Progressive Yamaha informed MotoAmerica that they would be taking their Superbikes directly back to their area in the paddock to start swapping motors instead of going to mandatory impound in Parc Ferme, according to Team Owner Richard Stanboli. Because they failed to report to Parc Ferme, Gagne and Petersen were disqualified from Q2, but their lap times from Q1 earned them places on the grid for this weekend's races.
More, from a press release issued by MotoAmerica:
Gagne On Top On Opening Day For The MotoAmerica Superbikes At COTA
Despite Missing The Entire Q2 Session, Jake Gagne Nabs Pole Position In Texas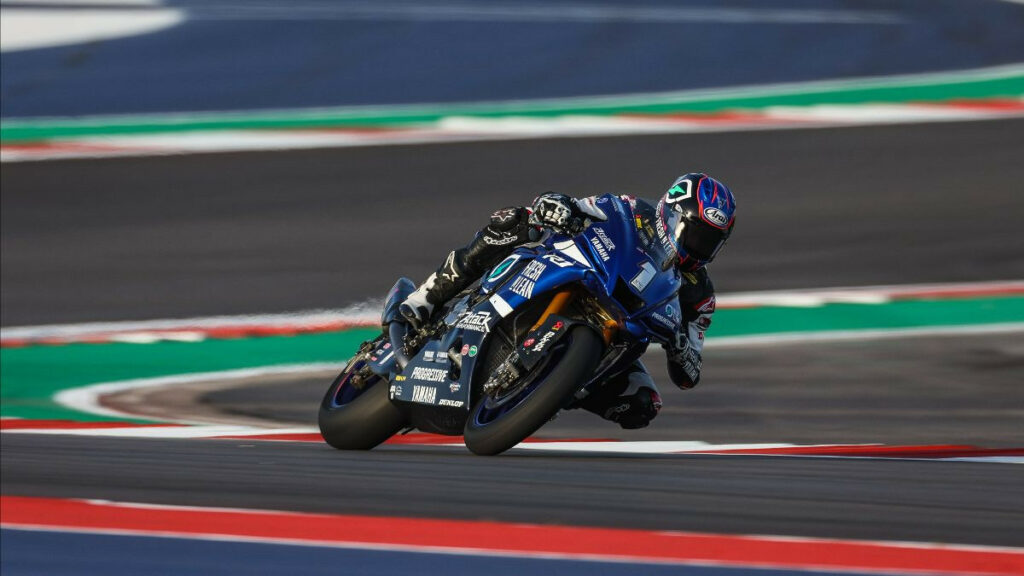 AUSTIN, TX (April 8, 2022) – After an eventful final qualifying that saw him fail to complete a lap when a mechanical problem derailed his session, Fresh N Lean Progressive Yamaha Racing's Jake Gagne hung on to pole position for this weekend's two MotoAmerica Medallia Superbike races at Circuit of The Americas by just .034 of a second.
When all was said and done after the opening day for the premier class of the Auto Parts 4 Less MotoAmerica Championship, it was Gagne at the top of the heap by virtue of his 2:08.450 lap on a sunny Friday afternoon in Texas. But it was oh so close with Westby Racing's Mathew Scholtz second and just .034 of a second from snatching pole from Gagne, who was already out of his leathers and back at his team's transporter.
The front row will be completed by Warhorse HSBK Racing Ducati NYC's Danilo Petrucci, the Italian making his MotoAmerica debut at COTA this weekend in impressive fashion. Petrucci was on a flying final lap in an effort to grab pole but ran wide and failed to improve his best of 2:08.788.
Row two for the pair of Medallia Superbikes will be led by Gagne's new teammate Cameron Petersen, the South African also suffering a mechanical failure on his Yamaha YZF-R1 after just two laps of the final session. Fortunately, Petersen's best from Q1 was good enough to put him fourth on the grid. The final rider to lap in the 2:09s was Tytler's Cycle Racing's Hector Barbera, the Spaniard riding the team's new BMW to a 2:09.999. Barbera's teammate PJ Jacobsen will start from sixth on the grid in his return to racing action after a year-and-a-half sabbatical.
The pair of Vision Wheel M4 ECSTAR Suzukis were seventh and eighth, respectively, with Jake Lewis just a 10th of a second quicker than his Superbike rookie teammate Richie Escalante. Disrupt Racing Suzuki's Hayden Gillim rounded out the top 10 qualifiers.
"It's been an interesting day," Gagne said. "We had a little mishap in this last qualifying a few minutes ago and I think we're still on pole, but I know it's close. I know those guys are going and we're at the front for tomorrow and it will be some good racing. I'm looking forward to getting the year kicked off. I'm good to go. We've got it sorted out and we'll be ready to go and ready to race tomorrow."
More, from a press release issued by Ducati:
Danilo Petrucci Leaps to Third on Day One at Circuit of The Americas
The Warhorse HSBK Racing Ducati NYC Rider on The Pace in Texas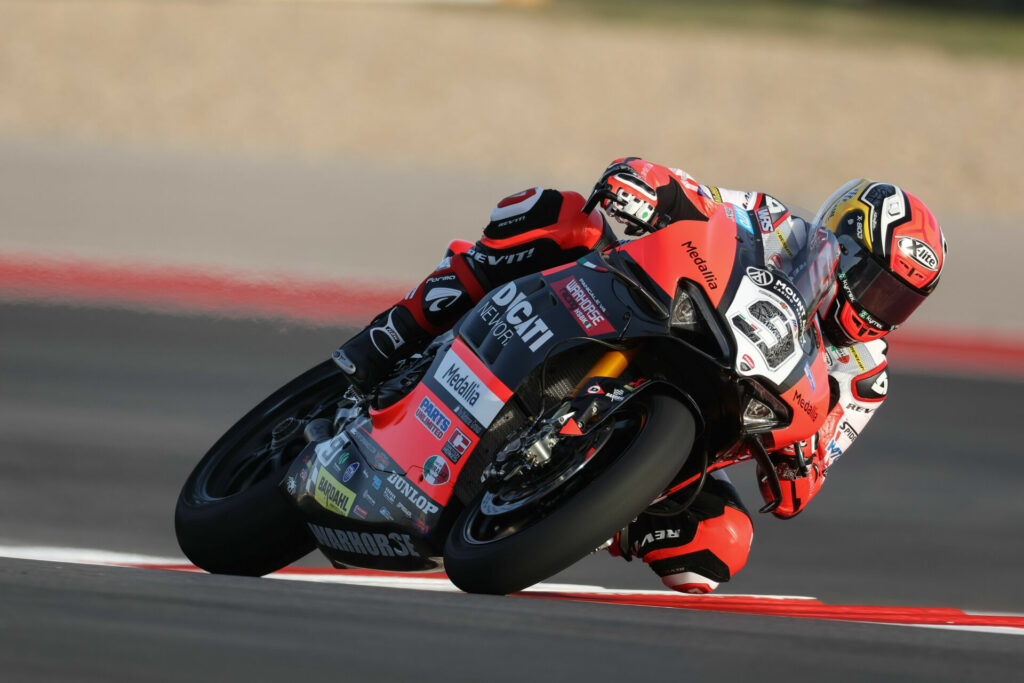 Sunnyvale, Calif., April 8, 2022 – The opening day of Danilo Petrucci's MotoAmerica career started in splendid style as the Italian superstar finished third overall after two qualifying sessions today at Circuit of The Americas.
Former double MotoGP race winner Petrucci completed a mammoth 34 laps across three official timed sessions in Texas for round one of the 2022 MotoAmerica Superbike Championship, steadily closing the gap to Yamaha's Jake Gagne and Mathew Scholtz to finally end the day 0.338 seconds off the leader.
The result is an exceptional one for Petrucci and the Warhorse HSBK Racing Ducati NYC team as Petrucci gets used to the control Dunlop tires and the demands of the factory-backed Ducati Panigale V4 SBK after a career largely spent on prototype machinery in MotoGP.
Qualifying 2 Results—Top 5
P1 – Jake Gagne (Yamaha) 2:08.450
P2 – Mathew Scholtz (Yamaha) 2:08.484
P3 – Danilo Petrucci (Ducati) 2:08.788
P4 – Cameron Petersen (Yamaha) 2:09.724
P5 – Hector Barbera (BMW) 2:09.999
Danilo Petrucci (Warhorse HSBK Racing Ducati NYC – Ducati #9): "I am very happy because today was the first real day on the bike and everything is new for me, even down to the format for qualifying and the soft tire," Petrucci said. "We suffered a little with chatter so we are searching for the right feeling from the rear of the bike but, anyway, I think the pace we have is very good. I am enjoying the challenge. The bike is really nice to ride and for sure I want to enjoy tomorrow. The track conditions will be pretty good so I cannot wait to go racing."
Race one of the 2022 MotoAmerica Superbike Championship season from Austin, TX, will commence at 5:15 p.m. CDT.