In his first day ever riding at Daytona International Speedway, Cameron Petersen claimed the provisional pole position for the 80th Daytona 200 during qualifying Thursday.
Riding his Pirelli-shod Attack Performance Yamaha YZF-R6, the 27-year-old South African lapped the 3.51-mile infield road course with a time of 1:50.544 to top the field of 50 riders.
"I am just as surprised as anybody, I think," said Petersen. "We had a few little issues in the first session, so we didn't get too many laps. I knew that there was a high possibility of rain tomorrow [Friday] and this might be out only dry qualifying. So, I stayed out the whole session and tried to learn the track and hit my marks and figure out where to come off the banking and all that stuff.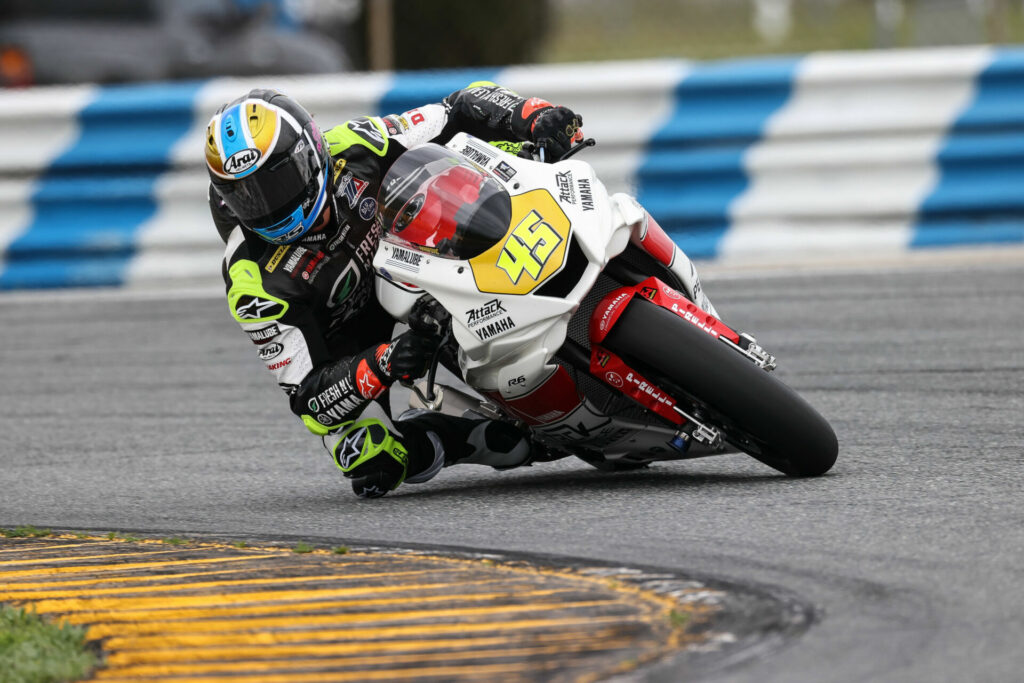 "I was pretty lucky. I'm not going to lie. Sheridan Morais came past me in the infield and absolutely smoked me. He was ripping. I followed him for a lap, and I just ended up in the perfect place. I got the perfect tow all the way around the whole lap. So, I think I was a little bit lucky being in the right place at the right time.
"I'm having so much fun. The first time being up on the banking was crazy but so much fun. I just plan to keep building on this and see where it takes us."
Morais, another South African, ended up second-best in qualifying with a 1:50.854 on his Pirelli-fitted SYNTAINICS Racing Team Yamaha YZF-R6. Morais said he hasn't ridden much lately, just focused on doing as many laps as possible Thursday, and was surprised he got up to speed so quickly.
Four-time AMA Superbike Championship Josh Hayes was third-quickest with a 1:50.956 on his Dunlop-backed Squid Hunter Racing Yamaha YZF-R6. Hayes, who turns 47 in April, said, "I thought it was a great day. Our bike is plenty competitive, and I'm feeling good on the bike. I'm confident I'll be there for the race distance."
Josh Herrin, who was fourth in provisional qualifying with a 1:51.048, said his Dunlop-equipped Warhorse HSBK Racing Ducati NYC Panigale V2 felt really good but he said he wasn't too confident in his winning potential. "If I had to draft someone on the last lap to win the race I couldn't do it right now. We're having to work pretty hard on our gearing for it to work right with our rev limit."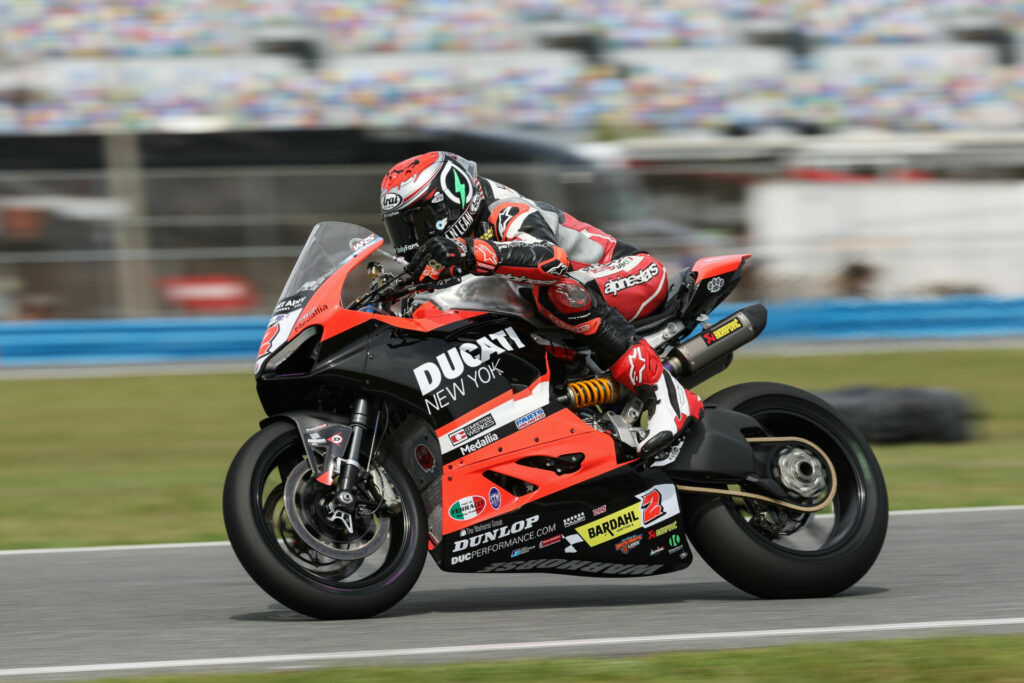 2021 Daytona 200 winner Brandon Paasch (1:51.313) and his TOBC Racing Triumph teammate, four-time Daytona 200 winner Danny Eslick (1:51.472), worked together late in the qualifying session to end up fifth and sixth, respectively. The Pirelli-shod and factory-supported Triumph Street Triple RS 765s of Paasch and Eslick looked especially strong getting out of the final corner of the infield and onto the West banking.
Kevin Olmedo, a 21-year-old from El Salvador, ended Thursday seventh on the time sheet with a 1:51.632 on his Dunlop-shod BobbleHeadMoto/N2 Racing Yamaha YZF-R6, the same bike he raced with at Daytona in 2021. He used Pirelli tires in that race, however. "The consistency of the Dunlops is very good. My slowest lap was only 0.2 second slower than my fastest lap," Olmedo told Roadracingworld.com. "The track is a little green with all the rain, so there's not much grip. That was the biggest thing today."
Petersen's teammate Jake Gagne, the 2021 MotoAmerica Superbike Champion, was eighth-fastest with a 1:52.121. He said, "The biggest thing is getting my head around riding a 600 again. Before today, I only did 15-20 laps on it during a test at Buttonwillow. I wasn't super comfortable on the bike today. The chassis and suspension were off, but we have a direction to go for tomorrow."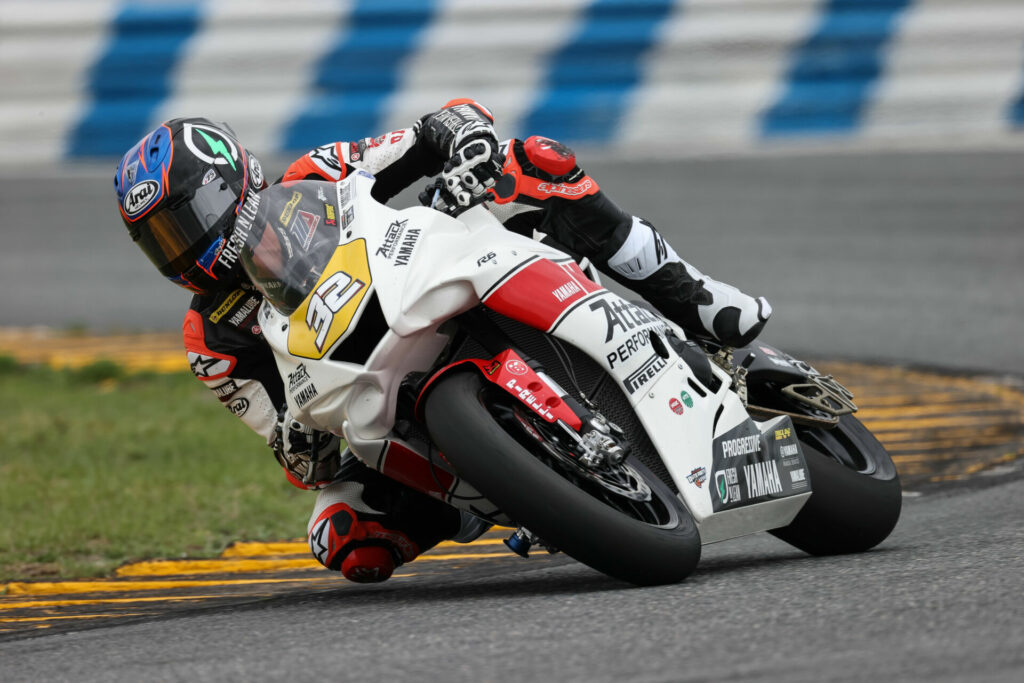 Geoff May, riding his Vision Wheel M4 ECSTAR Suzuki GSX-R600 on Pirellis, ranked ninth on Thursday with a 1:52.344. "We're working on some stuff," said May, "but we're right there."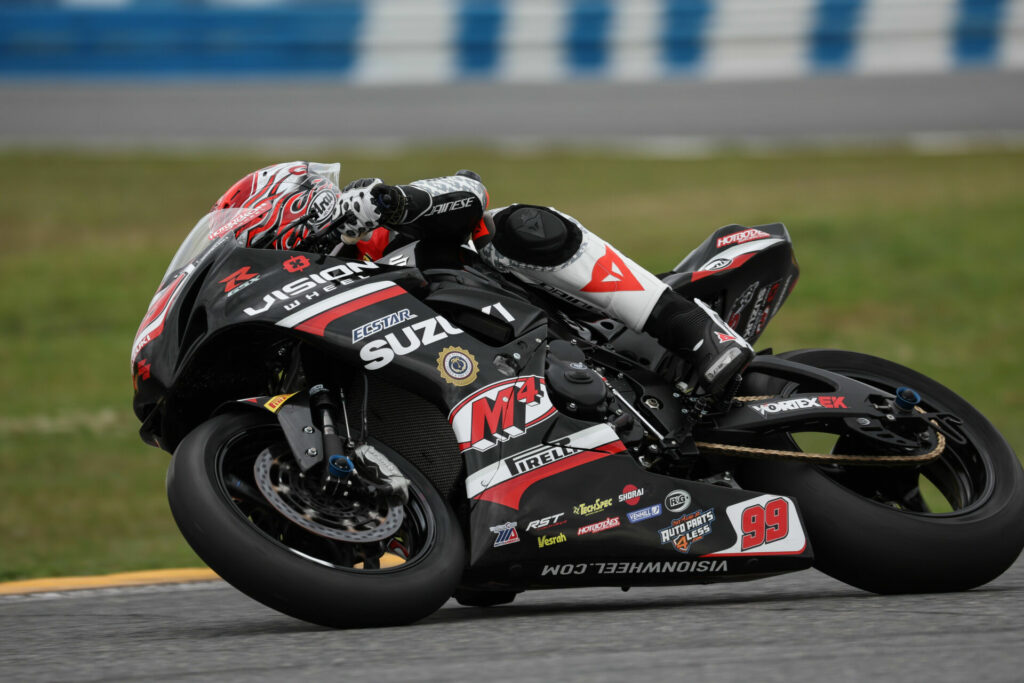 May's 19-year-old South African teammate Sam Lochoff ended up 10th with a 1:52.391 on his Dunlop-equipped Suzuki GSX-R600, right behind May and one place ahead of his other teammate Richie Escalante (1:52.732).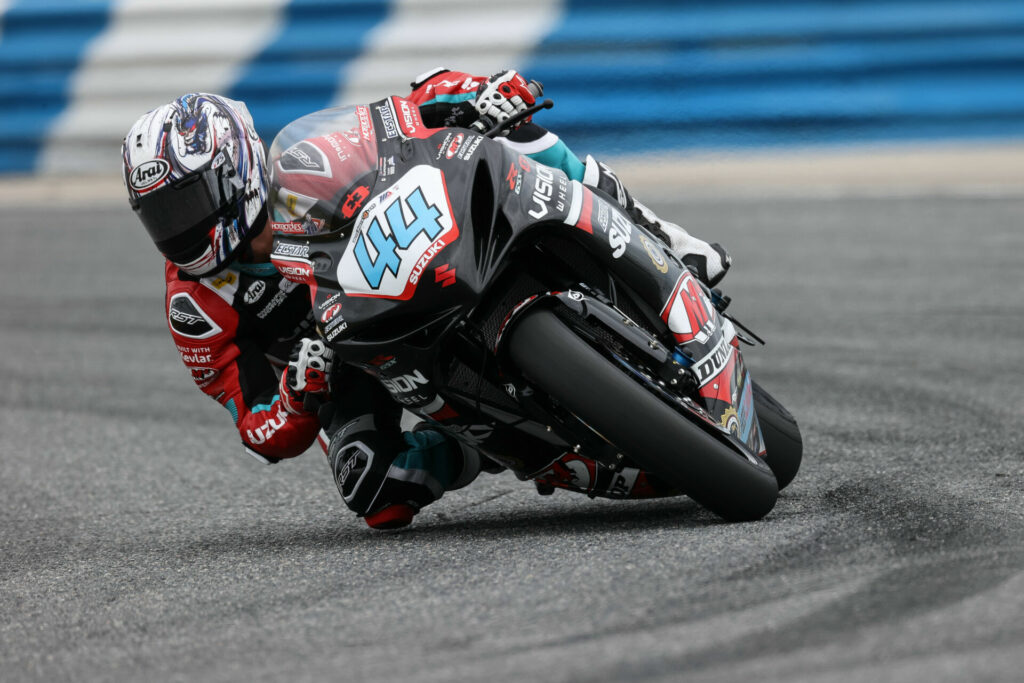 Lochoff said he felt really good while doing a race-distance stint during provisional qualifying and that his race pace while riding solo is as good as anyone. For Escalante it was a day of learning as he had only ridden at Daytona once before, eight years ago, and he is still new to the Suzuki GSX-R600.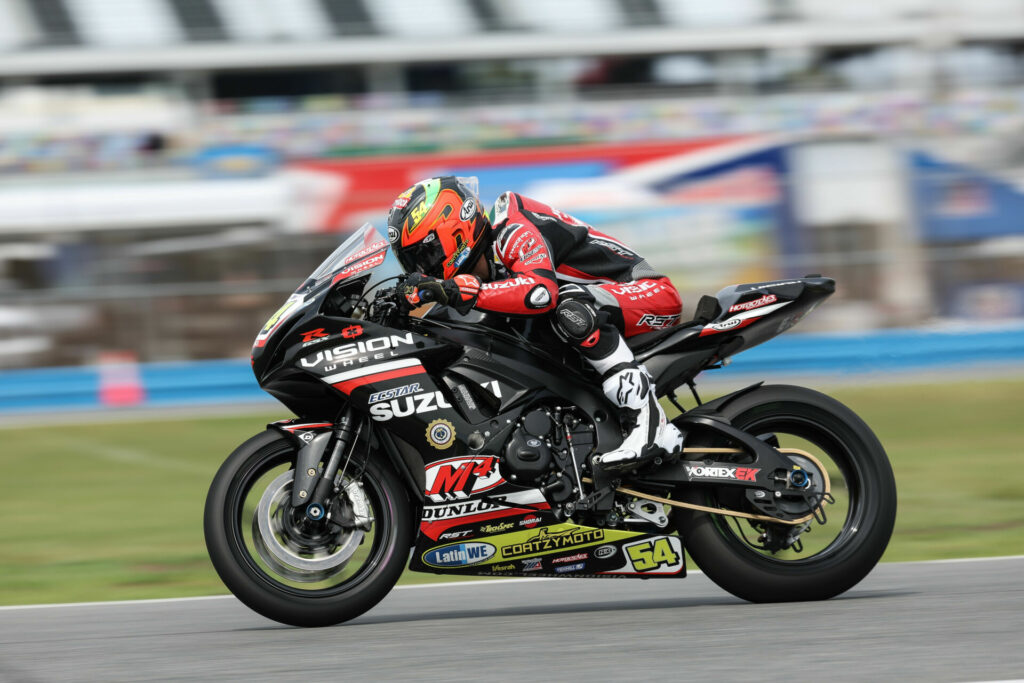 Mike Selpe, of Orange, New Jersey, rounded out the top 12 provisional qualifiers with a 1:52.840 on his Martinez Motorsports Ducati Panigale V2.
Final qualifying for the Daytona 200 is scheduled to take place between 10:10 and 11:20 a.m. local time Friday morning, and then the top 12 riders will compete for the front spots on the grid during a 15-minute "Time Attack" at 4:00 p.m.
More, from a press release issued by MotoAmerica:
Petersen On Provisional Pole For Daytona 200
Daytona First-Timer Leads The Way On Thursday At Daytona International Speedway
DAYTONA BEACH, FL (March 10, 2022) – Cameron Petersen had never seen Daytona International Speedway and he hasn't raced a 600cc middleweight motorcycle in seven years, but it didn't stop him from emerging from a day of ever-changing weather to record the fastest lap on Thursday in preparation for Saturday's 80th running of the Daytona 200.
Attack Performance Yamaha's Petersen lapped the 3.56-mile road course in 1:50.544 to nab provisional pole position for Saturday's 200 on his Yamaha YZF-R6. Petersen led a South African one-two on Thursday with SYNTAINICS Racing Team's Sheridan Morais ending the session in second, just .310 of a second behind. Squid Hunter Yamaha's Josh Hayes was the last rider in the 1:50s as he completed the provisional front row with a 1:50.956.
"It's a trip, honestly," Petersen said of his first time lapping the high banks of Daytona International Speedway. "My first session out, I left the pits with all the fast guys and the first thing they did was go to the top of the bank, so I went up there with them. It took me a good two laps to hold it wide open through there. It's a bit of a trip. Honestly, it's just so fun. I'm having so much fun around this place. It's a very easy track but so much fun."
Petersen was obviously surprised at taking provisional pole on his first day at the Speedway.
"I came in and I know that they've had some issues with timing and scoring and stuff today, so I came in and saw my number at the top of the board," Petersen said. "I was just like… something's wrong, Even Richard (team owner, Stanboli) said, 'There's no way, there's no way you're quickest.' They confirmed it and I still can't believe it. I just put myself in the right place and got the perfect lap and the perfect tow behind Shez (Morais). It was good and I'm looking forward to the rest of it."
Josh Herrin made his Warhorse HSBK Ducati NYC debut at the Speedway today and ended the qualifying session in fourth just ahead of the defending Daytona 200 Champion Brandon Paasch and his TOBC Triumph teammate Danny Eslick, with the four-time Daytona 200 winner ending the day in sixth.
BobbleHeadMoto/N2 Racing's Kevin Olmedo, Attack Performance Yamaha's Jake Gagne, and Vision Wheel M4 ECSTAR Suzuki teammates Geoff May and Samuel Lochoff rounded out the top 10.
The Mission King Of The Baggers class was rained out of its first qualifying session, but that was after defending series champion Kyle Wyman led morning practice over his H-D Screamin' Eagle factory teammate and brother, Travis Wyman. Kyle Wyman lapped at a best of 1:57.814, .846 of a second faster than Travis.
Vance & Hines Racing's James Rispoli was third-fastest followed by Mission Foods/S&S Cycle/Indian Challenger Team's Jeremy McWilliams and Roland Sands Design's Bobby Fong.
Daytona 200 Q1
Cameron Petersen (Yamaha) 1:50.544
Sheridan Morais (Yamaha) 1:50.854
Josh Hayes (Yamaha) 1:50.956
Josh Herrin (Ducati) 1:51.048
Brandon Paasch (Triumph) 1:51.313
Danny Eslick (Triumph) 1:51.472
Kevin Olmedo (Yamaha) 1:51.632
Jake Gagne (Yamaha) 1:52.121
Geoff May (Suzuki) 1:52.344
Samuel Lochoff (Suzuki) 1:52.391