Editorial Note: Josh Hayes will have to start the Daytona 200 from the back of the grid because his Squid Hunter Racing Yamaha YZF-R6 was found to have something "other than water" in its cooling system.
More, from a press release issued by MotoAmerica:
Herrin On Pole For 80th Running Of The Daytona 200
Tyler O'Hara Takes Victory In Mission King Of The Baggers Championship Opener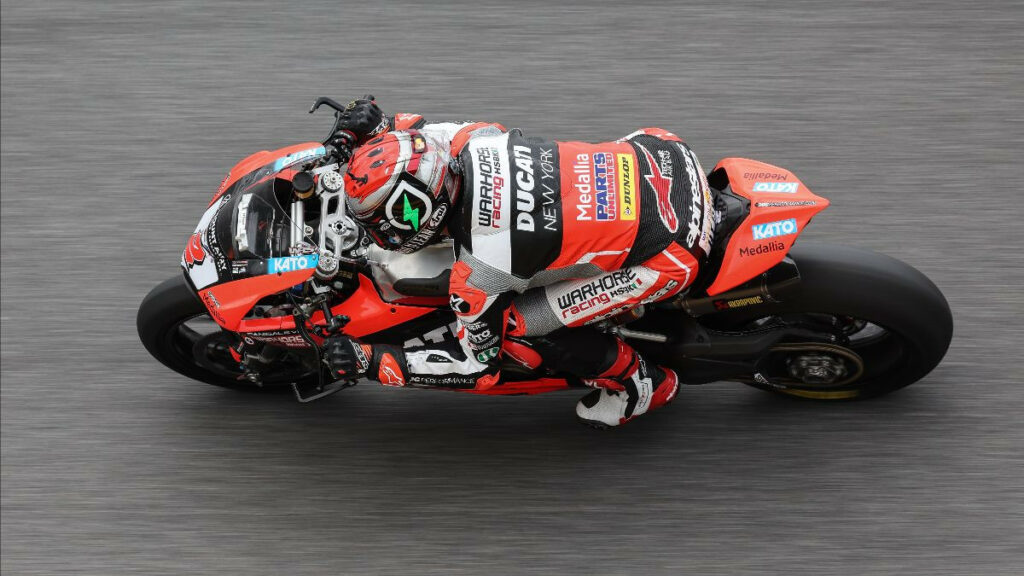 DAYTONA BEACH, FL (March 11, 2022) – Warhorse HSBK Ducati NYC's Josh Herrin earned pole position for tomorrow's 80th running of the Daytona 200, giving Ducati its first pole at Daytona International Speedway since Eric Bostrom did so on a Ducati 999 in 2004.
Herrin nabbed pole position with his 1:50.088 lap during the 15-minute Time Attack session that featured the fastest 12 riders after the two qualifying sessions.
"I came here two years ago and obviously it wasn't a MotoAmerica race then, but we got pole, then we got it taken away and then the race got cancelled so it was a big bummer," a happy Herrin said. "For me I've always wanted to get pole because from a young age if you got pole here, you got the Rolex. I won the race and didn't get the Rolex and didn't get pole back then. It was super important for me to try and get it on pole…  just for confidence and to get those guys thinking a bit about us having speed, especially without a draft. I was looking for the draft that whole lap and couldn't get it, so I just put my head down and pushed extra hard in the infield and was able to get it. I'm happy to get it, happy for the HSBK Warhorse Ducati team and to put the V2 up on pole. I'm ready for the race tomorrow."
Herrin's best on his Ducati Panigale V2 was just .010 of a second faster than SYNTAINICS Racing team's Sheridan Morais, the South African doing a one-off ride in the MotoAmerica series on his team's Yamaha YZF-R6.
Attack Performance Yamaha's Jake Gagne will join Herrin and Morais on the front row, the 2021 MotoAmerica Superbike Champion clocking a 1:50.405.
Defending Daytona 200 Champion Brandon Paasch and his TOBC Racing Triumph will lead the second row where he will be joined by Vision Wheel M4 ECSTAR Suzuki's Richie Escalante and Attack Performance Yamaha's Cameron Petersen.
TOBC Racing Triumph's Danny Eslick, Max Angles Racing Team's Max Angles and BobbleHeadMoto/N2 Racing's Kevin Olmedo rounded out the top-10 qualifiers for tomorrow's Daytona 200.
Mission King Of The Baggers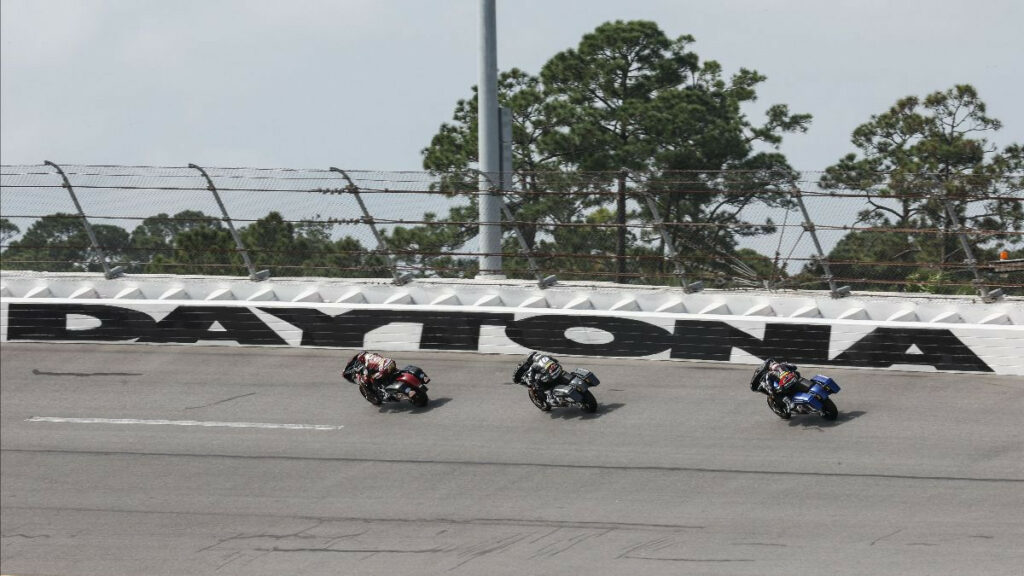 The 2022 Mission King Of The Baggers Championship started its season with the Big Twins competing for the first time ever at Daytona International Speedway. And, on the first day of racing, the series also had another first: the Mission King Of The Baggers Challenge, which was a three-lap dash-for-cash with a $5000 prize going to the winner. Mission Foods/S&S Cycle/Indian Challenger Team's Tyler O'Hara made a classic Daytona last-lap move and drafted past both H-D Screamin' Eagle Road Glide teammates Travis and Kyle Wyman to win the Challenge.
Ironically, O'Hara made almost the same exact pass on the final lap of the eight-lap Mission King Of The Baggers race one, and he passed the same two riders, Travis and Kyle Wyman, who finished second and third, respectively.
"There were areas where I was stronger than them, and areas where they were stronger than me," O'Hara said. "Hats off to both these guys. They rode awesome. I have the utmost respect for both of them. They race hard and clean. Kyle's (Wyman) bag opened up on the last lap. I was looking at his bag. Waiting if something was going to fly out of there and maybe slow him down a little bit. Just getting to be where I was in the race, honestly coming out of six on the last lap I did not know if I had enough to make it happen. These things punch such a big hole in the air, it's like drafting a car. Then they pulled out and went side by side. I went into the bus stop and went in there super deep, and then got pretty close to Travis (Wyman). Kyle, the last lap he ripped through there. I was like, 'Oh, boy. Here we go. I don't think I've got this.' Then, basically, thank God there was a huge headwind and crosswind. I had enough run to where I could just keep momentum. I pulled right off of Travis and just was able to lead the last lap. It was really everything I had to make it happen. This race in particular, I really didn't know what to expect, just with kind of where we were at the test. I knew we had some work to do. We had to find something. We brought Jeremy McWilliams onto the team, and he's just the most articulate and best partner, teammate you can have for developing this bike. So, we took some major steps. Even yesterday in the first practice, Kyle was ripping, and I was like, 'Oh, boy. I'm three-and-a-half seconds back. I've got to figure something out,' because I just wasn't comfortable. I was out there riding around just going for it. I've got to thank my whole team. To be representing the Indian Motorcycle brand, America's first motorcycle company, it's just such a legendary, iconic brand. I want to thank Daytona for giving us this opportunity and MotoAmerica and everybody. It's like a dream."
Twins Cup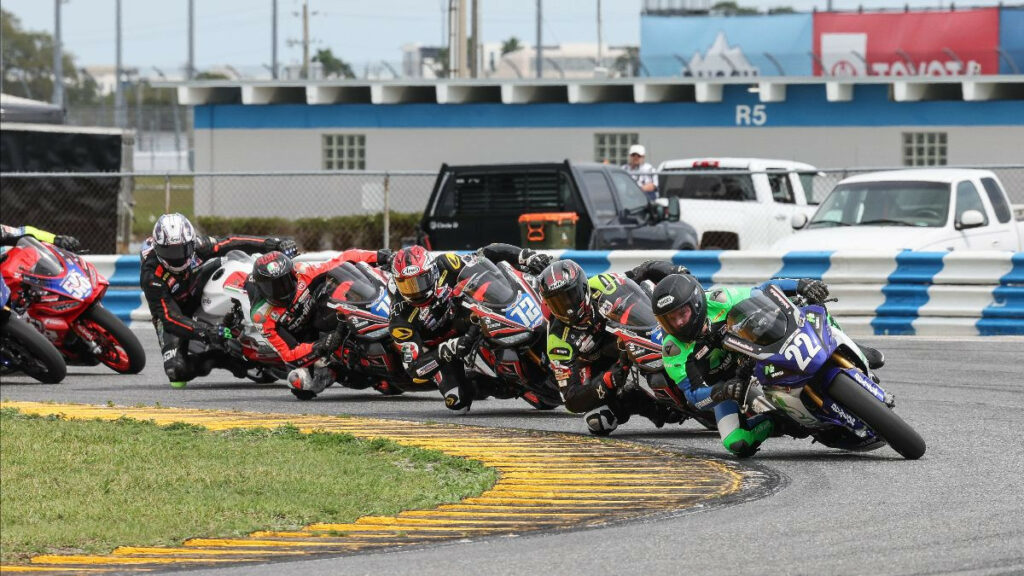 With 35 riders taking to the grid and first-time Daytona competitor Ben Gloddy on the pole and aboard his Robem Engineering Aprilia, Twins Cup race one was poised to bring the action… and it certainly did.
The battle at the front came down to an Aprilia versus Yamaha sprint, and 15-year-old N2 Racing/BobbleHeadMoto rider Blake Davis took the lead. Despite the fact that being at the front on the final lap of a race at Daytona, combined with the added pressure that Davis had never raced on the high banks before, the youngster kept himself clear of his pursuers and took the checkered flag for his first-ever MotoAmerica race win.
"At first I didn't have the pace and they just kept getting away from me, and I'd have to draft back up to them on the straight," Davis said. Then I started getting into my groove. I think I got a little nudge in turn six, and it kind of threw me off a little bit. I had to catch back up. Just kept having a few little moments, then I got calmed down and started working my way to the front. I tried to stay in the top four or five for a few laps. Then the last two or three laps, I was just trying to put my head down and get a gap. I don't think I really got much of a gap, but it feels really amazing to be up here. Can't thank everyone enough."
Second place went to Gloddy's Robem Engineering Aprilia teammate Teagg Hobbs, and Rodio Racing/Warhorse HSBK Racing Aprilia's Anthony Mazziotto finished third after emerging mostly unscathed from a hair-raising moment out on the Daytona banking. Mazziotto got too close to the wall, made contact, rode partially up the wall, then shot across the track and made contact with two other riders. Miraculously, neither Mazziotto nor the other two riders went down, and the New Jerseyan was able to recover and round out the podium.
Roland Sands Design's Super Hooligan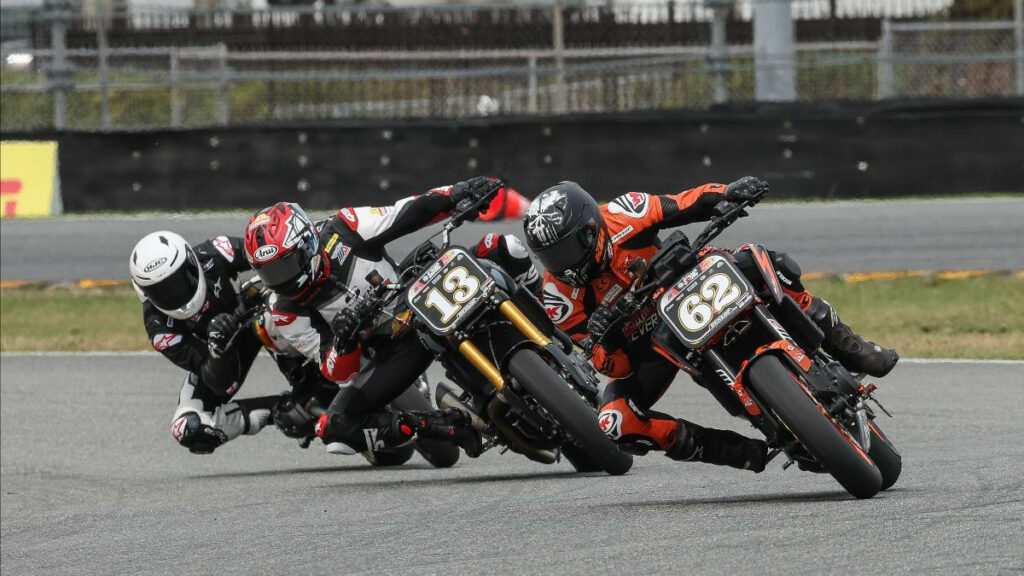 Roland Sands Design's Super Hooligan National Championship concluded the day's racing with their first event of the season, and KTM/DiBrino Racing's Andy DiBrino got the win after starting on the pole. Notably, it was the Washington State resident's first visit to Daytona International Speedway. He was bookended on the podium by Indian riders Cory West (Saddlemen/Lloyd'z Garage) in second and Tyler O'Hara (Roland Sands Design) in third.
DiBrino barely nipped West at the finish line by .077 of a second, and O'Hara was only .272 of a second behind West.
"It's my first time here," DiBrino said. "I did my best watching some videos and talking to folks. I've got two of the best guys in Daytona right here. Tyler, I was watching some XR1200 stuff with him. Obviously, Cory (West), he's been up there before. It was a tall order to go up against these guys. They've got a lot of experience. Honestly, I think it was just a little bit of luck. I couldn't break away from Cory, so I just kind of tried to ride smart. I had somewhat of a plan that last lap, but it was also just a gamble. It could have been any one of us. I've just got to give a big thank you to KTM USA, Eric, my mom and dad, my girlfriend, Motul, MotoSport.com. Just a lot of people stepping up to help me. I have some great support, but I worked my butt off to be here, and I'm just super thankful."
More, from a press release issued by Ducati:
Josh Herrin Secures Pole Position For the 2022 Daytona 200
Herrin Gives the Ducati Panigale V2 a Sensational Debut in American National Championship Racing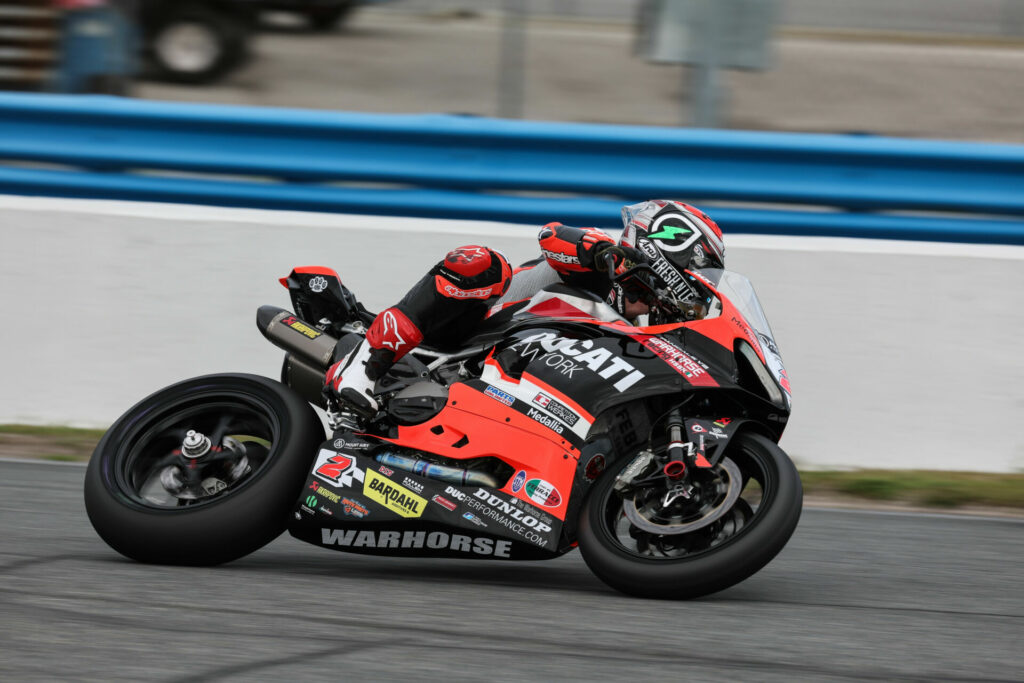 Sunnyvale, Calif., March 11, 2022 – Josh Herrin (Warhorse HSBK Racing Ducati NYC) secured a stunning pole position for the 2022 Daytona 200 at Daytona International Speedway, sealing the deal with his final flying lap of the day in the all-important Time Attack session.
On a Friday afternoon, thankfully devoid of the rain that has plagued the 2022 Daytona 200 program so far, Herrin uncorked a 1:50.088s lap to better South African Sheridan Morais by a mere 0.01s, giving an indication of the battle ahead for tomorrow's 200 mile race. Herrin's exceptional ride was the perfect North American debut for the Ducati Panigale V2 as Ducati takes its first steps back into MotoAmerica Supersport competition.
The result was not just celebrated by Herrin and the Warhorse HSBK Racing Ducati NYC Ducati team, but also Ducati Sporting Director Paolo Ciabatti, who was in attendance direct from the Ducati factory for the race.
2022 Daytona 200 Time Attack Results – Top 5
P1-Josh Herrin (Ducati) 1:50.088
P2-Sheridan Morais (Yamaha) 1:50.098
P3-Jake Gagne (Yamaha) 1:50.405
P4-Brandon Paasch (Triumph) 1:50.571
P5-Richie Escalante (Suzuki) 1:50.957
Josh Herrin (Warhorse HSBK Racing Ducati NYC – Ducati #2): "Man, that was good, but so stressful!" a grinning Josh Herrin said. "Everyone was trying to get a tow. At one point there was about seven riders in the draft and I decided on the last lap to just put my head down and go for it. I was pushing the bike as hard as I could. I've never got a pole here at Daytona so for me it was a really big moment, and to do it in front of Paulo Ciabatti and all the guys from the WorldSBK team, plus my great group of guys in the Warhorse HSBK Racing Ducati NYC team, it means a lot. We want to win but the pole is still very important. Now we have pitstop practice to do before tomorrow!"
The 2022 Daytona 200 is scheduled* to start at 1:10 pm EST.
*Weather pending
More, from a press release issued by Suzuki Motor USA, LLC:
ESCALANTE PUTS SUZUKI ON THE SECOND ROW AT THE DAYTONA 200
BREA, Calif., March 12, 2022 — Suzuki Motor USA and Team Hammer will launch their quest for victory in the 80th running of the Daytona 200 with a talented trio of athletes starting inside the top 12 as the 2022 MotoAmerica AMA/FIM North American Road Racing Championship season kick-off at Daytona International Speedway.
Vision Wheel M4 ECSTAR Suzuki's Richie Escalante led the charge for Team Hammer in Friday's Time Attack session, registering the fifth-best time (1:50.957) around the fabled 3.560-mile circuit to earn a slot on the second row for tomorrow's grueling 57-lap contest.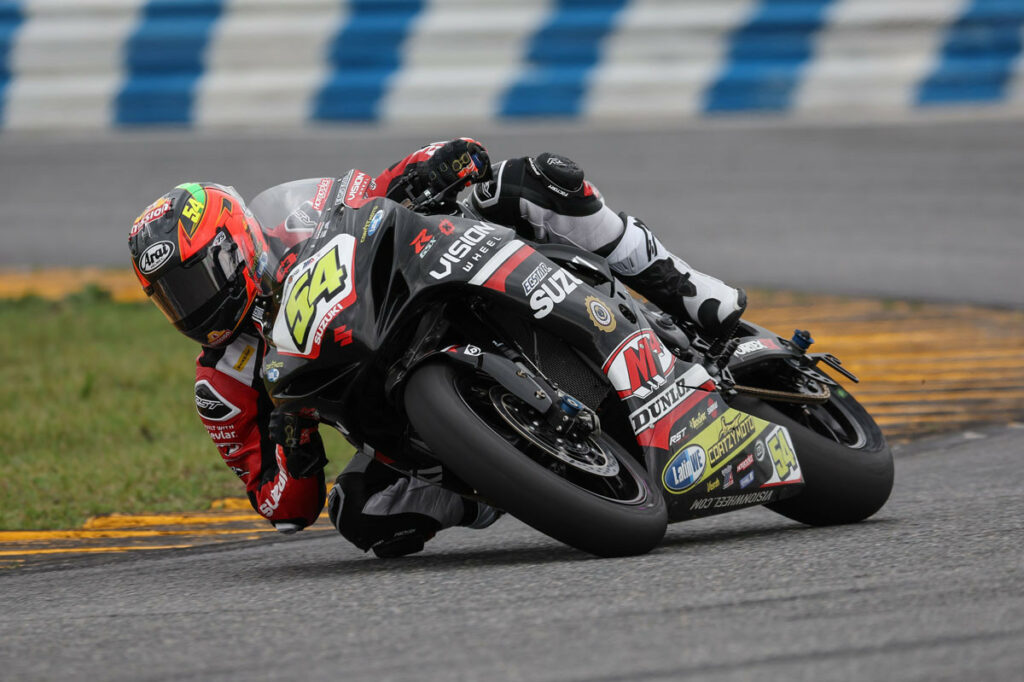 While set to graduate to Superbike duty for the remainder of the MotoAmerica, Escalante is putting in one final effort in the Supersport class in which he's performed so spectacularly in recent with Escalante's goal of adding his name to the list of legends to have won the Daytona 200.
"I'm happy to finish fifth in my first Time Attack for the Daytona 200," Escalante said. "My crew is working very well and provided me an improved setting for qualifying compared to yesterday. I found some draft during the qualifying session."
"I feel great. My race pace is good, so I'm happy." Added Escalante, "I need a little more time on the bike and hopefully we'll continue to improve in the warm-up tomorrow and be ready for the 57 laps."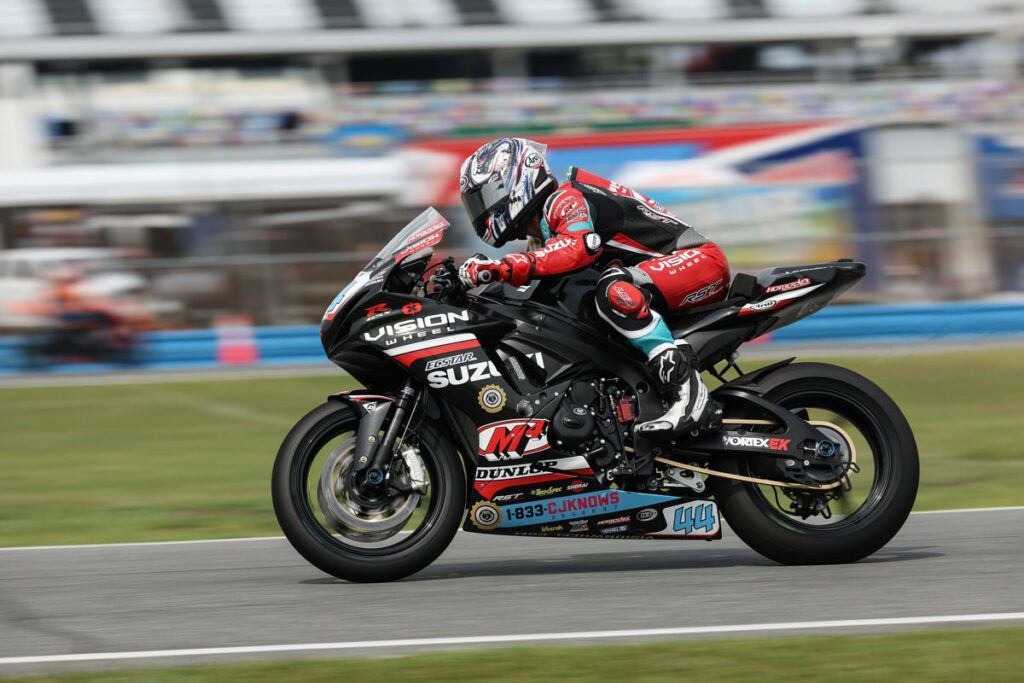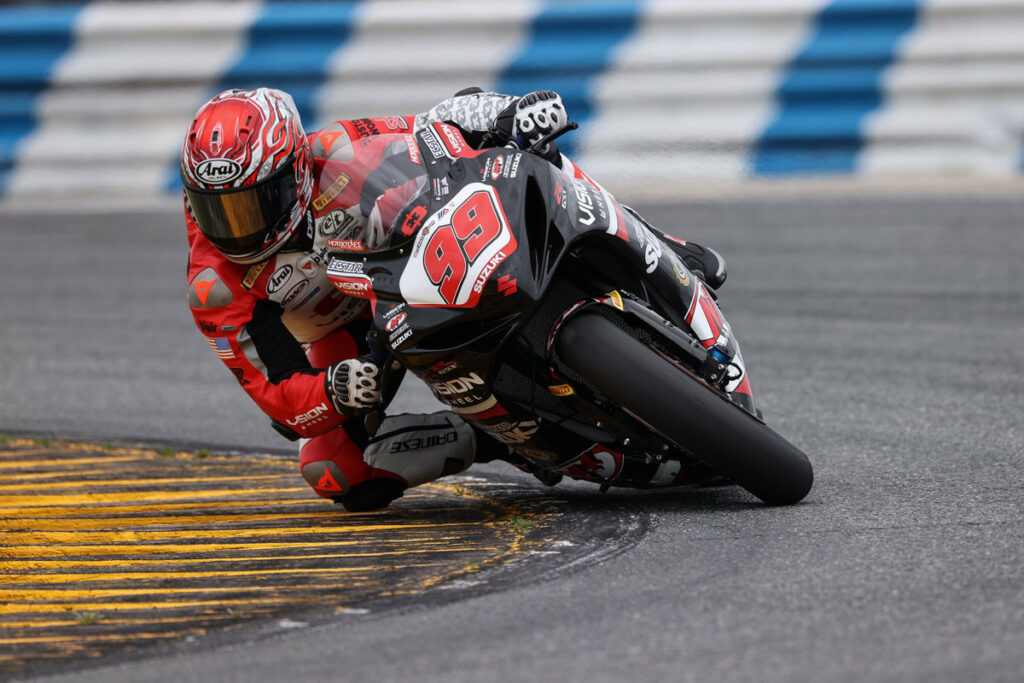 Escalante will be joined in the hunt by two Team Hammer teammates, the experienced Geoff May on the VisionWheel.com/Discount Tire/KWS Motorsports Suzuki and rising star Sam Lochoff on the second Vision Wheel M4 ECSTAR Suzuki GSX-R600. May was 11th fastest at 1:51.988, followed closely by Lochoff at 1:52.171.
The prestigious race is scheduled to start today at 2:20 pm local time. Changing weather conditions, including the possibility of heavy rain, have race organizers scrambling to adjust the race day schedule. Follow www.motoamerica.com for the latest information.
ABOUT TEAM HAMMER 
The 2022 season marks Team Hammer's 42nd consecutive year of operating as a professional road racing team. Racebikes built and fielded by Team Hammer have won 128 AMA Pro and MotoAmerica National races, have finished on AMA Pro and MotoAmerica National podiums 332 times, and have won 11 AMA Pro and MotoAmerica National Championships, as well as two FIM South American Championships (in Superbike and Supersport.) The team has also won 137 endurance races overall (including seven 24-hour races) and 13 Overall WERA National Endurance Championships with Suzuki motorcycles and holds the U.S. record for mileage covered in a 24-hour race. The team also competed in the televised 1990s Formula USA National Championship, famously running "Methanol Monster" GSX-R1100 Superbikes fueled by methanol, and won four F-USA Championships.
ABOUT VISION WHEEL
Founded in 1976, Vision Wheel is one of the nation's leading providers of custom wheels for cars and trucks, and one of the first manufacturers of custom wheels and tires for ATVs, UTVs, and golf carts. Vision Wheel looks beyond the current trends and to the future in developing, manufacturing, and distributing its wheels. Vision's lines of street, race, off-road, American Muscle, and Milanni wheels are distributed nationally and internationally through a trusted network of distributors. Vision Wheel also produces the Vision It AR app to allow users to see how their wheel of choice will look on their vehicle before purchase and installation. For more information on Vision Wheel, visit www.visionwheel.com.
ABOUT SUZUKI
Suzuki Motor USA, LLC. (SMO) distributes Motorcycles, ATVs, Scooters, Automotive Parts, Accessories, and ECSTAR Oils & Chemicals via an extensive dealer network throughout 49 states. Suzuki Motor Corporation (SMC), based in Hamamatsu, Japan, is a diversified worldwide manufacturer of Motorcycles, ATVs, Scooters, Automobiles, Outboard Motors, and related products. Founded in 1909 and incorporated in 1920, SMC has business relations with 201 countries/regions. For more information, visit www.suzuki.com.