MotoAmerica Pre-Season Test
Buttonwillow Raceway Park (Config 26 CCW)
Buttonwillow, California
February 22, 2023
Day Two Best Lap Times (all on Dunlop tires, lap times courtesy Attack Yamaha):
Jake Gagne (Yam), 1:42.179
Cameron Beaubier (BMW), 1:43.645
Mathew Scholtz (Yam), 1:44.151
PJ Jacobsen (BMW), 1:44.529
Richie Escalante (Suz), 1:45.038
Toni Elias (Suz), 1:45.064
Corey Alexander (BMW), 2:00.747
More, from a press release issued by MotoAmerica:
Weather Wreaks Havoc On Buttonwillow Superbike Test
Wind, Hail and Rain Hits South Central California And Puts An Early Stop To Testing On Day Two
 
IRVINE, CA (February 22, 2023) – Inclement weather cut short the second of two days of MotoAmerica Superbike testing at Buttonwillow Raceway Park with rain finally putting a stop to the proceedings at the racetrack in California's central valley by 2 p.m. on Wednesday.
With even the most diehard of the seven Superbike testers only turning in 18 laps, it was again Fresh N Lean Progressive Yamaha Racing's Jake Gagne with the fastest lap of the day, though his 1:42.179 lap was almost a second slower than his best from Tuesday when the weather cooperated – well, at least until the wind showed up in the late afternoon.
"It was windy right away in the morning and we got like two or three sessions in," Gagne said. "Then it started sprinkling on us and we were just waiting around to see if it was going to stop raining and then it rained again in the afternoon. There was no time for the track to dry after that."
It was again Tytlers Cycle Racing's Cameron Beaubier who was second best to Gagne with his 1:43.645. Beaubier was also off his best from Tuesday, lapping 1.532 seconds slower with the limited amount of dry track time.
Westby Racing's Mathew Scholtz was third fastest today – 1.8 seconds off his best from Tuesday with Wednesday's 1:44.151. Then came Beaubier's teammate PJ Jacobsen with his 1:44.529 and almost two seconds slower than Tuesday though he did move up a spot to lead Vision Wheel M4 ECSTAR Suzuki's Richie Escalante. Escalante's best on Wednesday was a 1:45.038, a day after turning in a 1:42.918.
Toni Elias had his second day on the Vision Wheel M4 ECSTAR Suzuki and ended it with a best lap of 1:45.064.
Corey Alexander, meanwhile, battled mechanical woes and only completed three laps on his Tytlers Cycle Racing BMW M 1000 RR.
Overall Best Times
Jake Gagne (Yamaha) 1:41.274
Cameron Beaubier (BMW) 1:42.113
Mathew Scholtz (Yamaha) 1:42.322
Richie Escalante (Suzuki) 1:42.322
PJ Jacobsen (BMW) 1:43.813
Toni Elias (Suzuki) 1:43.962
Corey Alexander (BMW) 1:45.824
About MotoAmerica
MotoAmerica is North America's premier motorcycle road racing series. Established in 2014, MotoAmerica is home to the AMA Superbike Championship as well as additional classes including Supersport, Stock 1000, Twins Cup, Junior Cup, and King Of The Baggers. MotoAmerica is an affiliate of KRAVE Group LLC, a partnership including three-time 500cc World Champion, two-time AMA Superbike Champion, and AMA Hall of Famer Wayne Rainey; ex-racer and former manager of Team Roberts Chuck Aksland; motorsports marketing executive Terry Karges; and businessman Richard Varner. For more information, please visit www.MotoAmerica.com and follow MotoAmerica on Facebook, Instagram, TikTok, Twitter, and YouTube.
More, from a press release issued by Westby Racing:
Westby Racing And Rider Mathew Scholtz Complete Preseason Test At Buttonwillow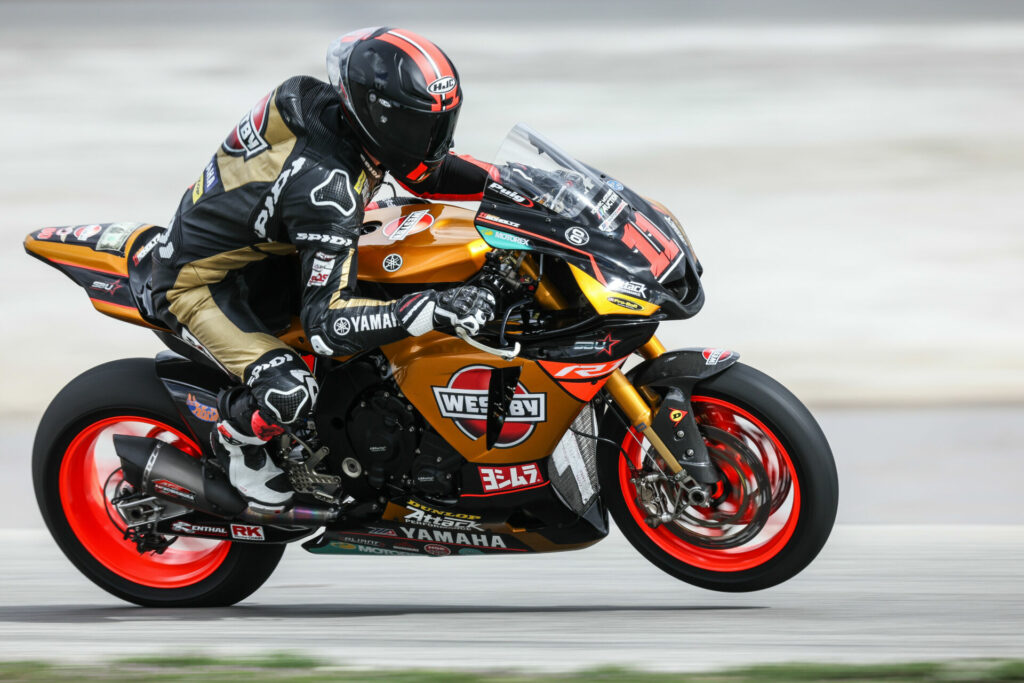 Tulsa, OK – February 23, 2023 – It was a long haul out to the West Coast for MotoAmerica Superbike team Westby Racing and its rider Mathew Scholtz, but track time is precious, especially during the winter months, and the team took full advantage of the invitation extended to them by the Fresh N Lean Progressive Yamaha Racing team to participate in a two-day test on Tuesday and Wednesday of this week at Buttonwillow Raceway Park in Buttonwillow, California.
A few weeks ago, Mathew and the team participated in a "shakedown" test of sorts at Buttonwillow, but that test was mostly used to get Mathew back up to speed after not having been on the #11 Westby Racing Yamaha YZF-R1 since the final round of the 2022 MotoAmerica season at Barber Motorsports Park last September. Also, the team upgraded the bike's Marelli ECU with a new, upgraded software version, and the first task was to make sure all systems were 'go' with the motorcycle, the rider, and the crew.
For this latest test yesterday and the day before, Mathew and the team worked diligently on the bike's setup as it relates to the new software. On Tuesday, Mathew was able to complete a total of 30 laps, and even though quick lap times weren't the ultimate goal, he did manage to go third-fastest of the seven MotoAmerica Superbike riders who participated in the test. His fastest lap of 1:42.322 was just .209 of a second behind five-time MotoAmerica Superbike Champion and recent FIM Moto2 competitor Cameron Beaubier, and only .839 of a second behind two-time Superbike Champion Jake Gagne, who was the fastest rider at the test.
On Wednesday, the weather became uncooperative, with temperatures in the low 40s and sleet limiting Mathew to only 10 laps around Buttonwillow Raceway. All four teams and all seven riders decided to call it a day due to the unfavorable weather conditions.
"The first day was positive for us," Mathew said at the end of day two. "Just getting to understand and work out the new system and figure out the new added channels and the software, what's working, where and how it affects the chassis, and just understanding the system as a whole. On day two, the weather didn't really play into our hands. We only got about 10 laps in, so we weren't able to try a few things that we had planned. But overall, it's pretty clear for us to see that the new system has a lot more benefits for us and a lot more tools that we're able to use to kind of see through some of the problems we had last year.
"I really want to say 'thank you' to the Westby guys. Obviously, traveling way out to the West Coast is quite a commitment for us, but it's always good to do testing and to be around some of the other Superbike guys who we'll be racing against. We're looking forward to the next test that we'll have here in a few weeks and just getting the bike closer to where we need it to be for the first round of the season at Road Atlanta. I'm very happy to be back on the bike and testing, and I think the 2023 season will be a good one for us."
Mathew and the Westby Racing team will test again at Buttonwillow on March 22 and 23. For more updates about Westby Racing, including news, photos, and videos, visit http://www.WestbyRacing.com
Also, follow "Westby Racing" on your favorite social media sites.