Disrupt Racing is more than just a name and they are bringing new excitement to the MotoAmerica paddock for the 2021 season. Founded in 2019, Disrupt Racing has its roots in club level racing, but has since grown into a national presence over the last two seasons. For the first time, Disrupt Racing will now be fielding two full-time MotoAmerica premier riders
We are happy to announce the formation of Franklin Armory Disrupt Racing this season and the addition of two-time MotoAmerica Stock 1000 Champion Andrew Lee. Andrew will once again be competing for the entirety of the 2021 MotoAmerica season in both Stock 1000 & Superbike Cup classes. Additionally, we have 2020 ASRA SportBike National Champion Carl Soltisz coming onboard who will be competing in the full SuperSport championship.
Complementing the riders, we have very experienced crew personnel with paddock powerhouses such as Boyd Bruner, Mark Junge, and Matt Drucker joining the team. It took a lot of hard work and support from all of our sponsors to bring this program together and we couldn't be happier
Andrew Lee: "I am very excited to get rolling into the 2021 MotoAmerica season with Franklin Armory and Disrupt Racing. After my time away in 2020, I am thrilled to be back in the paddock full time with an all new team and new bike. I'm looking forward to racing with new people and new tracks like the Ridge and Brainerd. I think these new experiences will really push me to learn quickly with such a talented field. Jesse and the Disrupt Racing team have really gone out of their way to make this happen this year, especially by putting together such a talented crew to work with me on the bike. Being back in the Stock 1000 class is going to be a lot of fun with the addition to the Superbike cup. A lot of track time on the new 2021 ZX-10RR means I will be looking at getting some steady progress through the first part of the season and hopefully having some great battles."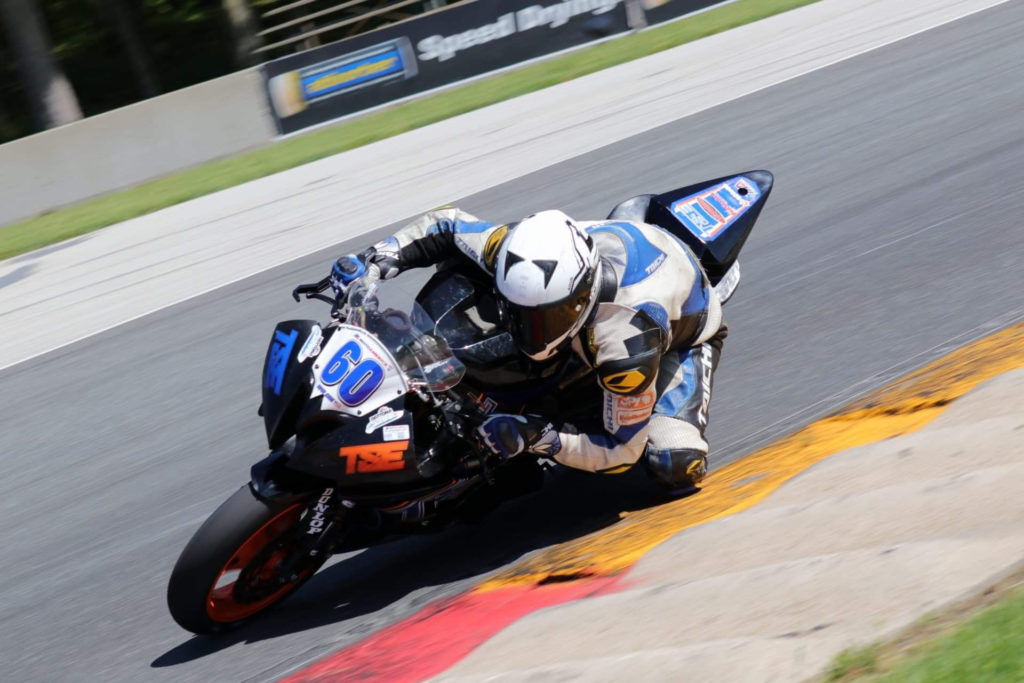 Carl Soltisz: "Competing in the full MotoAmerica Supersport Championship has been a dream of mine for a long time and I couldn't be more stoked to team up with Franklin Armory Disrupt Racing to make it happen in 2021. I had a breakout season last year, scoring multiple top 10 finishes in MotoAmerica Supersport wildcard races as well as winning a couple ASRA/CCS National Championships. My confidence has never been higher and I am looking forward to keeping that positive momentum rolling this year. It's very exciting to race some new bucket-list tracks of mine and compete alongside Andrew, who brings a wealth of talent to the team. I'm even more thrilled to have my crew chief Matt Drucker join us, as he was instrumental to my success in 2020. Lastly, I want to thank Jesse and all my sponsors for giving me the opportunity to take my racing to the next level in the MotoAmerica championship this year. We're going to send it."
Team owner Jesse Hwilka had this to say: "I am really thankful to have this opportunity to work with such a talented group of guys and I look forward to showing what we can all achieve together as a team this season. In 2020 we had a great deal of success and swept several national championships with ASRA and CCS. Tony Storniolo won us the ASRA Superstock National Championship, Kris Lillegard dominated and won us a second National Championship in ThunderBike, Joe Donovan won the Moto3 National Championship, and I, myself, even won two National Championships as an Amateur in the SuperStock and SportBike classes.
Elevating our efforts to compete full time in MotoAmerica is really just the next step in our journey. The 2021 season is going to be a lot of fun for us on all levels. Not only will we be out there at all of the MotoAmerica events this season but our roots still remain in regional series like CCS and ASRA. Tony Storniolo has really elevated his riding opening up 2021 extremely strong and I am really looking forward to seeing Tony race in select MotoAmerica rounds this season. Hell, Tony's Crew Chief Kevin Tregellas is even coming out of retirement and getting in on the fun to suit up with us during the regional rounds and who knows maybe I'll do a few MotoAmerica rounds myself this year. We are all very excited for this season!"
Jay Jacobson President of Franklin Armory: "Andrew Lee has shown great skill and maturity in his riding prowess over the past few years. We look forward to this year being his breakout year and couldn't be happier to be teaming up with Disrupt Racing and bringing Franklin Armory Disrupt Racing program together into the forefront."