M4 ECSTAR Suzuki's Bobby Fong stole the spotlight in dramatic fashion at the official MotoAmerica/Dunlop pre-season test at Circuit of The Americas (COTA).
Riding his GSX-R1000 with a soft race-compound rear Dunlop tire, Fong lapped the 3.4-mile, 20-turn road course in 2:08.343 – the fastest lap time of the two-day test and a time faster than Josh Herrin's 2019 race lap record of 2:08.994.
"It wasn't too crazy of a lap, but I did tuck the front so long and went so wide in Turn Seven and missed my apex by a long shot," said Fong. "I thought my lap was done. I thought, 'To hell with it. I'll just finish the lap and see what lap time I get anyway.' And it was still a 2:08.3! So, I'm confident it could have been a high 2:07, for sure. But it's just a test, so it doesn't matter, obviously. The main thing is we left the test on a positive note."
If saving his best lap for last wasn't dramatic enough, MotoAmerica added some drama by initially taking Fong's lap time away.
On his pit-in lap from his next-to-last stint, Fong straight-lined COTA's fast esses section, as many riders did on pit-in laps during the test. The call from the corner marshals reporting that Fong did this, however, didn't reach race direction until several minutes later when Fong was in the process of doing his fastest flying lap. Race direction then ruled that Fong had cut the course and instructed timing and scoring to invalidate the lap.
When MotoAmerica initially took the lap time away, Fong insisted that he had not cut the course. Fong's team questioned MotoAmerica's decision, and after a short investigation–including timing and scoring questioning the decision–MotoAmerica race direction admitted that it was a mistake and reinstated Fong's best lap.
Up until the last session it looked as if newcomer Loris Baz or 2020 MotoAmerica Superbike Championship runner-up Jake Gagne would come away with fast lap honors.
Baz and his Warhorse HSBK Racing Ducati New York Panigale V4 R were the class of the field on Day One, with the tall Frenchman doing a fastest lap time of 2:08.595.
Baz didn't have as much success on Day Two, which included a small crash and a best lap time of only 2:09.127 in cooler and windier conditions. But the former MotoGP and World Superbike rider still left the test second-fastest overall and happy with the work he did.
Gagne led sessions six and seven on Day Two even though he and his new crew focused on continuing their baseline setup work on his Fresh N' Lean Attack Performance Yamaha YZF-R1 as opposed to seeking a single fast lap. Gagne never tried a soft-compound tire during the two days but still got down to a 2:08.902 while using a hard-compound rear Dunlop Wednesday, and that put him third overall at the test.
Mathew Scholtz mounted a soft-compound rear Dunlop to his Westby Racing Yamaha YZF-R1 at the end of the day Wednesday and tried to go for a fast lap time, but he said he messed up his quickest lap. Still, the South African finished with a best lap time of 2:08.957 (fourth-fastest overall), which he said was the quickest he's gone at COTA "by far."
Gagne's teammate Josh Herrin said he was having a "terrible" test until the final minutes of the final session. That's when his crew chief Richard Stanboli gambled on a big shock change to help Herrin get his Yamaha turned mid-corner. The change worked well, so Herrin mounted a new set of Dunlops and hustled around the track just in time to get in one fast flyer. That lap was a fifth-quickest 2:09.642 and Herrin said it felt like winning a race.
Fong's teammate Cameron Petersen, the reigning MotoAmerica Stock 1000 Champion, had a positive debut on his new Suzuki Superbike. In spite of riding with an injury to his left foot that made downshifting difficult and doing long stints impossible due to the pain, Petersen was able to crack off a 2:09.751 at the end of Wednesday, ranking him sixth overall.
Seventh overall on the combined Superbike test times was Jayson Uribe, who did a 2:11.829 on his new Fly Racing/ADR Motorsports Suzuki GSX-R1000. Unfortunately, Uribe ended his test early with a fast crash Wednesday afternoon, but the Californian was relatively uninjured and was happy with the progress he made to that point.
Uribe's teammate/team owner David Anthony was eighth in the combined times with a 2:13.154.
The fastest Stock 1000 rider was Jake Lewis, who did a 2:14.374 on his new Altus Motorsports Suzuki GSX-R1000.
More, from a press release issued by MotoAmerica:
Fong Ends MotoAmerica Dunlop Preseason Test On Top At COTA
Suzuki Rider Nails Down Fast Time In Final Session Of Two-Day Texan Test
AUSTIN, TX (March 31, 2021) – M4 ECSTAR Suzuki's Bobby Fong ran through the gamut of emotions in the final session of the two-day Dunlop Preseason Test at the Circuit of the Americas on Wednesday – elation, disappointment and, ultimately, happiness.
Fong turned in the best lap of the test in the eighth and final session today, but the lap was initially taken away when it was reported that he had cut the track. The issue was resolved, however, when it was determined that Fong cut the track, but not on his fast lap. That meant that Fong leaves Texas with bragging rights as the fastest Superbike rider over the two days, his 2:08.343 bettering Loris Baz's 2:08.595 from Tuesday's final session.
"Hero to zero like that," Fong said before knowing that his quick lap had been reinstated. "They said I cut the track, but I didn't. I wouldn't lie and I'd be honest here. We did a good test and it's unfortunate not to see my name on top. The team has been doing a lot of hard work here and it's unfortunate for the team because we wanted to be on top. But we will bring it to Atlanta and bring the heat. We haven't tested at all and I haven't been on a road race bike since October and have just been riding motocross a lot. Yesterday was kind of weird. We started off really strong and then we cracked a swingarm and had to go to a back-up one that we had to test anyway. It wasn't working as well and we need to do more development with that, but with that being said they fixed the swingarm overnight and we got back to where we started, and we just started improving today. Overall, it was a really good test."
Fresh N' Lean Attack Performance Yamaha's Jake Gagne ended the day as the second fastest of the Superbike men, the 2020 MotoAmerica Superbike Championship runner-up lapping at 2:08.902 in today's third session.
"It was a great test, and we got a lot done," Gagne said. "We worked through a lot of stuff, a lot of chassis stuff and electronics. Luckily the weather held out today. It was little windy, but actually pretty nice. We got a lot of laps in and just got to try stuff to see what works, what doesn't work. My goal was working with my crew chief; we weren't focused on lap times. I think a lot of the guys were using the softer tires and we stayed on the nine-sevens the whole time. We just wanted to work on things so I could get a feel for what the bike does when we do this or that. We really learned a lot. We didn't want to throw down lap times we wanted to do what we could do to build a good race setup."
Third fastest overall on Wednesday was Westby Racing's Mathew Scholtz with his 2:08.957 with the South African doing his best in today's third session.
Frenchman Loris Baz, who was making his MotoAmerica debut, slipped down the order today to fourth fastest, but his fast lap from yesterday put him just behind Fong after two days of testing on the Warhorse HSBK Racing Ducati New York Panigale V4 R. Baz also had his first MotoAmerica crash, a slow tip-over in turn one early in the final day.
"Definitely, the conditions were different than yesterday," Baz said. "Really windy and the bike is pretty sensitive to the wind with the wings. But it was good to try the bike in completely different conditions than yesterday. I did a lot of long runs, honestly, and the only time I tried a softer tire was at the end and I didn't use it well. We worked on making long runs on the race tire, like 10-lap runs. We did a good job, and I had a better feeling on the long run than yesterday. The lap times were a bit slower, but we did a good job."
Gagne's Fresh N' Lean Attack Performance Yamaha teammate Josh Herrin ended the day fifth overall and just ahead of M4 ECSTAR Suzuki's Cameron Petersen.
Fly Racing ADR Motorsports' Jayson Uribe and David Anthony ended up seventh and eighth, though Uribe was fortunate to escape injury in a high-speed crash in the penultimate session today.
Altus Motorsports' Jake Lewis and Thrashed Bike Racing's Max Flinders rounded out the top 10 overall on Wednesday.
The battle for supremacy in the 2021 MotoAmerica Superbike Championship will kick off in earnest at Michelin Raceway Road Atlanta, April 30-May 2.
HONOS Kawasaki rider Richie Escalante's defense of his 2020 Supersport Championship doesn't begin until round one at Michelin Raceway Road Atlanta, but he made a convincing statement at the preseason test that he is clearly the favorite to take the title again in 2021. Escalante led all eight Supersport practice sessions aboard his 2020-spec machine, and he anticipates that his 2021 Kawasaki ZX-6R will be an even better bike than the one on which he won 13 races last year.
In SportbikeTrackGear.com Junior Cup, Landers Racing Kawasaki rider Ben Gloddy made good work of the two-day test as he was the quickest rider in all but the final practice session. He'd most likely have been a perfect eight for eight, but he suffered a minor tip-over during Practice 8 and, even though he was uninjured, he wasn't able to record a lap time during the concluding session. In Twins Cup, Wrench Motorcycles Yamaha rider Ethan Cook went quickest overall.
More, from a press release issued by Westby Racing:
Westby Racing's Mathew Scholtz Is Fourth-Quickest Superbike Rider At MotoAmerica Dunlop Official Preseason Test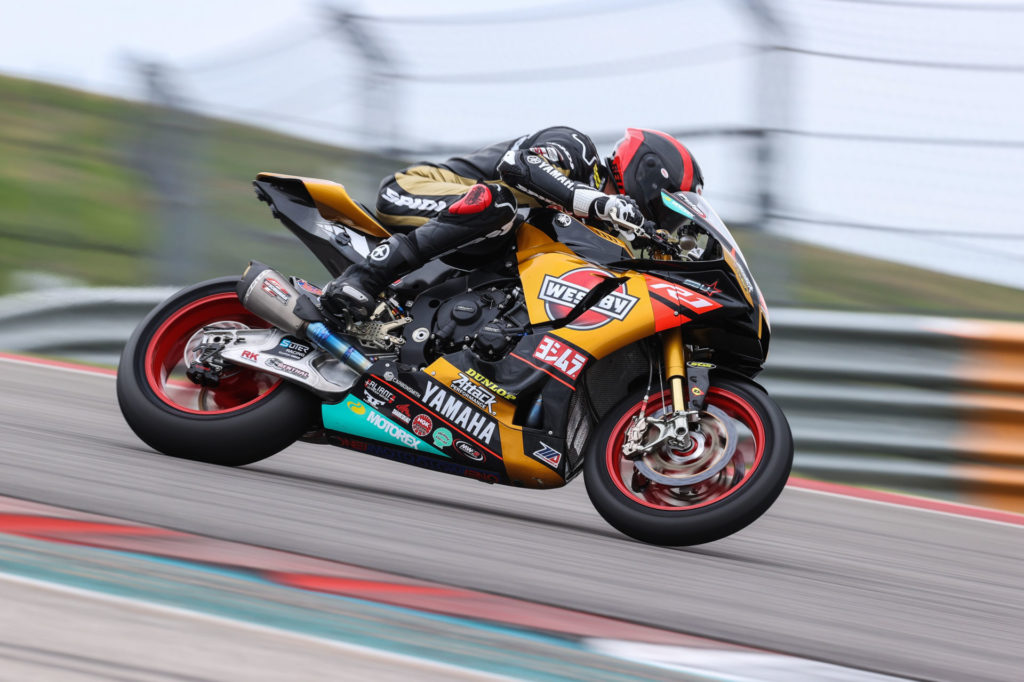 Austin, TX – March 31, 2020 – Back to 100% fitness after being injured in a crash last year at Indianapolis Motor Speedway, Mathew Scholtz came into the Circuit of The Americas (COTA) for the MotoAmerica Dunlop Official Preseason Test looking lean, walking tall, and clearly showing he was ready to record some fast laps aboard his #11 Westby Racing Yamaha YZF-R1 Superbike.
Out of eight practice sessions held during the two-day test, Mathew emerged as the fourth-fastest overall rider, with a best lap of 2:08.957 occurring during the penultimate session.
About the test, Mathew said, "Ending up fourth overall was really positive for me. We improved in every single session. The team, all the hard work that they've done during the off-season certainly paid off. I couldn't be happier. After such a terrible injury that ended my season early last year, to come here after having minimal track time, it feels great. COTA has never really been a good track for me. It doesn't suit the Yamaha, and for some reason, I really struggle here. So, to be towards the front-end of the field at this track, I couldn't be happier. It gives me a lot of confidence going into the first round.
"We made a few changes today. Some of them worked, some of them didn't, but we know what to do in different situations if we do run into any challenges during the season. At this test, we set all of our quickest times on tires that we would be racing with. We really focused on that, on consistency, and on our race pace. One-lap speed wasn't really something we were looking for, but it was really nice to be at the top end. Also, it was really nice to look at the trap speed and see that we were up there in that category, too, because that was something that we were struggling with last year, and it's going to make things a heck of a lot easier for me.
"I'm just really thankful to be back in the MotoAmerica paddock, and I'm looking forward to starting the season at my home race. We'll see how we fare."
Next up for Westby Racing is round one of the 2021 MotoAmerica Championship, which takes place at Michelin Raceway Road Atlanta on April 30 through May 2.
For more Westby Racing updates, including news, photos, and videos, visit https://www.westbyracing.com
Also, visit "Westby Racing" on your favorite social media site.
More, from a press release issued by Wrench Motorsports:
Impressive debut with Wrench Motorsports for Ethan Cook at Circuit of the Americas
19 year old Ethan Cook kickstarted his 2021 MotoAmerica season with Wrench Motorsports in fine style this week, topping the Official MotoAmerica Twins Cup Test at the Circuit of the Americas.
Cook, who only inked the deal within the last couple of weeks, used the multiple COTA sessions to adjust to his new steed, impressing at the rate in which he improved at the home of the US Grand Prix.
Born and raised in San Diego, California, 19-year-old Ethan Cook started racing local motocross aged 9 where he quickly progressed, traveling the country to compete in amateur national competitions including the Lorreta Lynns Amateur National, the Freestone JS7 Amateur national, and the Mammoth Motocross series.
He made the move to tarmac in 2018 thanks to an opportunity from his mentor Bradley Ward. Initially riding a Kawasaki Ninja 400 with top 10 results racing the CVMA Race series at Chuckwalla and podium finishes at the WERA Race Series the next couple of years saw Ethan competing in various national disciplines of racing, taking in various club championships including WERA, AFM, CVMA races in the California State and in MotoAmerica's Junior Cup class.
With the support and guidance from his mentors Bradley and Andrew Ward, and David Anthony, Ethan has also raced a Kawasaki ZX10R in Chuckwalla's CVMA race series, taking to it like a duck to water, achieving podium finishes in the premier classes that the series has to offer.
For 2021 he will race for Wrench Motorsports in the MotoAmerica Twins Cup Class, the season commencing at Road Atlanta, Georgia, at the end of April.
Ethan Cook: "It was a wet and foggy start at COTA and my first time riding the Twins Cup bike. We made a lot of changes on the first day, really just trying to get me comfortable. It dried out by the afternoon and I was able to go faster almost immediately. We put some new tyres in for the final session and was able to go even quicker. The second day went really well. I improved by over three seconds on my time from Day 1. It was pretty wet first thing. I went out on slick tyres so didn't really learn much. It dried up for the third session. We made some changes to the front forks and I felt really good. All in all, it's been a good test. I am learning a lot and really getting on well with the team. They're making me feel really welcome and I can't wait to get the season started."
For more information go to EthanCookRacing.com