Shawnee, OK (April 9, 2019) – Celtic HSBK Racing salvaged a tough MotoAmerica debut with Rider PJ Jacobsen last weekend at Michelin Raceway Road Atlanta. The team, who had minimal pre-season testing, took a race to really get in stride but finished the weekend on the box.
On Friday, Practice 1 was a successful trip out with the fastest times in the wet session. However, the team found themselves at a disadvantage early in the weekend after a hard crash during Qualifying 1. While P.J. was using the session to learn the track and get acquainted with the bike he crashed and injured his hand.
Saturday morning, Qualifying 2 was a chance to continue working on setup and verify the overnight repairs. P.J. ran the 5th fastest times putting him on the second row of the grid. That afternoon, Race 1 was the team's first time out on a dry track and paired with Jacobsen's injury from the earlier crash they knew they were up against a lot of factors. P.J. battled for third most of the 18-lap race ultimately crossing the finish line in 6th.
The team went into Sunday with significant changes to the bike that would help P.J. with braking and handling. A change that even the announcers noticed. P.J was still experiencing hand pain but thanks to another night of rest he was even more determined to salvage the weekend. P.J. and Bobby Fong broke away from the pack early in the race. P.J was close on this tail and applying pressure that continued to put them further and further ahead of the pack battling for third. P.J. was able to lead the race for a brief time and ultimately snagged his first MotoAmerica Podium in second place 13.3 seconds ahead of the next competitor.
The team looks forward to the next supersport round at Virginia International Raceway. With continued setup improvements and a track that P.J. is familiar with, the Celtic HSBK livery is sure to be at the front of the pack.
Special thank you to Bickle Tire Warmers, BrakeTech, Competition Werkes, Cox Racing, Eazi-Grip, Evol Technology, Fast Frank Racing, Ferodo, FLEX Racing, Full Spectrum, GB Racing, HVAC Construction, MotionPro, MWR Filters, Nitro Lubricants, RaceSeats, REV'IT, Samco Sport, Spiegler Performance Parts, SunStar Chain & Sprockets, Yamaha USA, and Zero Gravity.
More, from a press release issued by Quarterley Racing On Track Development:
Round one of MotoAmerica at Road Atlanta was a success all around for our 2019 squad. As with any first round there are unknowns of new parts, rule change effects and new team members. By those measures we called the wet and dry weekend one to remember in a good way. Other than Jamie Astudillo taking a hard fall in Q1 and missing Saturday's race by just minutes, all went according to plan.
Dallas Daniels proved his winter program was a serious one and came out of the gate strong, putting in two solid second place finishes. Having Saturday's result to work from, he narrowed the margin of victory from 16 seconds to five seconds behind Rocco Landers, which was huge progress.
Teagg Hobbs put in two sensational races as well, finishing fourth Saturday in a hard-fought battle among four riders for the podium. Position changes were too many to count and everyone in the mix showed great sportsmanship for such young riders. Sunday's race was a repeat of that battle and the last turn became a tangle with all three having the podium spot in their sights. Teagg's front tire clipped the rear of Sam Lochoff's bike, unfortunately ending the race for both. In true sportsmanlike form, Teagg went to Sam's pits to apologize after the race.
Jamie put in a solid finish on Sunday given the high speed crash she had on Saturday, going from seventeenth on the grid to finish the race in ninth place. It's a long season and she will work hard to make up the points lost by missing the first race due to a delay at the hospital in getting signed out.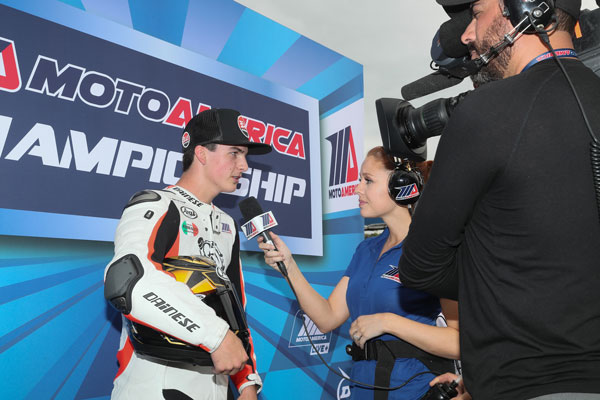 (Above) Dallas Daniels (far left) being interviewed by the MotoAmerica Live+ crew. Photo by Brian J. Nelson.
Dallas Daniels:
"I qualified second just behind Rocco Landers, but I was only six tenths of a second off his time so I knew I had the pace to stay with him. I got off to a good start in the first race, but Rocco pulled out in the lead and got away. From there I was locked in a four-way battle for second with Sam Lochoff, Kevin Olmedo and my teammate, Teagg Hobbs. Eventually, I was able to make a pass on Teagg for second. I didn't think I had the speed to pull away from those guys but I surprised myself. By then Rocco was gone and he won by 16 seconds.
"Before the second race Dale and I talked with the Nitron suspension representative. We used Nitron shocks last year but the Nitron forks are new. I got a better start in the second race and actually passed Rocco for the lead. It was the first time I ever led a MotoAmerica race. There were two more passes between us and then Rocco pulled out a lead. I strung four or five really good laps together right at the end of the race and got second. This time Rocco only won by four seconds, so I have a lot more confidence going into the next round at Virginia International Raceway.
"What I learned at Road Atlanta is that I have to be more aggressive on the first lap of a race and not let the leaders get away. I'm going to be much more aggressive at VIR and make the other guys pass me.
"I'd like to thank Bob, Dale, Paul, Mark, Ron and the entire Quarterley Racing On Track Development team for putting a great race bike under me. I'd also like to thank Johnny Lewis of Moto Anatomy for letting me stay and train at his facility the last two weeks."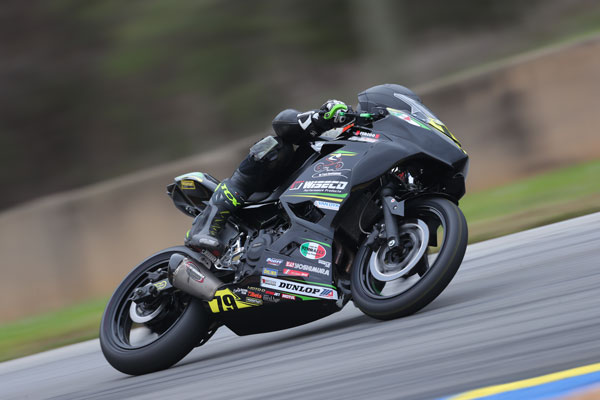 (Above) Teagg Hobbs (79). Photo by Brian J. Nelson.
Teagg Hobbs:
"Practice and qualifying went awesome. I was second in the first practice and even though I crashed in the second qualifier after just a few laps, I ended up fifth on the grid.
"I started the first race from the second row, was fourth by turn one and up to second by the back straight. From there it was a five-rider battle for second place. My teammate Dallas Daniels finally got ahead of me. At the checkered flag I was in fourth by less than three tenths of a second. It was disappointing because, based on how we were doing in practice and qualifying, I expected to be on the podium.
"In the second race I got an even better start and went into turn one right behind Dallas. Then I got passed by Rocco Landers and he and Dallas took off. I was behind a racer who was slower in the first two sectors of the track, which are my best parts of Road Atlanta, so I got separated from Dallas and Rocco.
"From there the whole race was a four-guy battle for third. Coming into the last corner on the last lap, I made a small mistake in judgment. There was one piece of real estate and three bikes trying to take it. I misjudged where one of the riders was going to turn in. Dominic Doyle and I were side by side and Sam Lochoff slipped into the middle of us. I went kind of straight, Sam and I touched and I took us both out.
"Road Atlanta is one of my favorite tracks on the schedule and I wanted to do well because it was my first race with a new team. Up to now it has been just me and my dad pulling up in a pickup truck. So a lot of the weekend was getting used to working with a team. Dale has been working with me about what it takes going from a club racer to the pro level. The team is working really well together. I think we have a championship-contending team this year and I can only see us going up from here. We've definitely proven ourselves to be front-runners."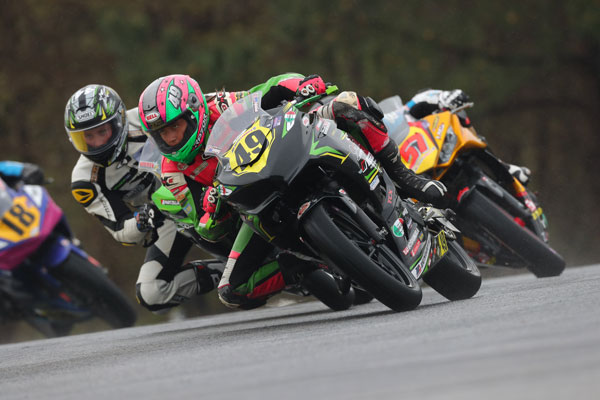 (Above) Jamie Astudillo (49) during a wet session at Road Atlanta. Photo by Brian J. Nelson.
Jamie Astudillo:
"I got the wind knocked out of me pretty hard. They ended up taking me to the hospital to check for internal bleeding. They didn't want to release me at first and I got back to the track just as the red start lights were going out for race one.
"On Sunday I felt pretty good. I thought I would be super sore, because you use your core a lot when you race. But it only hurt when I got off the bike. By the start of race two I hadn't gotten up to speed yet because it was a dry race and my practice sessions were mostly in the wet. Because of the crash, I ended up 17th on the grid. In the race I went faster than I had gone all weekend, but the front group got away and I was dragging the group behind with me. I was in thirteenth for most of the race, but there were a number of people ahead of me who ended up crashing and there was also one disqualification after the race, so I finished ninth overall.
"One thing I realized is that I have trouble getting up to speed all by myself. Usually what I'll do is hang onto someone for a lap in practice. If I don't have that one lap, it's really hard for me to get up to speed. I also need to break down each track in my mind, where my braking and acceleration points are, and not race just from feel."
Ben Gloddy:
Congratulations to my teammates at Quarterley Racing On Track Development. I was watching from home and I can't wait to join in starting with the Utah round on my 14th birthday.
"To wrap up the weekend, we feel all of our riders made significant progress with winter training and testing, and the team worked well together with everything thrown at us throughout the weekend. We are proud to have put on a good show for our returning sponsors as well as some new ones."
Quarterley Racing On Track Development 2019 Sponsors:
Inter-Tech Supplies, Fast By Ferracci Racing, Yoshimura R&D, Wiseco Performance Products, Motul USA Inc., Regina Chain, BrakeTech, Ferodo Racing, Matt & Jesse, Scott Powersports, Defiance Lifestyle Clothing, Woodcraft-CFM, Dynojet Research, Beta Tools, Roadracing World, Drippin' Wet Graphics, Moto-D Racing, Fast Bike Industries, Van Dyk Recycling Solutions, Earl's Racing Team and Kiwi Classic Moto.
More, from a press release issued by Franklin Armory/Graves Kawasaki:
The opening round of the 2019 Moto America Stock 1000 championship started out with a bang as the race went down to the final lap and the last few corners with Franklin Armory/ Graves Kawasaki rider Andrew Lee coming out on top.
At the start of the race it was a three rider Kawasaki break away that saw Stefano Mesa, Michael Gilbert and Andrew Lee separate themselves from the rest of the pack. Within a few laps the lead group shrunk to two as Gilbert and Lee made a gap on Mesa.
Lee stalked Gilbert the entire race, looking content to let Michael set the pace. The two riders sliced their way through lapped traffic on the final lap that would set up a braking zone show down in to turn 10. Lee charged down the hill late on the brakes and slid his Franklin Armory/ Graves Kawasaki ZX10 up the inside of Gilbert, taking the lead as the duo raced over the hill to the final corner. Gilbert looked to try and make a move coming down into turn 12 but couldn't quite make it up the inside of Lee. The two Kawasaki men shot off the final corner racing to the line for the closest ever finish in Moto America Stock 1000 history (0.130 seconds) with the defending class champion, Andrew Lee, taking the victory.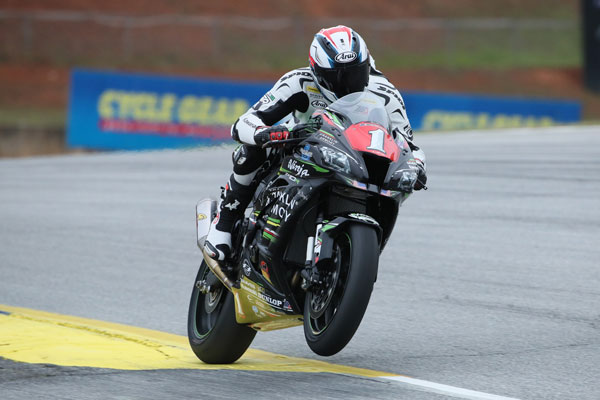 (Above) Andrew Lee (1). Photo by Brian J. Nelson.
Andrew Lee: Round 1 was very positive for the team and I. We came in with a similar platform to last year on a 2019 ZX10R, with some changes. This year Graves Kawasaki came in to back our program. Friday we had some issues but my crew kicked it into high gear and figured it all out. With how hard everyone has been working I'm just happy I could reward them with the win on Sunday in a very close race! Onto VIR and I'm excited to see what improvements we will be making to the Franklin Armory/ Graves Kawasaki ZX10R!
Derek Keyes (crew chief): I'm really proud of Andrew today! He rode a very smart race and got the win for us, I couldn't have asked for a better start to the season. We knew we were going to have a bigger challenge this year with guys like Michael, Stefano and Thorton coming into the series and I expect there to be quite a few more of these close races as we go on. We worked really hard over the off season to refine our package with help from the guys at Graves Motorsports. They've really helped us to improve our program and I'm happy we could come out here and represent them with a win like this. I have to thank our crew, Osvaldo and Rick, for busting their tails all weekend. This really is a team sport and those guys have come in to our program and helped take some of the load off my shoulders. A huge thanks to Franklin Armory as well for stepping in and helping out our team this year. We wouldn't be here without their support.
Franklin Armory/ Graves Kawasaki would like to thank all of the team sponsors and supporters
Franklin Armory, Graves Motorsports, Kawasaki USA, Spidi, Arai, Cool Breeze, Tachi Palace Hotel and Casino, FTECU, JP43 Training, Hustle Hard Racing, Cabonin USA, Flex Racing, Motion Pro, Modobag, Cycle Gear, Vortex, PCP Motorsports, RG Racing, AIM, Drippinwet, Tech Spec, Ohlins, Dunlop
Follow Andrew Lee on social media:
Facebook @AndrewLeeRacing
Instagram: @andrew_lee14
Please give our supporters a follow and a like on their social media pages and if you're looking for some race parts for your motorcycle go to www.gravesport.com and use promo code andrewlee for a discount.