Tytlers Racing at the front at Road Atlanta
It was a successful second round of the 2022 MotoAmerica Superbike championship for the Tytlers Racing team at Road Atlanta, the squad coming away with a podium, two fourth places and a sixth position from the two races courtesy of riders Hector Barbera and Kyle Wyman, who was drafted in at the last minute to replace PJ Jacobsen who was forced to miss the event through sickness.
Spanish rider Barbera was once again in the mix from the opening session of the event, eventually qualifying fifth before racing to a double P4 finish. The results elevated the #80 into fourth overall after the opening four races.
Former Superbike racer Kyle Wyman was an obvious choice for the team when it was clear that PJ Jacobsen would be unable to take part in the weekend. Kyle took full advantage of the opportunity, powering to a podium finish in third on Sunday, the first for the all-new BMW M1000 RR in a Superbike race in the US, after an impressive sixth on Saturday.
Stock1000 riders Corey Alexander and Travis Wyman were also in action in both Superbike races. The pair finished seventh and tenth in the opening nineteen lap encounter before crossing the line sixth and eighth in race two, respectively.
The third round of the series is at VIR in three weeks.
Hector Barbera: "I was happy with the weekend. We are not 100% in terms of the setting I need but we are not too far away. It was good to be able to fight for the podium and the team is working fantastic. In race two I finished fourth again and whilst I am happy for the team of course I am a little disappointed that I missed the podium again after being so close. The BMW M1000 RR is a great bike, but I was losing too much time in the first sector but it's all part of the learning process that me and the team are going through. We have a test before VIR, and I am confident that we will make another step there and be even stronger in the next races."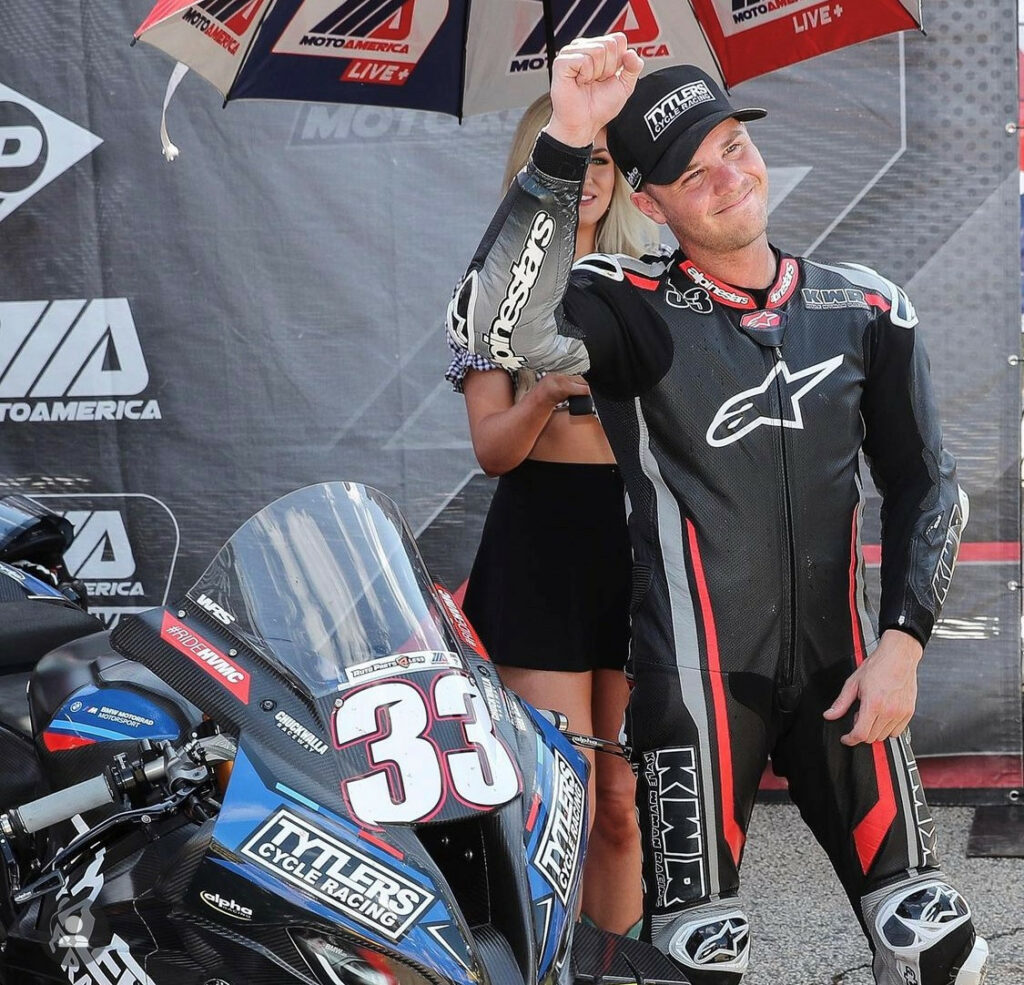 Kyle Wyman: "I am super happy and still in a little bit of disbelief after the result in race two on Sunday. Prior to the weekend I had no idea that I would be back on the Superbike grid. I was unable to sleep much no Thursday night, thinking about so many things and I am just so glad that it all worked out. It was a pleasure to work with the entire team. We made a lot of changes and by the time we lined up for race two it was a completely different motorcycle than I had ridden earlier in the weekend. I had a great start, but the red flag was a bit of a blessing to be honest and I think it helped as I time during the stoppage to understand that I could push from the off. I had a great battle with Hector and Richie. It went down to the wire, and I was able to hang on and take the final spot on the podium. I am so grateful for the opportunity and to be able to give the team their first superbike podium is great. It's never nice to have to replace an injured or sick rider and I hope that PJ is healthy for VIR, and I wish him and the team all the best for the rest of the season."
More, from a press release issued by Tytlers Cycle/RideHVMC Racing:
The win, third and a triple points haul at Road Atlanta in the Stock1000 season opener
What a way to start the year!
The Tytlers Racing BMW trio of Corey Alexander, Travis Wyman, and Zac Schumacher kickstarted their 2022 Stock1000 campaign in fine style at Road Atlanta this past weekend, securing the win, third and fourteenth respectively in what was a dream start for the newly created squad.
Ahead of the opening round of the championship, optimism was high for the team who had signed two of the leading riders from the previous editions of the series (Alexander and Wyman) and the promising talent of Schumacher.
It was clear from Friday's FP1 that all three riders would be competitive and when the lights went out, they didn't disappoint.
Zac rode confidently to secure P14 at the flag after coming out on top of his own personal four-way battle, with Wyman crossing the line third, comfortably ahead of his pursuers.
For Corey Alexander it was a dream start to the 2022 season. The #23 crossed the line to win on his debut with the BMW M1000 RR by 0.001s. The closest finish in MotoAmerica history!
With confidence soaring the team heads to VIR in a couple of weeks for Round 2.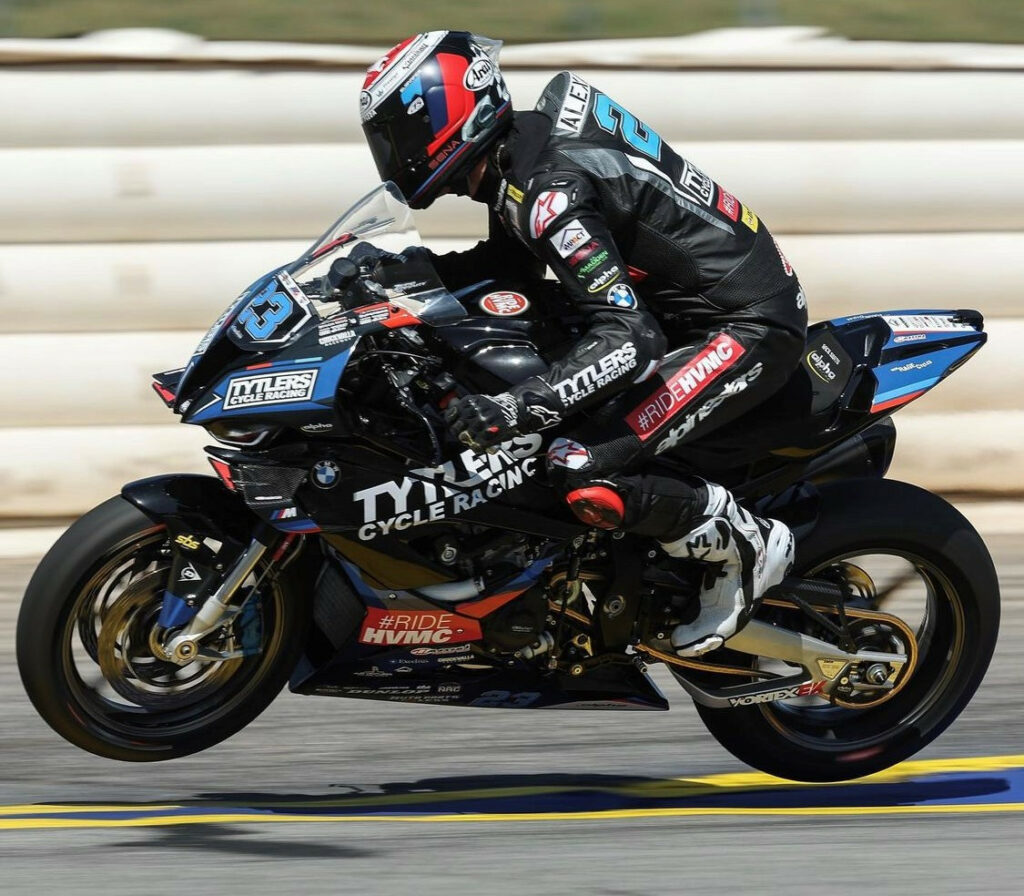 Corey Alexander: "Overall the weekend has been extremely positive. We started with a different set-up to what we had at COTA and the bike was immediately better in terms of the base setting. We kept chipping away and set a new lap record in practice and again in qualifying so I knew we would be competitive in the race. The race was a bit tougher than expected. I thought we could create a little gap, but I struggled a bit with grip. To narrowly edge the win at the line is great for me and the team and I am excited to move onto VIR which is one of my favourite tracks."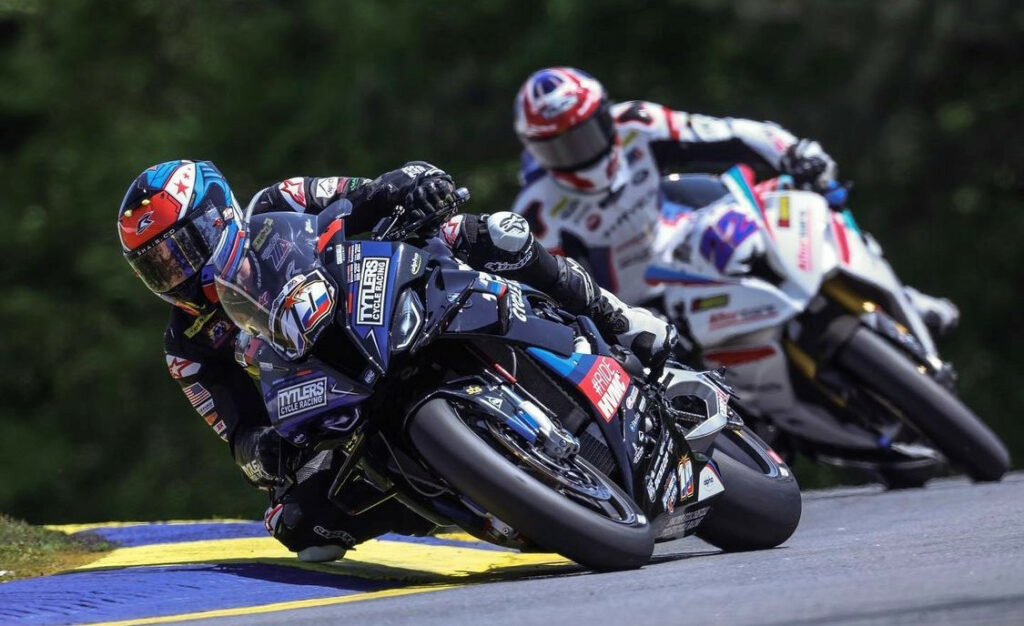 Travis Wyman: "The Stock1000 race went great. I got a good start and was able to hang with Corey at the beginning but fell away a little in the second half. I was able to manage the gap to the guys behind and was able to bring it home on the podium. I am super happy with the podium even though I wanted more. I am sure we will be stronger in the next races."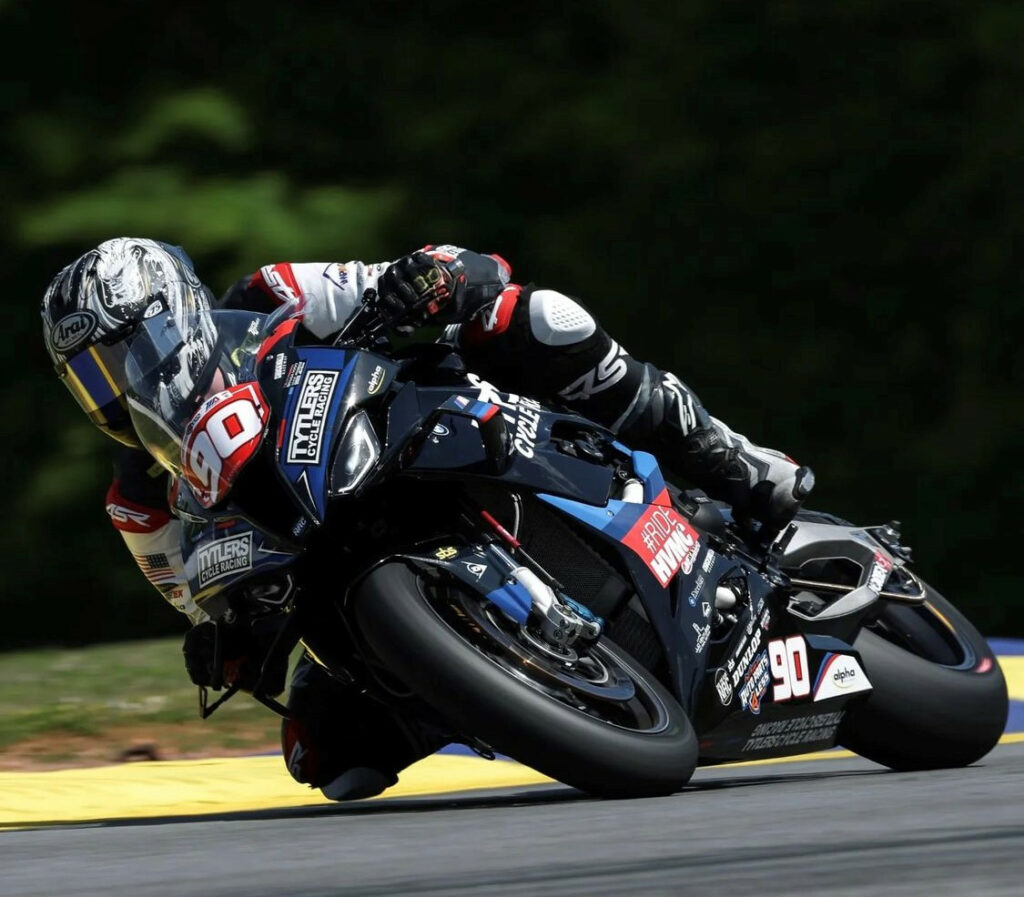 Zac Schumacher: "The opening race of the season went really well considering it was my first time racing the bike and my first time at Road Atlanta. I know I can do better than fourteenth but it's a good start and something we can build on. I am looking forward to the next round and I want to say a big thanks to all the crew who did an awesome job all weekend."
More, from a press release issued by Harley-Davidson:
KYLE WYMAN CHARGES TO ROAD ATLANTA KING OF THE BAGGERS VICTORY ON FACTORY HARLEY-DAVIDSON ROAD GLIDE MOTORCYCLE
Jesse Janisch Dominates Production Twins on Harley-Davidson XG750R at Odessa Half-Mile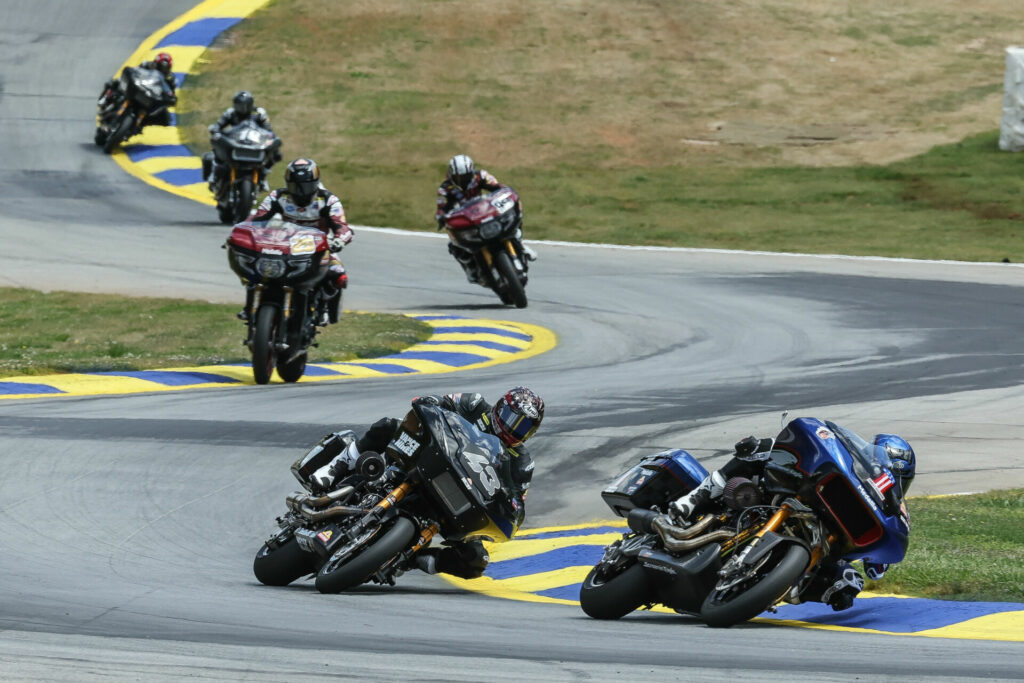 MILWAUKEE, WI – Harley-Davidson® Screamin' Eagle® factory rider Kyle Wyman scored a hard-fought win in the MotoAmerica Mission King of the Baggers race at Road Atlanta in Braselton, Ga. on Sunday. The defending series champion passed for the lead on lap three and pulled away for the win aboard a race-prepared Harley-Davidson® Road Glide® motorcycle. James Rispoli finished second on the Vance & Hines Racing Harley-Davidson Road Glide motorcycle.
"This win definitely feels good," said Wyman following the race. "I'm so happy to do it for everyone on the Harley-Davidson Screamin' Eagle team. They deserve it so much. They have been working day and night since Daytona to get us here and made some significant improvements to the bike that allowed me to be much more aggressive on the track today. Winning today and having James finish second has really helped us in the points chase."
Wyman topped the field in King of the Baggers qualifying on Saturday, posting a best lap of 1:31.87, lowering the class lap record on the 2.55-mile Road Atlanta road course by 4.5 seconds. Later on Saturday, Wyman crashed during the King of the Baggers Challenge sprint race to determine pole position for the eight-lap feature, and was set to start in sixth position on the second row for Sunday's main event. On Sunday Wyman jumped out to third place on the opening lap and trailed pole sitter Bobby Fong and Rispoli. Fong crashed his Indian motorcycle on lap two and was out of the race. Wyman passed Rispoli for the lead on lap three and then gradually pulled away, opening a gap of 0.66 seconds by lap five and 1.24 seconds by lap seven. Wyman crossed the finish line 1.86 seconds ahead of Rispoli, averaging more than 100 mph per lap. Tyler O'Hara was third on an Indian, 3.49 seconds behind Wyman. Harley-Davidson® Screamin' Eagle® factory team rider Travis Wyman finished in sixth place.
The Mission King of the Baggers series features race-prepared American V-Twin touring motorcycles. Harley-Davidson® Factory Team Road Glide® motorcycles are powered by race modified Screamin' Eagle® Twin-Cooled Milwaukee-Eight® 131 Performance Crate Engines.
After three of seven rounds on the 2022 Mission King of the Baggers series, Kyle Wyman moves from sixth to third place in the series standings, tied with his brother Travis Wyman at 41 points, 20 points out of first place. The Harley-Davidson® Screamin' Eagle® factory team returns to the track June 3-5 at the MotoAmerica Superbikes Weekend at Road America raceway in Elkhart Lake, Wis.
JANISCH STORMS TO PRODUCTION TWINS WIN ON ODESSA HALF-MILE
Vance & Hines Racing team rider Jesse Janisch rode a Harley-Davidson XG750R motorcycle to a dominating win in the Mission Production Twins main at the inaugural Progressive American Flat Track series I-70 Half-Mile on April 23 in Odessa, Missouri. Janisch started on the front row after qualifying second for the event. The semi-final rounds were cancelled due to approaching weather. Janisch stormed into the lead at the start of the main and was never challenged, building a gap of 9.43 seconds by the end of the 22-lap race. For the 35-year-old racer from Beaver Dam, Wis., the win was sweet redemption for a disappointing 14th-place finish at the Texas Half-Mile on March 19. After three of 17 events on the 2022 Progressive American Flat Track series Production Twins schedule Janisch is in third place with 47 points, 13 points out of first place. The Progressive American Flat Track series is back in action for a double-header race weekend May 28-29 on the Red Mile in Lexington, Ky.
More, from a press release issued by Altus Motorsports:
MotoAmerica: Results from Road Atlanta for the Altus Motorsports WPS FLY Racing Team
(Atlanta, GA) The first full round of the 2022 MotoAmerica season brought mixed results for the Altus Motorsports team.
"In spite of some first-race-of-the-season ups and downs, we believe that this was a great weekend for the team. This year's group of riders and mechanics have already started to gel and it makes for a great environment. Plus the fan turnout was truly amazing – the most I have ever seen in Atlanta. That bodes well for our sport!" said team owner George Nassaney,
Superbike Cup & Stock 1000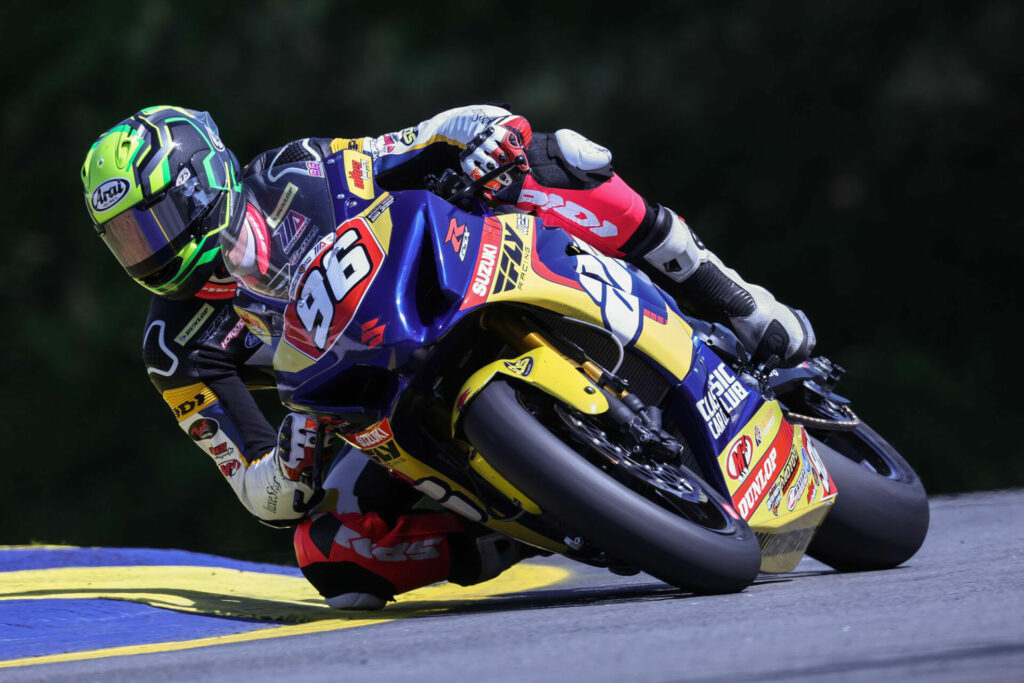 Brandon Paasch was forced to miss the races at Circuit of the Americas due to an injury. While the extra few weeks off gave him time to heal, he was then struck with a case of the flu just before arriving in Atlanta – a notoriously physical circuit. On top of that, this is Paasch's first year on a liter bike. So Brandon went into Friday practice, hurt, sick, and on a learning curve. Considering all that, finishing the first Superbike race in 13th after starting 18th was quite a feat. Unfortunately, Race 2 didn't go Brandon's way when a leak in his radiator (from a wayward rock) caused a lowside crash on the second lap.
Stock 1000 only had a single race at Road Atlanta. Paasch started the race from 9th and held on for an 8th place finish.
"Big thanks to the whole Altus Motorsports WPS Fly Racing team for all their help this weekend and getting me back on track to start the learning curve on the 1000," said Brandon Paasch.
Supersport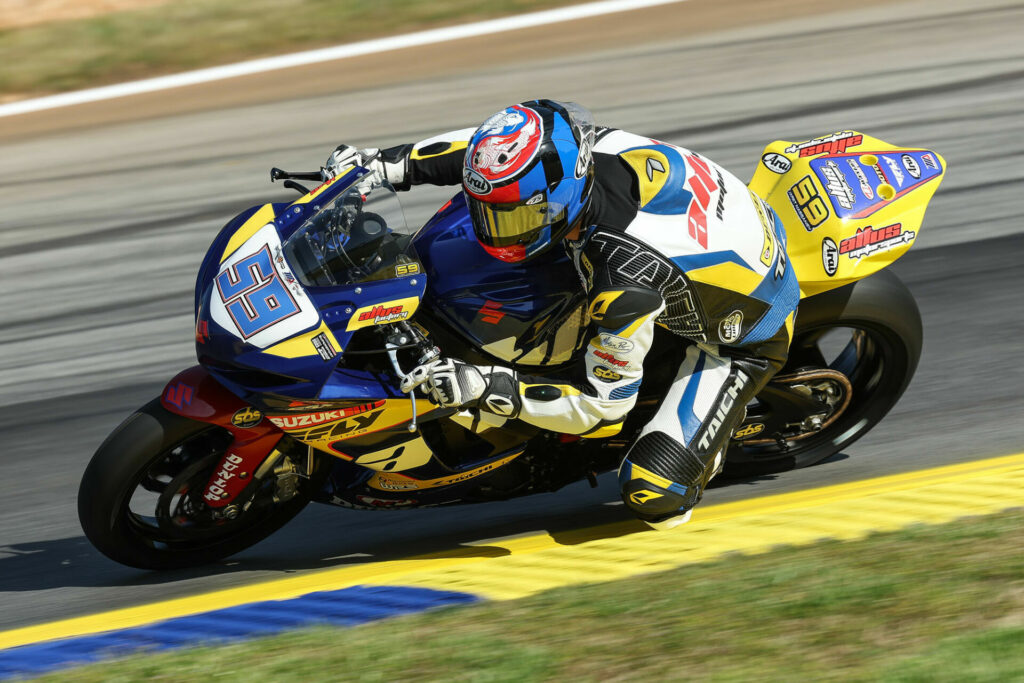 Jaret Nassaney put in a lot of work in the off-season and showed up in Atlanta ready to build on the progress he showed last season. The team got new, MotoAmerica spec engines just before the round so Jaret spent Friday getting used to the characteristics of the new motor. Nassaney started both Races from 10th on the grid. The first Supersport race was red-flagged and, unfortunately, on the restart his clutch went out. The best he could manage was 11th. After an amazing launch in Race 2, Jaret lost a few spots with a suboptimal rear tire temp, but, once the tire came up to temp, he got down to pace. He managed to get up to 6th place before losing rear grip. Ultimately, he gave those two spots back and finished 8th.
"It was a great weekend. I liked the new motor. We got some decent results, considering a few issues and I am looking forward to VIR," said Jaret Nassaney.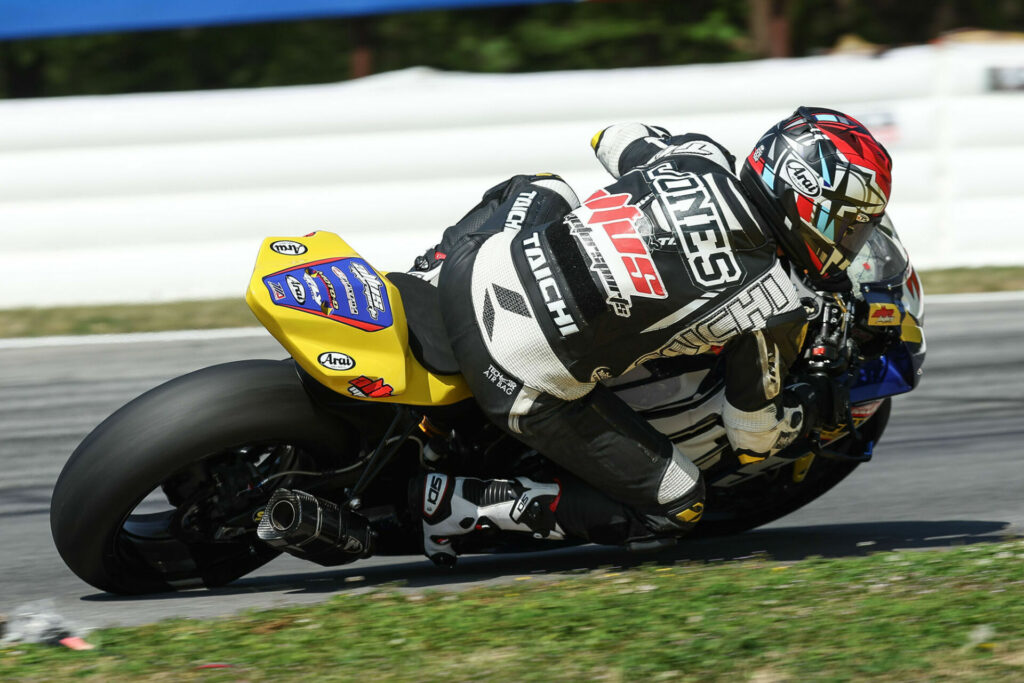 Justin Jones spent first practice and Q1 getting better acquainted with the GSX-R600 and reacquainted with Road Atlanta – a track he has not been to in 8 years. After Q1, Jones and Crew Chief Eric Gray reviewed the data and identified the first sector as the biggest opportunity for improvement in Saturday's Q2 session. Qualifying 2 was going great until a massive high side in turn 12 ended the session early leaving him and the bike a bit battered. In spite of that, Jones managed to qualify 14th for both Supersport races. The mechanics got the bike back together and MotoAmerica's medical cleared him to race. The first race was red-flagged and eventually restarted. By the time that race was over, Jones was suffering with quite a bit of pain and was happy just to bring the bike home in 15th. In Race 2 on Sunday, Justin got a good start and was competing for 10th before the adrenaline wore off and things started to hurt. He backed off, conserved energy, and crossed the line in 13th.
"What a weekend with my new team. I can't thank Altus Motorsports enough. I had a pretty good feeling on the bike all weekend but it's been almost a decade since I've been on Road Atlanta. It's a technical track and it took me a few sessions to get it figured out again. Huge thanks to Eric Gray for putting me on the right track and the mechanics for putting the bike back together after the wreck," said Justin Jones. "I had a lot to overcome this weekend and I know I'm better than the results we came away with. I'm super happy with how the weekend went otherwise and I'm looking forward to VIR!".
Junior Cup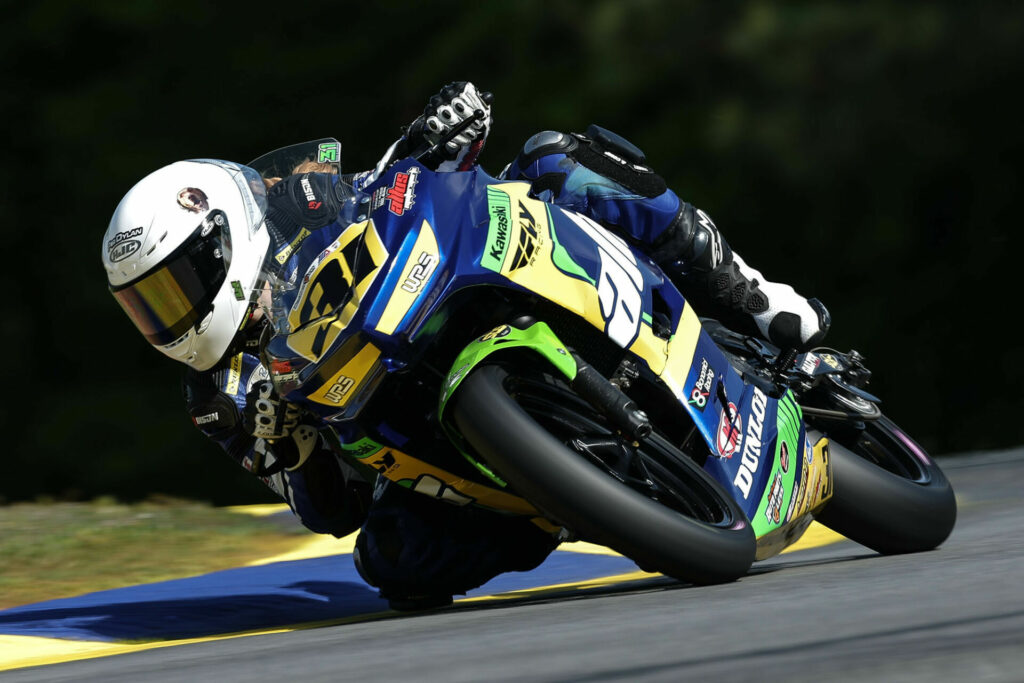 Kayla Yaakov and Altus Motorsports have a shared goal this year: to consistently be on the box. In Atlanta, Kayla showed she has the ability to do that. Kayla started both Junior Cup races from 7th spot. In the first race, she went with the leading group and consistently ran in the top 5 spots and challenged for the podium positions. In the end, she finished in 4th. In Race 2, she again ran with the lead group of 8 riders. On lap six, she took the lead for the first time. That was the beginning of her tenacious battle for the win. At times shuffled back as far as 6th, she repeatedly fought back into first. She demonstrated incredible guts and skill passing multiple riders into turn 10 almost every lap. Kayla crossed the line in first after a nail-biting final lap but, along with several other riders, was penalized two positions due to passing under an unseen yellow flag.
"This weekend was amazing, but a rollercoaster of emotions to say the least. Our qualifying was good, and we were able to be in the front group. These were two keys things that I had been working on in the off-season, so to see this improvement was great. I had a great race pace, and I was able to consistently stay and fight in the front group. We came across the line in first, and either way, it was a dream come true. I had no set expectations for my first round with the Altus Motorsports crew, but I think we set the tone for the rest of the season. Hopefully, in the rounds going forward, we can keep improving and having fun! I can't wait for VIR!" said Kayla Yaakov.
"I would say this was a very successful weekend even though we didn't get all the results we expected. Brandon was sick and still recovering. He's also still learning how to ride a 1000. As the season goes on, we know his results will improve. Justin was pretty banged up after his off. He will be healthy by the next race and he'll be closer to the front. Jaret rode really well on Sunday. Maybe the best I've ever seen. As he gets used to the new motor, I expect him to continue to improve. And Kayla… What a tough break. She proved a few things this weekend: she is going to win some races this year and she is a lot of fun to watch," said team owner George Nassaney. "Huge Thank You to Crew Chief Eric Gray for all the offseason preparation to make the first weekend operate so smoothly. Thank you to our mechanics Robin Hawley, Johnny Luna, Blake Owens, and Dave Yaakov for all their hard work and finally to Ben Brown for keeping our truck top-notch to travel the country."
The Altus Motorsports team is supported by our great family of sponsors: Altus Motorsports, FLY Racing WPS, Suzuki Motor USA, Moto-D Racing, Bonamici, Hot Bodies Racing, M4 Exhausts, Vortex EK, Motion Pro, Barnett, Maxima Racing Oils, SBS Brakes, Galfer USA, Ohlins, K-Tech, RS Taichi, Arai, Law Tigers Oklahoma, and Altus Factory Racing.
More, from a press release issued by Team Vision Wheel/Discount Tire/Amsoil/KWS/Honda:
Road Atlanta, Round 2 Adversity Hits Home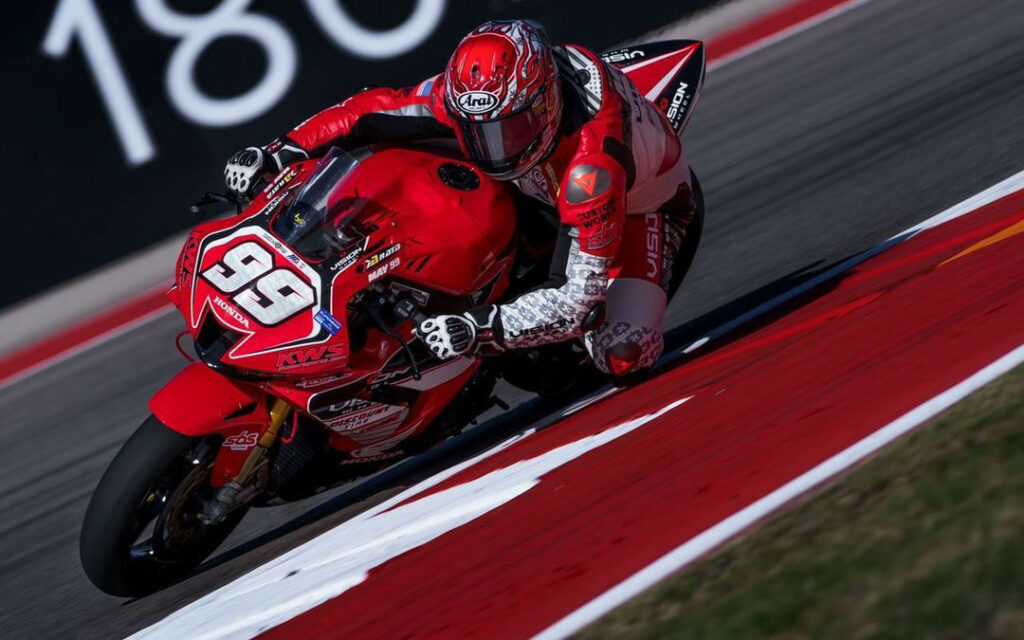 The Team rolled into Road Atlanta with new parts and a wealth of home track knowledge. This was the first time with HRC Kit ECU. This enabled the use of traction control, wheelie control and different engine braking strategies per gear. This proved to be a huge step forward,  Geoff put his head down and immediately was faster than the year before. Using Superbike and Stock 1000 on Friday to get a good baseline with the electronics settings, Geoff was able to go under the Stock 1000 lap record from 2021. With knowledge gained at the previous round in COTA, Mike Fitzgerald was able to come up with a new shock setting allowing Geoff to find even more pace on Saturday.
On Saturday the team was able to apply what was learned and put in a good Stock 1000 qualifying effort which resulted in a 2nd position on the starting grid. Everything lined up for what looked like a solid chance at fighting for the win. Geoff had a good start from the front row of the grid and slotted into third into Turn One. On the back straight he got a great drive and was able to draft into second position on the opening lap. Geoff then set out to chase down the leader. Unfortunately as he reached the leader on the beginning of lap four, he experienced a complete front brake failure. Making a quick decision to avoid hitting the leader and to avoid the oncoming air fence barriers, Geoff laid on the rear brake and low sided the CBR1000RR-R SP on purpose. The bike took on heavy damage. Geoff suffered what was later diagnosed as a high ankle sprain by his orthopedic doctor.
Crew Chief Michael Godin and Chassis Engineer Will Gawler set out to try and repair the bike for the start of SBK Race One. With little less than one hour, there was simply not enough time to repair the heavy damage. With help from the crew of Jason Waters and Luie Zendejas and some needed parts, the crew was able to get the backup bike ready with just minutes to spare before the sighting lap. With Geoff's injury and minor issues with the backup bike, he decided to withdraw from Superbike Race One.
Sunday brought another day of incredible weather and renewed optimism. The team set out to salvage the weekend and gain as much data and knowledge as possible with Sueprbike Race Two. They were able to finish with a 10th place and gain much needed data going forward to VIR in a few weeks' time.
Geoff May stated "I really feel like it was a great weekend aside from the unfortunate crash in the stock 1000 race. I feel like I made the right decision throwing the bike down and getting away from it. You never know what will happen if you let the bike dictate how you will crash. Brake failure is an extremely scary thing. Looking at the positives, we were up in the mix and fast all weekend. The CBR1000 continues to get better and better. I am really enjoying racing this bike and being back in the sport full time. I am excited about the future and I am really looking forward to VIR in a few weeks. I have to thank my crew for digging deep this weekend through adversity and my fellow Honda riders stepping in and making it possible to race on Sunday."
Geoff May Racing would also like to thank all of our supporting and technical sponsors for their contributions and long standing relationships as well. The team is currently sponsored by SBS Brakes, Arata Exhaust, Evol Technologies, K-Tech Suspension, Orient Express, Thermosman, Arai Helmets, Dainese, BikeSports Oldsmar, Flex Racing, T13, and Rob Pippins Design.
We are always looking for supporting and technical sponsors to partner with. Please send sponsorship inquires to [email protected]
More, from a press release issued by Hayden Bicknese Racing:
Hayden Bicknese in contention for the win in MotoAmerica Junior Cup season opener
Hayden Bicknese kickstarted his 2022 MotoAmerica Junior Cup campaign in fine style at Road Atlanta, racing to a sixth-place finish on Saturday before fighting for the win on Sunday.
Qualifying on row three, the talented teen rode a strong race in the opening race of the season. Sunday saw another huge step forward for the #69 who was part of the leading group from lights out. Unfortunately, he was taken out on the exit of the final corner after one of the most chaotic final laps in Junior Cup history that saw several riders fall and several receive penalties. Bicknese was able to remount, crossing the line in fourteenth to salvage two valuable championship points.
The second round of the series takes place at VIR in a couple of weeks.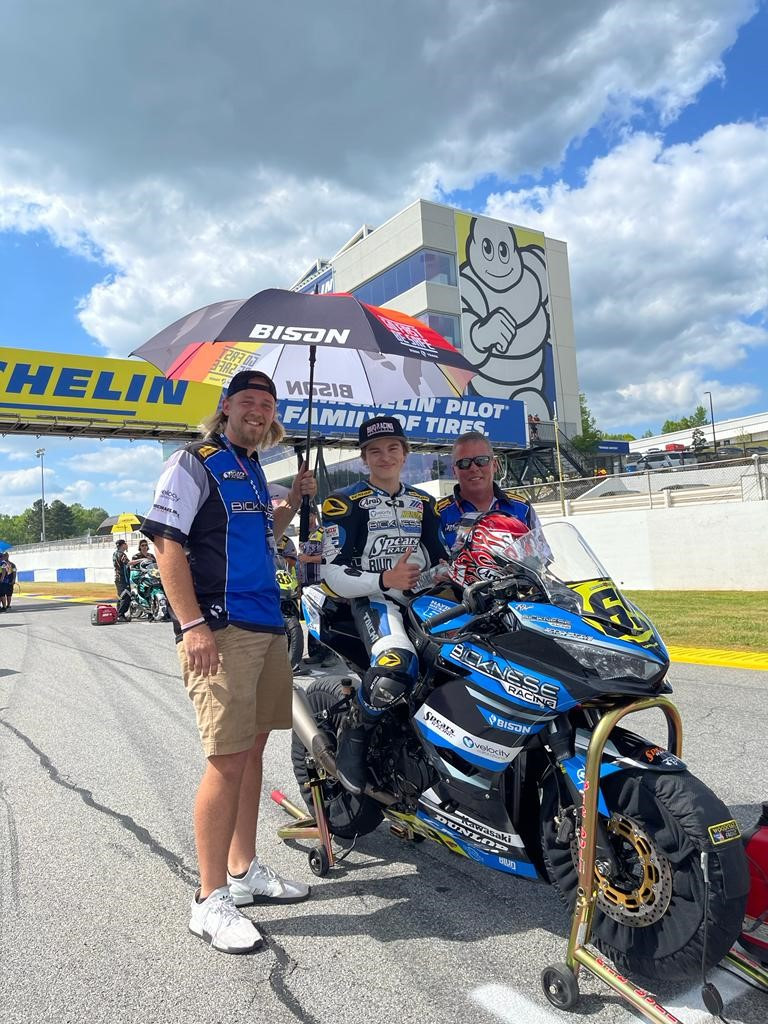 Hayden Bicknese: "Qualifying went well and I was happy with the lap time as I did it alone, with no draft or tow from anyone. We made a gearing change before the race which gave me a bit more confidence before lights out. I was able to stay with the group for the whole of race one but couldn't pass anyone due to the gearing. On Sunday we had a good warm up. We changed the gearing again and I was really looking forward to the race. I held my position from the start and was involved in a huge fight for the podium. I need to be a bit more aggressive, but I showed I was able to run the pace fighting for the win. Two riders crashed out of the last corner in front of me and I had nowhere to go and unfortunately, I went down too which sucks but that's racing. I was able to pick the bike up and finished P14. Overall, it was a good first round and I am looking forward to the next race at VIR."
More, from a press release issued by Levi Badie Racing:
Pole Position on his MotoAmerica debut – Levi Badie is one to watch in 2022
Despite not finishing both races Levi Badie, the first Belgian rider to race in the MotoAmerica, is a contender for MotoAmerica Junior Cup championship glory after an impressive series debut at Road Atlanta.
The teenager, who had never ridden outside of Europe or on Dunlop Tyres prior to the opening round of the series was a front runner from the off, claiming a sensational Pole Position on Saturday afternoon, much to the delight of his new Bartcon Racing team.
Race one saw Badie hit the front early on, the #71 confidently responding to the attacks from either side. Unfortunately, he slid out of the lead in the first third of the race.
Race two was another frantic affair, with Levi involved in a multi-rider fight for the win for the second consecutive day. In the mix until the final corner of the final lap, Badie went down again, thankfully without injury.
Understandably disappointed, Levi is already focused on round two of the series which takes place at VIR in Virginia where he hopes to once again show his ability to run at the front at what will be another new circuit for him.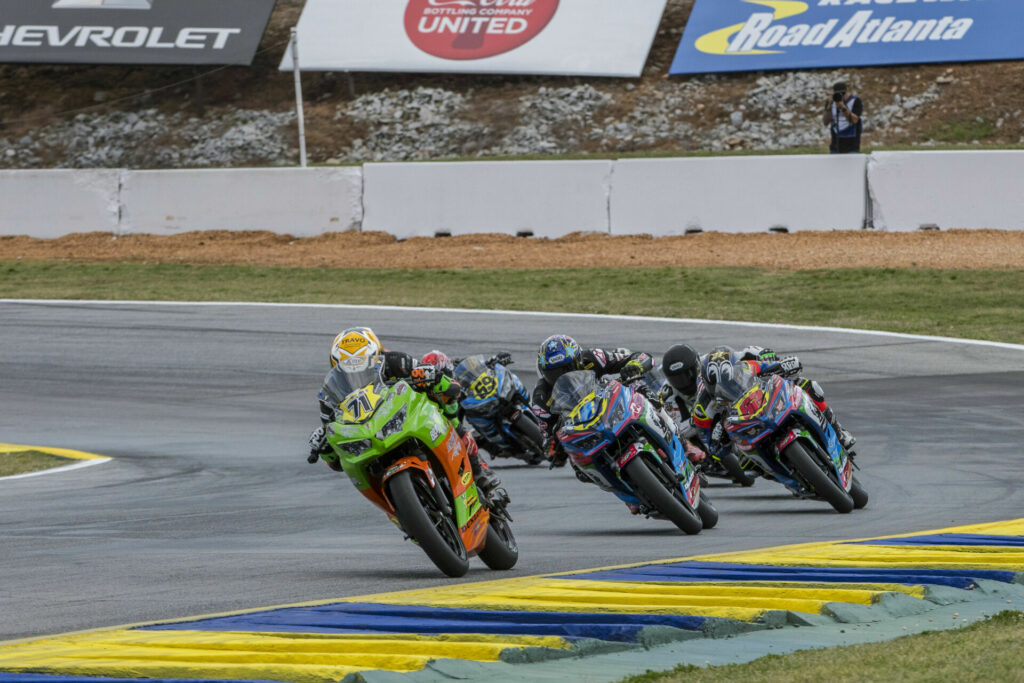 Levi Badie: "What a weekend. Qualifying went great and I felt so confident than on Friday. It was only my third session on the track, and I had so much to learn, and the surface was so different to what I am used to in Europe. I did my own thing and just tried to follow some of the faster guys and in the end the lap came together. To get Pole Position was like a dream and I was so ready for the races. I made a good start in both races and felt good and honestly have no idea why I lost the front in race one as I didn't do anything differently. I was surprised but didn't have much time to think as I needed to regroup for Sunday's race. I made another good start in race two, but the gearing was a bit too short which meant I had to push a bit harder in the corners. It was a bit frustrating but because I had done the qualifying alone and so it caught us a bit off guard, but that's racing. I was giving it everything to make up the time I was losing on the corners and out of the last corner I lost the rear and unfortunately made contact with another rider, and we went down again. It was a silly mistake, and I am angry, and the team also are not happy but all I can do is focus on round two and come back stronger. I love being in the MotoAmerica series and I am already feeling so at home with the Bartcon Racing team – they are an amazing group of people, and I can't thank them enough for everything."