SOLID WEEKEND LANDS CAM PETERSEN ON THE PODIUM TWICE IN WISCONSIN FOR M4 ECSTAR SUZUKI
Brea, CA – Suzuki Motor USA, LLC and Team Hammer reeled in another bountiful trophy harvest as the 2021 MotoAmerica AMA/FIM North American Road Racing Championship wrapped up its doubleheader weekend at Road America in Elkhart Lake, Wisconsin.
The weekend performance of M4 ECSTAR Suzuki's Cameron Petersen headlined the combined four-podium showing for Team Hammer. In addition, Altus Motorsports rider Jake Lewis took his second victory of the season on his Team Hammer-built Suzuki GSX-R1000.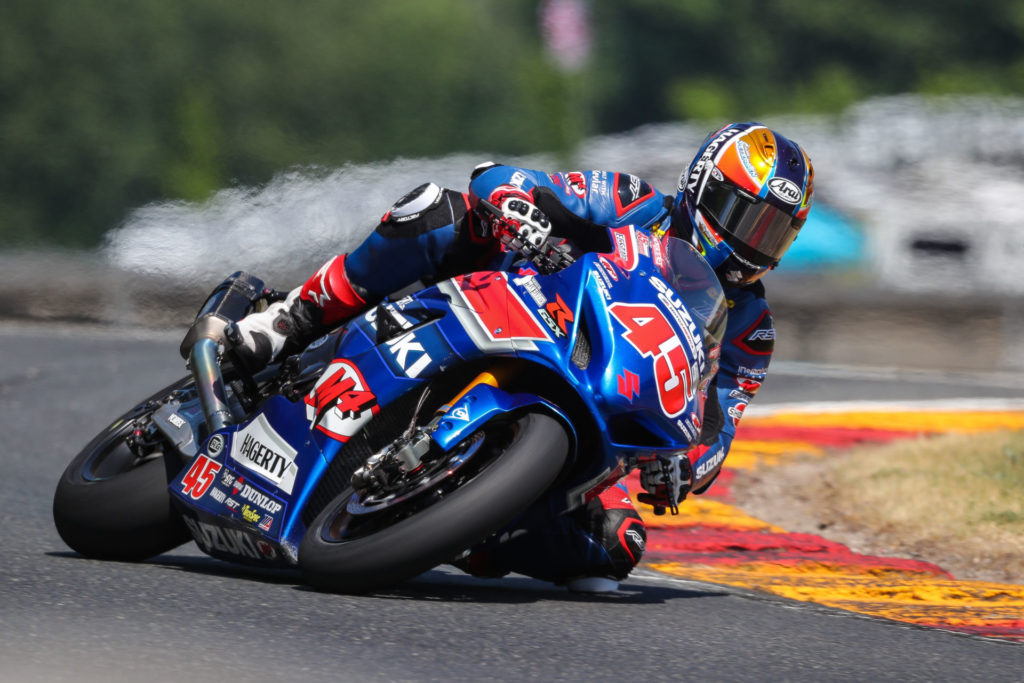 Petersen enjoyed a milestone ride on Saturday, soaring to his first career MotoAmerica Superbike podium with a hard-fought third, in his first season in the Superbike class. Despite the achievement, the likable South African came away from that battle less than completely satisfied after missing out on second place by a scant 0.04 seconds. He promptly erased any regrets with an even better showing on Sunday, briefly leading the race before locking down a clear runner-up result.
"That was the plan executed," Petersen said. "We spoke before the race about what I needed to do and luckily I got off to a really good start. My goal was just to keep the win in sight and have a carrot to chase, and I did that for the most part."
"Honestly, I can't thank my team enough. They've worked very hard to get me to this point, they gave me the opportunity, they believed in me, and now, we're finally starting to do it. Hats off to my whole crew."
In the Stock 1000 class, Jake Lewis proved once again his strength as a racer with his second win of the season and he maintains control as the overall leader in the ultra competitive series.
Race-winner Lewis said, "I honestly didn't think I was going to be able to fight for the win. I was struggling to keep pace yesterday, but once it's race time and the show goes down, you definitely push a lot harder. I was on the edge. I was looking at my lap timer and I was doing low 2:14s and I haven't even been in the '15s all weekend long."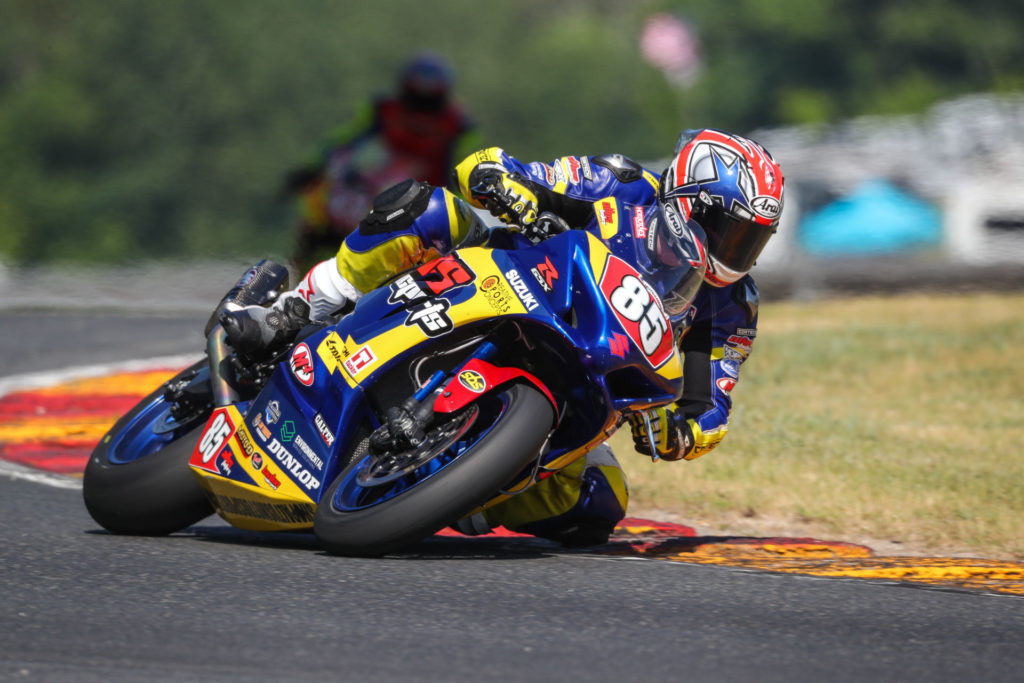 M4 ECSTAR Superbike rider Bobby Fong, came away with a pair of fourths, but demonstrated the speed necessary for a sure-fire double podium weekend. After finishing 0.03 seconds off the box on Saturday following a near race-long ride in second position, Fong's Sunday race took an entirely different shape, albeit with the identical result in the end.
The Californian was pushed wide in Turn One at the start and shuffled back several positions. He was then caught up in numerous scraps, which severely hampered his pace before finally breaking free in fourth late in the 12-lap race. Once in the clear, Fong dramatically closed down on third position. He simply ran out of time, crossing the stripe an even narrower 0.004 seconds removed from the podium the second time around.
"It was a crazy race," Fong said after Sunday's contest. "Today didn't tell the story of what place we had in us. We gambled and put a setting in that I believe could have definitely got us in the top three."
"I'm happy to finish fourth, but the good thing about racing is we have another weekend coming to redeem ourselves. Everybody knows we don't like losing. I'm staying positive and looking forward to the next one," added Fong.
Meanwhile, M4 ECSTAR Suzuki's talented teens, Sean Dylan Kelly and Sam Lochoff, earned a podium apiece aboard their GSX-R600s in MotoAmerica Supersport duty.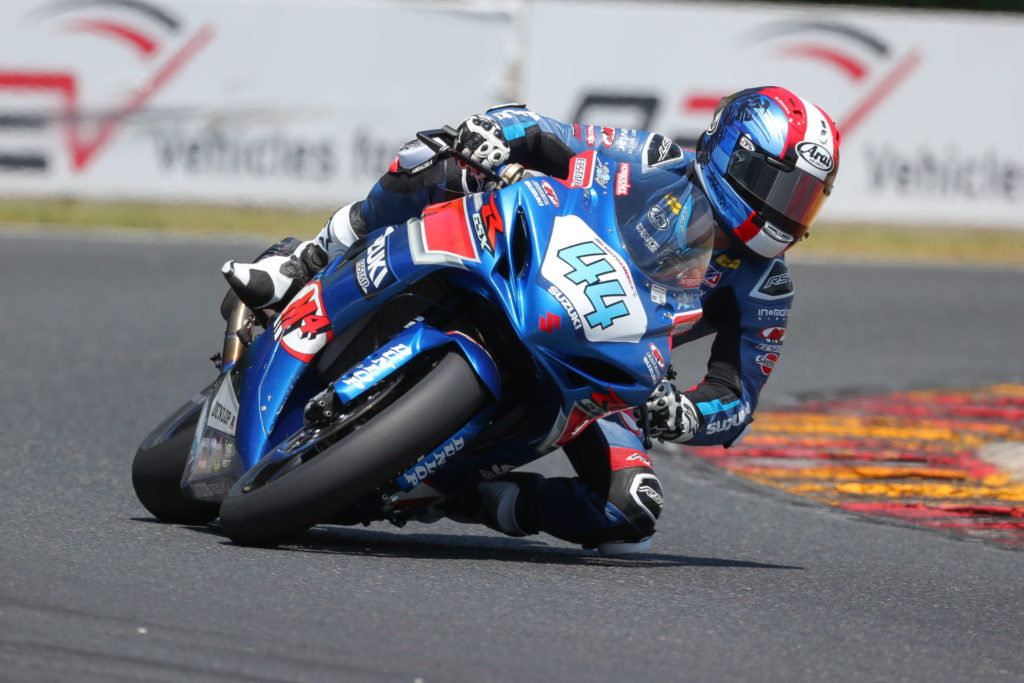 The weekend marked a new career best for Lochoff, who earned his first-ever podium in the middleweight class with a runner-up performance on Saturday. He nearly backed it up with a second podium a day later, but came home fourth at the flag, just 0.088 seconds short at the flag.
Kelly went back and forth for Saturday's thrilling race — engaging in a shootout that saw more than thirty lead changes — before crashing on the final lap with his rival. Critically for his championship hopes, 'SDK' remounted and still finished in sixth.
On Sunday, Kelly lost his chance at another scrap for first after getting off to a tough start, but still managed to escape to a well-earned second. As a result, the Floridian continues to lead the early-season title fight.
"Today was much different than yesterday," Kelly said. "Yesterday was a great race — a hard fight — but we made a mistake in the end. We wanted to build off that, but the start was not good today. I made a mistake in Turn One and a few guys got past me. After that, there was a gap to the lead that I couldn't make back up. I wasn't able to do what I wanted, but I know we're going to build from here. We've got another shot at the next round, and we're going to go in hard and keep on working."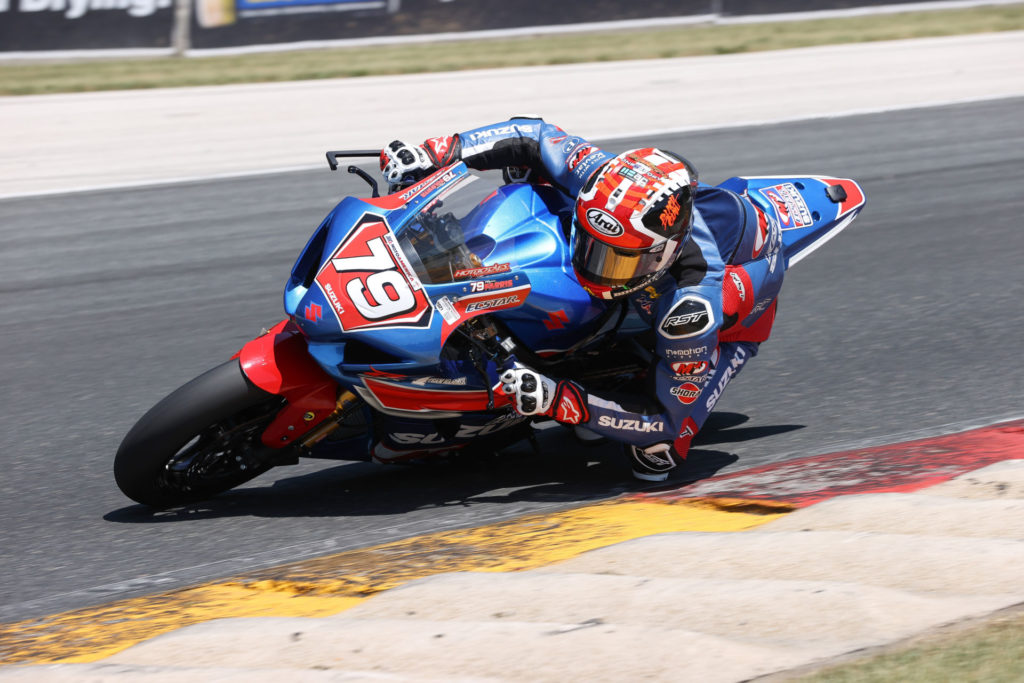 In Stock 1000, M4 ECSTAR Suzuki's Wyatt Farris raced his way forward to finish tenth in the race, adding more points to his season total and earning a top-ten position in the overall championship standings.
Team M4 ECSTAR Suzuki will be back in action in two weeks' time at the Ridge Motorsports Park in Shelton, Washington, on June 25-27.
More, from a press release issued by Altus Motorsports:
MotoAmerica: Round 3 Results from Road America for the Altus Motorsports Tucker Environmental Service Solutions Team
(Elkhart Lake, WI) Round 3 of the MotoAmerica season was another step forward for the Altus Motorsports team. Jake Lewis took another win in the Stock 1000 class, Kevin Olmedo returned from injury after two rounds off and all of the riders improved throughout the weekend.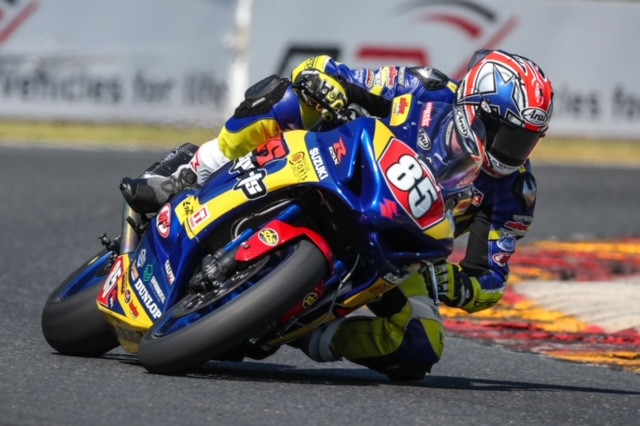 Honos Superbike & Stock 1000:
Jake Lewis arrived at Elkhart Lake looking to continue where he left off in Virginia. However, Road America was not cooperating on Friday and Saturday. Jake had a difficult time finding pace in the practice and qualifying sessions. The MotoAmerica Round 3 is a single race weekend for Stock 1000, so Lewis used Saturday's Superbike race to work on his race pace. Those laps paid off on Sunday during the Stock 1000 race. The Altus Motorsports GSX-R1000 was slotted 4th on the starting grid. With a good launch on the restart after a red flag, Lewis jumped into second place. Because the race was shortened to 6 laps, there was no time to waste. He took the lead with three laps to go and didn't look back.
"I learned a lot in the Superbike race on Saturday. Big thanks to my Altus Motorsports crew for working their butts off to give me a bike I could win on. It means a lot," said Jake Lewis.
In Superbike, Lewis started Race 1 from 12th position and finished in 11th as the second Stock 1000 machine. For Sunday's race, he started from 11th and finished in 8th as the top Stock 1000 competitor.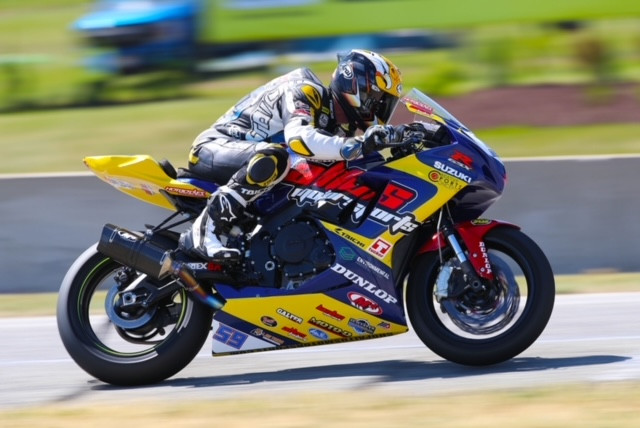 Supersport 600:
Jaret Nassaney spent most of the weekend looking for pace. He qualified 15th for both Supersport 600 races. In Race 1 on Saturday, he was in a multi-bike battle for 12th for most of the race and was able to hold off the competition to own the spot across the line. In Sunday's race, he finished in 13th.
"It was a pretty good weekend! We made some changes to the rear for Sunday and, even though we didn't get the results we wanted, we had good pace and I'm happy with the direction we are headed," said Jaret Nassaney.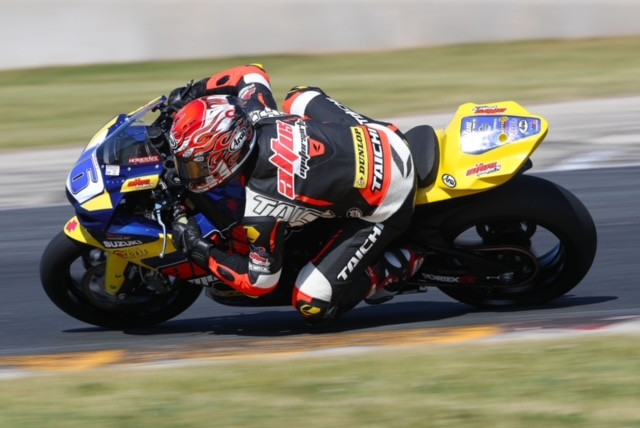 Road America was Kevin Olmedo's first MotoAmerica race in the 2021 season. Returning to the paddock after missing the first two rounds recovering from surgery, Olmedo knew he had work to do. In spite of the time off, he managed to qualify in 7th position. A great start in Race 1 put him into 5th for several laps but, ultimately, he took the checkered flag in 7th. In the Sunday race, Olmedo jumped into 6th off the start and held that spot from flag to flag. Great results for the first time back on the bike.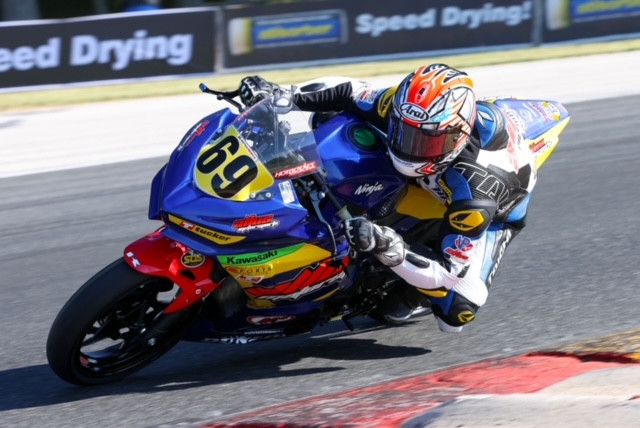 Junior Cup: 
Road America is another new track for Hayden Bicknese and he improved his lap time dramatically in every session. Bicknese started Race 1 from 12th position. On lap 2 he crossed the line in 14th but he put his head down and fought through the pack and finished in 8th. In the Sunday race, Hayden continued where he left off on Saturday. With three laps to go he was leading the second pack of riders in 8th place but during the lap he was shuffled back to 13th. Ultimately, he finished in 12th.
"As a team, we think the weekend went very well. Everyone improved. Jake's bike is running great and glad to see him on the top step again. Jaret and Hayden continue to improve. With Kevin back, the team is complete again. It was great to have him back and, considering that he hasn't ridden much and was working through some pain, his results were impressive. " said team owner George Nassaney.
The Altus Motorsports team is supported by our great family of sponsors: Altus Motorsports, Environmental Service Solutions, Suzuki Motor Corporation, Creative Sports Concepts, Tucker Powersports, Schaefer Engineering, Hot Bodies Racing, M4 Exhausts, Vortex EK, Motion Pro, Barnett, VP Lubricants, SBS Brakes, Galfer USA, Moto-D Racing, Bonamici, Ohlins, K-Techs, RS Taichi, Arai, Law Tigers Oklahoma, and Altus Factory Racing.
More, from a press release issued by Pure Attitude Racing:
Career bests and solid points finishes at Road America for Pure Attitude Racing
It was another solid weekend for the Pure Attitude Racing Team in the latest round of the 2021 MotoAmerica Championship, held this past weekend at the iconic Road America circuit in Wisconsin.
With their four riders, Nate Minster and Austin Miller (Supersport), and Liam MacDonald and Trevor Standish (Twins Cup), back in action, it was another busy weekend, but one in which the squad can look back on satisfied with how they performed.
Supersport saw the return to the top ten for Nate Minster, the #99 Yamaha rider claiming a double points scoring finish, whilst Austin Miller added further points to his season tally on Saturday, narrowly missing the final point for fifteenth on Sunday after a hard-fought race aboard his Kawasaki.
In Twins Cup both Liam MacDonald and Trevor Standish were once again in the mix. Liam raced to a career best finish of fifth, once again showing great potential and speed at a circuit he doesn't know. Trevor on the other hand failed to finish. The #16 crashed out of a potential podium early on, suffering a fractured hand in the incident. Further updates on when he will return to the track will follow in due course.
The team now head to Ridge Motorsports Park in Washington in a fortnight.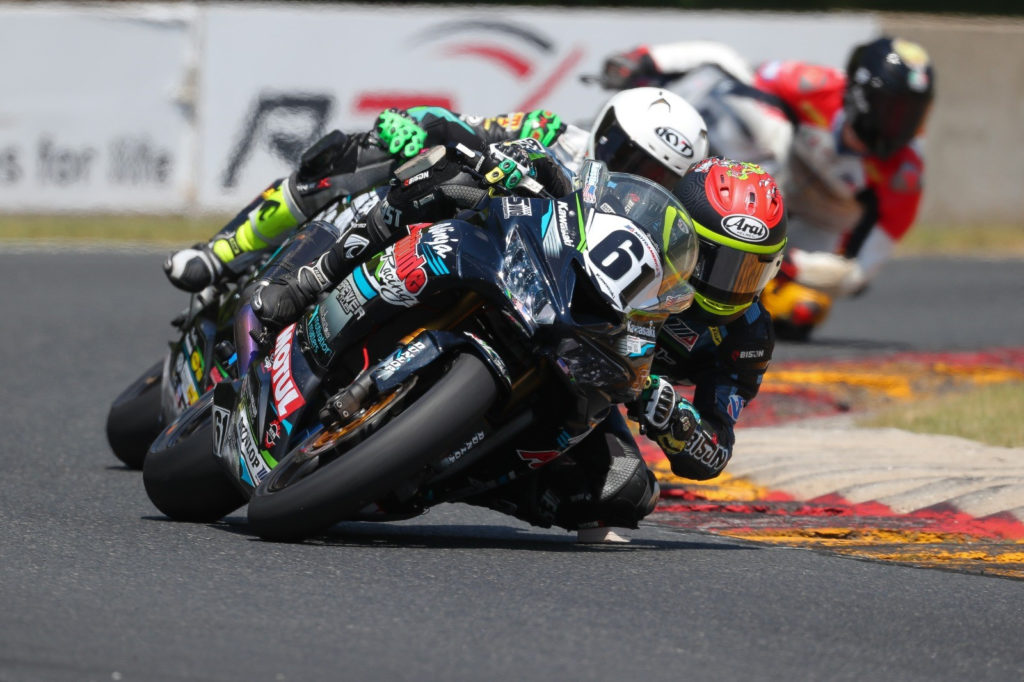 Austin Miller: "The track felt a little different in Q1 than it did on Friday morning. We made a change, but the majority of riders were slower, maybe because of the temperature. I felt good and the bike felt good, and we were able to race hard and score some more points on Saturday, but Race 2 was kind of rough. I wrongly turned the Pit Limiter on and so I was playing catch up. I made a good start and passed a few people but was too far behind to do anything really. A few people went down, and I was closing in on the top fifteen, but I ran out of laps. I was overriding a bit and made a few mistakes, but we can take the positives from the weekend. We have the test day at The Ridge, and this will definitely help us."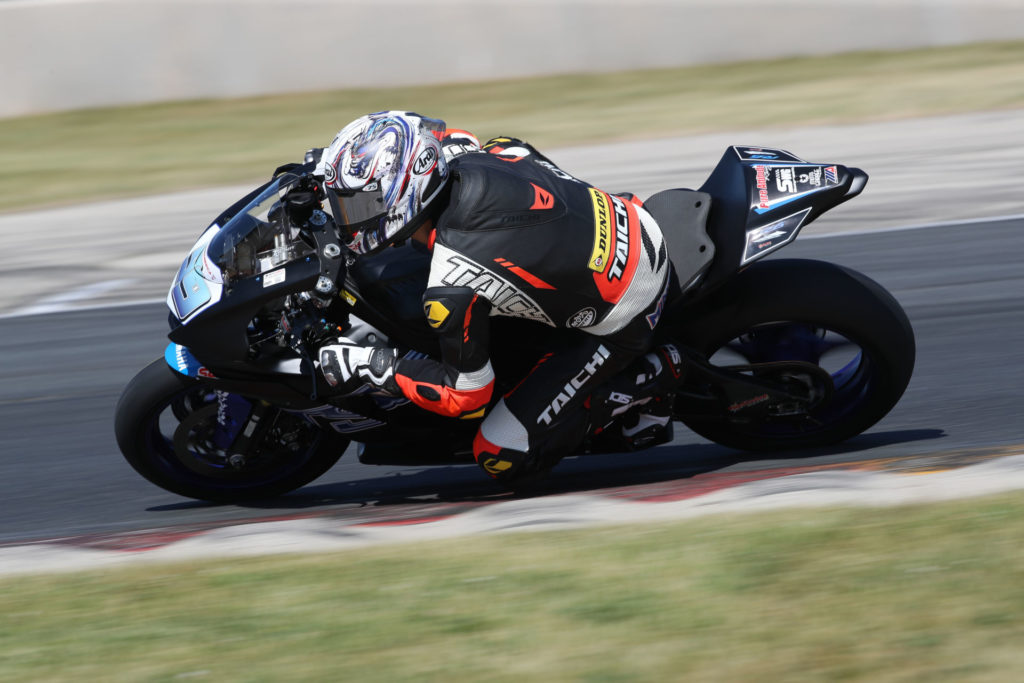 Nate Minster: "We had a small electrical issue in Free Practice which came back after about four laps in Q1 which is a shame as I felt really good, even it was only for those four laps in the afternoon. Race 2 was better than race one. We figured out the suspension issue and I was able to improve my lap times by over two seconds a lap and finished in the top ten which I am happy about. We can now move on to The Ridge and hopefully keep the momentum going."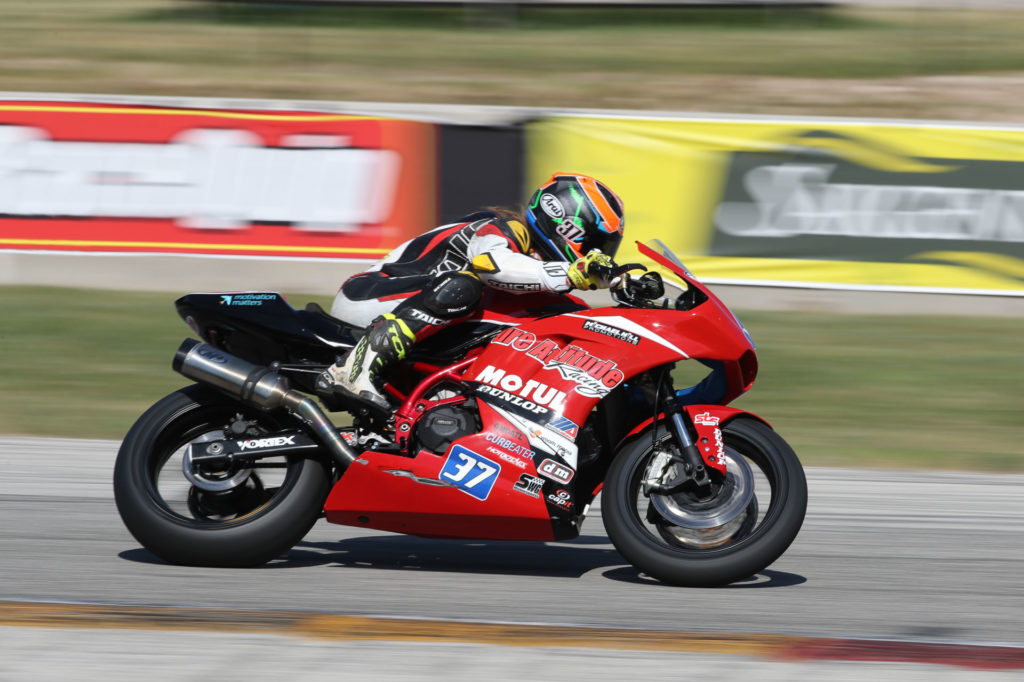 Liam MacDonald: "Friday was a good day considering we lost most of the morning session after Jody (Barry) went down hard and they red flagged our session. The main thing is that he looks to be doing ok which is good news to hear and I wish him a speedy recovery. I was still learning the place in Q1. I was able to hang with some of the top guys but stayed out the whole session which was the plan. We ended the opening day in P8 which was my best provisional grid slot, so all things considered I was happy. I improved in Q2 and achieved my best qualifying position. In the race I made a good start and saw Trevor go down in front of me but thankfully he is not too badly hurt. I knew I was in the top six and then I just focused as other guys started to fall. I closed in on P4 and narrowly missed out on the line, but I am super happy. I have scored points in every race, and we are getting close to the podium. A big thanks to the whole Pure Attitude Racing team. They are really giving me the tools to do a good job!"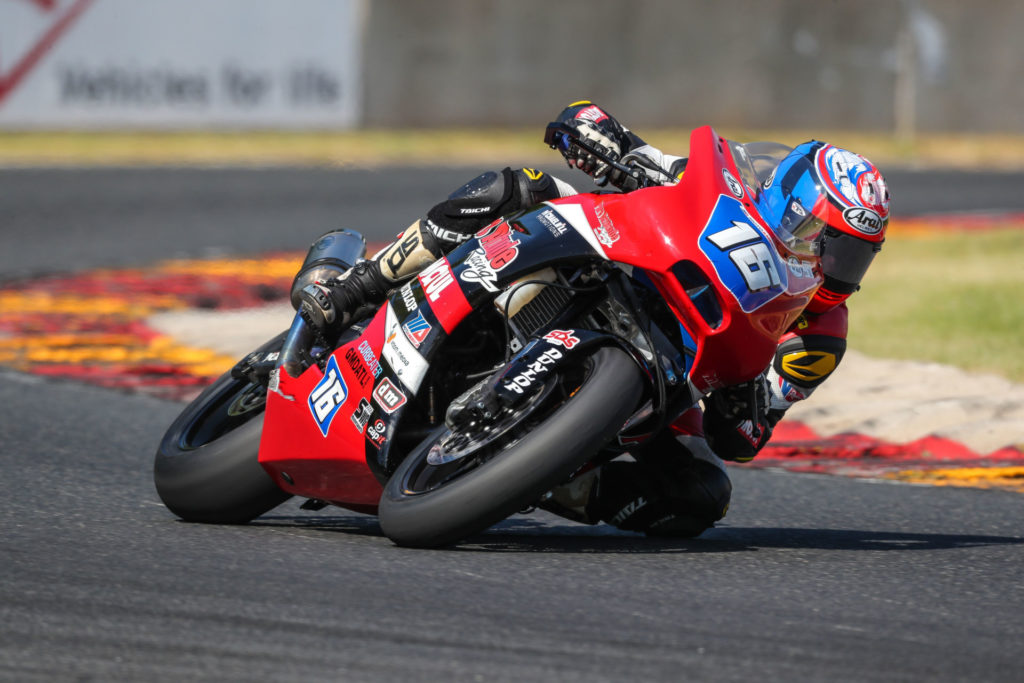 Trevor Standish: "I struggled with the feeling on the bike in Q1 but the times we did were still decent which pleased me. We made some changes for Q2 which worked, and I was able to qualify fourth. I made a great start, but my race was over pretty much immediately. I knew I had the pace to run at the front, but I made a small mistake and went down. I have fractured my hand but thankfully it is not too bad, and we will be back on track stronger than ever really soon. It's disappointing to score no points but the season is long, and we have shown that we have the potential to fight for podiums every race and this is what I have to remember as we move on to The Ridge, Laguna and the rest of the tracks."
More, from a press release issued by Jackson Blackmon Racing:
Podium Streak Continues for Blackmon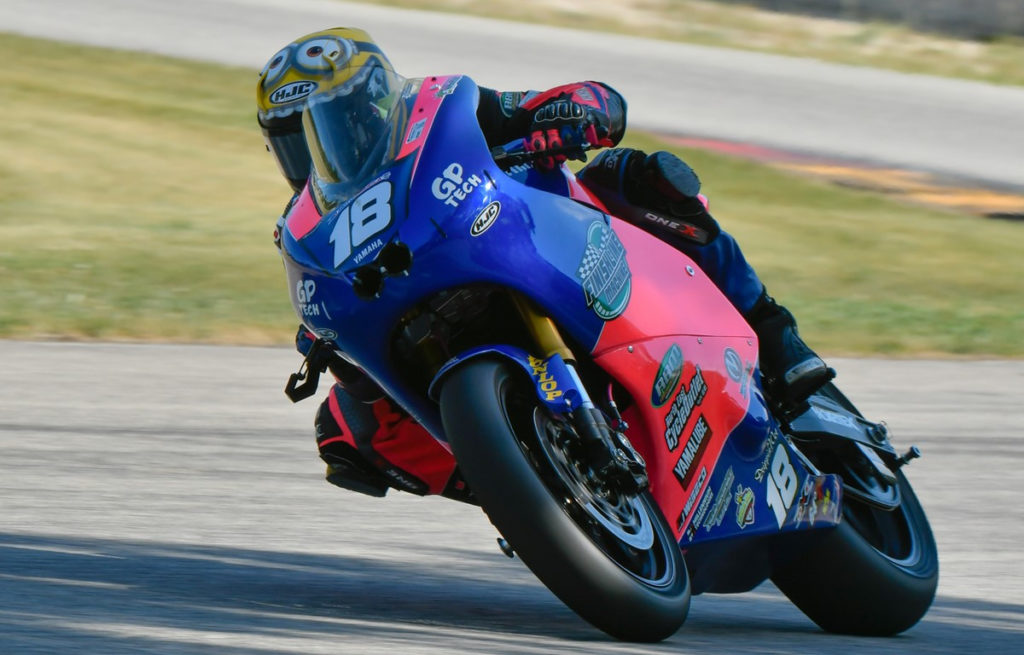 Jackson Blackmon picks up another 2nd place finish in the MotoAmerica Twins Cup race at Road America. Making it three starts and three 2nd place finishes for the young gun out of South Carolina. Jackson was able to avoid chaos in the Twins Cup race Saturday where the top 3 in the championship either did not start or finish the race. Jackson is now sitting 4th in the championship just 17 points behind despite missing the first round at Road Atlanta due to a broken wrist.
"I am super happy with the weekend and how this season has started for me," said Blackmon. "It has been awesome getting more seat time on my Yamaha MT-07 and still learning and adapting every time out. Was blessed to have support from the North East Cycles guys as well as Yamaha and Finishline Machine getting the bike better and better every weekend. Thank you to everyone behind me, super excited to carry the momentum to The Ridge!"
Jackson Blackmon Racing is still learning week by week as it is their first full Twins Cup season. Nineteen year old Jackson Blackmon is not only the rider for JBR, but also runs his own program with the support from his father's machine shop Finsihline Machine. The duo is making a name for themselves this year. Will we see Jackson on the all new Yamaha R7 soon? Stay tuned to find out.
JBR would like to thank their sponsors and supporters; Yamaha Motor USA, Finishline Machine, North East Cycles, Yamalube, Trackday Winner, GP Tech, Wiseco Pistons, HJC Helmets, Roaring Toyz, Millennium Technologies, OneX, Web Cams, SBS Brakes, Vortex, and 64 Degrees.
More, from a press release issued by Travis Wyman Racing:
Travis Wyman scores top five in Stock 1000, top 10 in Superbike at MotoAmerica Superbikes at Road America
BMW rider remains points leader in Superbike Cup, now ninth in Superbike standings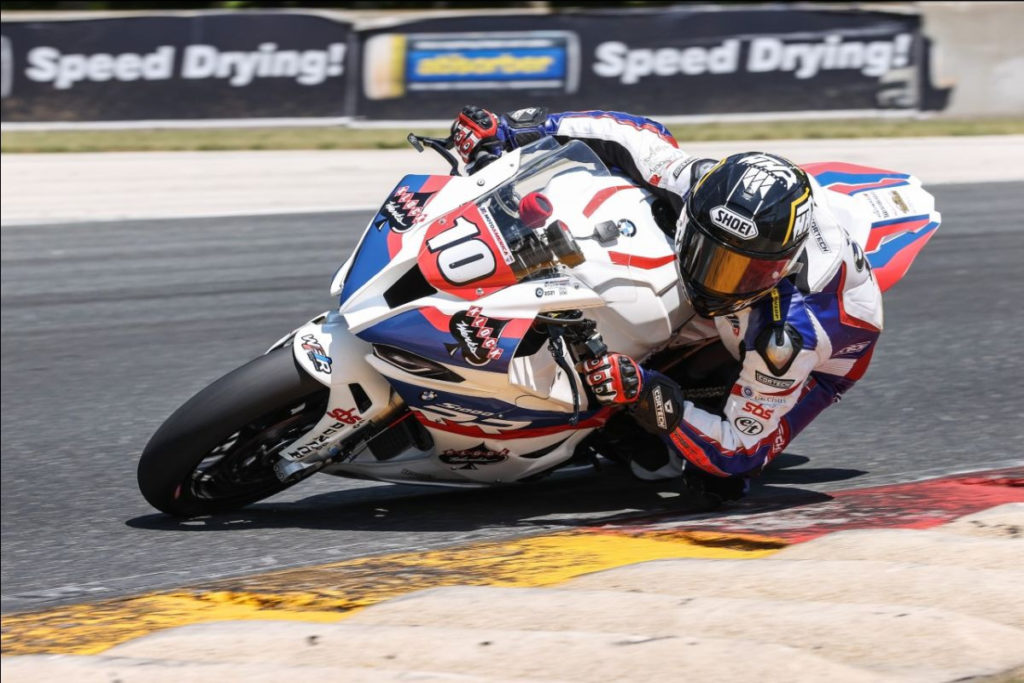 ELKHART LAKE, Wis. — It was a busy weekend for Travis Wyman at MotoAmerica's Superbikes at Road America round. The BMW rider competed in four races aboard two different motorcycles at the June 11-13 event, including three races on Sunday afternoon.
Wyman's top-five finish in the weekend's lone Stock 1000 race and top-10 in Sunday's Superbike race helped him maintain his lead in the Superbike Cup standings and kept him in the hunt for the Stock 1000 title. The Las Vegas resident also is ninth in the overall Superbike standings.
The Travis Wyman Racing team's first on-track session of the weekend was Stock 1000 Friday practice, which Wyman finished fifth-fastest aboard his 2020 BMW S 1000 RR. Later Friday, Wyman was the fourth-fastest rider in the afternoon Qualifying 1 session, during which he improved his best lap time from practice by more than a second.
When qualifying wrapped up Saturday morning, Wyman had secured fifth place on the starting grid for Sunday's Stock 1000 race despite suffering a crash during the session. In Saturday's Superbike race, Wyman battled his way through some mechanical gremlins from his crash during qualifying to finish the race in 12th overall and third among the Superbike Cup competitors.
Wyman's fortunes proved to be better on Sunday. The Stock 1000 race was stopped after less than one lap due to an on-track incident, and Wyman got a good start when racing got back underway. Though he was held up by another rider for the opening laps of the race, Wyman was able to advance to fourth place on Lap 4 of the shortened six-lap race and had to settle for a lonely fourth-place finish. In Sunday's Superbike race, Wyman started the race 12th on the grid and – thanks to some attrition farther up the running order – capped off the weekend with a ninth-place finish. It was Wyman's fourth top 10 in the Superbike Class this season, and he recorded the second-best finish among the Superbike Cup riders..
The weekend also marked Wyman's first outing as a factory Harley-Davidson rider in the MotoAmerica King of the Baggers Class. Wyman qualified fourth for the weekend's Baggers race and was battling for the last step on the podium for the first half of the five-lap race. He ended up scoring a second-place finish when two other front runners dropped out of the race.
Travis Wyman Racing's next event will be Round 4 of the 2021 MotoAmerica season, which is scheduled for June 25-27 at The Ridge Motorsports Park in Shelton, Wash.
Travis Wyman / No. 10
"This was an extremely successful weekend for the team. We were dealing with braking issues all weekend due to the high ambient temperatures. I was really happy with the pace I was running during the Stock 1000 race, and it's unfortunate that I got held up and wasn't able to compete for a victory. My team did an amazing job getting our BMW S 1000 RR repaired after my crash in Qualifying 2 to be ready for Saturday's Superbike race. We're still leading the Superbike Cup title chase by a good margin, and I'm looking forward to having another crack at The Ridge Motorsports Park in a couple weeks time. We were still learning our new BMW when we raced there last year, and I think that experience will help us have a good start to the weekend there. I also am happy to have welcomed Klock Werks back as a title sponsor for Road America, and I look forward to continuing to grow our marketing partnership."
More, from a press release issued by N2 Racing:
Blake Davis Finishes Top 5 at Road America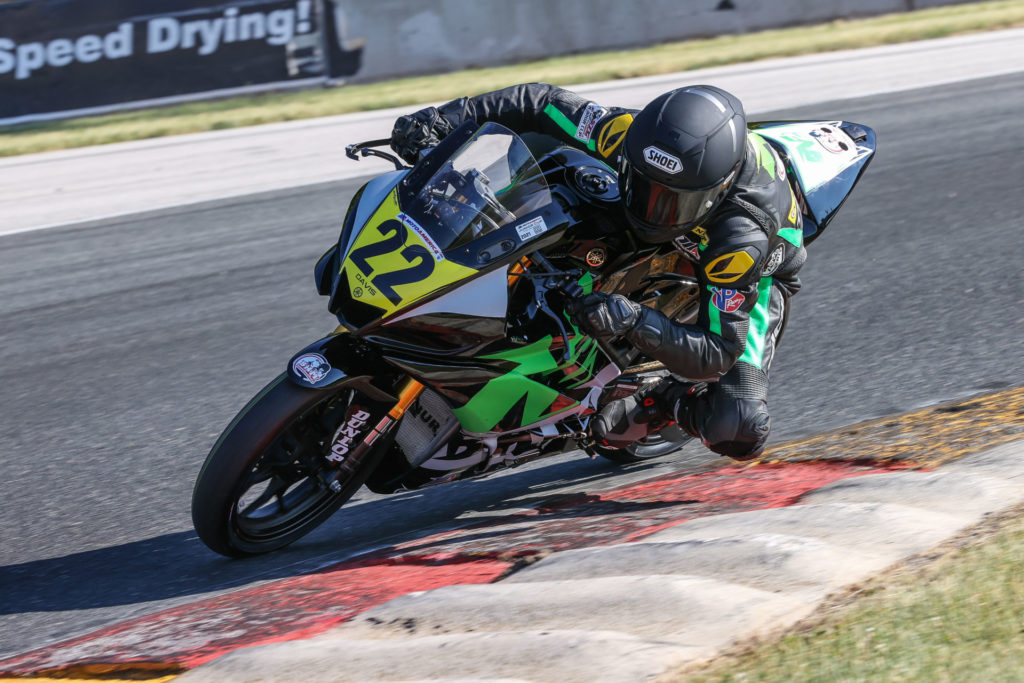 Elkhart Lake, WI (June 2021) – N2 Racing's Blake Davis finished top five in both MotoAmerica Junior Cup races at Road America despite having a 78cc displacement disadvantage. Blake was able to use smart riding and the sublime handling of the BobbleHeadMoto-built Yamaha YZF-R3 to score his best finish of the year at the fastest track in the series. Blake is now eighth in the points after recovering from a DNF at the first round.
This was Blake's first trip to the picturesque Wisconsin track, and he learned it very quickly. Blake was 5th in Free Practice 1 with a lap time of 2:44.42. Blake and the team made significant progress learning the track and bike set up and was able to lower his lap time to 2:41.948 in Qualifying 2 for a fifth place starting position in the middle of row two.
MotoAmerica Junior Cup Race One was a barn burner with seven riders fighting for the win on the last lap. Blake led for several sectors at various parts of the race. The sweet handling Yamaha able to ride around the outside of bikes with 20% bigger engines, but Road America is all about the draft. On the last lap, Blake made a pass for fourth leading on the front straight and the run to the finish, but the little Yamaha simply didn't have enough power to pass the larger engine competitors on the straight and Blake had to settle for fourth.
Sunday's Junior Cup Race Two was the one of the best races of the weekend with a lead pack of seven riders covered by less than 3 tenths of a second going into the last lap. Once again, Blake was right there with the lead group leading at several points during the race. On the last lap, Blake used the superior handling of the Yamaha on the long radius carousel corner to drive around the outside and lead going into the chicane leading on to the back straight. Blake was then passed by four riders going into Canada corner. Blake put himself in a great position in the last corner, but the little Yamaha simply could not draft past the larger bikes going up the hill to the finish and Blake finished 5th.
Kris Smith (Team Owner) – "It's been very challenging building N2 Racing over the last three years, but the effort is finally paying off. Blake did a fantastic job this weekend. This was his first time to Road America and he learned the track very quickly. The team is very professional and adding Blake's talent and personality to the mix has been uplifting for all of us. We were able to make progress all weekend, going faster every session. We are very excited about the tight technical tracks like The Ridge and Laguna coming up next. We think this will be a great place for Blake to shine. Blake is a pro and a joy to work with. I must remind myself that he is only 14."
Blake Davis – "Both races were a huge draft battle to the end. I'm happy with the improvements. N2 has been working hard to develop the R3 making it reliable and faster to be able to compete at the front."
About N2 Track Days:
N2 provides a structured riding environment for sport-bike riders of all levels promoting motorcycle safety through instruction on a closed course racetrack. Our instructors and coaching staff are comprised of club-racers, pro racers, and experienced track day riders who are articulate and passionate about all aspects of this sport. N2 strives to provide an enjoyable riding experience in an environment where members can hone their skills and inspire confidence in their riding ability. Riding with N2 means you and your sportbike gain access to a structured environment without the hazards, limitations, distractions, and obstacles that you'll find on the street.
N2 Racing is proudly sponsored by: N2 Track Days, BobbleHeadMoto, SBS Brakes, Renthal, Motorex, Shoei Helmets, Ohlins USA, Trading Paint, Westby Racing, and Moto Liberty
More, from a press release issued by Ethan Cook Racing:
Ethan Cook leaves Road America ninth overall in the Twins Cup Championship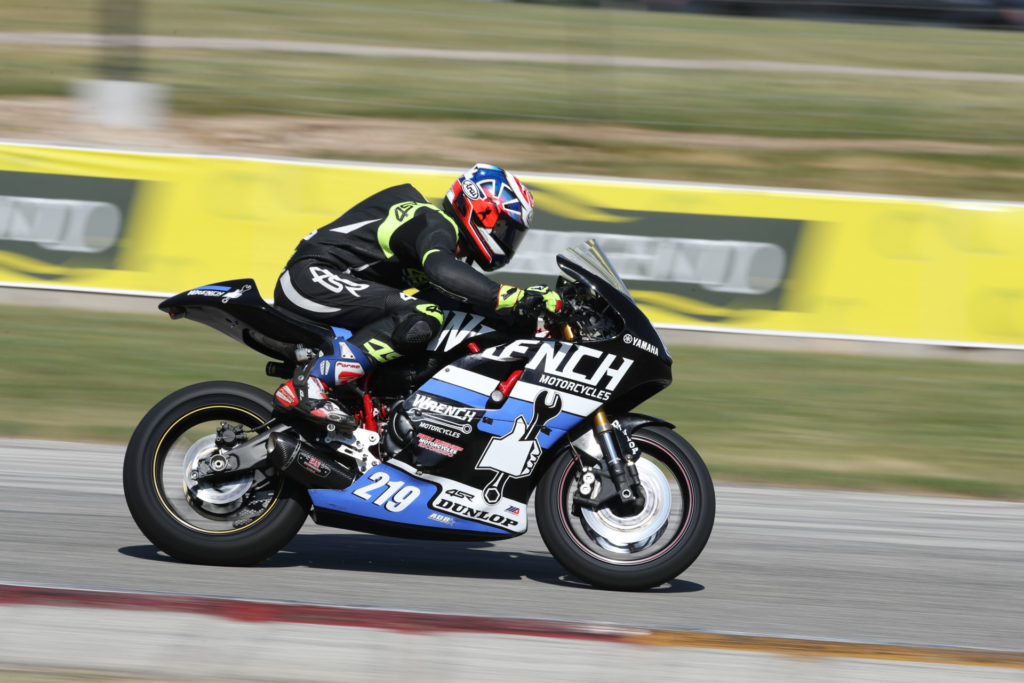 Ethan Cook may be in his first season of MotoAmerica competition but that hasn't stopped the youngster from showing great potential in the opening three rounds of the 2021 Twins Cup series, culminating with a superb ride to sixth in the latest race at Road America in Wisconsin.
Fast throughout the event, Ethan scorched to his best ever qualifying position of eighth position on Saturday morning before converting his third row start to P6 at the flag after a great race long fight with former Asia Road Racing front runner Liam MacDonald.
Cook's result bagged him ten points meaning he now sits ninth overall in the standings ahead of the next round at The Ridge Motorsports Park in Washington in a fortnight.
Ethan Cook: "Q1 went rather good considering that our Free Practice session was cut short when someone went down. I was still learning the track but felt really good after a few changes for the afternoon session. I was able to improve by three seconds a lap in Q2 thanks to a gearing change and some changes to the suspension. I was able to get a tow, which you need at Road America and made it onto the third row of the grid for the race. In the race I finished sixth. I felt good on the bike and am happy to achieve my best race finish in MotoAmerica. Overall, it was a great weekend, and I am excited to see how we go in the next race at The Ridge."
For more information go to EthanCookRacing.com
More, from a press release issued by Rodio Racing:
First MotoAmerica Win for Gus Rodio at Wisconsin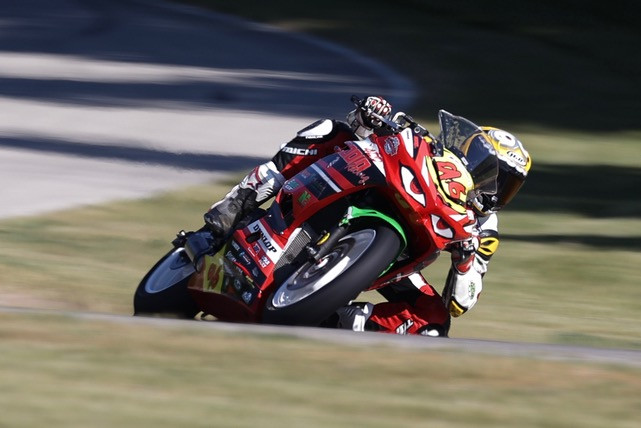 Gus Rodio, aboard his Rodio Racing Kawasaki Ninja 400 nabbed his very first MotoAmerica Sportbike Track Gear Junior Cup podium in epic fashion, winning race two at Road America by .02 second.
Rodio, who finished a strong fifth in race one, figured out the drafting strategy for the victory in race two.
"My original strategy was to get out front and pull a gap, but I figured out I couldn't be out front and push my own wind," Rodio said, "so I had to work the draft a bit down the straight."
"I'm super happy to get my first podium, and for it to be a win!  I can't ask for anything more, and it sure won't be the last one."  Rodio went on to dedicate the win to Artie Meeker who couldn't attend this round in person.
The rest of the Rodio Racing crew (Frank Angel, Mike Marthaler) felt the thrill of the win, but none more than team owner and race dad, Kevin Rodio.
"We've been working hard, putting in the time, and chasing this one for a while now.  There are a lot of other race families out there doing the same, and I can finally tell them it's worth it," Kevin said.
A surprise addition to the crew was "Limey" the nickname given to the green front fender required for Kawasaki contingency.  With this win, his nickname has been changed to "Lucky Limey" and he'll be a fixture on the bike all season long.
Rodio Racing can't compete without the help of the following sponsors: HJC Helmets, Spears Racing, EvolveGT, MAR Contractors, LiquiMoly USA, Dunlop, VortexEK, K-Tech Suspension, Orient Express Racing, Triple Strong Racing, N2 Track Days, REB Graphics, Jonco Collision, Innovative Motorsports, VNM Sport, RS Taichi/Moto-Liberty, Motogladiator,
More, from a press release issued by Jeremy Cook Racing:
Jeremy Cook ends challenging MotoAmerica Superbikes at Road America round with big crash, broken collarbone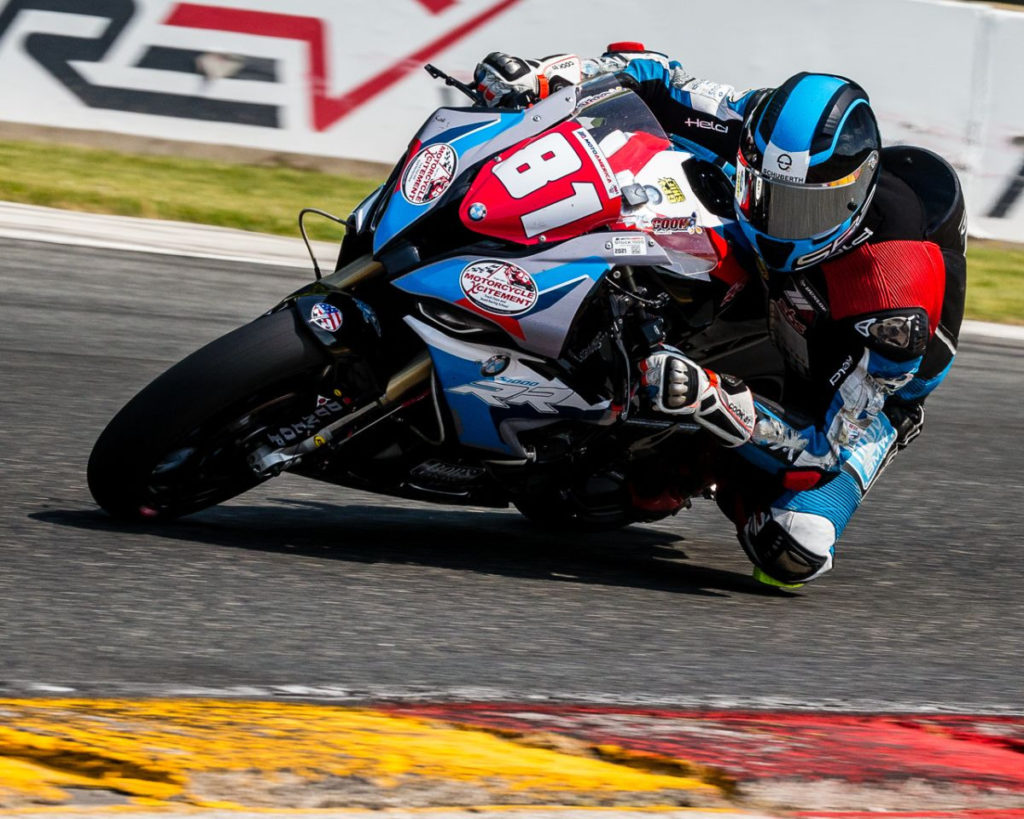 BMW rider remains determined to compete at next MotoAmerica round in two weeks time
ELKHART LAKE, Wis. — Jeremy Cook had a weekend to forget at MotoAmerica's Superbikes at Road America round, but – despite a broken collarbone and heavily damaged motorcycle – is raring to be back on his BMW S 1000 RR at MotoAmerica's next event.
The Marylander struggled during his second time racing at Road America in five years to get the most out of his team's BMW on Friday and Saturday. The June 11-13 event came to a dramatic end for Cook on Lap 1, Turn 1 of Sunday's Stock 1000 race. Nevertheless, Cook has experience racing within days of having collarbone surgery and plans to put that experience to use June 25-27 when MotoAmerica visits The Ridge Motorsports Park in Shelton, Wash.
Cook started the weekend struggling for pace in the Stock 1000 Class' Friday practice as the team was figuring out how to get the most out of its BMW package. Cook finished that session 31st in the 40-rider field with a fastest lap time of 2:29.216. Cook later showed a big improvement in the afternoon qualifying. He posted the 28th-fastest lap of the session and dropped his best lap time around the 4.048-mile road course by more than two seconds to a 2:27.146. When Saturday's Qualifying 2 session concluded, Cook had secured 28th for Sunday's Stock 1000 starting grid and had improved his best lap time by about another two seconds with a 2:24.822.
The team's hard work toward finding an ideal setup came to fruition in Sunday morning warm-up. Cook posted a weekend-best lap time of 2:23.339 and was the 22nd-fastest rider during the session.
When the Stock 1000 race got underway on Sunday, Cook got a good start, had moved up about 10 positions and was riding the outside line through Turn 1 when another rider crashed and skidded into his path. Cook did not have time to avoid the down rider and ended up coming off his BMW in spectacular fashion. Cook was thrown off his motorcycle forward and to the left, and his BMW took an odd trajectory — tumbling end over end several times before coming to rest in the Turn 1 gravel trap.
Cook met with the surgeon who performed his previous collarbone operation on Wednesday and learned that his collarbone is broken in several places. Cook also has pain, swelling or other signs of injury in his right knee, both ankles, right foot, hips, hamstrings and neck. As for Cook's BMW S 1000 RR, the front forks, triple clamps, axle are bent, both rims are shattered and the subframe, battery box, exhaust and crash protection parts are all badly damaged.
Despite Cook and his motorcycle being battered in the crash, the Jeremy Cook Racing team still plans to make the cross-country trek to Washington with a not-fully-repaired BMW S 1000 RR. The estimated bike repair cost is about $5,000 – $15,000.
Jeremy Cook / No. 81
"It certainly wasn't the weekend we'd hoped for at Road America. But, considering how bad Sunday's crash was, I'm grateful that there's even a possibility that I could be racing at The Ridge later this month. It wasn't any fun struggling to find the pace I know that I and my BMW S 1000 RR can run around this fast, flowing track, and it's too bad we didn't even get a lap in once we found a race setup we really liked. I've broken my collarbone before, and I went club racing five days after the last time I had collarbone surgery. I really want to get right back into the saddle of my BMW S 1000 RR. We have a lot of work to do to get the bike repaired and ready for Washington, and I encourage anyone who would like to chip in and help my team get back to racing to contact me via my Facebook page, named 'Jeremy Cook #81.' or send their donation to http://www.paypal.me/jeremycook81."
More, from a press release issued by Andrew Lee Racing:
Step by step the results are coming for Andrew Lee in MotoAmerica Stock 1000
Double MotoAmerica Stock 1000 Champion Andrew Lee continued his trend of top six finishes in the latest round of the 2021 series at Road America, Wisconsin.
Back on track after a year's hiatus, Lee raced to his second top six finish of the year in Race 2 at the iconic circuit located in Elkhart Lake, after claiming a season's best fifth at the previous round in Virginia. The result means Andrew sits seventh overall in the standings having finished inside the top eight in all five races held so far.
Lee will be back on track next weekend at Ridge Motorsports Park.
Andrew Lee: "It was a long weekend, but we made a lot of good progress. Looking glass half full, I think we have made a good step, which I am confident we can maintain at The Ridge. It's a little later in the season that we would have liked but we are now moving in the right direction. It's a new bike so we are starting from scratch on a Friday. I now feel much more comfortable so I am sure we will be more competitive on Friday's moving forward which should see us further up the field come race day. A big thanks to my Franklin Armory team. They are working great, and the results will come."
For more information go to www.andrewleeracing.com
More, from a press release issued by HONOS HVMC Racing Team:
More Podiums For HONOS HVMC Racing At Road America
Elkhart Lake, Wisconsin – Round 3 of the MotoAmerica championship took place this past weekend at the infamous Road America circuit with hot temperatures, beautiful sunny skies, and an absolutely packed crowd. The event concluded on a high note with Richie Escalante scoring a dominating victory in Sunday's Supersport race two after rebounding from a clash with his championship rival in Saturday's race one. Corey Alexander also earned a third place finish in the only Stock 1000cc race of the weekend Sunday morning whilst battling for top ten finishes in both Superbike races.
Richie, still recovering from a recent clavicle injury, arrived back in true form setting the pace throughout practice and qualifying only narrowly missing out on pole position during qualifying two. Race one proved to be an all out battle royale after Richie and Sean Dylan Kelly swapped positions several times per lap for the entirety before the duo crashed in tandem on the final lap. Richie was able to get back up finishing in 5th place scoring valuable points just ahead of his championship competitor whom also remounted.
At the start of Supersport race 2 Richie and his Graves-Spec Kawasaki ZX-6R took off to an early lead which he smoothly maintained to a dominate finish 9.5 seconds ahead of second place. Richie commented.. "Overall this weekend at Road America was amazing. We worked on making me more comfortable on my bike and tried some new things. We had some strong battles with Sean and I'm happy to walk away with good points in the championship. Thanks to my crew chief and mechanics for working so hard." Richies personal sponsors include Fresh & Lean, HJC Helmets, Vircos Leathers, Alpinestars, and Hidalgo.
Corey also continued on form from his recent win at VIR and set the pace throughout qualifying and practice narrowly missing out on pole position. The sole Stock 1000cc race of the weekend saw the #23 get off to a great start leading throughout lap 1 only to be red flagged. After the restart Corey was shuffled back to third place which he would maintain for the entirety of the shortened 6 lap race. In both Superbike races Alexander battled for top ten's aboard his Stock 1000cc Graves-Spec Kawasaki ZX-10RR machine finishing with a 13th and 10th place respectively. Corey now sits in third position in both the Stock 1000cc and Superbike Cup championships.
"We had a great weekend and made leaps forward with our bike in every session" Corey said. "It was a bummer we got caught out by the red flag during the race and the other guys were able to make some changes that helped them step up the pace for the restart. The times we were battling at were quite fast and we just didn't have anything for them in a straight-line due to my weight and size. Thanks to the boys for all the hard work, we will come back strong in two weeks." Corey's personal sponsors include: Corey's personal sponsors include Arai Helmets, Alpinestars, Sals Pizza & Pasta, Ikoniqa, Four3 Performance Lab, Gemini, and Prestige Services Group.
The HONOS HVMC Racing team heads to The Ridge Motorsports Park in Shelton, Washington for round 4 of the MotoAmerica Championship June 25-27th. You can purchase tickets to the event via MotoAmerica.com or in person at the race track.
About WE ARE HONOS®
Founded in 2018, HONOS is a Los Angeles based performance gear and fashion apparel brand that promotes talent within the adrenaline sports realm. With worldwide partnerships ranging from the American Racing team in Moto2 to title sponsorship of the HONOS Superbike class in MotoAmerica, HONOS has heavily invested it's brand into motorsports. Follow @wearehonos or visit wearehonos.com to shop for team gear now.
About Hudson Valley Motorcycles
Hudson Valley Motorcycles (HVMC) is a family owned and operated motorcycle dealership that has been serving New York's Hudson Valley and Westchester County as well as Connecticut, Massachusetts, New Jersey, and New England region. HVMC has offered Kawasaki, Ducati, Scrambler Ducati, Suzuki, Energica and ATV, motorcycle or UTV Sales, Parts, and Service for over 50 years. For more info visit hudsonvalleymotorcycles.com, call (914)-762-2722 or follow @hvmotorcycles on social media.
More, from a press release issued by Warhorse HSBK Racing Ducati New York:
Loris Baz has mixed fortunes during the third round of the MotoAmerica Superbike series at Road America
The Warhorse HSBK Racing Ducati Team and rider Loris Baz arrived at round three of the 2021 MotoAmerica HONOS Superbike Championship at Road America with high ambitions for conquering one of the USA's quickest road race tracks.
The team went straight to work during Friday practice and qualifying before loads of fans, the track the busiest it's been in a decade. The 28-year-old Frenchman Baz qualified fifth on the Ducati Panigale V4 R, putting him on the second row for Saturday's race one. During race one, by the final lap, Baz worked his way to third. He then took second after winning a drag race to the finish line thanks to the power of the V4 R.
Ahead of Sunday's race two, the team made some slight modifications to make the Ducati turn quicker as they hoped to capitalize on the front-row start. As Baz was passing for the lead on lap three, he was forced to retire due to a technical problem.
"It's been a tough weekend," Baz said. "I have a bittersweet taste because we struggled a lot in qualifying, but after qualifying, we made some big changes on the bike, so thank you to the crew for that. We found the way and we started race one with a totally different bike—I needed a couple of laps to learn the settings—then I managed to improve my pace to get in front of Bobby (Fong) and Cameron (Petersen) at the end.
"We made another big change this morning and I felt so good for race two. We closed the gap to Jake and I was really starting to think we could fight for the win. In such a small time the team did an amazing job with changing the bike, but straight away in lap one I felt something in the engine, and then in lap three it expired. We'll put our heads down and come back better for the next round."
After three of nine rounds, Baz is seventh in the Superbike Championship with 53 points. The team will complete a track day at Brainard Raceway in Minnesota this week as it gets sorted for round four Jul 9-11 at Ridge Motorsports Park in Shelton, Wash.
The team is made possible through key partners: North American Warhorse, Parts Unlimited, Ducati New York, Horsepower HD, Competition Werkes, Mount Airy Casino & Resort, New York Safety Track, and Fast by Ferraci.
In addition to the support of their technical sponsors: Akrapovic, Bickle Racing, DID Chain, DNA Air Filters, Drippen Wet, Drive Systems USA, EVOL Technologies, FullSix Carbon, Full Spectrum, Hard Knocks Moto Coffee, Melotti Racing, OGNIBENE S.p.A., Spider, RaceSeats, Samco Sport, Spiegler Performance, Race Technologies, and TechSpec.
For ongoing race season updates, follow HSBK Racing on:
YouTube (www.youtube.com/hsbkracing)
Facebook (www.facebook.com/HSBKRACING/)
Instagram (@hsbkracing)