SUZUKI'S SEAN DYLAN KELLY AND JAKE LEWIS DELIVER DECISIVE VICTORIES IN PITTSBURGH
Brea, CA – Suzuki Motor USA, LLC and Team Hammer were at it again at Pittsburgh International Race Complex, adding more wins, podiums, and pole positions to their season tally while taking another big step toward a pair of national championships.
M4 ECSTAR Suzuki's MotoAmerica Supersport ace Sean Dylan Kelly was the headliner as has become customary this season. The rising star saw his six-race win streak snapped following a hard-fought fight on Saturday only to come back even stronger a day later.
'SDK' pulled off a tactical master class in the rematch, executing a stunning last-lap maneuver aboard his agile GSX-R600 in Turn 11 to secure his tenth triumph of 2021.
Not even 20 years old, Kelly already boasts 17 victories and 36 podiums in his MotoAmerica Supersport career. He's also closing in on a first career MotoAmerica Supersport championship as he currently leads the title fight by 61 points with just two stops on the calendar remaining.
Kelly said, "Man, the confidence came from the feeling I had in the bike today. It was absolutely amazing. Huge thank you to my whole M4 ECSTAR Suzuki crew … all my guys. I just felt so great with the bike. I feel I played it smarter today, too. Yesterday, I didn't win and I wasn't going to let it happen again. You can see I had a different game plan and it worked out to perfection."
"We did what we had to do. I'm very proud of the work. Today was an important step to the ultimate goal. We're going to keep on fighting until we reach it."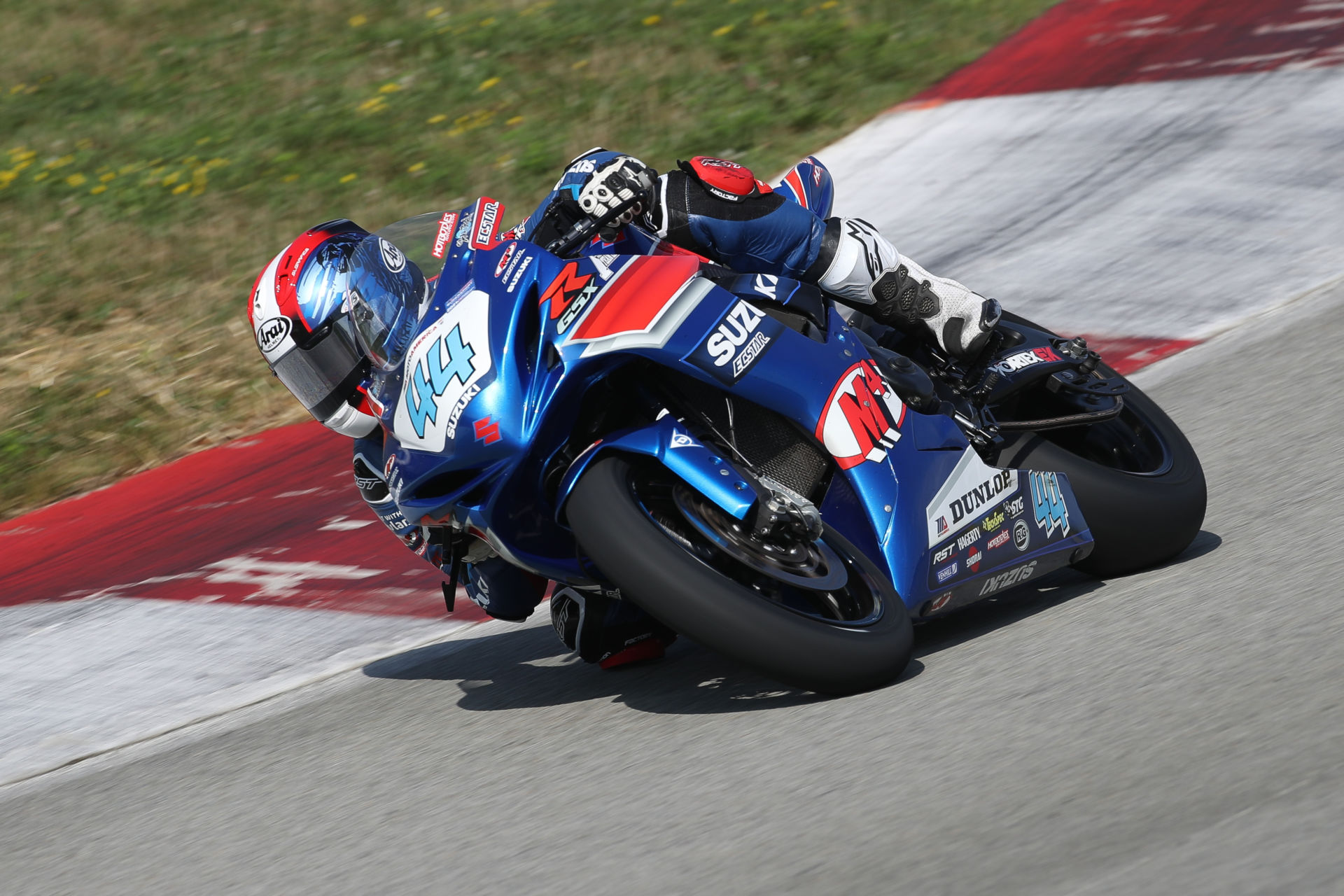 Kelly's M4 ECSTAR Suzuki Supersport teammate, Samuel Lochoff, enjoyed a strong weekend as well, backing up his Saturday fifth with a podium-contending fourth on Sunday. The South African already boasts ten top-five finishes during a successful rookie Supersport campaign.
He said, "It's still my first year, so finishing the year strong means just finishing every race. I'm not really putting a lot of pressure on myself. Obviously, getting podiums is nice, but wherever I finish, I've already reached many of my goals. I'm always trying to improve, but I'm very happy with how the year is going."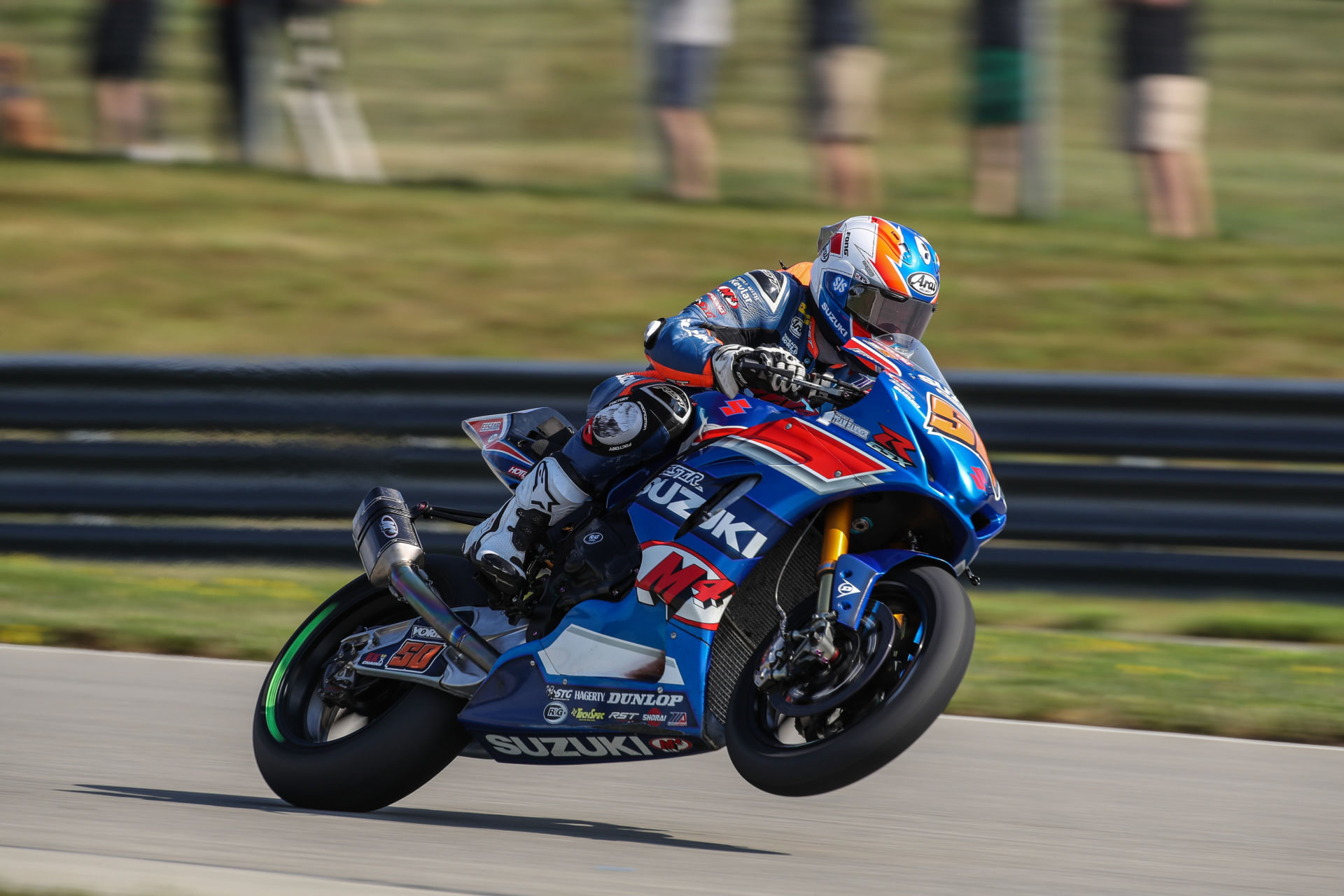 Meanwhile, M4 ECSTAR Suzuki's Bobby Fong concluded an inspiring weekend with a much-deserved podium in MotoAmerica Superbike action.
The Californian was robbed of an opportunity to demonstrate his full potential on Saturday due to a technical issue. Undeterred, he started the race from pitlane and ripped his way up through the field, overtaking nearly twenty riders en route to eighth.
He was forced to start from Row 3 on Sunday as a result, but continued his upward mobility, streaking up to third while pressuring second by the time he took the checkered flag aboard his GSX-R1000R.
Fong said, "It's been a roller coaster of a year, but I've fought through worse challenges before. We just kept our head held high and kept charging. It was a good race. I'm happy to be back up and excited that we have the M4 ECSTAR Suzuki handling well."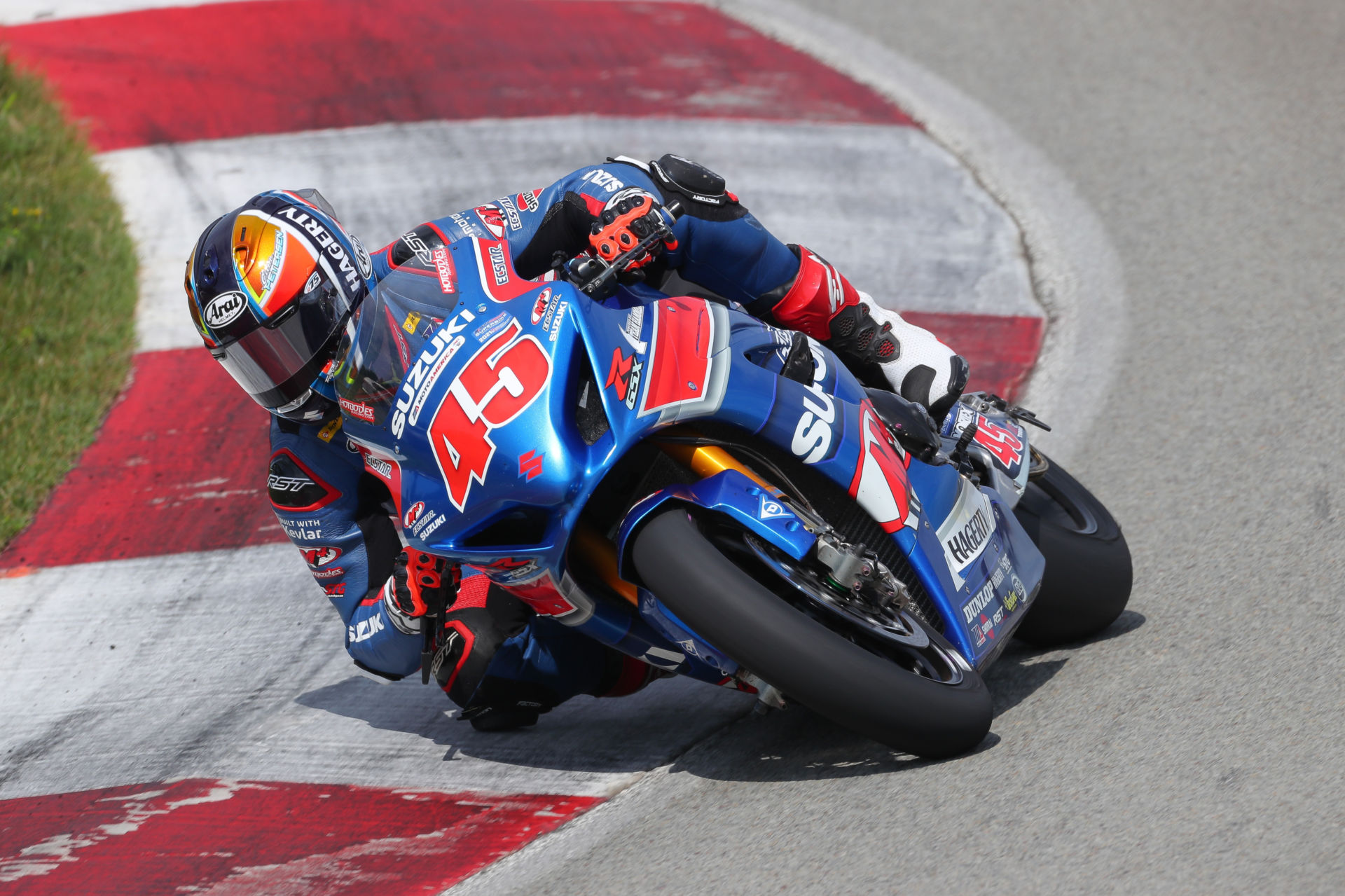 It was another steady weekend for second Superbike pilot Cameron Petersen. The South African collected fourth- and sixth-place results on the weekend.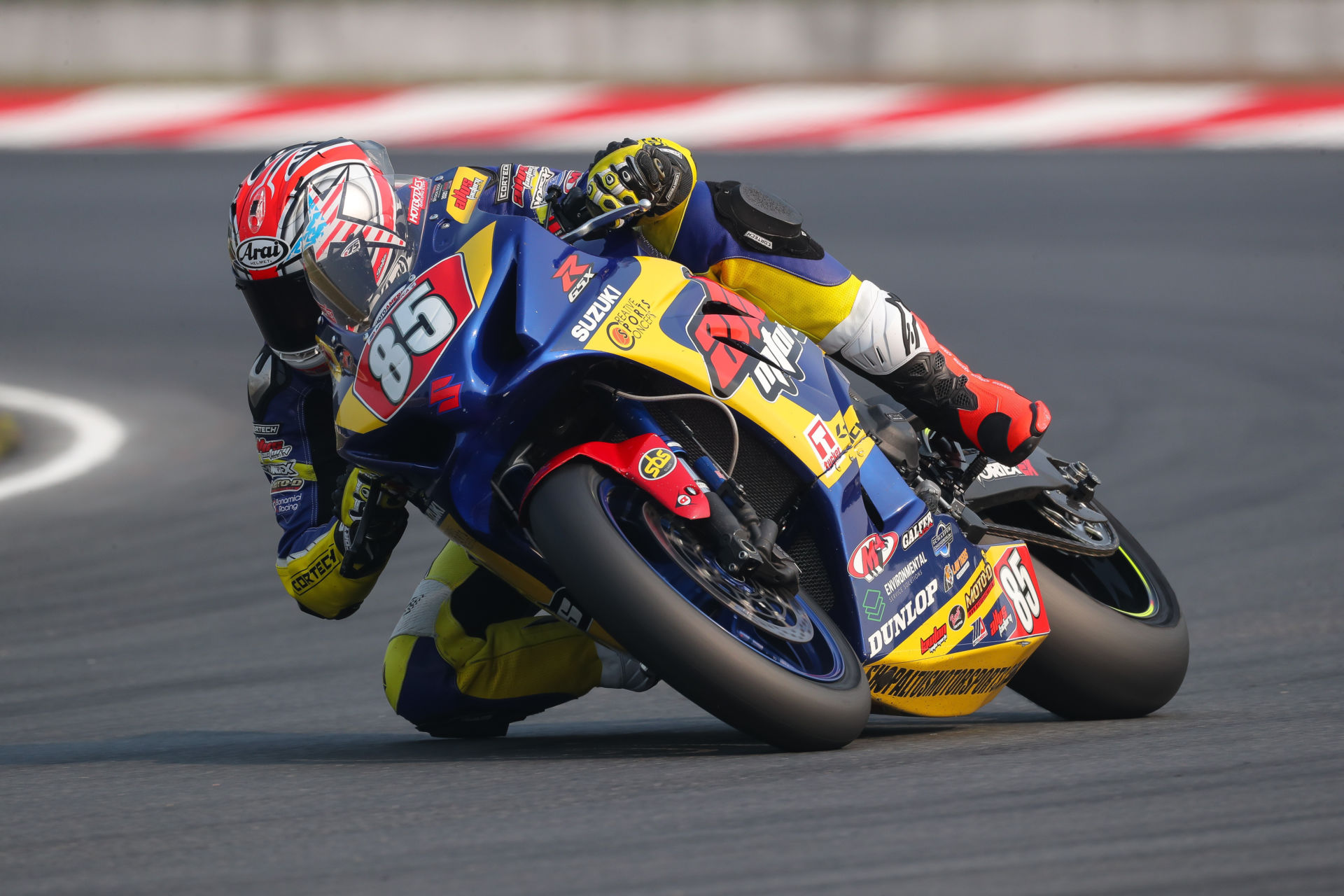 Like Kelly, Altus Motorsports Suzuki's Jake Lewis enjoyed another weekend that further strengthened his championship hopes. Lewis guided his Team Hammer-built GSX-R1000R to victory from pole to expand his Stock 1000 season advantage to 20 points.
Lewis was also the top Superbike Cup finisher in both Superbike races in Pennsylvania.
After earning his fourth Stock 1000 win of 2021, Lewis said, "It was a perfect weekend. This race was pretty tough. I had pace on the guys all weekend, but they kept me honest in the race. Big thanks to the whole team. The Suzuki has been amazing."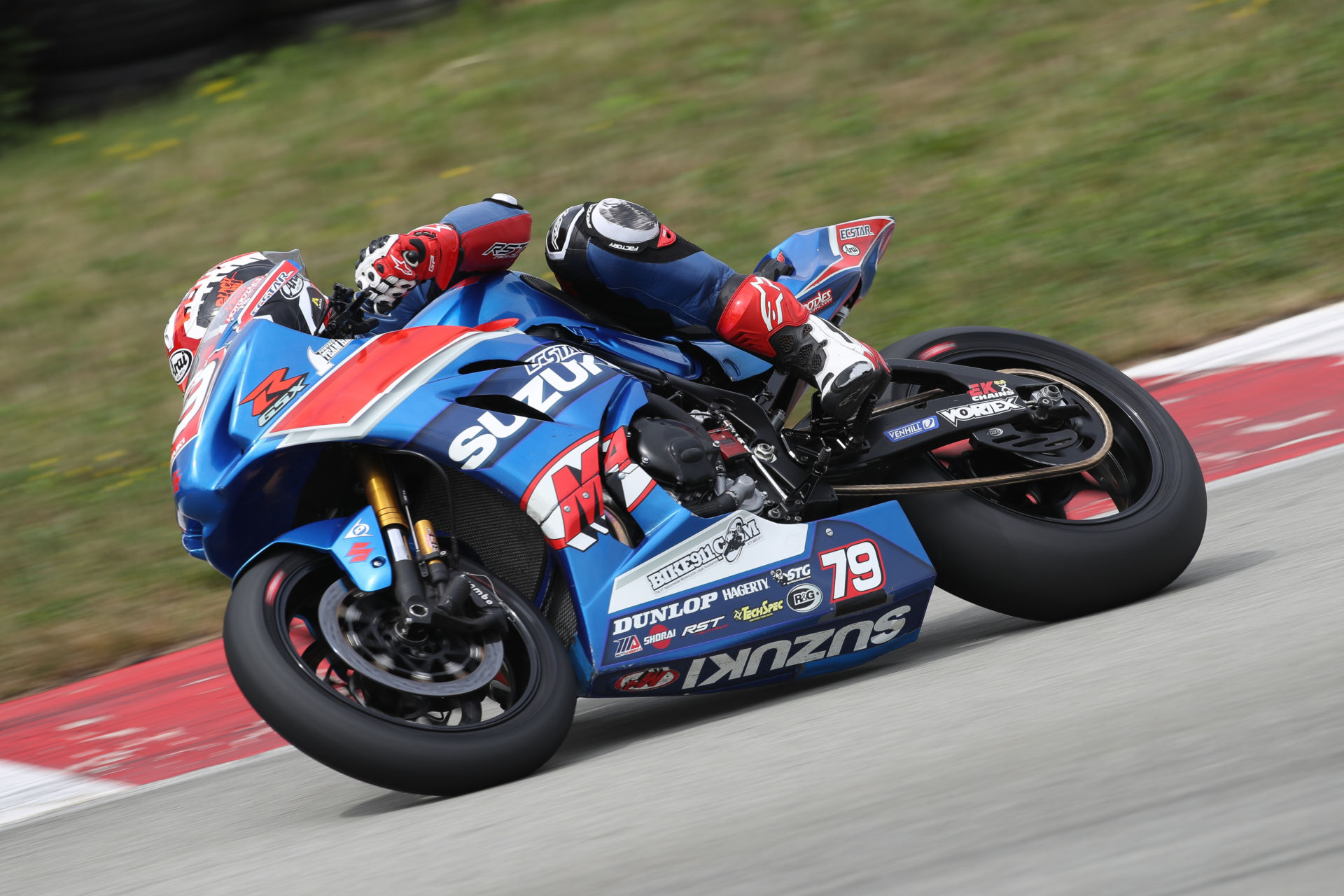 Unfortunately, M4 ECSTAR Suzuki's Wyatt Farris was unable to earn additional Stock 1000 results from his recent strong form. Farris crashed on the original race's second lap and his GSX-R1000R subsequently went up in flames and burned on the track. That brought out the red flag while pushing the Stock 1000 restart to the end of the day. Farris was forced to watch from the fences after flashing top-five potential in the lead up to the race.
Team Hammer will contest the season's penultimate round at New Jersey Motorsports Park on September 10-12, 2021.
More, from a press release issued by Altus Motorsports:
MotoAmerica: Round 7 Results from Pittsburgh International Race Complex for the Altus Motorsports Tucker Environmental Service Solutions Team
(Pittsburgh, PA) The fan turnout for the 7th round of the MotoAmerica Championship at Pittsburgh International Race Complex [PittRace] was amazing. For the Altus team it was another weekend of highs and lows.
Honos Superbike & Stock 1000:
Jake Lewis has clearly found his stride and gelled with the Altus Motorsports GSX-R1000. Once again, he put the bike on pole for the Stock1000 race and led from the first corner to the final checkered flag. This win puts Jake on top of the Stock1000 championship by 20 points with two rounds to go.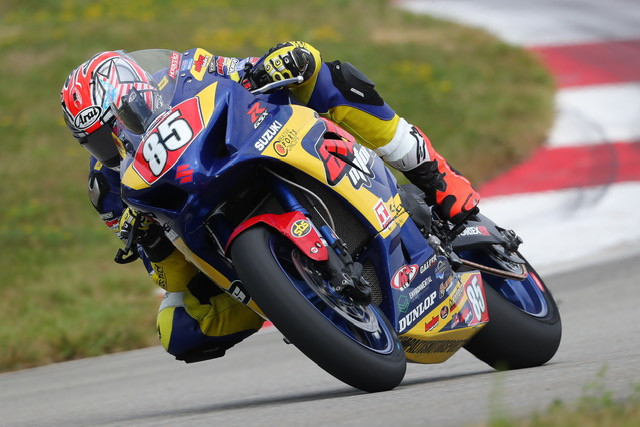 Lewis also gridded up for the Superbike races. He finished both races in 9th overall but he was the top Superbike Cup Rider, putting him out in front of that championship by 35 points.
"It was a perfect weekend. Won both the Superbike Cup races and the Stock1000 race. Big thanks to the Altus team, especially my mechanics. The bike was amazing," said Jake Lewis.
Supersport 600:
It was a difficult weekend for the two Altus Supersport 600 racers. Intermittent rain on Friday made for a very green track most of the weekend. As a result, grip was hard to come by.
Kevin Olmedo missed the Friday practice and qualifying session after a canceled flight left him stranded in Miami. The Pittsburgh circuit is extremely technical and missing the practice time had Kevin at a disadvantage that he spent the weekend trying to make up.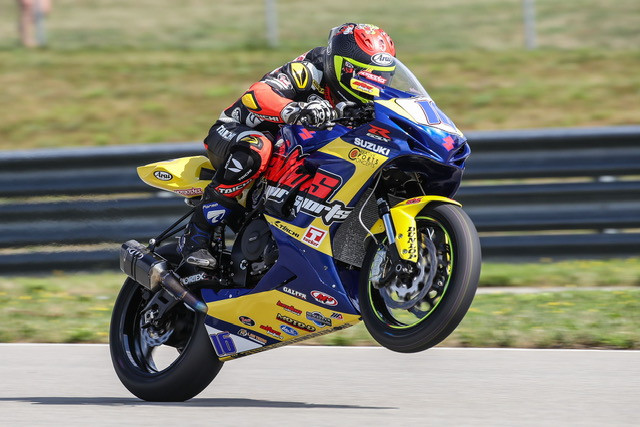 Both of the Supersport riders struggled with rear grip on Saturday. Olmedo struggled to get up to his usual pace in Q2 and ended up in 13th on the starting grid in Race 1, which was where he finished. Jaret Nassaney started Race 1 from 17th and finished in 14th.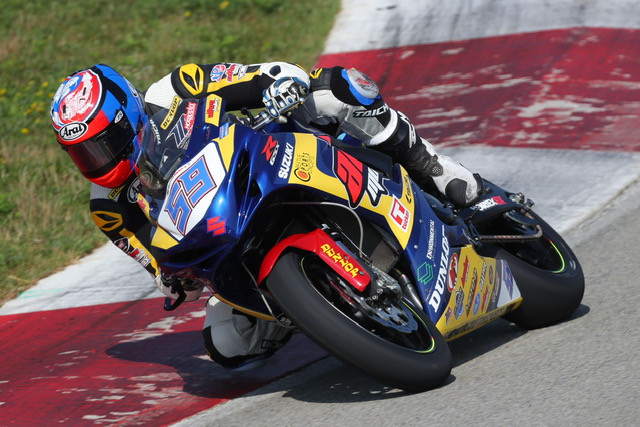 Saturday night the team made changes to the bike setup on both of the Altus GSX-R600s. During the warm-up practice on Sunday, Olmedo and Nassaney said the motorcycles felt much better. Unfortunately, at the start of Race 2, both of the Altus riders got pinched off and shuffled back. As a result, they spent the race fighting through traffic. Olmedo ended with a 9th place finish and Nassaney with 12th. However, each recorded their fastest times and said the bikes were significantly better.
"We struggled a bit this weekend. We improved on Sunday and salvaged what we could," said Jaret Nassaney.
Junior Cup: 
Hayden Bicknese started both Junior Cup races from 12th. On Saturday he crossed the finish line in 11th. On Sunday, in spite of major improvements in his lap times, he still finished in 12th.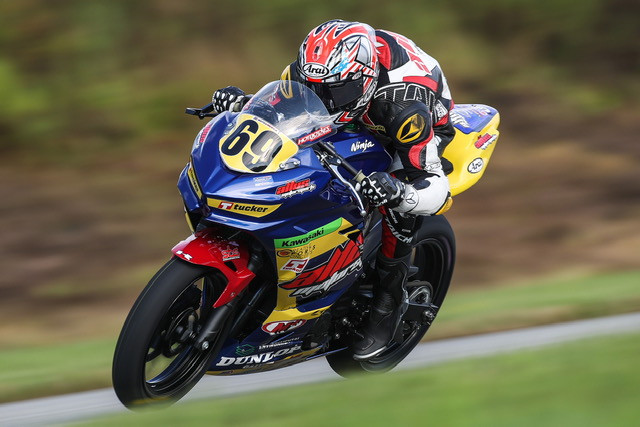 "I am super proud of the team. Riders, mechanics, and everyone. Overall, in spite of some setbacks, this was a very successful weekend. Big thanks to our Crew Chief, Eric Gray, for his help getting all our racers on the right track and heading in the right direction this weekend," said team owner George Nassaney. "It's been pretty busy since the end of June. I am looking forward to a few weeks off and it will be good to have a bit of downtime for the team and finish the season strong."
The Altus Motorsports team is supported by our great family of sponsors: Altus Motorsports, Environmental Service Solutions, Suzuki Motor Corporation, Creative Sports Concepts, Tucker Powersports, Schaefer Engineering, Hot Bodies Racing, M4 Exhausts, Vortex EK, Motion Pro, Barnett, VP Lubricants, SBS Brakes, Galfer USA, Moto-D Racing, Bonamici, Ohlins, K-Techs, RS Taichi, Arai, Law Tigers Oklahoma, and Altus Factory Racing.
More, from a press release issued by Kyle Wyman Racing:
Wyman makes solid Superbike return at Pittsburgh International Race Complex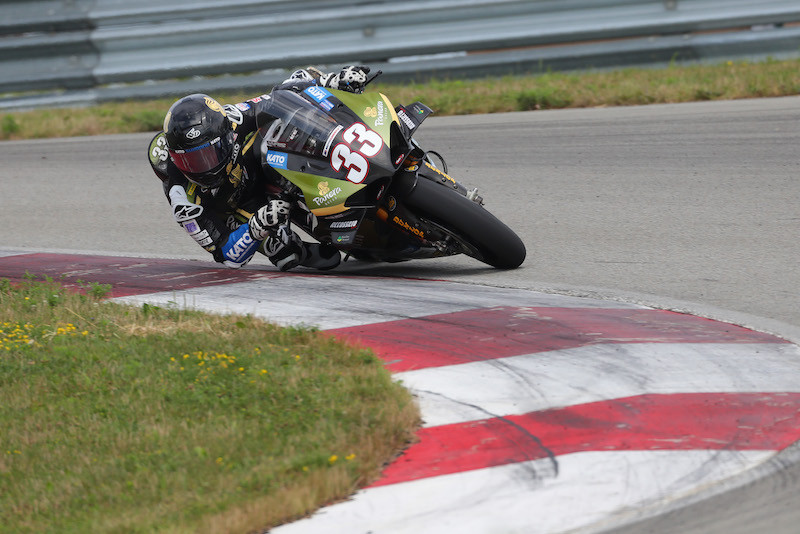 TUCSON, Ariz. — Kyle Wyman returned to action in the MotoAmerica Superbike Championship aboard his Panera Bread Ducati this past weekend at Pittsburgh International Race Complex, finishing 6th and 8th place in races one and two, respectively.
Wyman's return to the Superbike grid was long awaited for both team and rider after an 8-week recovery on his fractured elbow, and an aborted attempt two weeks prior at Brainerd International Raceway. Friday's practice and qualifying session saw Wyman place 6th overall and within striking distance of the top-3.
"After Brainerd, it was apparent that we were not quite ready to return to the grid safely," Wyman said. "I went home to get some scans done to make sure everything was structurally good and that the bone was healing, and we were able to confirm that. Knowing it was good to go structurally gave me the confidence to start working it harder over the past couple weeks. With that and the ergonomics changes we made to the bike, I was able to ride the full day Friday without too much issue and we set a pretty good flyer lap time at the end of the day."
Saturday morning's QP2 session would set the grid as riders put on their sticky Dunlop Qualifying tires. Wyman qualified 8th on the grid to lock in a 3rd row starting position for Race One on Saturday afternoon. A great start would put him 6th on track and he would maintain that through to the end of the race, but with an unforeseen slower pace than expected and a lonely race.
"Race one I really struggled with the bike," Wyman said. "I seemed to have some chatter from the get-go that was originating from the rear tire, even when it was new. Its hard to tell exactly what happened there but I suffered a lot in the middle section of the track, where we spend a lot of time on the side of the tire. For us we got a bit lucky with some attrition that gave us a top-6 but we were not happy with the pace."
In Sunday's warm-up session, the KWR team made adjustments to the bike to seek front end feel and mitigate the harsh chatter of the front tire, to some avail. With race two on the horizon, the team was presented with an opportunity to help out a fellow competitor – one who would be Wyman's biggest rival of the day.
"About an hour before race two on Sunday, our friends over at the Schiebe BMW team were struggling with a stripped out thread in their kit swingarm," Wyman said. "They came to us for help, knowing that we carried KATO Fastening thread insert kits. We had the size and pitch of thread they needed to get their bike back together and run the race."
As if it were meant to be, Wyman found himself in a heated flag-to-flag battle with Scheibe BMW rider Hector Barbera as they scrapped over 7th place, trading positions more than 10 times throughout the affair. Barbera would win out in the duel and beat Wyman to the line in a last lap scrap that came down to just 0.117 of a second at the finish line.
"I got another great start and was hanging onto the top 5 guys in the first few laps," Wyman said. "We definitely had a lot better pace in race two and I felt a bit more comfortable on the bike. Hector and I had a really wild battle that I will remember for a long time. It was one of those duels that was so challenging and fun to manage, trying to work out the race strategy and get to the line first. In the end, he was able to block me from a lunge in the chicane that I was able to do successfully a lap prior, and hold me off to the line."
"All told I would say it was a positive weekend, for us to come back and get back in the groove again," Wyman added. "The elbow was able to hold up throughout the event, but is very sore now that I've put in three consecutive days on it and Pittsburgh is no joke when it comes to how physical it is to wrestle a superbike around. I look forward to our little break we have over the next few weeks that will put us in a good position physically to finish the season strong."
The next round will take place at New Jersey Motorsports Park, where Wyman has a best Superbike finish of 2nd place in 2017. NJMP will host round 8 of 9, September 10-12, 2021 in Millville, N.J..
Please visit our sponsor page to support the companies who support KWR.
For more information about Panera Bread, visit www.panerabread.com.
Stay tuned for news and updates on KWR at www.kylewyman.com