Kyle Wyman closes out 2019 MotoAmerica season with a Ducati Top-5 finish at Barber Motorsports Park
BIRMINGHAM, Ala. (Sept. 24) — Kyle Wyman and the KWR Ducati Team closed out the 2019 MotoAmerica Superbike season with a top-5 finish at Barber Motorsports Park this past weekend in Birmingham, Alabama. Wyman bounced back from a 7th place finish on Saturday to battle for fourth spot all the way to the line in Sunday's final race of the season.
Wyman had a strong start on Friday, posting the 5th fastest time overall on his KATO Fastening/Ducati Richmond Panigale V4 R, carrying momentum from a successful run at New Jersey Motorsports Park just two weeks prior.
"Going into Barber I was feeling more confident from our past few weekends on the bike," Wyman said. "We've made our biggest steps forward over the past few weeks, as my wrist has healed and we've made smart decisions on which way to go with the chassis of the Ducati. Fifth overall at Barber to start Friday was exactly what we needed to set the tone for the weekend."
Wyman qualified 6th fastest in Superpole, securing a spot on the second row of the grid for the third round in a row. The good starting spot would pay dividends, as the Ducati rider got an excellent start in race one to battle in the lead group early on. After a mistake and subsequent drop in pace mid-race, Wyman could only salvage a 7th place finish out of his good start.
"Saturday's race was a big step for us, despite what the end result looked like," Wyman said. "We took a lot of positives from our race in that we battled hard with the lead group for the first half of the laps, and learned a lot about what it takes to keep the Panigale close to the front for race distance."
For race two, the KWR team focused primarily on electronics changes to help Wyman manage the rear tire life mid-race and hold a better lap time to the end of the 21-lap event. Another good start put Wyman in a top-5 spot early on. Wyman lost ground on the top five riders mid-race, but not enough to put him out of the fight. He clawed his way back up to 4th spot to engage in a last-lap battle with then points leader Toni Elias. Elias got the best of Wyman with three corners to go, and was only 0.135 seconds ahead of the Ducati rider at the stripe.
"Sunday's result was a culmination of our entire season on the new Ducati Panigale V4 R," Wyman added. "My goal from the start of the season was to run consistently in the top-5 by the end. I feel like these last two weekends have been exactly what I had hoped for, and race two was the perfect way to close out the season. I would have loved to pull out 4th spot on the last lap, but Toni is a former Moto2 world champion and he knows how to get the job done."
"As I look back on the season, it's amazing how far we've come since Atlanta in April," Wyman added. "We started with a bone stock bike, and developed it into a top-level Superbike, capable of competing with some of the best in the world. I'm proud of that fact and proud of my team for all the hard work they've put in to get us to this point. Our work starts now on 2020, and I can't wait until our first round at COTA next year where we will be ready to fight for the podium."
The KWR Ducati Team would like to extend their gratitude to the following weekend title sponsors who contributed in a significant way to the 2019 program — Excelsus Motorsports Graphics, Lucas Oil, SC Project USA, Inde Motorsports Ranch, Genuine Broaster Chicken, Cycle Gear, Ducati Richmond, Lion Fuel and KATO Fastening Systems.
Visit www.kylewymanracing.com for more news and updates.
More, from a press release issued by Scheibe Racing: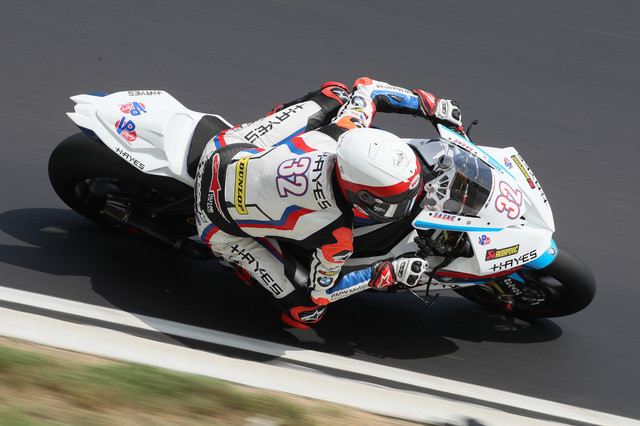 The team was in good spirits heading into the final round of the 2019 MotoAmerica Superbike Se-ries at Barber Motorsports Park. The previous round at New Jersey had once again shown that the Hayes Brakes equipped Scheibe Racing BMW S 1000 RR is fast. Rider Jake Gagne was feeling like himself again as his ankle injury continued to heal and was looking forward to returning to Alabama.
"We were all pretty excited coming into Barber, I think we all had a pretty good idea the bike would like it here." stated Gagne, after the two qualifying practice sessions on Friday which decided the nine riders advancing to the Superpole session on Saturday. In morning free practice, 1.26 seconds was all that separated the top ten riders as everyone in the field got used to the unique characteristics of the track surface and harder compound Dunlop tires. The 17-turn, 2.38 mile road course, which opened in 2003, recently underwent a complete repave to fix surface and drainage issues which introduced a few new variables for all the teams with the fresh, abrasive surface. In the Superpole session, Jake achieved the best result of the season for grid position finishing the session in fourth. "That was cool, it's fun to be up there closer to the front of the grid."
The start of Race one saw a tight group at the front. "I got a pretty bad start and got used up from the second row and lost a couple positions." After dropping back to seventh, he pulled the bike back up to sixth, with pace to continue pushing forward until an unusual electrical component problem caused the bike's wheelie control to actuate inappropriately, and Jake lost touch with the lead group but held on to sixth.
Sunday morning the team bounced back and were excited to show the true potential of the BMW, completing the short morning warm up with the team's fastest lap of the weekend, and third fastest lap of the session. "We were really happy going into the race. I think we knew we would be in the hunt." He got his best launch of the season at the start in race two, and as the field came back into view of the paddock, heading down into the turn known as Charlotte's Web, he was in third. On lap four, after being passed by eventual 2019 series Champion Cameron Beaubier, they both passed Josh Herrin to get back into third with the pace to stay there. Then catastrophe struck in turn 13 as the electronic throttle put the bike into "limp mode" forcing the bike to only go idle speeds. "I know we could have had a good race, but regardless, we mad a lot a progress so we have to take the positives."
It was a good building year for the team. Starting out in Atlanta at the first race upping the game with a new pit setup to learn, a new additional primary sponsor with VP Racing Lubricants, and a new rider recovering from a serious injury – steady progress was made. "We started off slow, I was way behind on my injury and we didn't get a lot of time on the bike in testing." Jake slowly but continuously got healthier, and the team worked hard to get the bike dialed in. It was all finally coming together at Barber, and while the last race was a devastating disappointment, it was still a good year. "It's over now, but you wish you could just restart it and go racing again next weekend. That's how it goes. We learned a lot and I'm happy with the progress we made."
We'd like to thank our sponsors, partners, family, friends, and fans for all the support and for cheering us on. None of this would be possible without your contributions to the team. We're looking forward to the 2020 season.
More, from a press release issued by Aguilar Racing:
RiderzLaw/Aguilar Racing Ends Season With Some Momentum Going Into 2020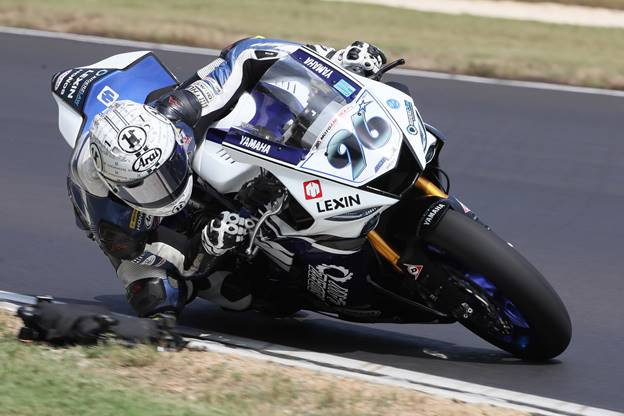 Jason Aguilar was looking to end the season on a positive note at Barber Motorsports Park. With injuries, personnel changes, data and setup issues, affecting Jason most of the season, things were starting to look up. The team was making consistent progress and Jason was starting to feel more comfortable on his RiderzLaw/Aguilar Racing Yamaha R6. Earning a 5th place qualifying position in the 2nd qualifying session, Jason had the pace for a good finish. However, a mistake in Race 1 cost Jason several positions, and he was only able to salvage an 8th place finish.
Jason Aguilar: "I changed to a new clutch last round and it really helped my starts. While I got a good launch, I bumped elbows with a rider going into Turn 1 that threw me off my line, and then got my front chopped off by another rider in Turn 2 that set me further back. Then, when I was starting to move up midway through the race, I tucked the front in Turn 1, fell off the side of the bike, ran off track, but somehow saved it and got back on track. I have no clue how I saved it, but I am grateful for my luck."
Race 2 did not start much better with Jason dropping back to 11th after getting roughed up in the first 2 turns again. However, once Jason got past some of the riders in front of him and had some clear track, he set off after the next group of riders and was reeling them in by half a second per lap. That would have allowed him to capture a 5th place finish if it had not been for a red flag stopping the race with several laps to go. The race ended early denying Jason a Top 5 finish.
Jason Aguilar: "I had good race pace and was running the pace of the podium finishers on my last lap and had more to give, but my race got cut short due to a red flag. It is too bad, I really wanted a good finish for the team. They worked so hard this season. We learned a lot. We never had time to test this season as I was scrambling to put a team together and secure sponsorship. Now that the team personnel are set for next season, we can start preparing for next season as soon as I get home. I can't wait for 2020 to start. Thank you to all the sponsors that stepped up to make this season possible, and we are planning an outstanding 2020 season already."
Big Thanks to All of our Sponsors: RiderzLaw, Lexin, Honos, Torco, CL Auto Group, Moto Station, Graves Motorsports, Metric Method, TaylorMade Racing, Dunlop Tires, Yamaha Motor USA, FTECU, Superlite Sprockets, Motion Pro, Arai Helmets, Mithos USA, Alien Motion Batteries, SBS Brakes, EF Signs, SBK Paint, RFA Designs
More, from a press release issued by Altus Motorsports:
MotoAmerica: Altus Motorsports Tucker TerpTastick.com VP Lubricants Race Report "Ending on a High Note" at Barber Motorsports Park
(Birmingham, AL) The MotoAmerica 2019 season wrapped up in Alabama this past weekend at Barber Motorsports Park. The recent repave meant that every rider in every class would be on a learning curve.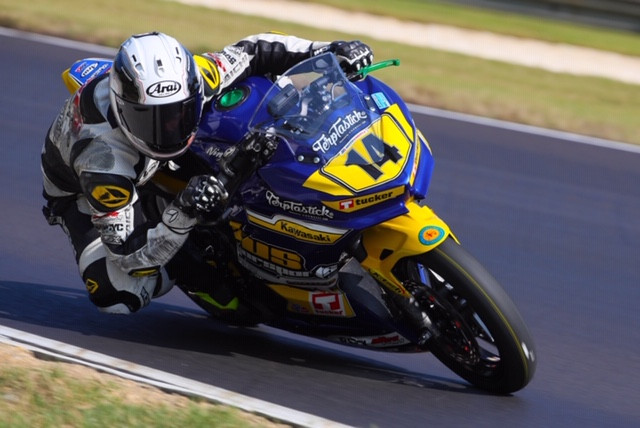 Liqui Moly Junior Cup: Kevin Olmedo's goal for the weekend was to collect enough points to secure second place in the championship. Barber has been a good track for him in the past, but this weekend he struggled to find a setup that worked with the new surface and the allocated Dunlop tires. He started Race 1 from P3 and held that position for most of the laps. With two laps to go, he was in a large group battling for the final podium spot when a rider crashed directly in front of him. With nowhere to go, Olmedo also ended up on the ground. On Sunday, Kevin was in an epic race-long 6-bike battle for third place. He finished the race in 4th and missed 3rd by only a few hundredths of a second. Olmedo summed up the 2019 season by saying, "It was great. We were consistently fighting for the podium this year. Altus builds a great Ninja400 and the support was amazing. I can't thank the team enough. And the entire MotoAmerican paddock – it's like family. It was an amazing year and I cannot wait to come back in 2020."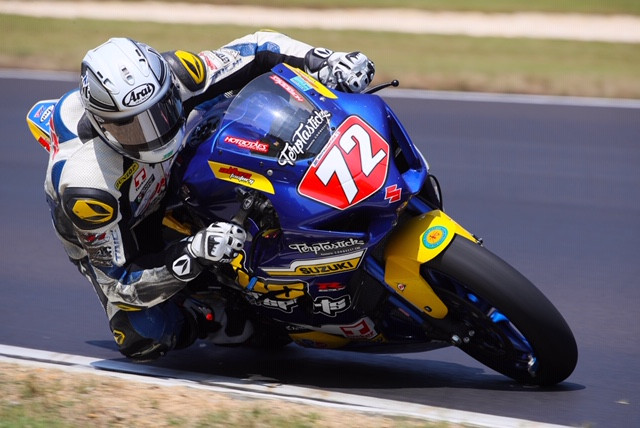 Stock 1000: Miles Thornton finished the 2019 MotoAmerica season on a high. Building on the confidence and a bike setup from the two previous rounds, Miles managed to qualify in the 6th position on the second row. Unfortunately, off the start of Race 1, he got stuck behind a slower rider and by the time he made the pass, the lead group had pulled a gap. He finished the race in a lonely but respectable 5th. Sunday's race began in a similar fashion. Thornton got shuffled back to seventh. And, again, it took a few laps to clear the slower traffic, putting him at a four-second deficit to the group fighting for 3rd. All season, Miles has known he has the experience to fight for the podium and this was the final race of the year. With nothing to lose, Thornton put his head down and went for it. From lap 7 to the finish, every lap was faster than the previous as he closed down on the pack ahead of him. His final lap was his fastest of the weekend by almost one second and put him in the race to the line for 3rd place. He crossed in 5th. "Miles really showed what he is made of today. If he had one more lap, at the pace he was running, I think he could have taken that 3rd place," said team owner George Nassaney. Miles Thornton had this to say: "This was the toughest year of my career for me, personally. But I learned a lot. I'm happy to end on a real positive note and I'm looking forward to next season."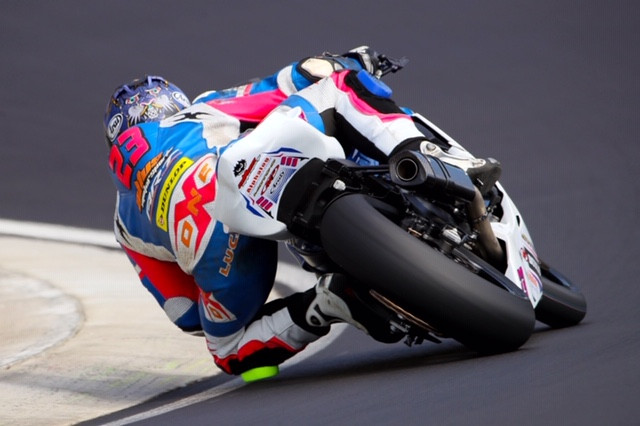 Supersport 600: Lucas Silva spent the practice and qualifying sessions finding a setup for the new Barber track surface. He started Race 1 in P12 and finished in 11th.  In Race 2, he started from 11th and grabbed another top 10 finish in 8th. Silva closes out the 2019 season in 11th overall, just 3 points out of the top 10. "The beginning of the year was a bit of a challenge. It was my first year on the Suzuki and I was learning the GSX-R. But after a few rounds, we clicked with the bike and we were consistently fighting for top 10 finishes," said Lucas Silva.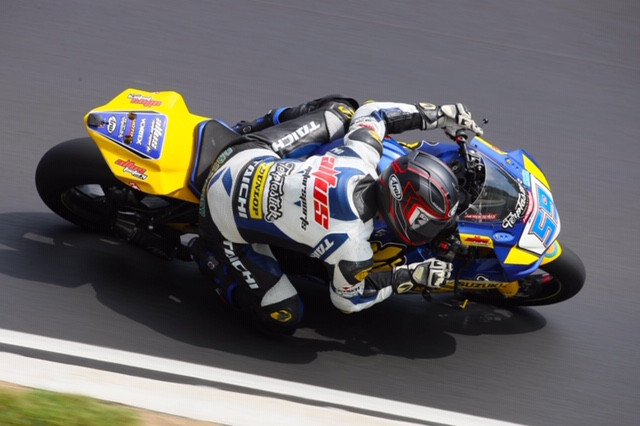 Jaret Nassaney's goal for the final MotoAmerica round was to get back to the pace and confidence he had before his crash at Sonoma. With his wrist still recovering, it was a big ask. Finishing the first practice in 13th was a good sign. And placing 13th and 14th in the two qualifying sessions was confirmation. While his pace was good, Jaret was struggling slightly to find a good race setup with the new pavement and Dunlop tires. Hoping to have grip at the end of the race, he chose the harder option tires for Race 1. Unfortunately, on the second lap, the rear lost traction and quickly spit Nassaney off. Starting from 12th position on Sunday, Jaret and another rider began battling for 9th. In the final laps of the race, they were closing in the distance to the rider ahead of them. With only four laps to go, Jaret had moved into 9th when a red flag reverted the results back to the previous lap, making his official position 10th. Nassaney Finished the season in 14th overall and considers 2019 a 'breakthrough season' for him.
"What an amazing way to finish the season. We had a great weekend. Kevin locked down second place in the Junior Cup; Lucas and Jaret both rode great and seeing Miles show what he is truly capable of in the very last race was fantastic. We had a great group of people on the team this year. I want to say 'thank you' to MotoAmerica for their continued commitment to our sport. Every season gets better. At Altus, we share that commitment and we plan to be back in 2020 bigger and better than ever," said George Nassaney.
The Altus Motorsports team is supported by our great family of sponsors: Altus Motorsports, Tucker Powersports ,TerpTastick.com, Conquest CBD, VP Lubricants, RS Taichi, Arai, Moto D, Bonamici, Hotbodies Racing, SBS Brakes, Vortex, Motion Pro, STACYC, Law Tigers Oklahoma, BrakeTech Rotors, M4 Exhaust , Braking Rotors, Yoshimura R & D, Dunlop, Team Hammer, and Altus Factory Racing
More, from a press release issued by Dunlop:
MotoAmerica and American Flat Track Crown Champions
Buffalo, NY: This past weekend saw two racing series crown several champions.
MotoAmerica
The MotoAmerica road race series hosted its double-header finale at the Barber Motorsports Park in Alabama this past weekend.
The big question was who was going to take the Superbike title as championship leader Toni Elias had a slight points cushion over Cameron Beaubier. To win the title, Beaubier needed to win both races, and Elias needed to finish third or worse in both races. That's exactly what happened. Beaubier won both events, and his teammate Garrett Gerloff finished second both times, giving Beaubier his fourth AMA Superbike championship.
In the penultimate Supersport race of the season, Bobby Fong led from start to finish to clinch the 2019 championship—his first AMA title. Just to prove the point, he ended the season with another win on Sunday.
The Junior Cup class saw 14-year-old phenom Rocco Landers win both races on the weekend to cap off his 2019 championship with his 14th race win out of 17 total races this year.
Young gun Alex Dumas clinched the 2019 Twins Cup Championship at Barber with a third-place finish. Andrew Lee, who locked up the 1000 Stock title earlier this year, ended the season at Barber with double victories, bringing his tally to 8 wins out of 11 races.
American Flat Track
The Minnesota Mile at Canterbury Park in Shakopee, Minnesota, saw Briar Bauman win his first American Flat Track Twins championship. The title didn't come without high drama. After a high-speed crash involving Bauman in the early laps of the main event brought out the red flag, it was questionable if Bauman's crew could get his heavily damaged bike back together in time for the restart. They did, and even though he was forced to start from the back row, Bauman raced his way forward, passing nearly the entire field to finish on the podium—for the 15th time this season—and take the championship.
"Several championships went down to the wire this year, and that adds a lot of excitement to MotoAmerica and America Flat Track," said Mike Buckley, Senior Vice President, Sales and Marketing. "We're very proud to be the official tire of both these series with road race and flat-track tires made here in Buffalo, New York, and we congratulate all the riders and their crews who worked hard to win championships."
About Dunlop Motorcycle Tires
Dunlop is the official spec tire of both the MotoAmerica and American Flat Track series, and largest supplier of original equipment and replacement motorcycle tires in the U.S.A. For more information, visit www.dunlopmotorcycletires.com.