Kolby Carlile Stays Perfect at the Minnesota Mile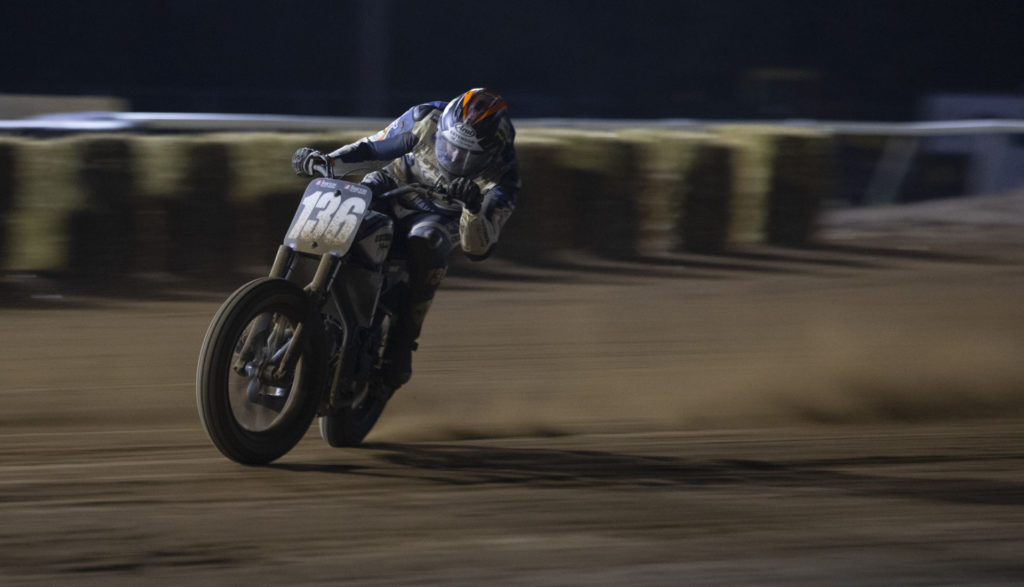 Estenson Racing's Kolby Carlile once again proved perfect for the second year running at the Minnesota Mile. The 2017 AFT Singles Champion topped the timesheets and won his Semi en route to scoring his second win during his debut season in American Flat Track's AFT Production Twins Championship.
Carlile feels quite at home on the Mile tracks, especially at Canterbury Park. Last year he had a perfect night in the AFT Singles class, scoring his third win that season and fourth of his career. This year, it took him a session to dial in his machine, but from there on out it was all Carlile. He was the fastest qualifier and dominated his Semi, crossing the line four seconds ahead of his title rival. In the Main Event, he didn't get the start he was looking for and the race leader was able to build a gap. Undeterred, the "Flying Tomato" put his head down and was able to take the lead around the halfway mark and build a gap of his own to stay undefeated at the Minnesota Mile. The win also helped close the points deficit in the title chase. Carlile heads into the season finale at the Meadowlands Mile just 15 points behind the leader.
His AFT Twins teammate Jake Johnson continued to work on developing the team's all-new flat track racer, but unfortunately slick track conditions continued to be a challenge. The two-time Grand National Champion was able to take the final spot in his Semi to qualify for the Main Event. As it came time for the final race of the evening, track conditions deteriorated. Looking at the long-term goals, the veteran retired after the race was red-flagged after a multi-rider crash on the first lap.
The Estenson Racing team now heads to New Jersey for the American Flat Track season finale at the Meadowlands Mile on September 28.
Kolby Carlile – AFT Production Twins #136:
"Another perfect day. It feels really good. It's always really cool when you can put those together. I think I've done a few now in my career. I just felt good all day. First practice we were a little off on the bike setup, but we quickly figured that out. The rest of the day we were fastest and felt confident. We won the Semi with a straightaway lead or something like that. In the Main event, Chad (Cose) got a good jump on me. I just started putting down the laps and caught up to him, passed him and dropped him by three seconds and won the thing. The bike was working awesome. I really can't thank my crew enough. We're 15 points down from the championship going into the last round. It stinks that I missed a whole race because of my knee injury, but to be able to close the gap to 15 points is cool. I'm going to try and do everything I can to win next weekend. With a little luck on my side, we could still win it. I got nothing to lose so I'm not going to crack under the pressure."
Jake Johnson — AFT Twins #5:
"It was a little bit of everything. The track was tough, obviously. We just struggled all day, with grip more than anything. I kind of thought coming into this race, the way the weather was and what we heard about track prep, that it was going have a little bit deeper cushion and maybe have some more grip, something to get ahold of. But it was the complete opposite. It was kind of like riding on wet concrete with sand on it, really. I was just trying not to spin 360's. We kind of hoped for better and had some options coming in, but maybe made the wrong decision by guessing what the track was going to be like. We have some things to try for next week. Something a little different. We're going to come back fighting and try to close out the season with a good finish."
More, from another press release issued by Estenson Racing:
Estenson Racing's AFT Singles Squad Scores Double Podium at the Minnesota Mile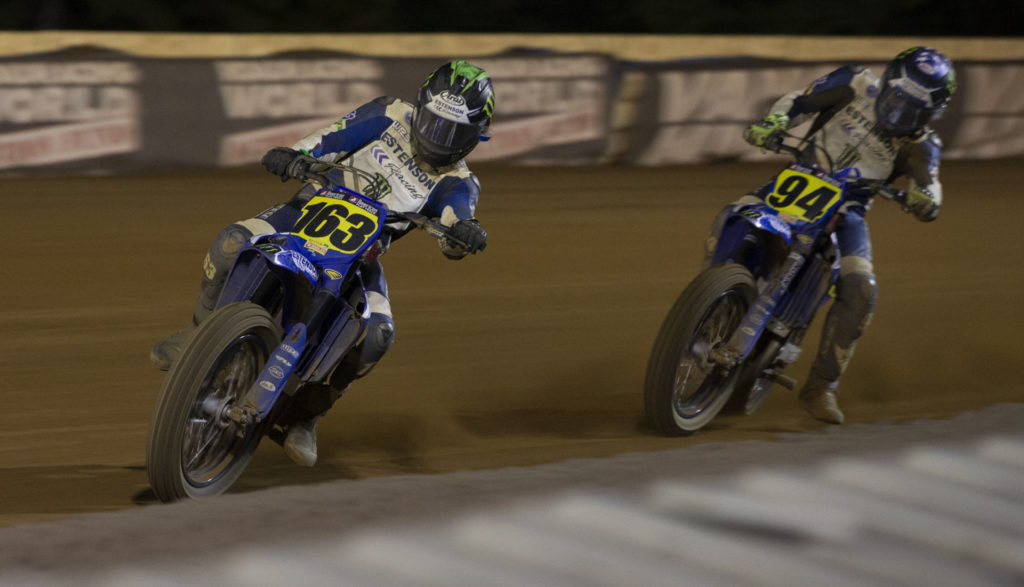 Estenson Racing's Ryan Wells and Dallas Daniels finished second and third, respectively, at the penultimate round of American Flat Track's AFT Singles Championship – the Minnesota Mile.
Wells, who feels quite at home on the Mile tracks, was in his comfort zone. He finished second in both his Heat and Semi. In the Main Event, he didn't get the start he was hoping for and the leader started to build a healthy gap. The 2016 AFT Singles Champion kept pushing and was able to take the lead in the final laps. It then turned into a thrilling fight to the finish line with Wells coming up just short of his second win of the season by .004 of a second.
Daniels also had a solid day at Canterbury Park. In just the second Mile race of his professional career, the 16-year-old got off to a good start. In the Heat race, he finished behind his teammate in third and made forward strides to win the Semi race, giving him the second gate pick for the Main Event. Although Daniels didn't quite get the start he was looking for, either, he won a hard-fought battle to cross the line third.
The Estenson Racing team now heads to New Jersey for the American Flat Track season finale at the Meadowlands Mile on September 28.
Ryan Wells — AFT Singles #94:
"I'm so freaking excited to be back on the podium. It's my first Mile podium on a 450. It was a great day all along and the Main Event was a super fun race. I had to chase down Mikey (Rush) from a-ways back. I thought I had the win in the end, but I came up just a bit short. I can't wait for next weekend and to be fighting for a win again."
Dallas Daniels — AFT Singles #163:
"The day started out really well with qualifying. We were up front early on, but had a little struggle in the Heat race and ended up fourth. I was actually able to come back from a bad start and get the win in the Semi and start second in the Main Event. So that was good, a front-row start, but for some reason, I could not get off the line all night. I think I got off the line in sixth or seventh, and in the first corner I was able to pass all the way up to second. By that time, Mikey had pulled out a pretty big gap, at least two or three seconds. My teammate Ryan passed me and he gapped me and caught up to Mikey, so I was trying to hold down third because I really wasn't catching them. Every time I would get passed, it would be somebody different. One time it was Brandon Kitchen. One time it was Trent Lowe. One time it was Morgen Mischler. Then it was Dalton Gauthier. Dalton got by me on the back straightaway and I was able to hang back a little bit and draft by him at the line and we ended up third. I'm very excited about that.
"It's obviously really cool to be able to get another podium during my rookie season, a podium period. But it's really cool for the team, for us to be able to go second and third. Hopefully next weekend we can move up a couple spots."
Catch the race on NBCSN, September 29 at 7:30 p.m.
More, from a press release issued by Red Bull KTM:
TOUGH NIGHT FOR RED BULL KTM AT PENULTIMATE ROUND OF AMERICAN FLAT TRACK CHAMPIONSHIP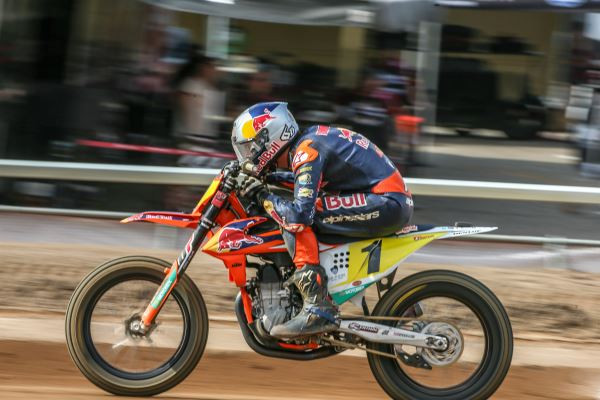 Round 17 – American Flat Track Championship – September 23, 2019
MINNEAPOLIS, Minn. – It was a challenging night for the Red Bull KTM Factory Racing Team as they made their way to Minneapolis, Minnesota on Saturday for the penultimate round of the 2019 American Flat Track Championship. AFT Singles Championship hopeful Dan Bromley finished 10th overall in the class, while his teammate Shayna Texter rounded out the top-15 for what proved to be a difficult night at the Minnesota Mile.
In qualifying, Bromley earned a fourth-place spot to give himself a favorable start position heading into the evening's heat races. He took advantage of his position and powered his KTM 450 SX-F FACTORY EDITION into the lead off the start. He led the first lap and continued to battle for a top position, ultimately finishing third in the heat. In the Semi, Bromley got off to a third-place start and quickly charged into the lead by the second lap. He bounced around inside the top four for the remainder of the race but a close-call in the final laps ultimately dropped him back to a fifth-place finish. In the Main Event, he got off to a great start in third, where he battled inside the top-five early on. He struggled to adapt to the ever-changing track during the 15-lap race and he ultimately dropped a few positions back to finish 10th for the day.
Dan Bromley: "The day started off good, I qualified fourth and finished third in my heat. In the Main Event, I was able to get a great start and battle up front early but with the track changing by the lap, I wasn't able to find a line that worked best for me. We still have a chance to win the championship. It's a very small chance but anything's possible."
Team rider Shayna Texter had a great start to the day as she claimed pole position for the heat race with a top qualifying time of 42.72. In AFT Singles Heat 1, Texter powered her KTM 450 SX-F FACTORY EDITION into a top-five position off the start. She immediately passed her way into fourth on lap two, finishing strong with a fourth-place finish. In the Semi, Texter once again got a fifth-place start and battled inside the top-five for the entire eight-lap race, ultimately securing a fourth-place transfer into the Main Event. In the main, she began from the second row and put herself into a top-10 position off the start. She experienced some vision issues early on that dropped her back to 15th and from there, she was forced to play catch-up in a stacked field of riders. She charged as much as she could in the second half of the race but it wasn't enough to make up her early deficit and she finished 15th overall for the day.
Shayna Texter: "The day started off pretty good, I qualified fastest of everyone and sat on the pole for the heat race, which was great. In the Main Event, I got caught up in the loose dirt and I was struggling to rip off my tear-offs for about three or four laps, so I wasn't able to see and I lost a bunch of positions in turn one. After that, I was struggling to regroup as I lost the lead draft and I was kind of like a sitting duck riding by myself. It was a rough night on Saturday but we had a great test on Sunday so I'm definitely feeling motivated to try and end this season on top."
Next Race: September 28, 2019 – Meadowlands Mile – East Rutherford, New Jersey
AFT Singles Main Event
Mikey Rush, HON
Ryan Wells, YAM
Dallas Daniels, YAM
OTHER KTM
Morgan Mischler, KTM
Dan Bromley, KTM
Shayna Texter, KTM
AFT Singles Point Standings
Dalton Gauthier, 281 points
Dan Bromley, 260
Mikey Rush, 255
OTHER KTM
Shayna Texter, 169
Morgen Mischler, 158
Tristan Avery, 87